A pot roast is your Sunday saviour. A slab of beef steeped in a satisfying sauce without any stove-side slavery. Once you're prepped, choose your cooking method then sit back and relax.
My Hasselback potatoes with (or without) gremolata or Scalloped Potatoes are the perfect side to soak up the velvety, vegetabley sauce.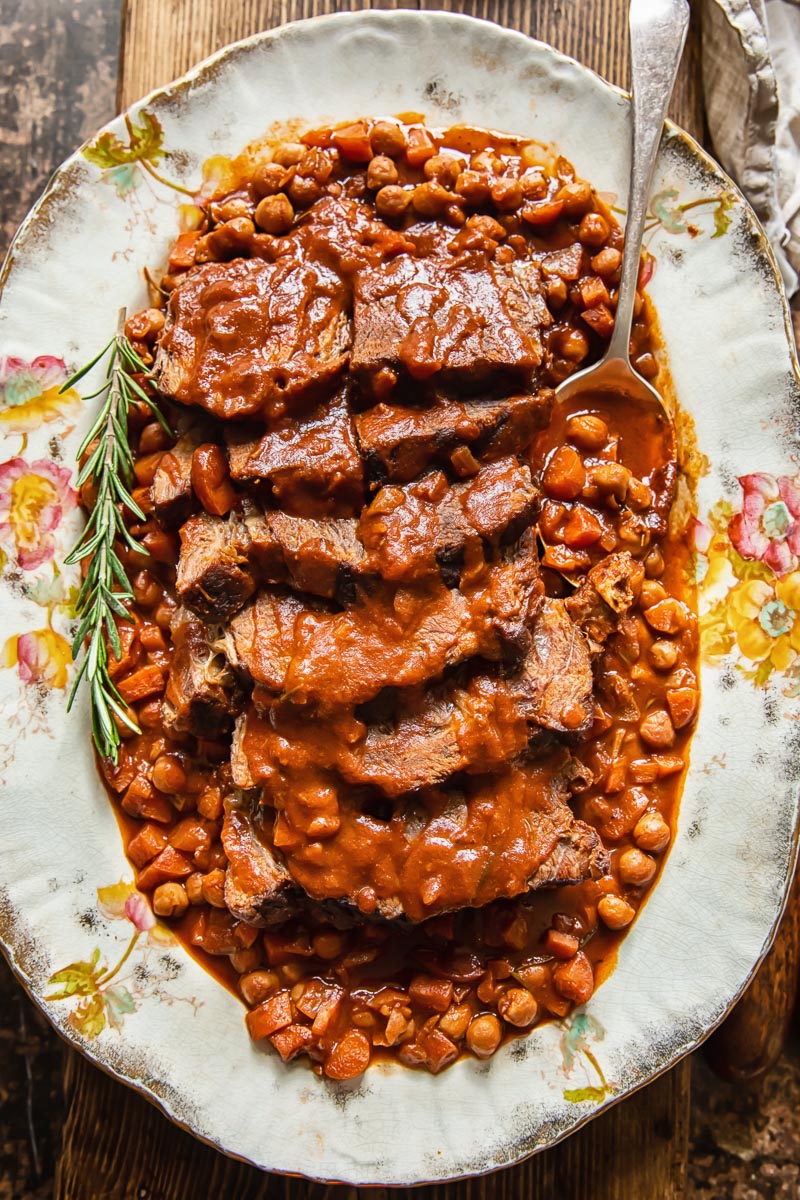 Sundays are sacred. My ritual revolves around a lazy start, a long walk, and a big family meal. But I don't want to be tethered to the kitchen all day. This pot roast recipe will help you to maximise your time to do nothing.
Usually served on a Sunday, a roast dinner brings everyone together. But it can be an intimidating feat! There is so much room for error-drying out the meat being a prime fear.
Pot roast will save you from that pitfall. Sitting and stewing in a rich hot bath of tomato, carrot and onion for hours until rested and tender, this beef joint will be the juiciest you've ever served.
It will fall apart under the knife and melt in the mouth to the satisfied sighs of the family. A truly heavenly meal.
What is the best cut of beef for a pot roast?
Although it sounds counter-intuitive, the tougher the meat, the more tender the result. Which is great news because the tougher cuts are usually the cheaper ones!
The three most common for a perfect pot roast are:
Beef Chuck Roast, or braising steak (UK). This is definitely my top choice. It has a higher fat content which when cooked slowly oozes into the gravy making it unctuous and indulgent.

Beef brisket. This is a leaner cut, which means it can be tougher and harder to chew if not cooked long enough.
Top Round, or Topside (UK). The leanest of the three as it comes from a well-used muscle. As the toughest, and most prone to drying out, you have to focus on getting the cooking time just right and the perfect braise.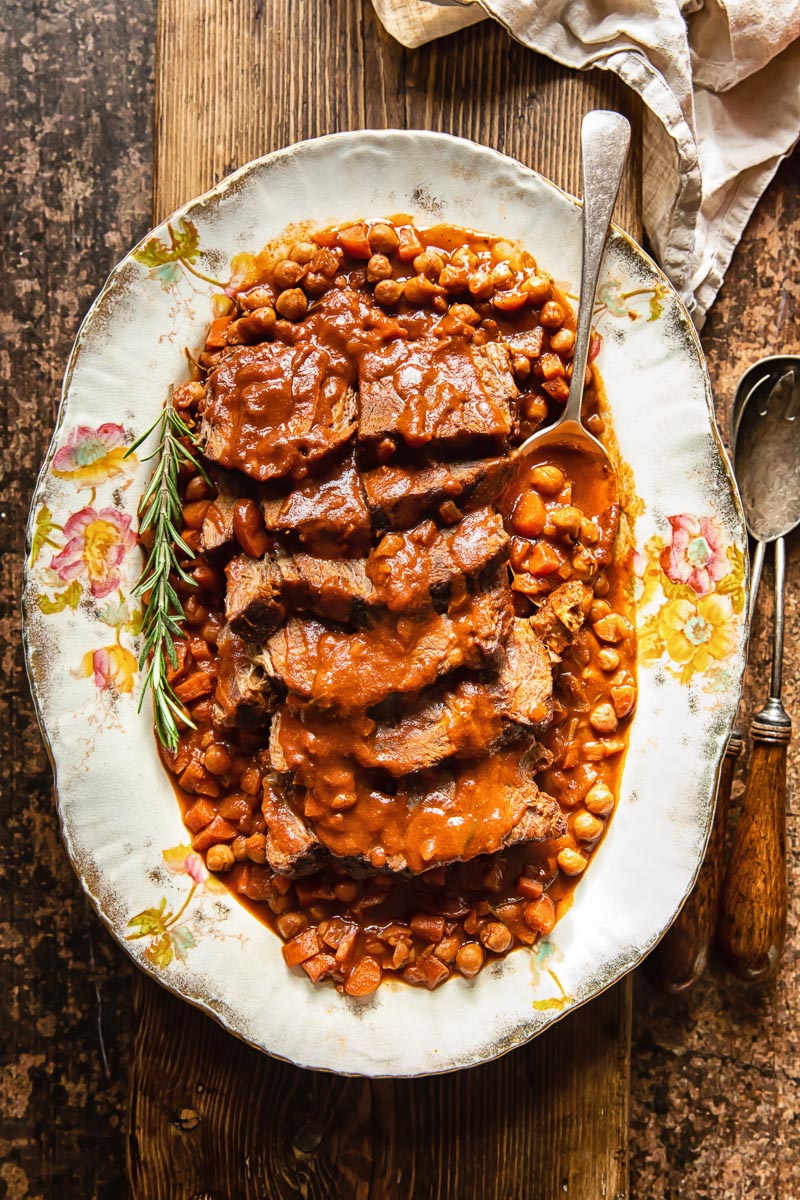 Ingredients and flavour
As pot roast is really the method, rather than a recipe, almost anything goes! The essentials are, besides the meat; vegetables, herbs and a sauce-maker.
I want the meat to take centre stage, so I keep my ingredients' list short and simple with carrots, onions, garlic, tomato. I like a little smoky spice so I add Spanish paprika and ground coriander too.
Other common vegetables are celery, mushrooms, parsnips and potatoes. Personally, I don't like chunky veg in mine- they absorb too much flavour and detract from the meaty star.
Herbs are sometimes bay or thyme, but you can use whatever is to your taste and whatever is in your stores.
Some recipes call for mustard and wine. For me, these push into fine French territory, and my pot roast is all about slow, laidback Sunday vibes.
How to make the sauce/gravy
Depending on your cooking method, the sauce will vary in thickness and flavour. I find that a slow-cooker pot roast can result in a thinner, more diluted gravy. But all is not lost!
Once you've removed your cooked beef joint from the crock pot, you can thicken the remaining sauce with a mix of either melted butter and flour, or cornstarch and water. It's a tad more work, but worth it for a lava-like gravy.
Recipe tips and notes
I've experimented with a few different cuts, and I can confirm that Beef Chuck Roast yields the deepest flavour, and the most tender mouthful.

I like to dice my carrot and onion super small as if you would do for mirepoix or soffritto.

The tiny cubes simmer down to a pulp making the gravy thick and smooth and allowing the texture of the meat to stand out.

Don't skip the sear! Applying heat to the meat will enhance the natural flavours and aromas. It's science!

My recipe uses chickpeas. Adding pulses to the dish not only makes the meal go further, but it's a big protein punch for any meat-shy eaters at the table. Any store cupboard beans will work here, but canned will keep your prep time down and your you time up!

Choose your cooking method; oven, slow-cooker, Instant Pot (pressure cooker). This will depend on what's available to you, how you're spending your day, and how quickly you want to eat. The speediest meal is the Instant Pot pot roast with just an hour's cooking time!
Storage and leftovers
Leftover roast meats are sandwich's best friend. Wrap any remaining slices in clingfilm and they'll keep in the fridge for 2-3 days. Or until you can no longer resist that meat-stuffed, beefy sauce-soaked sandwich. So good!
More Slow Cooked Beef Recipes to Try: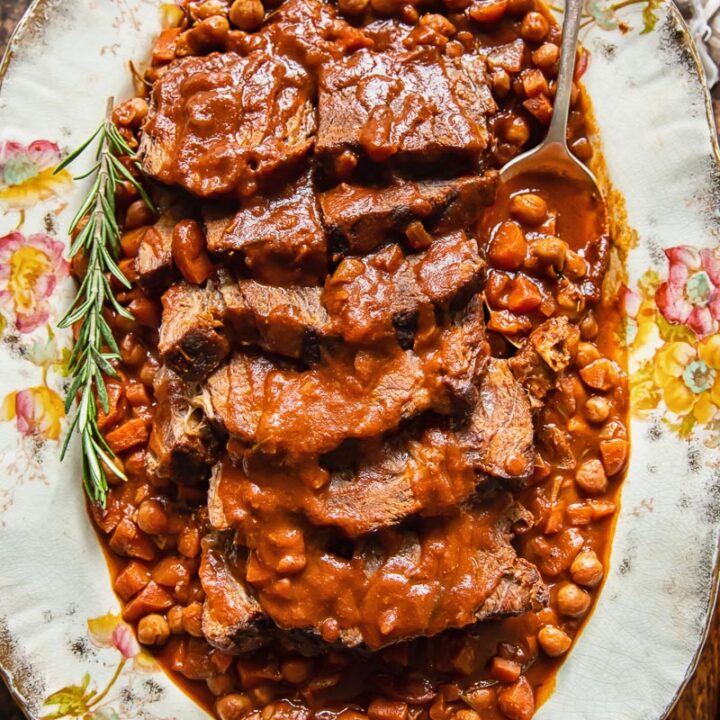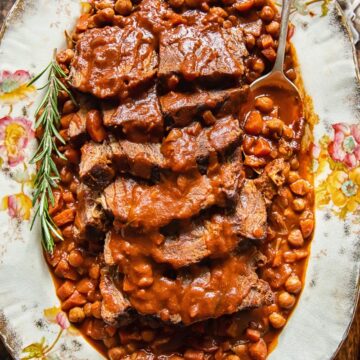 Pot Roast with Smoky Tomato Gravy
Braising in a rich hot bath of tomato, carrot and onion for hours until rested and tender, this pot roast will be the best you've ever made.
Ingredients
3.5

lbs

boneless beef chuck roast

2

tbsp

olive oil, divided

salt and pepper

1

onion

chopped

2

carrots

diced

3

cloves

garlic

2

tsp

Spanish smoked paprika

1

tsp

dried coriander

375ml/1.5 cups

tomato passata or canned crushed tomatoes

1

tbsp

Worcestershire sauce

250ml/1 cup

dry red wine

not cooking wine

2

sprigs

rosemary or 1 tsp dried rosemary

½

tsp

salt

400g/14 oz

canned chickpeas

drained
Instructions
Heat 1 tbsp of oil in a cast iron pot and brown the seasoned with salt and pepper beef chuck until golden on the outside. Remove to a separate plate until needed.

To the same pot, add another tablespoon of the oil and let it heat for a few seconds, then add the chopped onion and diced carrots, sprinkle with the smoked paprika and dried coriander, cook over medium heat for 7-10 minutes, then add the sliced garlic and sauté briefly for about 30 seconds. Pour in the red wine and scrape the bottom of the pan, then add the tomato passata and Worcestershire sauce together with the drained canned chickpeas, salt and rosemary sprigs, bring everything to a simmer.

Top the sauce with the browned beef, cover with a lid and put in the preheated to 150C/300F oven. Cook for 2 hours. Flip the beef over halfway through the cooking. After 2 hours increase the temperature to 200C/400F and cook for 30 minutes to reduce and thicken the sauce.
For the Slow Cooker
Alternatively, after step 2 you can cook it in your slow cooker for 8-10 hours on Low or 4-6hours on High. The exact timing will depend on your particular slow cooker model and your personal preference. It takes 6 hours on High in my Crock Pot.

If the sauce is too runny after the meat is done, take the meat out and keep warm, then add a mixture 1 tsp of water and 3 tsp of cornstarch to thicken the sauce, continue cooking it until desired consistency.
For the Instant Pot
If cooking in the Instant Pot, follow the recipe up to step 3 but skip the oven. Cook on HighPressure for 60 minutes, allow for a natural pressure release.

Remove the meat from the Instant Pot and keep warm. Press the SAUTE button on your Instant Pot and bring the liquid to a boil, stir in a slurry of 3 tsp of cornstarch and 1 tsp water and whisk until thickened. Turn the Instant Pot off and pour the sauce into a serving dish right away, otherwise it will burn.
Nutrition
Calories:
473
kcal
Carbohydrates:
12
g
Protein:
41
g
Fat:
27
g
Saturated Fat:
11
g
Polyunsaturated Fat:
3
g
Monounsaturated Fat:
14
g
Trans Fat:
1
g
Cholesterol:
137
mg
Sodium:
783
mg
Potassium:
945
mg
Fiber:
3
g
Sugar:
4
g
Vitamin A:
2931
IU
Vitamin C:
7
mg
Calcium:
75
mg
Iron:
5
mg