This recipe for beef, cooked with mushrooms in a truffled cream sauce, is easy to pull off for a special occasion! Deliciously decadent!
Truffle oil brings an elegance to anything it touches. Try it in Creamy Tagliatelle with Bacon, Mushrooms and Truffle Oil!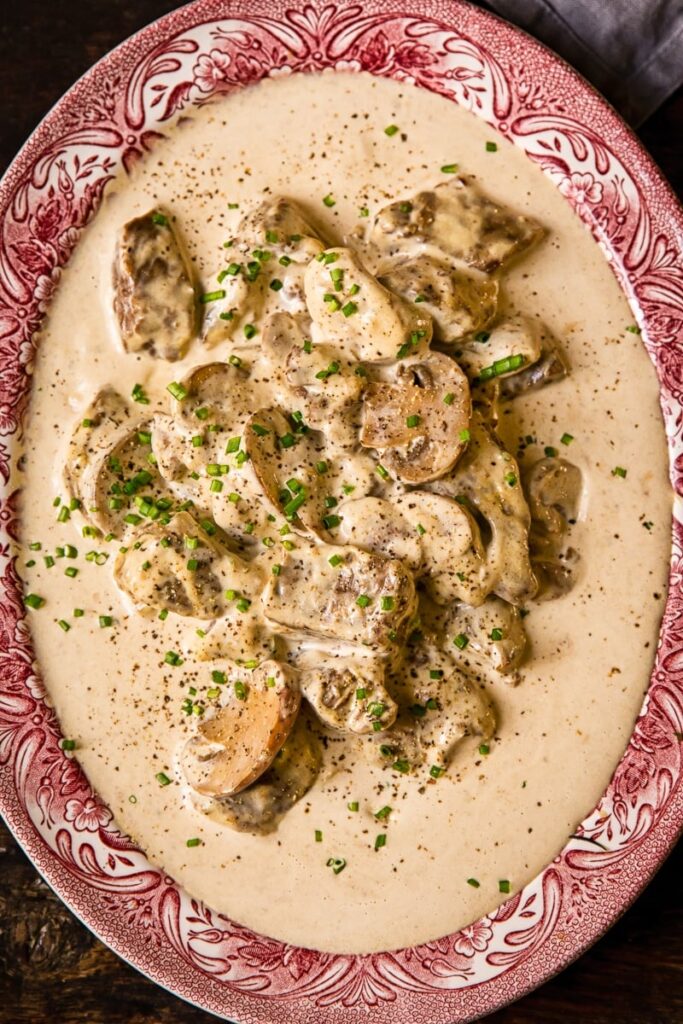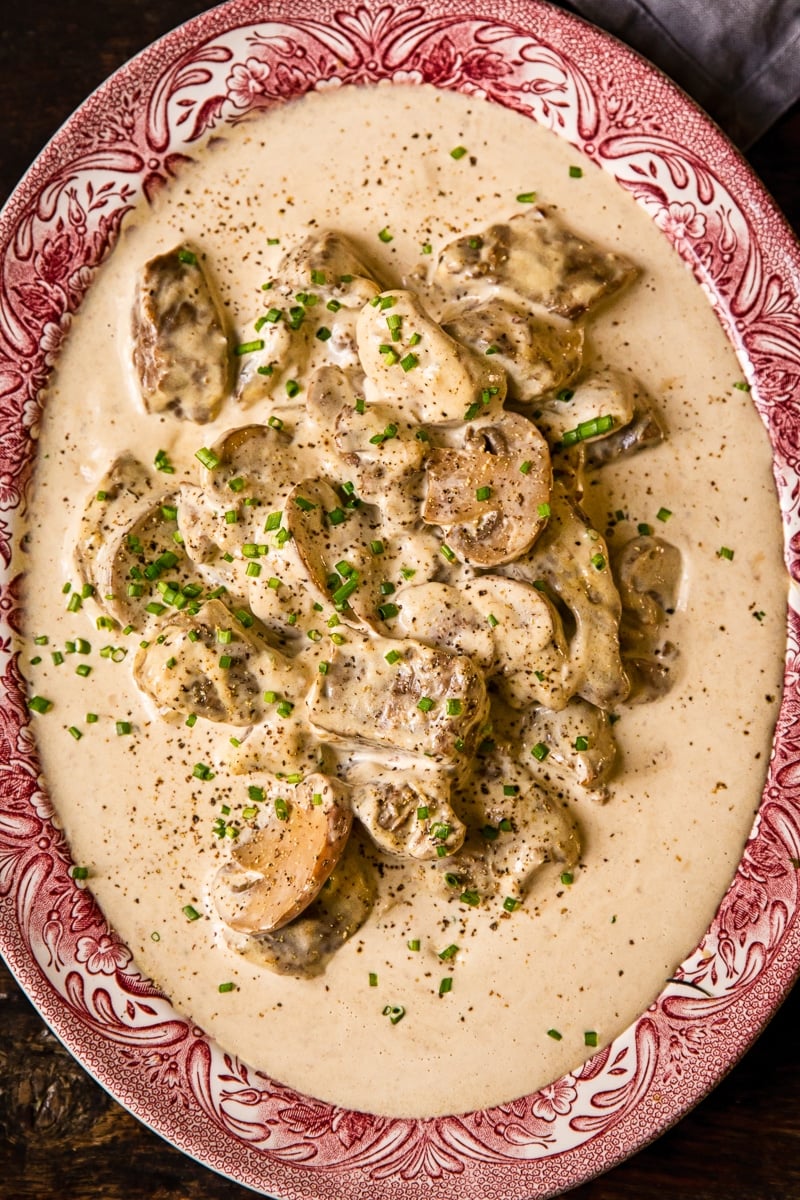 It's an unfortunate truth that not all foods look good in a photo. No beef stew will ever rival a smoothie bowl in the beauty department but which one will you choose on a cold, wintry day? I think the answer is pretty obvious!
I have moments of doubt when I share these sorts of recipes – do they look good enough for anyone to want to make them? That is a million dollar question.
The struggle is real. This beef in truffled cream sauce is one of those recipes. It might look humble but it is comfort food to the core.
The elegant flavour will stay with you forever. How could it not?! It's beef in truffled cream sauce for goodness sake!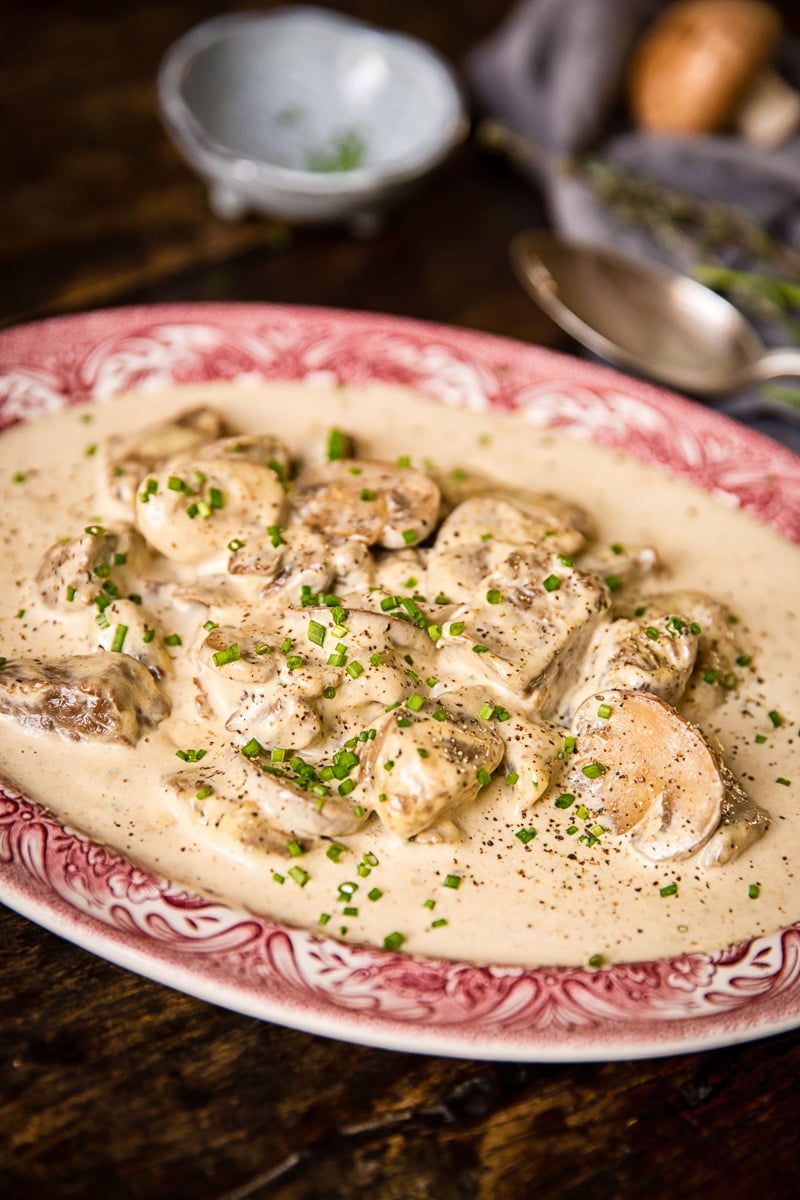 What you'll need
Once again this recipe for beef in truffled cream sauce is very simple, so the flavour comes from the quality of your ingredients and cooking techniques. I am sharing a detailed photo guide below in order to walk you through the process.
Although I mentioned quality ingredients above I didn't actually spend a lot of money on the beef itself. I bought stewing steak chunks that need to be cooked for a while to become tender.
I have, however splurged on the truffle oil because it is so worth it! A small bottle will last you months and will elevate any dish to incredible heights!
What to serve with beef in truffled cream sauce
The stunning cream sauce loves potatoes. Serve this dish with equally fabulous hasselback potatoes or humble mashed potatoes.
Potatoes absorb the creamy sauce and balance out the flavours. This is important because the truffle sauce is quite rich.
White rice will do something similar, as will crusty bread or delicious fresh pasta! For something low carb try cauliflower mash.
The other ingredients are quite simple and easy to find. Any decent brown mushrooms will do, and the cream can either be whipping or double. White wine adds depth and richness to the flavour, but can be left out if you prefer.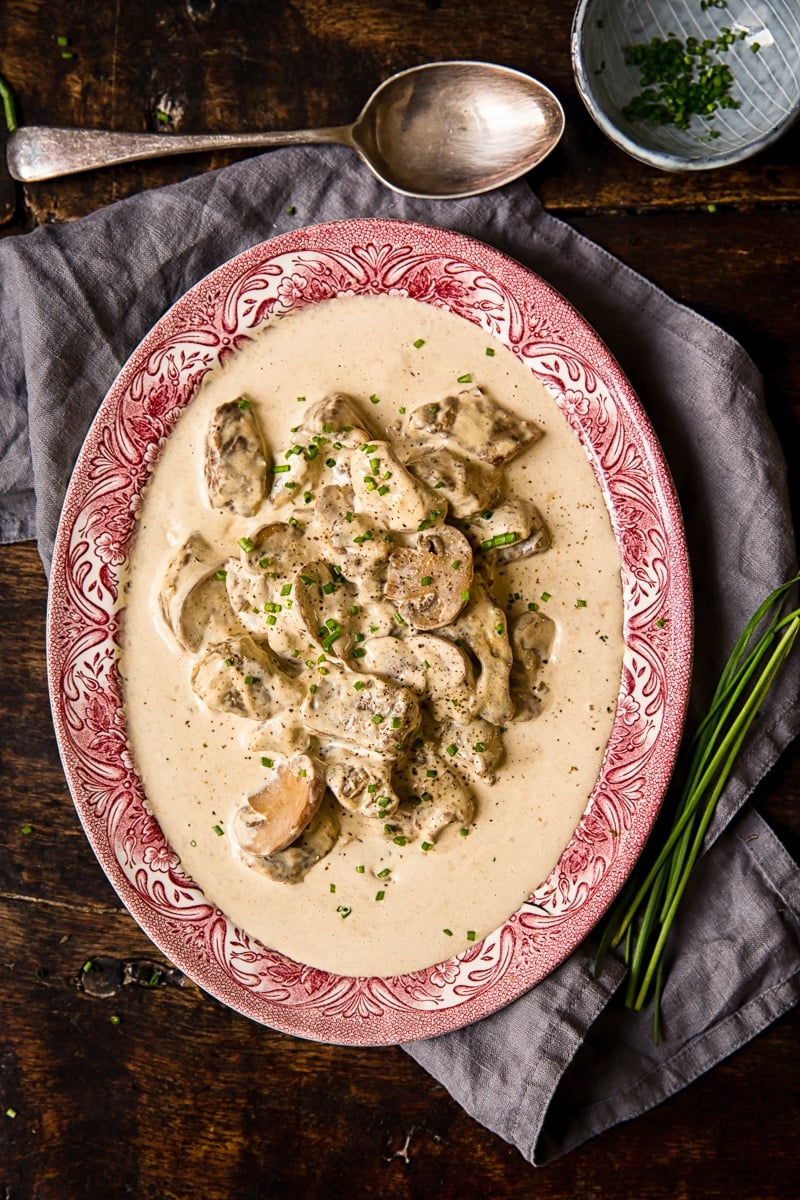 Recipe tips and notes
Don't rush the process. Respect each cooking stage. Cooking shallots in olive oil until they turn sweet and luscious is equally as important as searing beef. Each layer contributes to the complexity of the taste.
Make sure your beef is being browned and not steamed. Sear it in batches if necessary.
When adding the wine make sure you are scraping the bottom of your pan and releasing the flavour bits into the sauce.
Use cooking timings given in the recipe as a guideline BUT adjust them if necessary. For example if your heat is lower or your pan is smaller, it will take longer for the sauce to reduce and thicken.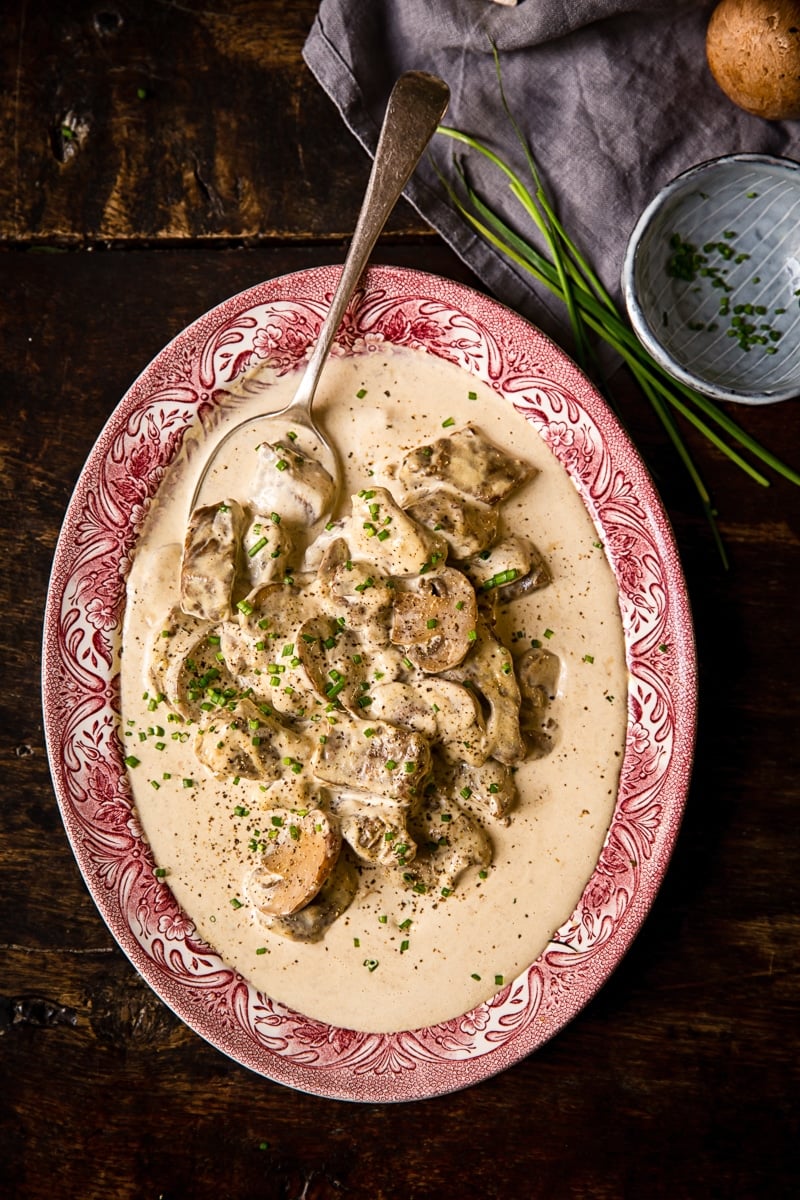 This is an elegant and luxurious way to serve beef. It's a dish that is begging to be made for a special date night or Valentine's Day!
I would recommend cutting this recipe in half and cooking this beef in truffled cream for your sweetheart. Enjoy!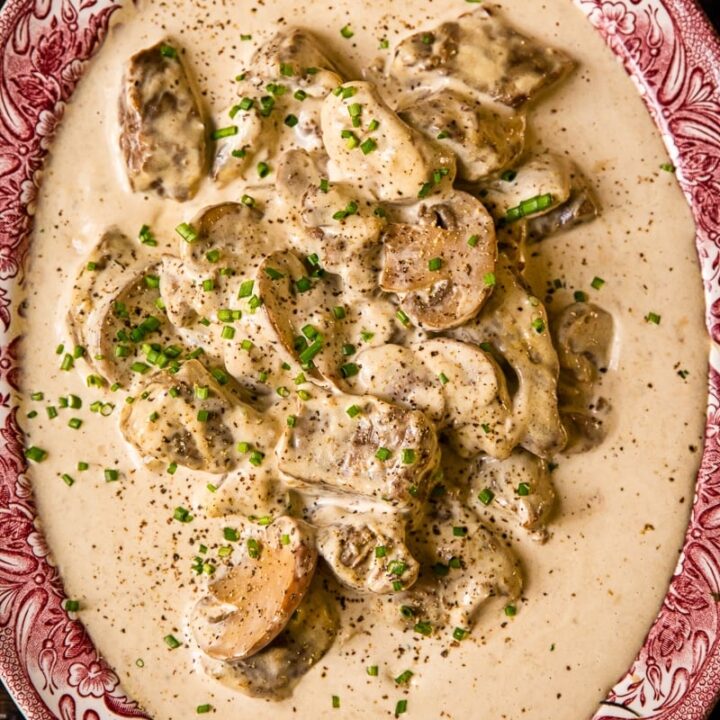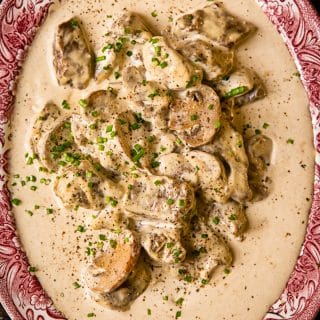 Beef in Truffled Cream Sauce
Tender beef and mushrooms braised in creamy sauce and flavoured with truffle oil!
Ingredients
2

tbsp

olive oil

2

shallots

chopped

1

kg

/2lb beef steak

chunks

3

sprigs thyme

leaves only

60

ml

/1/4 cup white wine

optional

250

g

/9oz chestnut/brown mushrooms

1

clove

garlic

minced

salt and pepper to taste

375

ml

/1 ½ cups beef stock

low sodium

375

ml

/ 1 ½ cups double/whipping cream

1

tsp

truffle oil

chives for garnish
Instructions
In a large and deep pan heat the olive oil and saute the chopped shallots over low heat for 5 minutes. Add beef, salt and pepper and brown all over on medium heat, add the white wine and deglaze the pan by scraping the bottom with a spatula, cook until the wine is mostly evaporated.

Add mushrooms, thyme and garlic, cook for 2 minutes, then add the beef stock, bring to a boil, then lower the heat, cover and cook for 1 hour or until the beef is tender and could be easily broken with a spoon or a spatula.

Add the cream and let the sauce reduce until thick. (If you are using double cream it will take 1-2 minutes of medium heat but might take longer if using whipping cream.) When the cream sauce is desired consistency add the truffle oil, stir, then add salt and pepper if needed and take it off the heat. Serve with chopped chives or parsley.
Nutrition
Calories:
961
kcal
Carbohydrates:
9
g
Protein:
57
g
Fat:
78
g
Saturated Fat:
39
g
Polyunsaturated Fat:
4
g
Monounsaturated Fat:
31
g
Cholesterol:
259
mg
Sodium:
932
mg
Potassium:
1278
mg
Fiber:
1
g
Sugar:
5
g
Vitamin A:
1493
IU
Vitamin C:
3
mg
Calcium:
110
mg
Iron:
5
mg