Tender and juicy beef steak strips with mushrooms and onions, smothered in a savoury sour cream sauce. Making classic Beef Stroganoff is easy! All you have to do is to follow my detailed instructions!
Serve this classic Russian dish with out creamy Herb and Garlic Mashed Potatoes and our homemade Rye Bread for a truly unforgettable meal.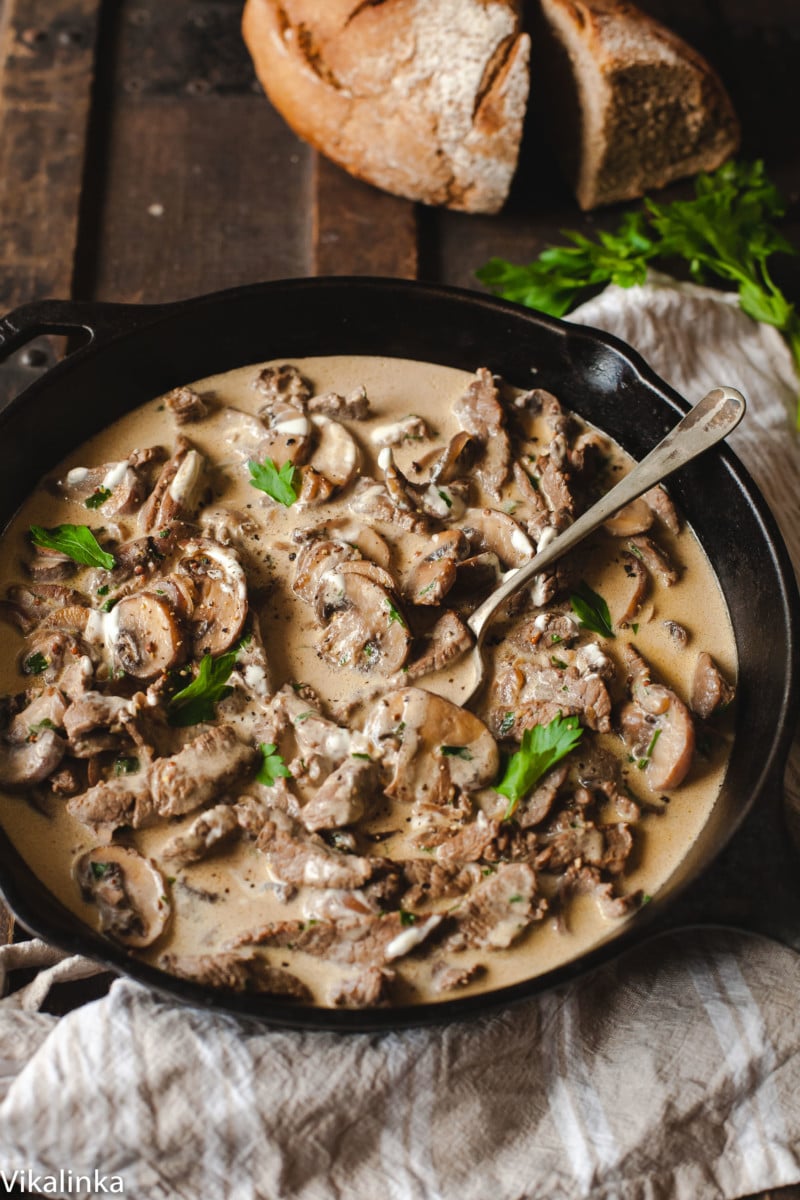 I've been thinking lately that I don't share nearly enough Russian recipes here. This needs to change. Pronto.
When life gets especially hectic cozy, Slavic food laced with butter and sour cream comes to the rescue once again and save the day!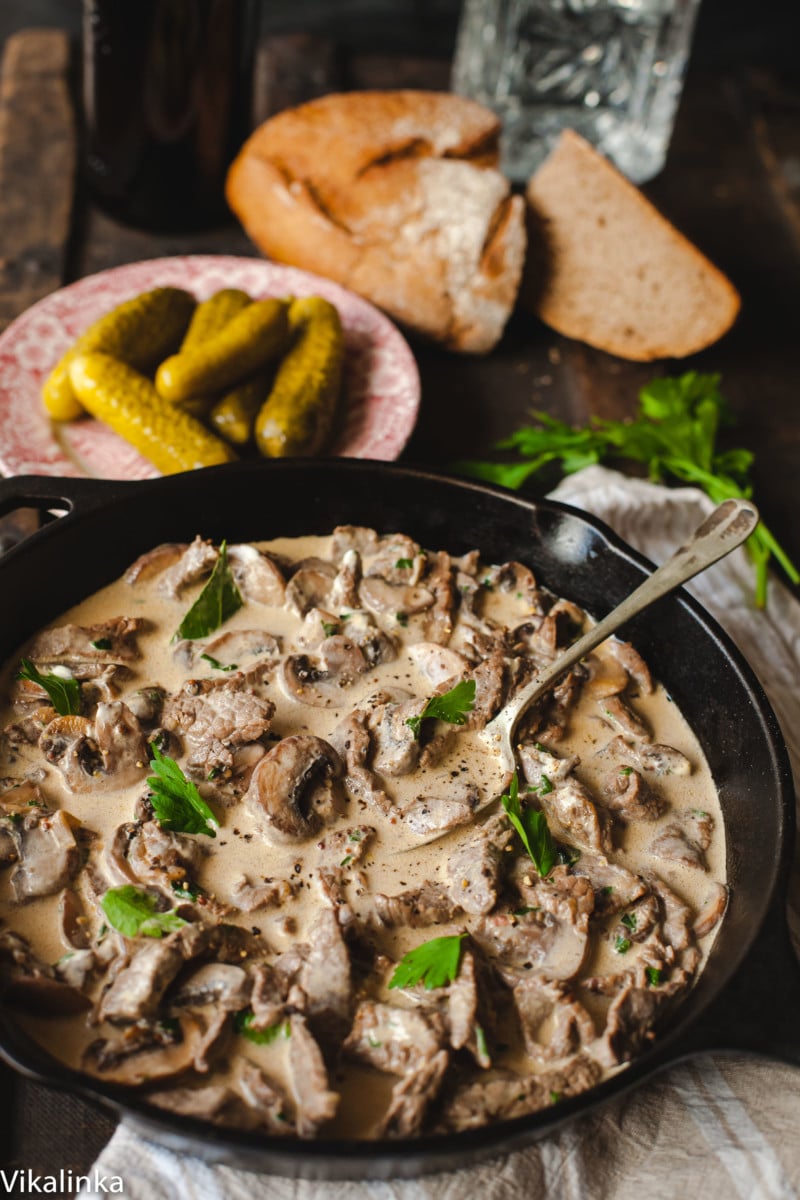 Why is it called Beef Stroganoff?
Invented and named after a member of a Russian noble family Count Stroganoff by his personal chef, this delicious beef recipe has travelled far and wide across the globe since the 19th century. It's time I share my version, which I have to admit is classic.
The original recipes was heavily influenced by the French cuisine, which was very popular among the aristocrats in the 19th century Russia. You can see that in the creamy sauce.
However, the use of traditionally Russian ingredients like mushrooms and sour cream made this elegant dish stick around for centuries in its homeland, and interestingly enough the world over.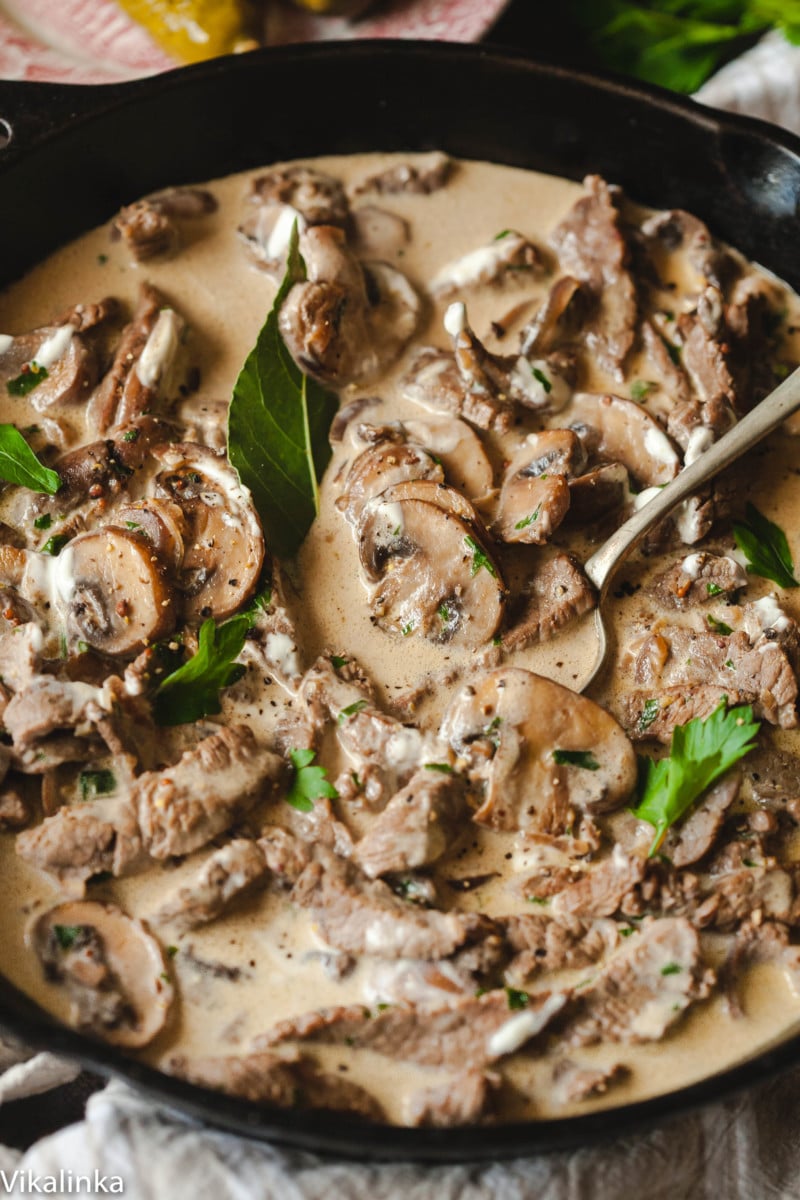 How to make it
I guess Beef Stroganoff to a Russian is like a Carbonara to an Italian. Something we just whip up without a recipe in little time using very few ingredients. And most importantly when extra comfort is needed.
The outcome is always the same. Immediate bliss followed by a food coma. It's good and it's very easy. If you follow a few simple rules you will make the best stroganoff.
What cut of beef is best?
First off, the beef quality is paramount. Avoid stewing beef and buy sirloin or rump steak. I find ribeye too fatty for this dish since the sauce is already rich I prefer using a leaner beef for a more balanced meal. Whatever cut of steak you choose buy the best quality you can afford. You only need a pound of it!
Secondly, if a steak is too expensive, go ahead and buy a more affordable pork tenderloin. Really, it's allowed. Many Russian cooks make Stroganoff with good quality pork.
You can even use chicken as I did in this impossibly popular version of Chicken Stroganoff. I varied the recipe a bit to make the delicate meat of chicken shine.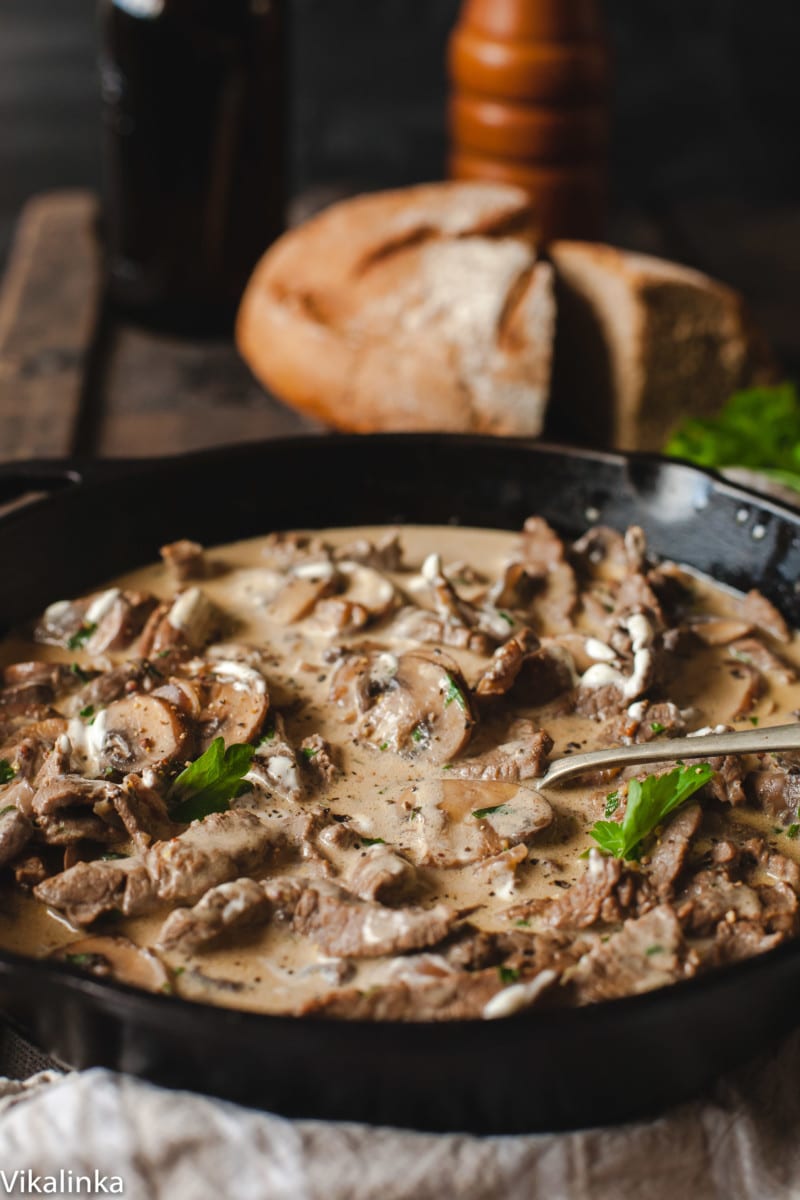 Julia's Helpful Tip
Lastly, use a heavy bottomed skillet and avoid a non-stick. You want your meat to stick to the pan, so it gets coated with brown bits.
Because once you hit it with a shot of brandy they get released into the sauce and that's where the wonderfully complex flavour comes from.
What do I serve with Stroganoff?
I know it sounded like I just mentioned the last thing but I have more.
Dill pickles and mounds of mashed potatoes make beef stroganoff the best dinner EVA! If you are wondering why pickles are necessary, I am happy to oblige. Their acidity breaks up the richness of this dish and provides a great balance!
You might be surprised but potatoes are the most traditional pairing for Beef Stroganoff in Russia. We serve mashed potatoes at home and indulge in fried shoestring potatoes in restaurants. Try them, you won't be able to go back to egg noodles.
You can, of course, serve beef stroganoff over egg noodles like I did with my vegetarian version here. This creamy dish also goes extremely well over plain rice. Let the sauce provide all the flavour!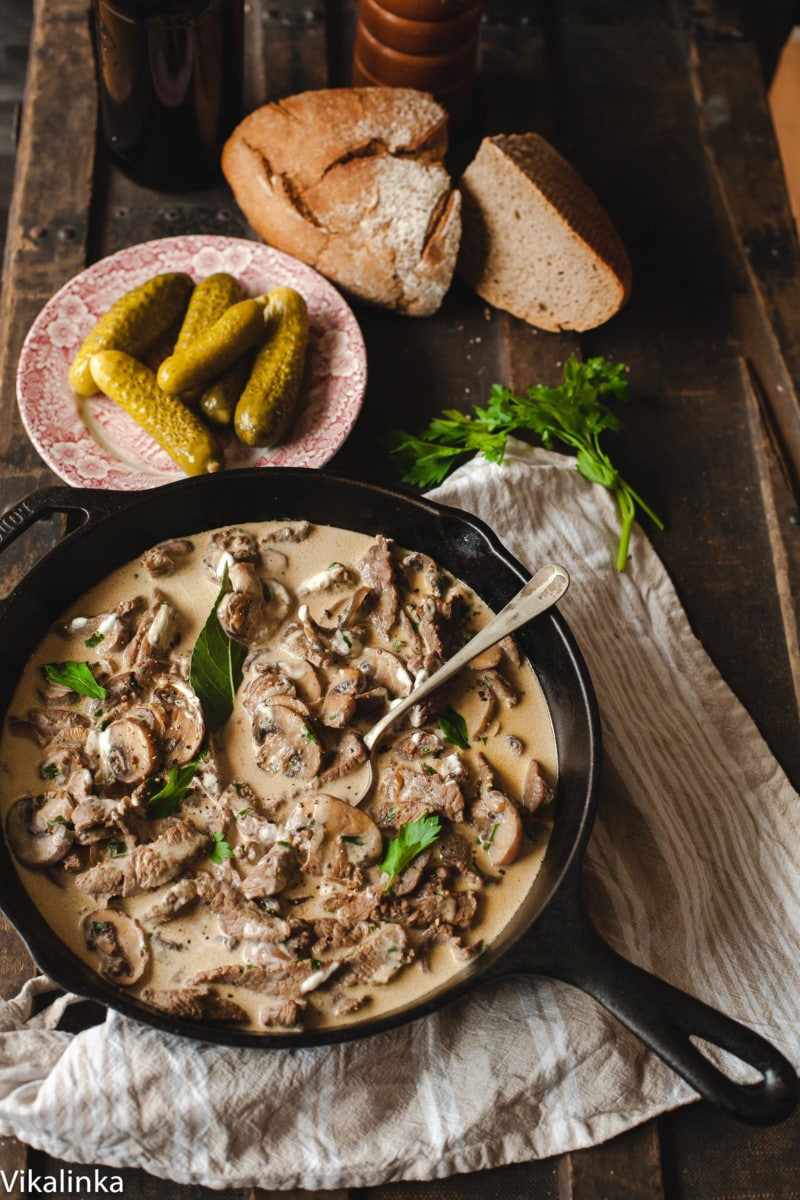 More Russian Beef Recipes:
This recipe was originally published in 10/2014. Updated with new text and a video in 09/2020.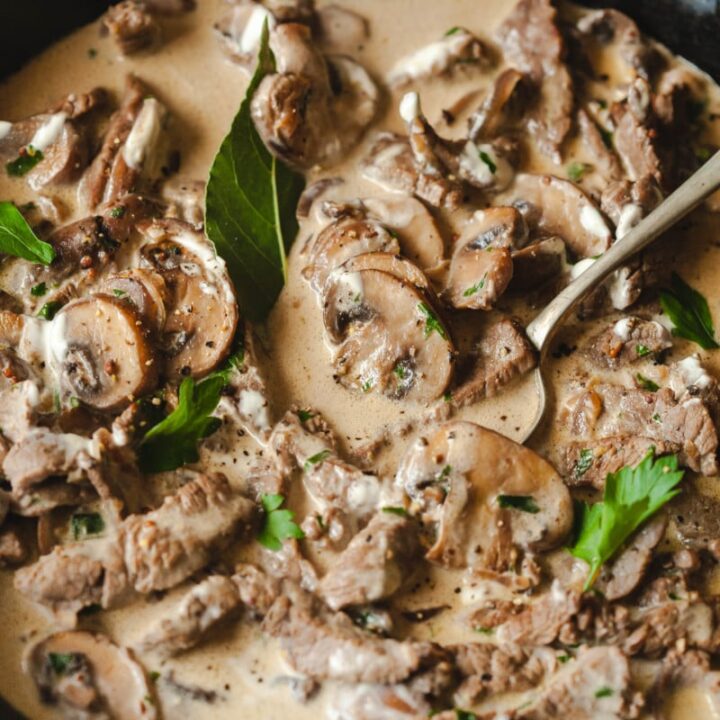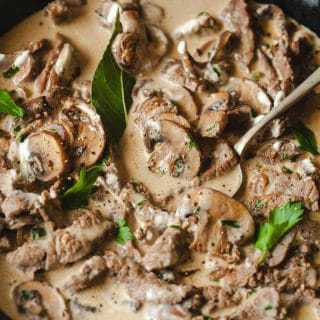 Best Beef Stroganoff
Authentically Russian Beef Stroganoff cooked in a creamy mushroom sauce.
Ingredients
1

tbsp

oil

1

tbsp

butter

1

onion

thinly sliced

225g/1/2

lbs

crimini mushrooms/chestnut mushrooms

sliced

450g/1

lbs

beef steak (I used sirloin)

cut in strips

60ml/1/4cup

brandy

salt

pepper

freshly ground

125ml/1/2 cup

beef stock

1

bay leaf

1

tsp

whole grain mustard

250ml/1 cup

full fat creme fraiche or sour cream

3-4

sprigs-flat-leaf parsley

chopped
Instructions
Heat oil and butter in a heavy skillet and cook onions and mushrooms over medium-low heat for 7-10 minutes. Remove and set aside.

Add cut steak to the same skillet and quickly fry over high heat for 3-5 minutes.

Add brandy and continue cooking until alcohol burns off, add stock, mustard, bay leaf, salt and pepper. Scrape the bottom of the pan with a spatula to release all the brown bits, they will add much flavour to the sauce.

Bring mushrooms and onions back to the pan and cook for 3 minutes until everything is heated through and bubbling. Stir in sour cream over low heat to prevent the sauce from splitting. Sprinkle parsley and take off the heat. Serve with mounds of mashed potatoes or rice.
Video
Notes
If the sour cream taste is too strong for you, replace a half of it with heavy cream.
Do not use low fat sour cream as it tends to produce a thin sauce and sometimes cause the sauce to split.
Nutrition
Calories:
467
kcal
Carbohydrates:
7
g
Protein:
27
g
Fat:
34
g
Saturated Fat:
16
g
Cholesterol:
107
mg
Sodium:
790
mg
Potassium:
661
mg
Fiber:
1
g
Sugar:
4
g
Vitamin A:
527
IU
Vitamin C:
5
mg
Calcium:
78
mg
Iron:
3
mg