These juicy Russian meat patties or as we call them 'kotleti" are the epitome of comfort food done right!

Last week our weather turned sharply but not unexpectedly… we are firmly into winter after all! I don't really mind since there are only three weeks left till Christmas and when you spend most of your life in countries like Russia and Canada Christmas doesn't feel the same without a bit of frost in the air.
Another reason I don't mind cold is because centuries of surviving it taught us many invaluable lessons and eating and cooking comfort food is one of them!
Meet Kotleti, Russian meat patties that are a staple in every Slavic household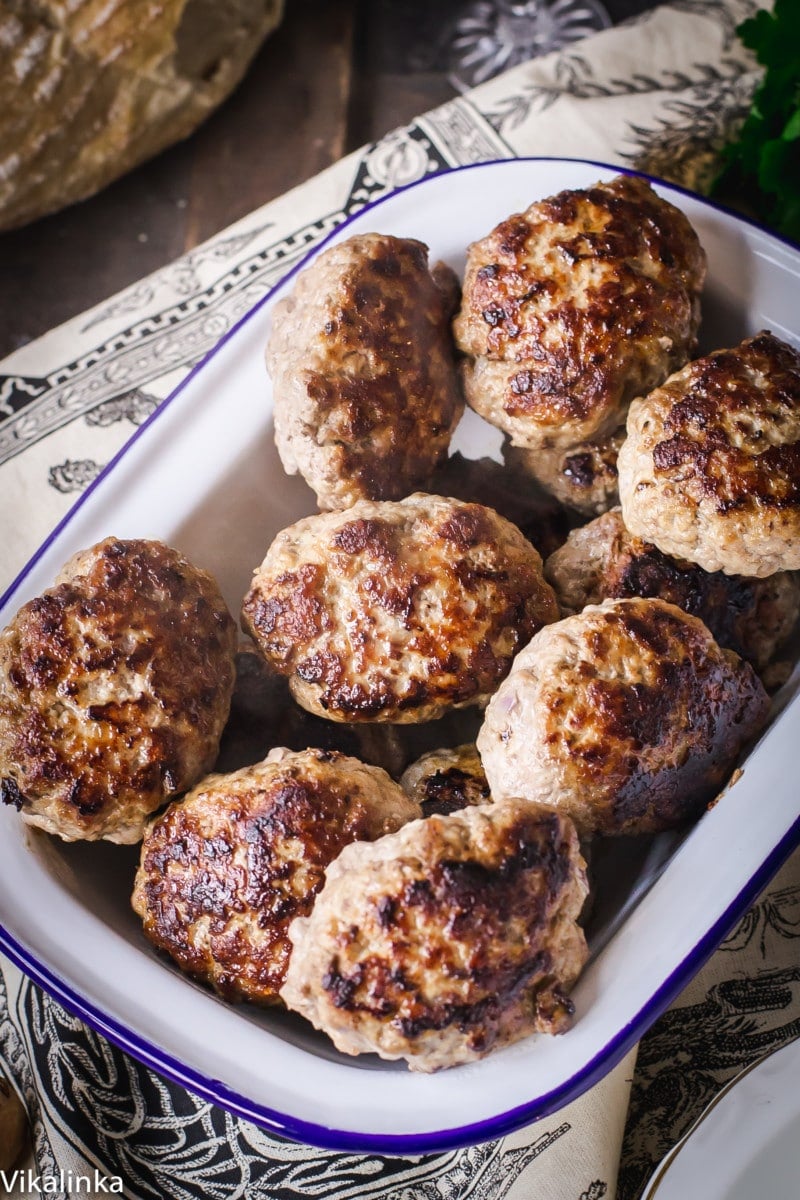 How to make kotleti aka Russian meat patties
Funnily enough, the request for these juicy beef and pork patties came from my ever so Canadian husband. He is a fan and so are my children and, if I am honest, everyone who's ever tried them because Kotleti have magical properties, they are the epitome of comfort food!
Apart from being a very simple, non-fussy, unpretentious grub they are incredibly easy to fix. No wonder my working mum cooked them at least once a week – in fact all mums I knew made them just as often.
Meat patties are a permanent fixture in all Russian and Ukrainian households as much as mushrooms, especially the wild varieties. Mushroom foraging is a national sport and one of the most favourite pastimes.
I still remember being loaded in a car as a child and being taken into the woods to hunt for mushrooms, feast on picnic food and discover the great outdoors with my family.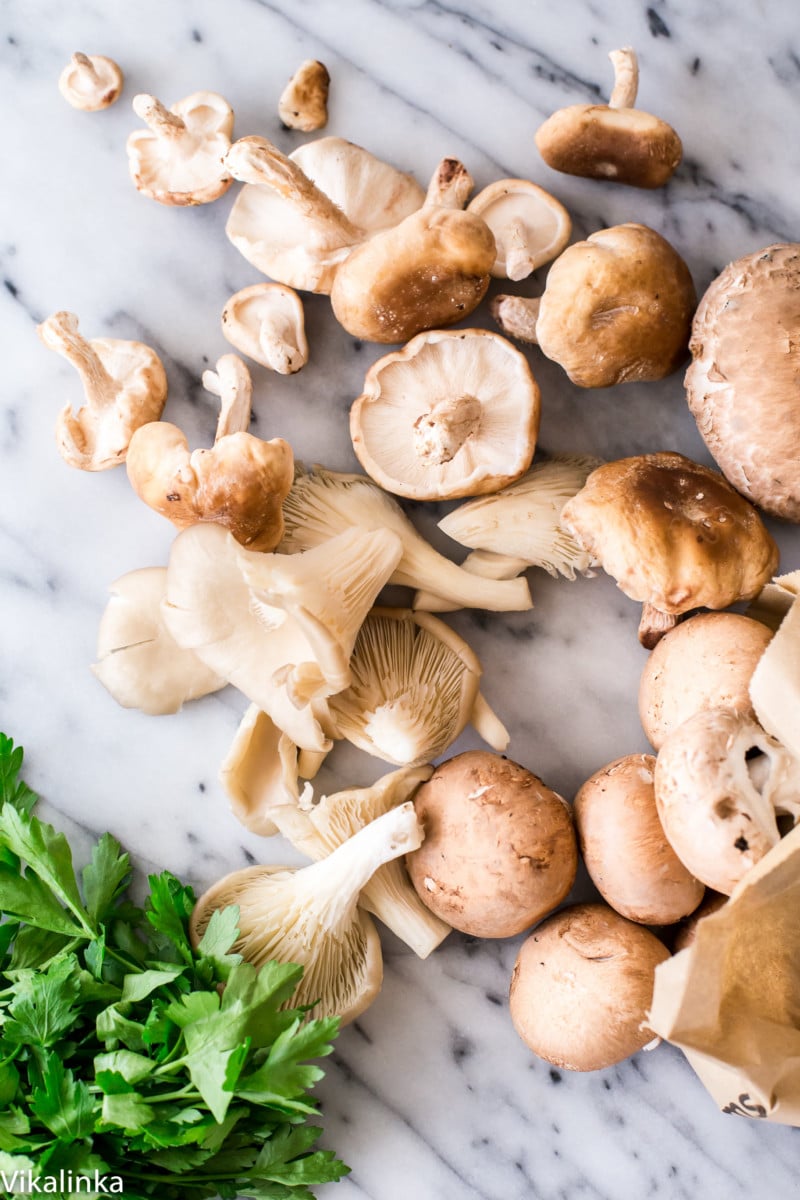 I miss the taste of wild mushrooms. They have much more earthy flavour and are not nearly as watery as the ones grown specifically for supermarkets, and to my delight, I've been noticing more wild mushrooms available for purchase lately.
For these meat patties I got a combination of oyster, shiitake, portobello and chestnut mushrooms to be blended into a creamy sauce. The result was nothing short of divine.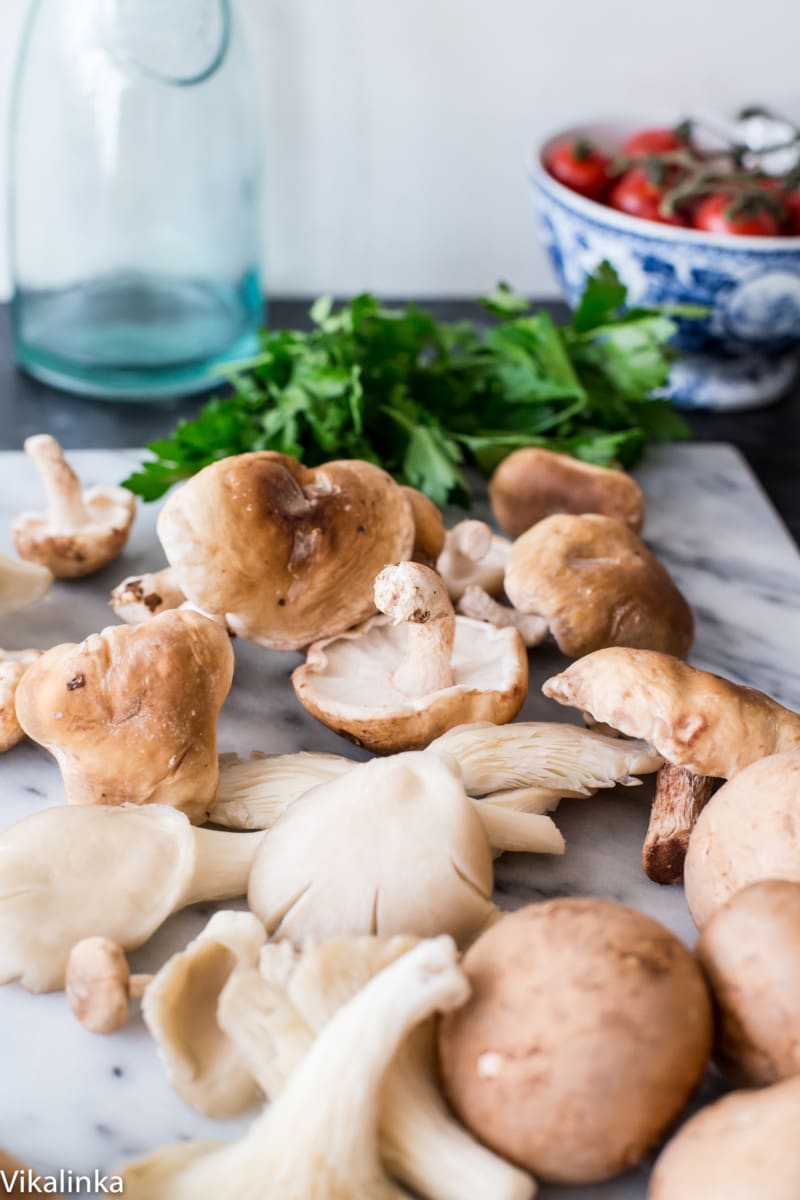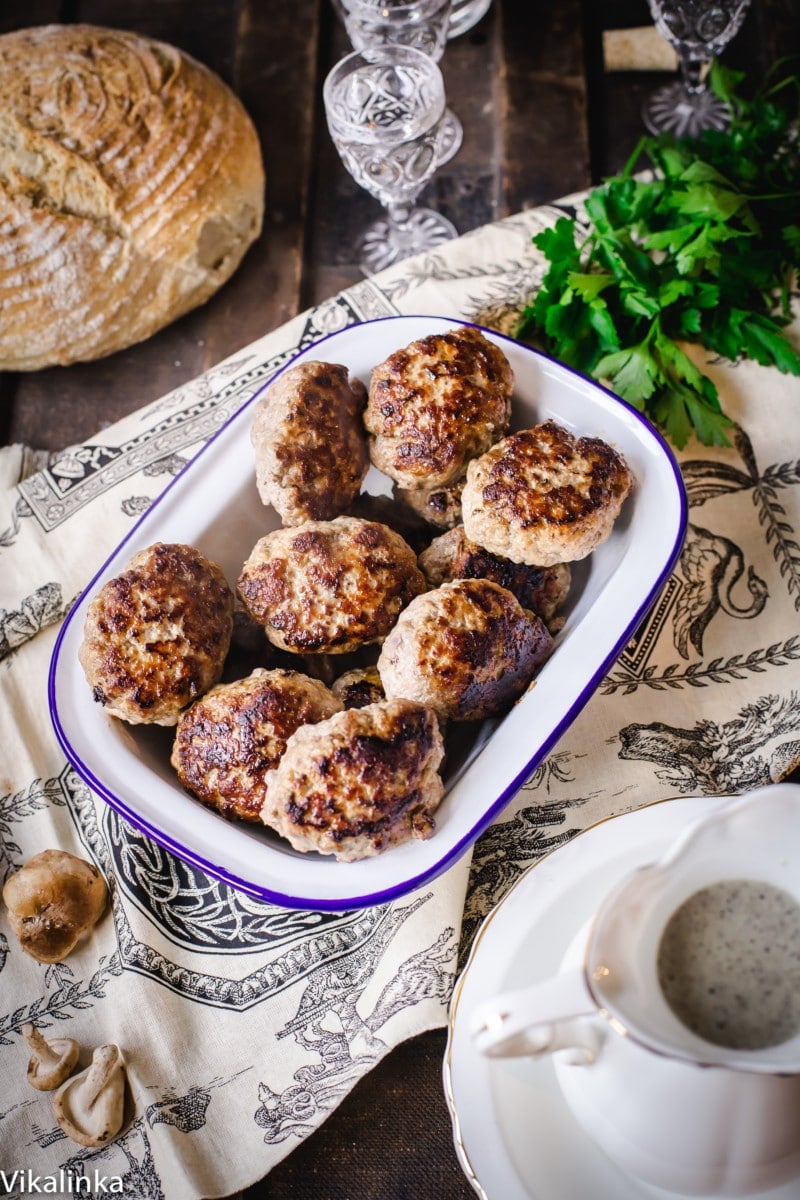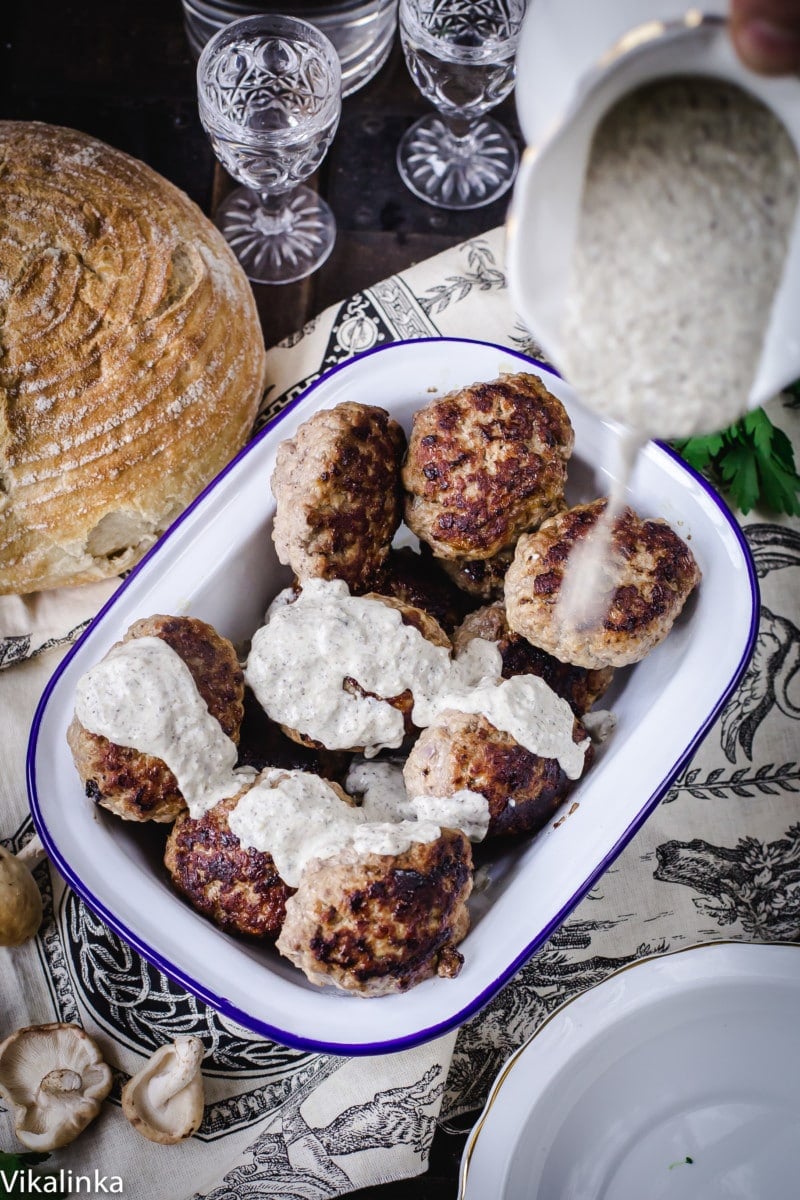 I usually tweak my mum's recipes quite a bit to adjust them to our more modern taste and to streamline the cooking process. In the case with these kotleti I've done none of it, so lo and behold an authentic Russian recipe that was made the same way by my mother and both grandmothers. A true vintage if you wish.
These meat patties are excellent paired with my Russian-style potatoes!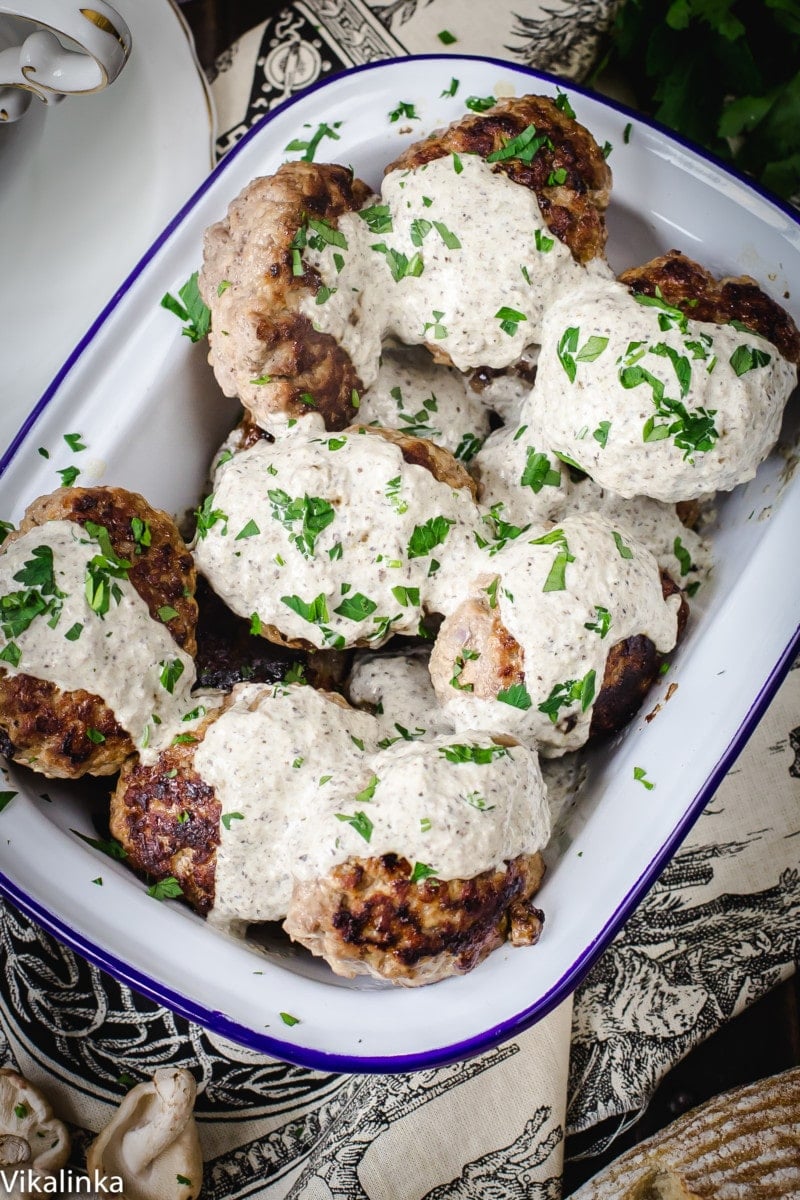 Ingredients
For the meat patties
1

lbs

extra lean ground beef

5% fat

1

lbs

extra lean ground pork

5% fat

1

onion

medium

1

slice

of stale white bread

½

cup/ 125 ml whole milk

1

tsp

salt

½

tsp

pepper

oil for frying
For the wild mushroom sauce
1

tbsp

olive oil

1

onion

chopped

3

cloves

of garlic

1

lbs

of wild mushrooms of your favourite kind or better yet a mix of different kinds

2

cups/500 ml double cream

salt and pepper

flat leaf parsley
Instructions
For the meat patties
Preheat the oven to 400F/200C.

Soak a slice of stale white bread in milk for 10 minutes.

Meanwhile combine ground pork and beef in a large mixing bowl.

Process a medium onion in a food processor with two tablespoons of water until you have a paste or grate it on a grater, add to the mixture.

Add soaked bread together with milk, salt and pepper and mix well with your hands.

Scoop the meat mixture with a ⅓ cup and form an oval shaped patty, flatten it with a palm of you hand. Continue until all mixture is used up.

Heat the oil in a large frying pan and brown patties in batches to avoid overcrowding and steaming.

Fry patties on both sides over medium heat for approximately 5-7 minutes, resist the temptation to flatten your puffed up patties for even cooking.

Put your browned patties in an oven proof pan in a single layer and cook in the preheated oven for additional 10 minutes.
For the wild mushroom sauce
While the meat patties are cooking in the oven it's time to make the mushroom sauce.

Heat the olive oil in a saucepan and cook the chopped onion over low heat for 7-10 minutes, add minced garlic, and minced parsley stems but reserve the leaves for garnish.

Add chopped mushrooms, salt and pepper and cook for 10 minutes.

Add cream, bring to a boil, then reduce the heat to low and let it simmer for 5 minutes.

Taste and add more salt and pepper if necessary.

Blend into a smooth sauce in a food processor or a blender.

Serve meat patties with hot wild mushroom sauce and sprinkled with parsley.
Nutrition Facts
Meat Patties 'Kotleti' with Wild Mushroom Sauce
Amount Per Serving
Calories 664
Calories from Fat 486
% Daily Value*
Fat 54g83%
Cholesterol 210mg70%
Sodium 540mg23%
Potassium 846mg24%
Carbohydrates 11g4%
Protein 34g68%
Vitamin A 1166IU23%
Vitamin C 6mg7%
Calcium 89mg9%
Iron 3mg17%
* Percent Daily Values are based on a 2000 calorie diet.