These salmon fishcakes are so moreish! It's difficult to stop at just one. They are such a good use of fresh salmon as they stretch a pound quite far.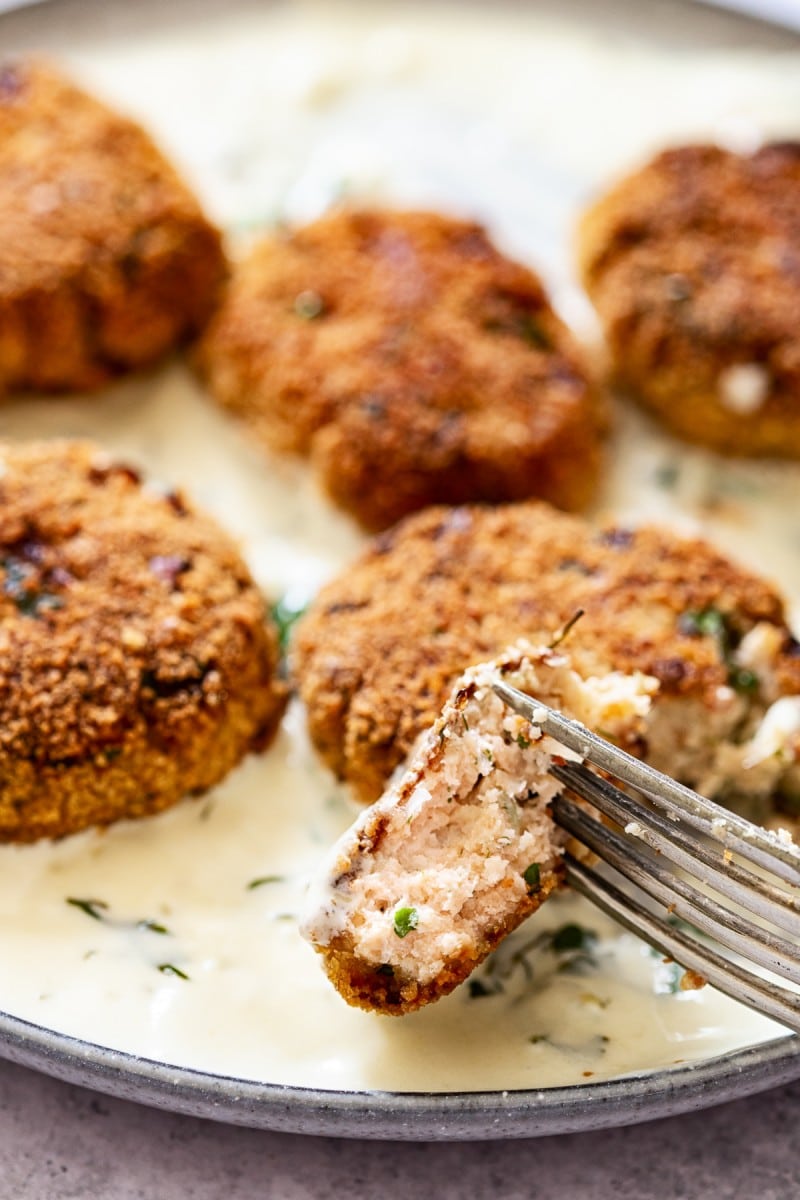 (This post is sponsored by Anolon Cookware. All opinions remain my own)
Why are these salmon fishcakes so delicious?
It took me years to train my children to like and eat fish! It's the same usual complaints…Too fishy. Too boney. I don't like the smell. I don't like the taste. Sigh.
If you are in the same boat, these salmon fishcakes are for you. They are a healthy, 'good for you' food masquerading as 'fast food'. My kids LOVE them and never complain when these are for dinner.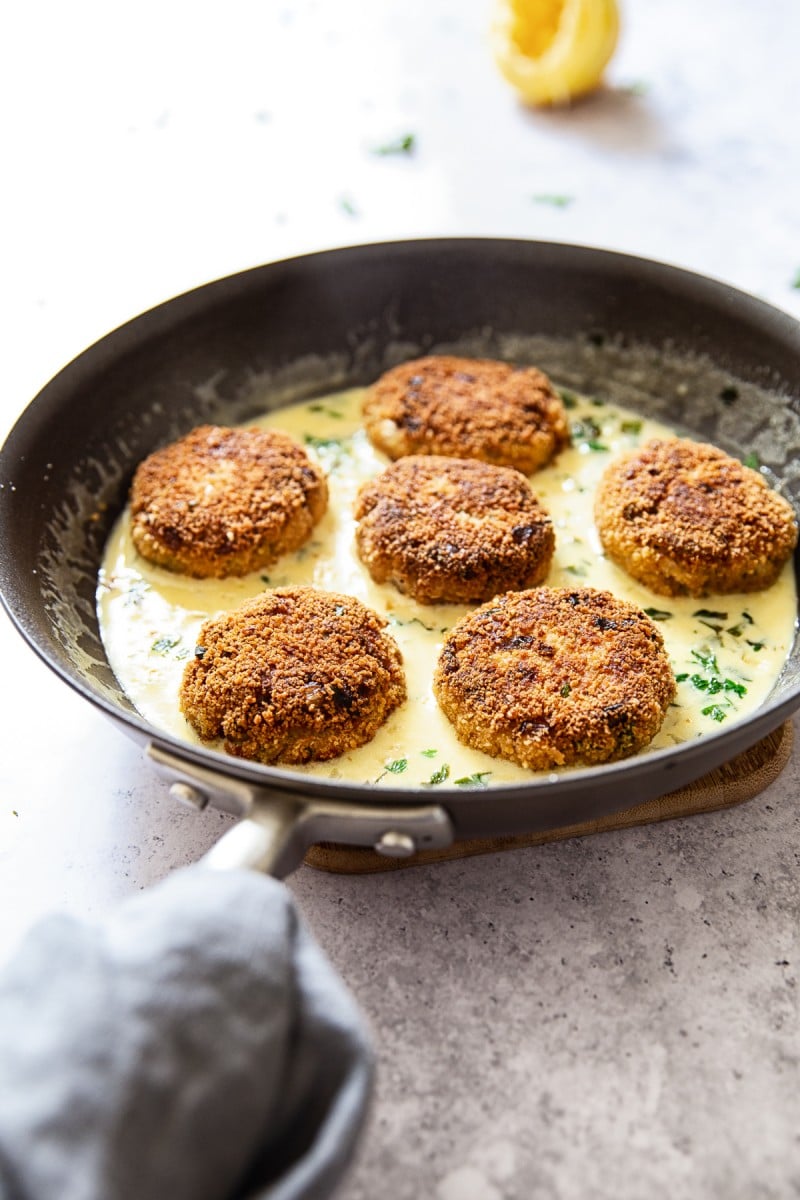 What are the ingredients in salmon fishcakes?
There are a few different ways to make salmon fishcakes but the main ingredients are usually either salmon and mashed potatoes or salmon and bread crumbs. I've used bread crumbs in my recipe.
Most salmon fishcakes use precooked or canned salmon but I wanted to use raw salmon in my recipe in hopes that the fish would maintain moisture if not cooked twice. Using raw fish for salmon patties was also the way my mom made them. It's the Russian way!
I was rewarded with very juicy and fluffy salmon cakes, the recipe for which I am sharing with you today!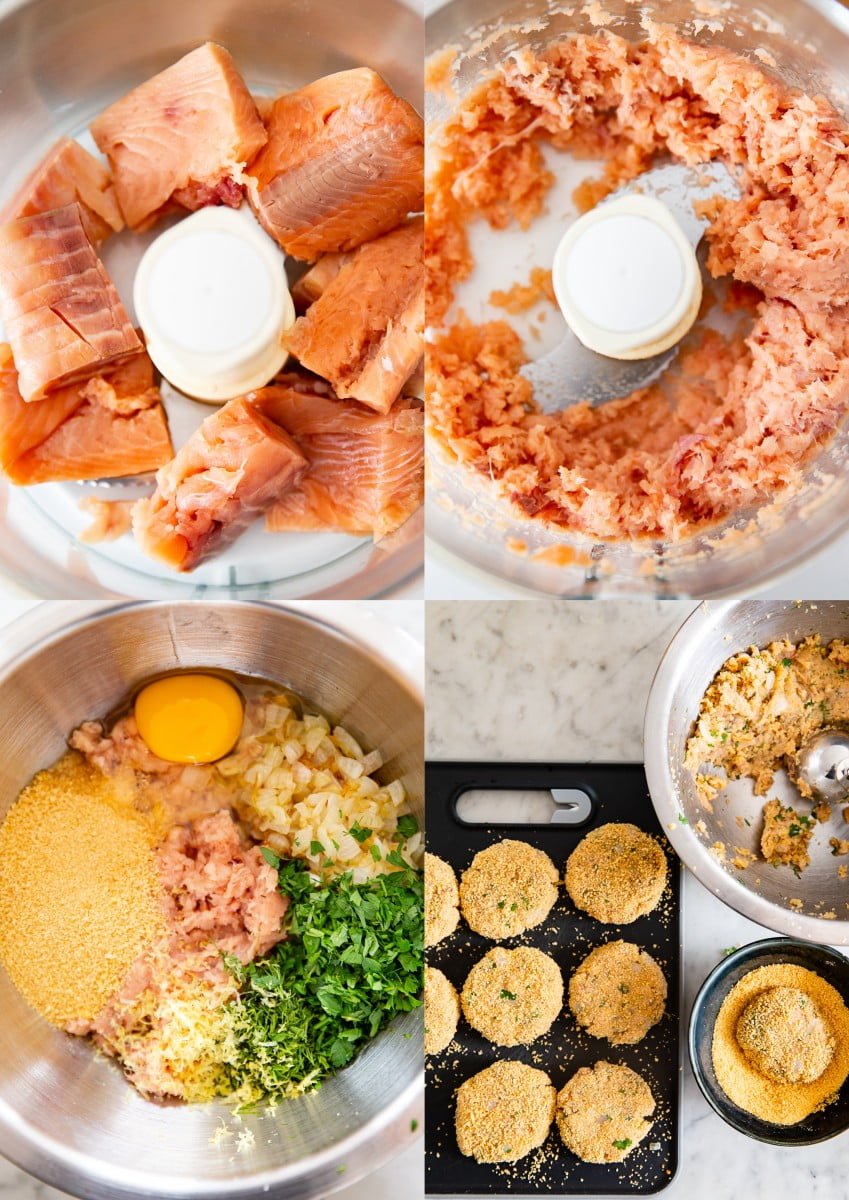 When it comes to fishcakes we expect a certain crispy exterior, so had two options here. I could roll them in flour and fry them or roll in breadcrumbs.
I was really after a very crispy salmon cake, so I chose breadcrumbs.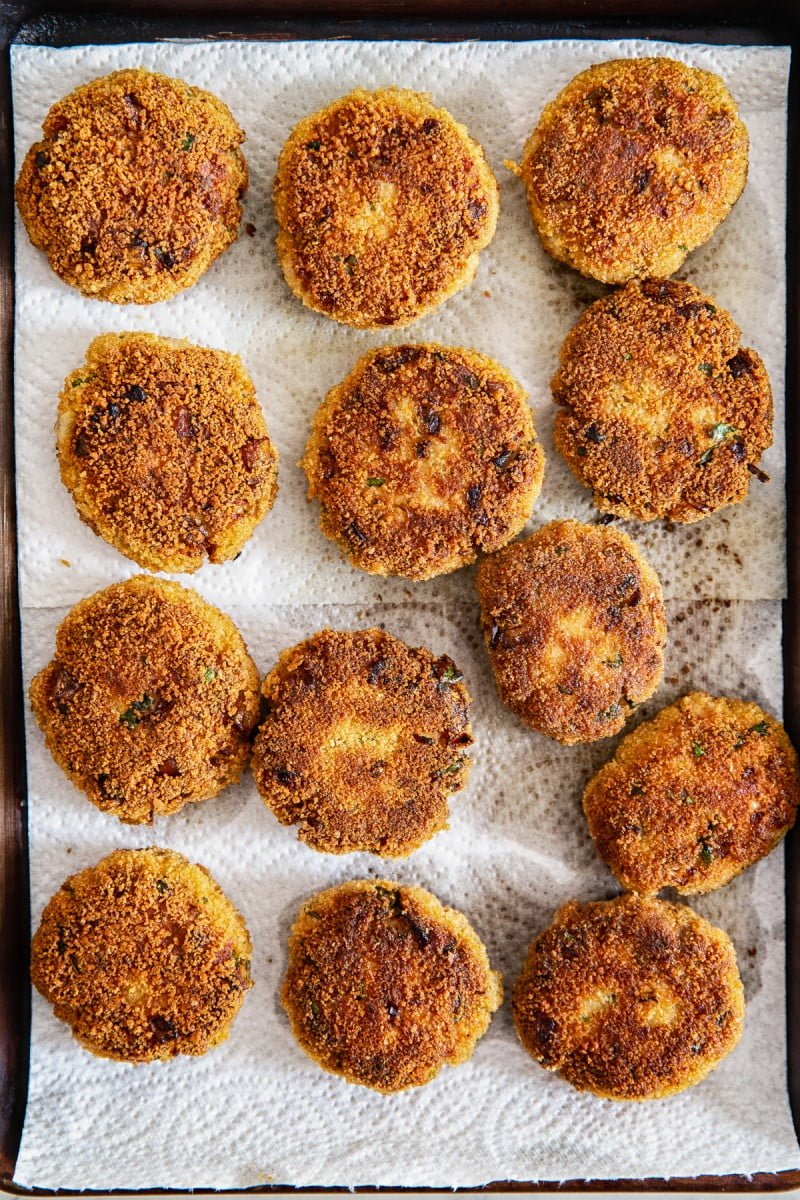 What to serve with salmon fishcakes
Salmon fishcakes definitely need a sauce or a dip of some kind, so I made a creamy white wine sauce and flavoured it with fresh parsley and dill. The sauce recipe itself is a classic and would go well with almost anything. I especially like it with chicken!
Depending on your eating habits these salmon cakes are great with potatoes. If you want to walk on the lighter side, just a simple green salad will do.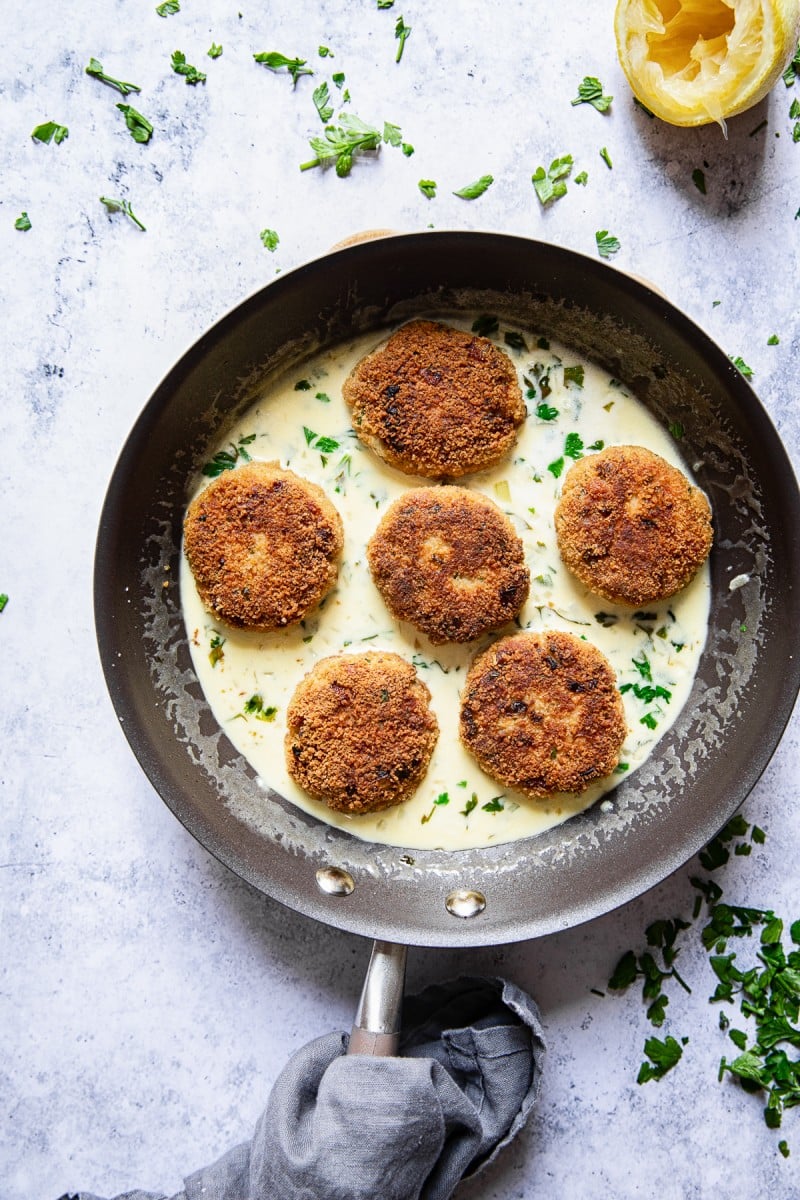 What is the best way to cook salmon fishcakes?
There are two options here as well. You can cook them in the oven but I chose to pan fry them in my new Anolon Advanced+ Umber Skillet Twin Pack. As I'd mentioned earlier I was after very crispy on the outside and fluffy on the inside fishcakes!
My new Anolon pans were absolutely perfect for the job. Their non-stick coating ensured that delicate salmon patties didn't get stuck and we easy to flip. And the thick, heavy bottomed skillet provided excellent heat distribution, which is so important for pan frying.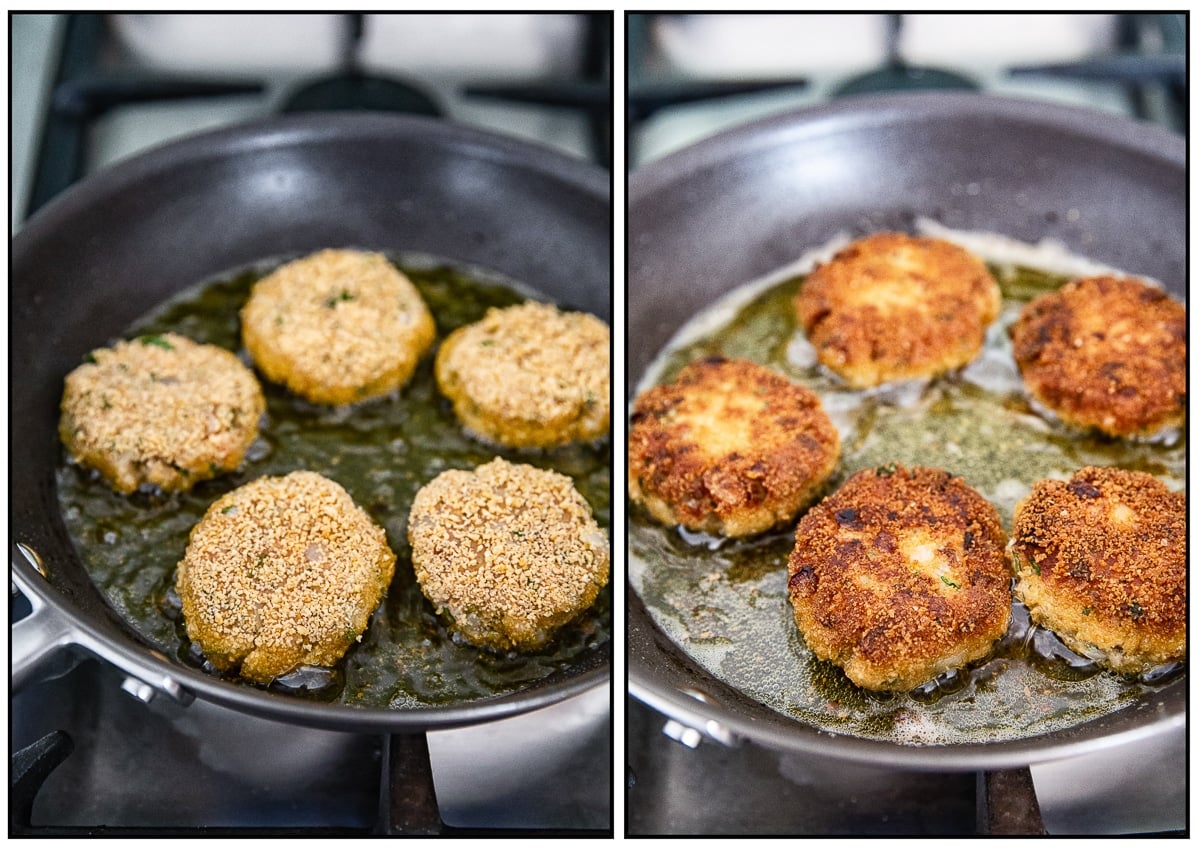 Have you noticed how many non-stick pans are so light and heat up incredibly fast? Unfortunately, what happens is the outside get browned before the interior is cooked.
Not the case with the Anolon Advanced+ Umber range! Did I mention they are also metal utensil and dishwasher safe? So they won't get scratched up easily and the clean up is a dream!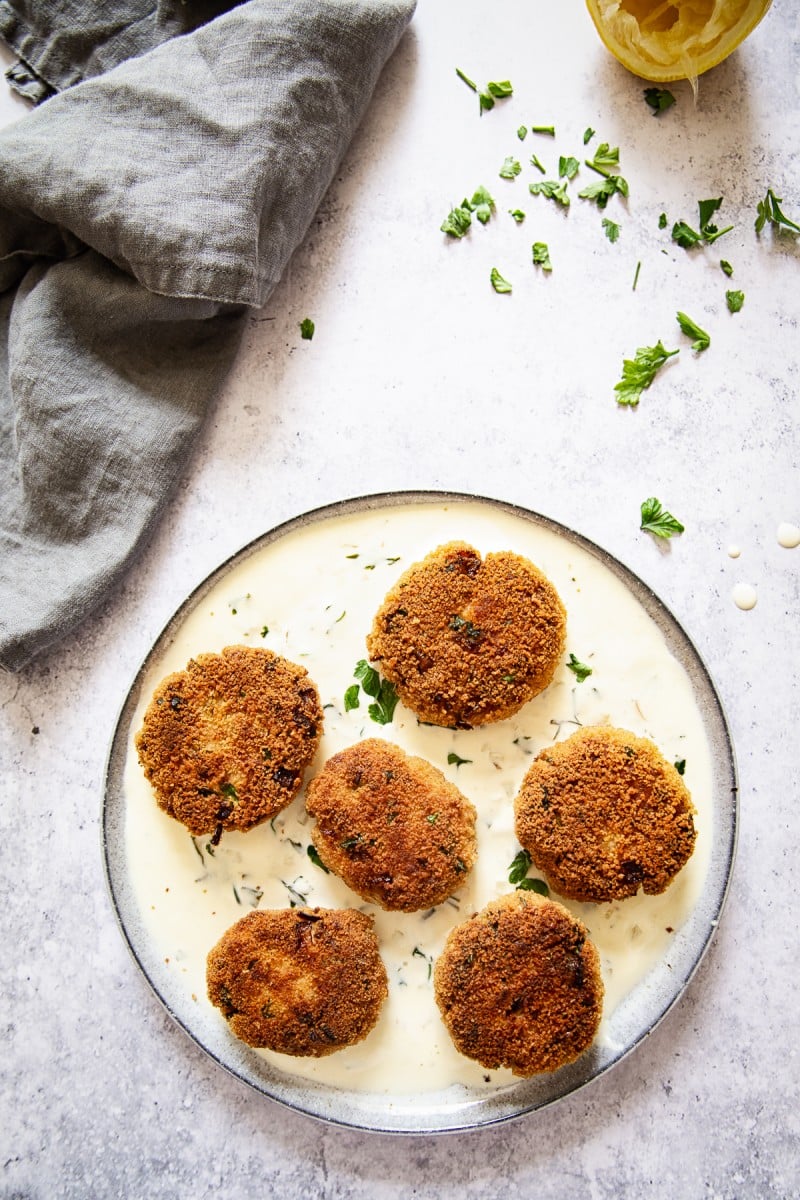 For more delicious salmon recipes check out
Salmon Teriyaki with Bok Choy One Pan Dinner
Salmon en croute (Salmon in pastry)
Asian Salmon with Carrot and Cucumber Slaw
Salmon Cakes with Chive and Garlic Sauce (salmon cakes with a potato mash base)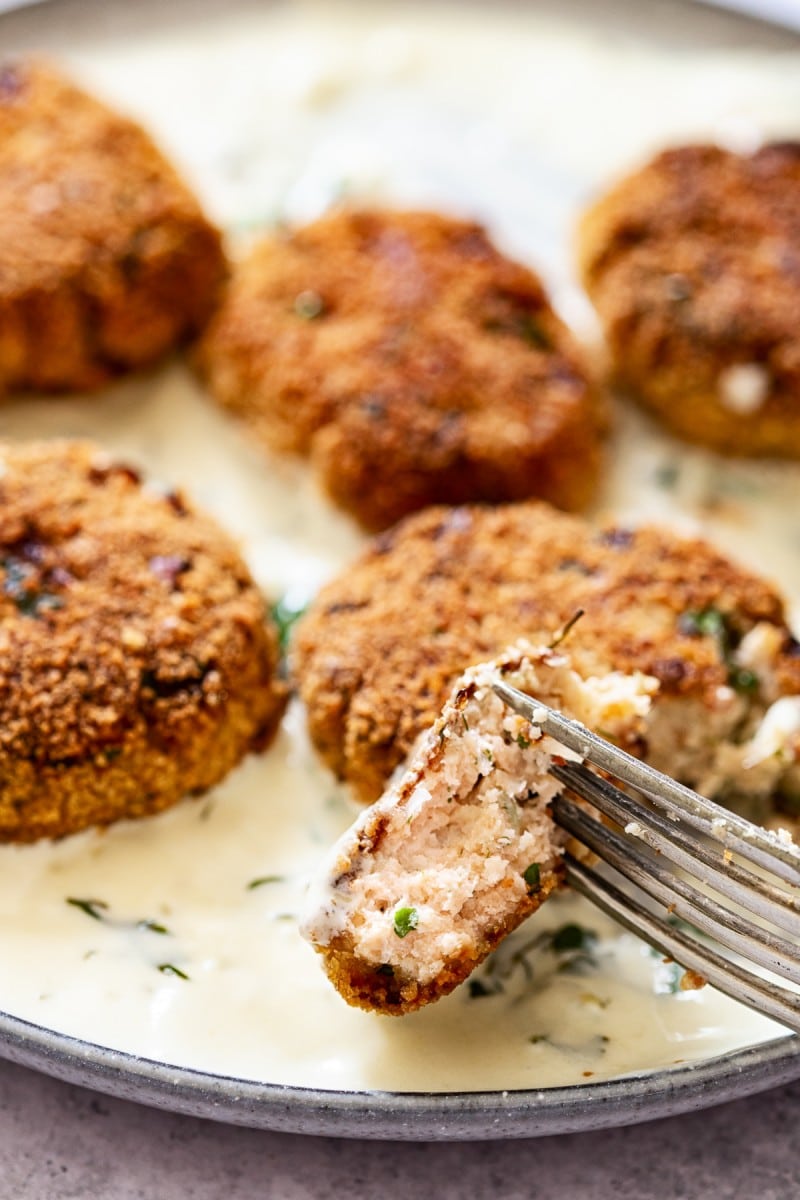 Ingredients
For the salmon fishcakes
2

tbsp

butter

1

onion

chopped

1

lbs

salmon fillet

2

tbsp

dill

fresh, chopped

2

tbsp

parsley

fresh, chopped

85g/2/3cup

dry breadcrumbs

1

egg

1/2

lemon

zest

1

tbsp

lemon juice

1

tsp

salt

1/2

tsp

pepper

60g/1/2cup

dry breadcrumbs for coating

3

tsp

olive oil for frying
For the creamy white wine sauce
1

tbsp

butter

1/2

small onion

diced

1

tbsp

fresh parsley

chopped

60ml/1/4cup

white wine

dry

125ml/1/2 cup

double cream/heavy cream

salt and pepper to taste

1/2

tsp

fresh dill
Instructions
For the salmon fishcakes
Melt the butter in a frying pan and saute the chopped onion over low heat until soft and translucent for 10 minutes. Set aside and cool.

In a food processor pulse the salmon fillet until roughly minced.

In a large bowl mix together the minced salmon, cooked onions, dry breadcrumbs, parsley, dill, lemon zest and juice, egg, salt and pepper.

Set the working surface for shaping the salmon fishcakes. You will need the fishcake mixture, a small bowl with dried breadcrumbs, a small ice cream scoop or a large spoon and a cutting board for the fishcakes.

Scoop the salmon mixture the size of a golf ball, roll it in your hands then flatten it slightly and dip in the breadcrumbs to coat the fishcake entirely. (See photos in the post.) Repeat until the salmon mixture is gone. You should have approximately 12-14 fishcakes. Put them in the freezer for 20 minutes to firm up.

Fry them in hot olive oil over medium heat for 3-4 minutes on each side until crispy on the outside and cooked all the way through. Place them on a paper towel lined platter to drain the excess oil.
For the creamy white wine sauce
In a frying pan cook the finely chopped onion or shallot and parsley in butter over low heat for 10 minutes. Then add the white wine and turn the heat up to medium and let it reduce in half for 5-7 minutes.

Add the double cream and a pinch of salt and pepper and let it simmer over low heat for 1-2 minutes. Then add the chopped dill and take it off the heat.

Serve the salmon cakes with the cream white wine sauce on the side.
Notes
The recipe makes 12-14 fishcakes.
Serve the creamy white wine sauce on the side to avoid the salmon fishcakes from getting soggy.