Learn to make authentic Pancit Canton through this easy recipe. These Filipino noodles, flavoured with garlic, ginger and soy sauce, then stir fried with vegetables, pork and shrimp are simply to die for!!
Take a look at another Filipino recipe if you are in the mood for chicken. This Chicken Adobo is it!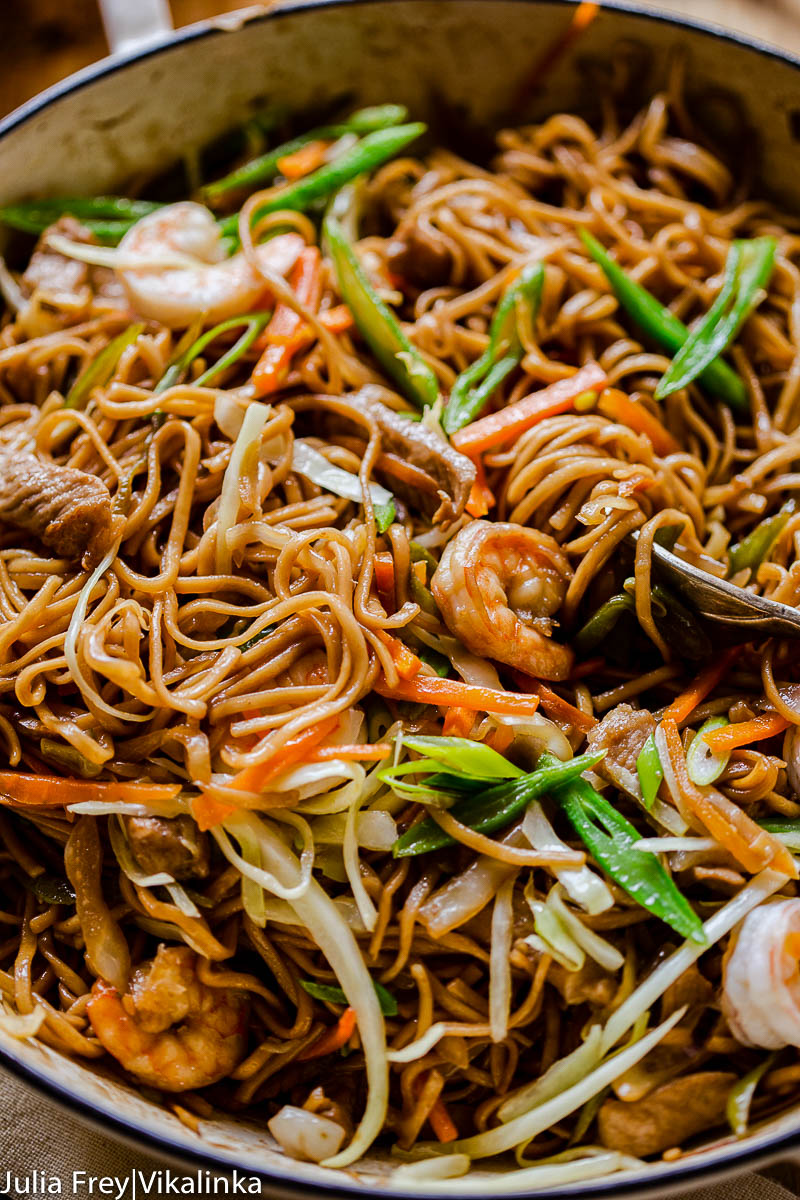 Filipino noodles with pork and shrimp aka Pancit Canton are very hot in our house right now. It seems that children simply don't get tired of these salty noodles with crunchy vegetables, and neither do we.
Why this recipe works
Filipino noodles are quick, made with everyday ingredients, that are most likely already in your fridge and pantry, and they are FULL of good stuff! They are also pretty economical!
Apart from the noodles, you will need a handful of vegetables like green beans, carrots and cabbage as well as pork loin and shrimp to make a flavour-packed one pan dinner.
The ingredients to add extra flavour are minimal and readily available in supermarkets.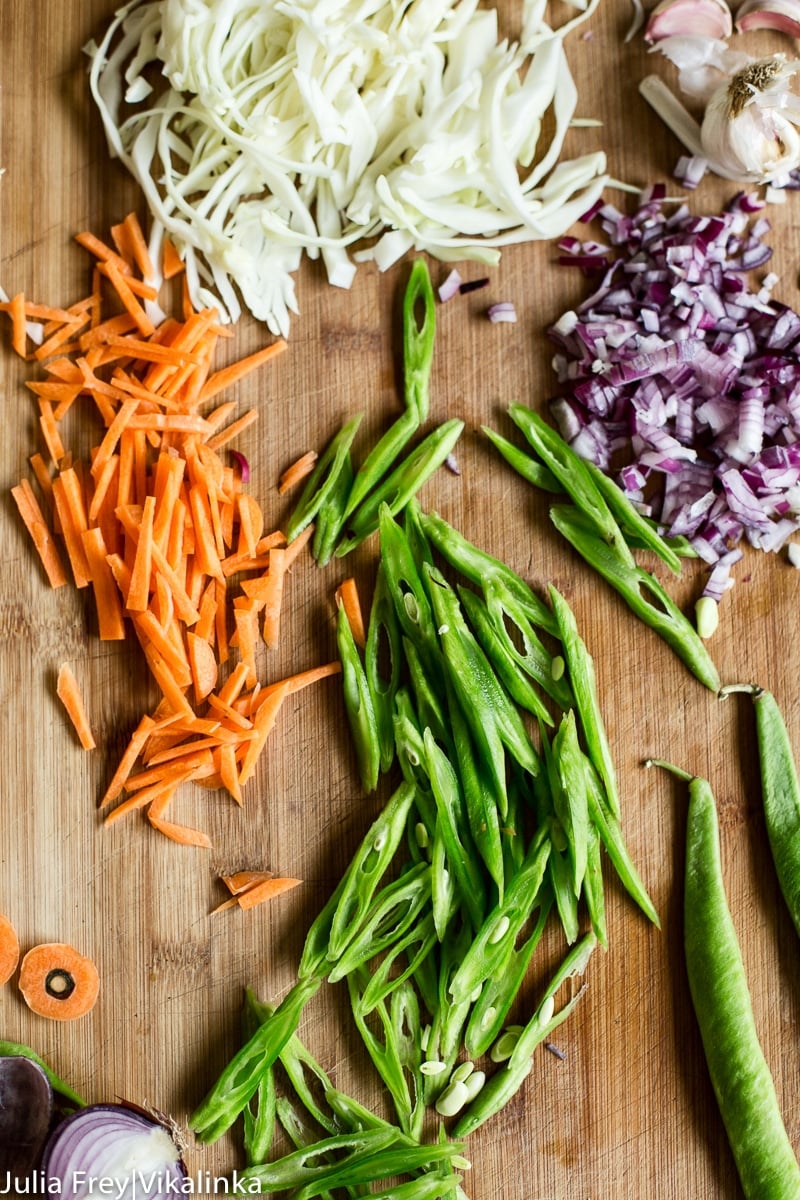 What is Filipino food like?
It seems like simple and inexpensive are the words to describe Filipino cuisine. Or at least the part I am familiar with. I spent a year living in the province of Isabela in my 20s.
When it comes to Asian food, Filipino food stands out for its short ingredient list and a lack of obscure items. Salty and sour taste is what characterises it and it is very easy to recreate at home.
Pork and rice are big staples in the Filipino cuisine, so are fish and fried chicken. Add in a variety of vegetable stir fries and you've got yourself many options to choose from.
Interestingly enough, the food is NOT eaten with chopsticks, as in many Asian countries, but with a fork and a spoon. Yes, I meant to say a spoon and not a knife.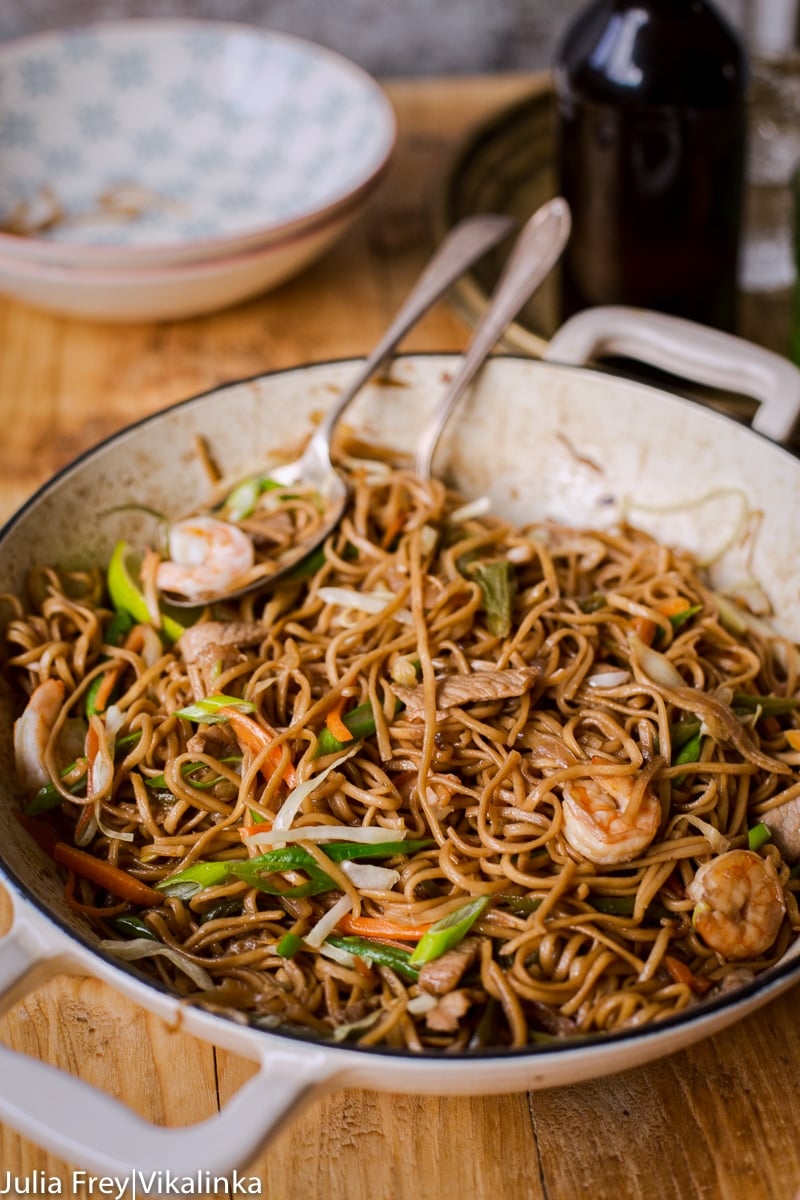 After I posted the recipe for my Filipino Chicken Adobo, it became pretty clear that you, my friends, LOVED it. And you asked for more of similar recipes. So today I come to you with another family favourite, and an incredibly popular dish in the Philippines. Pancit Canton.
Pancit simply means "noodles" in the Philippines and Canton-"Chinese". A large portion of the Filipino cuisine is influenced by the Chinese. But after centuries of cooking it, they made it their own, and Pancit is a good example of it.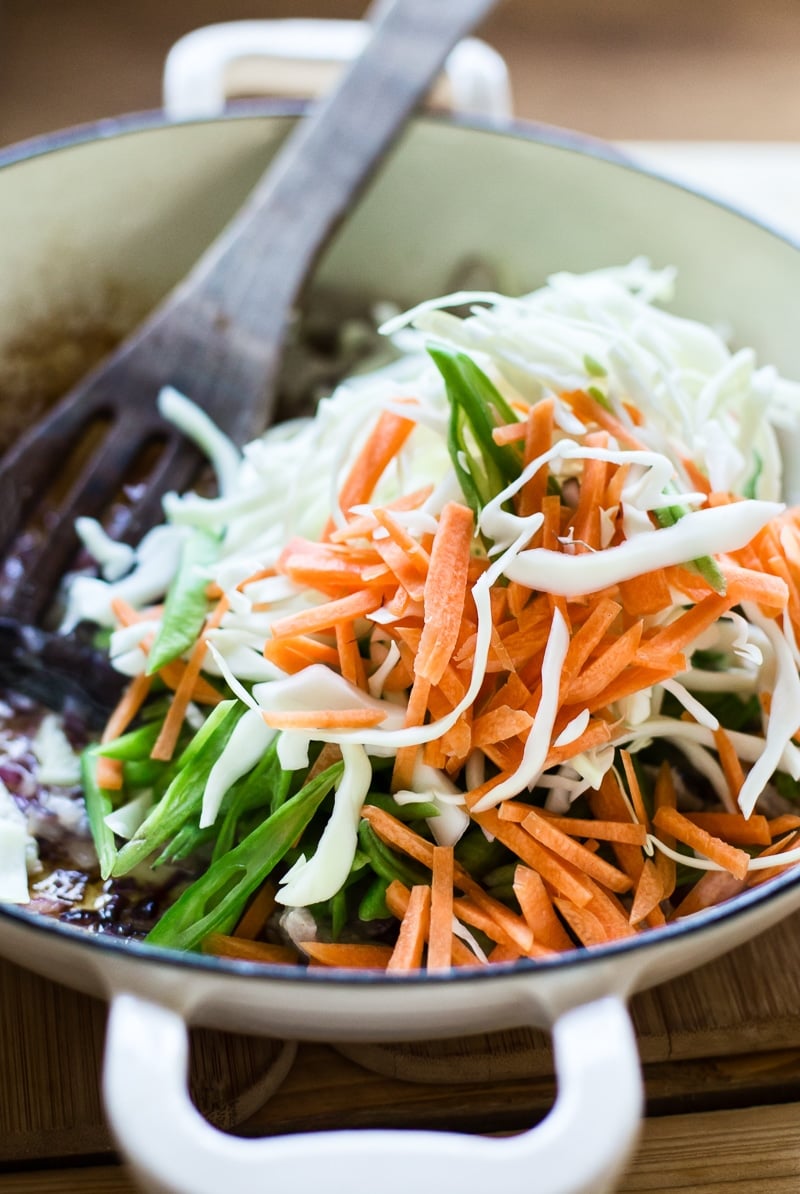 What is Pancit?
So let's talk about this crazy delicious yet simple dish. Pancit is pretty special to the Filipinos, and is often made for birthday celebrations. I ate a lot of these delicious noodles in my year in the Philippines, as we constantly got invited to birthday parties!
It can be made with pork or chicken, with or without shrimp, with egg noodles or cellophane noodles (the clear kind, and my personal favourite).
But what remains constant is soy sauce soaked noodles with a tri-veg combination. Carrots, string beans and cabbage.
In my recipe I used runner beans, which I sliced thinly, but feel free to use regular green beans or string beans if you can find them in Asian markets.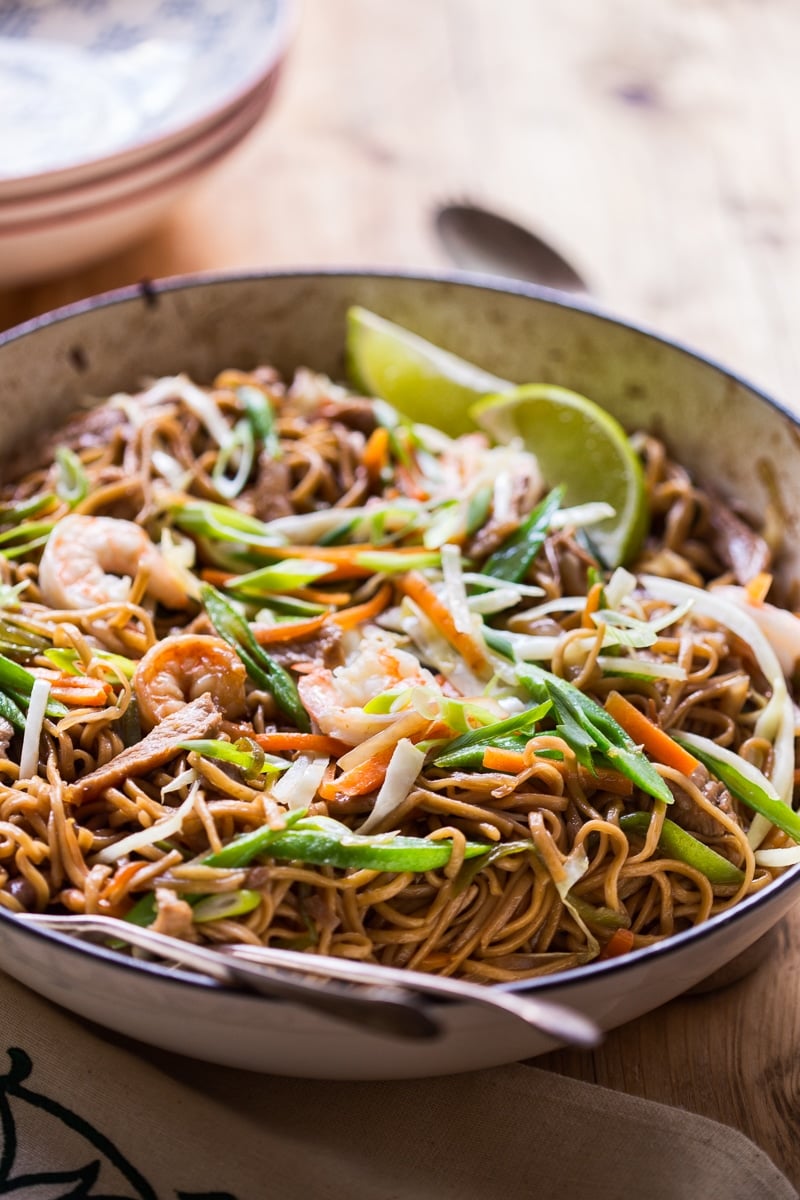 Recipe Tips and Notes
The recipe I am sharing today is my slight adaptation of a recipe that my friend, who also spent that year in the Philippines, shared with me. I changed the cooking method slightly, which I think simplified the recipe. I also added a drop of sesame oil to the dish.
I've never seen it being used by home cooks but I could always smell it from street stands and in restaurants. So I am assuming it's still authentic and if not, I am not apologising because it makes it more fragrant and delicious.
My version of Pancit takes only 30 minutes to make, and feeds 4 but could be doubled or tripled if you have a big enough pan! It is traditionally made in a large wok, so if you have one, use it!
These noodles are usually served with a Filipino lime called calamansi, the juice of which is squeezed over Pancit. Calamansi incredibly fragrant and delicious but if you can't find it, serve with a regular lime.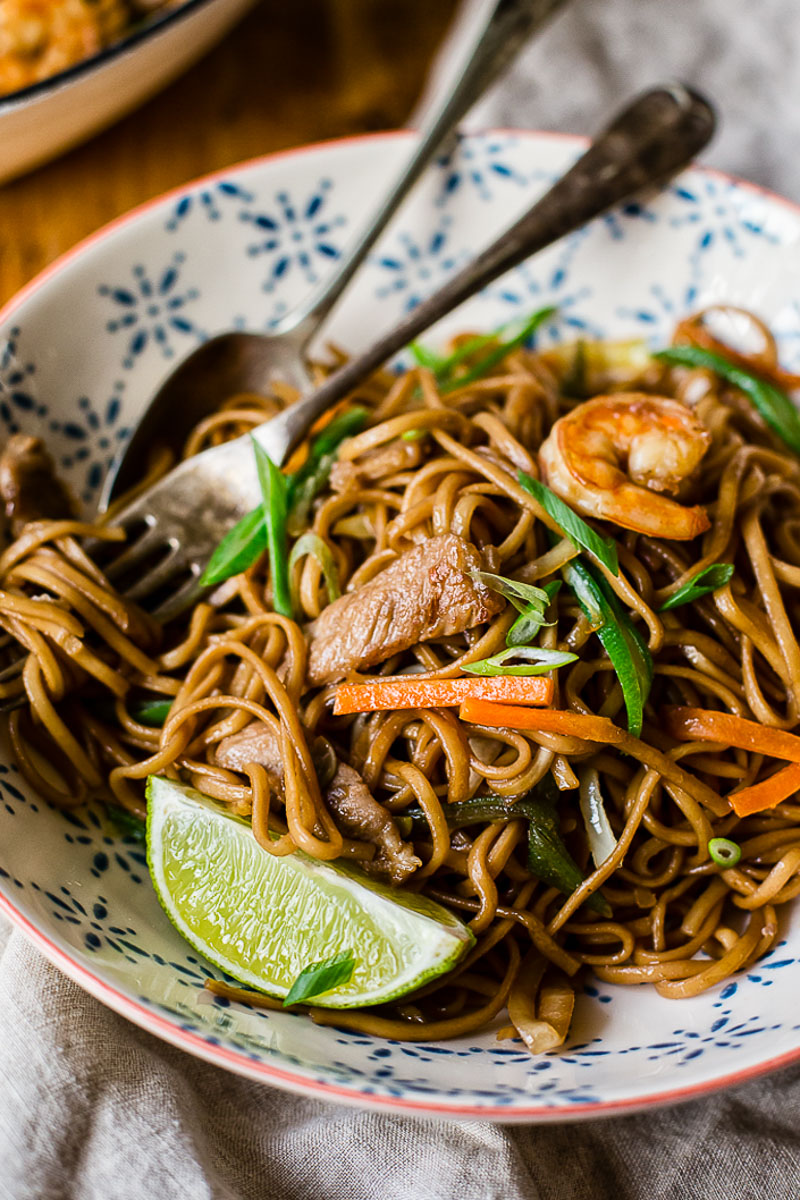 More Asian Noodle Recipes to Try:
This recipe was originally published in 02/2017. Updated and republished in 05/2021.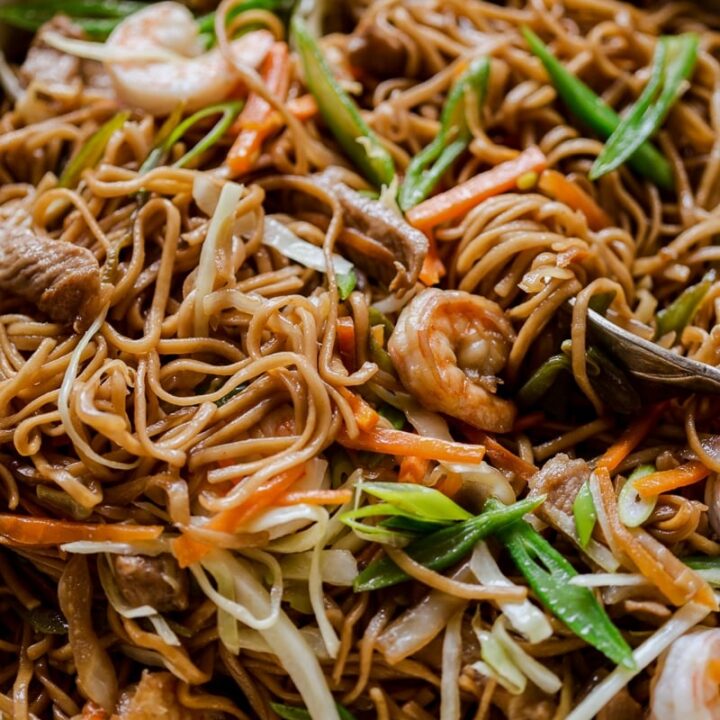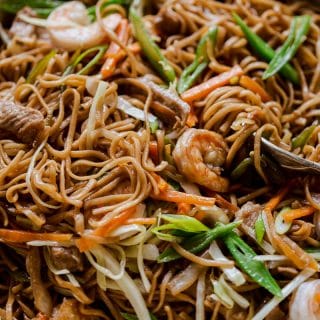 Filipino Noodles with Pork and Shrimp (Pancit Canton)
These Filipino noodles, flavoured with garlic, ginger and soy sauce, then stir fried with vegetables, pork and shrimp are simply to die for!!
Print
Pin
Rate
Ingredients
2

tbsp

vegetable oil

1

small onion

chopped

2

garlic cloves

minced

200g/7 oz

pork loin

sliced thinly

100g/1 cup

carrot

green beans and cabbage, sliced thinly

150g/1 cup

green beans

sliced thinly

100g/1 cup

white cabbage

sliced thinly

3

tbsp

+1 tbsp soy sauce

125g/4 oz

shrimp

250g/8 oz

egg noodles

1

tsp

sesame oil

1

lime

quartered (optional)

2

green onions

sliced
Instructions
In a deep pan or a wok heat vegetable oil over medium heat, then add onion, garlic and cook for 1 minute, then add pork, a pinch of salt and stir fry until pork is cooked for about 5 minutes.

Add carrots, green beans and cabbage, soy sauce and shrimp, stir to combine and cook on medium-high heat for 7 minutes stirring occasionally until the vegetables are tender but still slightly crisp.

While your vegetables are cooking, prepare the noodles according to package directions. They take 3-4 minutes on average.

Drain the noodles and add to the pan, toss everything together, taste and add an additional tablespoon of soy sauce and a teaspoon of sesame oil, sprinkle with sliced green onion.

Serve with lime quarters or calamansi.
Nutrition
Calories:
463
kcal
|
Carbohydrates:
57
g
|
Protein:
30
g
|
Fat:
13
g
|
Saturated Fat:
7
g
|
Trans Fat:
1
g
|
Cholesterol:
163
mg
|
Sodium:
1061
mg
|
Potassium:
675
mg
|
Fiber:
6
g
|
Sugar:
6
g
|
Vitamin A:
4567
IU
|
Vitamin C:
25
mg
|
Calcium:
123
mg
|
Iron:
3
mg