This Filipino Chicken Adobo is a definite step away from "the same old"! Chicken thighs and drumsticks braised in pungent vinegar and soy sauce with an addition of garlic and ginger. Just regular pantry staples produce an unforgettable flavour.
For more Filipino recipes, check out our Pancit Canton Noodles with Pork and Shrimp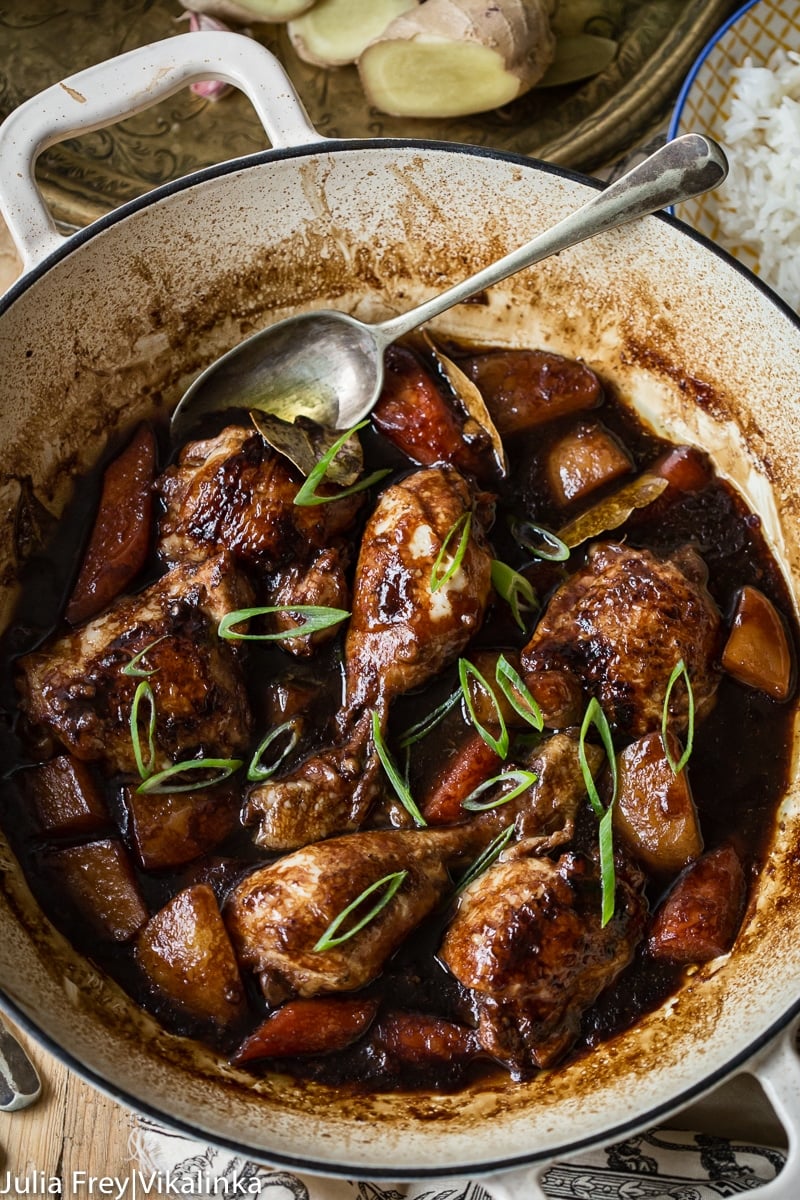 This might come as a surprise to you, given my background, that I carry a very strong emotional attachment to all things Filipino, and this Chicken Adobo in particular.
I spent a year of my life in the Philippines in my early twenties, and although it was one of the most difficult years in my then young life I've come to love and appreciate the country and her people.
I also brought home a handful of recipes with me, that I still use. This Chicken Adobo recipe is one of them.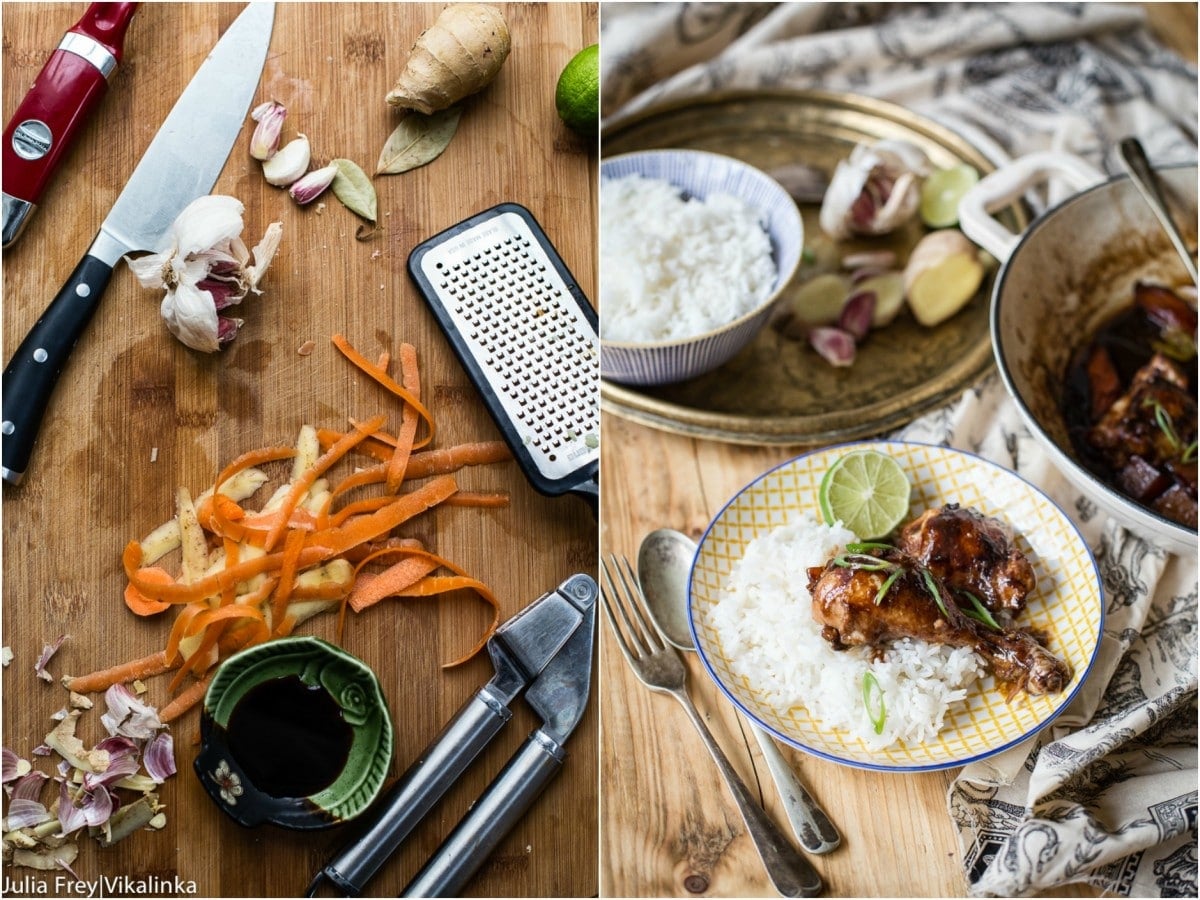 I lived in a small village in a bamboo hut, slept on the floor, had food and drink so foreign to me that half of the time I couldn't even identify things I was putting in my mouth (starting a couple of months in – in the beginning I was firmly on a peanut butter and cracker diet).
It was well before mobile phones became ubiquitous and internet connections reliable. My fiance, now husband and I wrote letters and then waited weeks to get a reply. I still have ALL of them. Exchanging stories of what we did and ate was highly amusing.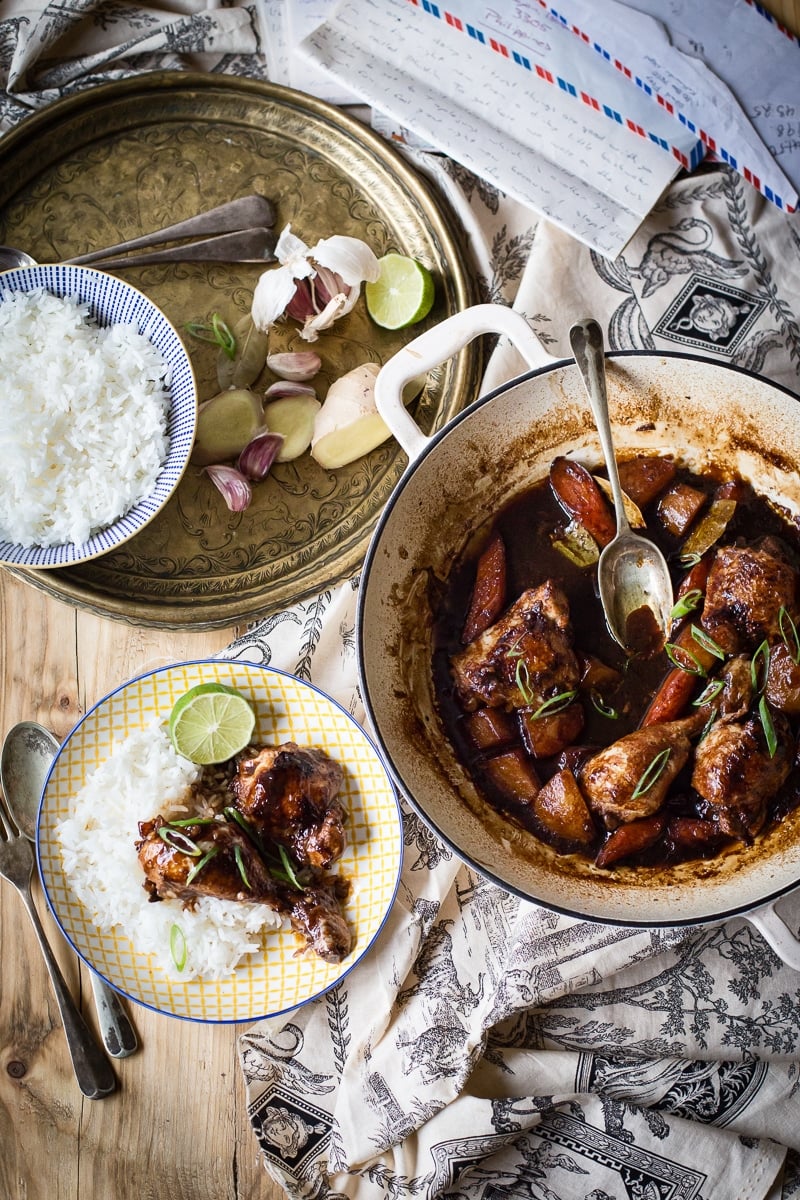 It's interesting how strange and foreign things soon enough become familiar and even soothing. This Chicken Adobo stew is one of those things. Incredibly simple yet rich in flavour, it became my comfort food in a country so different from my own.
One of the best things about this recipe is how easy it is to make use the simplest of pantry staples. No unfamiliar or rare ingredients here.
Chicken Adobo is very easy to love even if you are not a fan of Filipino food. It's reminiscent of our stews that nourish, satisfy and warm up from the inside.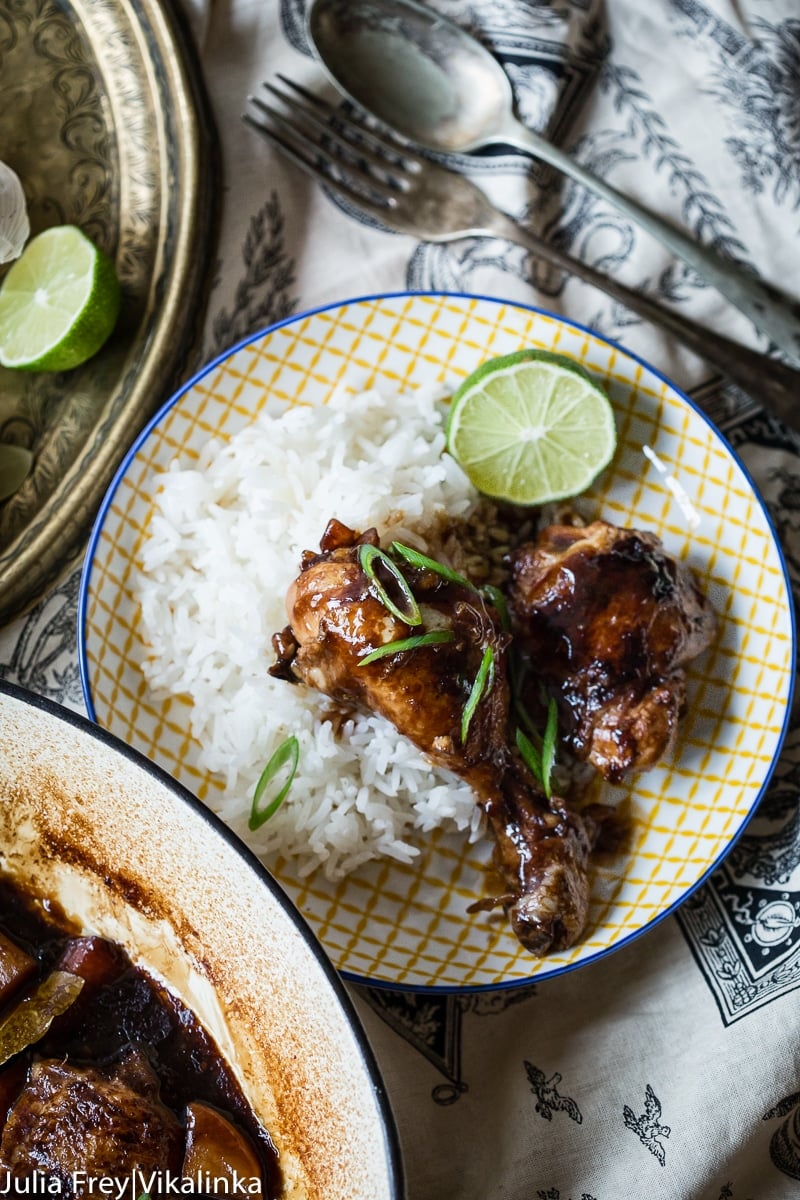 What is Filipino Chicken Adobo?
Essentially, this chicken dish is flavoured with garlic, ginger, soy sauce and vinegar. Sometimes carrots and potatoes are added to balance out the strong adobo sauce. I personally highly recommend adding them! That's how Lanie, our housekeeper cooked it. I added a bay leaf as it's a flavour I love and other adobo recipes seem to have it as well.
Adobo is also made with pork in the Philippines and it's just as delicious but quite a bit fattier! If you decide to use pork instead of chicken, I suggest using a slow cooker for best results.
What is traditionally served with Adobo?
In my time in the Philippines Chicken Adobo was always served with plain, unsalted rice and tiny citrus calamansi, also known as Filipino lime. Sadly I've never seen calamansi outside of the Philippines, which is a real shame because their taste is unparalleled to any citrus here!
I used limes as a substitute in this recipe, just squeeze a little bit of lime juice into individual portions.
For another traditional Filipino dish check out my Pancit Canton recipe.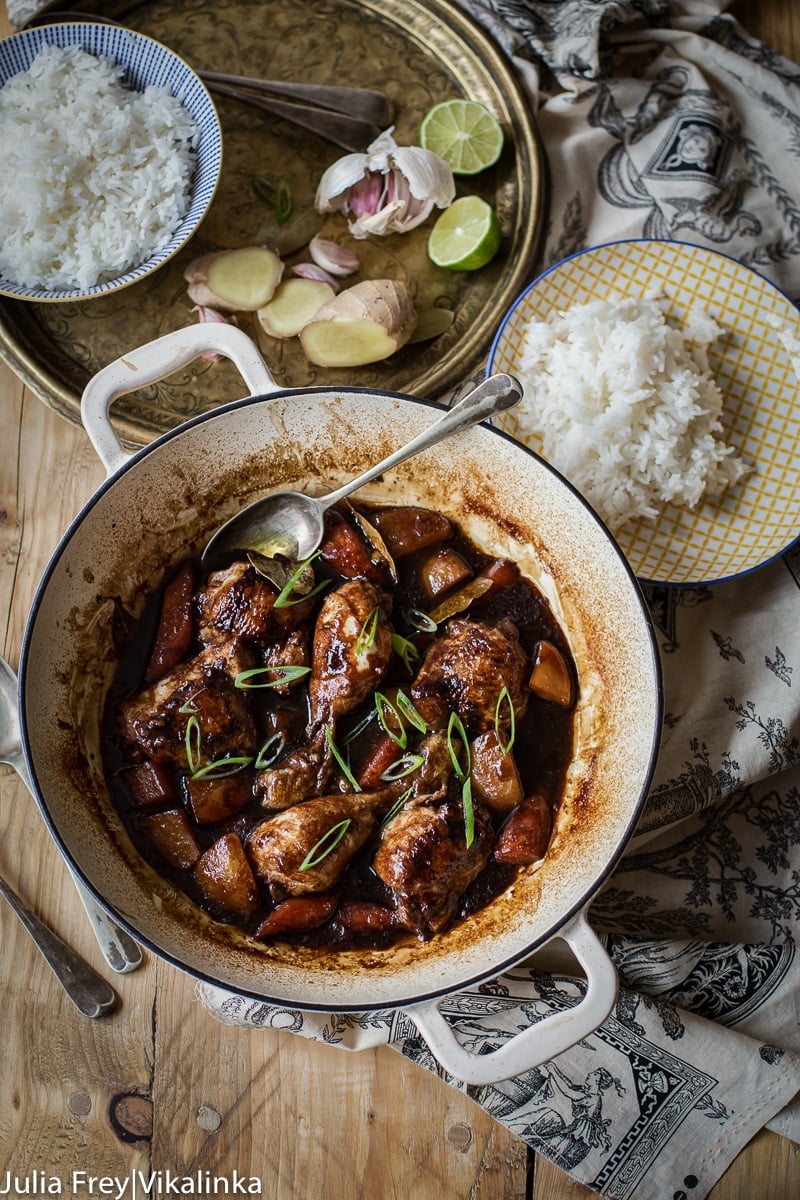 If you make my Filipino Chicken Adobo, I would love to see your photos! Tag @vikalinka when you share them on Instagram!!
More Asian inspired chicken recipes to try:
Originally published in 01/2017. Updated and republished in 03/2020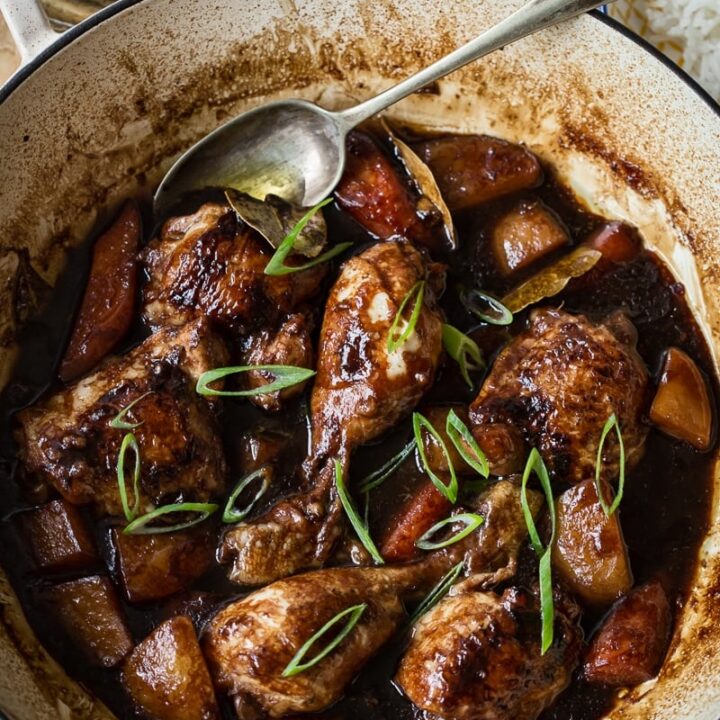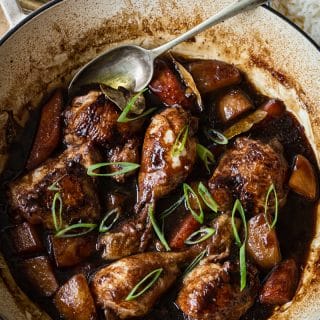 Filipino Chicken Adobo
Chicken braised in pungent vinegar and soy sauce with an addition of garlic and ginger.
Ingredients
8

chicken pieces

legs and thighs

125ml/1/2cup

soy sauce/Bragg or Kikkoman brand for gluten-free version

125ml/1/2-¾cup

cup

rice vinegar

adjust it to your taste

2

tbsp

vegetable oil

2

inch

long piece of ginger

grated

5

cloves

garlic

crushed

2-3

bay leaves

½

tsp

fresh ground black pepper

1-2

carrot

medium, cut in large chunks

3

potato

medium, cut in large chunks

125ml/1/2cup

water

1

tbsp

corn starch

1

tbsp

water

1

spring onion

optional

1

lime
Instructions
In a large bowl combine soy sauce, rice vinegar, 1 tbsp of oil, 4 garlic cloves crushed, half of grated ginger, black pepper, add chicken pieces and let them marinade for 30 minutes in the fridge.

In a wok or a deep pan brown chicken pieces for 3 minutes on each side, might need to do that in batches not to overcrowd chicken, otherwise they will steam instead of brown. Do not discard the marinade. Chicken will not be cooked all the way through, remove it from the pan to a plate and set aside.

To the same pan add 1 tbsp of vegetable oil, sliced garlic and the remaining ginger, stir fry for 1 minute, do not let them brown. Add the chicken, marinade, water, bay leaves, potatoes and carrots, (the sauce will not cover the chicken entirely), turn the heat up and bring the sauce to a boil, then reduce the heat to low and let it simmer for 45 minutes until carrots and potatoes are easily pierced with a fork and the chicken is cooked all the way through.

In a small bowl mix cornstarch with water, making sure there are no clumps and add to the sauce, mix through and let it simmer for a couple more minutes, which will allow the sauce to thicken. Spoon the sauce over the chicken, it should be thick enough to coat the pieces. If the sauce is not thick enough, cook it a bit longer until desired consistency. Sprinkle with sliced spring onion.

Serve with plain rice and lime wedges.
Notes
This recipe could be adapted for Slow Cooker and Instant Pot
Follow the recipe until step 3 but instead of simmering in a pan use your slow cooker and cook on low for 8 hours. Stir in the cornstarch slurry at the end to thicken the sauce.
If using Instant Pot, cook at high pressure for 1o minutes, then manually release the pressure. Add the cornstarch slurry and thicken then the sauce using a Saute button for a couple of minutes.
Nutrition
Calories:
304
kcal
Carbohydrates:
5
g
Protein:
23
g
Fat:
21
g
Saturated Fat:
8
g
Cholesterol:
87
mg
Sodium:
961
mg
Potassium:
299
mg
Fiber:
1
g
Sugar:
1
g
Vitamin A:
1451
IU
Vitamin C:
6
mg
Calcium:
25
mg
Iron:
2
mg