The success of this chicken satay recipe comes from a delicious marinade and an easy peanut sauce, which could be made in 5 minutes!
Serve this chicken with our Rice noodle salad for a healthy and vibrant meal.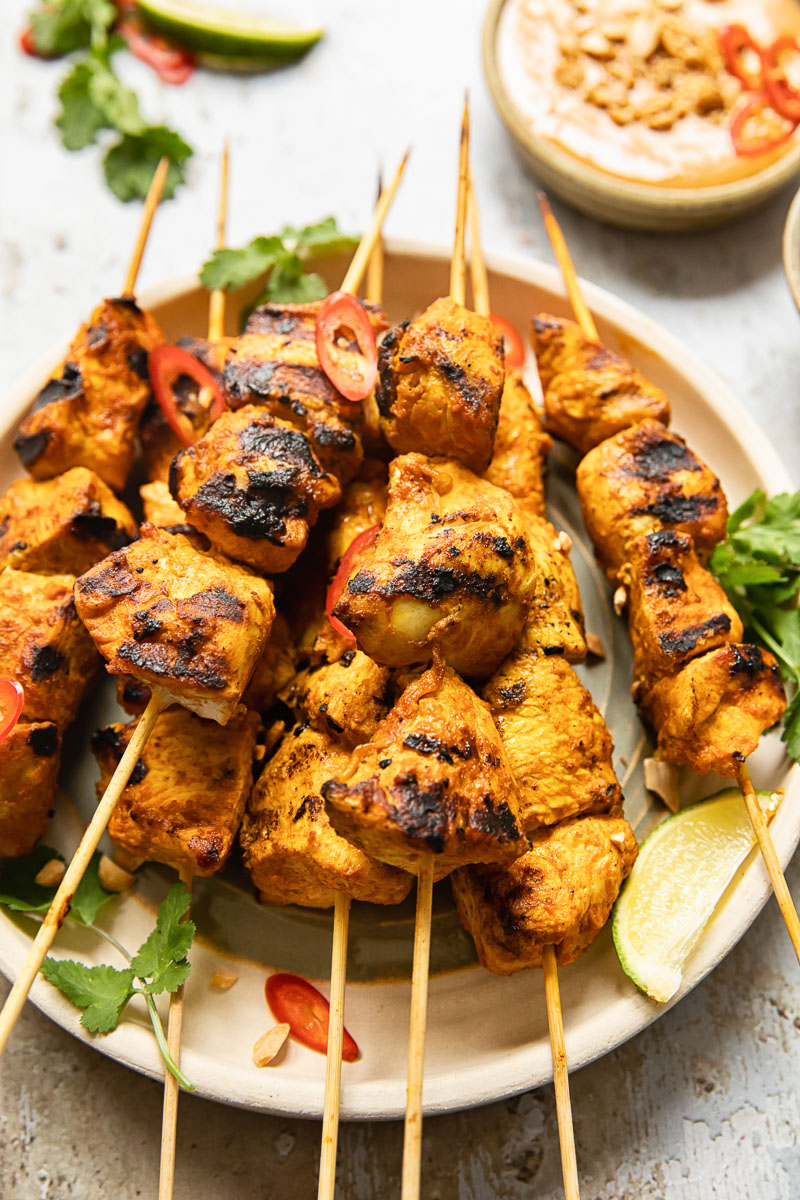 I love simplifying recipes for everyday use. While this chicken satay might not be the most authentic recipe on the web, it is delicious and simple to make. It also hits the craving for a takeout without breaking the bank!
We love easy, fresh tasting meals in the summer. Just give me a filling salad and grilled chicken or steak and I am happy! The less time I spend in the kitchen while the weather is lovely the better.
If you are nodding along to all of the above, read on. This chicken recipe is for you.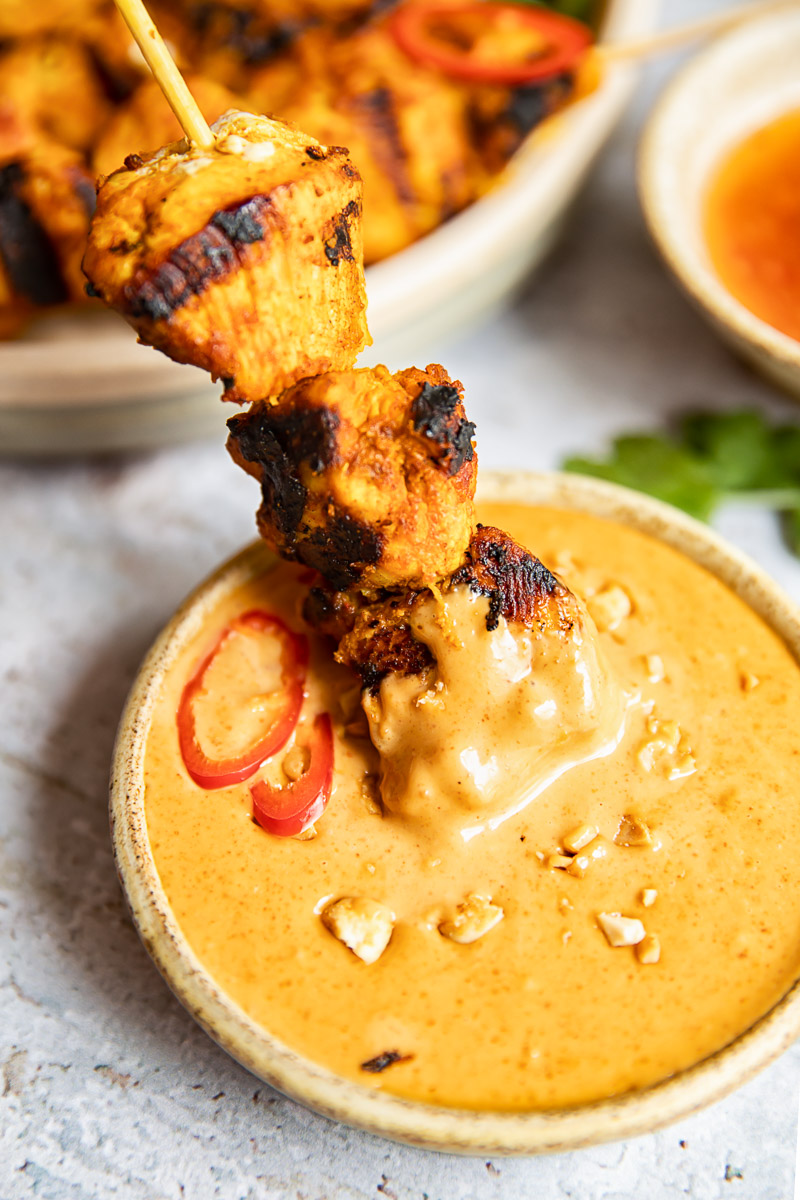 Chicken Skewers
When my kids were little and fussy about their food, I knew one thing would always convince them to eat. Put it on a stick! Somehow food on a stick had a mad appeal.
I will even venture out to say adults like their food skewered as well. Why? I have no idea! Chicken satay is one of those meals, that is so craveable. It is also easy to pull off at home.
Cubed chicken breasts or skinless boneless thighs could be used in this recipe. The thighs are more authentic but the breasts are leaner.
The choice is yours. Both cook very quickly. Whatever you choose will taste delicious because of the marinade and the spicy peanut sauce, they are served with.
To make your mealtime stress free, prepare the marinade the night before and marinate your chicken overnight. This way you will give a fuller flavour and will save you time.
And if you are into meat on a stick as much as we are, take a look at the Greek version of it Chicken Souvlaki.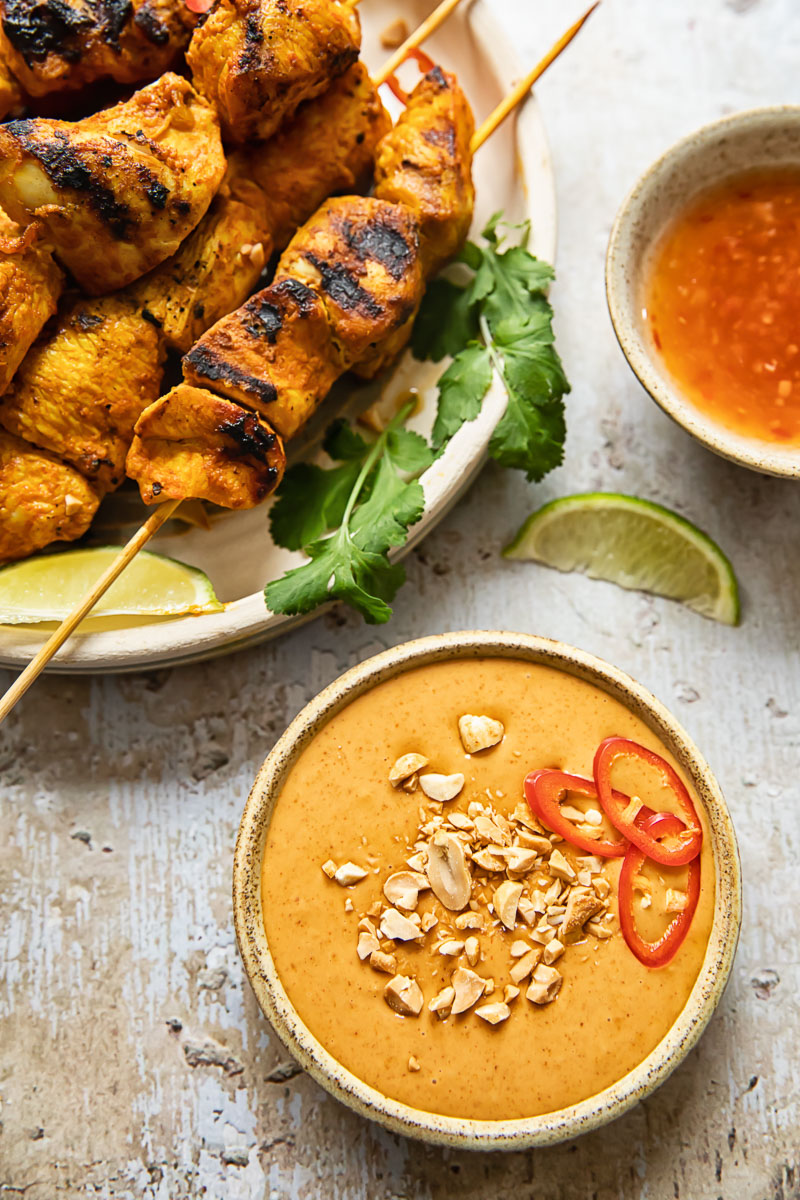 The Marinade
I've tried many recipes for chicken satay, where the chicken was not marinated. And while it still tasted okay, when served with the delicious peanut sauce, the marinade is where the flavour is at! It also tenderises the chicken.
For best results I recommend marinating overnight but even 1-2 hours will be helpful, and will impart buckets of flavour.
The ingredients are based on the classic marinade formula. Oil, acid and spices for the flavour. I use lemon juice for the acidic touch but you can use lime juice instead.
The combination of spices can get very complicated very quickly when it comes to chicken satay. However, this recipe is for a Western cook, so I simplified it intentionally to make it easy and approachable.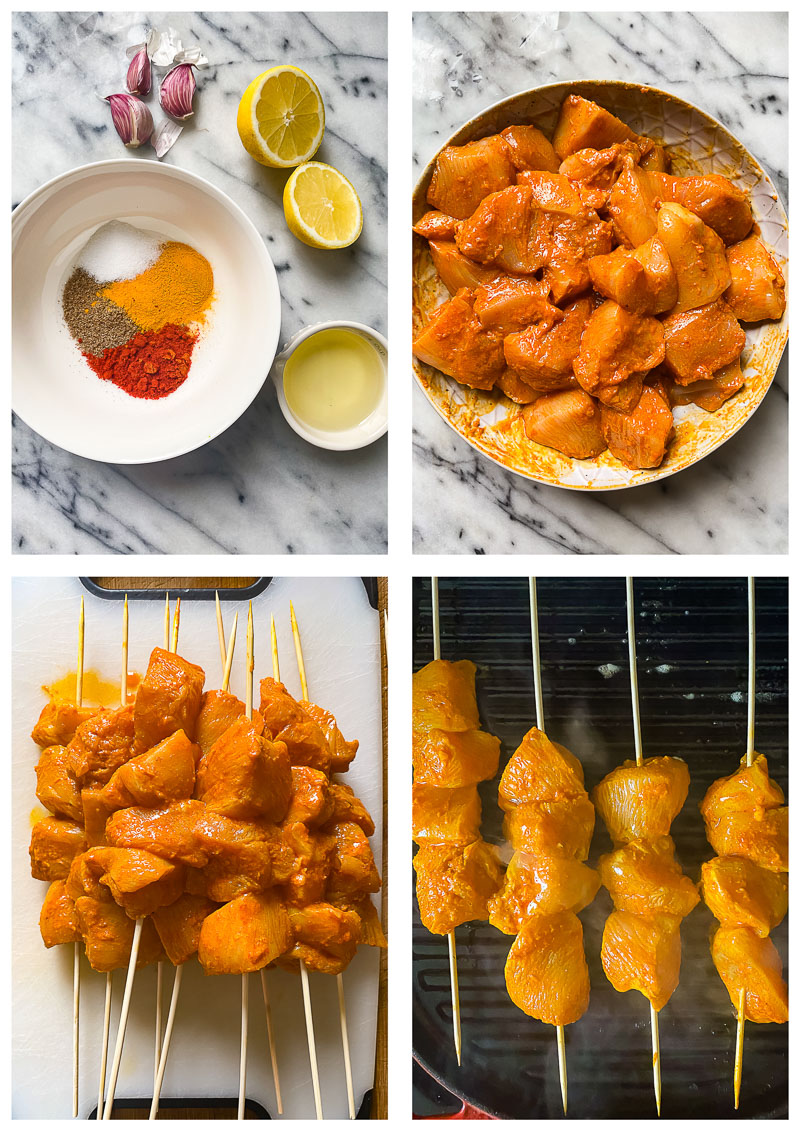 Peanut Sauce Recipe
I am not a huge peanut butter and jelly lover but I adore peanut butter used in savoury ways! This Asian noodle salad flavoured with a spicy peanut butter dressing is one example of it.
Just like the marinade recipe, the peanut sauce, served with chicken satay, could have a very lengthy ingredient list. Not to worry, I simplified it for you as well.
You can use smooth or chunky peanut butter. However if you use the smooth kind, make sure to sprinkle some roasted chopped peanuts on top for more texture.
And whatever, you choose, opt in for natural peanut butter instead of processed. This will give you more authentic taste and is better for you.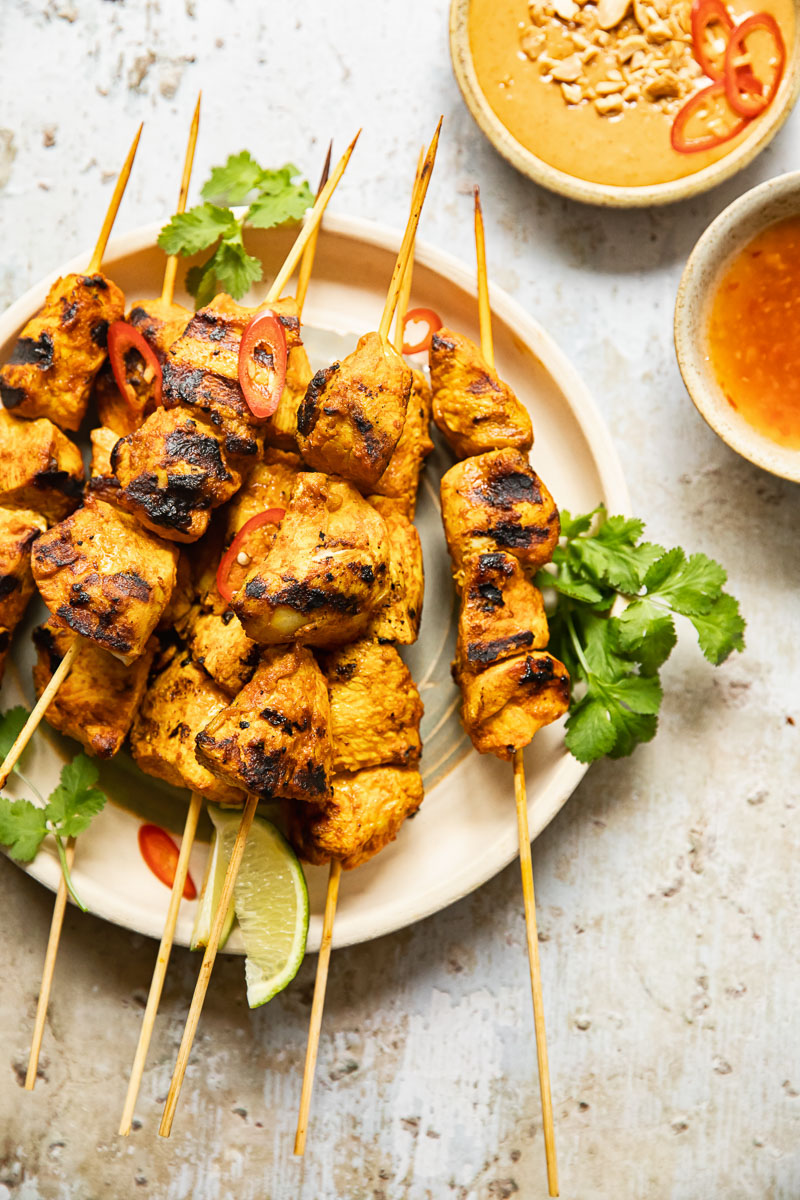 I like my peanut sauce a little spicy, so I used Sriracha sauce to give it some heat. So much flavour is already packed into it, which makes my job easier.
You want your peanut sauce to have all anchor flavours of the Indonesian cuisine. Salty, sweet, spicy and a little tangy. I used soy sauce for the salty part, brown sugar or palm sugar for the sweet. A dash of the Sriracha to take care of the spice and lemon juice for the sour notes.
Simple and effective. I tried to include the ingredients, that are most commonly found in our kitchen.
If you want to try more Indonesian recipes, take a look at my 20 minute fried rice Nasi Goreng or Coconut Chicken and Rice.
Serving Suggestions
Apart from serving chicken satay with peanut sauce, I love adding sweet chilli sauce, which you can purchase nearly everywhere.
I also add fresh cilantro, sliced red chillies and lime wedges, your guests can squeeze over the chicken themselves.
More Asian Chicken Recipes to Try: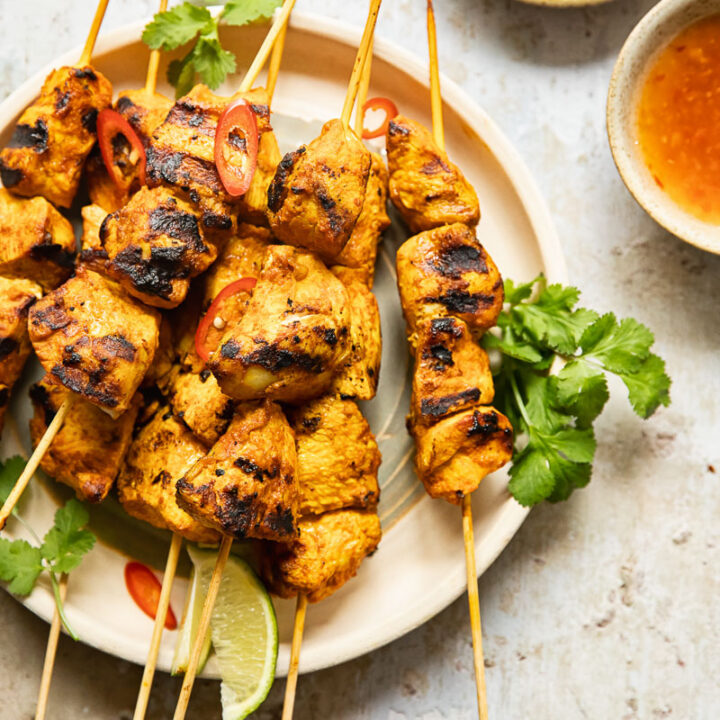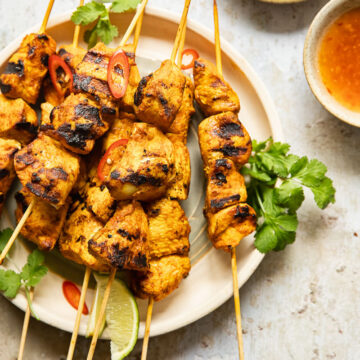 Chicken Satay with Easy Peanut Sauce
The success of this chicken satay recipe comes from a delicious marinade and an easy peanut sauce, which could be done 5 minutes!
Makes 8-9 skewers
Ingredients
For the marinade
3

cloves

garlic

1

lemon, juice only

2

tsp

turmeric

2

tsp

dried coriander

1

tsp

chilli powder

1

tsp

salt

2

tsp

vegetable oil

2

lbs

skinless boneless chicken breasts

cubed
For the peanut sauce
4

tbsp

natural peanut butter

smooth or chunky

2

tsp

soy sauce

2

tsp

brown sugar

1

tsp

lemon juice

1

tsp

grated ginger

4

tbsp

coconut milk

1

tbsp

Sriracha sauce or other chilli sauce

salt to taste

water to thin it out

1

tbsp

chopped peanut to top
Instructions
In a large a shallow bowl combine the ingredients for the marinade, then add the cubed chicken to it, stir to coat, cover with plastic wrap and marinate in the refrigerator overnight or at least for 2 hours.

Make the peanut sauce by combining with a whisk the peanut butter, soy sauce, brown sugar, lemon juice, grated ginger, coconut milk and Sriracha in a medium bowl. Then start adding warm water one tablespoon at a time until you have desirable consistency. Season with salt to taste. Put in a serving dish and sprinkle with chopped roasted peanuts.

Preheat the grill. Meanwhile skewer the chicken onto wooden or metal skewers. (If using wooden ones, it's best to soak them in water for 30 minutes beforehand to avoid catching fire.) Don't overcrowd your skewers, this will ensure that the chicken will cook faster and more evenly. Cook the chicken for approximately 7 minutes on one side, then turn oven and cook for 5-7 minutes longer. Serve with the peanut sauce and lime wedges.
Nutrition
Calories:
279
kcal
Carbohydrates:
6
g
Protein:
36
g
Fat:
12
g
Saturated Fat:
4
g
Polyunsaturated Fat:
2
g
Monounsaturated Fat:
4
g
Trans Fat:
1
g
Cholesterol:
97
mg
Sodium:
1173
mg
Potassium:
702
mg
Fiber:
1
g
Sugar:
3
g
Vitamin A:
150
IU
Vitamin C:
7
mg
Calcium:
24
mg
Iron:
2
mg