My version of the famous mulligatawny soup is much quicker and simpler. Made with leftover roast chicken or turkey this soup is perfect to repurpose those leftovers!
If you love Indian flavours, check out my Butter Chicken Recipe and Red Lentil Dahl.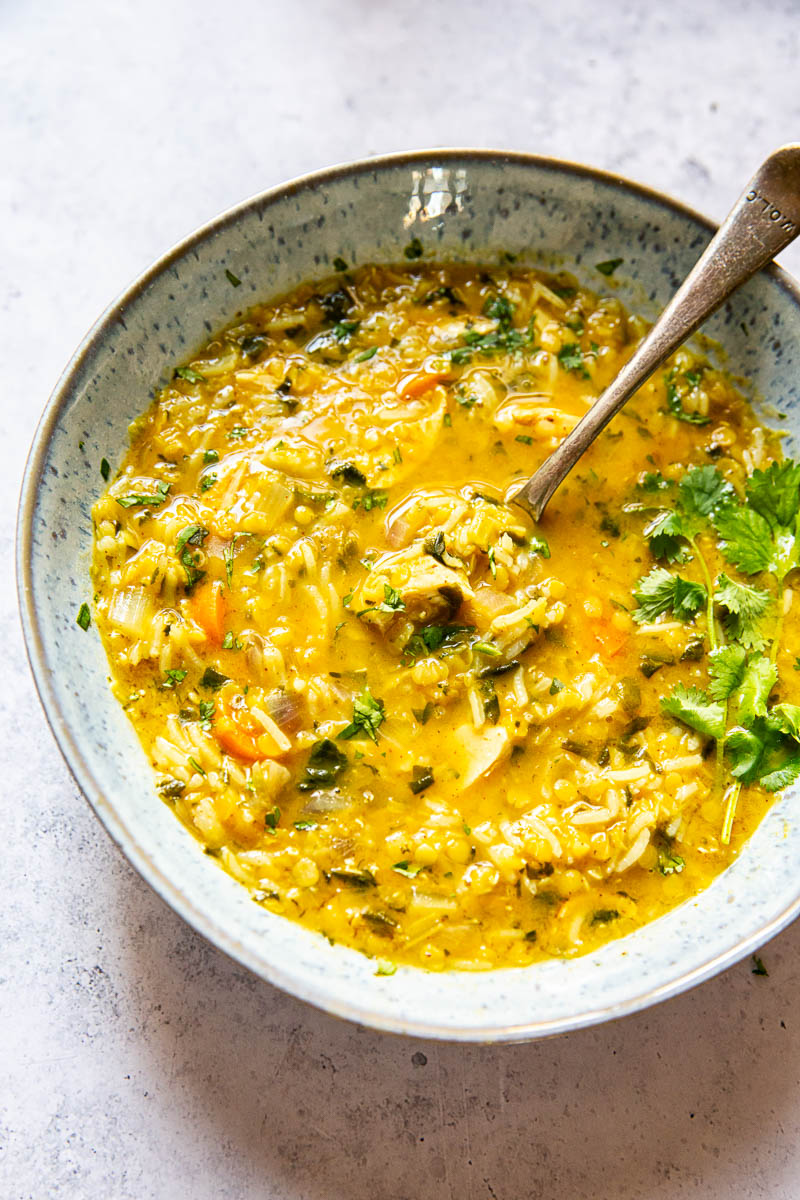 I've been enjoying my recently discovered love for soups and it's been fun to experiment with flavours. Don't get me wrong I've been cooking soups since I was a teenager. After all I grew up in a Russian family but I never learned to truly appreciate soups until adulthood.
That might be because as an adult I started exploring different flavours and cuisines, which led me to so many delicious soup recipes from all over the world. This Mulligatawny soup is one of them.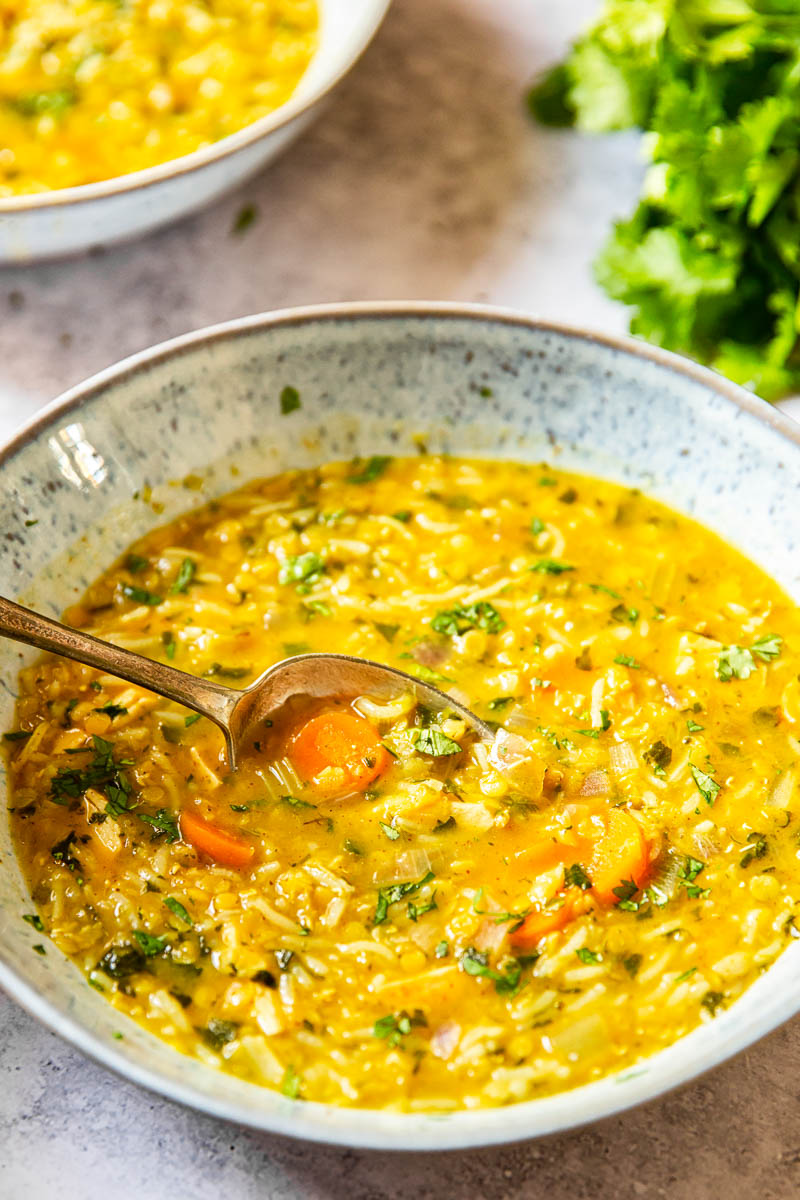 Where does Mulligatawny Soup come from?
Although considered an Indian soup by many, mulligatawny soup is part Indian, part British. It's one of those hybrids that got invented by Indian cooks when the British kept requesting soup as the first course during the colonial rule.
Of course, soup is not traditional to Indian cuisine and mulligatawny was developed from something else entirely. Originally it was just a thin sauce served over rice but over time got bulked up with vegetables and meat to accommodate the British taste.
What goes into Mulligatawny Soup?
What doesn't!
Seriously though, the soup can take a lot ingredients as long as it's got the non-negotiables.
red split lentils (moong dal)
traditional Indian spices like turmeric, ginger, garlic, cumin and coriander
meat stock
rice
There are of course hundreds of recipes for this delicious soup. Many of them blend the soup once it cooked and serve it over rice.
My version however, keeps the mulligatawny soup chunky with rice added to it.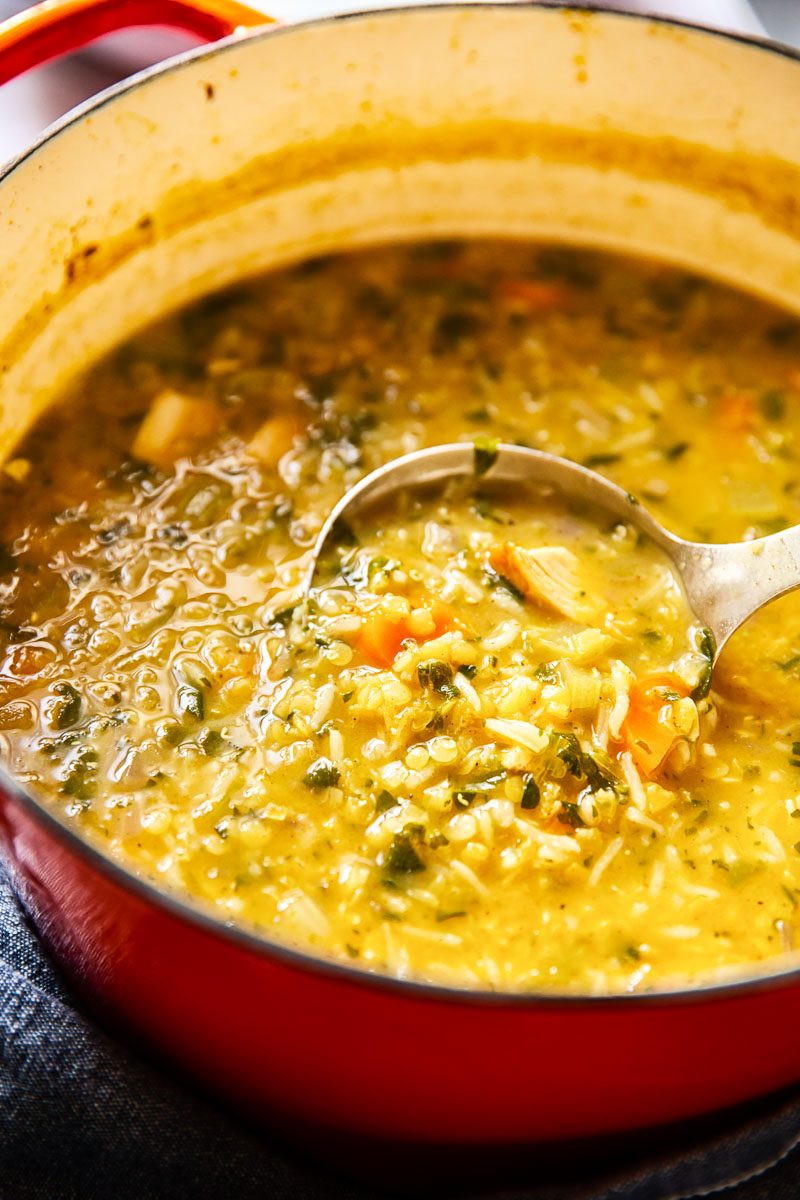 How do you make a quick Mulligatawny Soup?
As you can imagine any soup recipe will benefit greatly if you start with a delicious tasting stock, which takes hours to make. We don't always have hours.
So to make it easier and quicker I developed this recipe using leftover roast chicken and ready made stock. Another shortcut I used is a scoop of a curry paste with all the spices blended for me already.Instant flavour without the fuss.
Using my quick mulligatawny soup recipe you can have a delicious and filling meal in 30 minutes. You can also use your leftover turkey or chicken in a recipe that tastes completely different from where it started!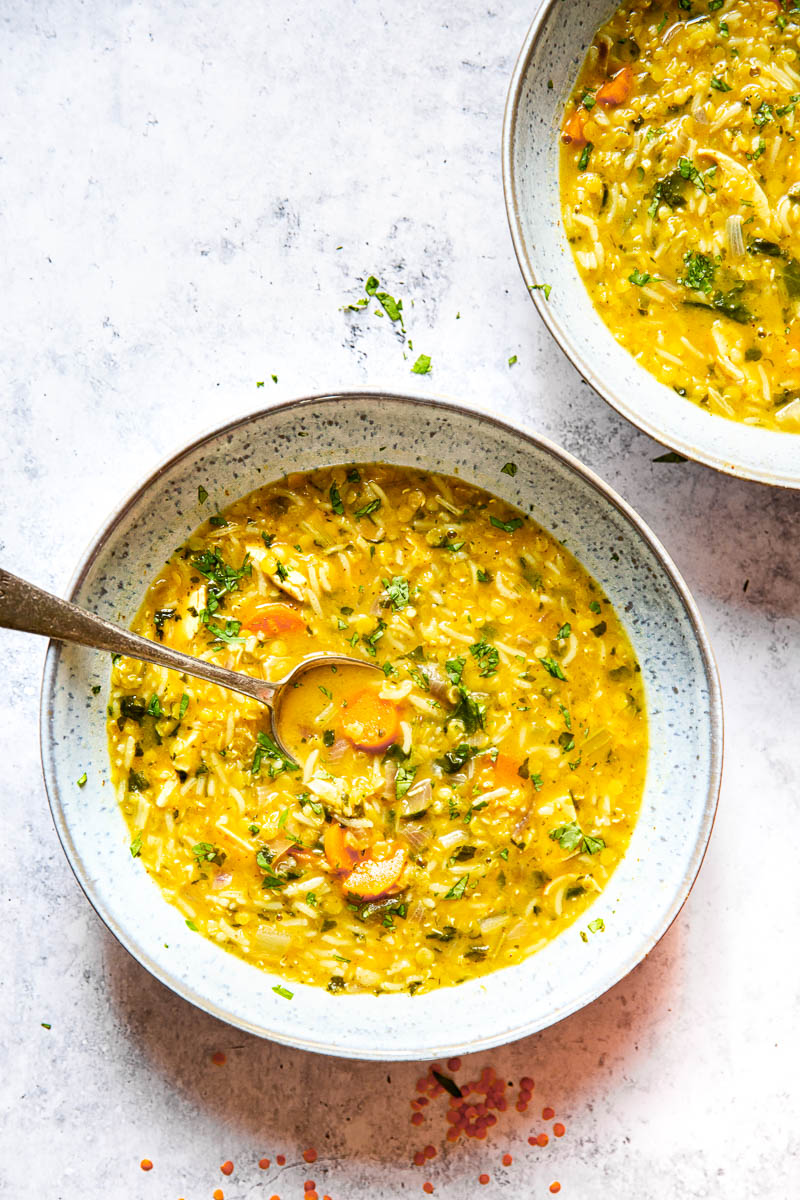 For more hearty soup recipes visit: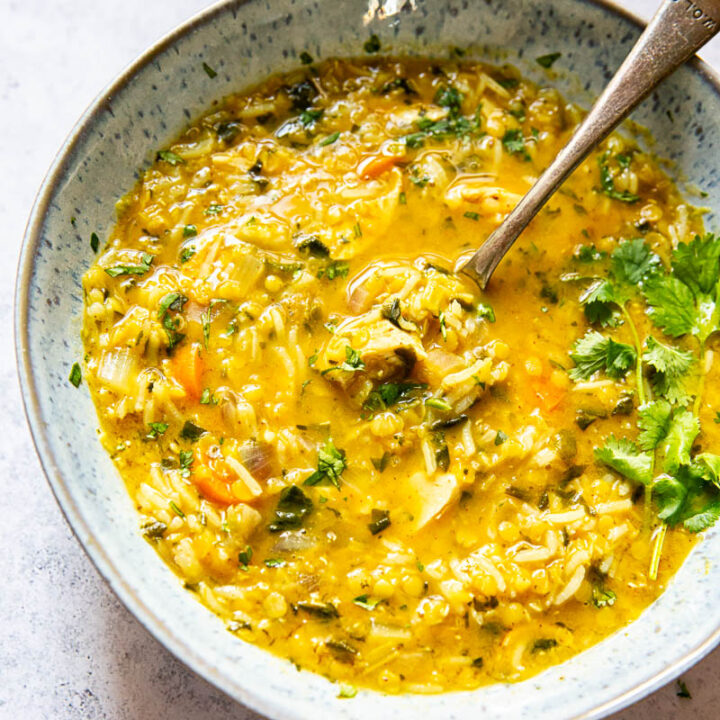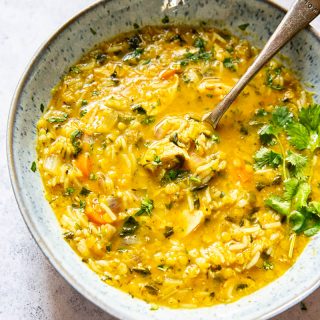 Mulligatawny Soup
This mulligatawny soup recipe is hearty and cheerful! Flavoured with fragrant Indian spices this chicken and rice soup will not disappoint.
Ingredients
1

tbsp

vegetable oil

or ghee

1

stalk

celery

diced

1

onion

diced

1

carrot

diced

2

cloves

garlic

1

tbsp

ginger

grated

1

tbsp

prepared Indian curry paste

such as Madras Curry by Patak's or similar

2 litres/8cups

chicken stock

200g/1 cup

red split lentils

100g/1/2 cup

basmati rice

2

chicken breasts or equivalent amount dark meat

cooked

3 cubes/2/3 cup

frozen spinach

½

lemon

juice of

salt to taste
Instructions
Heat a tablespoon of oil in a large soup pot and saute diced onion, carrot and celery over low heat for 5 minutes. The add minced garlic, grated ginger, the curry paste and cook for 30 seconds longer while stirring. Then add the chicken stock, red split lentils and rice, turn the heat up and bring to a boil.

Once boiled cook for 10 minutes over medium heat. Then add cooked chicken diced into bite-sized pieces and frozen spinach. (No need to defrost first.) Cook for 5 -7 minutes until the lentils and rice are soft. Then squeeze the lemon juice directly into the soup and season with salt to taste.
Video
Notes
The soup might get too thick after standing for a while as rice absorbs the liquid. Simply add some chicken or vegetable stock, or even water to thin it out and bring to a boil.
Nutrition
Calories:
346
kcal
Carbohydrates:
33
g
Protein:
32
g
Fat:
8
g
Saturated Fat:
3
g
Cholesterol:
57
mg
Sodium:
560
mg
Potassium:
990
mg
Fiber:
10
g
Sugar:
7
g
Vitamin A:
2165
IU
Vitamin C:
10.3
mg
Calcium:
48
mg
Iron:
3.4
mg