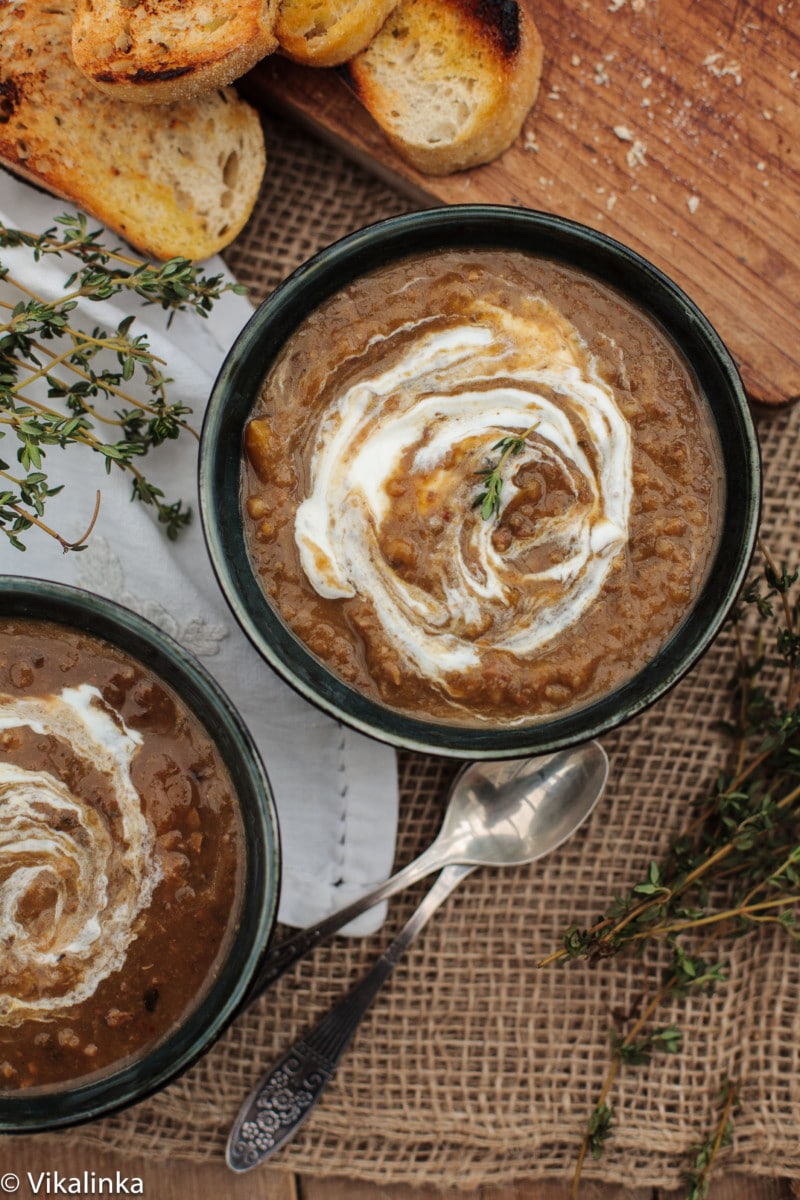 I'm not too fond of soup, which makes me strangely unRussian. In Russia it's considered an essential part of lunch. One hasn't eaten until one has slurped on soup.
I think it's the childhood memories of mom's voice ringing in my ears, "Eat your SOUP" and the promise to 8 year old self, "When I am a grownup I never eat soup again" that left my family soupLESS for most of my marriage. It's a shame because Brad really loves soup.
I can't remember saying the word "soup" as many times in 2 minutes as I have just now. It's a fun word to say, don't you think? Fun fact: the word for "soup" in Russian? "Soup"!
I am not 8 anymore and now know that soups could be incredibly healthy and nutritious while also being warm and comforting when the weather turns miserable – welcome hug for the soul.
You will fall in love with this Chestnut and Squash Soup with dried porcini mushrooms. I've used Coquina Squash for its sweetness but Butternut Squash will be beautiful as well.
This soup is such a wonderful blend of the nuttiness of chestnuts and sweetness of squash, while dried porcini mushrooms bring in the deep aroma of the forest. Serve it with a dollop of Greek yogurt. Pure delight.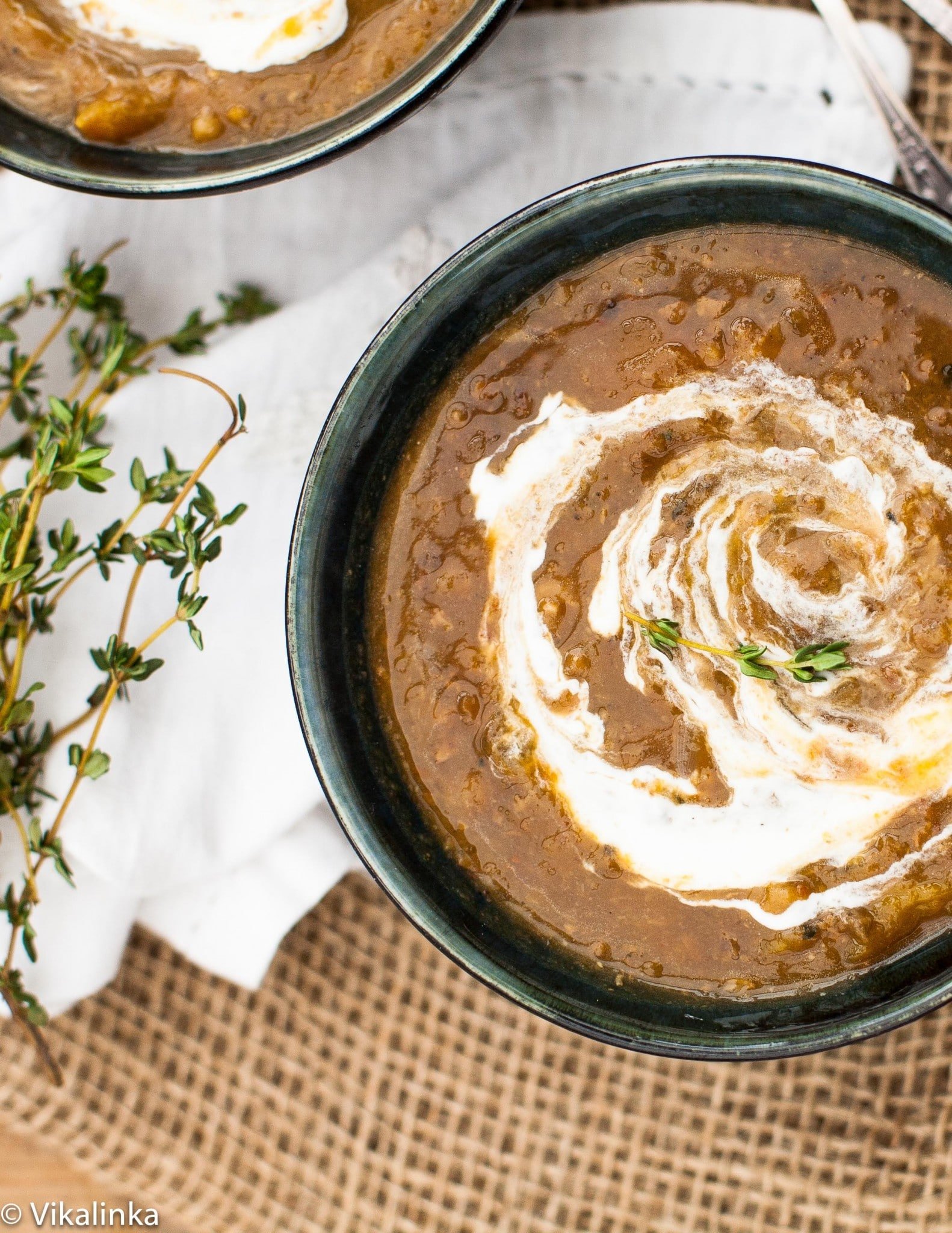 Ingredients:
Pancetta or bacon- 50 gr.
Red Onions- 2
Coquina Squash- 1
Fresh Thyme- a few sprigs
Dried Porcini Mushrooms (or any other dried mushrooms)-40 gr/1/4 cup
Olive oil- 1 tbsp.
Chestnut puree- 400 gr/15 oz can
Chilli flakes (optional)- ¼ tsp.
Stew Mix (barley, split peas and lentils) or barley- ¼ cup
Chicken stock- 1 ½ litres
Salt and pepper to taste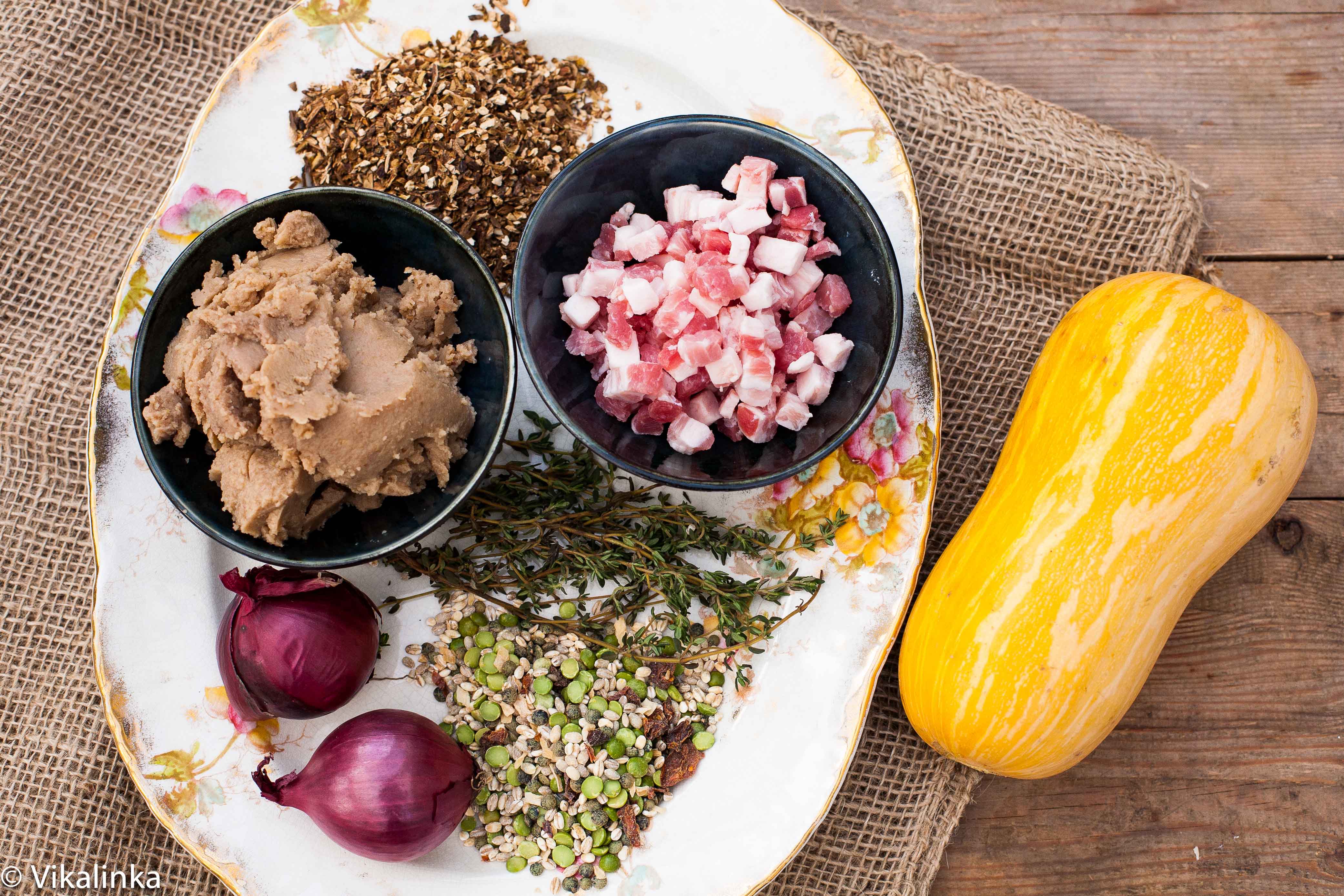 Method:
It's a good idea to peel and chop all the ingredients before you get going with the soup making so you are prepared and organised.
Cut your bacon into 1 cm pieces, peel, deseed and dice your squash into 1 cm dice as well, peel and chop your onions and remove thyme leaves from the sprigs. Soak the dried mushrooms in a cup of boiling water for 5 minutes.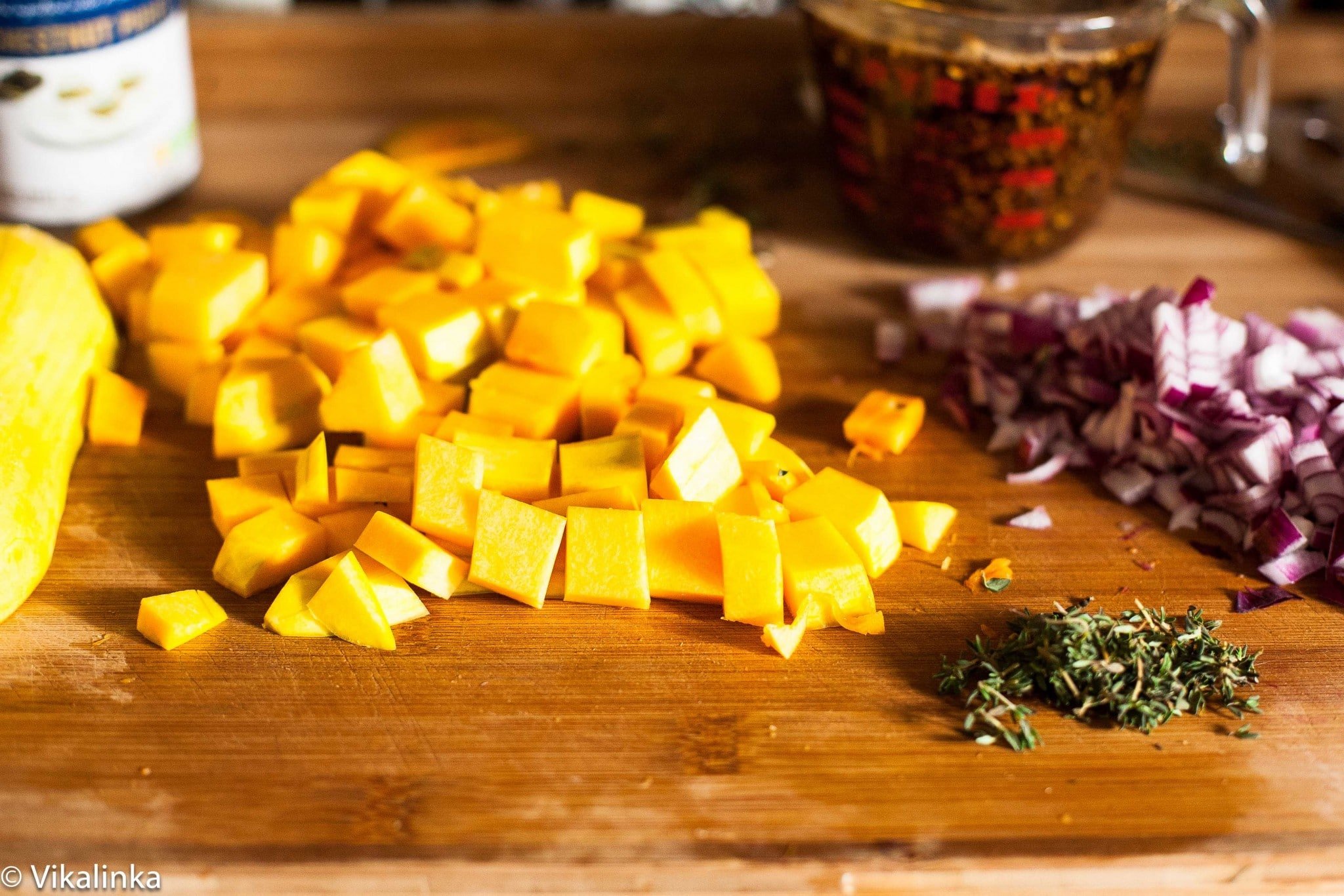 Set a large pot on the stove and heat 1 tbsp. of olive oil in it, then cook your bacon over medium heat, add onions, chilli flakes if using and thyme and cook for about 5 minutes until onions are softened.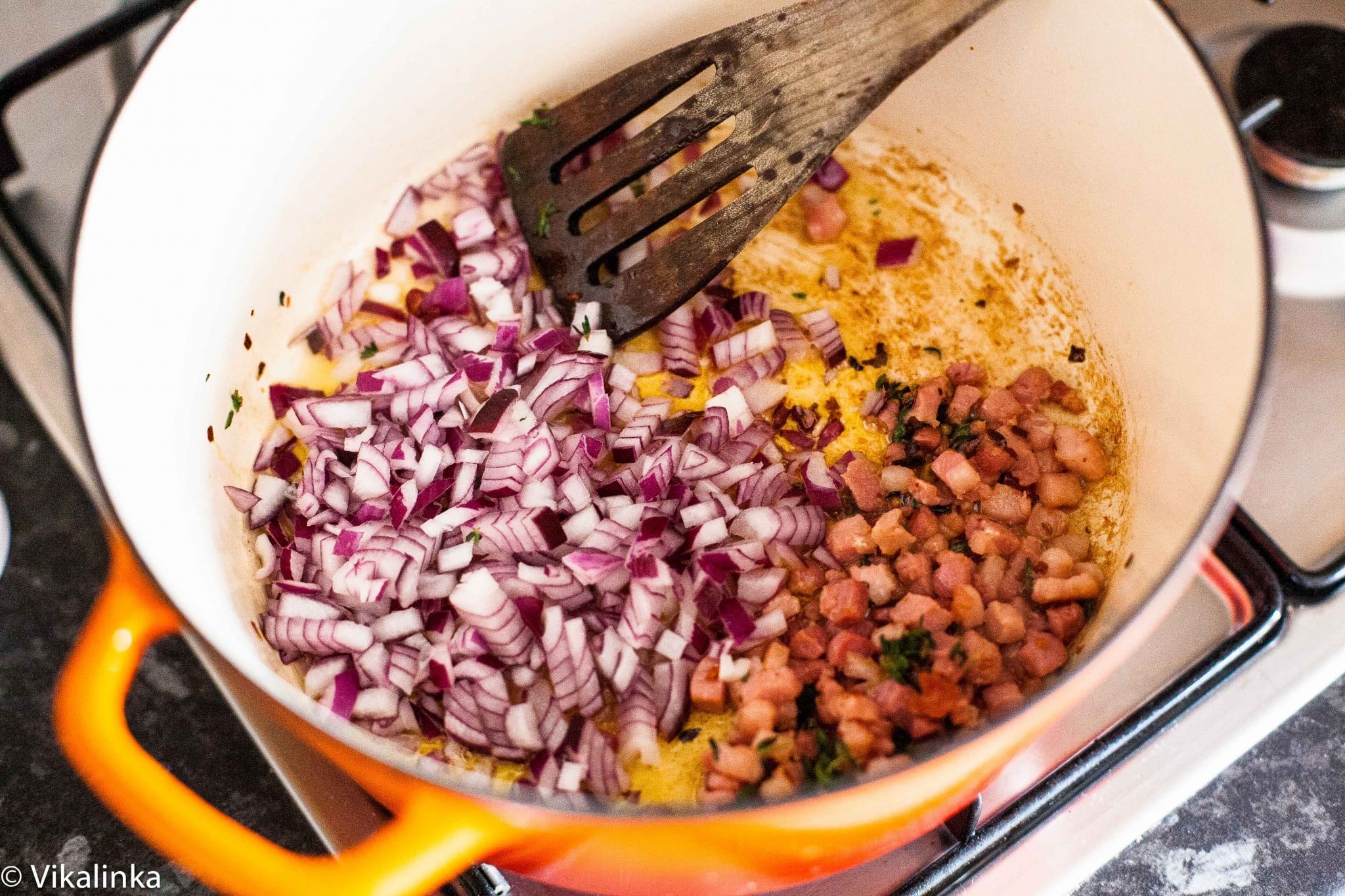 Now add squash, barley and lentil mix and stir to lightly coat the ingredients with oil.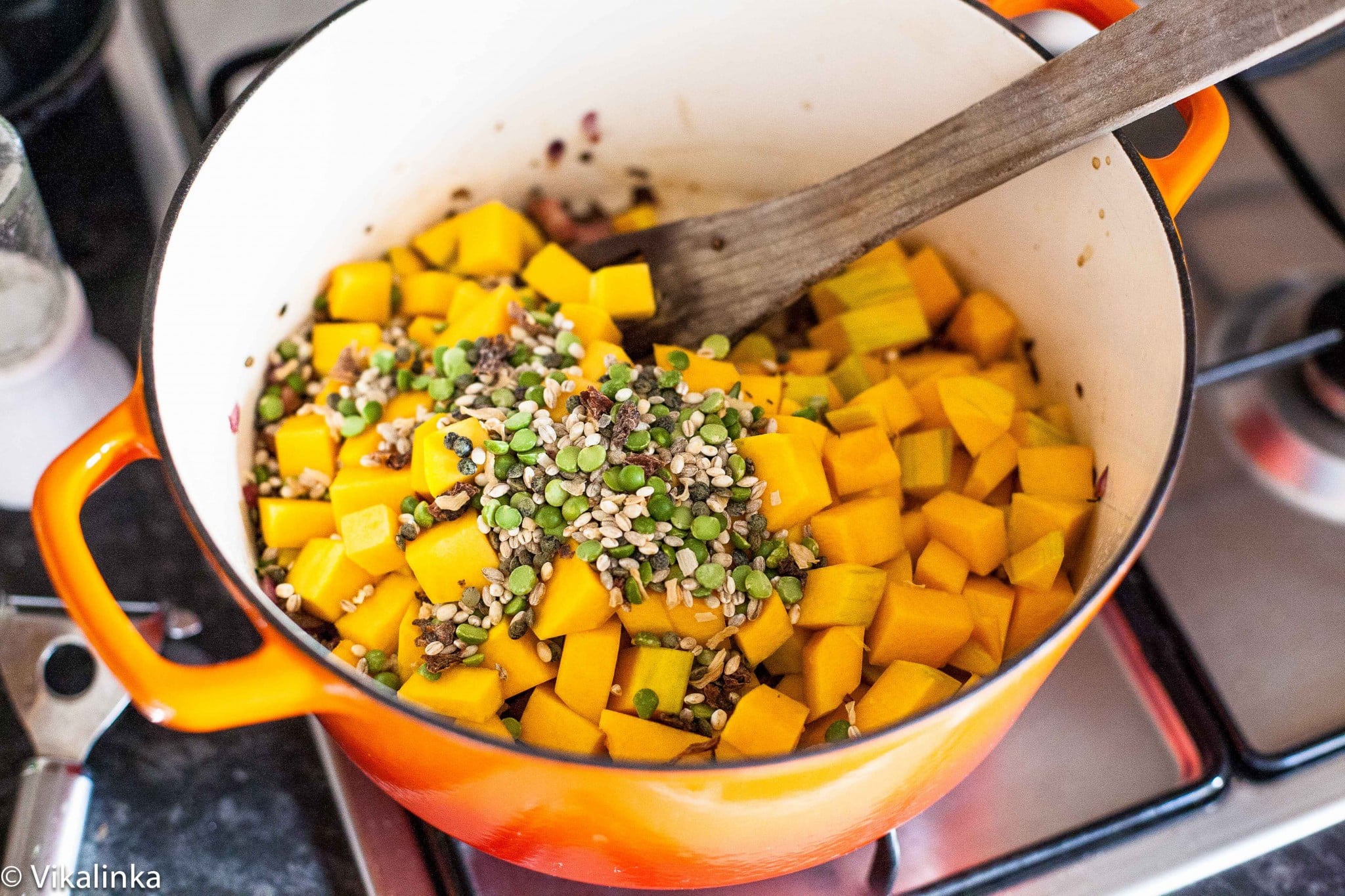 Lastly add your pureed chestnuts, dried mushrooms with the liquid (make sure none of the grit get in there) and chicken stock, a pinch of salt and pepper, turn the heat up and bring to a boil, then turn the heat to low and simmer for 40 minutes.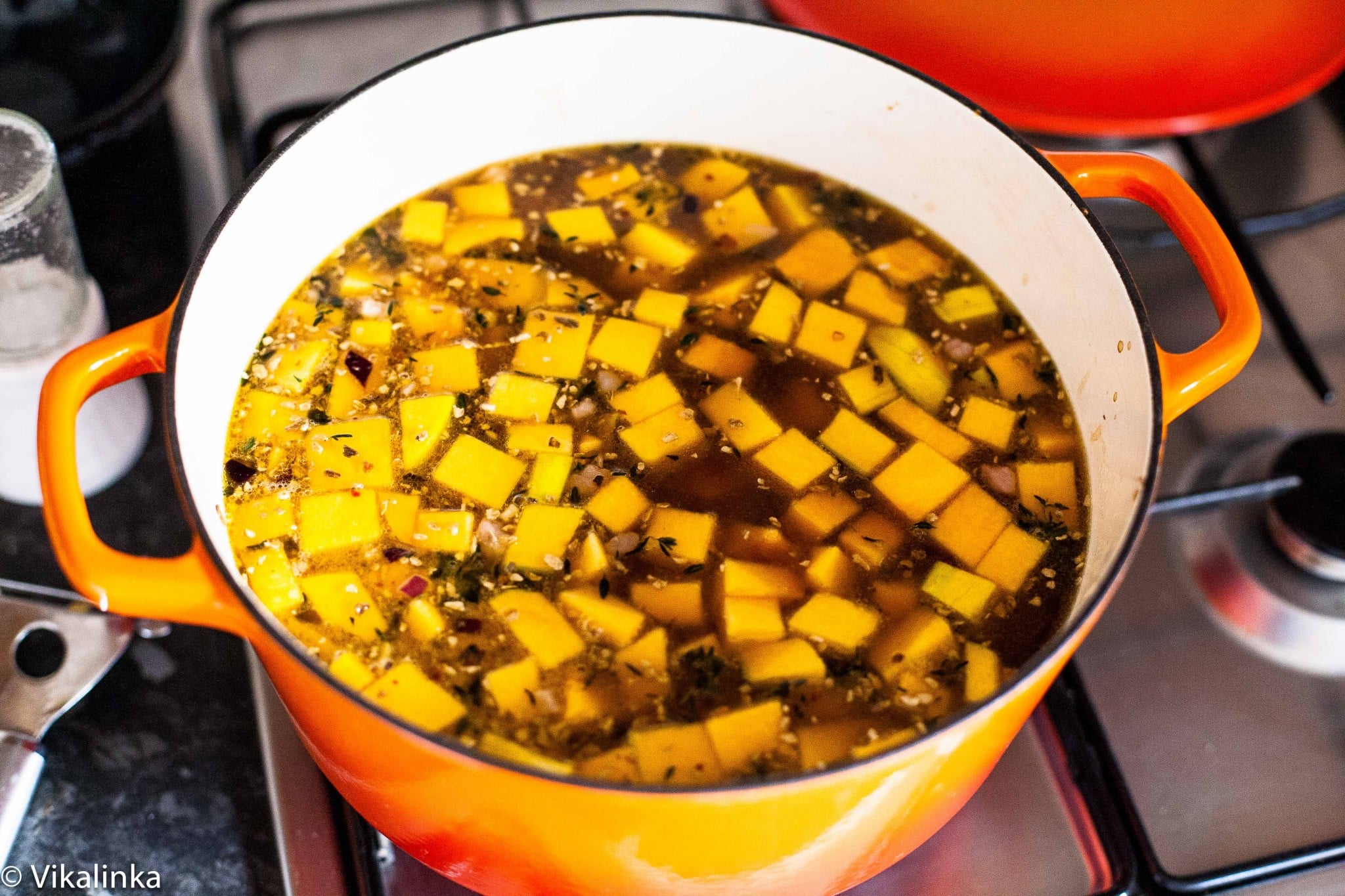 Check if your squash is cooked at the end, remove ½ of the soup and blend it in a food processor, then return it back to the pot and combine for a thicker texture. Alternatively you can blend all of it if you prefer a smoother soup but I love having a bit of roughness to it.
Serve with lightly toasted bread and a dollop of Greek yogurt or sour cream.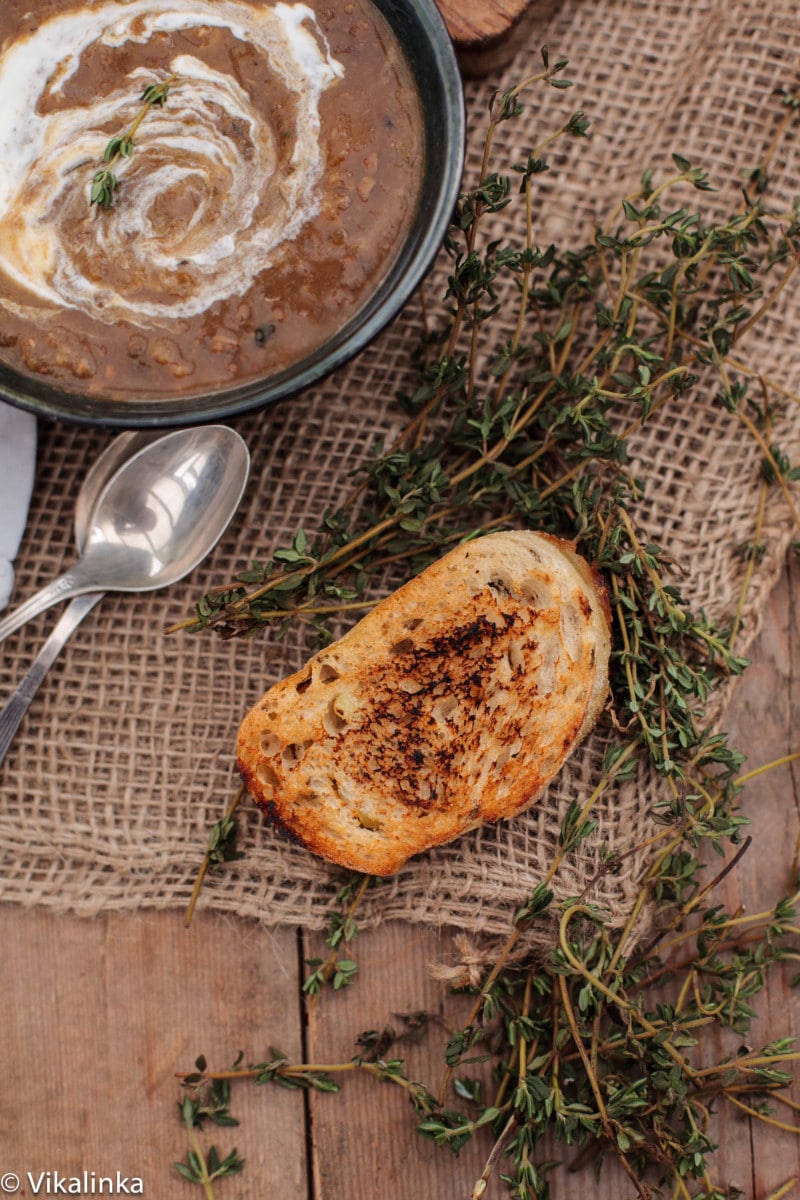 This recipe was adapted from Jamie Oliver's "Jamie's Great Britain".