Traditional Chicken Soup made even better by the fluffiest buttermilk dumplings flavoured with herbs and garlic. This recipe for an old fashioned chicken and dumpling soup is a must have for bitterly cold days and cozy dinners at home.
It's no secret that chicken soup has healing powers and my herb and garlic dumplings bump the taste to the next level.
For more chicken soup recipes, check out my Slow Cooker Thai Chicken and Wild Rice Soup and Chicken Mulligatawny Soup.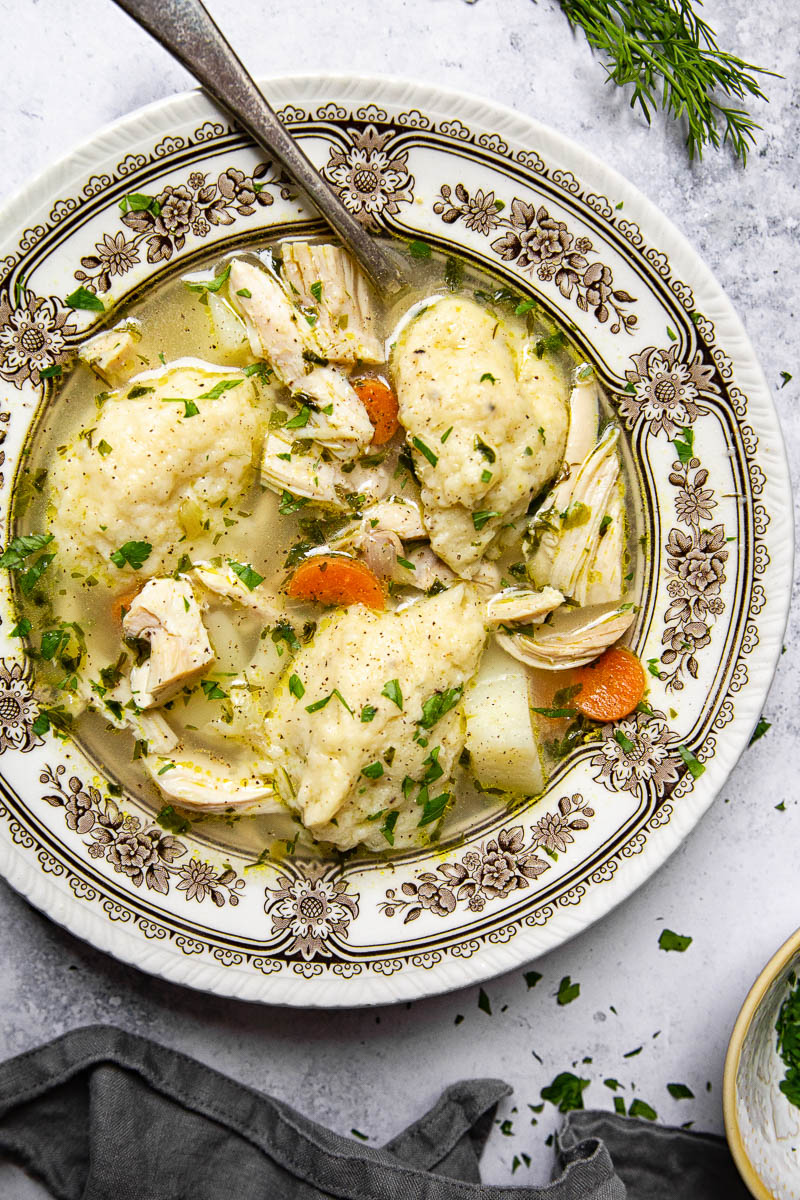 Have you grown up eating this rich, stick to your bones chicken and dumpling soup? If not you are in for a treat. This recipe comes straight from my grandmother. She is the one, who made it for us grandkids. The only change I introduced is the herbs and garlic in the dumplings to give them a bit more flavour.
As soon as this pot of soup was done simmering on the stove, the delicious aroma of dill, parsley, chicken and herb and garlic dumplings took me straight back to my childhood
This chicken and dumpling soup is known in Ukraine and Russia as "soup s galushkami", which simply means "soup with galushki" (dumplings).
The recipe I am sharing today is made 100% from scratch, including the chicken stock. But you are not willing to go that far, the same great taste could be achieved using a good quality store bought chicken broth.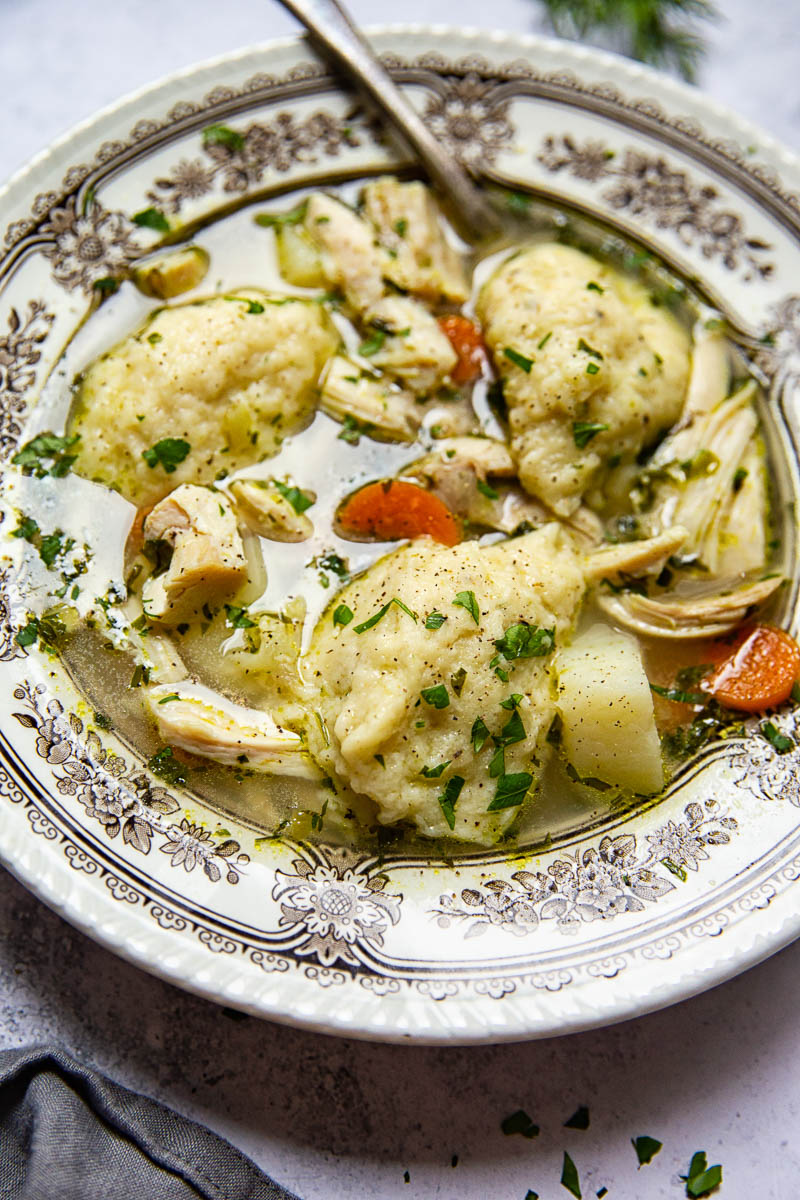 What is in chicken and dumpling soup?
As the name suggests the main players are chicken and fluffy homemade dumplings. The rest is up to you.
I love adding carrots, onions, celery, potatoes and herbs to mine. But don't let my suggestion stop you. You can add any vegetables you love or the ones that need to be used up. Peas, beans, sweet potato or butternut squash will work well in place of a regular potato.
Let your imagination and taste guide you!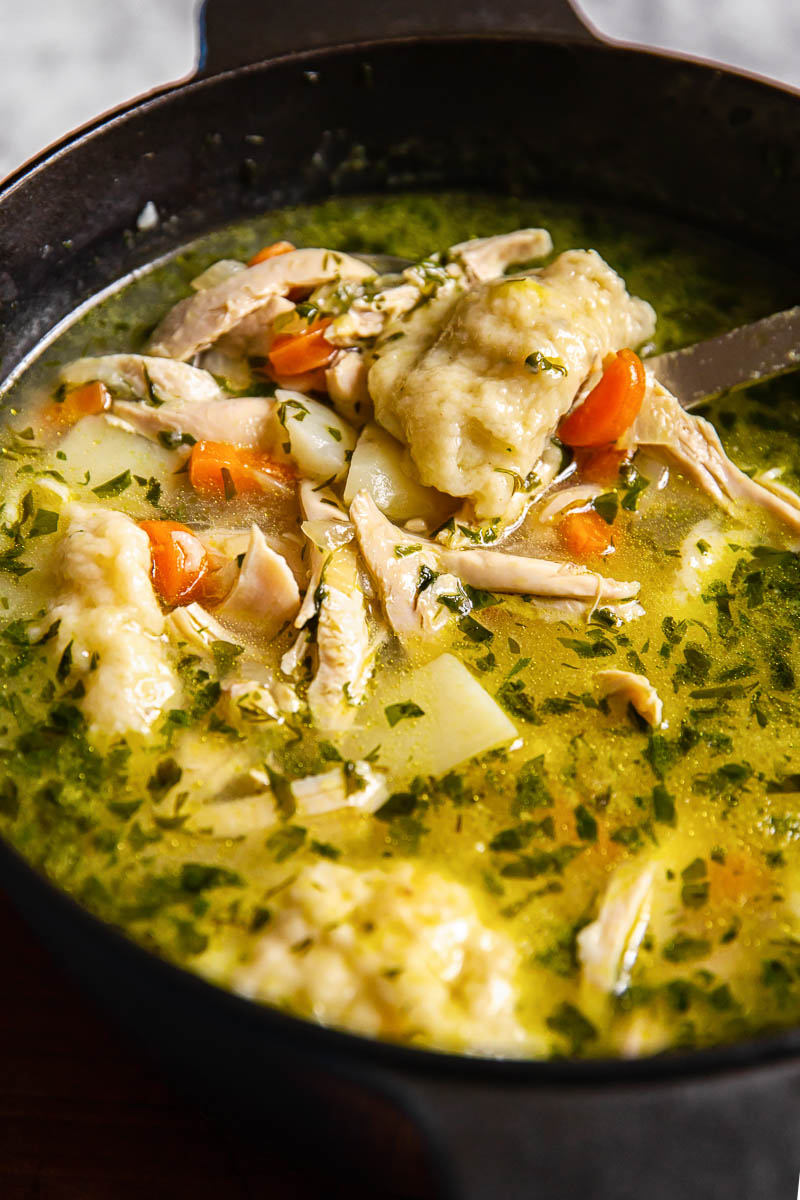 Recipe Tips and Notes
Every soup starts with a good stock and I often make my own but you can easily buy a ready made stock. Just look for the best quality you can afford since the taste of your soup depends on it.
While your stock is being made, prepare your vegetables and mix the dumpling batter. Once your stock is made add chicken, potatoes and cook for 10 minutes, then add sauteed carrots, celery and and onions.
The next part is the most exciting one. Start scooping the dumpling batter directly into the soup while it's boiling.
Using a small ice cream scoop with trigger or two spoons is the easiest way to release the batter into the soup as it is quite sticky.
Initially your dumplings should be no bigger than a golf ball. They will double in size when cooked. Make sure to cook the dumplings with the lid on as they need steam for a light and fluffy texture and to cook all the way through.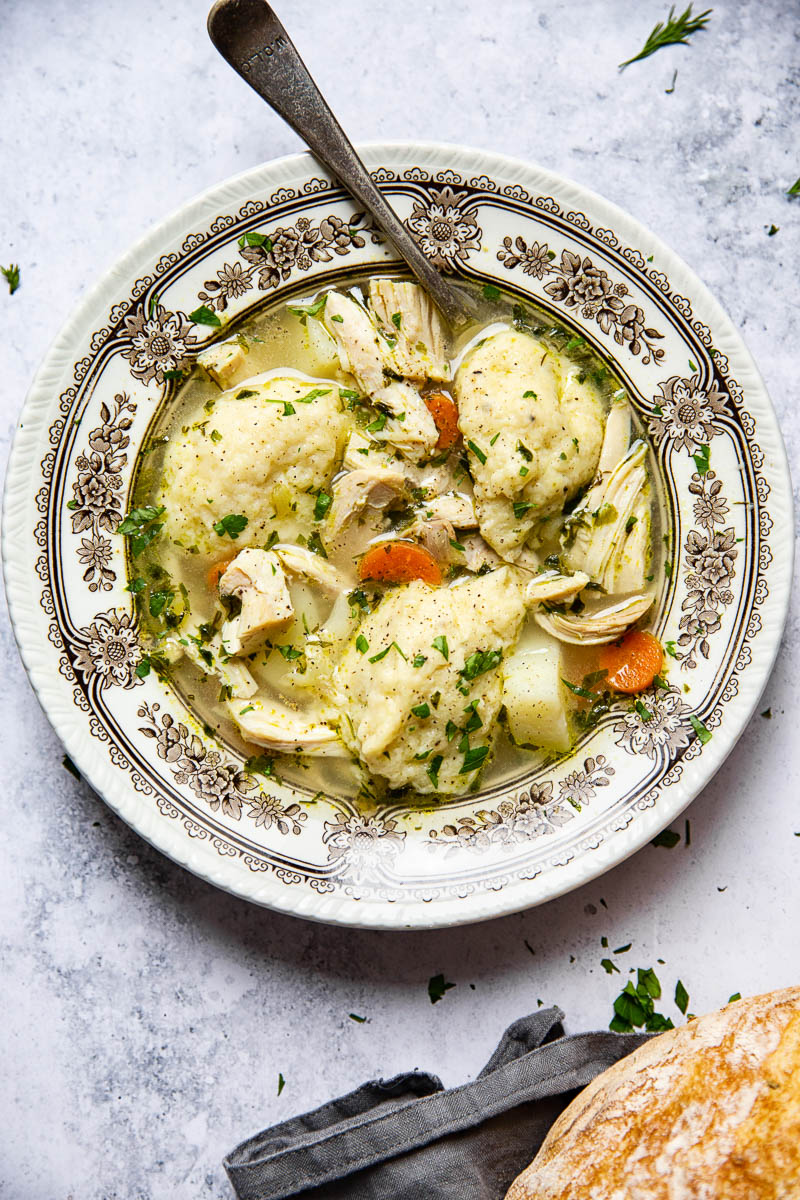 More cold weather soup recipes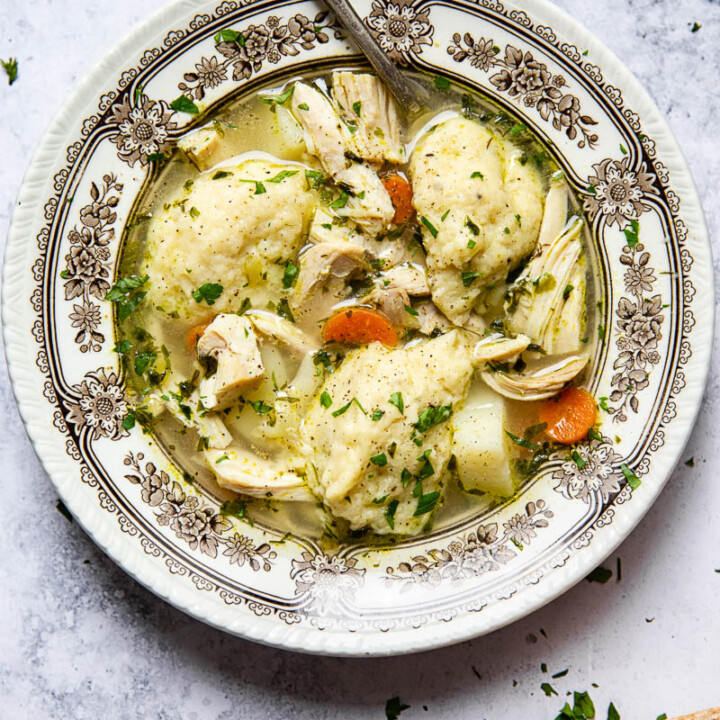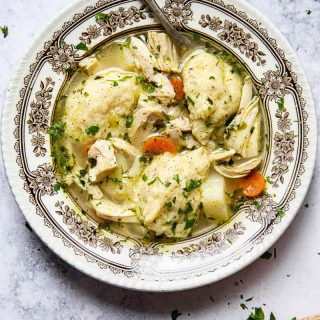 Chicken and Dumpling Soup
Old fashioned chicken and dumpling soup is delicious, filling and comforting on a cold day. Made with chicken breasts, vegetables and savoury dumplings.
Ingredients
1.5 litres/6 cups

water or chicken stock

2

chicken breasts

or equivalent amount of legs and thighs

2

bay leaves

4

peppercorns

½

tsp

salt

1

tsbp

olive oil

1

tbsp

butter

1

carrot

½

medium onion

1

celery stalk

1

tbsp

fresh dill

1

tbsp

fresh parsley

1

clove garlic

1

medium potato

salt to taste

pepper to taste
For the dumplings
125ml/1/2 cup

buttermilk or kefir

1

egg

1

tsp

olive oil

100g/3/4 cup

all purpose flour

¼

tsp

baking soda

¼

tsp

garlic salt

½

tsp

dried parsley

optional

¼

tsp

black pepper
Instructions
Add the water, bay leaves, peppercorns, salt and chicken breasts to a large soup pot and bring to a boil, then lower the heat and simmer for 30 minutes while removing the scum from the top.

While the chicken is being cooked, prepare the vegetables. Peel and cut the potatoes. Dice the onion and celery and slice the carrots.

Then prepare the dumpling batter. In a medium bowl mix the buttermilk, egg, oil, flour, baking soda, garlic salt, pepper and dried parsley with a wire whisk. The batter will be sticky and have the consistency of a waffle batter.

Take the chicken breasts out of the pot and shred them with two forks. Strain the broth through a fine thieve, then return it back to the pot together with shredded chicken. Add the potato and cook for 10 minutes.

Meanwhile saute the onion, carrot and celery in olive oil and butter over low heat for 5 minutes, then add the garlic and fresh herbs and cook for 30 seconds longer. Then add the sauteed vegetable mix to the soup pot.

Lastly, take the dumpling batter and start scooping dumplings directly into the simmering soup with a spoon. (You might want to use two spoons for easy release or an ice cream scoop with trigger.) The dumplings should double in size and float to the top almost immediately. Cover with a lid and cook covered for 10 minutes.
Nutrition
Calories:
337
kcal
Carbohydrates:
30
g
Protein:
30
g
Fat:
9
g
Saturated Fat:
3
g
Cholesterol:
124
mg
Sodium:
738
mg
Potassium:
791
mg
Fiber:
2
g
Sugar:
2
g
Vitamin A:
2860
IU
Vitamin C:
10.8
mg
Calcium:
76
mg
Iron:
3.6
mg