This Slow Cooker Thai Chicken and Wild Rice soup is just the thing you've been looking for!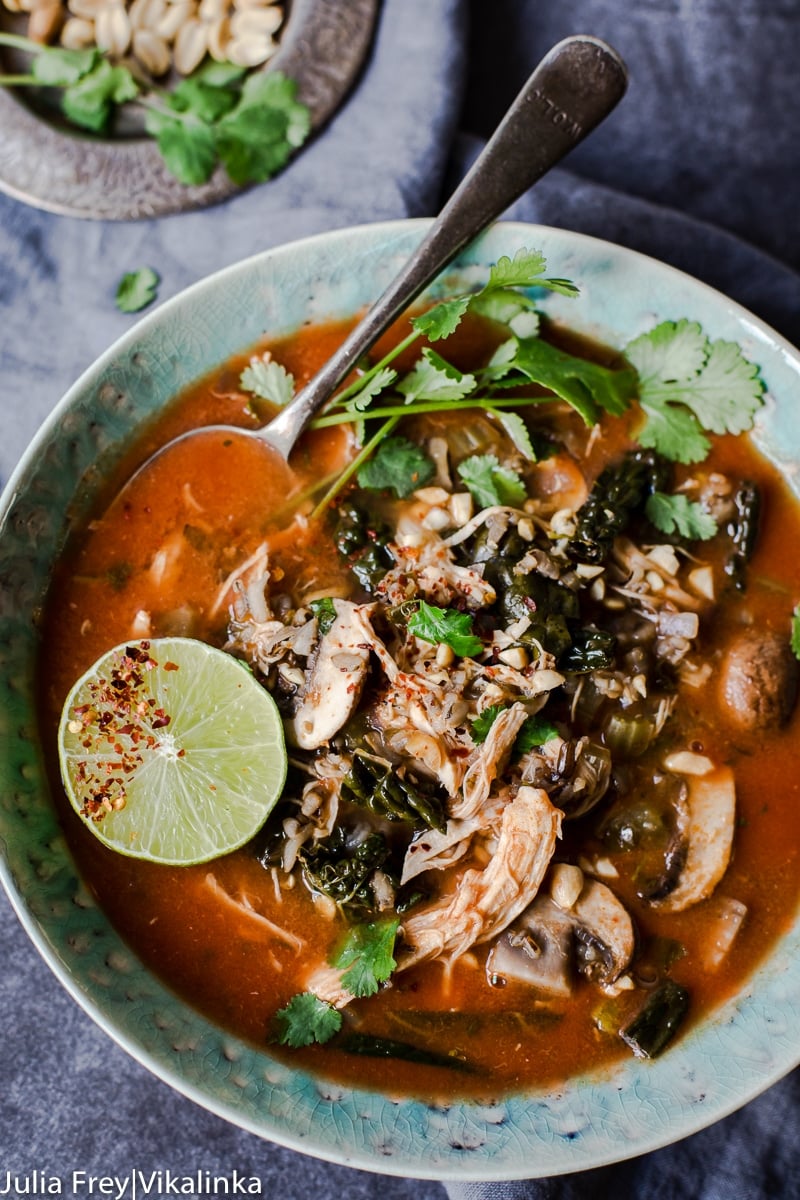 Do you know what a sign of ageing is? It's when everything you've done, seen and tasted in your 20s is much more appealing than it used to be.
It's when you realise that "Bring Back the 90s" playlist on your and your husband's Spotify account is the first one in the lineup based on how frequently you both listen to it.
And those embarrassing fashion moments you always wanted to forget start to seem "darling". Yup, I am feeling ALL of those things right now!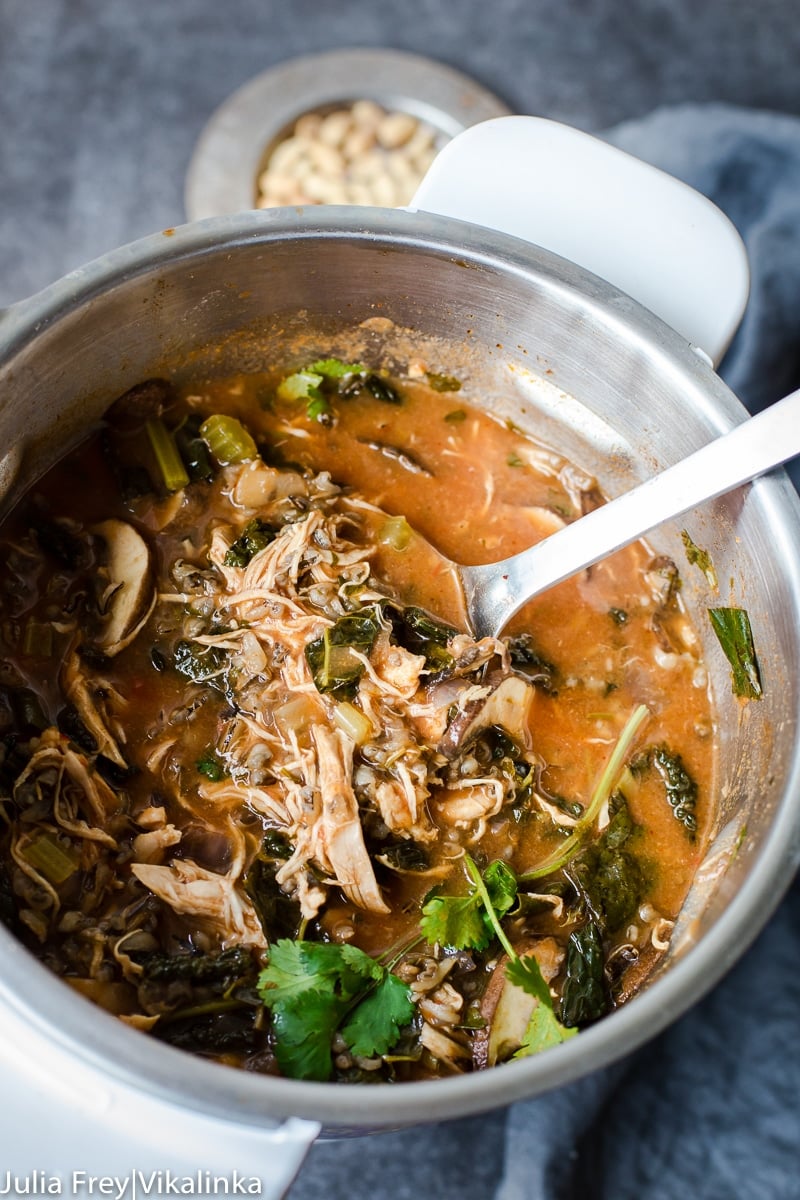 It's especially strange when your mind keeps wandering when it comes to meal planning and stubbornly returns to your college day Chicken and Wild Rice soup.
Brad and I met in college in Minnesota, the home of everything cheesy and creamy, so it's no surprise Chicken and Wild Rice soup is something that stuck with me.
As I worked as a cook after classes in the college kitchen, I made that soup dozens of times and I am sure you expect me to say next I'd memorised the recipe but I didn't…I forgot it. At least I forgot the details.
I tried to find a similar one on the Internet, that is flooded with plethora of its variations but nothing seemed as good. I am sure it's just my darn nostalgia talking but here you have it.
And then it occurred to me, why in the world would I want to create another chicken and wild rice soup recipe, many others have done it already?!?
A happy thought popped into my head after another work lunch at my usual café. I am going to create a modern twist on the classic to satisfy our changing taste buds.
That's how Thai Chicken and Wild Rice Soup came to be. Well, not right there and then. I still had to develop the recipe but you get my drift.
How to make Chicken and Wild Rice Soup in a slow cooker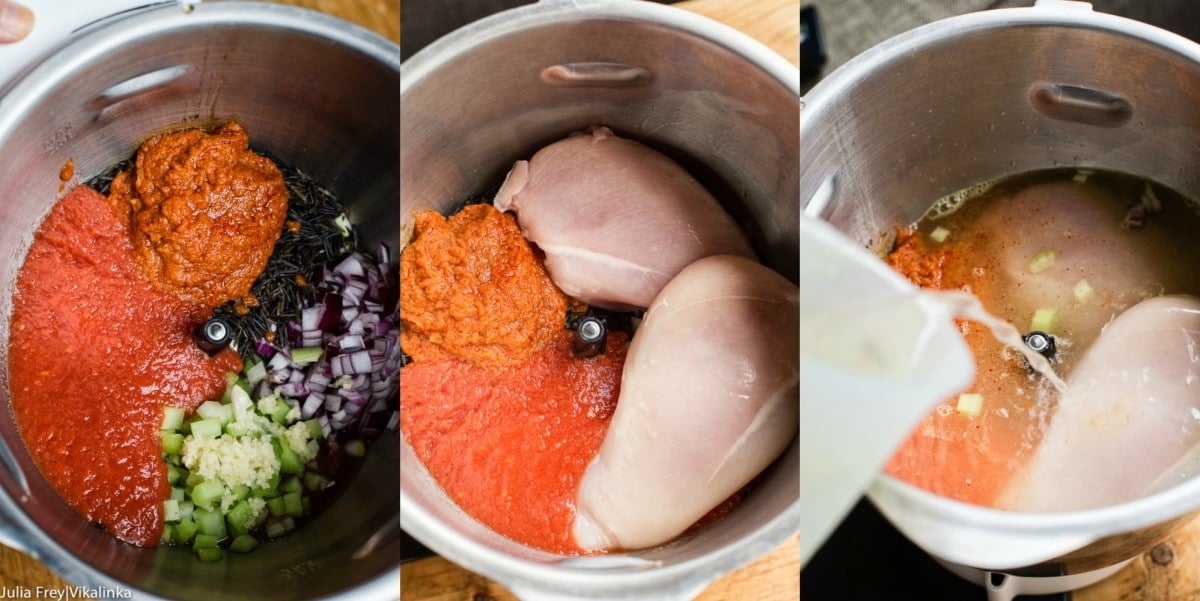 I wasn't sure about the specifics but one thing I knew for certain, my chicken and wild rice soup needed to be made in a slow cooker as wild rice takes ages to cook! I am so glad I did.
I don't love all things that come from a slow cooker but soups and stews are definitely those things that taste better if cooked low and slow.
Also, who is NOT a fan of a "throw everything in, walk away and only come hours later to a cooked meal" method?! Not me!
I only had to check on it once to add more delicious things like mushrooms and kale!
This soup is a variation on my regular Thai curry recipe minus coconut milk as I wasn't sure how it would do in a slow cooker. I hope you love it as much as we did!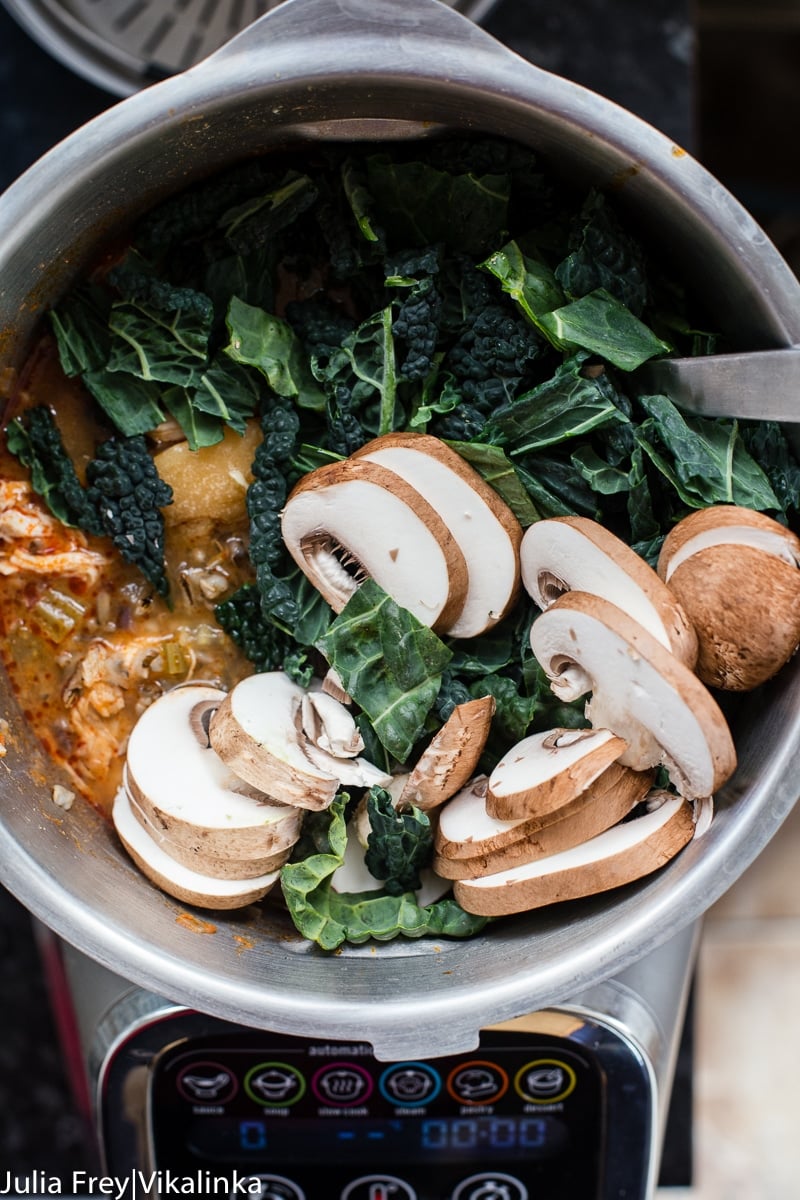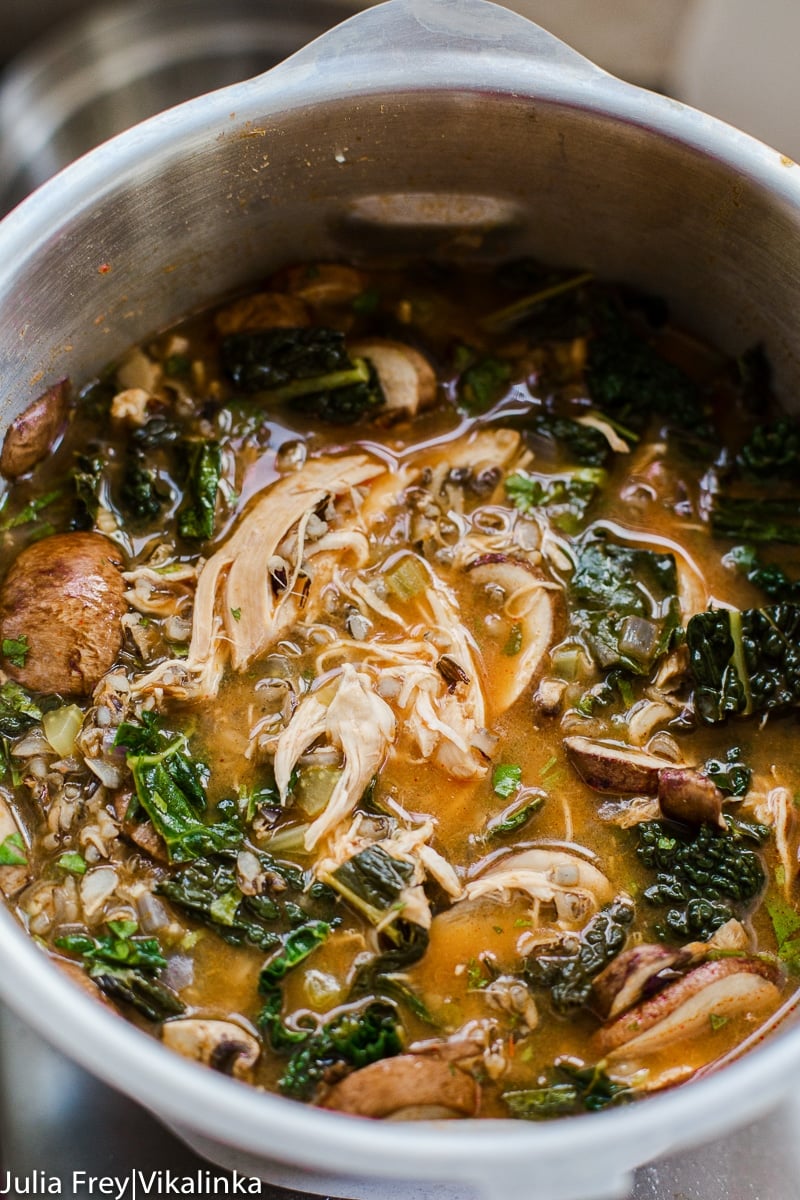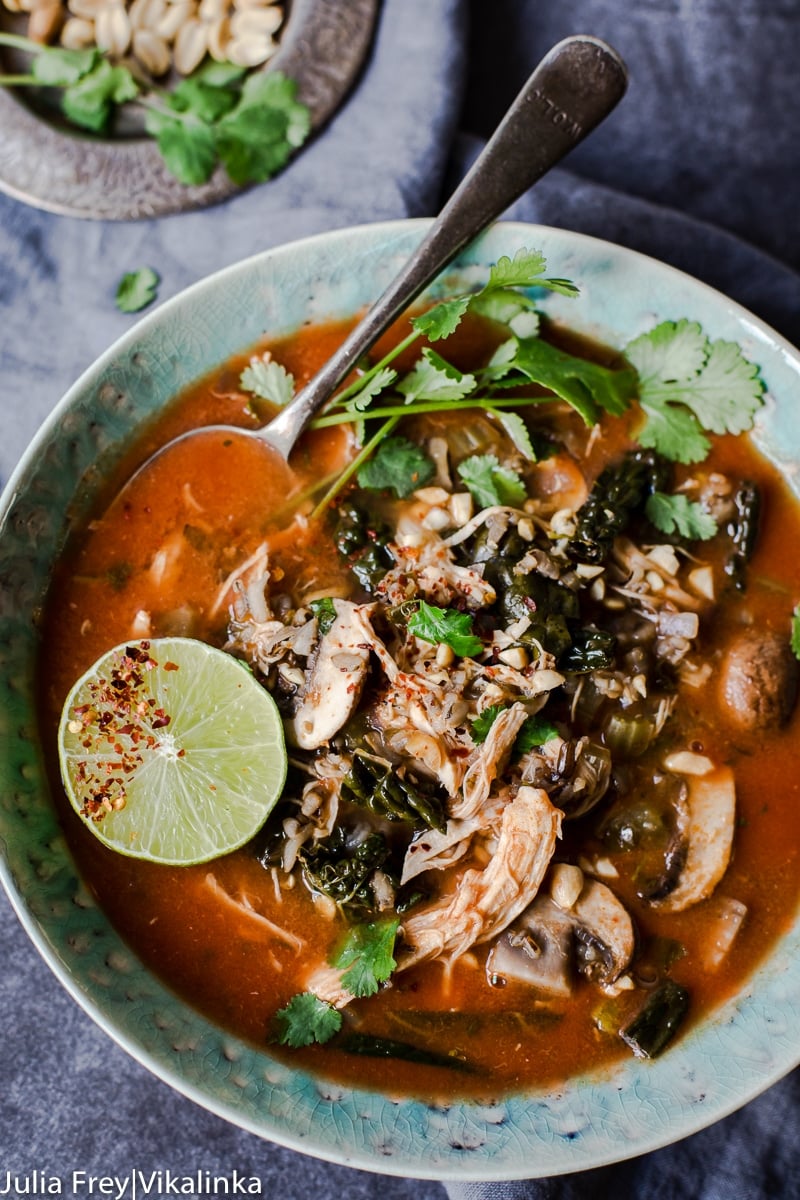 Ingredients
1

onion

diced

2

celery ribs

diced

3

garlic cloves

2

tbsp

fish sauce

2-3

tbsp

red curry paste

1

cup/250 ml crushed tomatoes

¾

cup/125g wild rice

2

chicken breasts

6

cups/1.5 litre low-sodium chicken stock

1

cup/6 large mushrooms

sliced

1

cup/100g black kale/cavolo nero

sliced

½

lime

juice only

2

tbsp

brown or palm sugar

¼

cup/30g cilantro

chopped

2

tbsp

peanuts

chopped (optional)
Instructions
In a slow cooker combine evenly diced onions and celery, minced garlic, Thai red curry paste, fish sauce, crushed tomatoes, wild rice, chicken breasts and low-sodium chicken stock (otherwise the soup might be too salty).

Cook for 4 hours on hight or 8 hours on low.

The hour before the soup is done, take the chicken breasts out and shred them with two forks, then return back to the slow cooker.

Add sliced mushrooms, kale, lime juice, sugar and chopped cilantro (I chopped up cilantro stalks as well as the leaves) and cook for additional hour.

Serve sprinkled with some chopped peanuts and more cilantro.