This classic coq au vin recipe is what it says. It's classic. Chicken pieces browned until golden, then slowly braised in red wine with carrots, onions and mushrooms. It's absolutely divine!
Serve this chicken with a side of Herb and Garlic Mashed Potatoes. And this French inspired Spinach Apple Salad with Walnuts and Blue Cheese for a starter.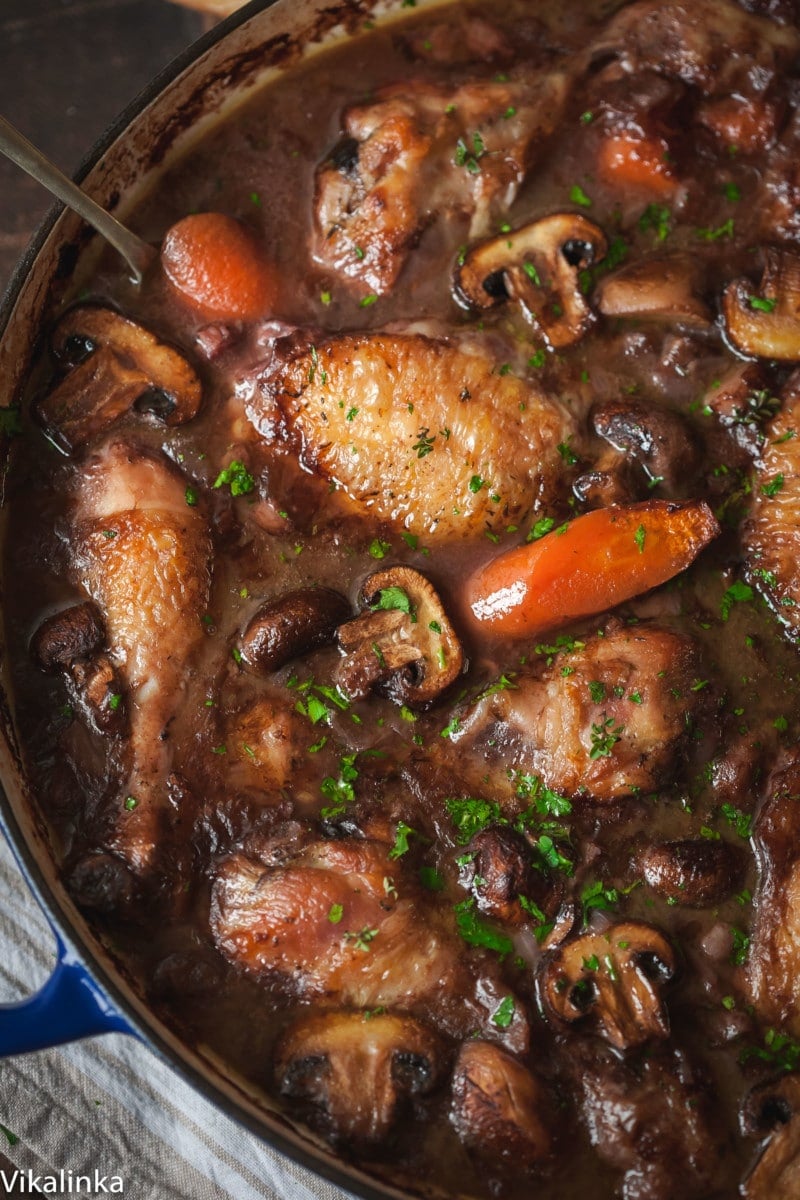 The sight of snow and a definite chill in the air makes me want to spend the day smelling the incredible aroma of coq au vin simmering away in my oven. Cold days are made for cozy and comforting stews. Don't you think?
The recipe for chicken slowly braised in red wine is truly outstanding. No special culinary training is required to ace this French classic. It takes very little effort and is the definition of rustic food.
If chicken is not your first choice of meat, take a look at my Beef Bourguignon recipe. Similar flavours and equally as iconic in the French cuisine as Coq au Vin.
I prefer making it in a deep cast iron pan but if you want to make life even easier, take a look at my Instant Pot Coq au Vin. It's done in half the time the traditional recipe takes.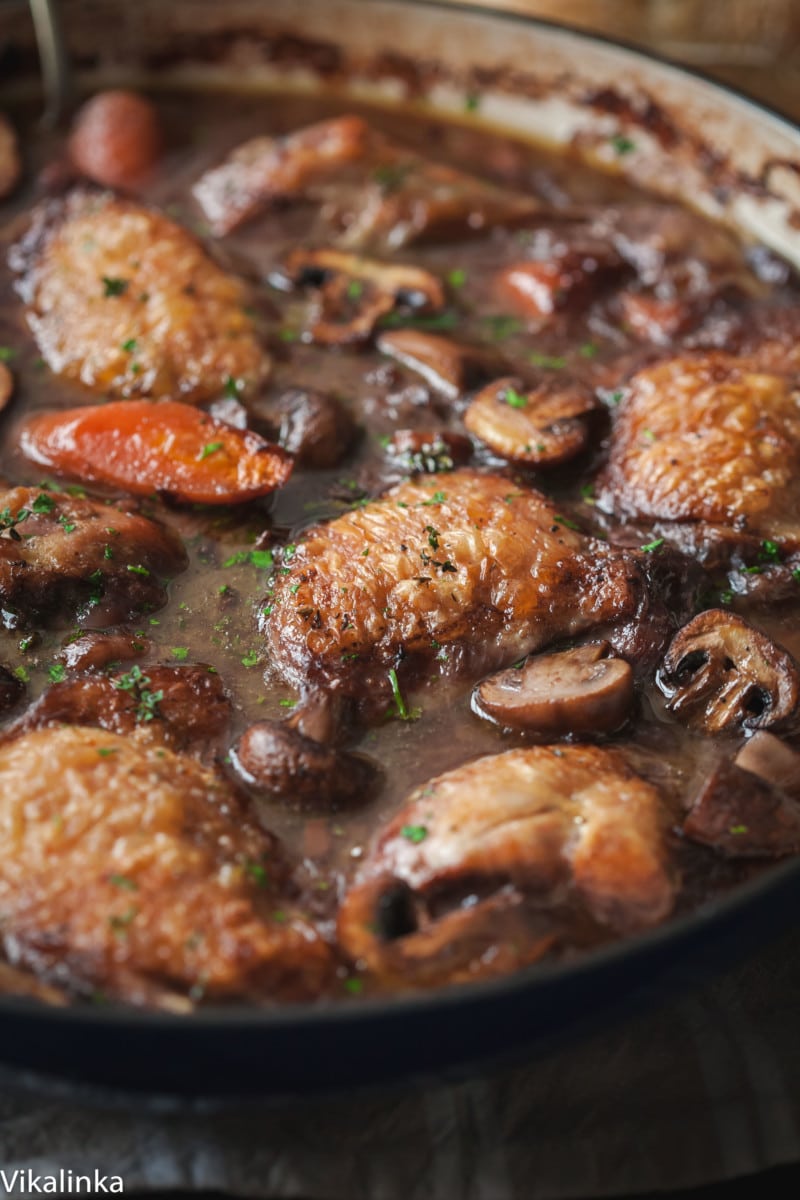 Is Coq au Vin difficult to cook?
I am usually on the lookout for the recipes, that are tasty yet simple. This Coq Au Vin (French for "Chicken in Wine") is one of those dishes. It is good enough to serve for a fancy dinner yet doesn't require much hands-on time.
It could be cooked a few hours in advance, and then reheated quickly right before dinner. This way you can relax and make yourself look pretty and avoid greeting your guests red-faced and sweaty.
French cuisine is so impressive for its ability to be sophisticated and deeply satisfying and comforting at the same time. I have made Coq Au Vin numerous times. It doesn't get old and it's always a crowd pleaser.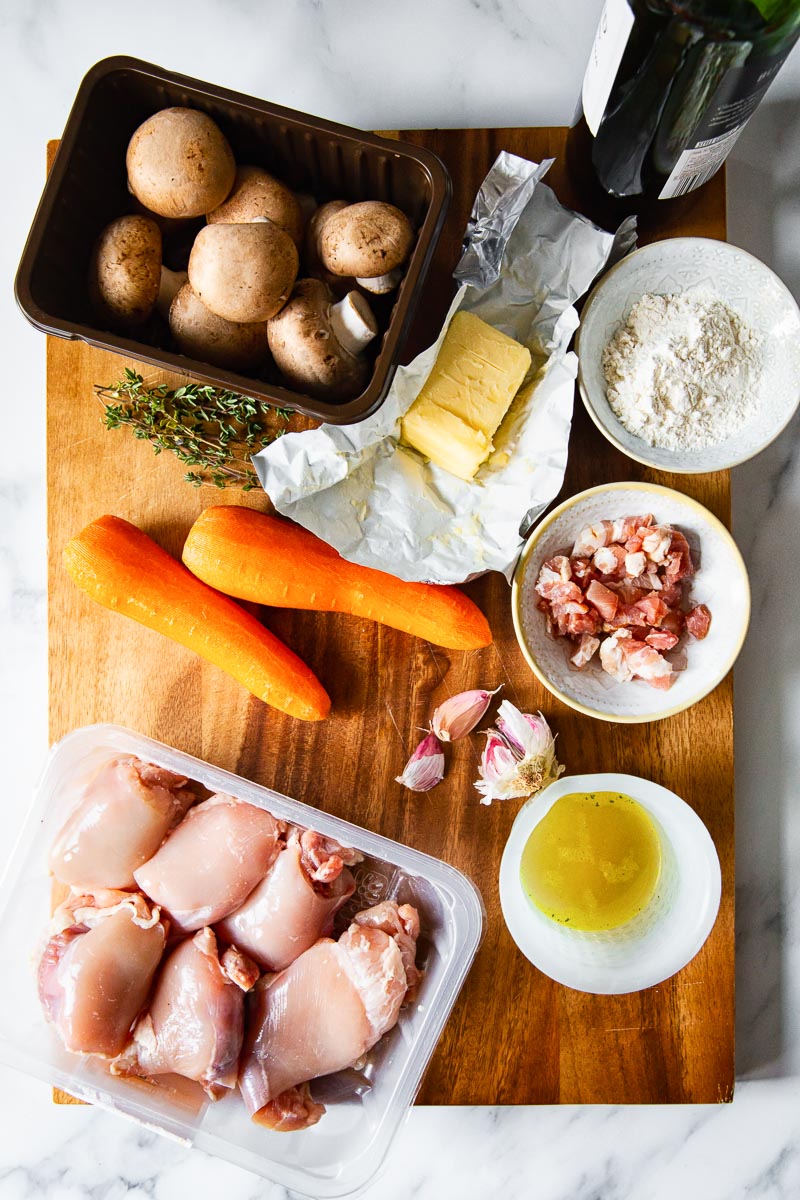 Ingredients
The rich taste in this wonderful dish comes from the quality ingredients and a few spices artfully put together.
Here is what you will need:
Chicken thighs and legs. I prefer using chicken pieces with skin and bones but skinless, boneless will also work.
Mushrooms, carrots and onions for your vegetables
Thyme and garlic for spices.
Red wine and chicken stock for braising liquids.
Finally, flour and butter for thickening the sauce and adding extra flavour.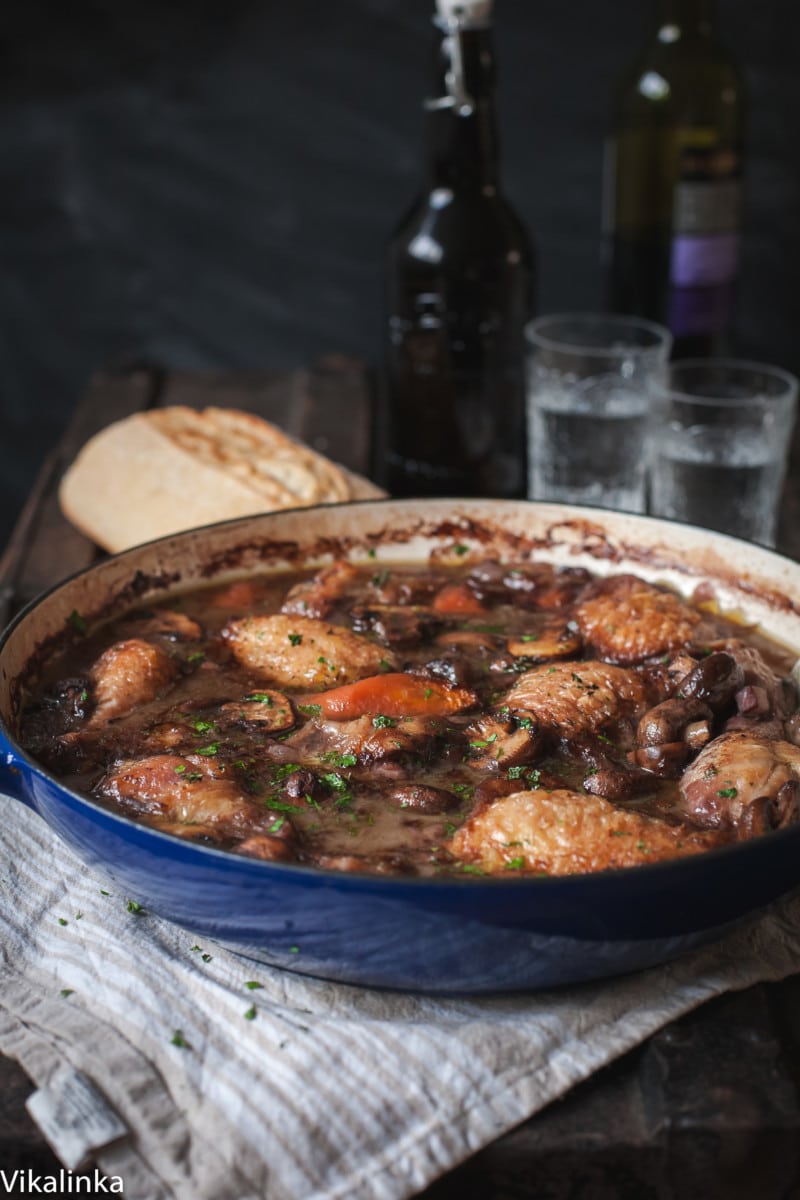 What wine to use
You can guess from the name that wine is one of the main ingredients, and of course chicken. I am sure you have heard it before but I will say it again- only use the wine that is good enough to drink.
I have tried this dish with a bottle of homemade wine and it tasted good or so I thought. Good but not memorable enough to make it my "dinner special".
It took me a few years before I came back to this recipe but I tried cooking with a decent bottle of wine. That time I saw the magic of Coq Au Vin, the quality that stood the test of time and kept this dish on people's tables for generations.
Traditionally Burgundy wines are used in this recipe but don't stress yourself if you can't source a bottle. My favourite wines to use are Cabernet Sauvignon, Shiraz and Merlot.
In the Alsace region of France, this dish is made with Riesling and is called Coq au Vin blanc.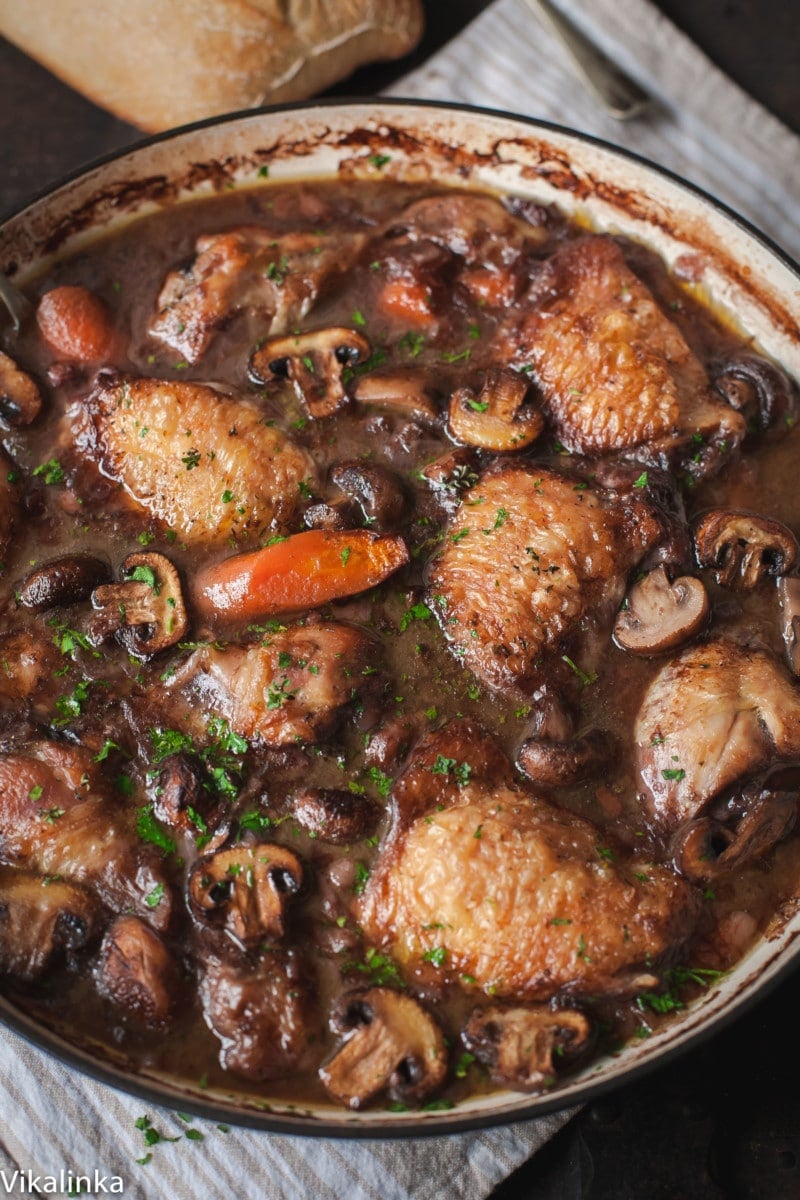 Classic Recipe Tips
This recipe is cooked in the oven at lower temperature than usual. 120C/250F. The temperature is adjusted to longer cooking time.
I used bacon lardons, which are less smoky and fatty than bacon, for this recipe as they are more authentic but feel free to use regular bacon or pancetta.
Browning chicken pieces before braising adds so much flavour to the overall taste of the stew. No need to cook them all the way through at this point.
I used brandy to deglaze the pan. Once again this ingredients add flavour. It can be substituted with whiskey, bourbon or the same red wine you are using later.
The colour of your sauce will range from brown to dark purple depending on the wine you use. It will not change the taste of your dish as long as your wine quality is decent.
Long cooking time in the oven will allow your stew to reduce and thicken naturally. However, for a thicker sauce, stir in a mix of melted butter and flour at the end.
Serving Suggestions
Serve Coq Au Vin with mashed potatoes or potatoes au gratin and good crusty bread. Don't forget a glass of nice French wine. Bon Appetit!
More Classic French chicken recipes to try:
This recipe was originally published in 02/2015. Updated and republished in 03/2021.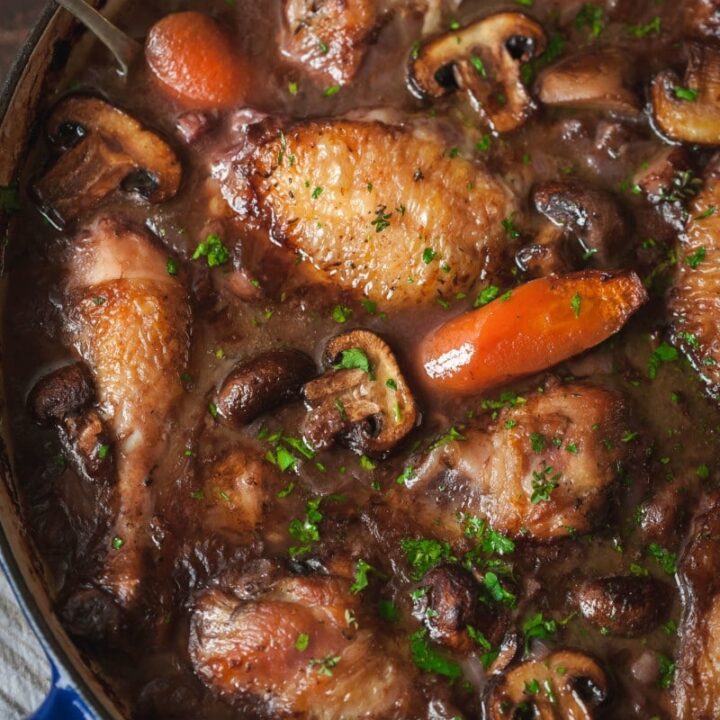 Coq Au Vin, the Ultimate One Pot Dinner
Chicken pieces browned until golden, then slowly braised in red wine with carrots, onions and mushrooms.
Ingredients
1

tbsp

Olive Oil

120g/4 oz

Pancetta or Bacon lardons

cubed

8-10

pieces

Chicken thighs and legs

1

Onion

2

Carrots

1-2

cloves

Garlic

chopped

80ml/1/4 cup

Brandy or Whisky

375ml/1 ½ cup

Red Wine

your choice

250ml/1 cup

Chicken Stock

8-10

sprigs

Thyme

1

tbsp

Butter

1.5

tbsp

Flour for thickening

could substitute for corn starch for gluten-free version

250g/1/2 lbs

Mushrooms

Salt and Pepper to taste
Instructions
Preheat oven to 120C/250F. Heat a tablespoon of olive oil in a large Dutch oven. (If you have a cast iron pot it's perfect for it.) Fry your bacon lardons for 8-10 minutes until browned and remove them to a plate.

Season your chicken pieces with salt and pepper and brown them in the same pot in batches to avoid overcrowding. Remove to the same plate as bacon. You are not cooking your chicken all the way through, just browning on both sides.

Slice your onions and carrots in medium sized chunks and add them to the pot with salt and pepper, cook over medium heat for 10 minutes, add the garlic and cook for 1 minute longer stirring the whole time not allowing it to burn. Add your brandy and scrape all the burned bits to incorporate them into your sauce, now add bacon and chicken with all the juices they collected, pour in your wine, chicken stock and thyme sprigs and bring to a boil. Once boiling, cover with a lid and put it in the oven for 55 minutes.

When chicken is no longer pink mix melted butter with flour and stir in the sauce. Slice mushrooms thickly and add to the pot, taste and adjust the seasoning if needed. Put back in the oven with the lid off for 10-15 minutes to allow the sauce to thicken.
Notes
Alternatively this chicken stew could be made with skinless, boneless chicken thighs but not chicken breasts.
Nutrition
Calories:
257
kcal
Carbohydrates:
10
g
Protein:
6
g
Fat:
13
g
Saturated Fat:
4
g
Cholesterol:
21
mg
Sodium:
230
mg
Potassium:
395
mg
Fiber:
2
g
Sugar:
4
g
Vitamin A:
3519
IU
Vitamin C:
6
mg
Calcium:
21
mg
Iron:
1
mg