This Chicken Provencal recipe is quick, delicious and will transport you to France with the first bite! It's fun to dream in the middle of a busy week, don't think?!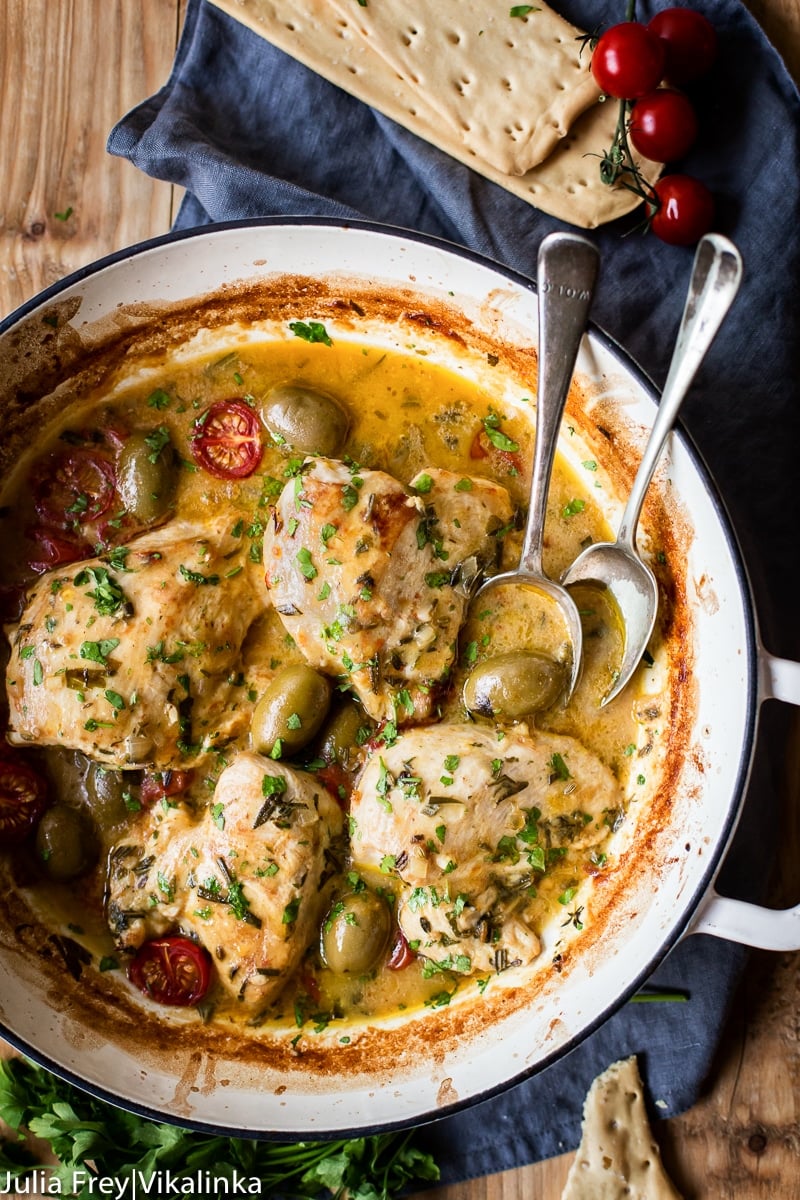 You might not believe it but we've hit a real cold patch here in London. It feels even colder because Brad and I just returned from our mini break in Prague, where we braved sub zero (okay -2C/28F) temperatures for the love of art, adventure and a good goulash. It feels like we've been frozen for a whole week now.
Cold spell aside our time in Prague was absolutely magical and we fell hard for that beautiful city. There is something so special about spending time together while exploring a foreign city.
Just the two of us working out our way from a little airbnb in the city centre to a large castle on a hill; map in one hand, cinnamon and burnt sugar trdelnik in another.
Wandering the streets of Prague sometimes in search of a good lunch but more often than not aimlessly, just loving the moment, being together and tiny snowflakes falling from the sky.
We also ate a lot. A lot, a lot. Some Czech food, and surprisingly quite a bit of French food. Our last dinner was in a grand room of the old Imperial Hotel.
It was, as the name suggests, quite regal; from the high ceilings covered in intricate mosaic to waiters dressed in old-fashioned trousers, white shirts and striped waistcoats, exuding old world charm.
It was almost a bit surreal, I couldn't help but feel slightly out of place there but nonetheless, absolutely loved it and couldn't stop smiling.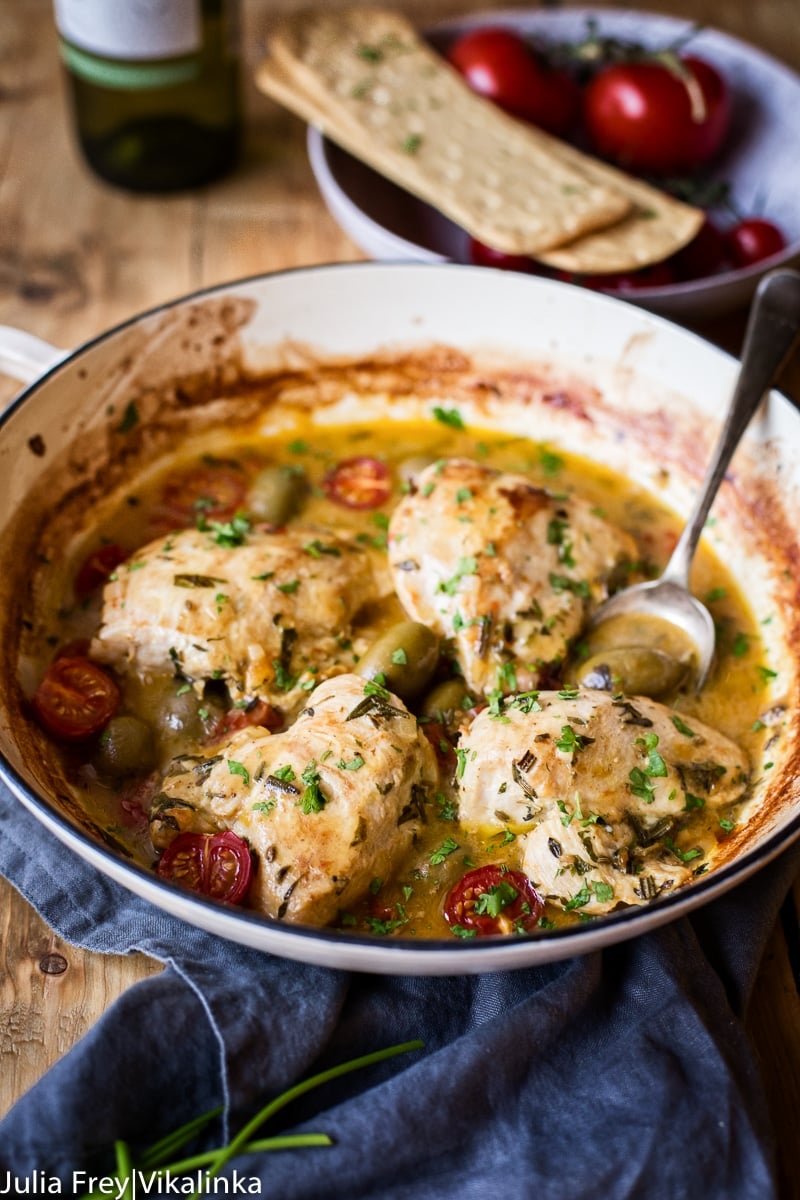 I was so inspired by the French food we ate I decided to make and blog this family favourite Chicken Provencal recipe as soon as I got back.
What is Chicken Provencal?
Chicken Provencal is a French classic, which I simplified and adapted. Usually made with a whole chicken or rabbit it uses dried herbs de Provence. I've made it with chicken pieces before, fell in love with it and immediately put it on a regular rotation.
Every time I made Chicken Provencal I used fresh herbs. I just find them to be much more flavourful than the dried ones. This time I decided to make this recipe with chicken breasts for a quicker and leaner version. I am a dark meat fan, and naturally I prefer to use a whole chicken.
Not only is it more flavourful but it is also more economical. This time, though, my family unanimously voted for this boneless, white meat version, and I had no choice but to concede to their wishes.
The sauce this recipe creates is like no other; fragrant and delicate, made slightly sweet with cherry tomatoes. You will definitely need a loaf of crusty bread for dipping. Delicious!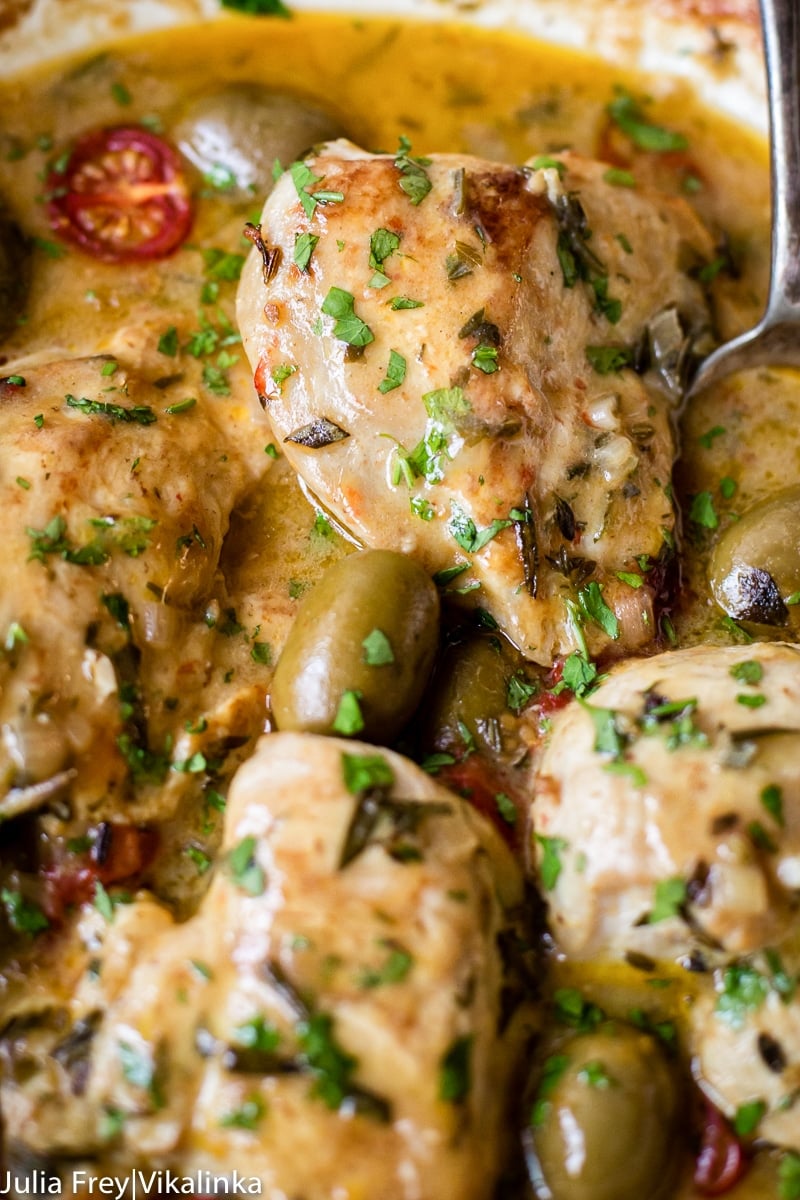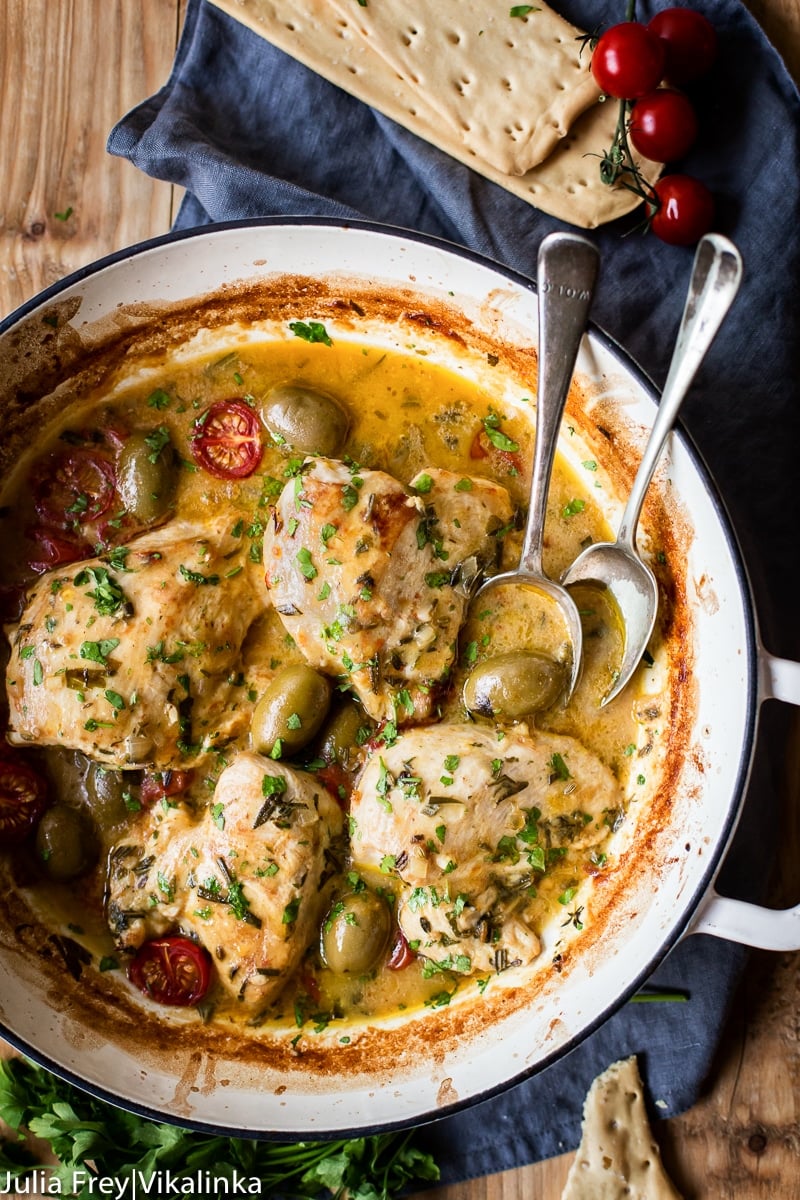 Ingredients
2

shallots

chopped

1

tbsp

fresh thyme

leaves only

1

tbsp

fresh rosemary

chopped

1

tbsp

fresh flat leaf parsley

chopped

1

tsp

fennel seeds

1

cup/250 ml white wine

4

tbsp

olive oil

4

skinless boneless chicken breasts

salt

1

tbsp

flour

½

cup/ 125 ml chicken stock

6-8

cherry tomatoes

halved

8

large green olives

pitted

parley for garnish
Instructions
In a large bowl combine chopped shallots, chopped herbs, fennel seeds, wine and half the olive oil, add chicken breasts and marinade for 2-3 hours in a refrigerator.

Take the chicken breasts out of the marinade and brush off the herbs and shallots as much as possible, season with salt and set aside, reserve the marinade.

Preheat the oven to 200C/400F

In a large and deep pan brown chicken breasts in 2 tbsp of olive oil over medium heat until golden but not cooked through, approximately 2-3 minutes on each side. Remove to a plate.

Add flour to the pan and stir it in with with the oil that was left in the pan from browning chicken, add ½ of the marinade and scrape the bottom of the pan with a spatula to release the brown bits, cook it on high until the sauce thickens, which should take about 2 minutes, reduce the heat to medium.

Add the rest of the marinade and stir, then add chicken stock, chicken breasts, halved cherry tomatoes and olives, bring to a boil and move it to the oven.

Finish it off in the oven uncovered for 25 minutes.

The sauce should reduce by a third and will coat a spoon when tested for thickness.

Serve Chicken Provencal sprinkled with chopped fresh parsley with a side of rice or mashed potatoes.