This French Chicken Casserole is going to be your new seasonal favourite. Chicken thighs and legs slowly braised in apple cider and served with fried apple wedges are as scrumptious as it sounds.
Serve this casserole with our Herb and Garlic Mashed Potatoes and classic Sourdough Bread.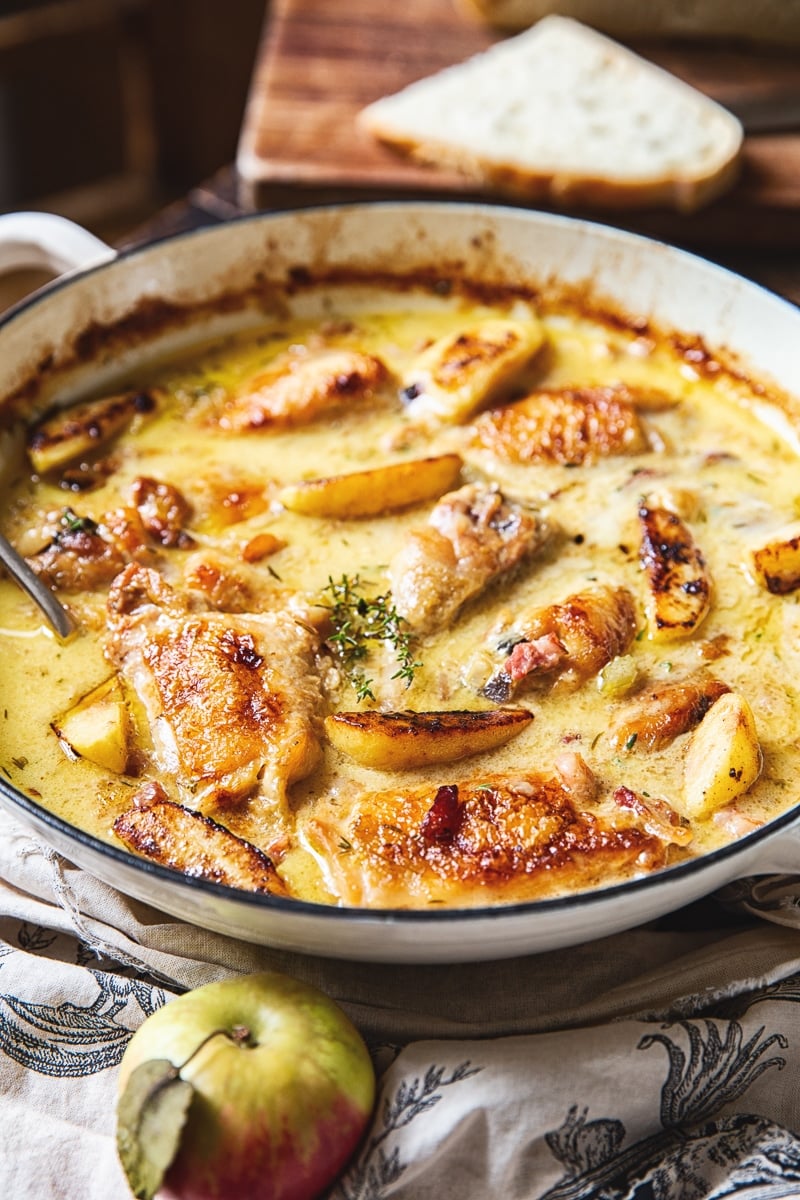 Are you looking for another recipe for chicken? Because if you are, you are in luck! And what is even better, this chicken casserole is so beautifully seasonal, it will make you want to cheer for the arrival of the autumn with three loud hurrahs.
I can also confirm that this chicken casserole has been tested and tasted by both kids and adults and was wholeheartedly approved by all.
Ingredients
As you can imagine, chicken casserole is an incredibly general term and basically means chicken cooked slowly in the oven until tender.
What you add to that chicken will make all the difference, and in my case I went with a French recipe for Chicken a la Normande or Chicken Normandy.
In this recipe chicken thighs and legs are slowly braised in a dry apple cider. Can you just imagine the aroma that is going to fill your house?!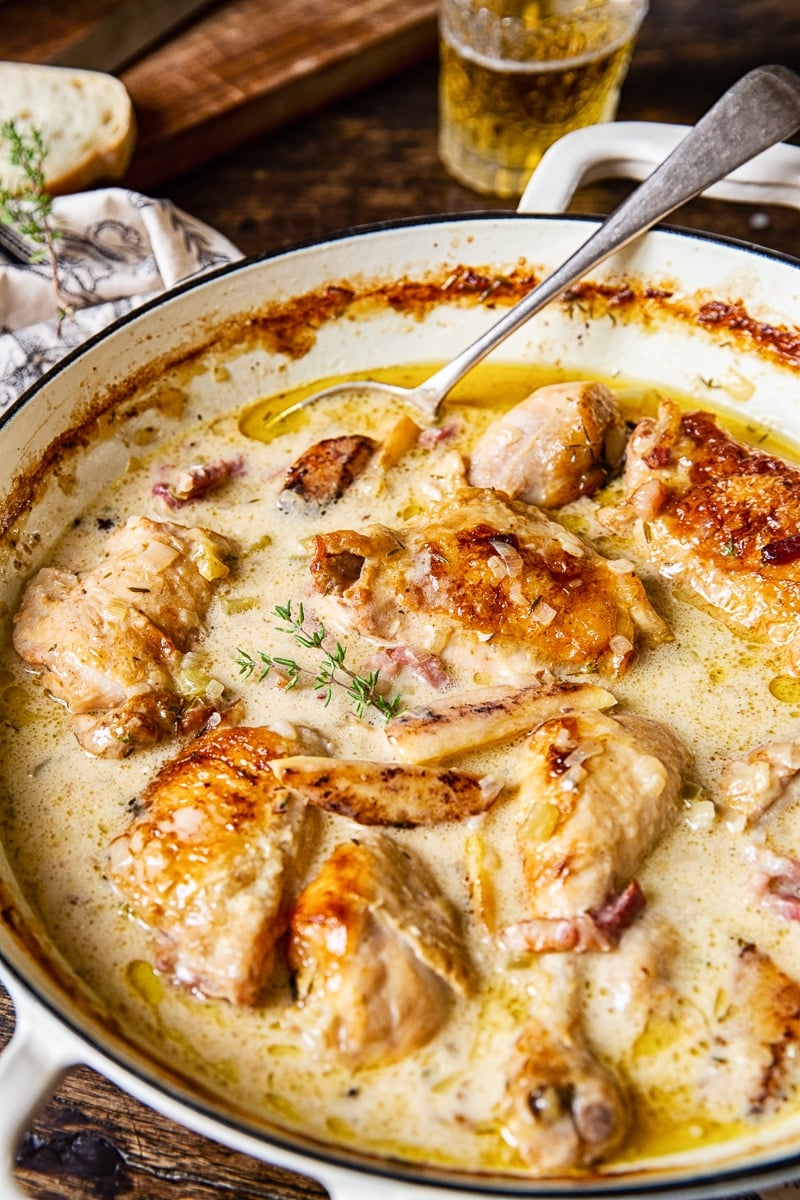 To make things even more interesting aka luxurious I've added bacon to the mix.
You know how it is with bacon. Just a small amount can impart incredible flavour and this is exactly what happens here.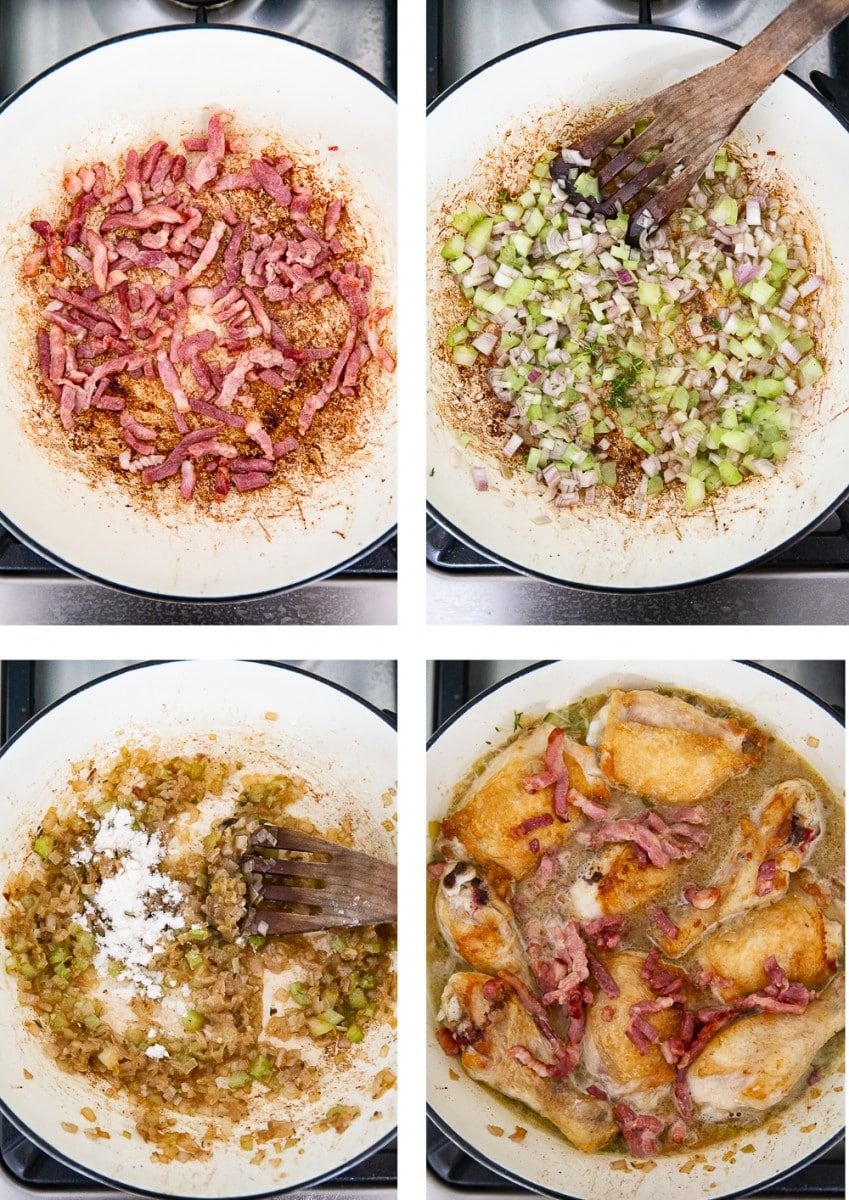 Sautéed shallots and celery plus a bit of fresh thyme add unmistakingly earthy tones to this cozy French chicken dish. Just before it's done in the oven, you hit it with a splash of cream.
The last bit is not necessary but highly recommended. You can certainly skip the cream if you stay away from dairy.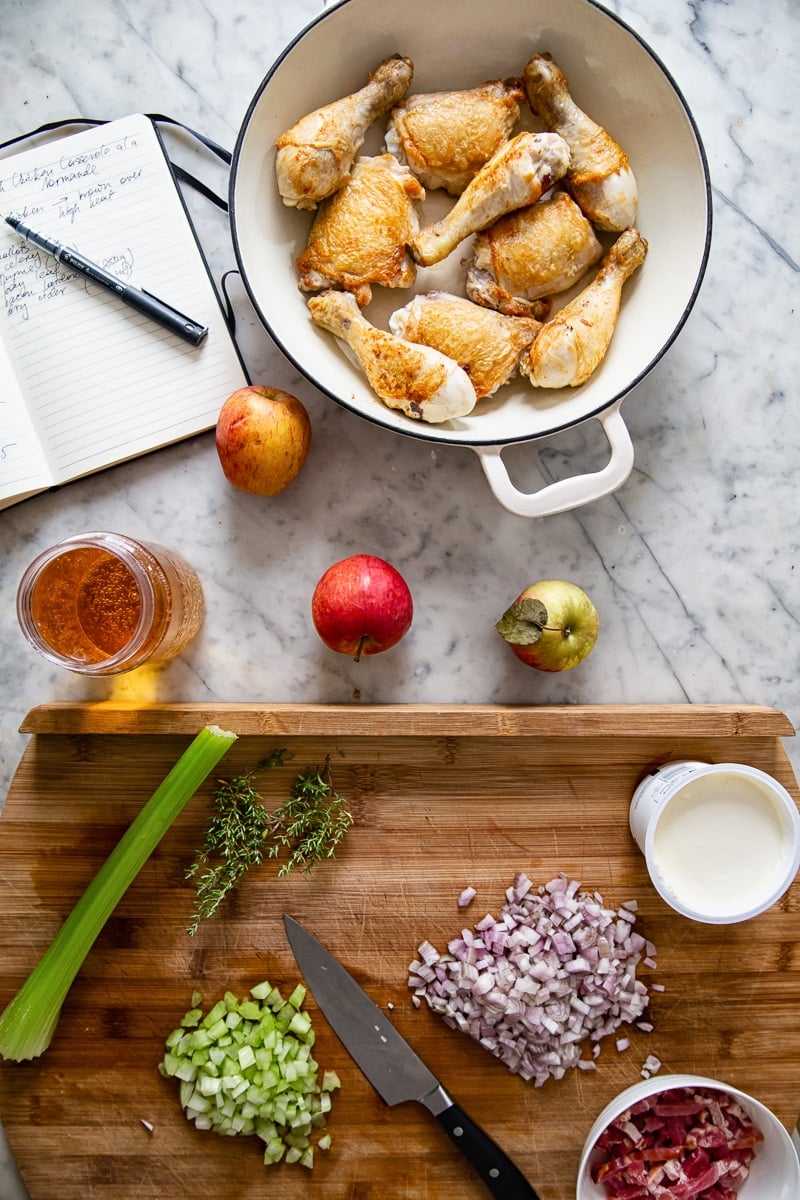 The final ingredient that I wanted to mention is apples. You will add fried apple wedges to your chicken casserole, and to me they are a must!
They add such welcome tangy sweetness that cuts right through the richness of this chicken bake and compliments it in a surprising and exciting way.
Chicken Casserole Top Tips
Use skin-on, bone-in chicken thighs and legs. The bones contribute to a complex and rich flavour.
Always brown the chicken before braising it. This step improves flavour and texture. (Use a splatter guard to protect yourself from hot oil.)
Use woodsy herbs like thyme, rosemary and/or bay leaf.
Base vegetables like onions/shallots, carrots, celery add another layer of complexity to your chicken casserole.
Season the dish carefully with salt. Always taste the final product before serving it.
Braise in the oven for at least 1 hour for your sauce to reduce and thicken and for tender, melt in your mouth chicken.
Finally be adventurous with flavours. Braising is a very forgiving cooking technique and is almost impossible to mess up!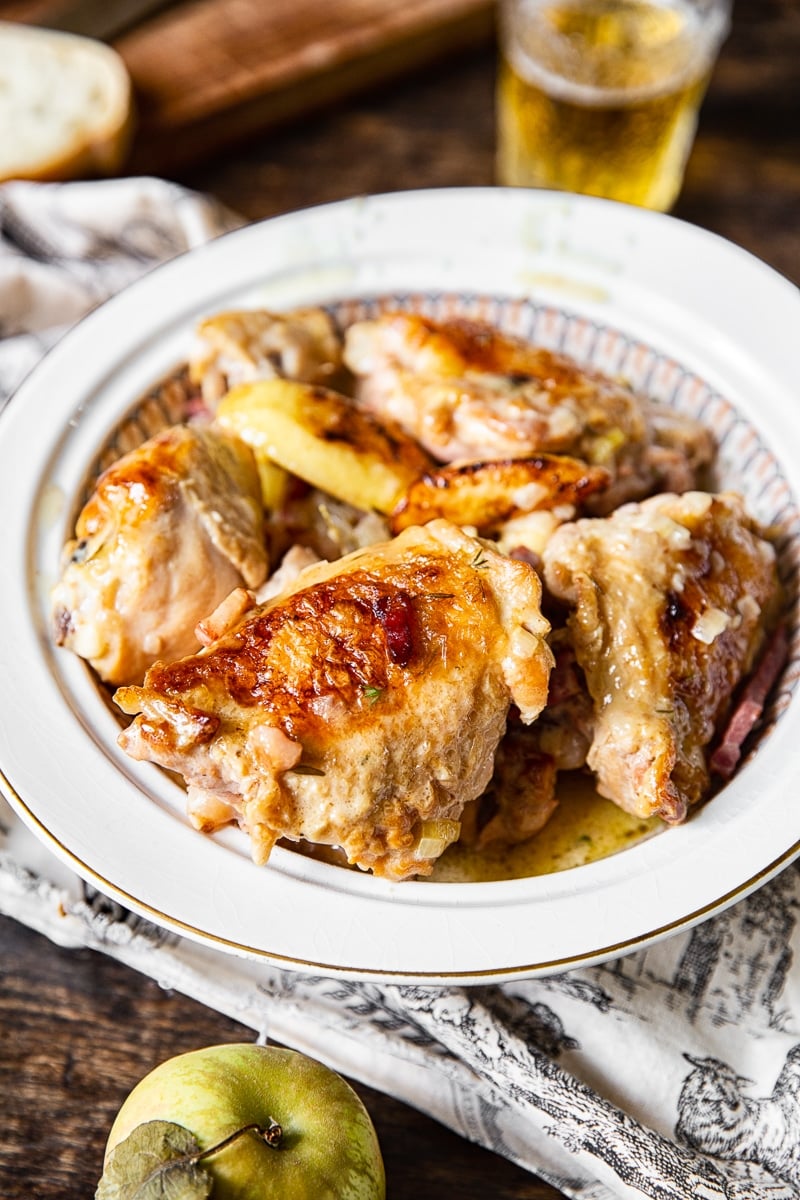 Serving Suggestions
I've already mentioned that this casserole is delicious when paired with mashed potatoes. However if you feel a bit more adventurous, why not enjoy it with our Sweet Potato and Swede Mash.
For more French recipes please check out:
This recipe was originally published in 09/2018. Updated with an instructional video and republished in 11/2020.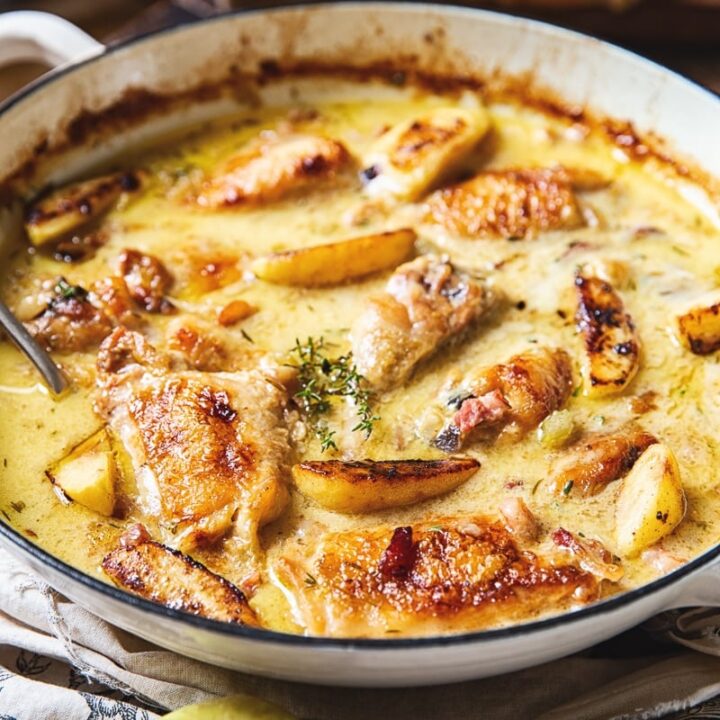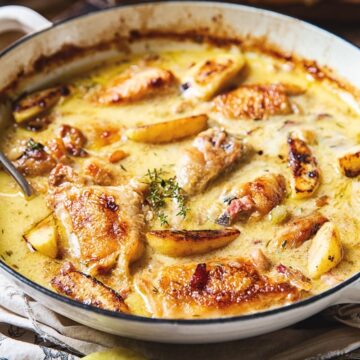 French Chicken Casserole a la Normande
Chicken braised in apple cider with thyme and apples.
Ingredients
1

tbsp

olive oil

2

lbs

chicken thighs and legs

salt

4

shallots

diced or one medium onion

1

rib

celery

diced

4-5

thyme sprigs

2

cloves

garlic

minced

125g/4 oz

bacon lardons

or 6 strips of bacon, chopped

2

tbsp

brandy or whiskey

2

tbsp

flour

85 ml/1/3 cup

chicken stock

400ml/1 ½ cups

hard dry apple cider

such as Strongbow

2

apples

peeled, cored and cut into wedges

125ml/1/2cup

double cream/heavy cream
Instructions
Turn the oven on to 180C/350F.

Pat dry chicken legs and thighs with a paper towel and salt all over.

In a large casserole dish brown the chicken parts in 1 tbsp of oil over medium- high heat until golden. Remove to a separate platter and set aside.

Discard the chicken fat or reserve it for another use if desired.

Fry the bacon lardons over medium heat until the fat is rendered. (If the bacon is very fatty, discard most of the fat.) Remove the bacon to the same platter as browned chicken.

To the same pan add the shallots and celery with 2 sprigs of thyme and cook over low heat until soft but not coloured for 5-7 minutes. Add the minced garlic and cook for 30 seconds longer while stirring.

Then hit the pan with some brandy and stir while scraping the bottom of the pan with a spatula, continue cooking until the alcohol burns out.

Then add the flour and stir until it's combined with the fat and turns into a paste, then slowly add the chicken stock and stir until the mixture resembles a thick gravy, then pour in the apple cider and stir to combine.

Return the chicken and bacon to the casserole dish with 2-3 sprigs of thyme and bring to a boil.

Then put the casserole into the preheated oven and cook with a lid on for 30 minutes, then uncover and cook for 30 minutes longer.

While the chicken is in the oven fry the apple wedges in 2 tbsp of the reserved chicken fat or butter. Watch them carefully as they burn quickly.

Take the casserole out of the oven and stir in the heavy cream and cook for 20 minutes longer uncovered.

Take out of the oven, stir in the cooked apple wedges and serve with potatoes or rice.
Video
Nutrition
Calories:
419
kcal
Carbohydrates:
14
g
Protein:
25
g
Fat:
27
g
Saturated Fat:
7
g
Cholesterol:
148
mg
Sodium:
124
mg
Potassium:
447
mg
Fiber:
2
g
Sugar:
7
g
Vitamin A:
210
IU
Vitamin C:
5.7
mg
Calcium:
29
mg
Iron:
1.5
mg