If you want a little escape from the mundane make this chicken in wine and mustard sauce! Chicken thighs and legs browned, then braised in white wine and Dijon mustard sauce with a bit of cream.
If you like this recipe, make sure to check out another French classic Coq au Vin Blanc.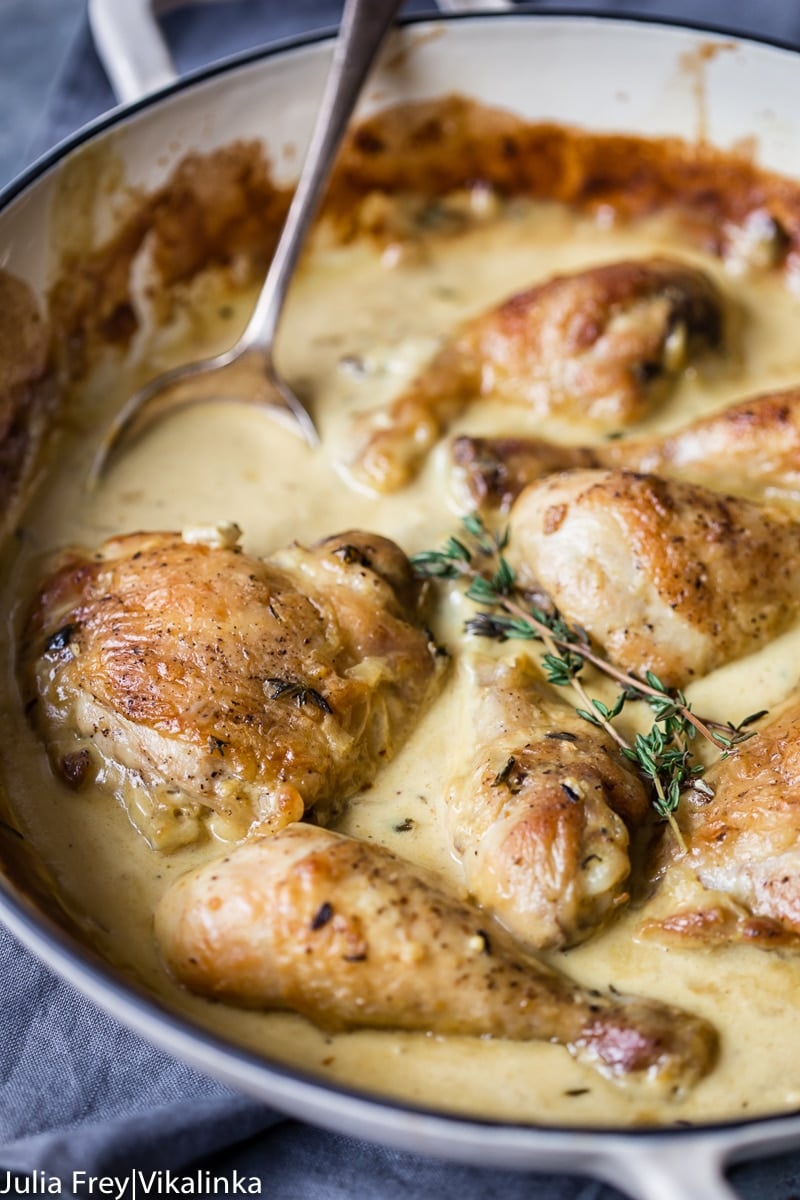 The inspiration for this Chicken in Wine and Mustard Sauce came from a French restaurant we visited in Prague. I always try to go for something less common, so I settled on rabbit in mustard sauce. Gasp!!
My kids would die if they knew I was eating their beloved pets Sugar and Brownie's distant relative but they weren't with us and it's better that they don't know!!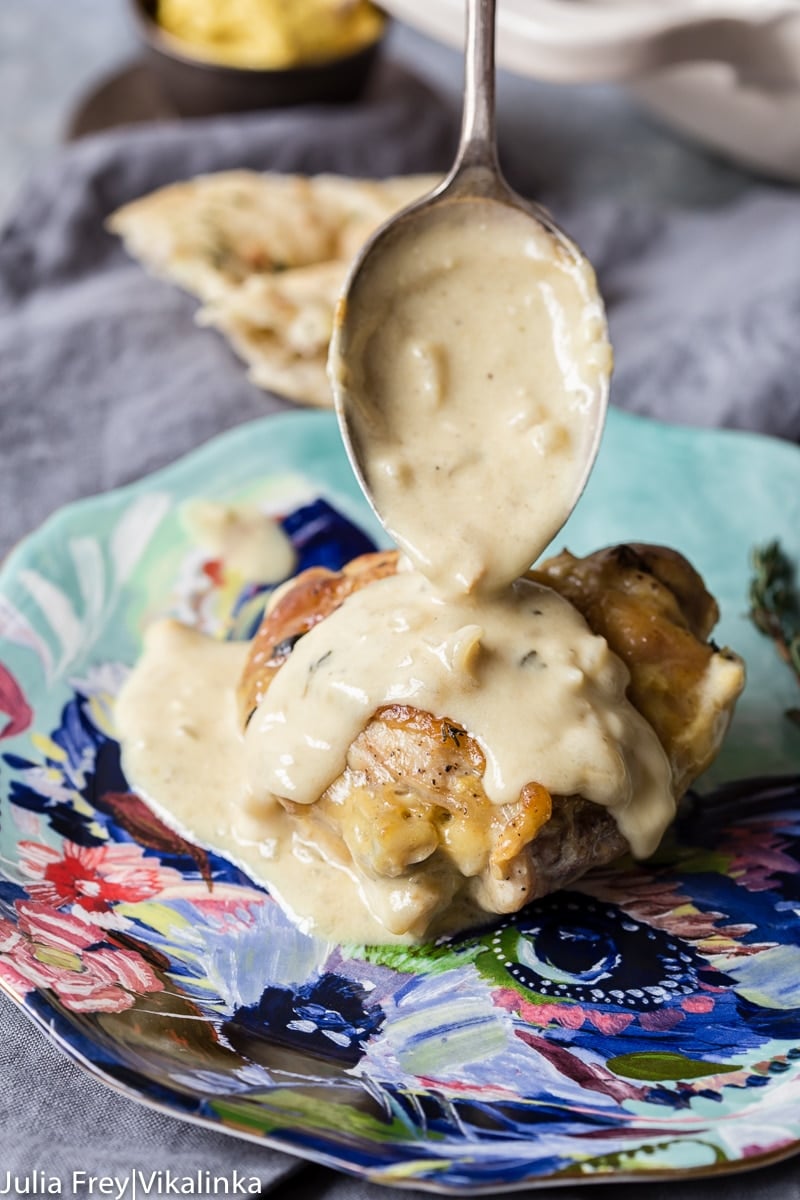 The chicken was so delicious and tender and the mustard sauce made me feel like I could definitely put it in my top 5 things to eat for the rest of my life if I am stuck on a desert island.
You might want to ask if the sauce with no cheese could be so addictive and delicious. And the answer is YES if you replace cheese with wine.
Wine has got to be my favourite cooking ingredient, so much flavour with so little effort. It's my kind of cooking!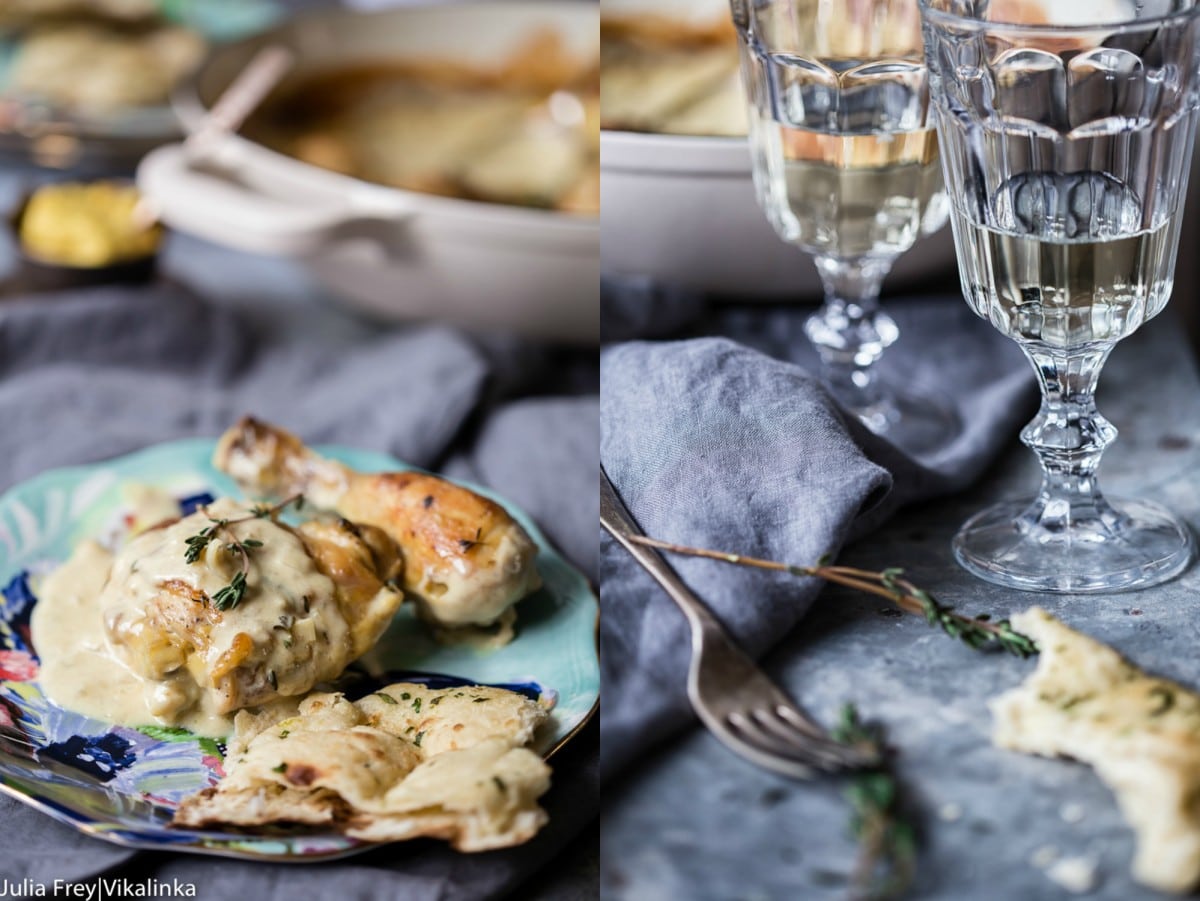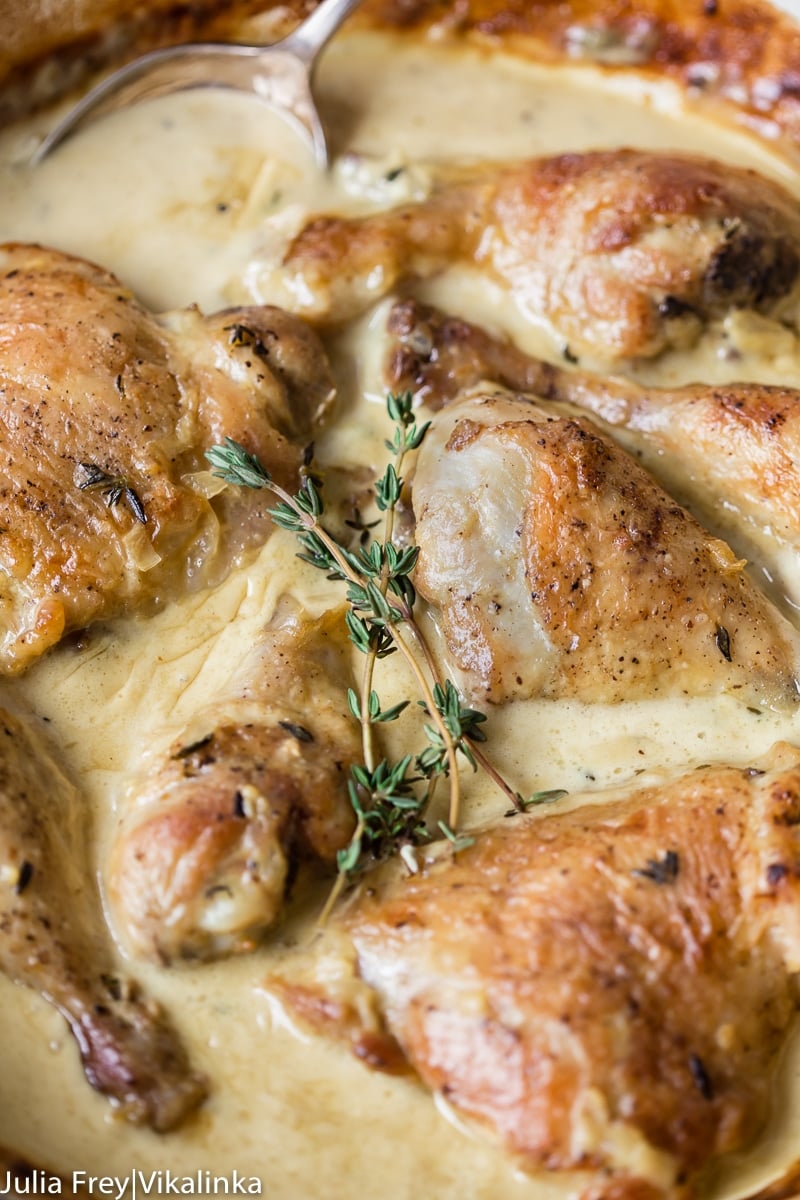 I am no stranger to cream-based sauces flavoured with wine and mustard but I've never made a sauce, which flavour rests solely on a mustard.
So although I knew how to achieve the consistency I was still not sure whether I'd like that much mustard in my sauce.
What mustard should I use for mustard sauce?
Here is what I learned. If you don't like the taste of a certain mustard, chances are you won't like it in a sauce, so choose the mustard you enjoy and the best quality you can afford.
I used French Dijon mustard but a wholegrain mustard will also work here.
Just don't use American yellow mustard, that will surely kill this delicate sauce.
Can I use chicken breasts in chicken in mustard sauce recipe?
I prefer using chicken thighs and legs in most of my recipe because they are a) more affordable and b)more flavourful (at least for me). My daughter is with me on it but my son and my husband are firmly in the chicken breast camp. Men.
I often get asked if chicken breasts could be substituted in my recipes, and the answer is always yes BUT… Please reduce cooking time by good 20 minutes if using skinless and boneless chicken breasts to prevent them from drying out.
If you decide to go with the chicken thighs and legs option, make sure you brown those pieces until golden brown because pale and soggy chicken skin has got to be one of the worst cooking sins!
Below are the stages of the Chicken in Wine and Mustard Sauce recipe before the final step of putting it in the oven. That is where your sauce will thicken and the chicken will crisp up on the outside and turn deliciously tender inside.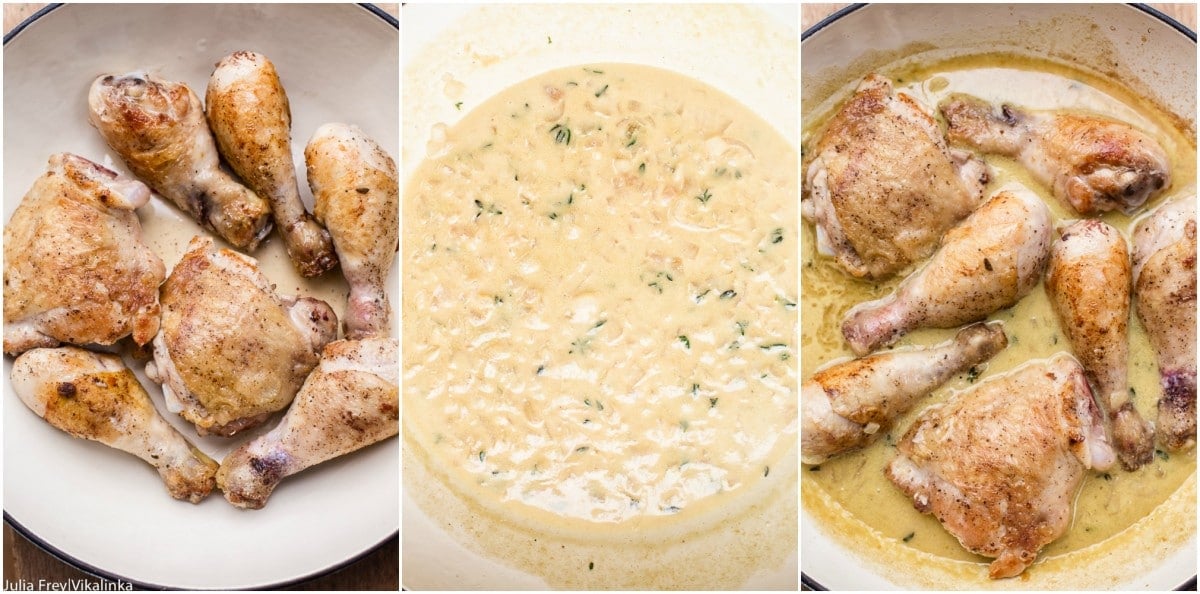 And this is what your chicken in wine and mustard sauce will look like when it comes out of the oven. Beauty!!
The sauce is not going to be very thick as classic French sauces never are. However, if you like your sauces thicker, add 1 tbsp of flour in step 3 right before you add wine, mustard and chicken stock.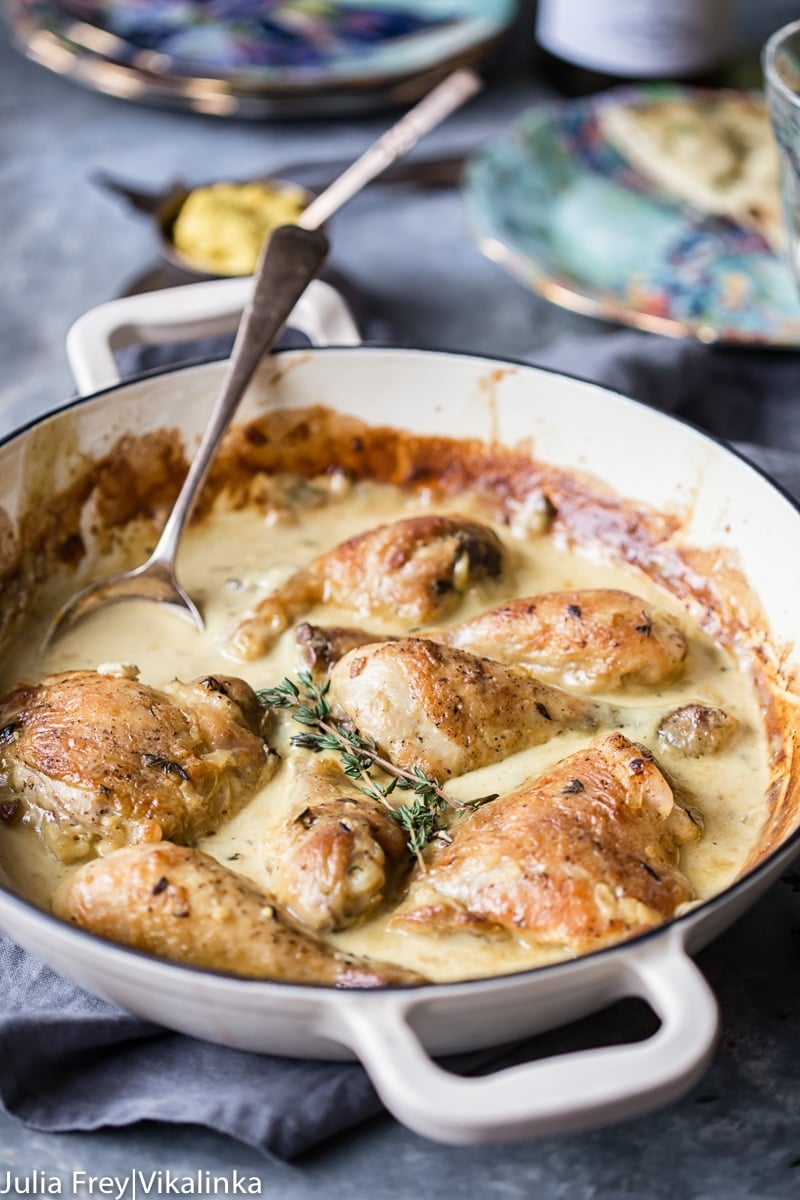 More French chicken recipes: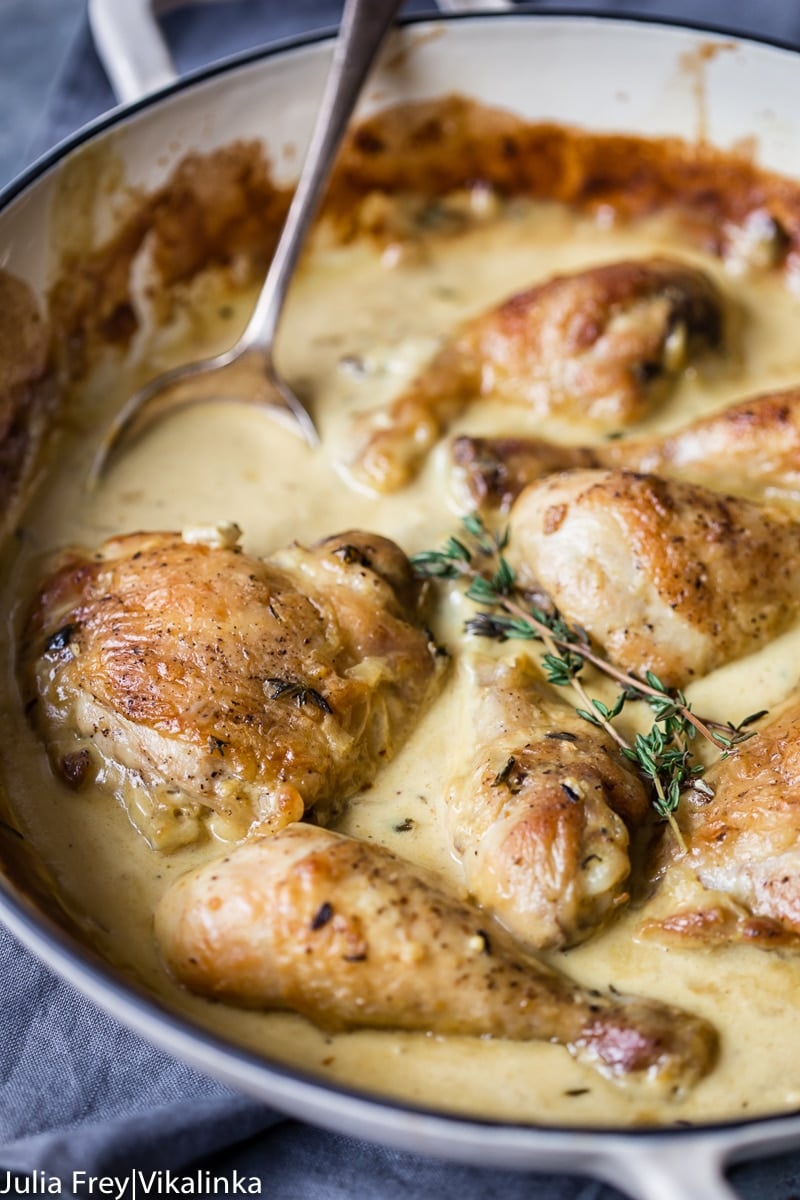 Total Time:
1
hour
5
minutes
Ingredients
1

tbsp

olive oil

2

lbs

chicken legs and thighs

salt and pepper

2

shallots

diced

2

garlic cloves

3-4

thyme sprigs

3

tbsp

dijon mustard

1/2

cup/125ml white wine

1

cup/250ml chicken stock

1/2

cup/125ml light cream/single cream

18% fat content
Instructions
Preheat the oven to 350F/180C

In a large frying pan heat one tablespoon of olive oil and brown chicken parts seasoned with salt and pepper on each side until golden but not cooked all the way through. Remove to a plate.

To the same pan add shallots, garlic and thyme leaves and cook over low heat for 5 minutes without getting any colour on them.

Add wine, dijon mustard and chicken stock, stir to combine and bring to a boil, then return chicken to the pan, spoon the sauce all over chicken pieces.

Put in the oven uncovered and cook for 45 minutes.

Take out of the oven add light/single cream to the sauce, once again baste the chicken in the sauce, put back in the oven and cook for 10 minutes longer.

Serve with rice, potatoes or roasted vegetables.
Notes
The sauce is not going to be very thick as classic French sauces never are. However, if you like your sauces thicker, add 1 tbsp of flour in step 3 right before you add wine, mustard and chicken stock. 
Nutrition Facts
Chicken in Wine and Mustard Sauce
Amount Per Serving
Calories 686
Calories from Fat 468
% Daily Value*
Fat 52g80%
Cholesterol 258mg86%
Sodium 405mg18%
Potassium 640mg18%
Carbohydrates 7g2%
Protein 40g80%
Vitamin A 530IU11%
Vitamin C 2.6mg3%
Calcium 59mg6%
Iron 2.2mg12%
* Percent Daily Values are based on a 2000 calorie diet.