This Indian-inspired kofta curry aka meatballs in curry sauce need nothing else but plain basmati rice and a big spoon!
Serve this flavour packed meal with our simple and easy flatbread!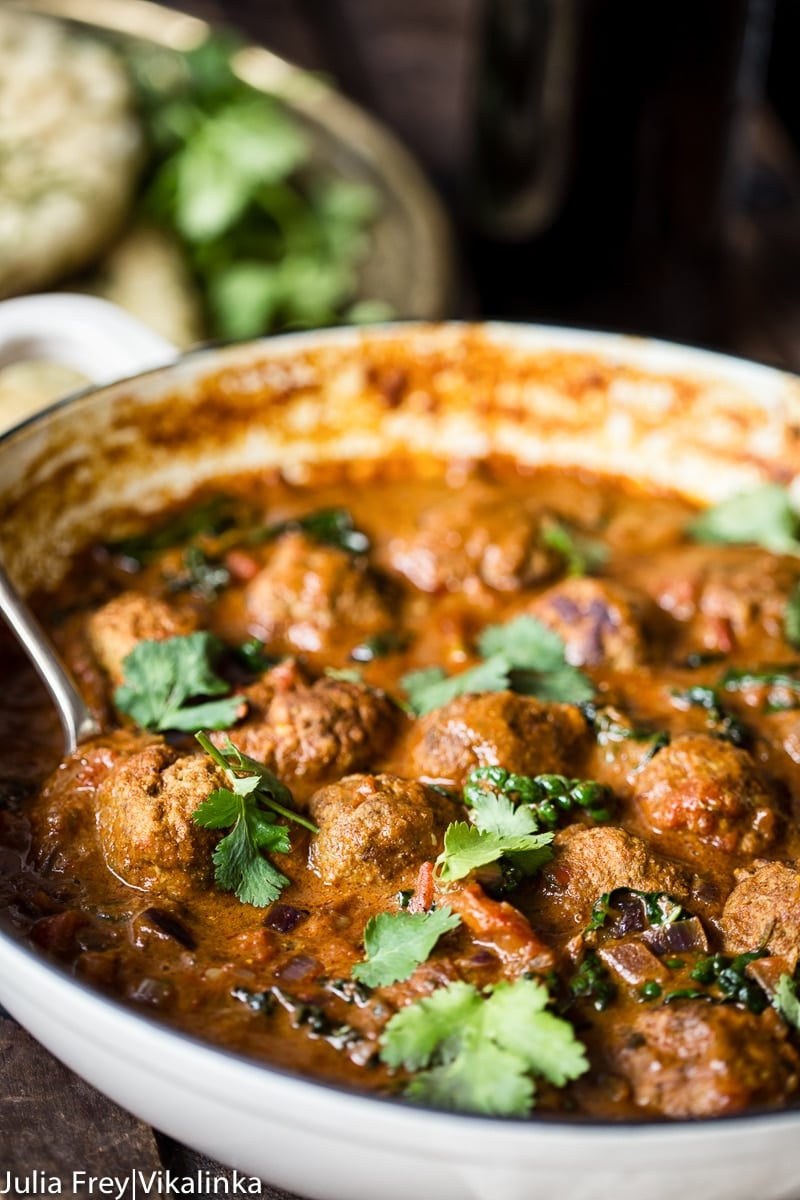 I've always been a firm believer that food should be fun, easy (most of the time), and off the scale flavourful. These meatballs in curry sauce combine all three!
I make curries often, and usually with chicken breasts or chickpeas and butternut squash. This time I wanted to change things up.
Kofta Curry Recipe
Fun fact. Meatballs are called "kofta" in India, and they are shaped more like mini sausages than our meatballs.
The recipe I am sharing today was adapted from a very inspirational and one of my favourite Indian writers Madhur Jaffrey. I did take some liberties with the original, and I might've inadvertently combined two different regions of India in one recipe.
When my creative juices start flowing, I get carried away. It's okay, we love unity, right?!
What is pretty special about this recipe are the meatballs themselves. They are spiced with an array of warm Indian spices like cumin, coriander, cloves, ginger, cinnamon etc. Flavour galore.
I am talking flavour here, not heat. That's the curry's job!
The sauce is all about the spice and BOLD flavour notes. I also finished it off with just a splash of single cream to tame the heat just a little.
I also added in a bunch of chopped kale for some extra nutrition and colour! Feel free to use spinach, peas, green beans…anything you like!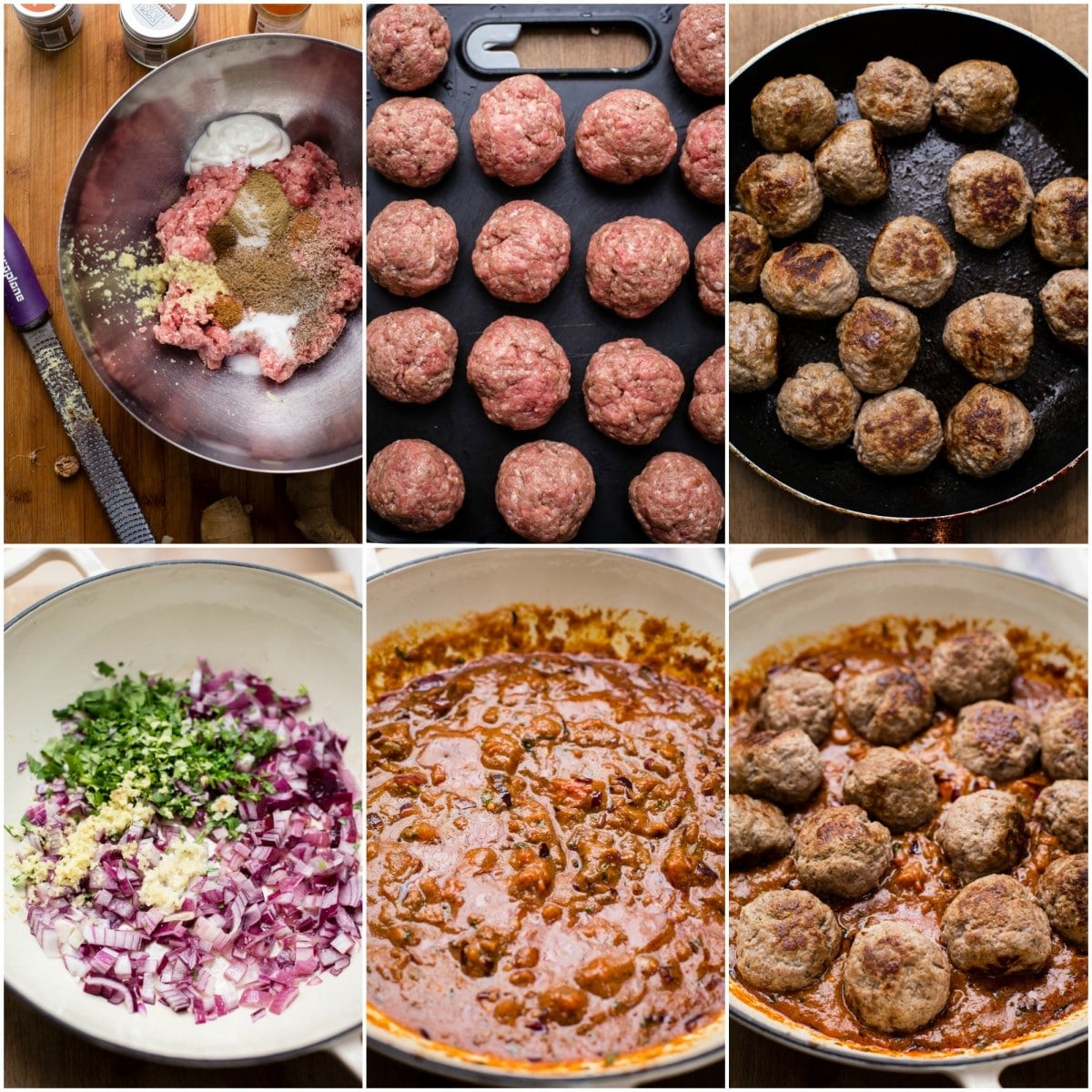 Recipe Tips
If you getting nervous here about your ability to pull off a real Indian taste, don't be. I will teach you how to cheat!
I use Patak's curry pastes in most of my curries. It's my favourite brand and no, I am not working for them. However, if you can't find it or have another brand you love, go for it.
For this recipe I used Madras Spice Paste, which is quite hot. So if you are not a fan of spicy food, I would recommend finding a mild curry like Tikka Masala. For an easy homemade curry recipe, take a look at my Simplified Cauliflower and Potato Curry.
I used ground pork for my version of the kofta curry as it is readily available but using ground lamb would be more authentic. To ensure your meatballs are as flavourful as they should be, check that your spices are up to date!
If you prefer to keep this curry dairy free, substitute cream with coconut cream. Delicious!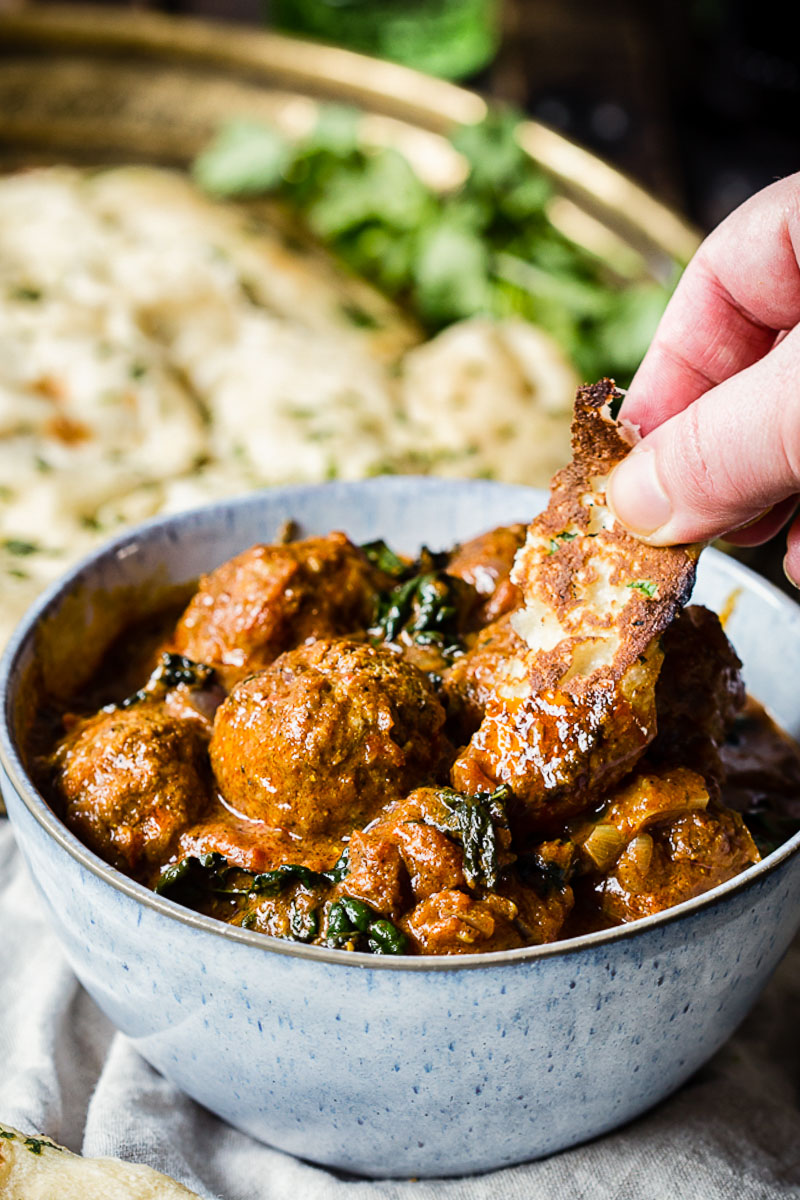 What to Serve with Curry
As I mentioned earlier, this kofta curry is perfect with plain basmati rice or cauliflower rice if you want to keep it low carb. Naan or any flatbread will be also delicious.
I personally love making this Nepalese Red Lentil Dhal or my Perfectly Spiced Baby Potatoes (Aloo Chat) and serve it alongside the meatballs.
Favourite Indian Curries to Try:
This recipe was originally published in 03/2017. Updated and republished in 01/2021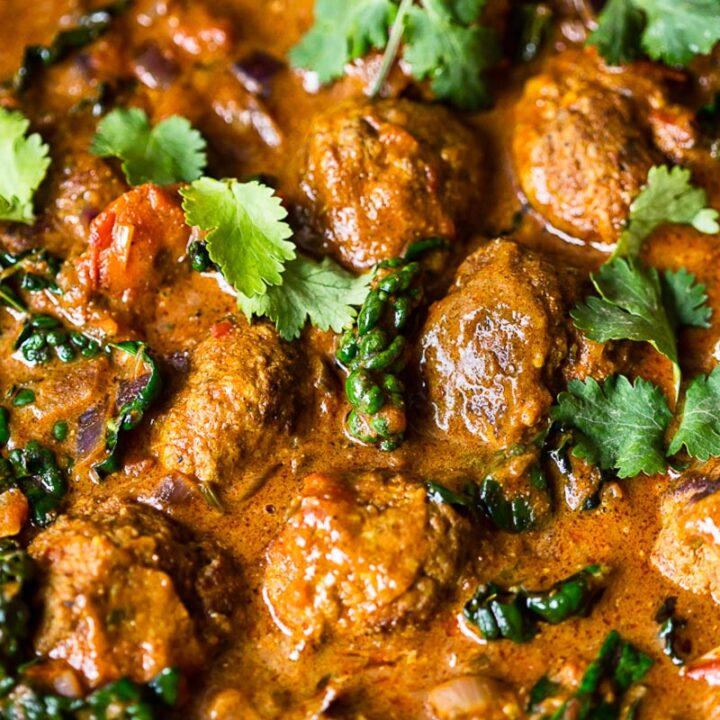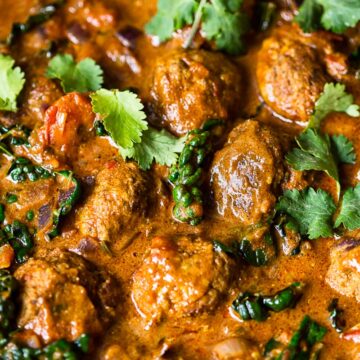 Indian Spiced Meatballs in Curry Sauce
This Indian-inspired kofta curry aka meatballs in curry sauce need nothing else but plain basmati rice and a big spoon!
Ingredients
For the meatballs
2

lbs

lean ground pork

or lamb

1

tbsp

fresh ginger

peeled and grated or 1 tsp dried ginger

1

tbsp

cumin

1

tbsp

coriander

¼

tsp

ground cloves

¼

tsp

ground cinnamon

⅛

tsp

nutmeg

¼

tsp

black pepper

¼

tsp

cayenne pepper

1

tsp

salt

2

tbsp

plain yogurt

1

tbsp

vegetable oil
For the curry sauce
1

large onion

chopped

3

garlic cloves

minced

1

tbsp

fresh ginger

peeled and grated

2

tbsp

cilantro stalks

chopped

3

tbsp

Indian curry paste

not sauce

400 gl/14 oz

canned chopped tomatoes

250ml/ 1 cup

water

10g/1

cup

black kale/cavolo nero or spinach

chopped

125ml/1/2 cup

light cream/single cream

or coconut milk

1

tsp

garam masala

optional

2

tbsp

cilantro leaves

chopped
Instructions
In a large bowl combine pork, ginger, cumin, coriander, cloves, cinnamon, nutmeg, black pepper, cayenne pepper, salt and plain yogurt.

Roll into golf ball-sized meatballs and brown in 1 tbsp of vegetable oil until golden but not cooked all the way through. Remove to a plate and set aside.

Discard excessive fat but leave approximately 1 tbsp in the pan. Add onions, garlic, ginger and chopped cilantro stalks and cook over low heat without browning for 10 minutes, stirring occasionally.

Add curry paste and stir for a minute, then add canned tomatoes and water, stir to combine, return the meatballs to the pan, and spoon some curry sauce on them to coat them, then turn the heat up and bring to a boil, then turn the heat to low, cover with a lid and simmer for 20 minutes.

Add chopped kale and any other vegetables if using and cook uncovered for 10 minutes longer, stirring once in a while to avoid burning. In the last few minutes add light cream and taste for salt, add more if necessary. (I add no salt to this sauce as Patak's curry pastes are quite salty already!)

Sprinkle with garam masala and chopped cilantro leaves. Serve with basmati rice, naan and/or lentil dhal for a low carb version.
Nutrition
Calories:
522
kcal
Carbohydrates:
8
g
Protein:
28
g
Fat:
42
g
Saturated Fat:
18
g
Cholesterol:
133
mg
Sodium:
585
mg
Potassium:
679
mg
Fiber:
2
g
Sugar:
3
g
Vitamin A:
1740
IU
Vitamin C:
14
mg
Calcium:
102
mg
Iron:
3
mg