Learn how to make one of the most delicious Indian chicken curries! Chicken Korma is rich, mild, aromatic and utterly scrumptious! Made creamy with coconut milk and ground almonds it is also dairy free!
If you like a good curry, you would love to serve this Korma alongside my Nepalese Red Lentil Dal.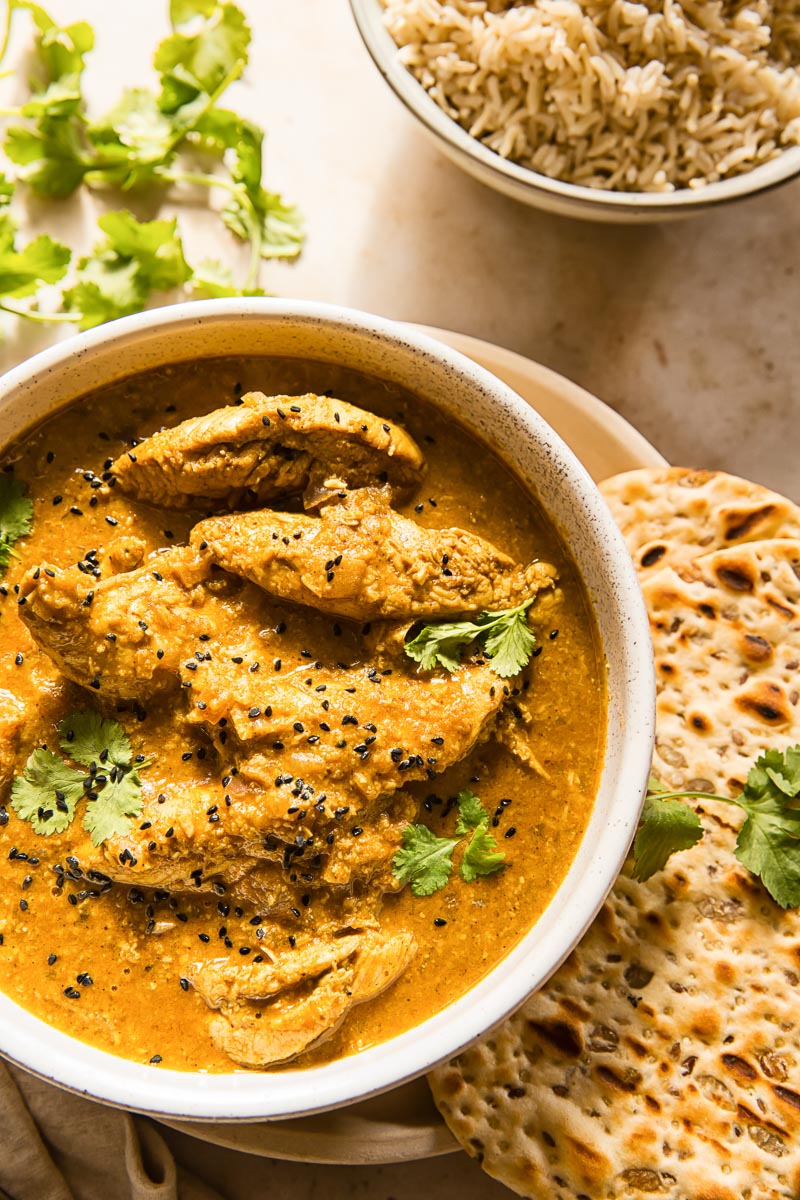 It's impossible not to be a curry fan when one lives in Britain. Indian food for Brits is like Mexican food to Americans and perhaps Chinese food to Canucks.
Curry is something we crave after a long stressful day or a day of travel, cold day, rainy day, a day of celebration…you name it. Curry is fit for any occasion.
It brings comfort and a sense of togetherness since it's impossible to order just one type of curry. We order a dozen and enjoy all dishes with friends and family. It makes us feel so good.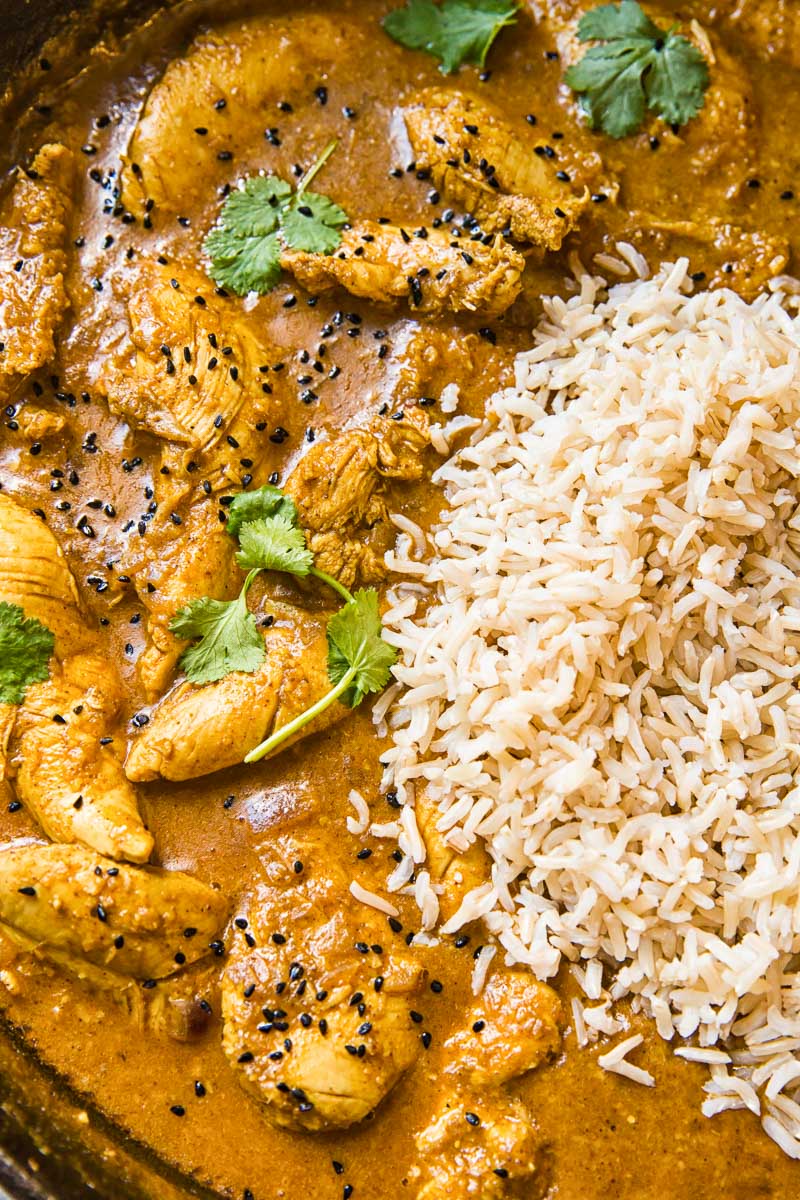 The recipe I am sharing today is for Chicken Korma, one of the first curry dishes my kids were willing to try and I will tell you why.
What is Chicken Korma?
Chicken Korma, unlike most curries by reputation, is quite mild and slightly sweet tasting. It's a dish ideal for those who are not too familiar with Indian food. It is also ridiculously tasty!
To define chicken korma is not that simple though. There are many recipes that list quite different ingredients but what they all have in common is the presence of garam masala and ground nuts, cashews or almonds, that create that telltale rich, creamy taste and texture.
Is it spicy?
Not usually, at least not in the British Korma tradition. It is very mild and slightly sweet, it is incredibly aromatic though! Your house will smell incredible.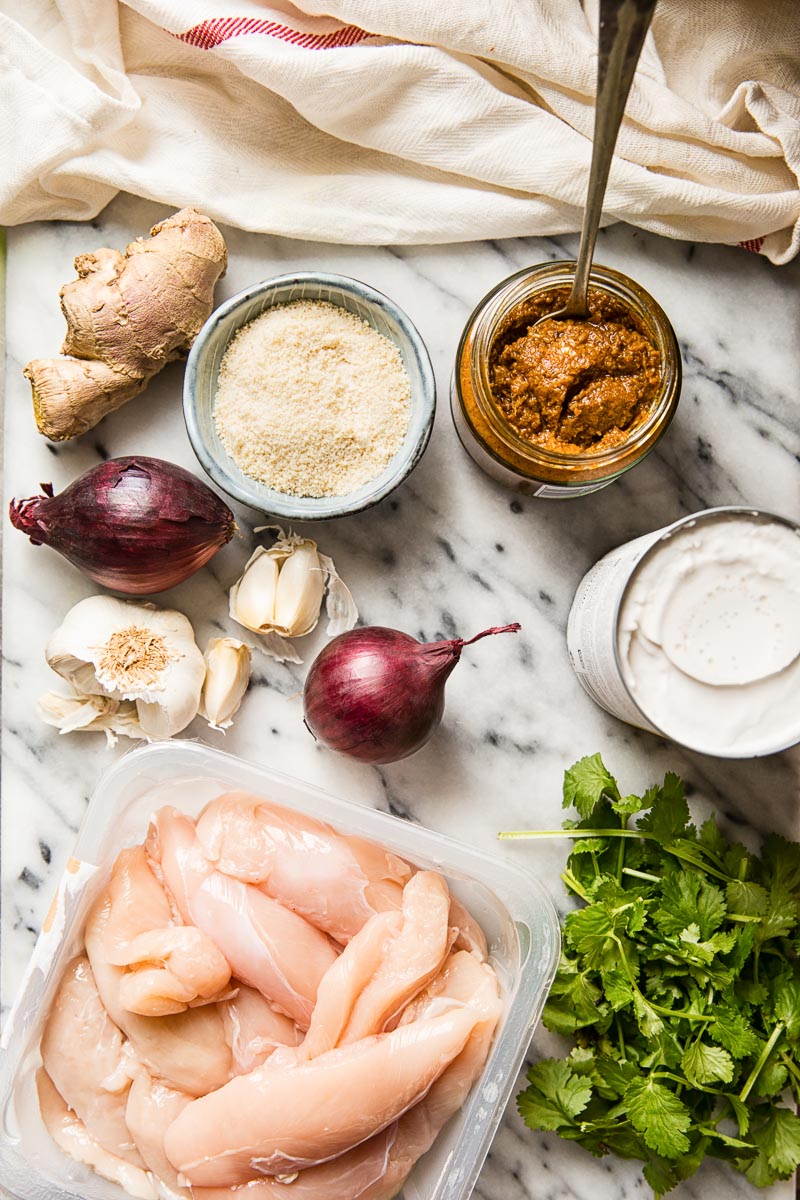 What is the sauce made of?
While you can make chicken korma from scratch I usually don't since it requires many, many spices and a lot of free time. Making an Indian curry from scratch, that tastes authentic, takes some skill and practice. It also requires commitment.
I rely on supermarket korma pastes that are of high quality and taste phenomenal. My absolute favourite is Patak's Korma Paste (not cooking sauce), followed by the Korma paste by Marks and Spencer. Patak's brand sells internationally and is easy to find!
That being said there are a handful ingredients I still add to my chicken Korma sauce.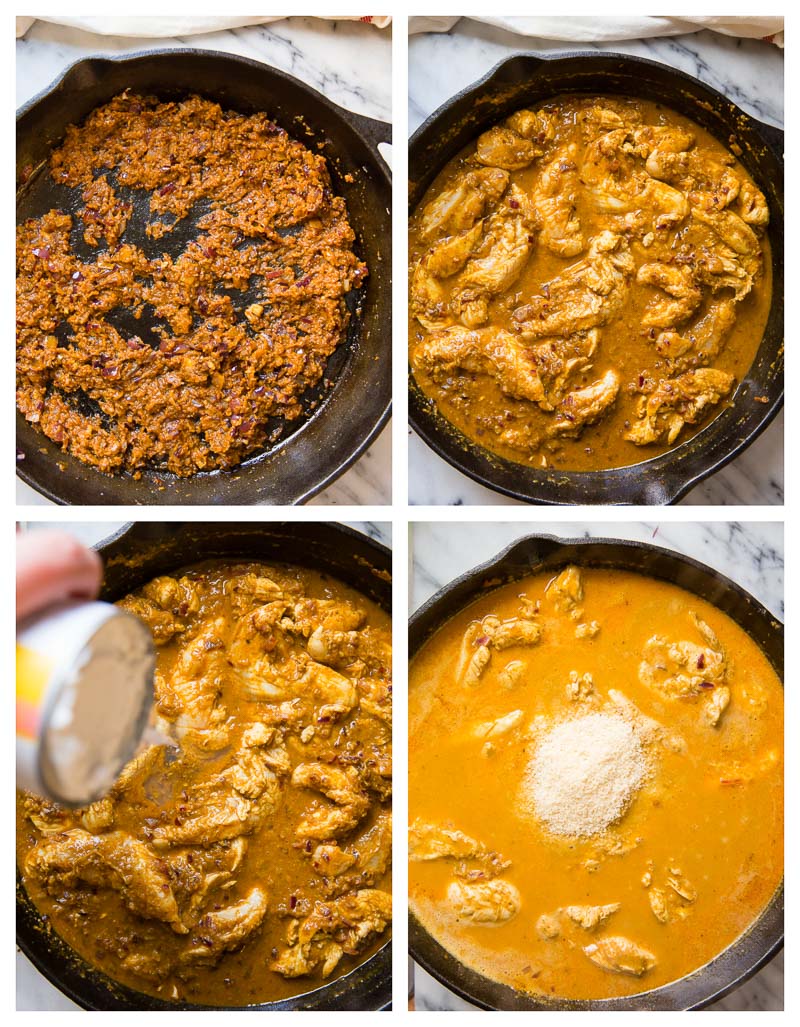 What are the ingredients and method for Chicken Korma?
Apart from the most obvious chicken, and I use either skinless, boneless chicken breasts or thighs, the sauce is not too heavy on ingredients. The curry paste provides the flavour base and the rest is what makes the dish rich and creamy.
I always start with the holy trinity of Indian cooking. Onions, ginger and garlic. I slowly saute the mixture in oil, adding a splash of water once in a while to prevent burning but also to help the onions to soften and collapse.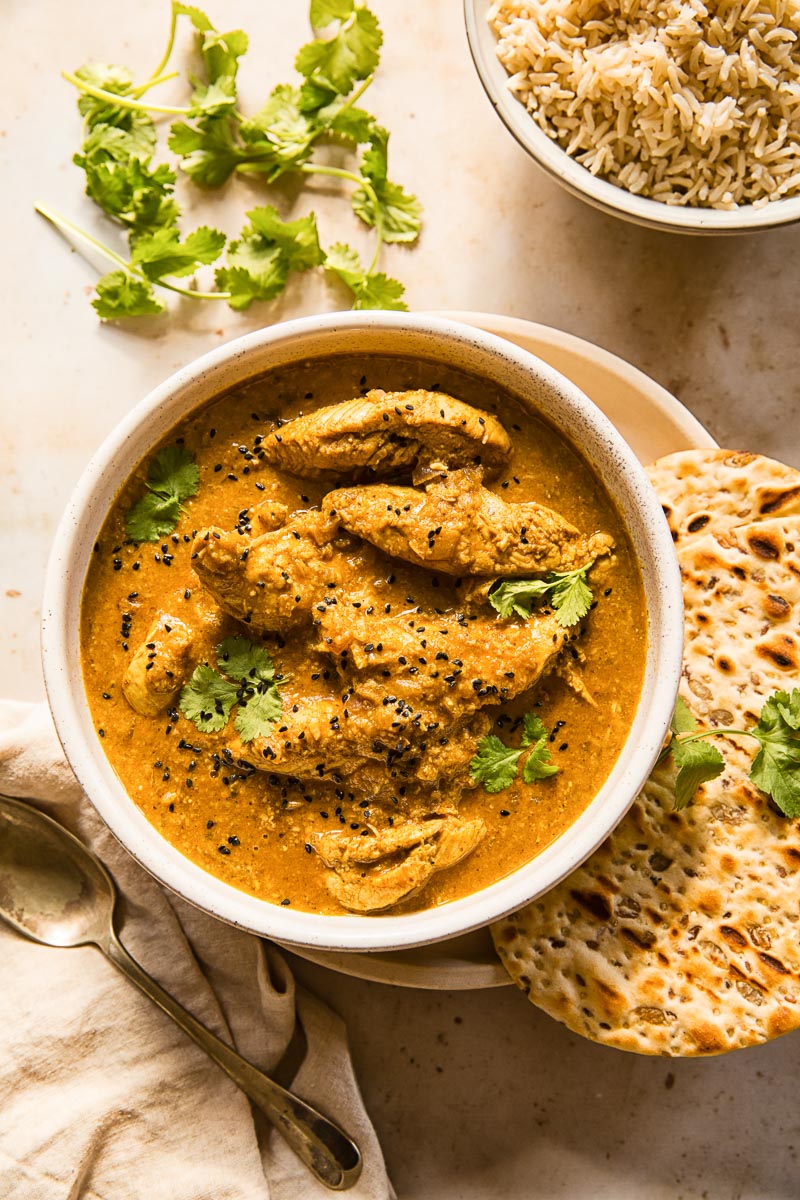 Then I add the pre-made Korma paste and cook it while stirring for a minute or two to release the aromatics. I add chicken pieces directly to the paste and stir fry them until the chicken is sealed but not cooked all the way through.
The rest is easy. In goes the coconut milk, a bit of water and ground almonds. I bring everything to a boil and let the curry simmer on low heat for about 40 minutes or until the curry is thick.
Some Korma recipes use heavy cream while I prefer the flavour of coconut milk. I also like the fact that my Chicken Korma is dairy free since both my son and I are lactose intolerant.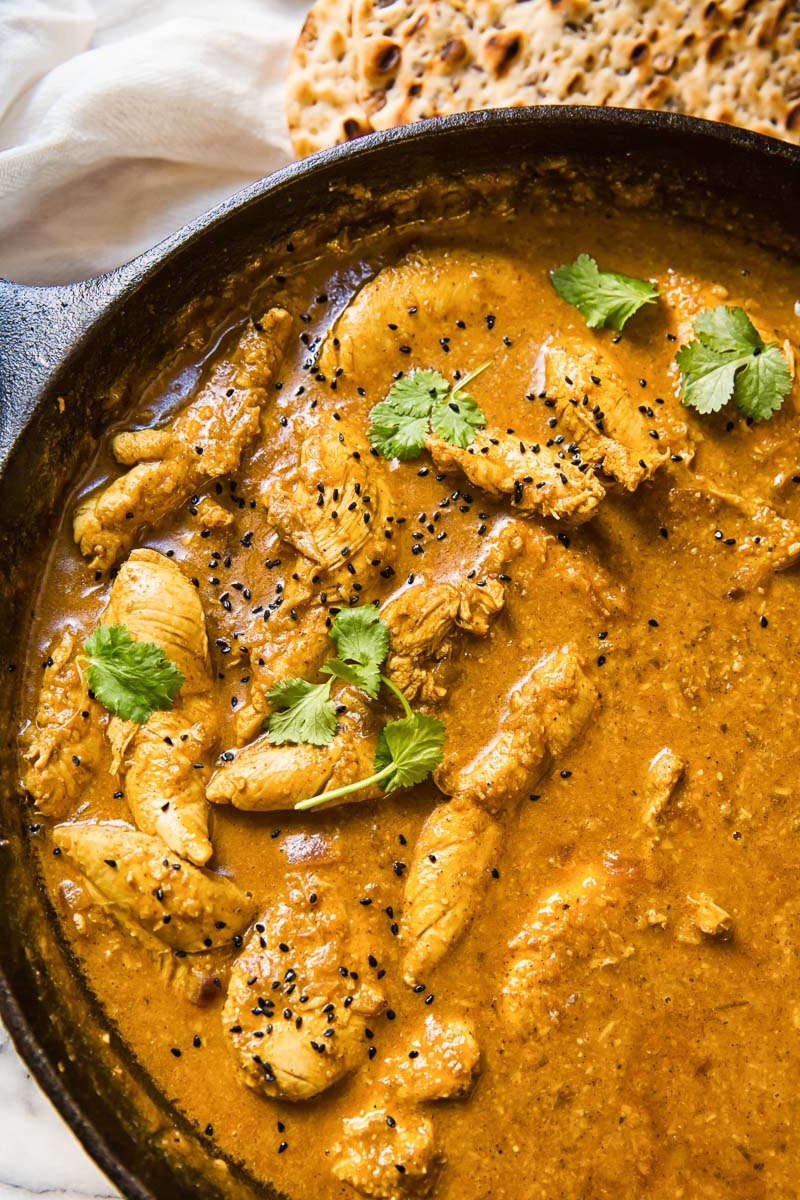 What to serve with Indian Chicken Curry
It's impossible to picture a proper Indian table without it being completely covered with an array of dishes. There are so many side dishes you can serve with this chicken curry but the main ones are always basmati rice and naan bread.
Brown basmati rice adds extra texture and fibre to this delicious meal and that's what I love. Another stellar dish that goes excellently with this Indian chicken recipe is Cauliflower and Potato Curry Aloo Gobi.
More Indian Curry Recipes to try: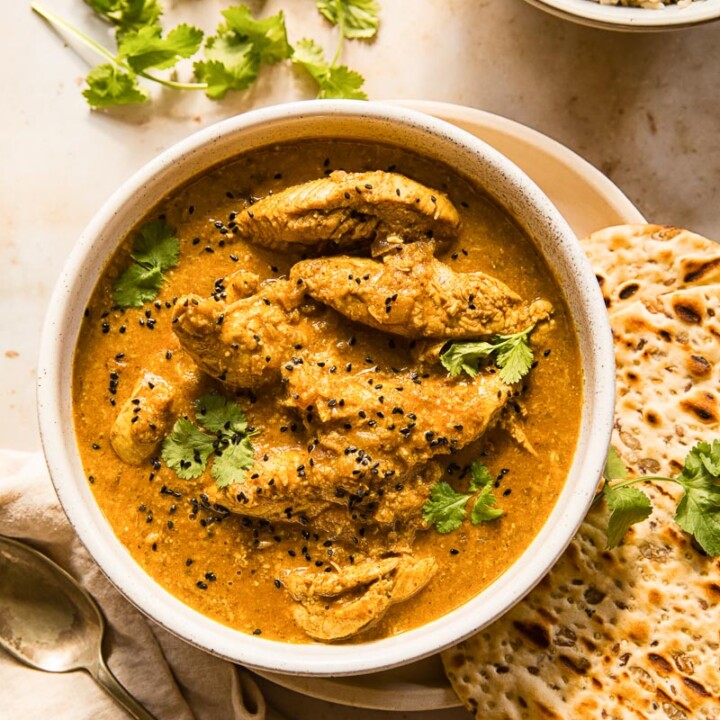 Chicken Korma
This chicken Korma recipe is rich, mild, aromatic and utterly delicious! Made creamy with coconut milk and ground almonds it is also dairy free!
Ingredients
2

tbsp

vegetable oil or ghee

2

small onions or 1 large

1

tbsp

fresh ginger, grated

3

cloves

garlic, pressed

250ml/1cup

Korma Paste such as Patak's

250ml/1cup

water

might not be necessary is paste is runny

2

lbs

skinless, boneless chicken breasts, cut into chunks

400ml/14 oz

coconut milk, full fat works better

4 tbsp/1/4

cup

ground almonds

2

tbsp

shredded coconut (optional)

salt to taste

1

tbsp

Nigella seeds (optional)
Instructions
Fry onions in oil for 5 minutes over low heat in a large deep pan, add grated fresh ginger and pressed garlic and cook for 2 minutes longer.

Add the pre-made Korma paste and fry for 1-2 minutes over low heat, add the chicken pieces and cook until just about sealed, add water and coconut milk, ground almonds and dessicated coconut. Salt according to taste as the amount will vary depending on your paste. Turn the heat up and bring to a boil. Once boiled lower the heat and let the curry simmer uncovered for 30 minutes or until desired consistency.

Sprinkle with fresh cilantro/coriander and Nigella seeds before serving with rice.
Notes
Use your own discretion when adding water to the curry. I find it necessary when using Patak's curry paste as it is quite dry. However if using a runnier paste adjust the amount of water.
Nutrition
Calories:
845
kcal
Carbohydrates:
26
g
Protein:
51
g
Fat:
64
g
Saturated Fat:
22
g
Cholesterol:
97
mg
Sodium:
577
mg
Potassium:
779
mg
Fiber:
10
g
Sugar:
7
g
Vitamin A:
6608
IU
Vitamin C:
9
mg
Calcium:
260
mg
Iron:
7
mg