This wholesome chickpea curry with loads of vegetables like hearty butternut squash, spinach and green peas simmered in creamy coconut milk will become your favourite if you give it a try. It's suitable for vegetarians and vegans but is also loved by a meat eating family like ours.

If you are looking to add to this vegetarian curry, give my Perfectly Spiced Roasted Baby Potatoes a try for an Indian feast at home. Flavour through the roof!
Brad and I have considered Indian food to be our comfort food for ages. Although we are both of European descent, somehow the taste of warm and slightly spicy curries make us feel at home.
It's no wonder we eat them regularly, especially since we moved to Britain where it's basically a national dish. There are not too many things that are better than a good curry, coupled with crispy poppadoms dipped in mango chutney and lime chilli pickle!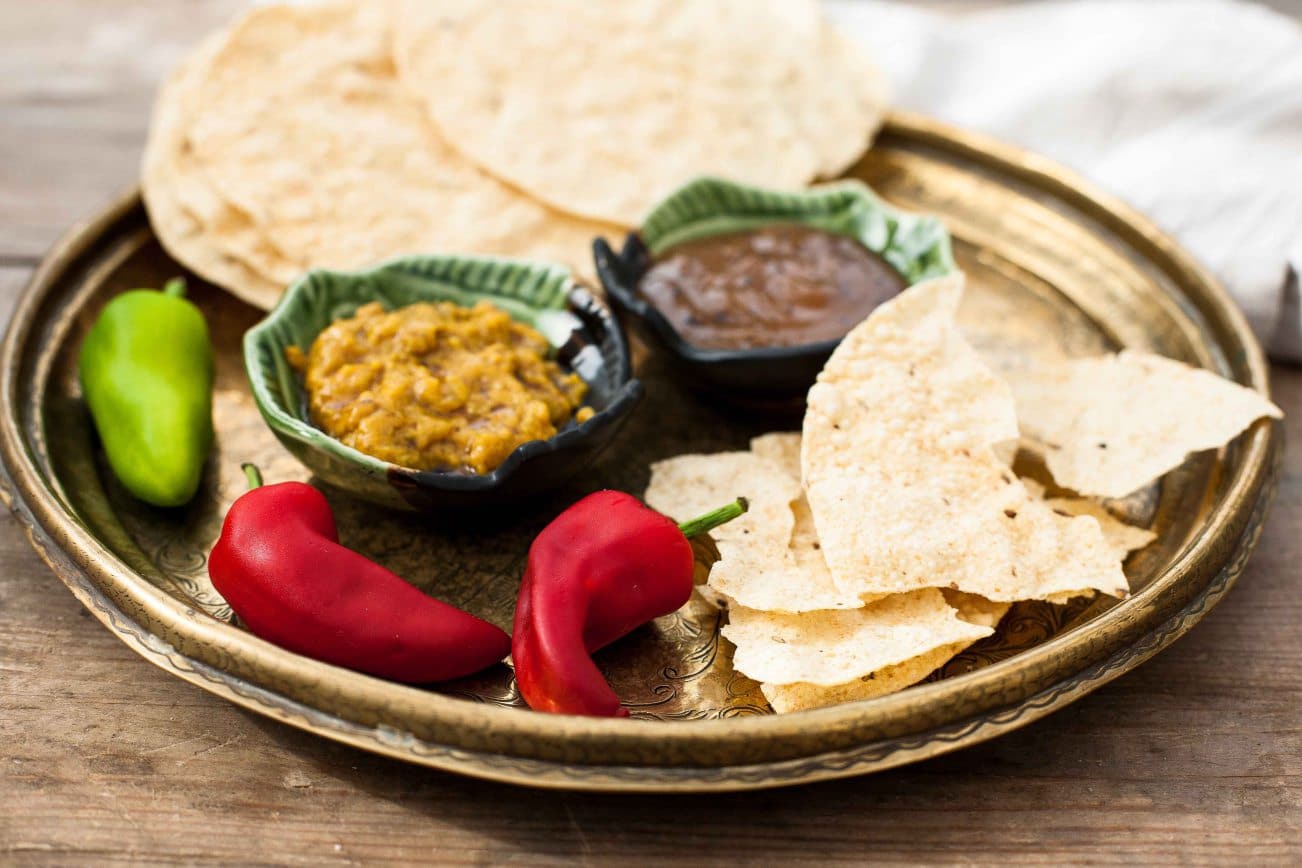 Chickpea Curry
I get so many requests to post a curry recipe, which tells me you guys love Indian food too! I am not claiming to be an expert, so what I am sharing today is something I cook often. This dish is loved by everyone in my family. It's a vegetarian curry and so delicious you won't miss meat!
There are many types of Indian curries. This particular one is called Korma, which is a blend of aromatic spices like ginger and coriander and ground nuts like cashews or almonds. It's has a mild taste, so is you are a fan of heat, I would recommend moving onto something else like Madras Curry or Vindaloo.
Korma is an excellent curry to start with for beginners because of its creamy consistency and mild taste. Even kids will love it.
Traditionally, Korma is cooked with chicken but this version is meat free. Instead I am using canned chickpeas as the star of this recipe. The brilliant thing about chickpeas is that they are chameleons. They soak up all flavours around them and end up tasting delicious no matter where they are used!
I do have a classic Chicken Korma recipe as well. Give it a try!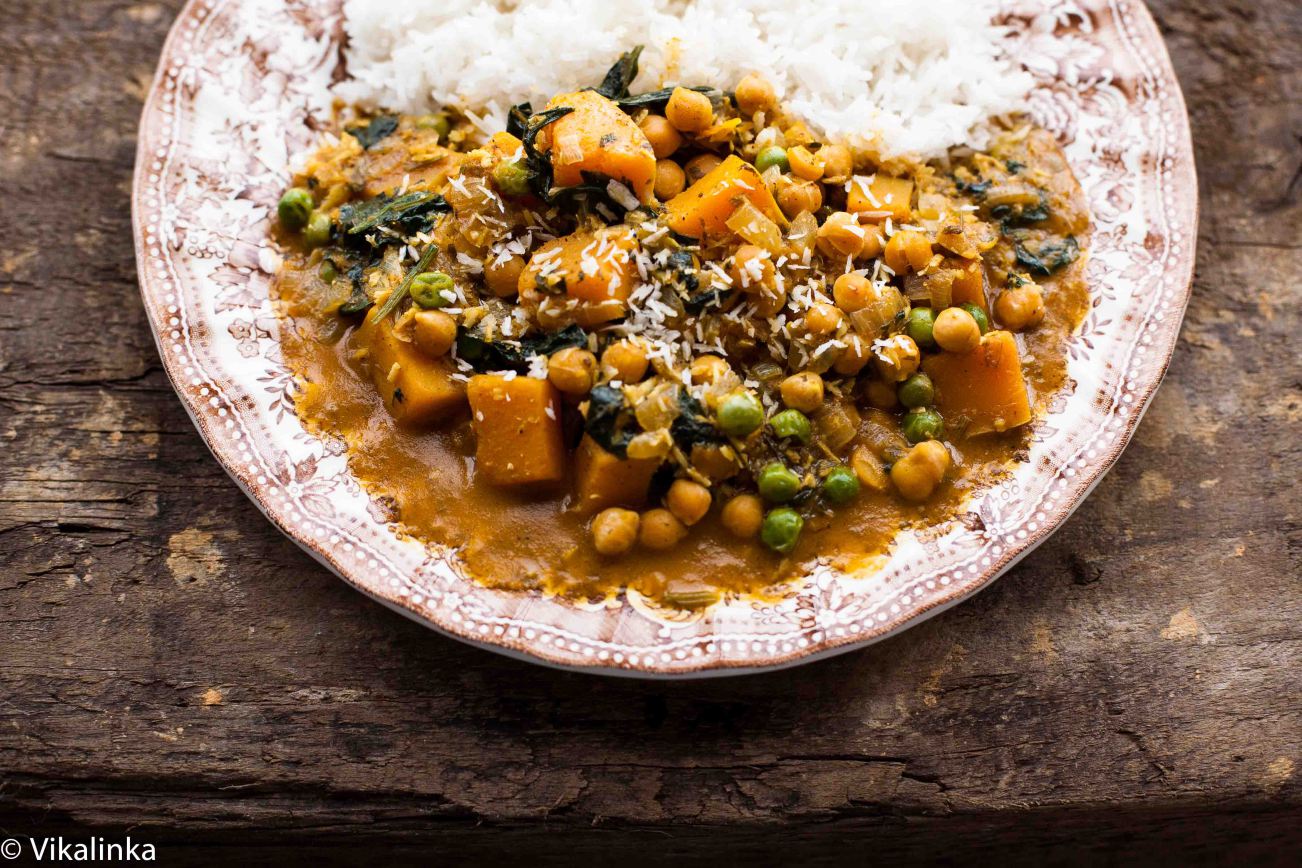 Julia's Tip
Many people are very hesitant to venture out into the world of Indian cuisine. Rightly so, as the ingredient list is long enough to intimidate the most experienced cook!
Ready made curry pastes are my answer to to that fear!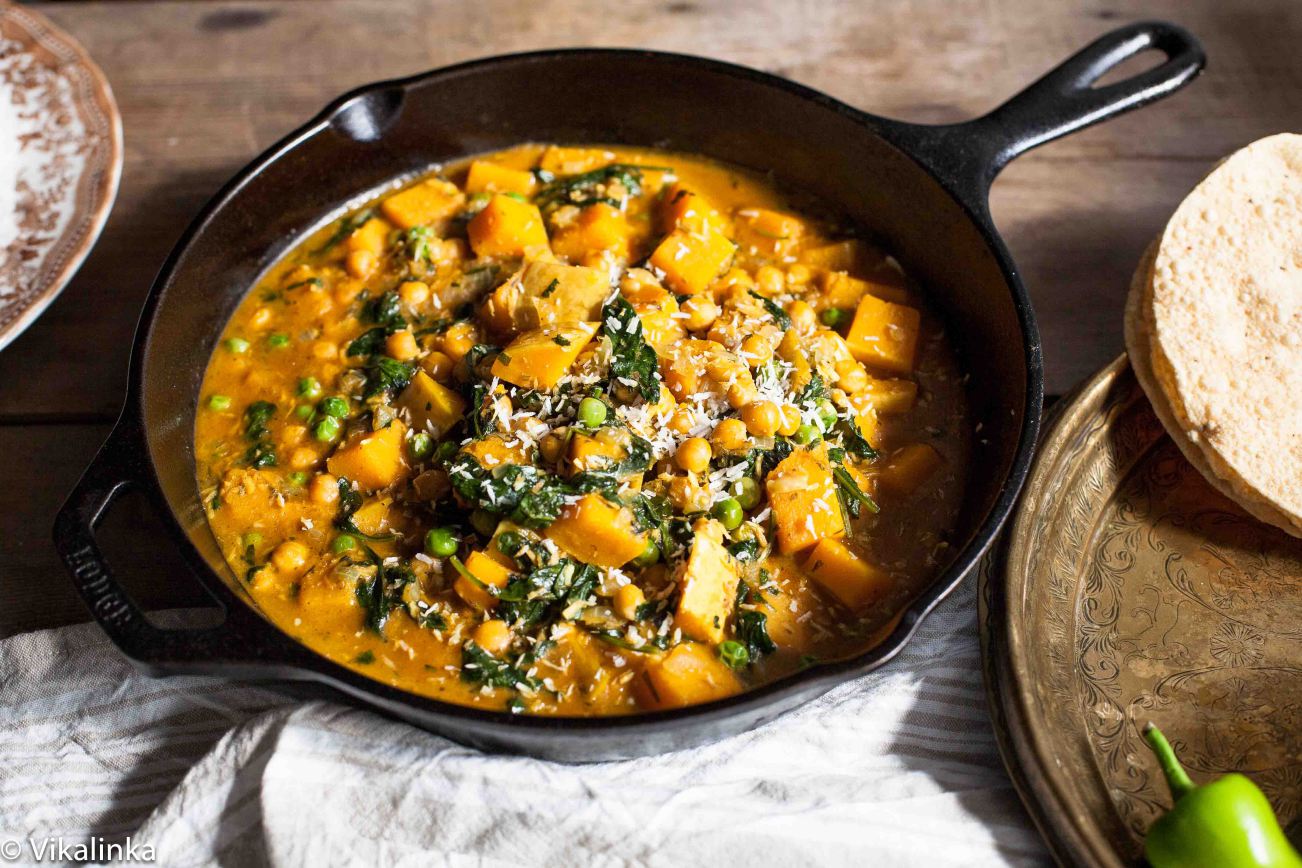 Patak's Curry Pastes is my favourite. The taste is excellent and the variety is immense. They sells worldwide and are easy to find. Why worry about making complicated curries from scratch when someone has already put in all the hard work for you!
Patak's also have curry sauces, that are a lot runnier than pastes, so pay attention to what you are grabbing off the shelf. Korma paste and sauce are not interchangeable in this recipe. If you do buy a sauce, you will need to reduce the amount of liquid added. Korma sauce is also NOT vegan while the paste is.
If you are brave enough to experiment with spices on your own, this Simplified Cauliflower and Potato Curry Aloo Gobi is for you!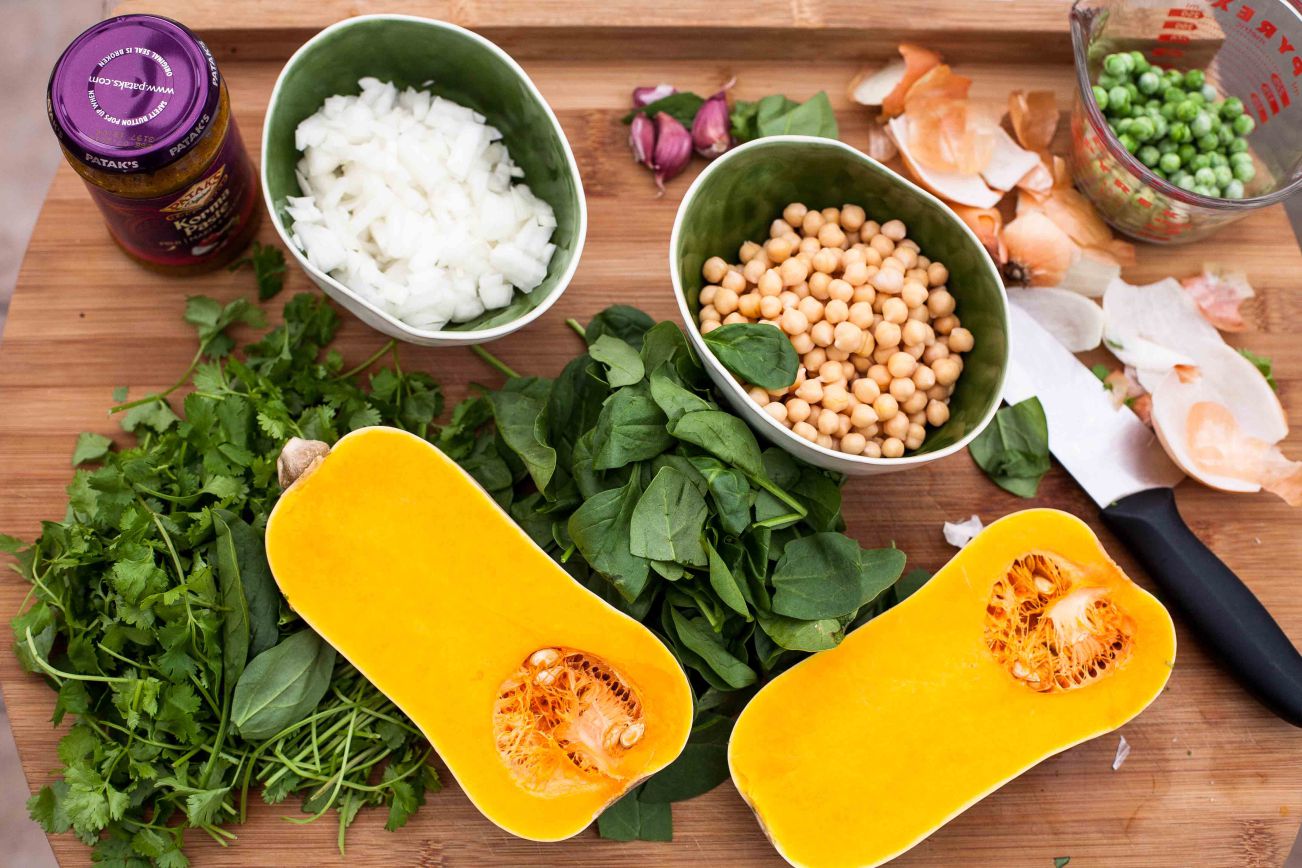 How to make Indian vegan curry
As I mentioned earlier, this recipe is a cheat version since we are using a pre-made curry paste, that is responsible for the flavour. However, there are certain ingredients you need to add to make this curry your own and very delicious!
I always start by frying onion and garlic in vegetable oil until tender. Sometimes I add grated ginger to develop an aromatic base. I also add chopped cilantro stalks. Most people discard them and use leaves only but there is so much concentrated flavour in the stalks! Then I add a store bought curry paste and fry it briefly. This step releases the flavours by heating the paste.
Once you've done the groundwork to build the curry flavour, add your chosen ingredients as per recipe and simmer until desired consistency. Easy!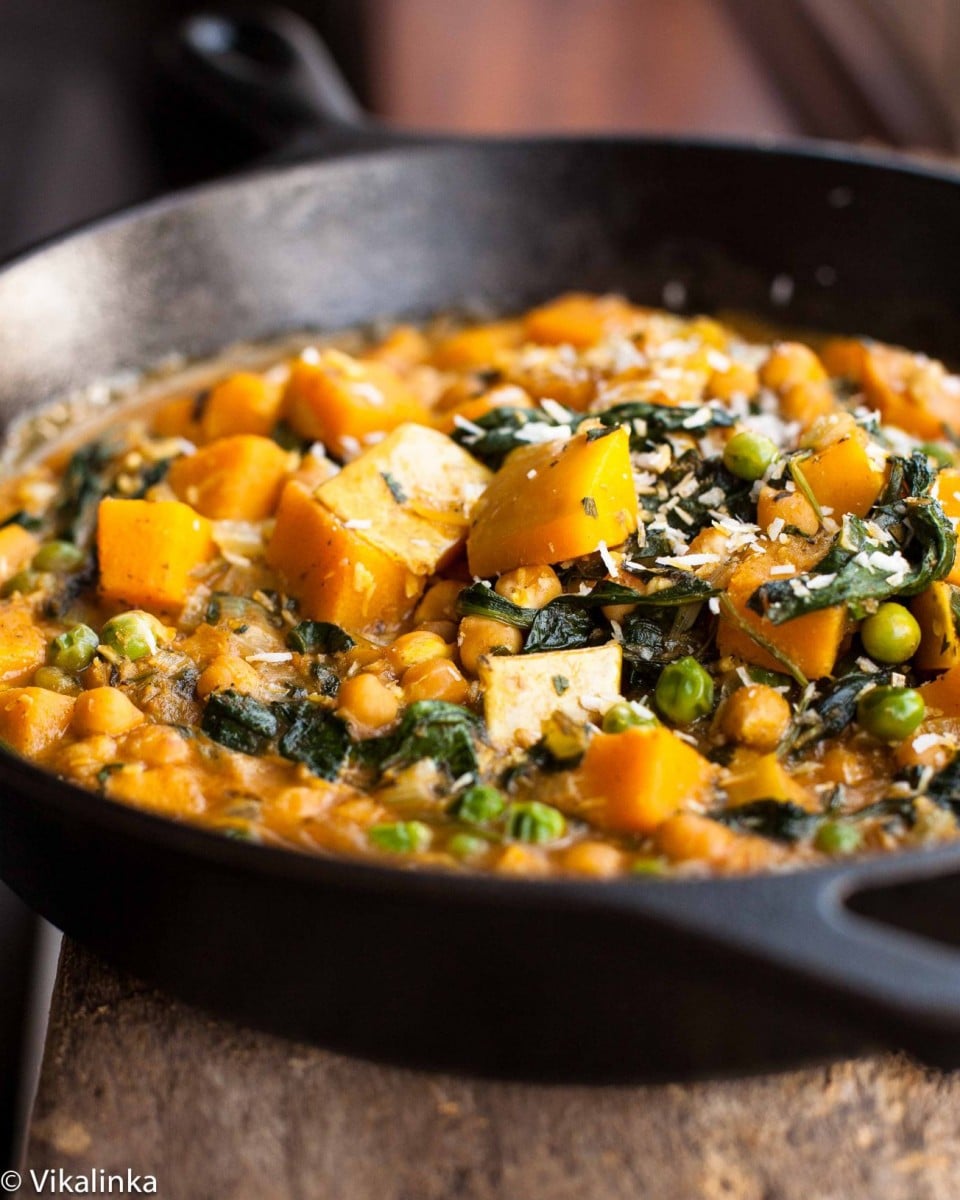 What to serve with curries
Serve it with steaming hot basmati rice. We also love having naan bread or chapatis as well as various Indian pickles and chutney with our curries. My personal favourite and a must have is chilli lime pickle and mango chutney. My children go crazy for crunchy poppadoms!
You can also add a traditional lentil curry called Dahl to round off this delicious dinner. And if really miss meat, why not make these Indian Spiced Meatballs in Curry Sauce.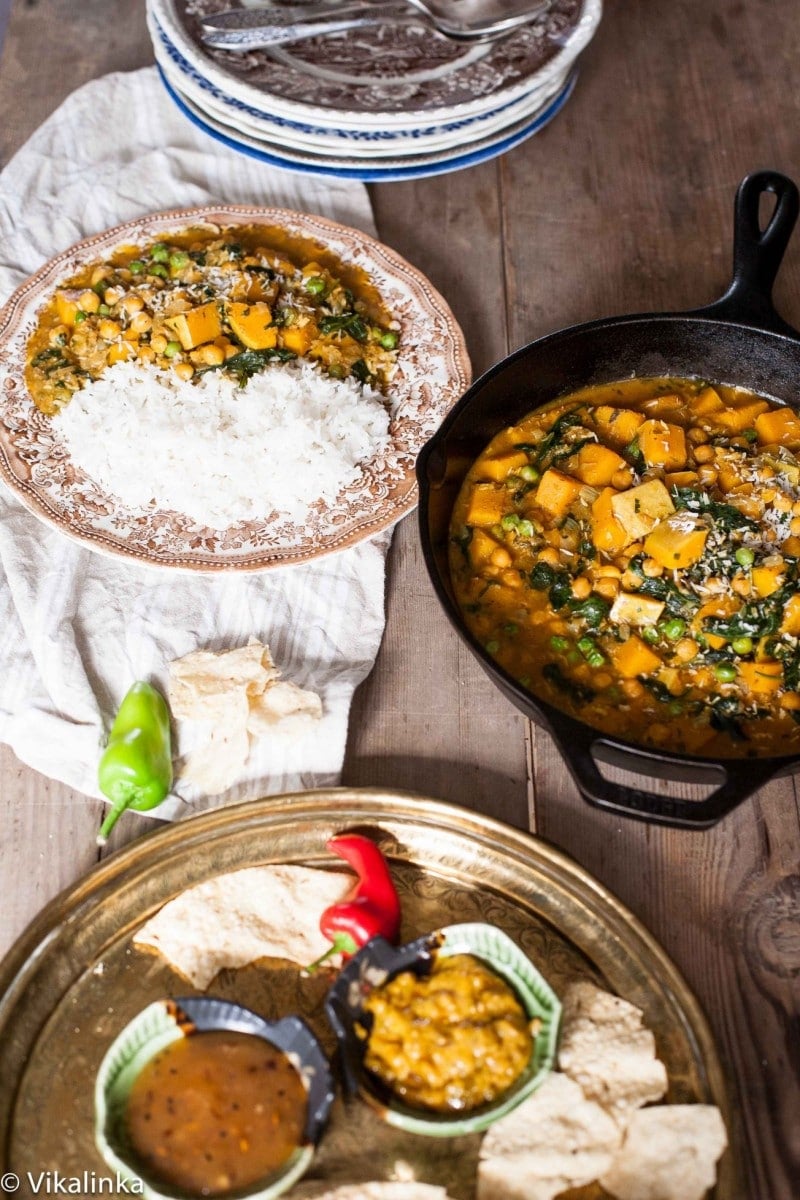 What is your favourite Indian Curry? It's hard to choose but I think for me personally Butter Chicken is definitely in the top 3!
This recipe was originally published in 09/2013. Updated and republished in 03/2020.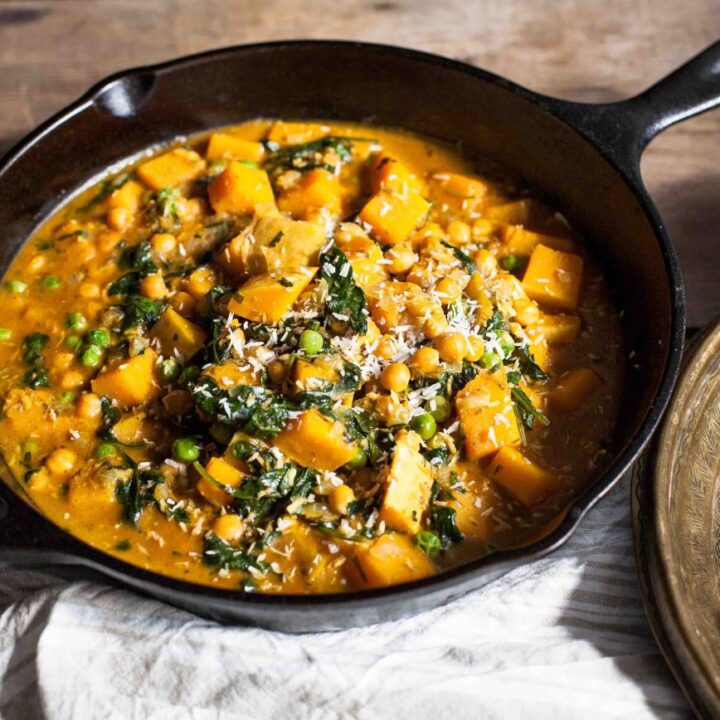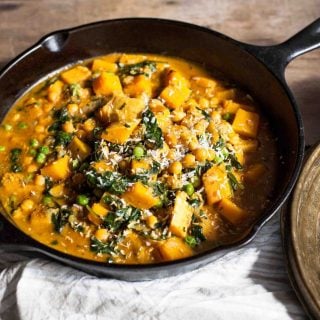 Chickpea and Butternut Squash Curry
This wholesome chickpea curry with loads of vegetables like hearty butternut squash, spinach and green peas simmered in creamy coconut milk will become your favourite if you give it a try.
Ingredients
1

tbsp

vegetable oil

2

onions

medium, chopped

3-4

cloves

garlic

minced

25g/1/2 cup

cilantro/fresh coriander

chopped (stalks and leaves separated, stalks reserved)

600g/4 cups

butternut squash

peeled and cubed, (1 medium)

240g/1 ½ cups

canned chickpeas

2

tbsp

Patak's Korma Paste or any other curry paste

not cooking sauce

400g/1 ½ cups

coconut milk

250ml/1 cup

water

100g/3 cups

spinach

75g/1/2 cup

frozen peas

2

tbsp

desiccated unsweetened coconut

optional

salt to taste
Instructions
Heat a tablespoon of oil in a large and deep pan and cook chopped onions, garlic and cilantro stalks over low heat for 10 minutes until soft and slightly coloured.

Meanwhile dice the peeled butternut squash to match the size of chickpeas. Once the onions are tender, add the curry paste and cook for a minute or so stirring the whole time, then add the squash, chickpeas, coconut milk, desiccated coconut, water and a pinch of salt, bring it to a boil by turning the heat up. Then turn the heat down to a low-medium and simmer it covered for 35-40 minutes. Stir it occasionally to prevent from burning and add a few splashes of water if it gets too dry.

Test the butternut squash, it should be fork tender by this point but not falling apart. Your curry should be thick, so if it's too runny, uncover and let the liquid cook down for a few more minutes. When you are satisfied with the consistency of the curry stir in peas, spinach and cilantro leaves, cover with a lid and take off the heat.

Serve with steaming hot basmati rice. We love having naan bread or chapattis and various Indian pickles and chutney with our curries. My children go crazy for crunchy poppadums!
Nutrition
Calories:
210
kcal
Carbohydrates:
20
g
Protein:
5
g
Fat:
14
g
Saturated Fat:
12
g
Sodium:
108
mg
Potassium:
578
mg
Fiber:
4
g
Sugar:
4
g
Vitamin A:
10018
IU
Vitamin C:
27
mg
Calcium:
86
mg
Iron:
3
mg