This wholesome and creamy coconut lentil curry with piles of hearty butternut squash simmered in creamy coconut milk will become your favourite if you give it a try. Best of all, it sticks with simple ingredients suitable for vegetarians and vegans!
If you are a fan of vegan curry recipes try out this Chickpea and Butternut Squash Curry!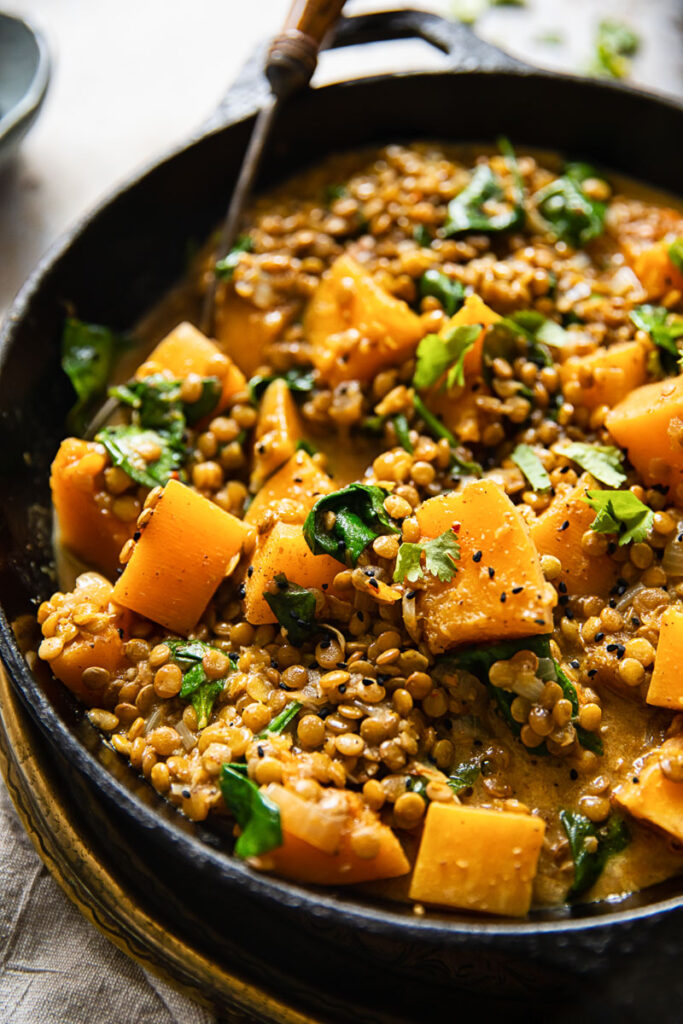 A good, easy lentil curry is a weekday staple in my house. Everyone loves the warm flavours and a hint of spice. I love being able to serve such a nutritious meal. Even better when it makes everyone so happy!
Because I was looking for an easy dinner idea, I've stuck with simple pantry ingredients that won't be hard to find. And since this creamy curry uses vegetables, lentils and coconut milk, it's naturally vegan!
Coconut Lentil Curry
Coconut milk and lentils are best of friends in a curry. The coconut milk adds a light nuttiness and makes the curry surprisingly creamy. The lentils bring bulk to the curry to turn it into a satisfying meal.
One thing that keeps people from trying curries at home is the number of spices you need. The list can be long and who wants to buy a spice you might only use once?
I've learned that a good curry paste solves this problem perfectly. They are made with just the right combination of flavours for a perfect curry taste.
And using a paste means that you only have to buy one ingredient, not several! Not all pastes are created equal, so try out the brands and varieties available at your local supermarket to see which works the best for you!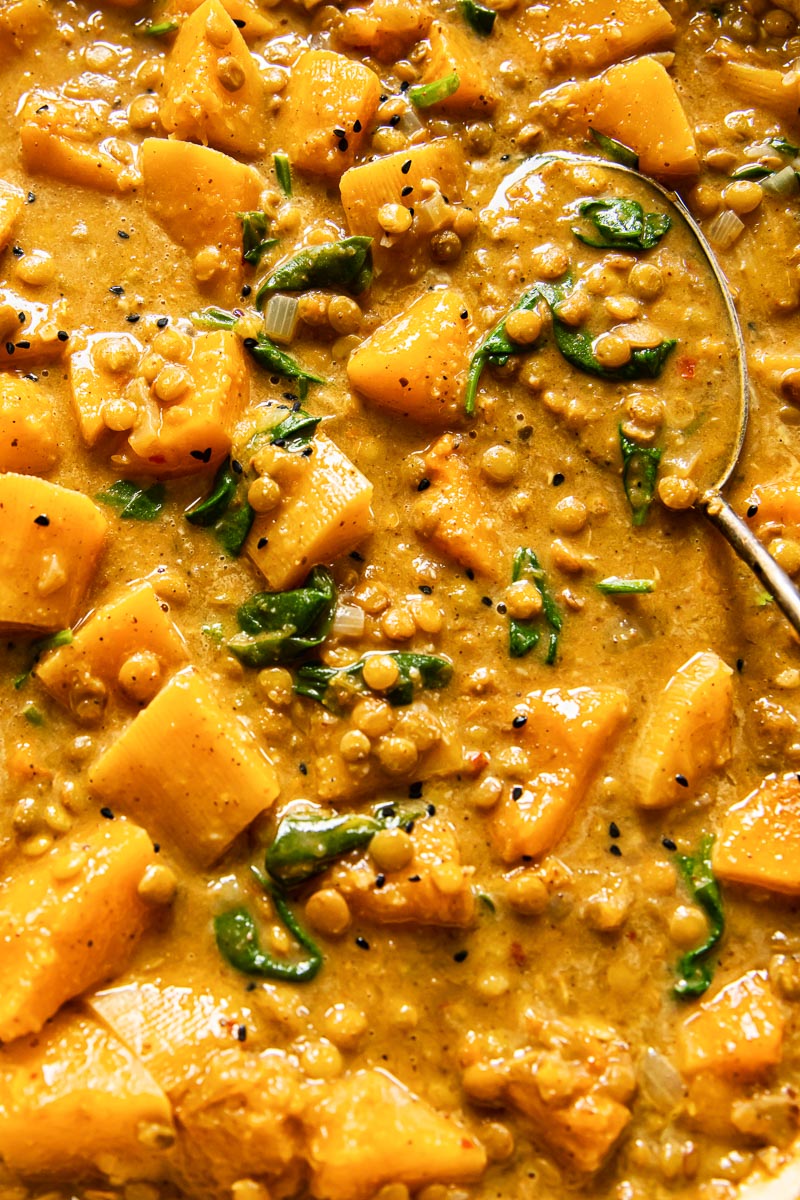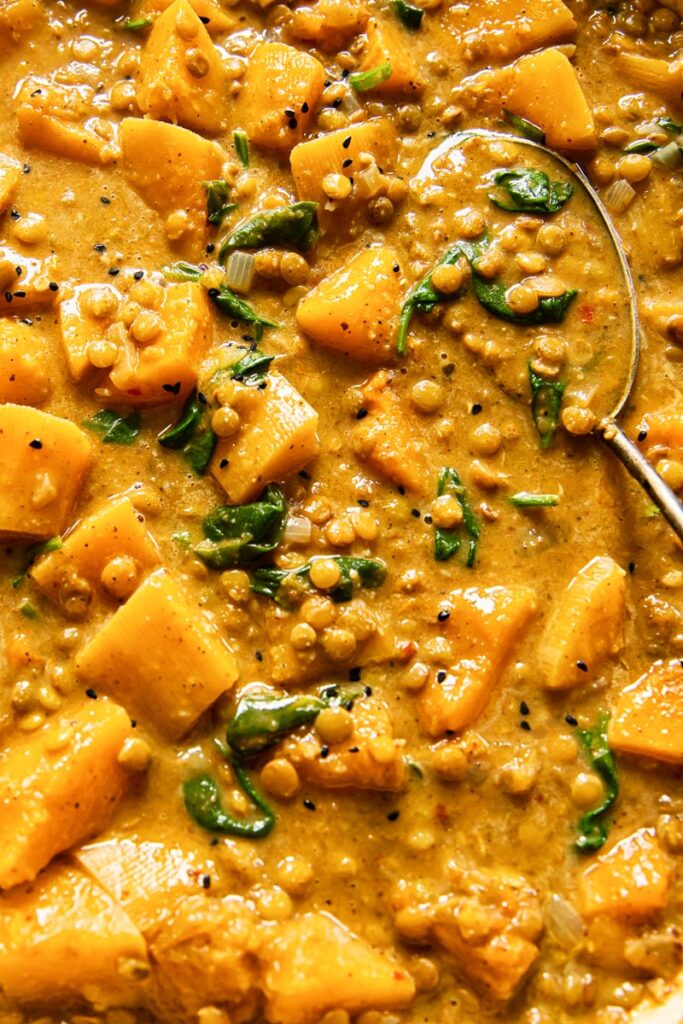 Making the curry
Lentils can be ready quickly so there is no need to cook them first. They can be added directly to the pan with the other ingredients and will be ready in twenty minutes.
I chose green lentils for this recipe because they hold their shape when cooked. They also add a robust and slightly peppery taste.
They do take a bit longer to cook than red lentils or brown lentils, but I think the wait is worth it. If you want to give a red lentil curry a try, check out Nepalese Red Lentil Dahl!
Making a coconut lentil curry recipe is really easy, especially if using a pre-made curry paste. I used a tikka masala paste, but it's far from the only option.
I always start making curry by frying chopped onions, with garlic and ginger added after five minutes. This is important to build a good foundation of flavour and releases delicious aromas. Then add the curry paste and stir it in while frying for another thirty seconds.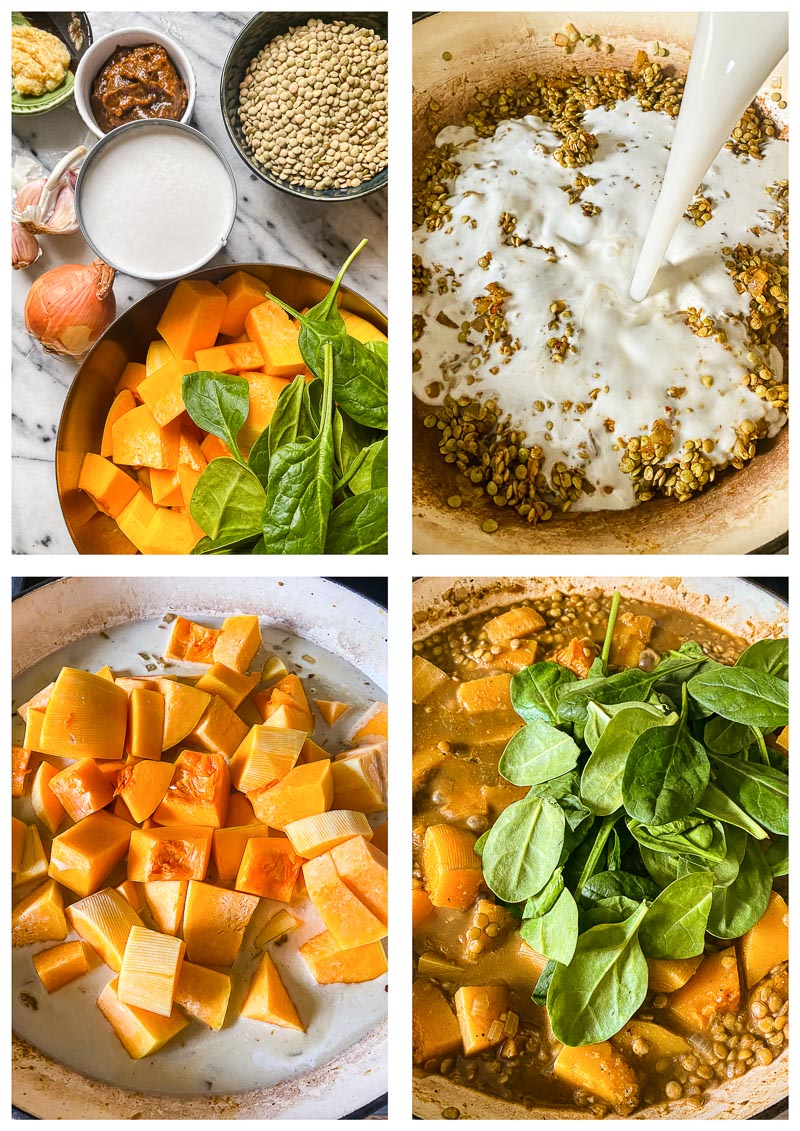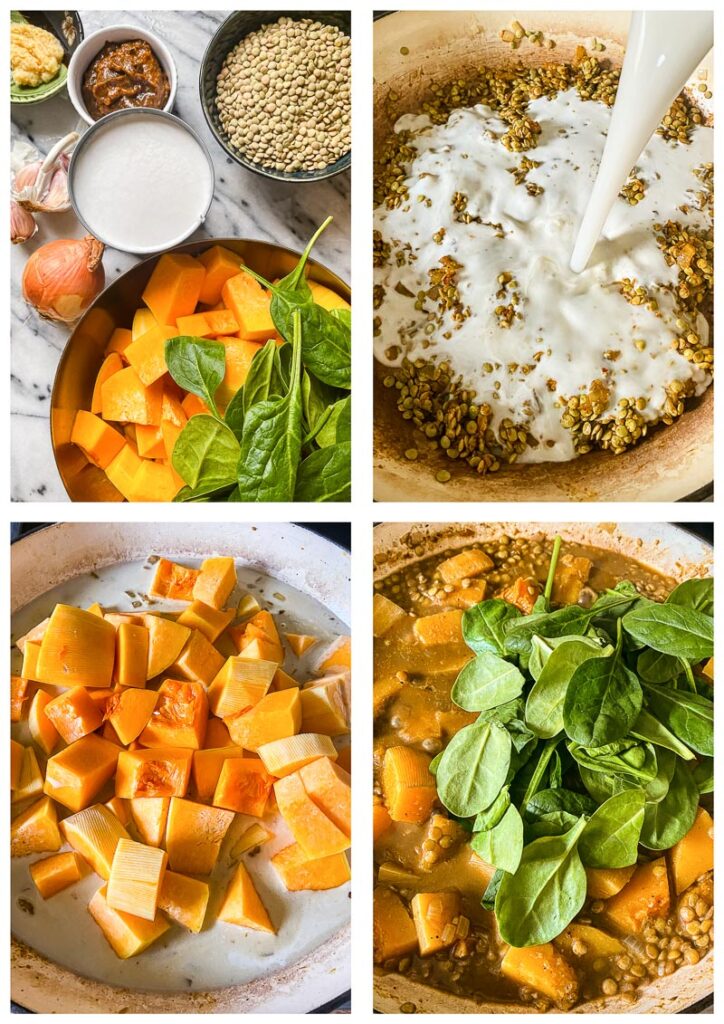 Now that the base is ready, add the dry lentils and stir them in to combine with the other ingredients. Then add the coconut milk, water and butternut squash cut into cubes.
Bring everything to a boil and lower the heat. Cover the pan and let it simmer for twenty minutes or until the lentils and squash are ready to eat. Stir in one cup of fresh spinach and let it wilt into the curry for one or two minutes.
Recipe tips and notes
Curry paste is the best way to add the right combination of spices to a curry. It is possible to keep a lot of curry spices around to use, but why? Curry pastes are the easiest solution and work for a wide range of curries.
I'm a huge fan of butternut squash, which is why I turned to it for this recipe. If you prefer sweet potatoes, they will also be a fantastic addition to the curry. They will cook slightly faster than squash so you will need to adjust the cooking time by adding them a couple of minutes later.
Ginger paste and frozen spinach make this recipe even easier to make! I always have jars of minced ginger and garlic paste in my fridge and and consider them pantry staples. It's a handy shortcut that makes the cooking process even easier.
While light coconut milk can be good way to reduce calories, full-fat coconut milk will give the most creamy texture and satisfying flavour. For me the trade off isn't worth it, but you may think otherwise!
I've suggested in the recipe card that cups of vegetable broth or water can be used. The broth will add the most flavour to the curry, but either will work perfectly fine.
Indian pickles and chutneys are amazing with this lentil coconut curry! Chilli lime pickle is my personal favourite.
Serve the curry over a bed of rice with naan or chapati on the side.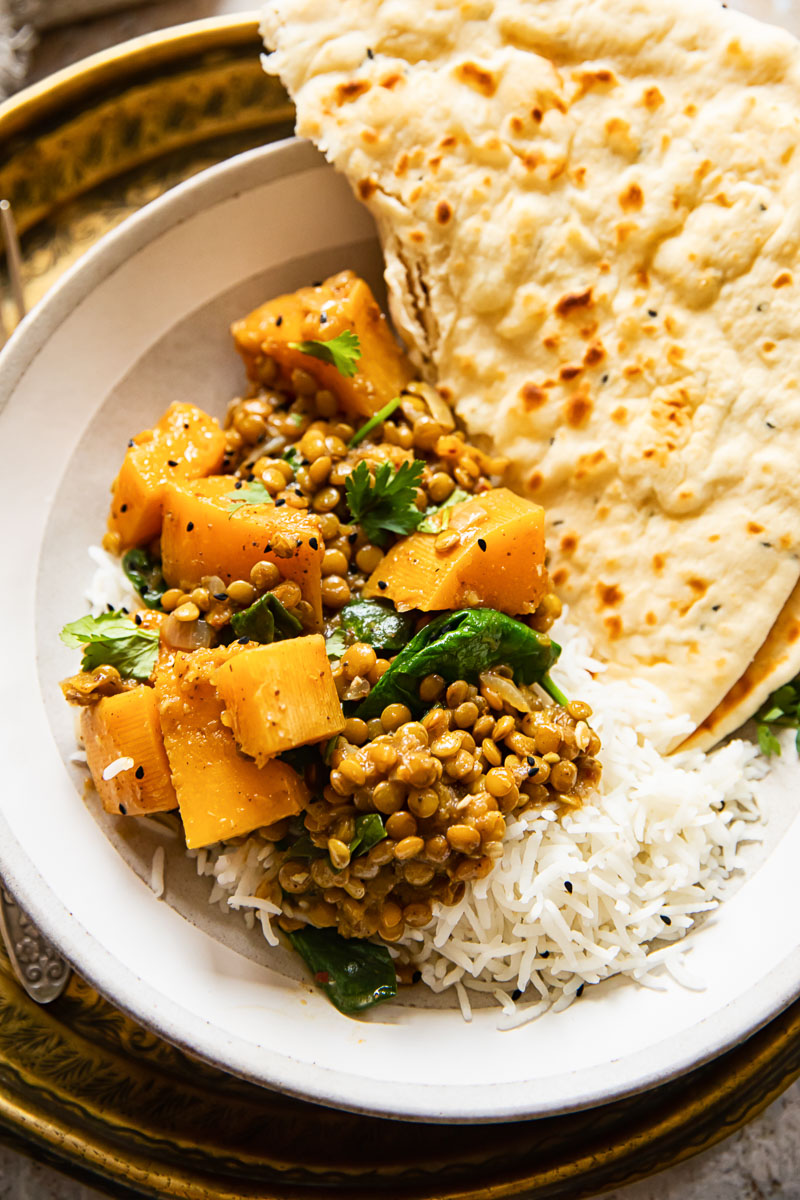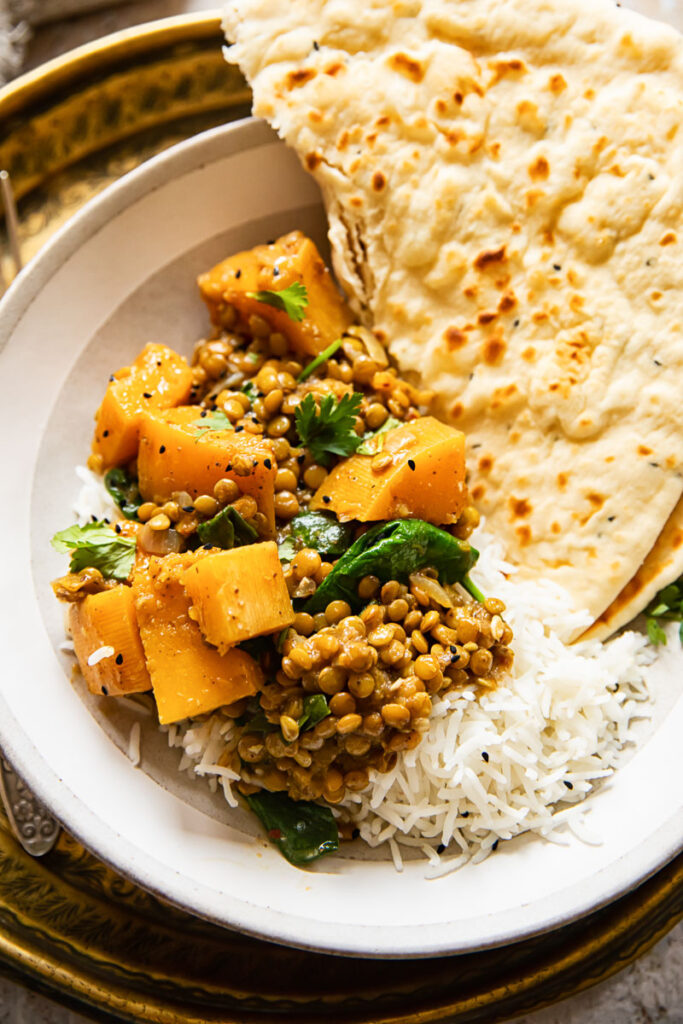 Serving suggestions
A warm, fluffy bed of white rice is the traditional accompaniment for curries, and why mess with a classic? To add a twist, you can try coconut rice, tasty, fragrant and easy to make in an Instant Pot.
If you want to jack up the fibre content try brown rice can be used instead of white. Naan bread is also an outstanding option, on its own or alongside rice.
For another pop of flavour, try an Indian chutney or pickle. These are traditionally served as a way to enhance the flavour of the curry while bringing a splash of heat, sourness or sweetness.
Storage and leftovers
Leftovers will keep well when stored in the fridge in an airtight container. They can be kept for 3-4 days. Trying them the next day will actually give more time for the flavours to combine.
The curry also freezes well, and can be saved for up to three months in an airtight container. It's a great way to prepare meals to pull out on busy weeknights, so consider making a double batch. Thaw it out completely before reheating, and use within 48 hours.
Leftovers can be reheated in a saucepan over medium-low or medium heat or in a microwave.
More curry recipes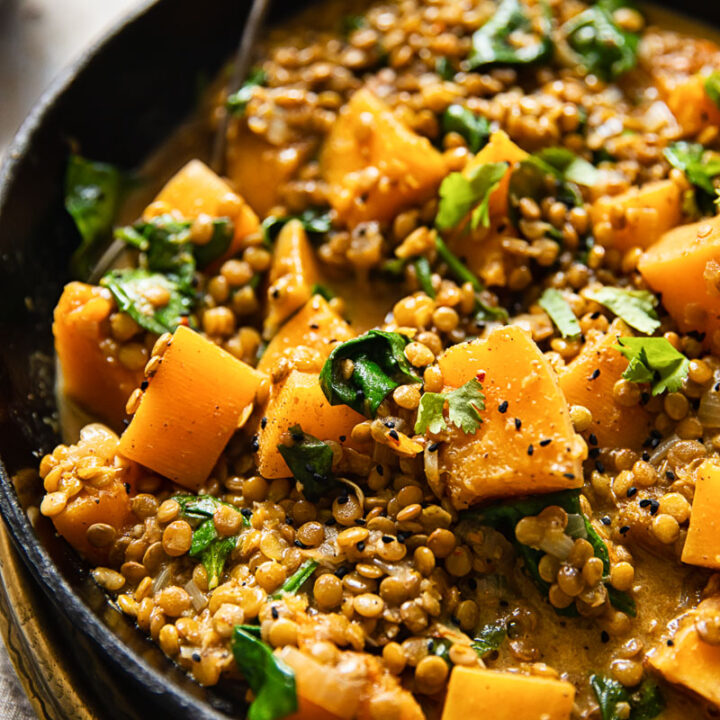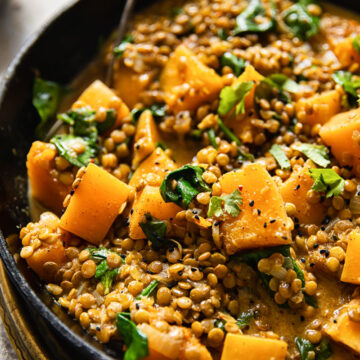 Easy Coconut Lentil Curry with Butternut Squash
This wholesome vegan coconut lentil curry with piles of hearty butternut squash simmered in creamy coconut milk will become your favourite if you give it a try.
Ingredients
1

kg

/ 2.2 lb butternut squash

peeled, deseeded and cubed

1

tbsp

vegetable oil

1

onion

2

cloves garlic

1

tbsp

ginger

3

tbsp

curry paste

200

g

/ 1 cup green lentils

400

ml

/ 14 oz coconut milk

1 can

375

ml

/ 1½ cup water or vegetable stock

225

g

/ 1 cup spinach
Instructions
Clean and cube the butternut squash and chop the onion.

Heat the oil in a pan and fry the chopped onions for 5 minutes, then add the minced garlic and grated ginger and fry briefly for 30 seconds. Then add the curry paste and cook for 30 seconds longer while stirring.

Add the uncooked lentils and stir to combine, then add the coconut milk, water and cubed butternut squash, bring to a boil, then lower the heat and let it simmer covered for 20 minutes until both lentils and squash are tender. Stir in spinach and let it wilt for 1-2 minutes. Serve with rice and naan.
Nutrition
Calories:
200
kcal
Carbohydrates:
24
g
Protein:
6
g
Fat:
11
g
Saturated Fat:
9
g
Polyunsaturated Fat:
0.3
g
Monounsaturated Fat:
1
g
Sodium:
37
mg
Potassium:
817
mg
Fiber:
6
g
Sugar:
4
g
Vitamin A:
16813
IU
Vitamin C:
37
mg
Calcium:
115
mg
Iron:
4
mg