Tender and juicy chicken breasts smothered in garlic mushroom sauce is comfort food that could be in front of you in just 30 minutes! Using simple ingredients and cooking techniques you you can easily impress your loved one with this restaurant quality dinner!
If you love creamy chicken dinners, take a look at out French Chicken Casserole a la Normande. Readers' favourite!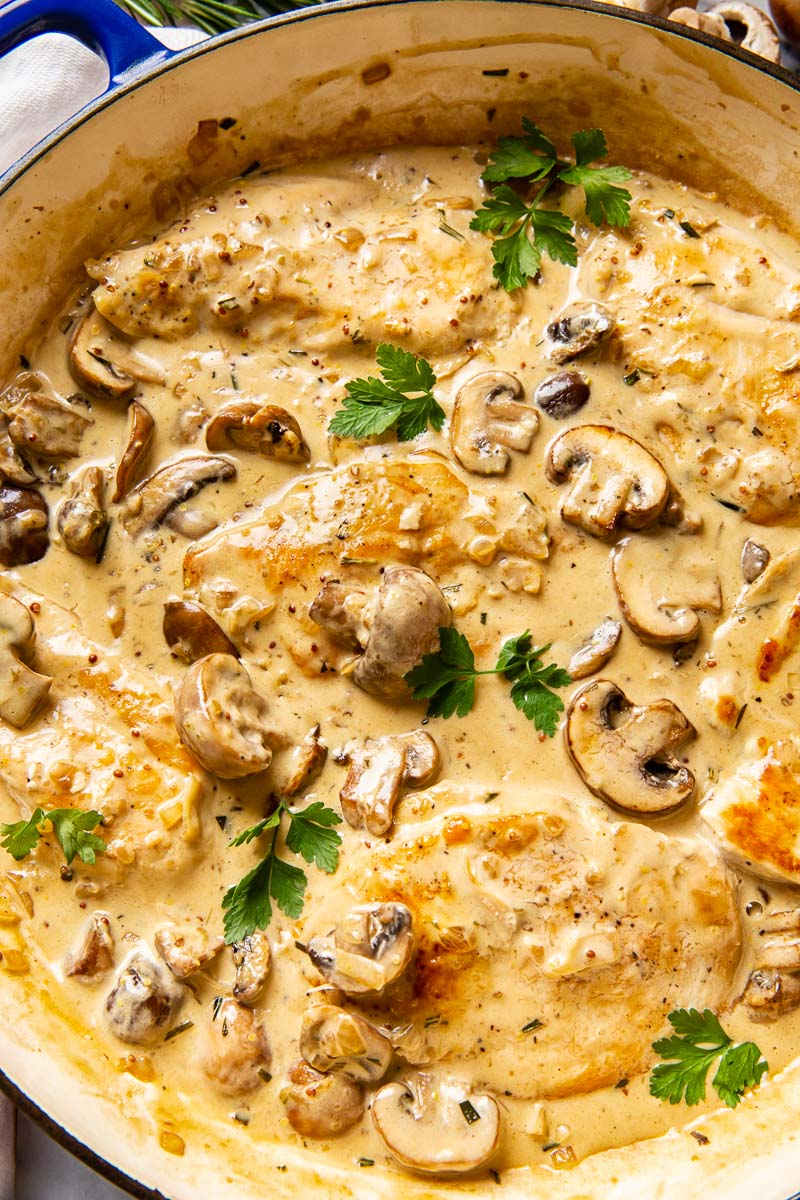 It's not a secret that I am the biggest mushroom fan, and I personally believe they pair so well with chicken, especially when a luscious cream sauce is involved.
Skinless, boneless chicken breasts are so easy to work with. They are readily available and require almost no prep. They also cook in record time, which means dinner could be made in a flash!
No wonder they are favourite with my family members.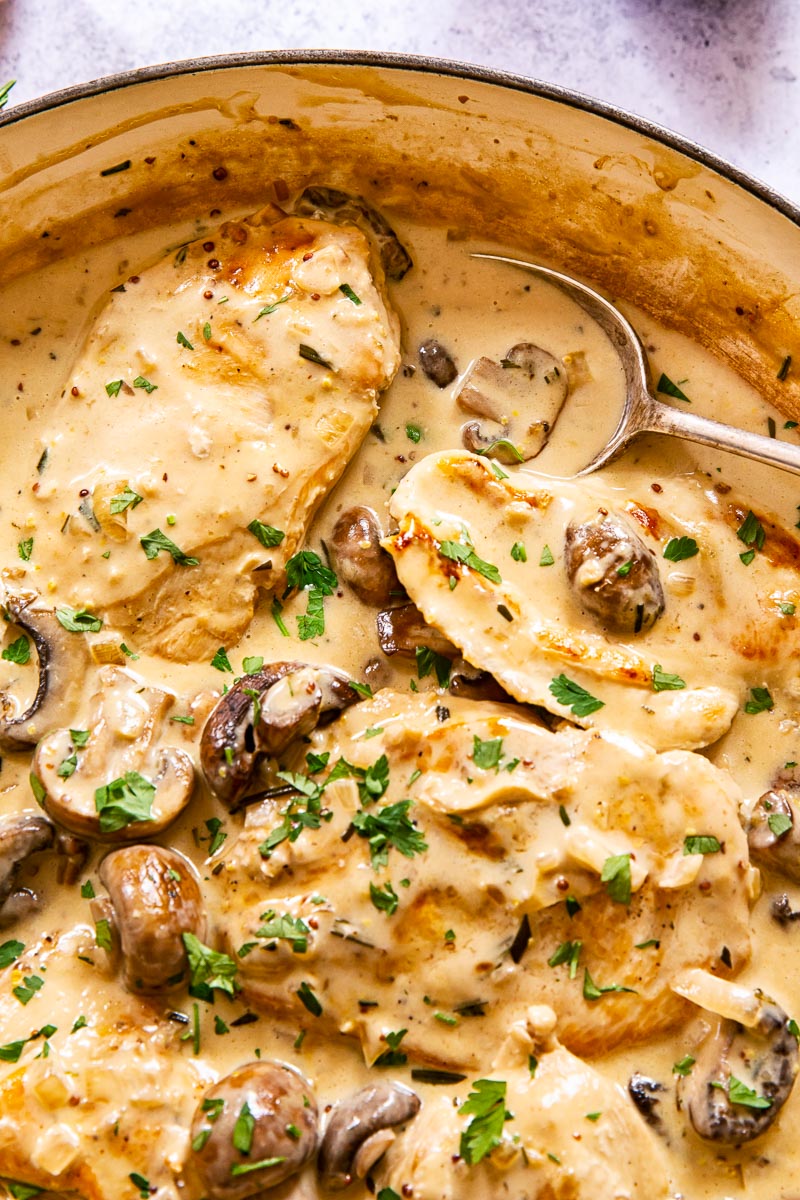 What goes into Chicken with Mushroom Sauce?
The ingredients for this dish are quite simple but work like magic when put together with a bit of loving care.
I like to use skinless, boneless chicken breasts as they are easy to use and are slightly less calorific than chicken thighs.
For the sauce you will need button mushrooms. But if you are after a bit more interesting flavours and textures, use a mix of wild mushrooms. Check my Mushrooms Stroganoff recipe, where I write extensively about different types of mushrooms.
I also use fresh rosemary to complement earthy mushroom flavour, shallots, garlic, dry white wine, heavy cream and tiny bit of wholegrain mustard.
You can also use thyme, parsley, tarragon, or any other herb blend of your choice.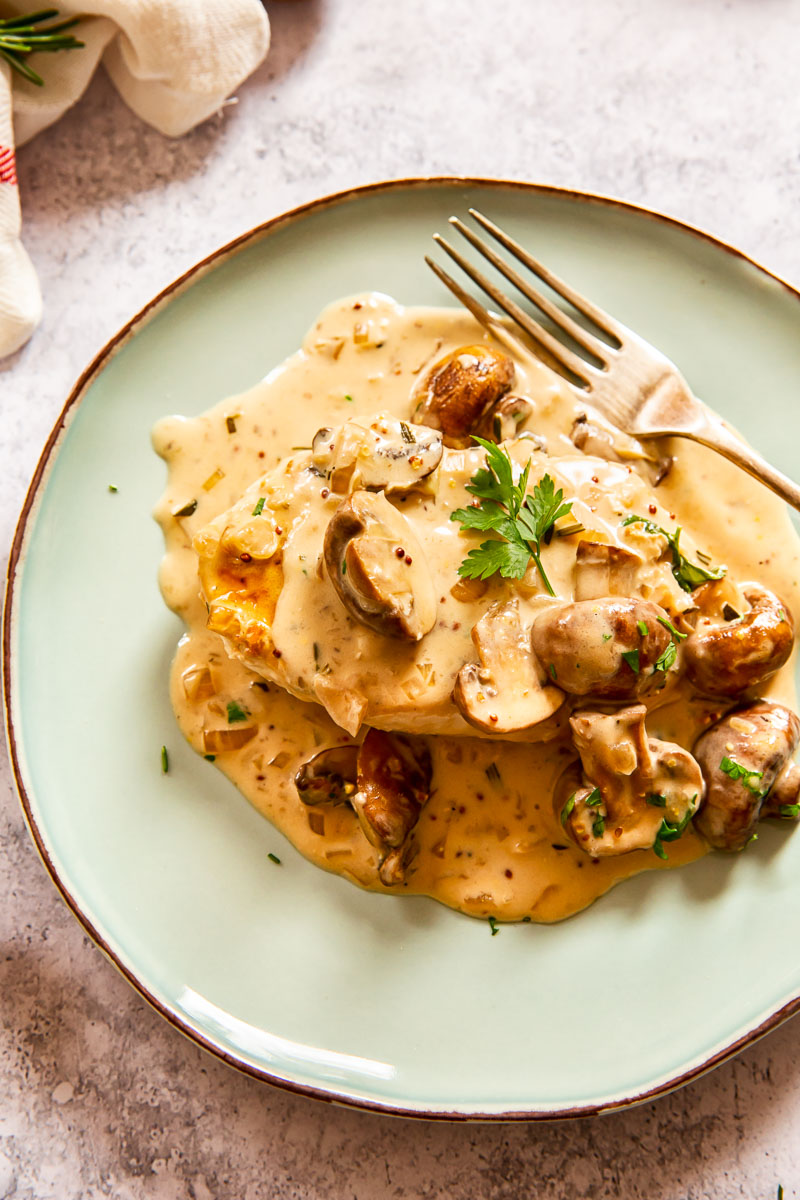 How do I make mushroom sauce for chicken?
As you can imagine the mushroom sauce is the star of the show here. It truly makes the dish and the good news is that the sauce is very easy and quick to make.
Mushrooms themselves bring lots of flavour to the table and once paired with fragrant and woodsy rosemary, they indeed shine.
We start the sauce by browning the mushrooms, which intensifies their flavour, then adding shallots and a fair amount of minced garlic. Once the mushrooms are golden, and the shallots and garlic are soft, I like to hit the pan with a bit of dry white wine.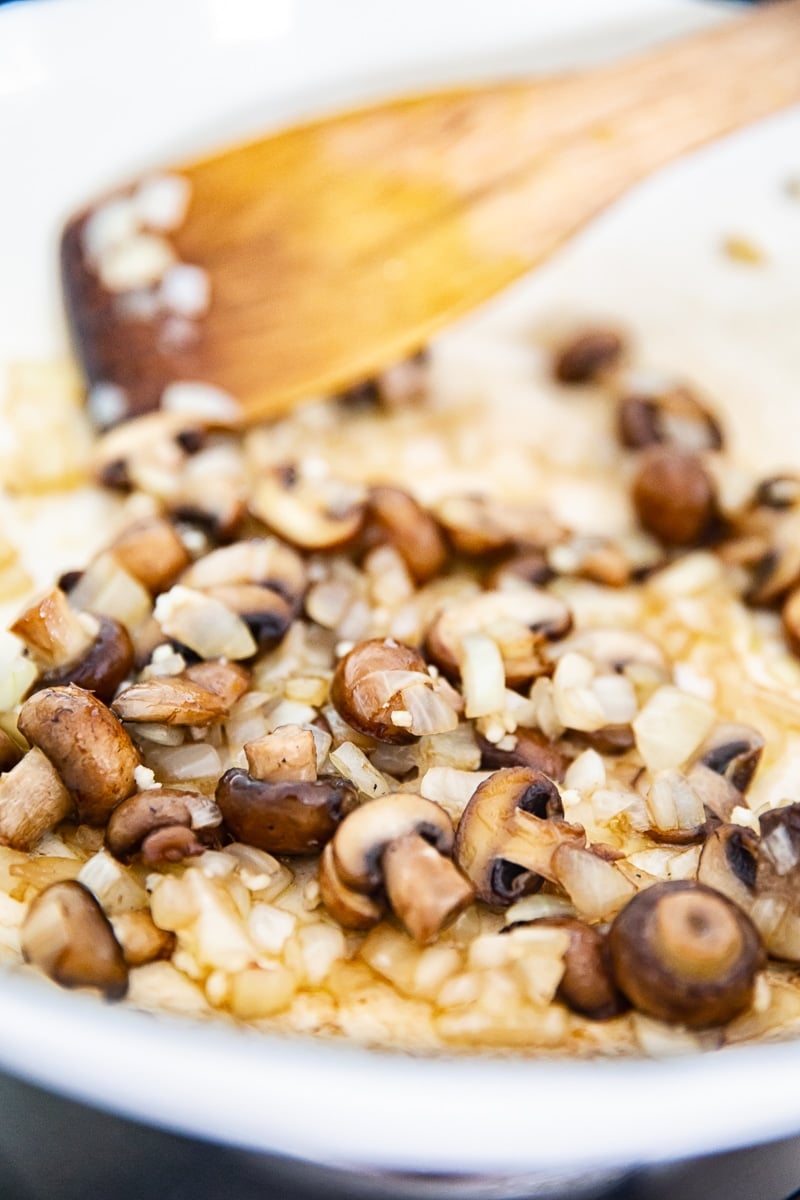 What does wine do when added to sauces?
Hitting a hot pan with a bit of alcohol after browning meat and vegetables is called deglazing. A very useful technique that accomplishes two things.
Browning is usually done at high temperature and if left on for too long, can causing burning and consequently turning food bitter. Deglazing of a pan prevents burning, as added liquid lowers the temperature immediately.
It also infuses the sauce with more flavour as burnt to the bottom bits are released into the sauce. The wine itself enhances and balances the sauce.
I finish the sauce with a bit of chicken stock, a good amount of cream and a tablespoon of mustard.
What can I serve with Chicken with Mushroom Sauce?
A number of side dishes works exceptionally well here. I would recommend to choose something rather plain like rice or potatoes as the sauce itself is rich enough and needs to be balanced out by the side dish.
If you think of another side dish that you love with this creamy chicken, please share in comments!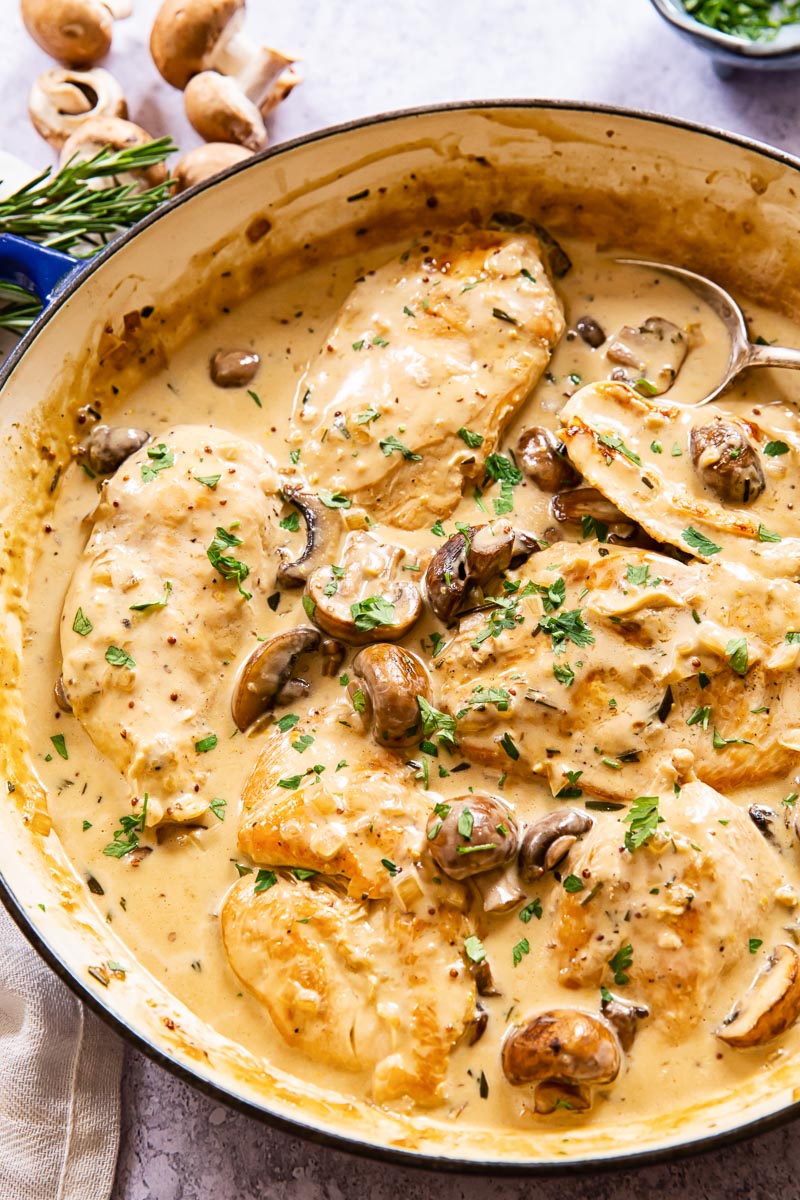 More delicious chicken breast recipes to try: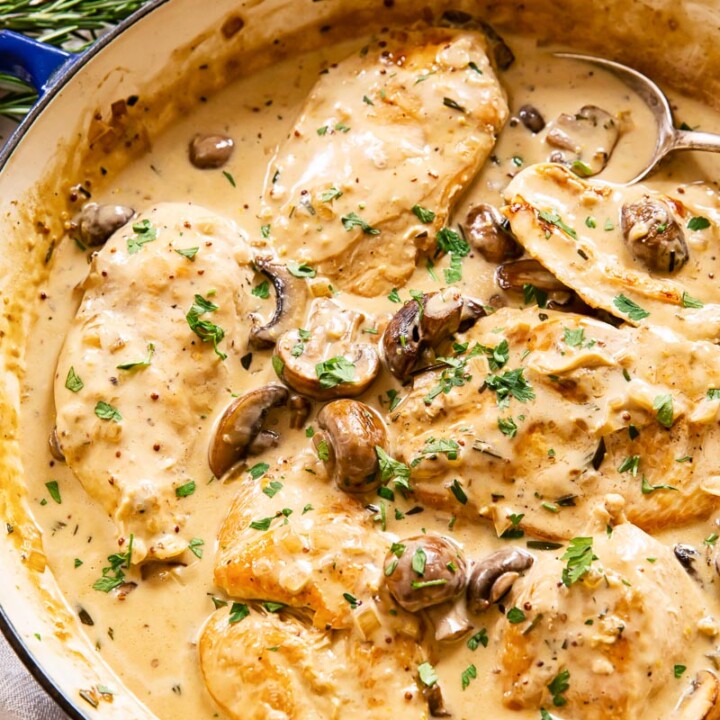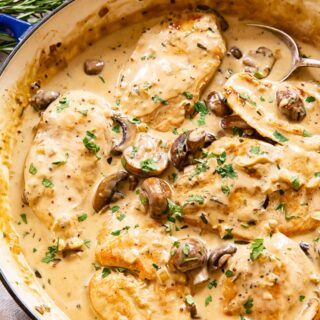 Chicken with Garlic Mushroom Sauce
Tender and juicy chicken breasts smothered in garlic mushroom sauce is comfort food that could be in front of you in just 30 minutes!
Ingredients
1

tbsp

olive oil

4

skinless, boneless chicken breasts

salt and pepper

250g/80z

button mushrooms, halved or sliced

2

shallots, chopped

3

cloves

garlic, minced

2

sprigs

rosemary or 1 tsp dried rosemary

1

tbsp

flour

80ml ¼cup

dry white wine

80ml¼cup

chicken stock

375ml/1.5 cups

double/heavy cream

1

tsbp

wholegrain mustard or dijon mustard
Instructions
Slice chicken breasts lengthwise, salt and pepper and brown on both sides in olive oil on medium heat until golden. Remove to a plate. (At this point chicken will not be cooked all the way through.)

To the same pan add the mushrooms together with chopped rosemary, salt and pepper and brown the mushrooms over medium heat for 2-3 minutes, add the chopped shallots and minced garlic and cook for 1-2 minutes longer. Add a heaped tablespoon of flour and stir to combine. Then add the white wine and scrape the bottom of the pan with a spatula to release the brown bits into the liquid. Pour in chicken stock, double/heavy cream, add 1 tbsp of mustard and stir to combine.

Then add the chicken breasts together with the juices they released back to the pan, and bring the sauce to a boil, then lower the heat to low and let it simmer for 10 minutes. Taste the sauce and add more salt and pepper if necessary.
Video
Notes
White onion can be used instead of 2 shallots
Rosemary could be substituted with thyme or tarragon.
White wine could be substituted with a combination of apple of white grape juice +1 tbsp of apple cider vinegar.
Nutrition
Calories:
360
kcal
Carbohydrates:
7
g
Protein:
19
g
Fat:
28
g
Saturated Fat:
15
g
Cholesterol:
134
mg
Sodium:
524
mg
Potassium:
515
mg
Fiber:
1
g
Sugar:
2
g
Vitamin A:
941
IU
Vitamin C:
3
mg
Calcium:
50
mg
Iron:
1
mg