These Irish mashed potatoes, flavoured with tender green onions and butter aka Champ, are a welcome addition to your standard mash recipe! Serve with our delicious Onion Gravy!
This exceptionally creamy mash goes so well with our Catherine Wheel Sausage recipe or Irish Beef Stew flavoured with Guinness.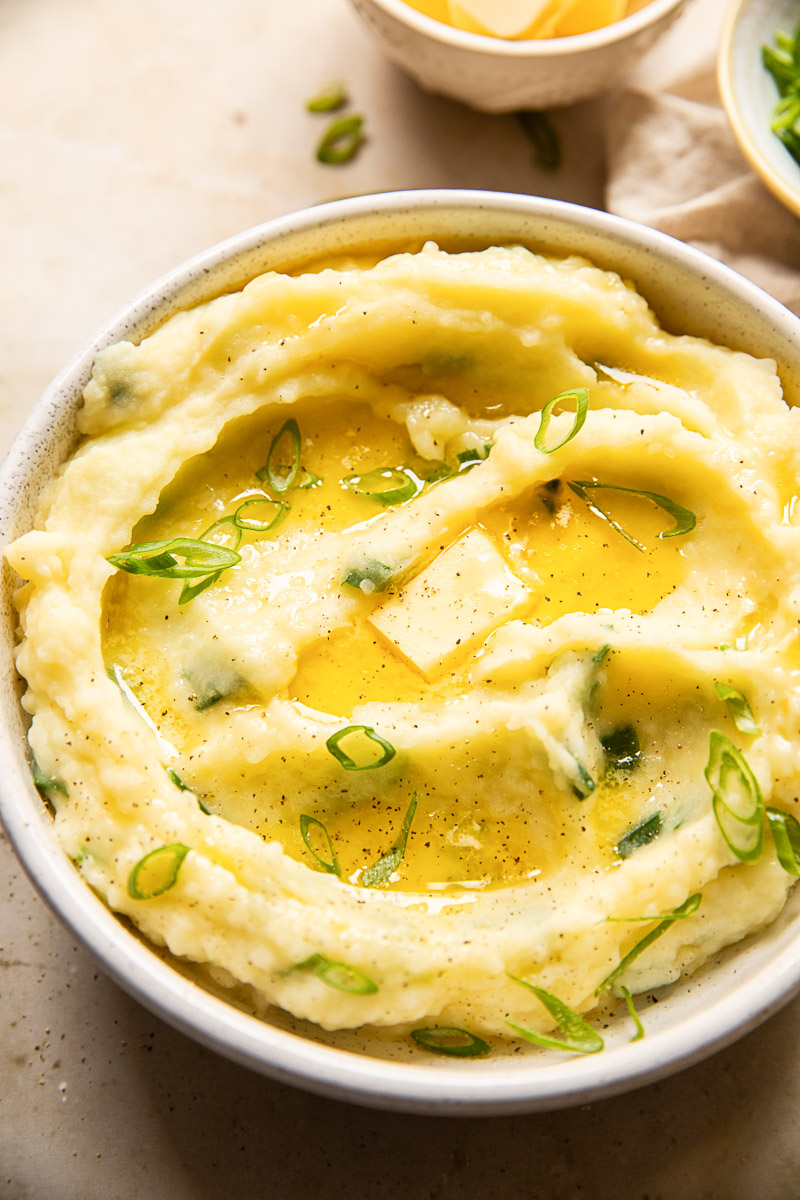 While Colcannon is a well known Irish recipe, Champ remains relatively obscure outside of Ireland. It's time we change that because this flavourful mash recipe needs to be explored.
I lean towards potatoes for a side dish on most days of the week. I don't always follow up on my instinct simply because I realise that my family wasn't raised on potatoes alone like I was. They crave variety a lot more than I do!
Need for variety is what keeps me researching various ways potatoes could be prepared. It goes without saying that the Irish quite possibly have more than a thousand recipes featuring the beloved spud! Well… them and the Russians!
Mashed Potato Recipes
No matter how developed my taste buds become I will never stop liking creamy mashed potatoes. There is something incredibly soothing and satisfying in a buttery mash!
I have to warm you I like mine with a lot of butter and a little bit of milk. This doesn't mean I am opposed to other flavours in my mashed potatoes. I do love to experiment with flavours!
This Herb and Garlic Mash is made with roasted garlic and fresh parsley and dill. It's a reader favourite! If you want to change things up, use a combination of sweet potatoes and swede (rutabaga in the US).
If you want to feel organised and not rushed, try my make-ahead recipe for Baked Mashed Potatoes. I layer them with caramelised onions and mushrooms but you can keep this casserole plain!
My newest obsession is a creamy mash mixed with tender green onions, also known as Champ in Ireland. Green onions go by a few names. Whether you call them scallions, spring onions or green onions, make sure you are using the green parts for most flavour!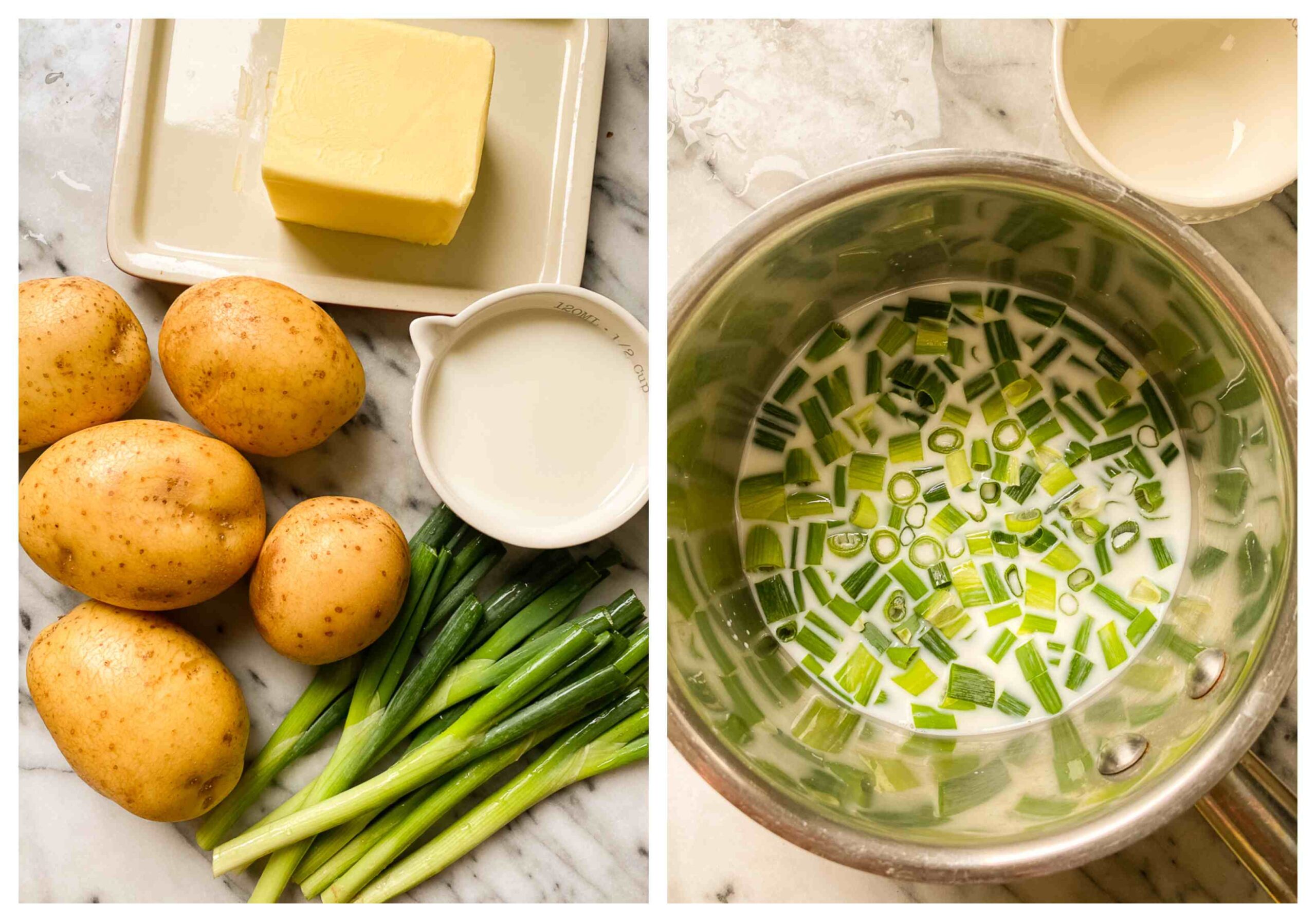 Champ Recipe Tips and Notes
As with all mashed potato recipes, make sure to choose the right kind of potato. What you are looking for is starchy or floury potatoes such as Yukon Gold or Russet in the US or Maris Piper, King Edward, Vivaldi and Desiree in the UK.
Infuse the milk with the green onions flavour. First bring the milk to a boil, then let the onions steep until needed. Uber flavour!
Peel and cut the potatoes in similar-sized pieces, so they all cook within the same amount of time.
Boil them in salted water. It's never too early to introduce flavour to the dish. Salt is essential!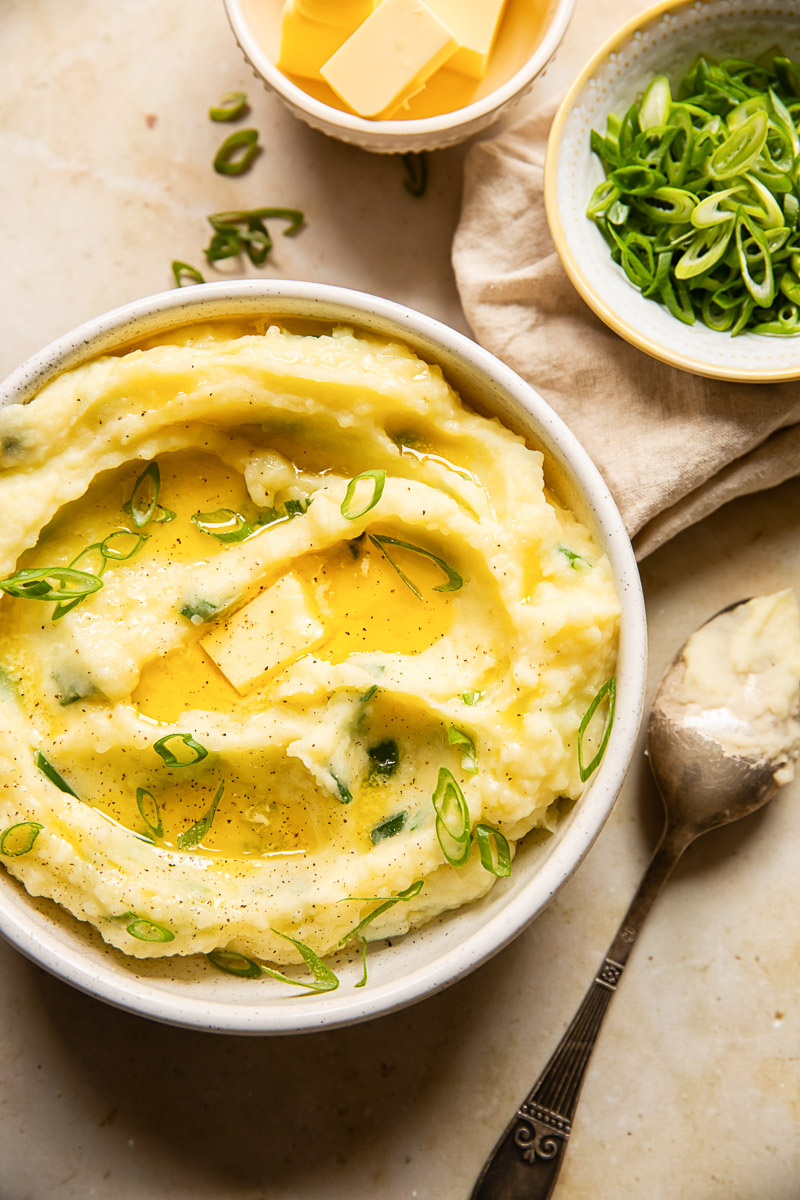 Once you drain your potatoes, allow them to steam dry. This little step help to achieve that desirable fluffy texture we all love.
Mash while the potatoes are still hot, very hot for the best texture. Some people like to use a hand mixer but I prefer a traditional potato masher or a ricer. Stay away from a food processor if you are not after a pot of glue!
Don't be stingy with the butter. Mashed potatoes = lots of butter. Otherwise there is no point.
Always taste at the end and season with salt. Potatoes love salt!
Serving Suggestions
These mashed potatoes will compliment just about any main dish but here are our favourites.
Serve them with this Ribeye Steak, Pork Loin Steaks with Creamy Mushroom Sauce or our famous Chicken Supreme.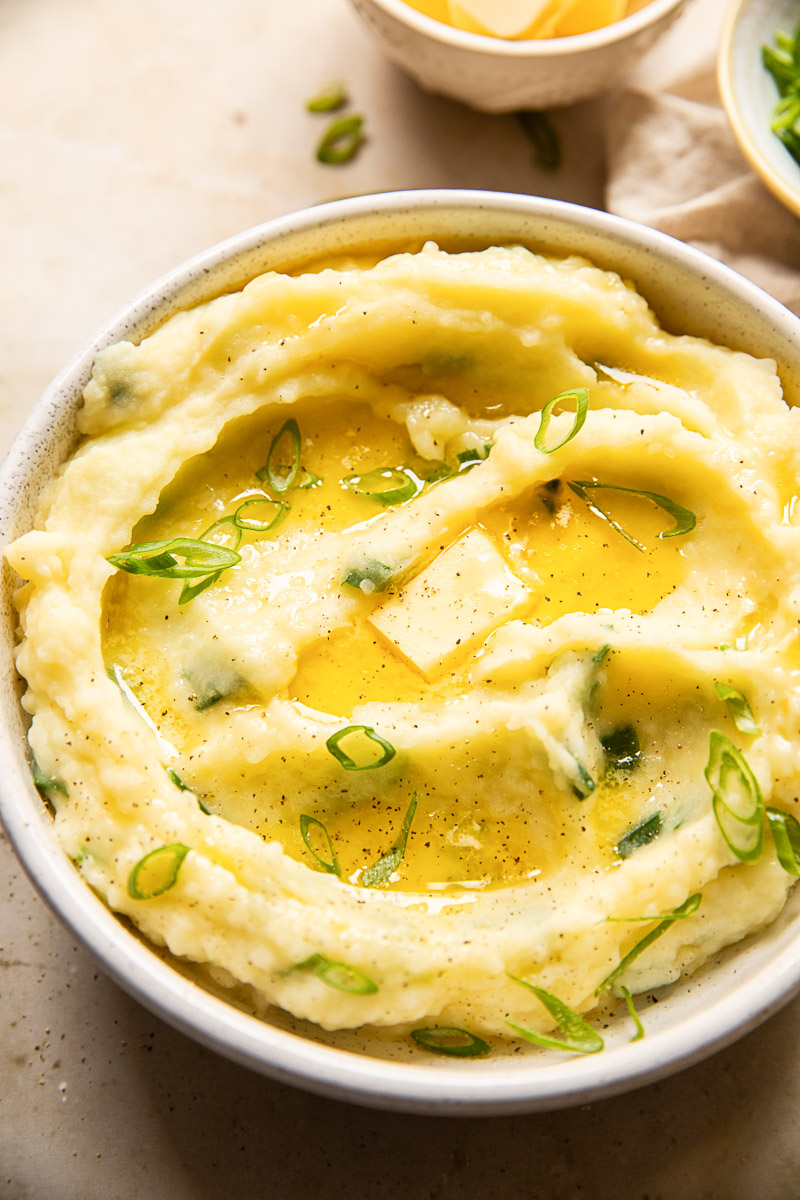 Ingredients
6

medium potatoes

see notes on types of potatoes

50ml/1/4 cup

whole milk

6-8

green onions

green parts only

100g/1/2 cup

unsalted butter

salt and pepper to taste
Instructions
Add sliced green onions to milk and bring to a boil at low heat, take off the heat and let the green onions infuse the milk.

Drain the potatoes and let them steam dry for 2-3 minutes, pour in hot milk with the onions and mash well, add butter and salt and white pepper to taste.
Notes
Use starchy or floury potatoes such as Yukon Gold or Russet in the US or Maris Piper, King Edward, Vivaldi and Desiree in the UK.
Nutrition Facts
Irish Mashed Potatoes (Champ Recipe)
Amount Per Serving
Calories 278
Calories from Fat 126
% Daily Value*
Fat 14g22%
Cholesterol 37mg12%
Sodium 433mg19%
Potassium 1017mg29%
Carbohydrates 35g12%
Protein 5g10%
Vitamin A 565IU11%
Vitamin C 21mg25%
Calcium 44mg4%
Iron 2mg11%
* Percent Daily Values are based on a 2000 calorie diet.