The stew season is here! My Irish Beef Stew recipe might use the simplest ingredients in your pantry but produces the most complex flavour and tender, melt-in-your-mouth beef. Would you like to know my secret ingredient?
Make this beautiful dish for St. Patrick's Day as well as our Traditional Colcannon recipe for an Irish feast.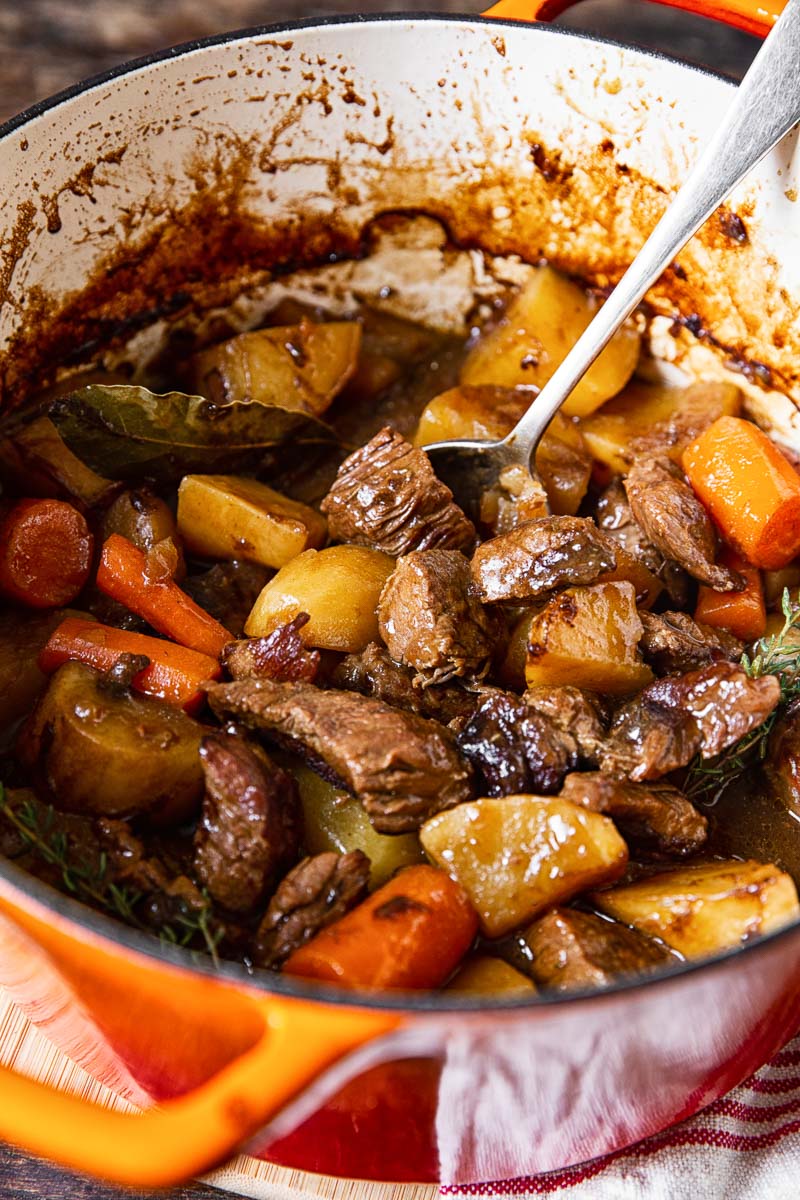 What gives Irish beef stew its rich and delicious flavour?
To put it simply this beef stew gets a lot of its flavour from Guinness.
Through almost no effort of your own and by simply adding a can of stout into the pot, you can end up with deep and robust beef stew that will warm you up from the inside.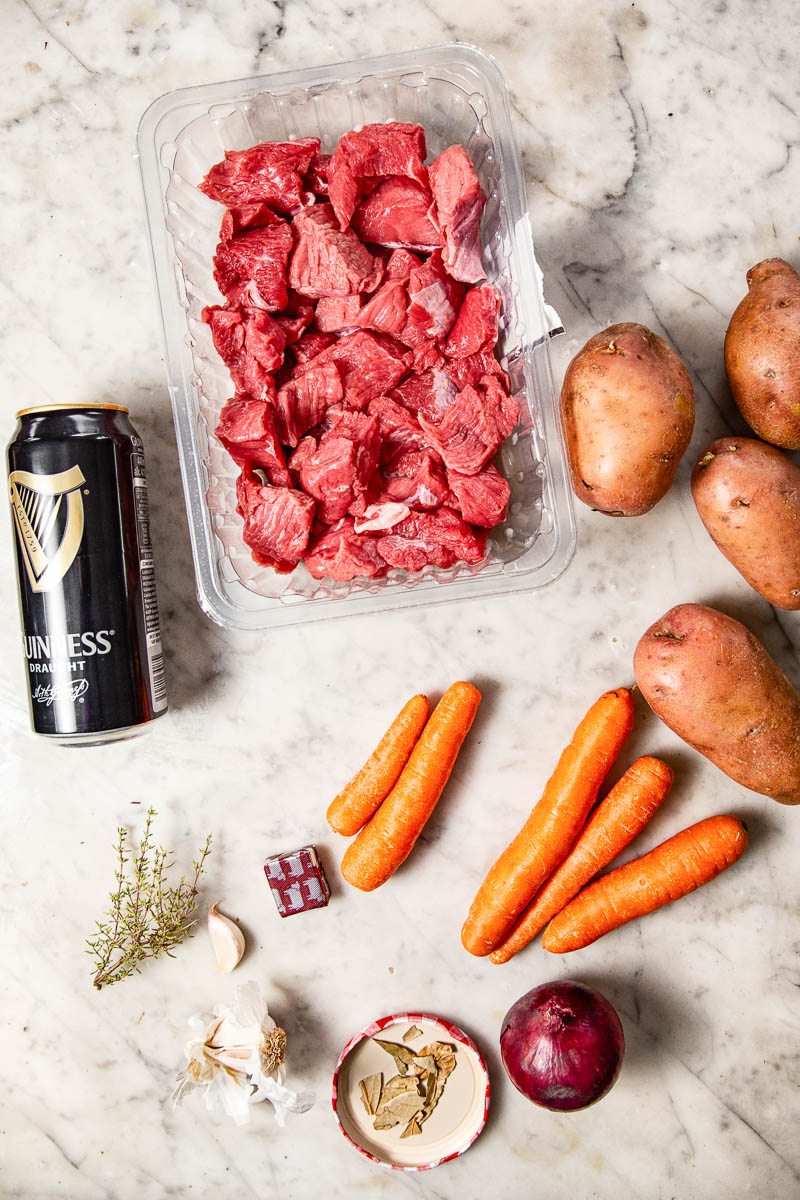 As you can see from the ingredient photo above, there is absolutely nothing fancy that goes into my beef stew. So how do we avoid getting a bland, flavourless stew?
There are a few tricks that will prevent that from happening. I usually talk a lot of about quality ingredients but this time it's all about slow cooking and using a couple of cooking techniques properly.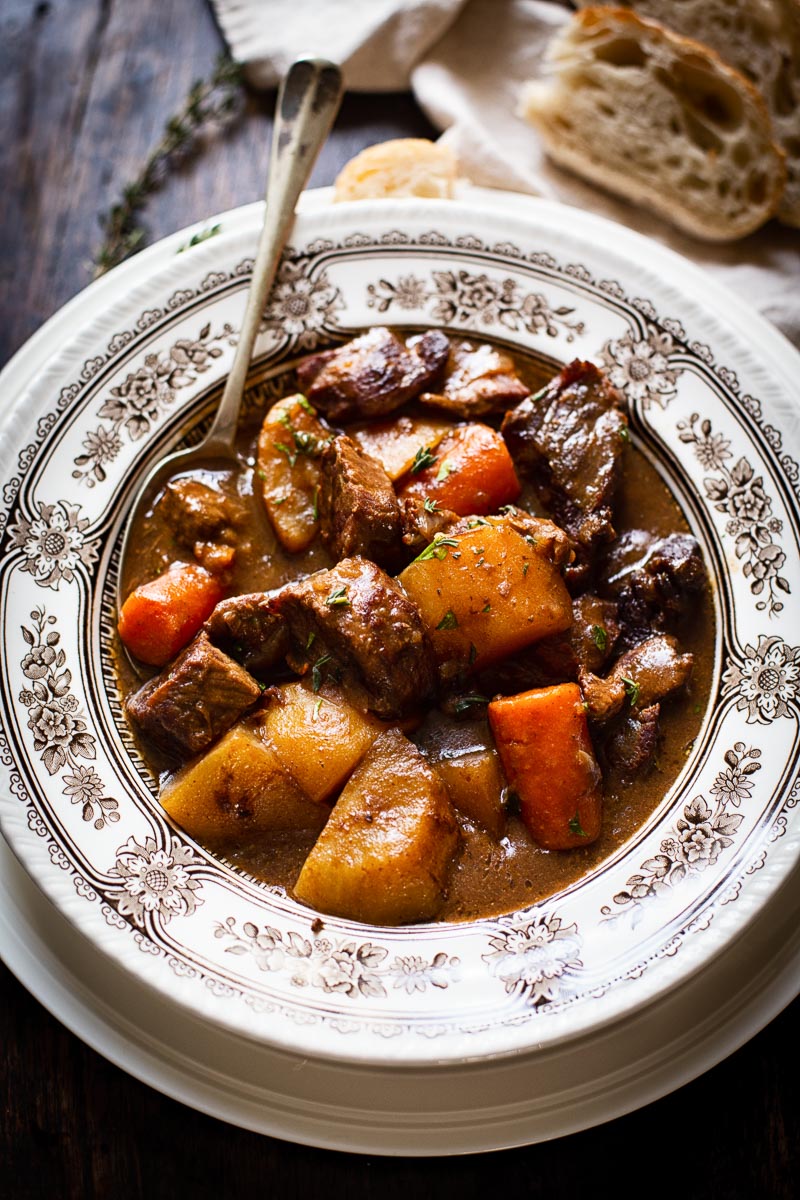 The Ingredients
Beef, onions, carrots, celery and potatoes are the most common players when it comes to making an Irish stew. All affordable and staple ingredients in most homes.
Apart from beef, of course. Beef is always on the pricey side.
What is so great about stews is that you can successfully use cheaper beef cuts and have stellar results as opposed to Beef Stroganoff where steak is necessary.
I recommend using stewing beef available in supermarkets or beef shoulder. I personally often find it is cheaper buying a beef shoulder roast and cutting it up in bite-sized chunks at home.
If you want to go a more authentic route, use lamb for a traditional Irish stew.
What makes cheaper and tougher beef turn into tender and luscious little bites is longer cooking time. Beef Stews are at their best when cooked low and slow. This recipe is no exception.
You can cook your beef stew in a Dutch oven as I've done here or you can use your slow cooker or a pressure cooker such as Instant Pot.
Slow Cooker Method
Follow the recipe up to step 4, then add carrots and potatoes and cook in a slow cooker on high for 4 hours or on low for 8 hours.
Pressure Cooker Method
Follow the recipe up to step 4, then add carrots and potatoes and cook in a pressure cooker in Manual Mode for 45 minutes.
Whatever method you choose, you will have the same rich and flavourful beef stew if you take the time to follow the initial steps of browning the beef and cooking the onions until soft and translucent.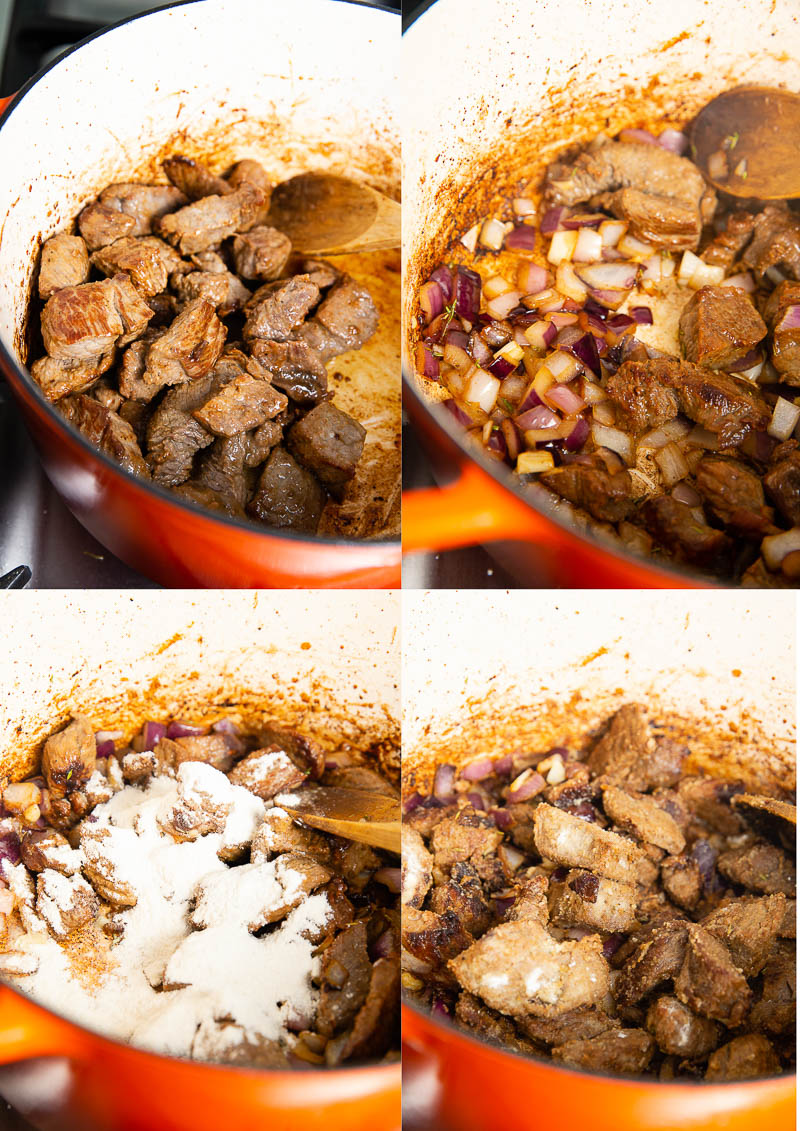 Before I move any further I would like to talk a bit more about different cooking stages that ensure the success of this recipe.
As I mentioned earlier beef stews are extremely easy and forgiving recipes. They are based around slow cooking but there are a few other things that contribute to that success.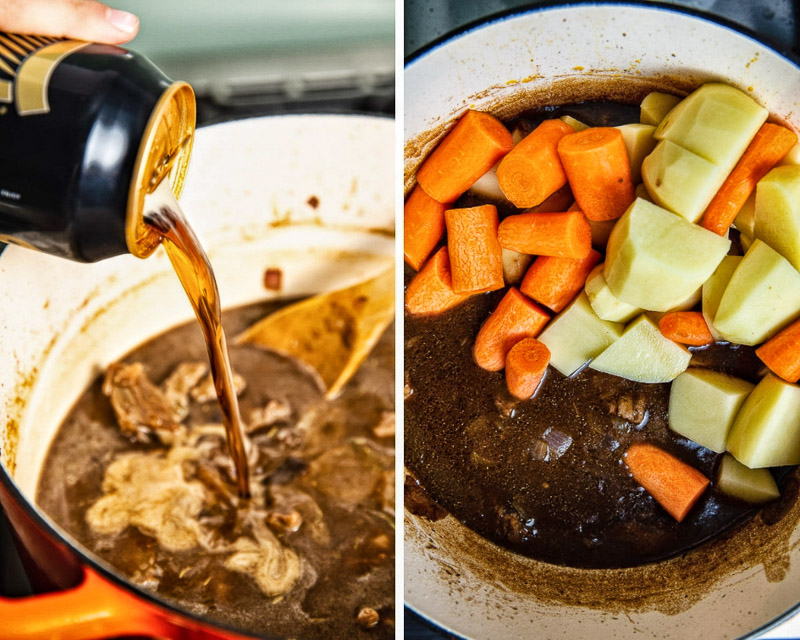 Recipe Top Tips
Browning the beef until you see beautiful golden crust on it as shown in photo 1 in the collage above. This step is single handedly responsible for the depth and richness of the stew.
Taking the time to cook the onions. I see this step often being overlooked. It literally hurts me to see so many cooking videos on Facebook where onions are briefly stirred, then liquids added.
Onions have to be cooked for at least 10 minutes to get the full benefit of that beautiful ingredient in dishes. They need time to release their natural sugars and change the texture from crispy to soft and luscious. They also need to be cooked over low heat to prevent them from burning and turning bitter.
Deglazing the pan/pot aka scraping the bottom of the pot with a wooden spoon when adding the liquid. This simple but necessary step helps imparting more flavour into the dish.
Do you have any tricks for richer and better tasting stew? Please share them in comments!
For more comfort food for cold weather recipes, check out:
If you make any of these recipes, I would love to see your photos! Simply tag @vikalinka in your Instagram snaps!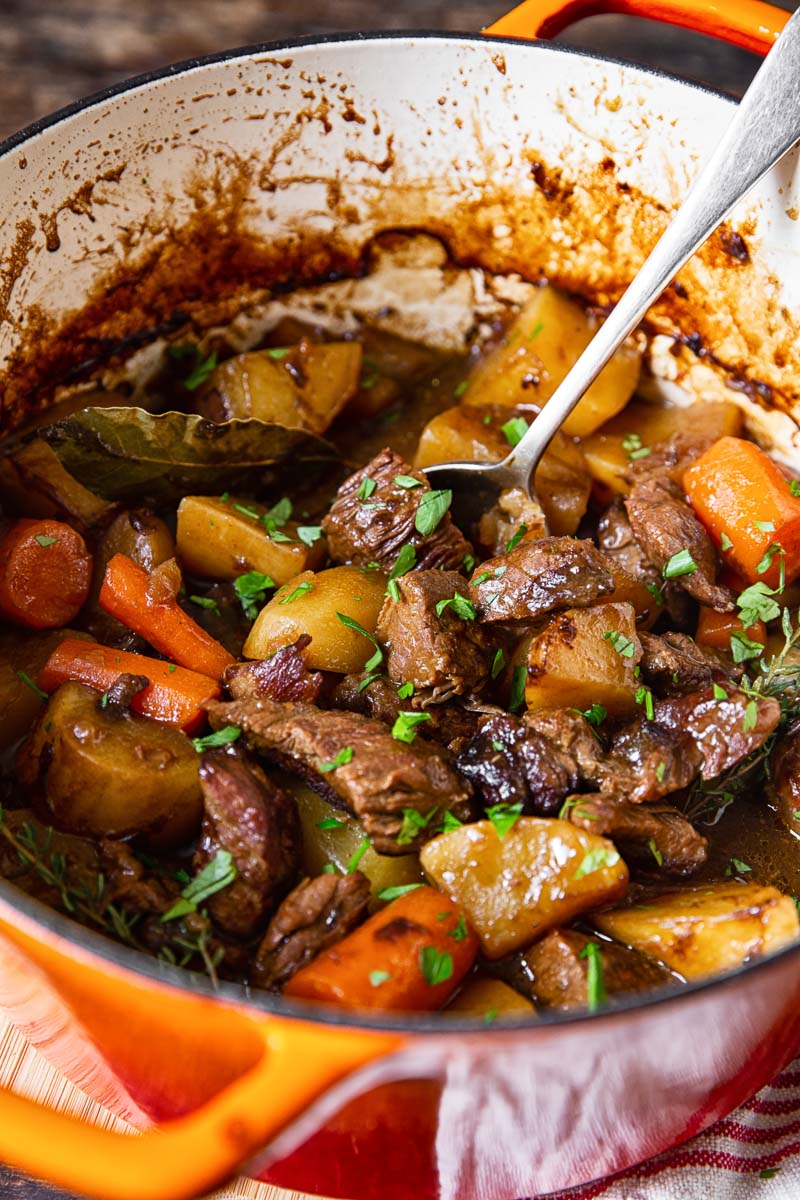 Ingredients
2

tbsp

olive oil

1

tsp

salt and pepper

1.5

lbs

stewing beef

1

onion

medium

3-4

sprigs

thyme

or 1 tsp dried thyme

1

clove

garlic

2

tbsp

flour

2

cup

water

or beef stock, divided

440ml/1 can

Guinness

or other stout

1

bay leaf

4

carrots

medium

4

waxy potatoes such as red potatoes

medium
Instructions
Preheat the oven to 160C/300F

Heat the olive oil in a large Dutch oven/cast iron casserole pot and brown the beef chunks seasoned with salt and pepper over medium heat until golden. Do this in batches to avoid overcrowding.

Move the browned beef to one side of the pot and lower the heat, then add chopped onions and thyme, cook over low heat for 8-10 minutes until tender. Then add minced garlic and cook briefly for 30 seconds.

Add the flour and stir the beef, so it's coated, then add the water or beef stock if using and scrape the bottom of the pot with a spatula to release the brown bits at the bottom. Add the Guinness, one or two bay leaves, turn the heat up and bring to a boil. Then cover with a lid and put in the preheated oven for 1 hour.

After one hour take out of the oven and add carrots and potatoes cut into large chunks to the pot, stir and add 1 cup of water, cover with a lid and continue cooking the stew in the oven for 1.5 hours.

Take the lid off for the last 10 minutes of cooking.

Serve with bread and sprinkled with some fresh parsley for more flavour.
Notes
Ingredient Recommendations
I recommend using stewing beef or beef shoulder roast cut into chunks for this Irish Beef Stew
Use waxy potatoes such as red-skinned potatoes, which hold shape and not fall apart in stews and soups.
Gluten Free Substitutes
Substitute flour with cornstarch dissolved in water to thicken the stew.
Cooking Methods
Apart from the Dutch Oven Cooking Method I provide in the recipe card, this Irish Beef Stew could be cooked in a slow cooker or a pressure cooker.
You can also cook this stew on a stovetop over low heat but make sure to stir it once in a while to prevent it from burning from the bottom.
Irish Beef Stew Slow Cooker Method
Follow the recipe up to step 4, then add carrots and potatoes and cook in a slow cooker on high for 4 hours or on low for 8 hours.
Irish Beef Stew Pressure Cooker Method
Follow the recipe up to step 4, then add carrots and potatoes and cook in a pressure cooker in Manual Mode for 45 minutes.
Nutrition Facts
Irish Beef Stew
Amount Per Serving
Calories 481
Calories from Fat 243
% Daily Value*
Fat 27g42%
Cholesterol 80mg27%
Sodium 134mg6%
Potassium 1082mg31%
Carbohydrates 30g10%
Protein 23g46%
Vitamin A 6825IU137%
Vitamin C 15.6mg19%
Calcium 53mg5%
Iron 3.6mg20%
* Percent Daily Values are based on a 2000 calorie diet.