Beef Bourguignon is one of the few recipes everyone needs to know how to cook! Tender beef braised in red wine with onions and carrots and flavoured with bouquet garni, this French beef stew is the epitome of comfort food made easy!
For more stew recipes, check out our Coq au Vin Blanc or Chicken Chasseur.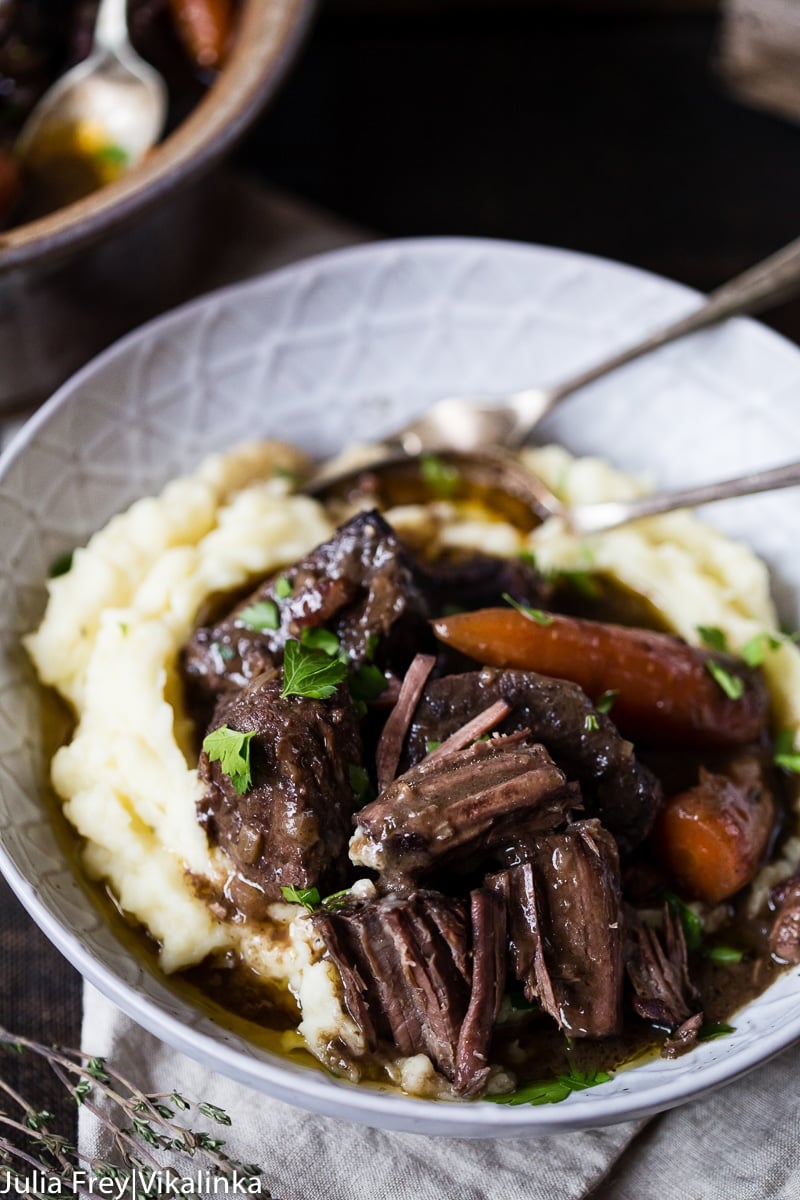 So a whole week passed since I've started working from home, and so far I've enjoyed it much more than I'd expected.
I love going through my mornings at a slower pace instead of dashing out of the door into the insanity of London commute, once again driving my youngest to school, pottering in the kitchen while testing new recipes and generally being less stressed and enjoying life so much more.
I hope you, my friends, have enjoyed getting more fresh recipes in your mailboxes!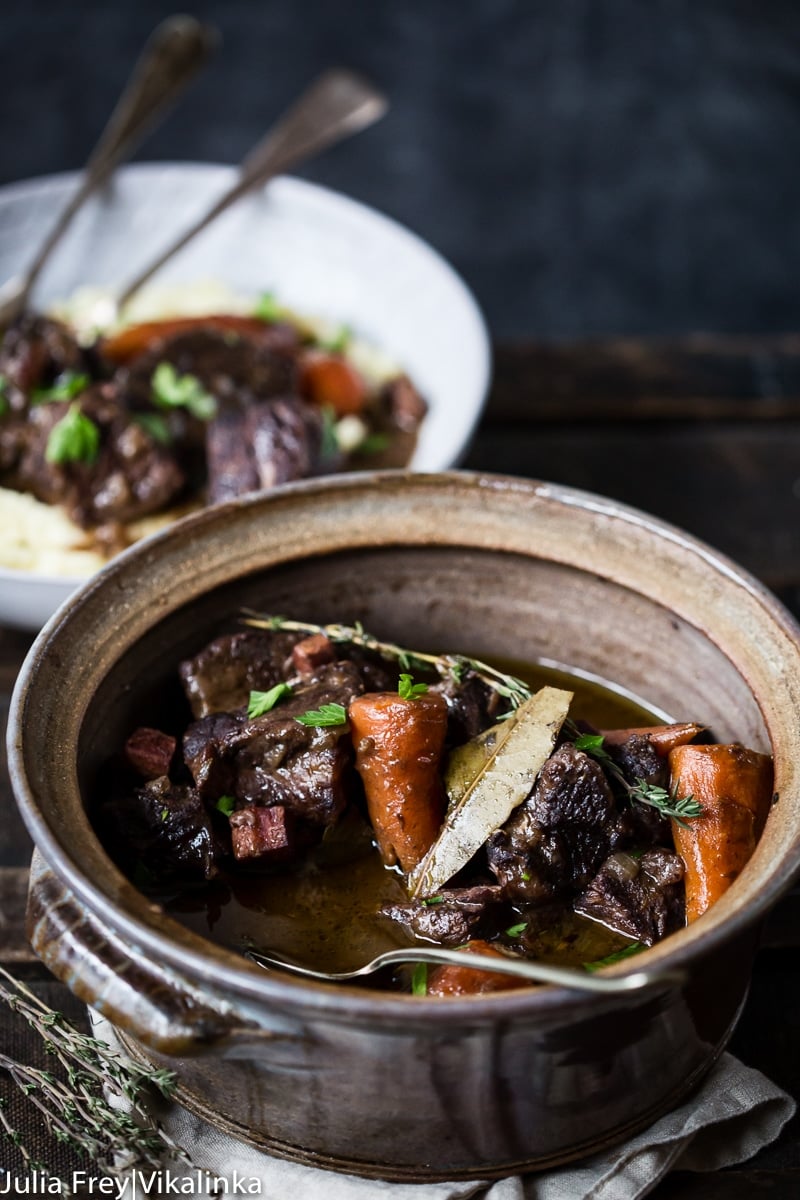 Shortly before I left my job I was explaining to my students that I would be no longer teaching but focusing more on my blog. As usual, it was met with curiosity and bewilderment. Most of them wanted to know what exactly I did outside of my job as an English teacher.
My French students were adamant Beef Bourguignon should be the recipe I share next and you just don't argue with the French!! Trust me.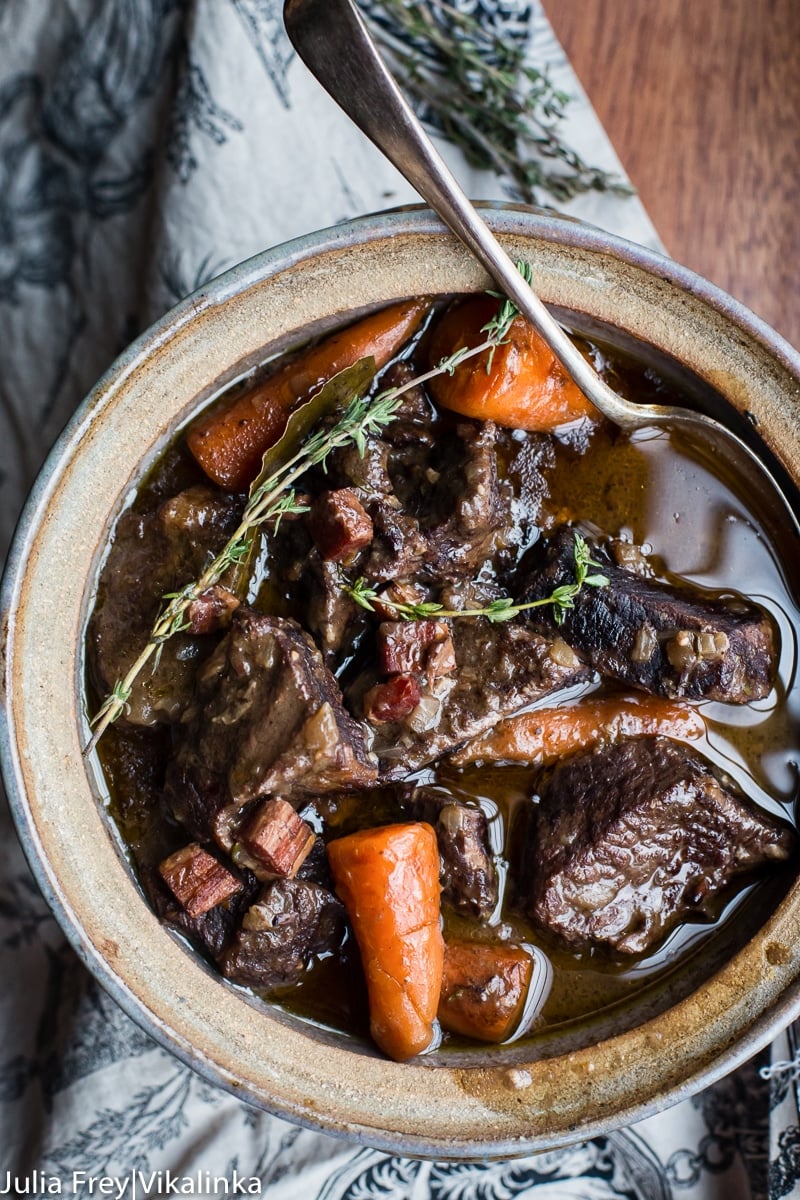 Developing my Beef Bourguignon recipe was quite easy, as it is basically a beef version of my very popular classic coq au vin.
There are many recipes out there and I am sharing my take on this French classic, something that works for me. I would encourage you to follow this recipe but also make necessary adjustments to suit your family's tastes.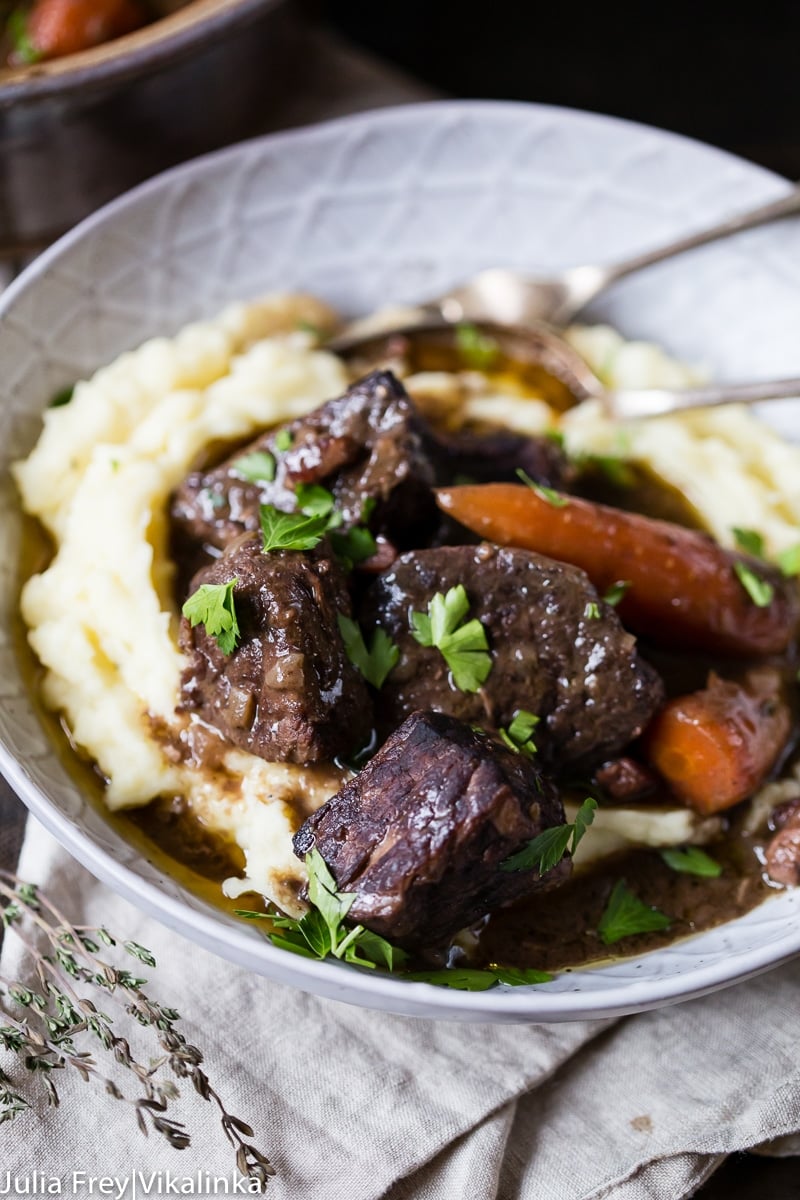 The Ingredients
For example, many beef bourguignon recipes include pearl onions but I know that eating a whole onion, no matter how small, would never fly with my kids, or even with me if I am completely honest, so I omitted them.
Mushrooms are also a permanent fixture in most beef bourguignon recipes but since my husband is away on a work trip and it's just kids and I, mushrooms also got cut!
Although I am a mushroom lover, they are not! My point is add or remove anything you like or don't like.
Cooking time would also depend on your oven temperature, how large your beef pieces are (I like mine large!), and how tender you'd like your meat to be. My advice to you is to taste and make adjustments. Always!!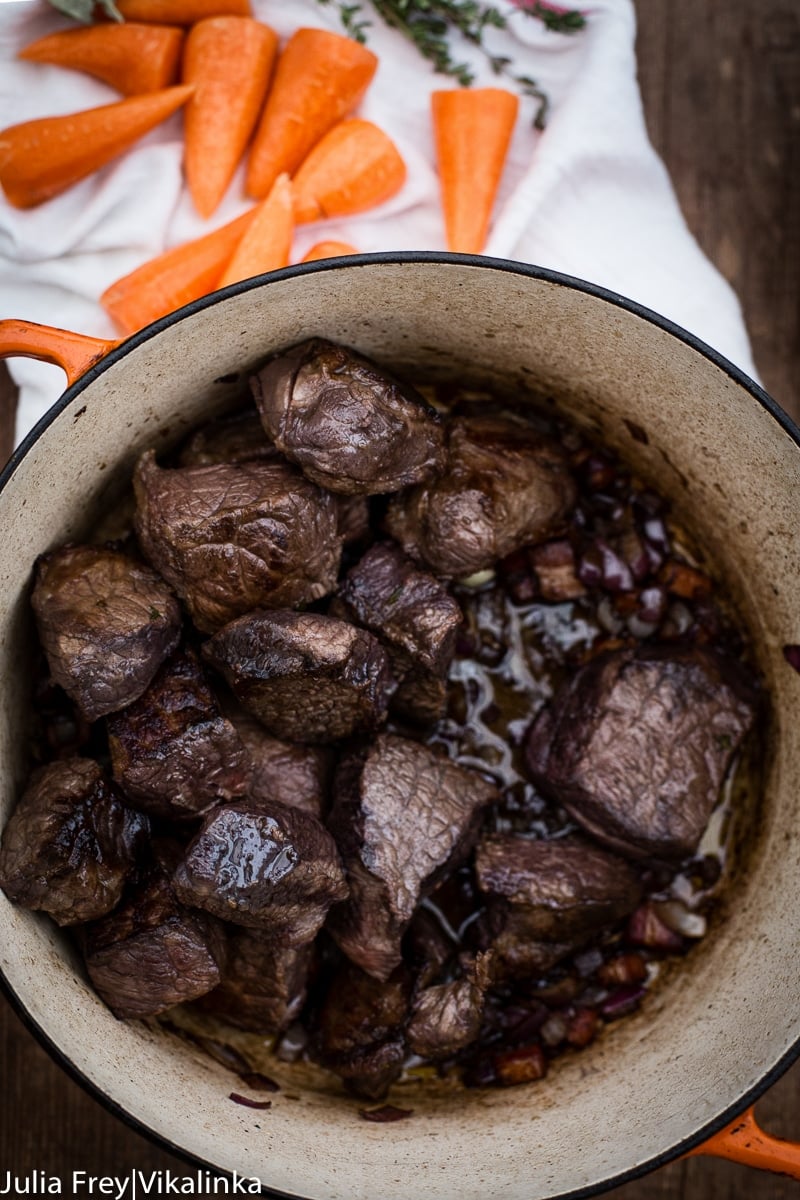 What wine should to use
Lastly, the wine, that this flavourful stew is cooked in, is traditionally Burgundy, which might not be readily available where you live.
Red and full-bodied wine like Merlot or Cabernet Sauvignon is a good choice for this dish. It should be a decent drinking wine but don't break the bank on it!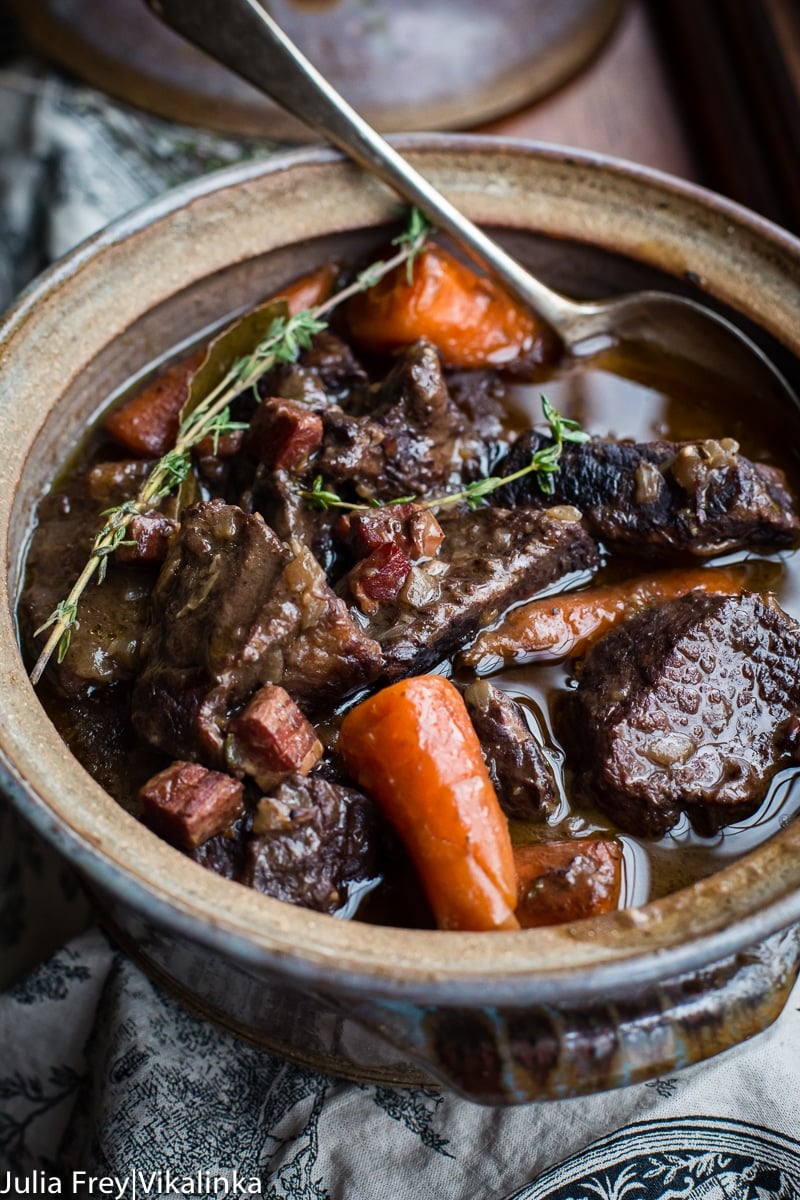 Recipe Tips and Notes
Beef Bourguignon is one of those low effort dishes that I believe everyone should know how to make. The wine and slow cooking do all the heavy lifting.
There are a couple of things though that will contribute to richer flavour like searing of the beef; it should be nice and brown on all sides as well as monitoring of the cooking time.
It needs to be shortened or extended depending on how tender your meat is since oven temperatures vary. Other than that, the recipe is full proof.
What to serve with beef stew
Mashed potatoes is my number one choice when it comes to Beef Bourguignon. Also lemon garlic greens beans and a slice of thick sourdough bread go extremely well with this flavourful beef stew.
More classic French recipes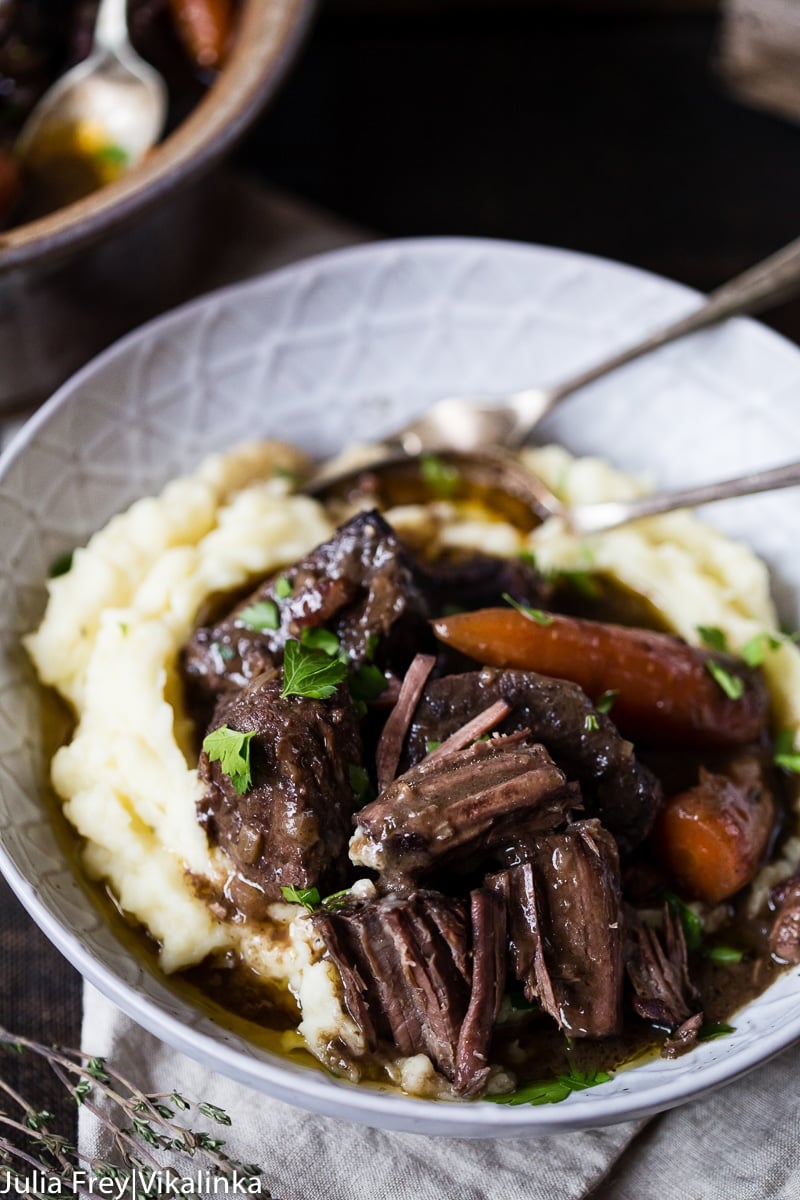 Ingredients
2

lbs

/ 900g stewing beef or rump roasting joint cut into 2 inch cubes

500

ml

/ 2 cups red wine

1

tbsp

olive oil

50

g

bacon lardons/ 2-3 strips bacon

chopped

1

large onion

chopped

2

garlic cloves

minced

2-3

tbsp

flour

1

cup

baby carrots/2 large carrots

cut into 2 inch pieces

Up to 1 cup/ 250 ml beef stock

optional

1

prepared bouquet garni or 3 parsley stalks

3 thyme sprigs, 2 bay leaves tied together

Salt and pepper to taste

Parsley

chopped
Instructions
The night before combine beef and wine in an air tight container or a ziplock bag and marinade overnight.

When ready to cook take the beef out and lightly dab the pieces with paper towel to absorb the liquid, salt and pepper them, then set aside for a moment, reserve the wine the meat was marinated in.

Preheat the oven to 300F/160C

Heat the olive oil in a heavy cast iron pot and cook the bacon lardons until they render fat, remove with a slotted spoon to a bowl.

In the same pot brown beef over medium-high heat, do so in batches to avoid overcrowding and steaming. The beef should be nicely browned on each side but not cooked all the way through, approximately 2-3 minutes on each side depending on how high the heat is. Remove the browned beef to the same bowl as bacon.

Now add chopped onion to the pan and cook over low heat for 5-7 minutes until tender and translucent, then add minced garlic and cook for 1 minute stirring constantly to prevent garlic from burning or it will turn bitter.

Return the beef and bacon bits back to the pan, add carrots, flour and stir, cook for a minute to ensure all flour got saturated in the fat in the pan, then add reserved wine and enough beef stock to cover the beef, add your bouquet garni and bring to a boil, then cover with a lid and put in the preheated oven for 2 hours.

After two hours check on the liquid in the pot, it should remain at the same level. Put the beef back in the oven with the lid off to allow the liquid to reduce and thicken, cook for 1 to 1.5 hours for tender, melt-in-your-mouth beef. Taste and add more salt if needed.

Serve sprinkled with additional chopped parsley over mashed potatoes or noodles.
Nutrition Facts
How to Make Beef Bourguignon
Amount Per Serving
Calories 368
Calories from Fat 108
% Daily Value*
Fat 12g18%
Cholesterol 106mg35%
Sodium 821mg36%
Potassium 709mg20%
Carbohydrates 10g3%
Protein 39g78%
Vitamin A 3131IU63%
Vitamin C 3mg4%
Calcium 92mg9%
Iron 6mg33%
* Percent Daily Values are based on a 2000 calorie diet.