This recipe for this Chicken Chasseur is a less known French classic made quicker and leaner! Chicken breasts braised in rich tomato sauce with onions and mushrooms are easy and delicious!
If you like this French recipe, why don't you check out my French Chicken Casserole.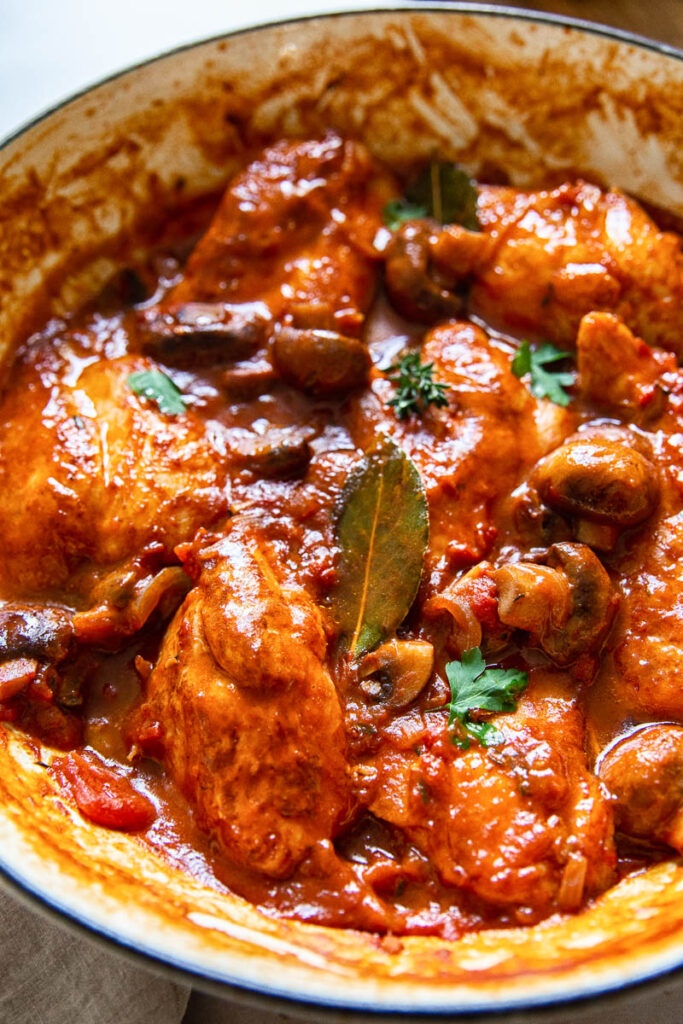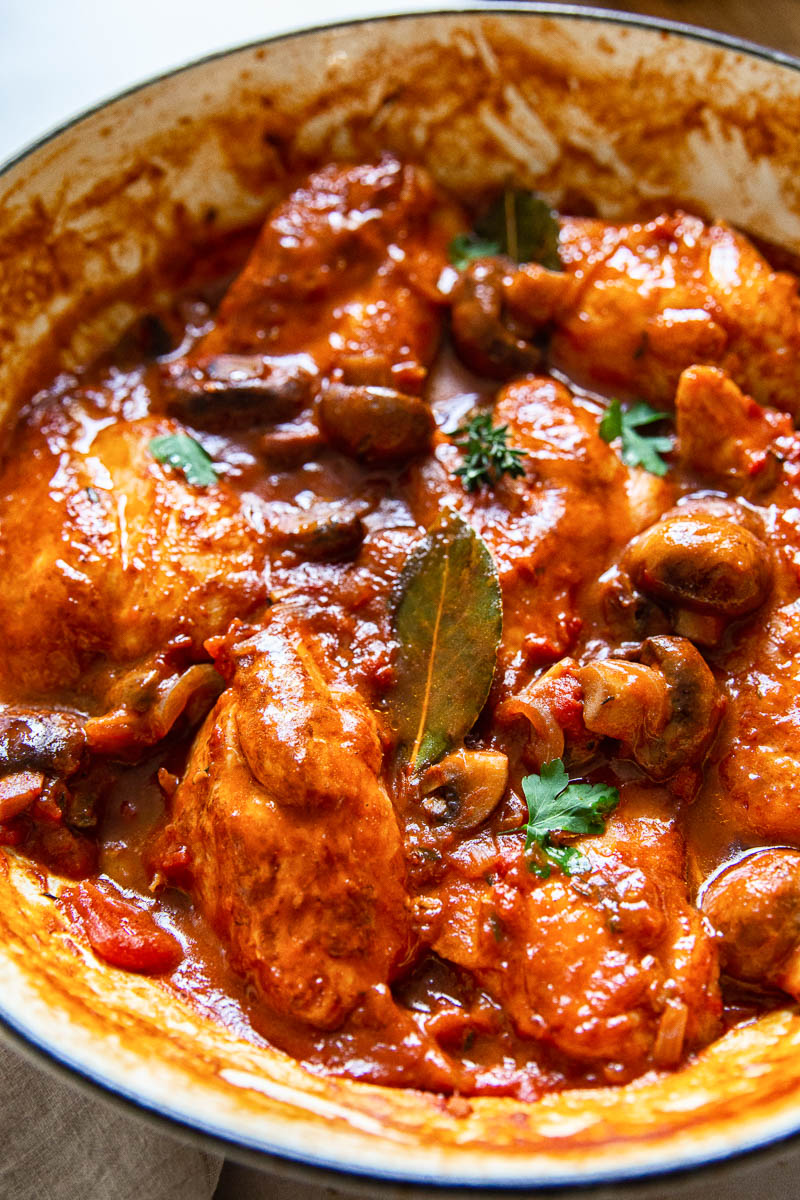 I've been quite smitten with the French cuisine for a while now as evident by many recipes on this blog. French Chicken Casserole, Coq au Vin, Chicken Provencal and many more are all readers' favourites, so I wanted to bring to you some lesser known but nonetheless delicious dishes.
I've first discovered Chicken Chasseur or Hunter's Chicken in I Know How to Cook by Ginet Mathiot, the famous French culinary bible. It's a brilliant cookbook for confident cooks who are interested in learning about the French cuisine.
This classic recipe has beautifully flavoured chicken in a rich tomato and mushroom sauce. It's rustic, simple yet so full of flavour it still manages to showcase the eternal elegance of French cuisine!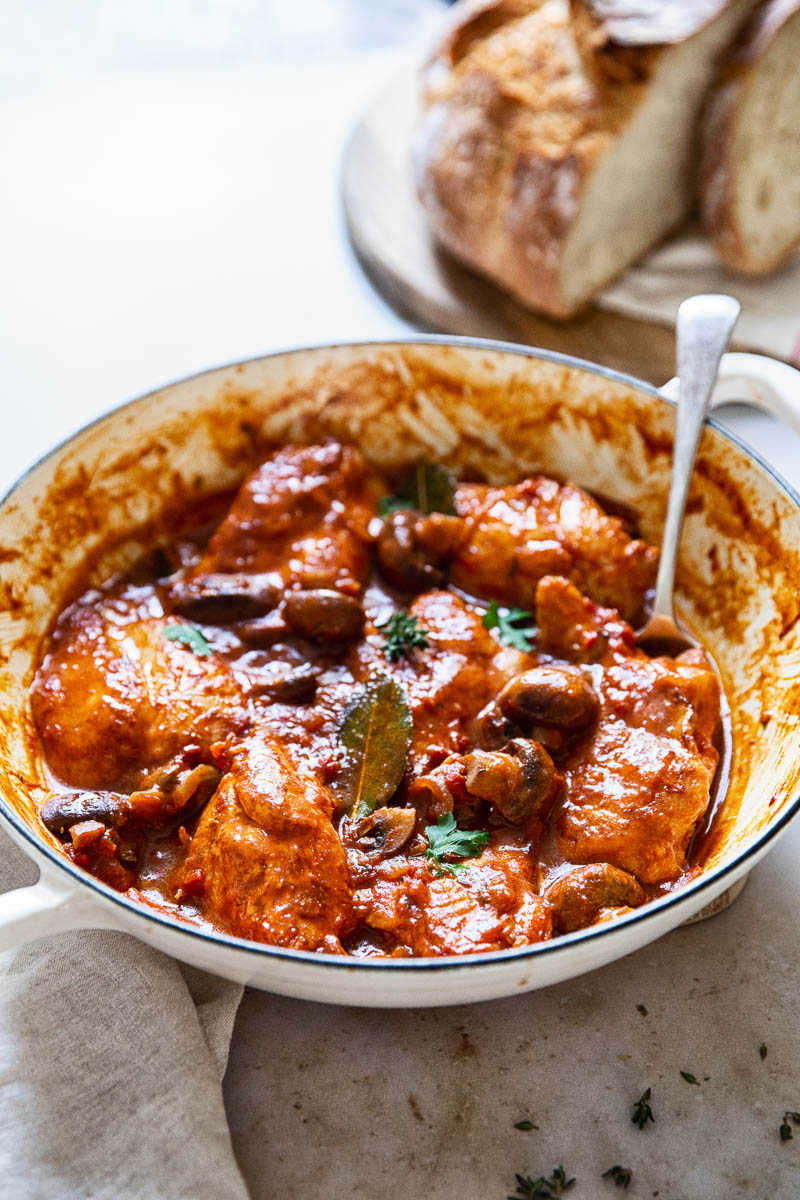 What is Chicken Chasseur?
'Chasseur' is the French word for 'hunter', which is a heavy nod towards the origin of this dish. It based on the dish a hunter may make after successful outing and collecting some mushrooms along the way.
It is a stew with a rich base sauce, mushrooms shallots and a medley of fresh, fragrant herbs. The stew is finished off with whichever meat our successful hunter has returned with.
While it can be made with all sorts of game, such as venison or rabbit, chicken is the convenient choice now that we do our hunting in grocery stores. Still, its a dish that holds on to its humble and rustic origins.
This approach to cooking is not only found in France. Chicken Cacciatore is essentially an Italian Hunter's Chicken recipe, using a very similar philosophy!
Ingredients
There are quite a few variations of Chicken Chasseur and I assume this is partly due to the fact that the French do not go into many details when sharing recipes. The instructions and ingredient lists are short and give much room for improvisation.
All recipes contain chicken, either a whole one or chicken parts. The sauce is made of sautéed in butter onions and mushrooms and a splash of dry white, canned or fresh chopped tomatoes and herbs such as thyme, tarragon or parsley.
Chicken braised in a robust tomato sauce is how Chicken Chasseur is usually pictured. Interestingly enough, there are absolutely no tomatoes or tomato paste in the Ginet Mathiot's recipe.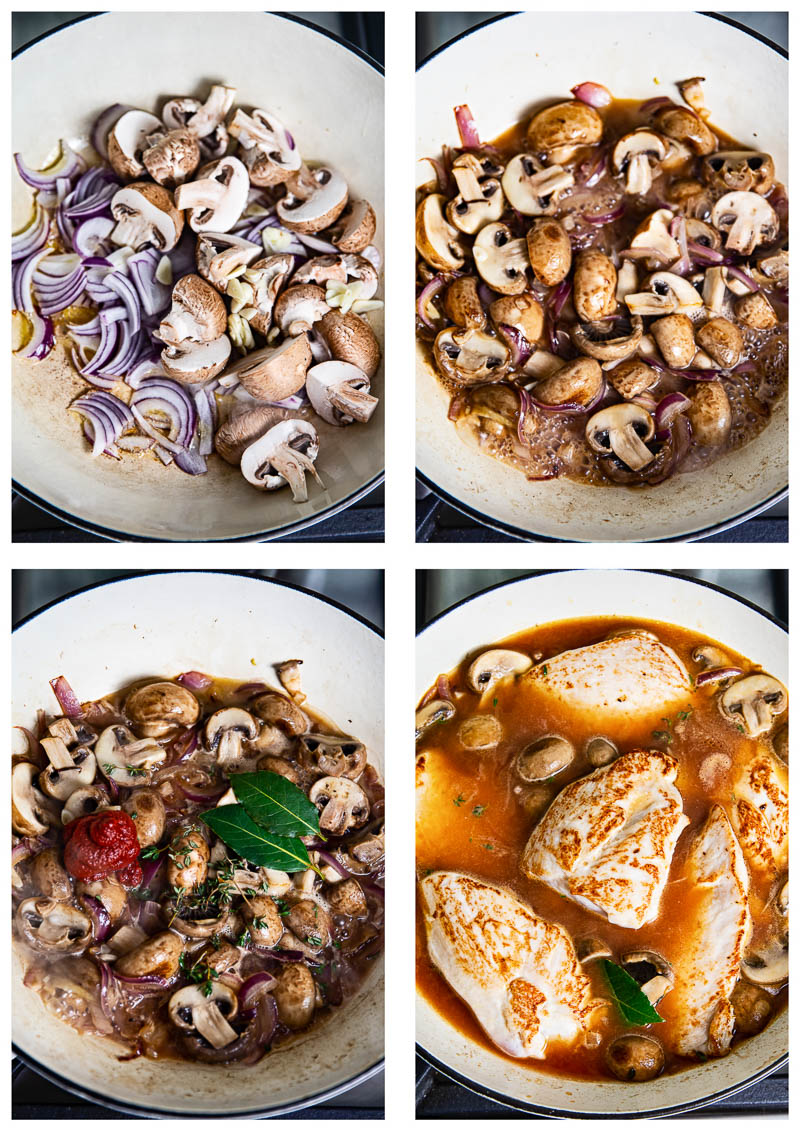 How to make it
My version of Hunter's Chicken is a faster and simpler one, developed for busy families and quick after work dinners. I replaced chicken parts with skinless boneless chicken breasts to speed up the cooking process and to cut a few calories.
By doing that, I imagine I reduced the cooking time by a half and the calorie count by a lot!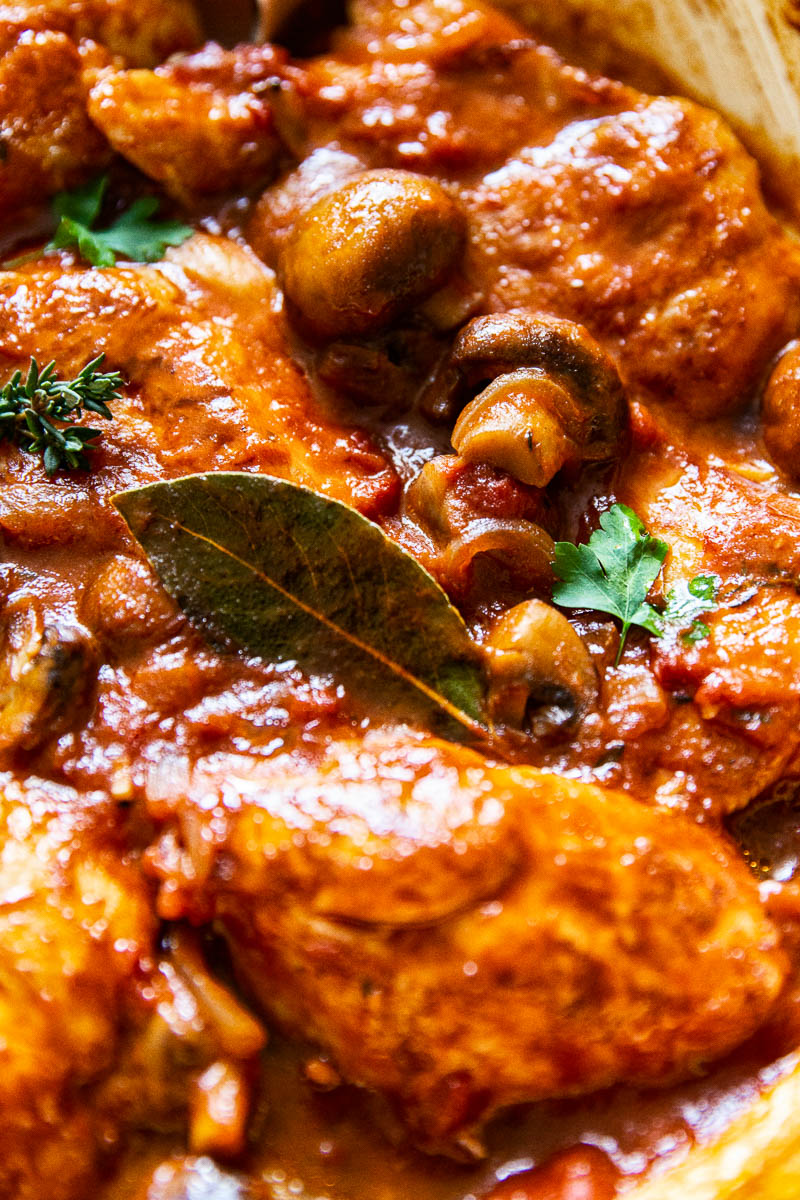 So here is what you need to do:
Salt and pepper chicken breasts and brown them on both sides but do not cook all the way through.
Saute sliced onions, halved mushrooms (any mushrooms you like) and sliced garlic cloves for 10 minutes.
Add some white wine and let it reduce just a little, then add your seasoning.
Then add tomato paste, diced tomatoes and chicken stock and let it simmer for 30 minutes. Job done.
Serving suggestions
The most traditional way to eat this dish is piled on top of creamy mashed potatoes. You can also serve it with rice, couscous or cauliflower mash for a low carb version.
A slice of thick crusty bread is also highly recommended to soak up that tasty sauce!
This chicken recipe, despite being quite good for you, has a very luxurious feel. Just a little bit of butter goes a long way to contribute to a rich and luscious sauce.
The tomatoes truly benefit from slow braising and turn into a fragrant and sweet tasting sauce that accompanies tender from braising chicken breasts.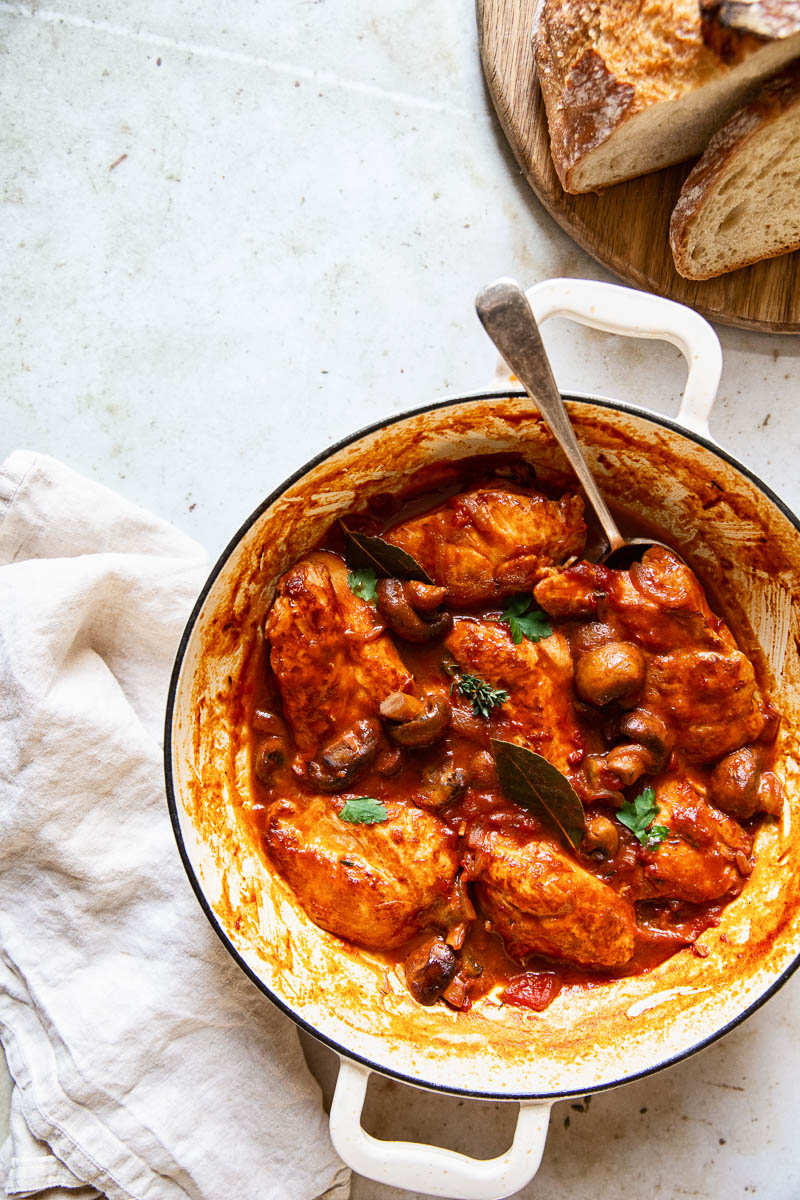 Recipe tips and notes
This recipe doesn't include any flour or cornstarch to thicken the sauce. This was done intentionally in order to allow the tomatoes to thicken it naturally.
If the sauce is not to your desired consistency, feel free to thicken it with 1 tbsp of cornstarch diluted in 2 tbsp of water at the end.
French food is often made with wine, which adds acidity and complexity to a dish. But if you choose not to use it, substitute with an equal quantity of apple juice with 1 tablespoon of white wine vinegar.
I used fresh thyme and fresh bay leaves but you can use any herbs you love. Maybe stay away from basil and oregano. We don't want it to taste Italian.
The traditional recipe is made with a whole chicken, but I chose chicken breasts for convenience. Thighs can also be used.
Storage and leftovers
Leftovers can be reheated in a microwave, but I prefer using the stovetop. Add it to a pan over medium-low heat, adding a splash of water or stock to keep the sauce loose. Cover with a lid or foil so it doesn't dry out and let it heat for approximately 15 minutes or until it is hot throughout.
Leftovers can be kept in an airtight container in the fridge for up to 5 days, or in the freezer for up to 3 months.
More French recipes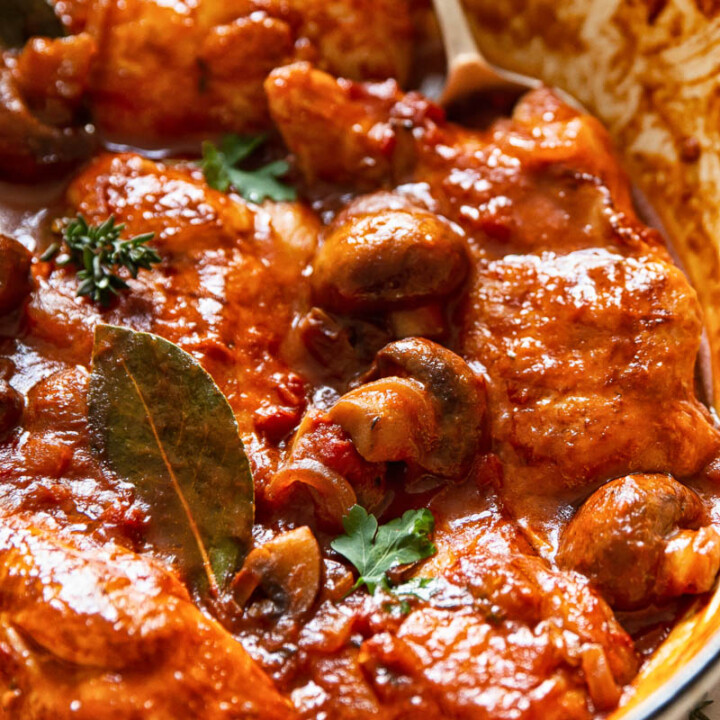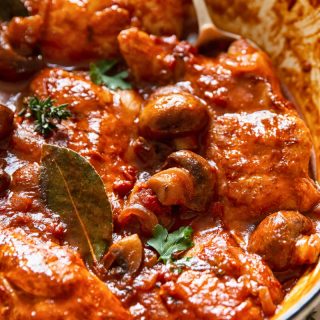 Chicken Chasseur Recipe
Chicken breasts braised in robust tomato sauce with sauteed in butter mushrooms. A less known French classic, this chicken dish is quick, easy and delicious.
Ingredients
1

tbsp

olive oil

750-900

g

/1½-2 lbs skinless boneless chicken breasts

1

tbsp

butter

1

medium onion

sliced

250g

g

/8 oz mushrooms

cut in half

2

cloves

garlic

sliced

125

ml

/ ½ cup dry white wine

4

fresh thyme sprigs

leaves only

2

fresh bay leaves

1

tbsp

tomato paste

150

g

/ ½ cup canned diced tomatoes/crushed tomatoes in the US

350

ml

/1½ cups chicken stock

salt to taste
Instructions
In a large pan heat 1 tbsp of oil and brown chicken breasts seasoned with salt and pepper on both sides until golden. You may have to do it in batches to avoid overcrowding. Remove to a plate and set aside until needed.

To the same pan add butter, sliced onions, mushrooms and garlic and saute with a pinch of salt on low heat for 10 minutes. Then add the white wine and let it bubble away for a couple of minutes.

Then add the thyme leaves, bay leaves and tomato paste. Bring the chicken breasts back to the pan together with diced tomatoes and chicken stock, bring to a boil, then reduce the heat and let it simmer covered for 20 minutes, then uncover and cook for 10 minutes longer. If by the end of the cooking time the sauce is too watery let it simmer uncovered to reduce.
Video
Nutrition
Calories:
230
kcal
Carbohydrates:
8
g
Protein:
30
g
Fat:
8
g
Saturated Fat:
2
g
Cholesterol:
86
mg
Sodium:
313
mg
Potassium:
781
mg
Fiber:
1
g
Sugar:
4
g
Vitamin A:
240
IU
Vitamin C:
8.6
mg
Calcium:
28
mg
Iron:
1.4
mg