So you're feeling French? Chicken fricassée is a saucy little number parfait for a midweek family meal or a full-scale dinner party with a Tricolor* twist. Succulent chicken thighs and vegetables in a smooth cream sauce make this your one pot stop to fine French dining at home.
*that's the French flag, btw
Feeling the French vibes, but not the chicken? My boneless pork chops with apples and cider offer the same creamy sauce and can be served with all the suggestions below.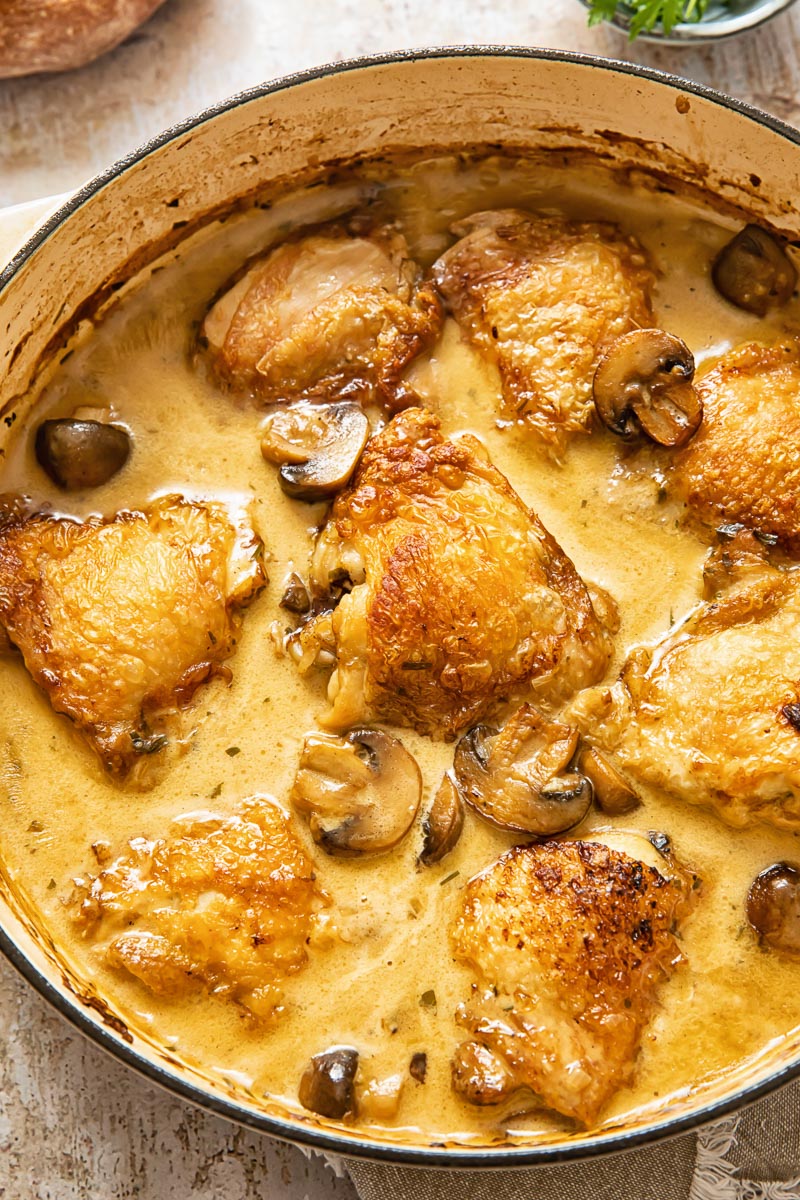 What is Chicken Fricassée?
The French might call it fricassée, but we might call it chicken casserole, or chicken stew! It's a gently comforting dish of chicken stewed to juicy perfection in white wine and cream with plump mushrooms lazily bobbing about in the sauce.
Although we tend to view French cuisine as the epitome of class and elegance, this chicken thigh recipe dates back to 14th century France and came from more humble, practical beginnings.
It is prepared in two steps; the ingredients are first sautéed and then stewed, this way the sauce becomes intensely flavoured by the meat and vegetables so the dish can be served with a relatively plain side, like rice or mashed potato.
Chicken fricassée is definitely the lowlier cousin of another French chicken recipe classic, Coq au Vin. If you prefer your chicken in a red wine sauce, this one's for you!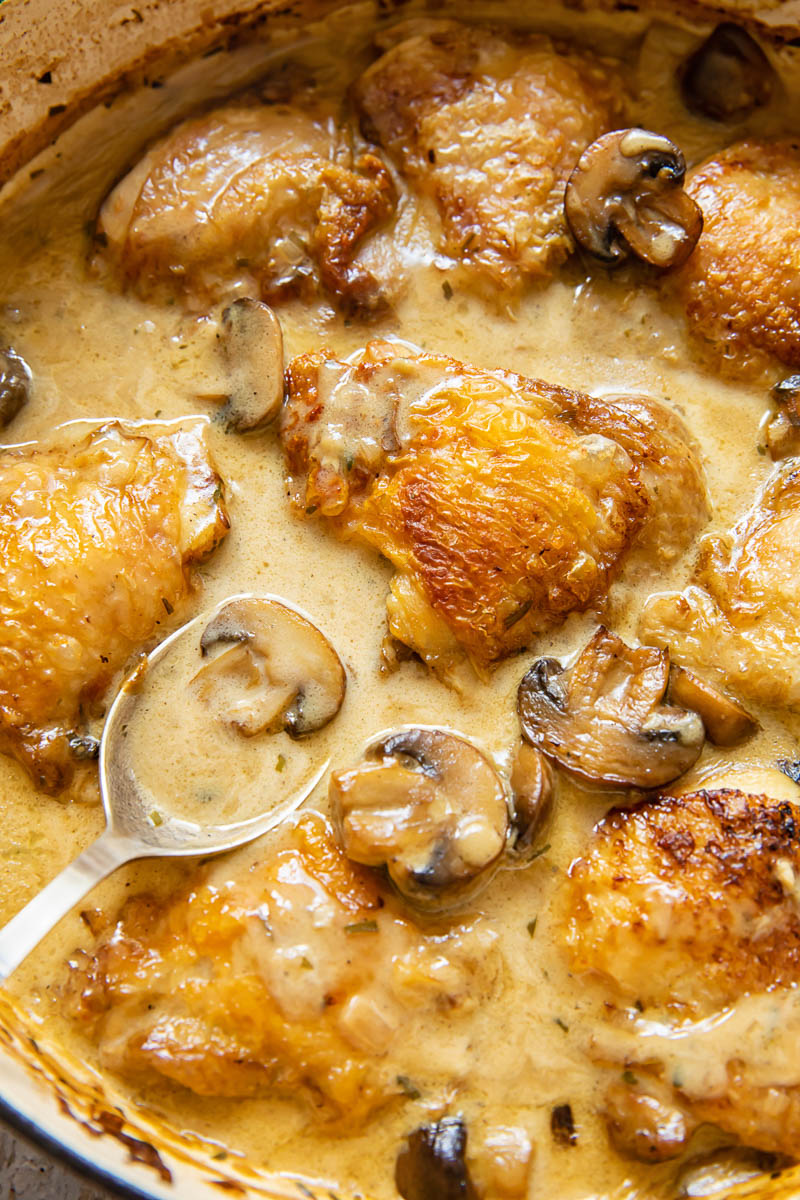 Ingredients and variations
The ingredients of the dish originally would have varied depending on what was in the stores and needed to be used up that day. Generally, that would have been chicken, but veal or rabbit could also have been the main meat component in the Middle Ages.
I've used chicken thighs as they're the most affordable of the three in today's supermarkets! And thighs tend to be the most succulent.
For me, there's no other vegetable better suited to a creamy chicken recipe than an earthy chestnut mushroom! Carrots, potatoes and squash all cook well alongside chicken too absorbing all the rich saucy flavour, and they come out deliciously soft.
But you can really make like a 13th century French peasant and use up whatever you have!
Early recipes would use egg yolks as a thickener for the sauce. You can expect a protein rich and super silky sauce using this method. However, if you're short on time you can just use flour, as I have in my recipe. It's certainly more convenient!
White wine and chicken thighs are the classic French version of fricassée, but since its introduction to foreign soils, national variations have emerged.
For example, the Germans make a fricassée with a whole chicken and green peas or asparagus. Spanish Caribbean versions are made with a red wine and tomato-based sauce and carrots.
What makes it a fricassée is the method rather than the ingredients. So feel free to tamper with the recipe.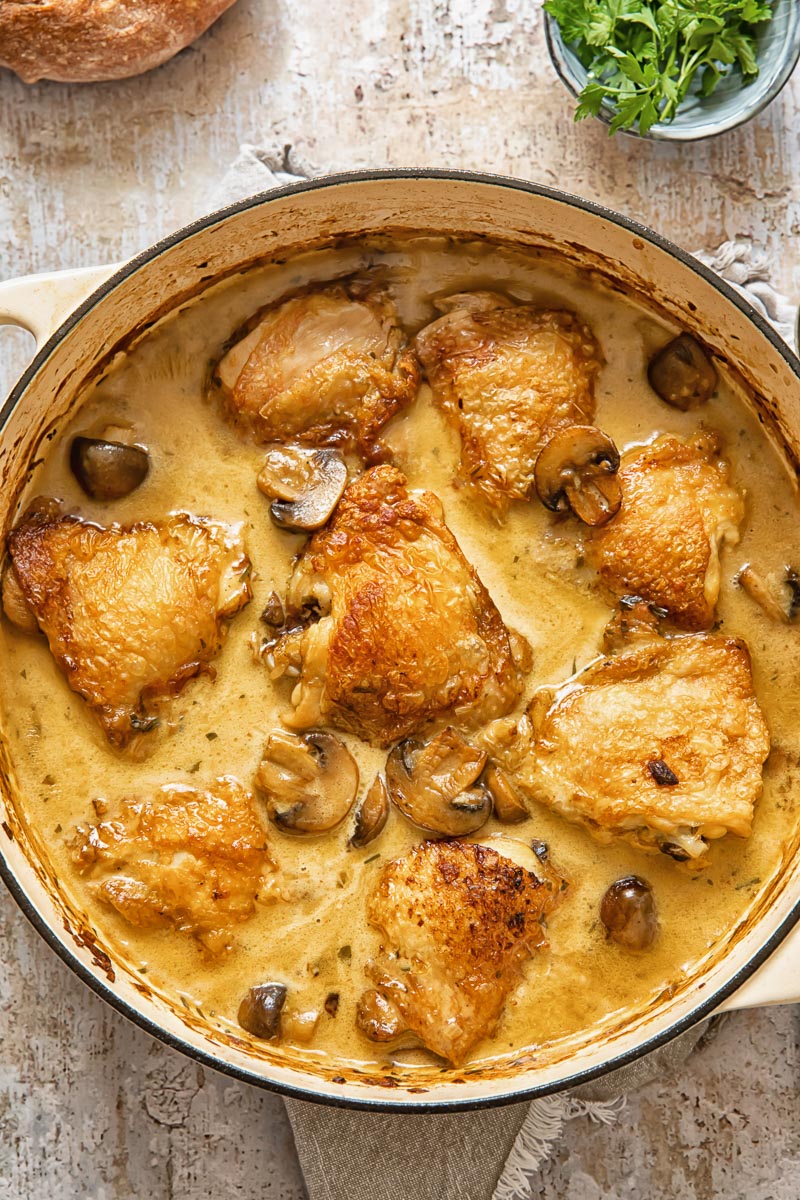 Serving suggestions
This dish can be dressed up or down to suit your mood and your diners. You can take the express route and serve this French chicken casserole over traditional rice or my herb and garlic mashed potatoes for a weeknight family meal. Or plan a three-course fine dining experience a la France with an elegant menu du jour and a bottle of white wine, French, of course!
Mine would look a little like this:
L'entrée: A rich and creamy cauliflower cheese soup
Le plat principal: Chicken Fricassée
ou
Le plat végétarien: roasted butternut squash with lentils and feta
Le dessert: strawberry galette ou plum tarte tatin with lavender cream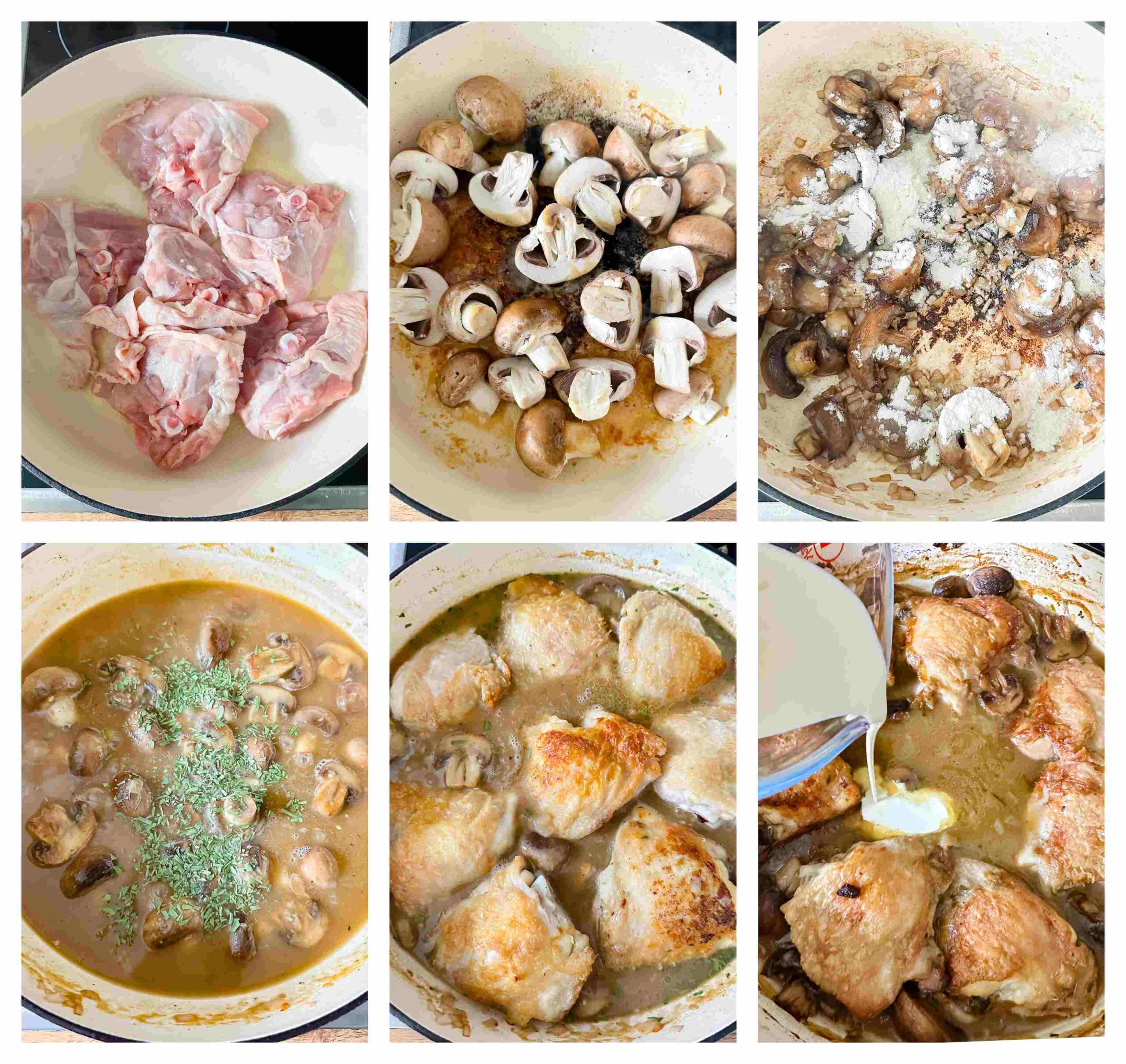 Recipe tips and notes
I almost always go for chicken thighs over chicken breast, and for this recipe it's a must! They are a more succulent cut and the darker meat is more flavoursome.

Browning the chicken is an important step. Don't skip it! Especially if you are using skin-on chicken. As well as intensifying the flavour and tenderising the flesh, it renders some of the fat from the skin.

Have you ever known me not to use herbs? This chicken recipe uses tarragon, which is fresh -flavoured an a little anise-y. However, if you have thyme or rosemary they work well too.

For me, the combination of mushroom, chicken and cream is deeply nostalgic and comforting. It takes me right back to my childhood and my mother's kitchen. But if you're not a mushroom fan like me, root vegetables work brilliantly too.

French cooking can be characterised by its use of wine. And I'm here for it! But if you prefer not to use alcohol, you can substitute with apple juice for flavour and a tablespoon of white wine vinegar for acidity.

The heavy cream (double cream (UK)) should be added at the very end. Boiling any sauce with cream in it will make it curdle.
Storage and leftovers
Any leftover fricassee can be stored in an airtight container in the fridge for 2-3 days. To reheat, add a splash of water to loosen and cook over a medium heat until the chicken is hot all the way through.
Although you can freeze the leftover chicken casserole, due to the cream content it will be a little grainy on thawing and not at its best. I suggest enjoying this one on the day or reheated from the fridge.
Favourite French Chicken Recipes To Try: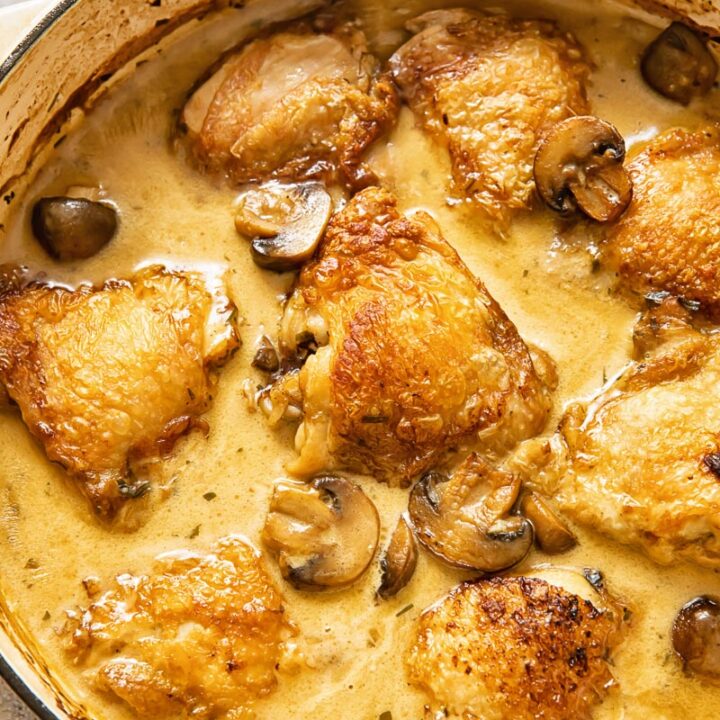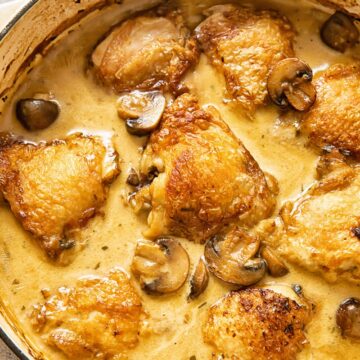 Chicken Fricassee
Chicken Fricassee consists of succulent chicken thighs and vegetables in a smooth cream sauce.
Ingredients
1

tbsp

olive oil

8

chicken thighs (1 kg/2.2 lbs)

1

tsp

salt

½

tsp

pepper

1

tbsp

butter

1

shallot

chopped

2

cloves garlic

minced

300g/10 oz

chestnut mushrooms

halved

½ tsp - 1 tsp

tarragon

2

tbsp

flour

125ml / ½cup

dry white wine such as Sauvignon Blanc or dry sherry

375ml/1 ½ cups

chicken stock

4

tbsp

double/heavy cream
Instructions
Preheat oven to 180C/350F. Heat one tablespoon of olive oil in a large pan and brown seasoned with salt and pepper chicken thighs for approximately 4 minutes per side over medium heat until golden on each side but not cooked all the way through. Remove to a plate and set aside till needed.

Discard all fat but 1 tablespoon from the pan and add 1 tbsp of butter, add the mushrooms and brown over medium heat for 5 minutes, then add the chopped shallot and saute over low heat for 3-4 minutes. Do not allow shallots to brown. Add minced garlic and cook briefly for half a minute. Add the flour and stir to combine until the flour has turned into a paste and is slightly browned. Add the wine/dry sherry while stirring, let the wine simmer for 2-3 minutes until reduced by a half, then add the chicken stock and dried tarragon, turn the heat up and bring to a boil, then take it off the heat.

Return the chicken to the pan and bake in the oven uncovered for 45 minutes. Then take out of the oven and add the double/heavy cream and gently stir to incorporate the cream into the sauce. Taste and season with more salt if necessary.
Nutrition
Calories:
559
kcal
Carbohydrates:
9
g
Protein:
35
g
Fat:
41
g
Saturated Fat:
13
g
Polyunsaturated Fat:
7
g
Monounsaturated Fat:
17
g
Trans Fat:
0.2
g
Cholesterol:
207
mg
Sodium:
649
mg
Potassium:
739
mg
Fiber:
1
g
Sugar:
3
g
Vitamin A:
366
IU
Vitamin C:
1
mg
Calcium:
42
mg
Iron:
2
mg