Take the fear out of making French pastry at home by learning how to make this delicious Plum Tarte Tatin, which is simply an upside down puff pastry plum tart.
For another easy puff pastry dessert, that is ideal for seasonal summer fruit, take a look at our Peach and Blackberry Tart.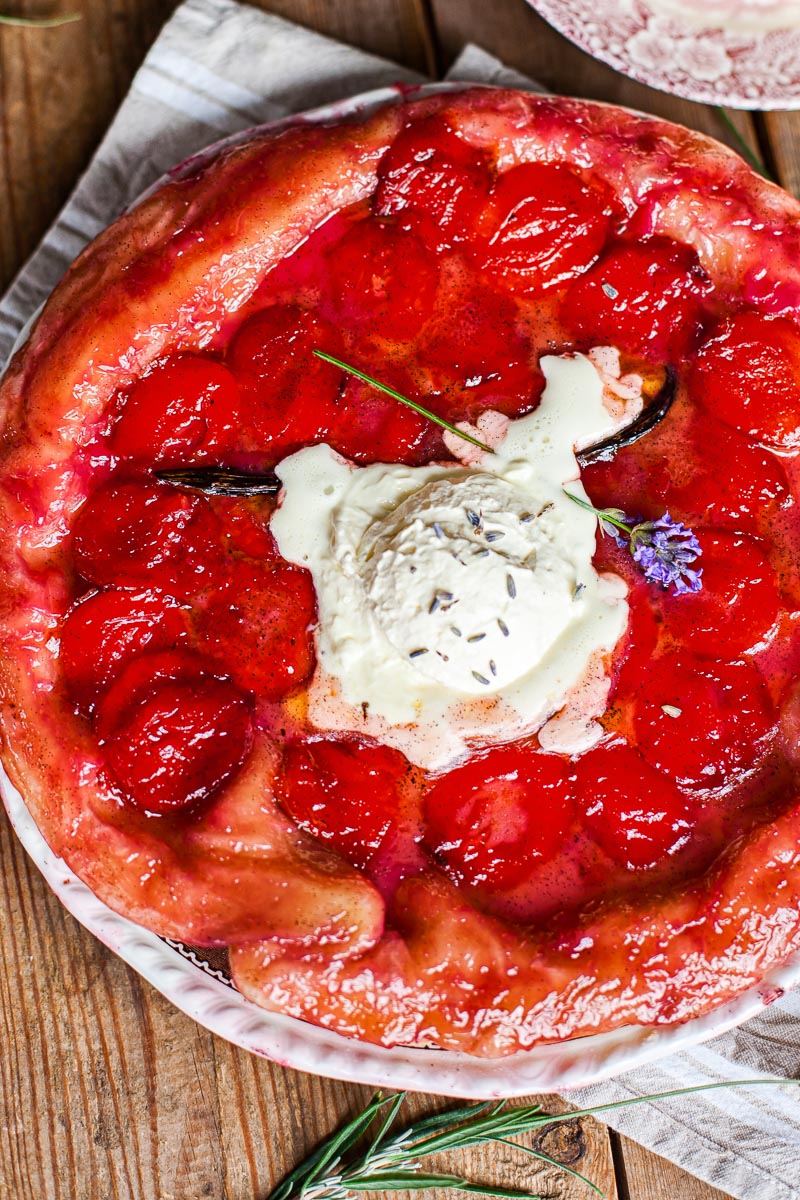 Puff Pastry Desserts
The abundance of ripe summer fruit has been driving me mad! I LOVE baking but my busy life has got the best of me and I've been missing out on one of my favourite pastimes.
So I had to cheat a little… or compromise…whatever you are more comfortable with.
I was thinking why not use pre-made pastry when overripe plums are literally begging to be made into a pie of sorts. Puff pastry to the rescue as usual!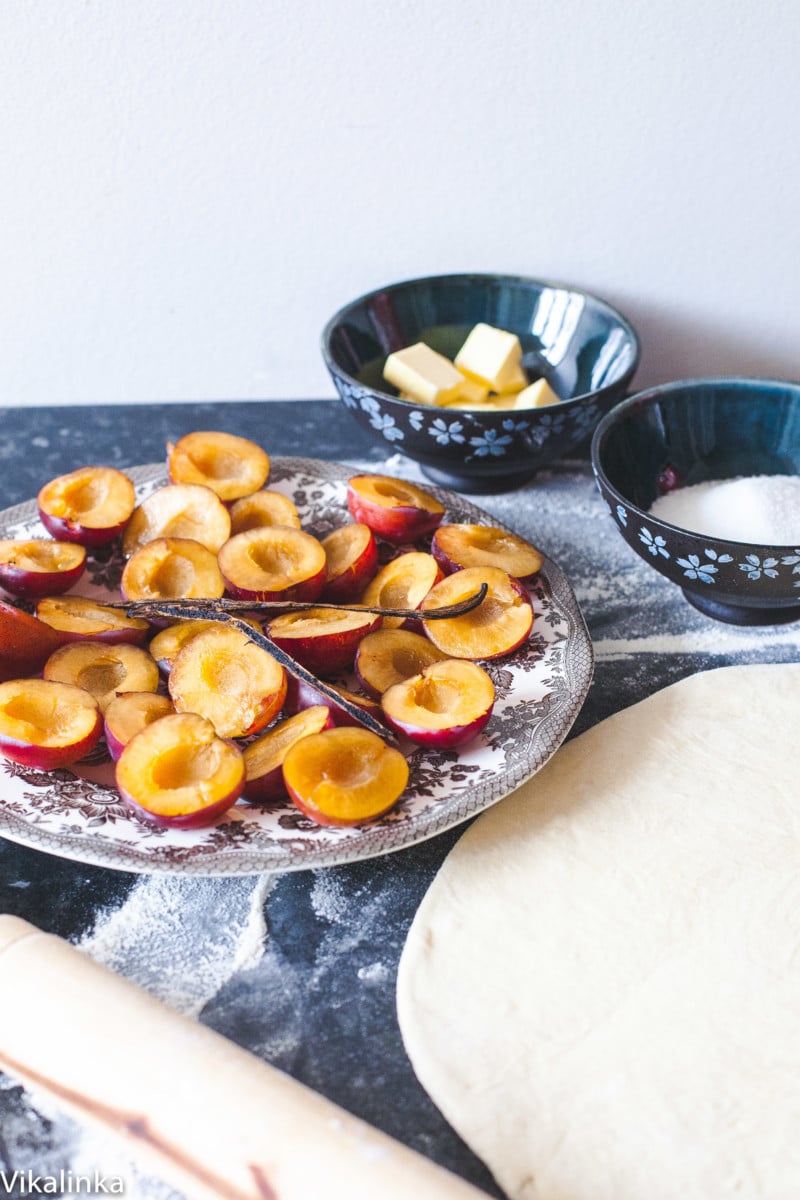 I am a huge fan of puff pastry when it comes for making a quick dessert. It's readily available and tastes absolutely amazing straight out of the oven and paired with fresh fruit, especially if you go for all butter puff pastry.
You can use any fruit in season. In the summer I love using stone fruit like peaches and plums. In the autumn apples in easy Apple Turnovers or pears in these gorgeous Salted Caramel Pear Tarts.
You can use puff pastry around Christmas time as well making elegant Nutella and Hazelnut Palmiers or impress your family with my quick Puff Pastry Cinnamon Buns.
Classic Tarte Tatin
French Tarte Tatin is traditionally made with apples, which are cooked in caramel, then covered in puff pastry and baked in the oven until golden and crispy. It is then flipped over, so the apples are on top and served with cream.
As I mentioned above I had a bowl full of plums, so I've adapted Jamie Oliver's traditional recipe and made a Plum Tarte Tatin with Lavender Cream.
Warm, vanilla kissed plums cooked in a luscious caramel sauce, then wrapped in delicate and flaky puff pastry make for a perfect afternoon tea companion.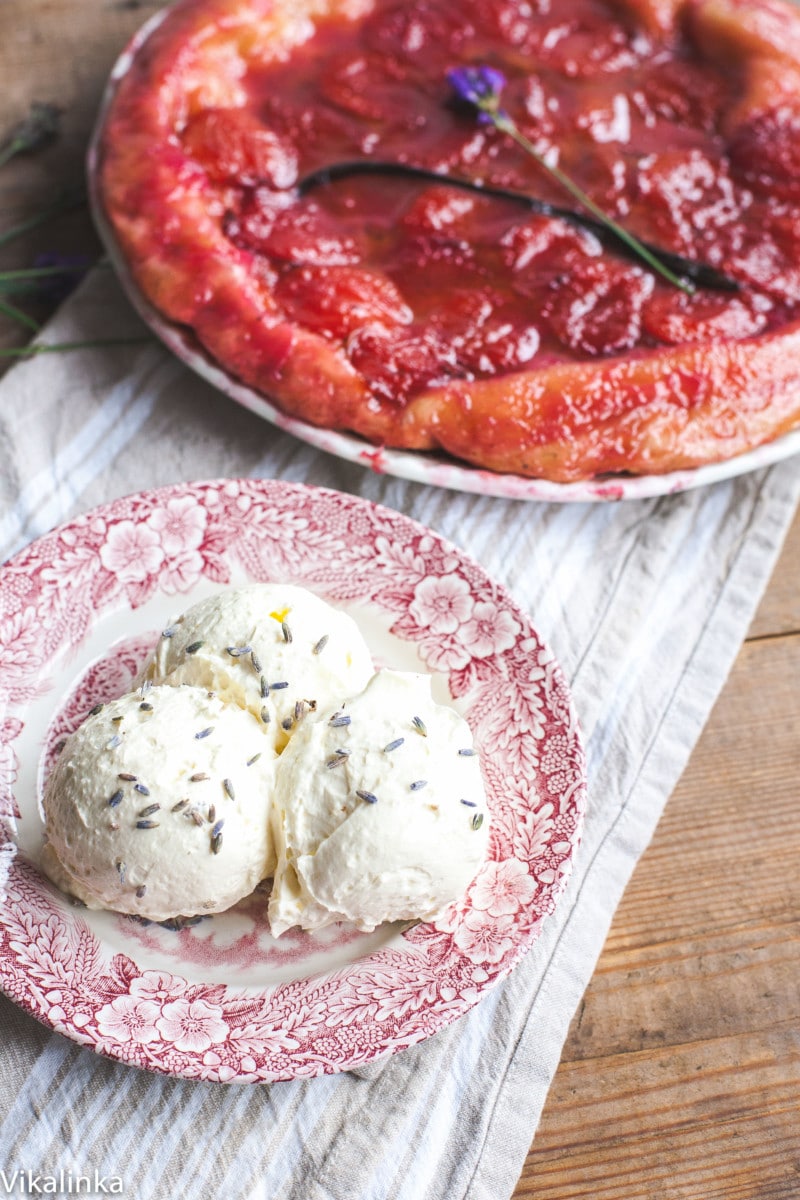 Lavender Whipped Cream
Now let me tell you about this lavender cream.
Yes, I really put lavender flowers, that grow in front of my window, into my whipped cream and I am happy to report that It Was Heavenly.
Slightly floral scent of the lavender quickly lifts the heavy cream and infuses this plum tarte tatin with beautiful aroma of the summer.
Just a little pinch goes a long way, don't overdo it or you will risk ending up with something that tastes more like medicine than a sweet treat.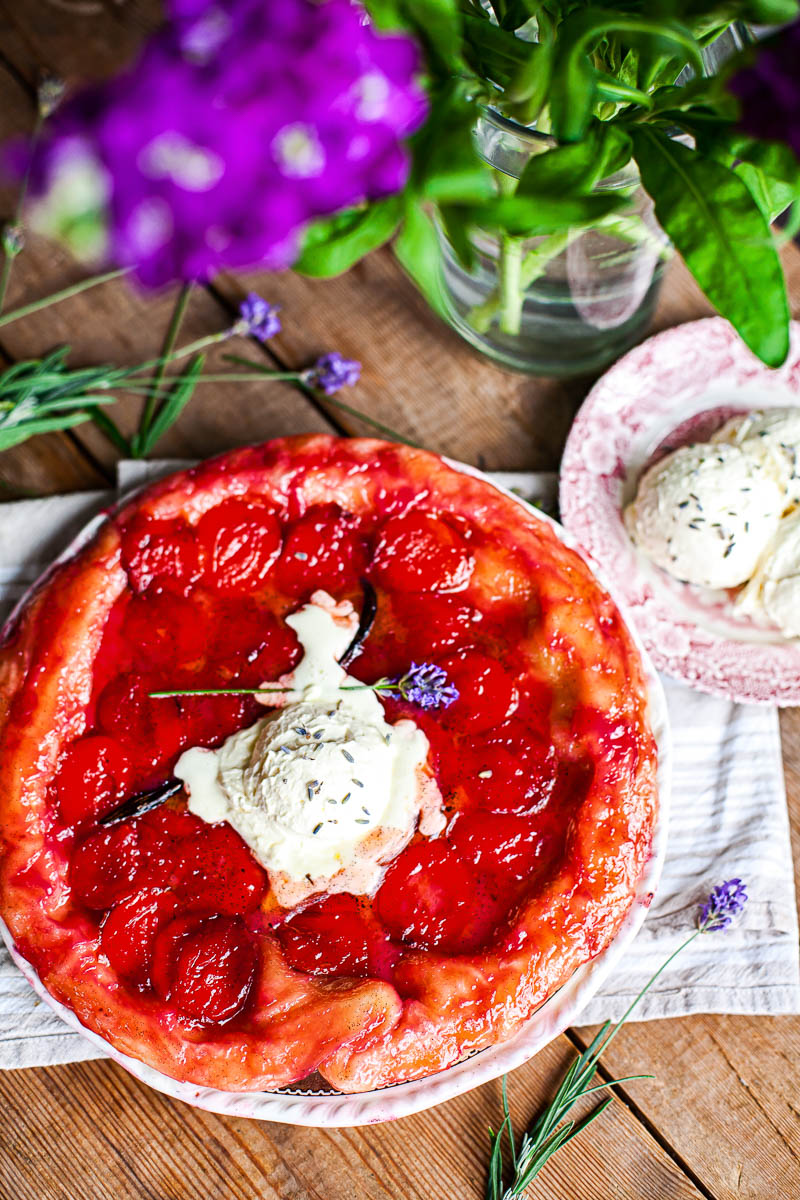 How to make it
Despite worldwide fame and its impressive look, this classic French dessert is very easy to make. It involves just a few simple steps, that you will master in no time.
Half and pit the plums
Roll out the puff pastry into a circle to fit your pan
Make the caramel sauce
Carefully add the plums cut side down to the caramel
Drape the puff pastry over the plums and put in the oven
Flip the tarte over once it's cooked.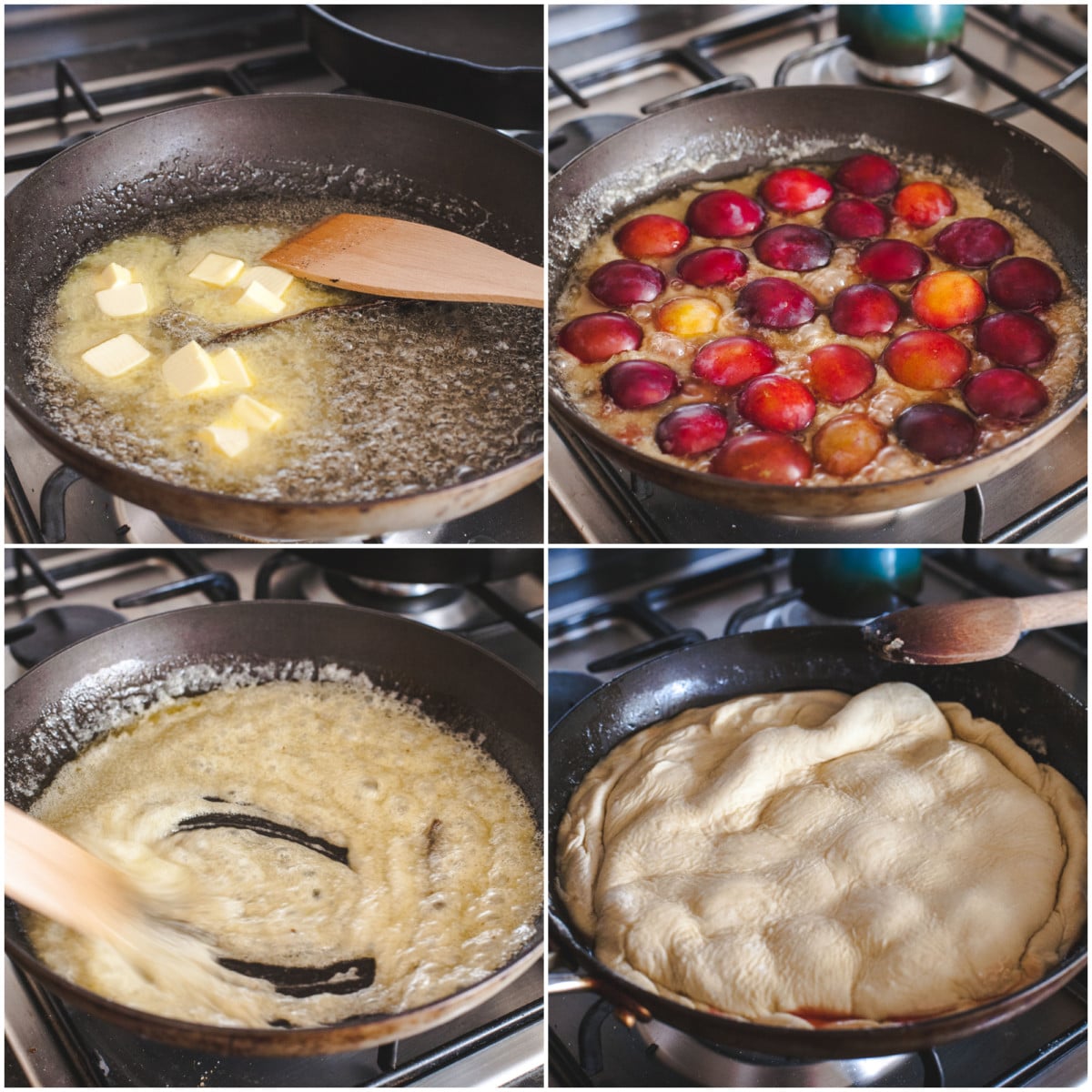 Julia's Tips
The trickiest part is flipping the tarte over after it's cooked. You need to do it while the caramel sauce is still runny, so the plum tarte tatin doesn't stick to the pan.
You also have to be very careful and not burn yourself with hot caramel sauce that might spill a little while flipping. It's best done wearing oven mitts, so your forearms are protected.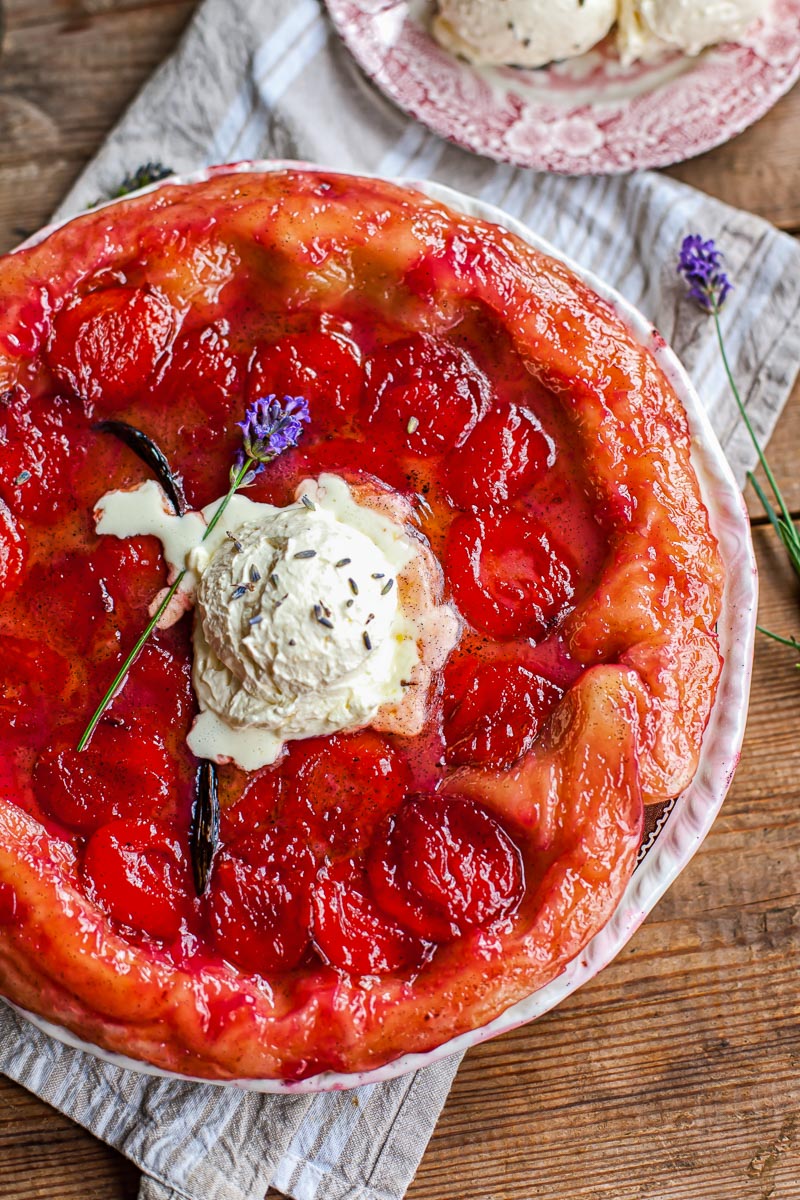 How to serve it
Tarte Tatin is best served straight from the oven. This way you get to enjoy soft and caramelised fruit encased in crispy pastry. It's even better with either whipped cream or vanilla ice cream.
The tarte loses its crispy exterior if it sits longer as the fruit juices seep in the pastry making it a bit soggy.
More summer fruit desserts to try:
This recipe was originally published in 08/2014. Updated and republished in 07/2020.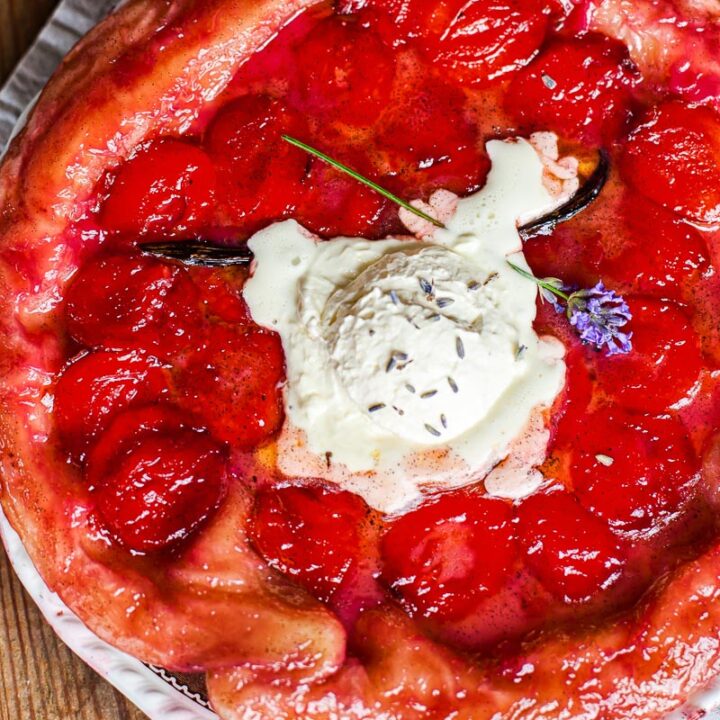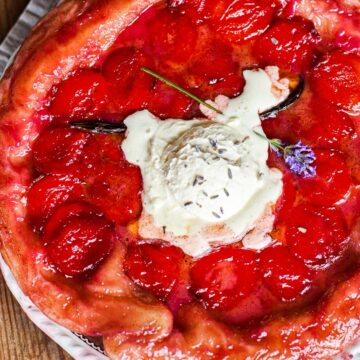 Plum Tarte Tatin with Lavender Cream
Soft and caramelised plums encased in crispy pastry. Plum Tarte Tatin is even better with either whipped cream or vanilla ice cream.
Ingredients
plain flour

for dusting

500g/17oz

all-butter puff pastry

500g/3

cups- ripe but firm plums

100g/1/2 cup

sugar

100ml/1/2 cup

Kirsch

1

vanilla pod

halved lengthways, seeds scraped out

50g/3 tbsp

butter

cubed
For the Lavender Cream
250 ml/1 cup

heavy/double cream

2

tbsp- granulated sugar or use lavender infused sugar from Sainsburry's

⅛

tsp- dried lavender buds

skip if using lavender infused sugar
Instructions
Preheat your oven to 190˚C/375˚F/gas 5. Dust a clean surface and a rolling pin with flour and roll out the puff pastry until it's just over 0.5cm thick. Set aside.

Half the plums and pit them. Split a vanilla pod in half and scrape out the seeds with a knife. Alternatively you can use 1 tsp of vanilla.

Put the non-stick and ovenproof pan on medium heat and add the sugar, Kirsch, vanilla seeds and pod. Let the sugar dissolve and cook until the mixture forms a light caramel.

Once the caramel looks thick and sticky, add cubes of butter, stir to combine and cook for 1-2 minutes longer.

Carefully arrange your plum halves in caramel cut side down. (Keep the vanilla pod in, it will add much flavour and look gorgeous imprinted in your caramelised plums.)

Then quickly drape your puff pastry over the plums and tuck the sides in with a wooden spoon. Remember to not touch the pan or hot caramel with your hands or you will suffer bad burns. (I burned myself twice)

Bake the Tarte Tatin for 30 minutes, or until golden, with caramel bubbling around the edges.

Let it rest for 3-5 minutes.

Next step is to flip it over. Shake the pan lightly to make sure the tarte is still loose in the pan and the caramel hasn't gone hard. Put on oven mitts or cover your arm with a towel to prevent getting burned from hot caramel.

Put a large plate on top of your pan and quickly turn the pan over so the tarte ends up on the plate. (If you flipped the pan but the tarte didn't come out just shake it lightly until it falls out.)

Whip cream with sugar and lavender buds until stiff. Serve with hot Tarte Tatin.
Nutrition
Calories:
616
kcal
Carbohydrates:
52
g
Protein:
6
g
Fat:
41
g
Saturated Fat:
16
g
Cholesterol:
56
mg
Sodium:
212
mg
Potassium:
160
mg
Fiber:
2
g
Sugar:
22
g
Vitamin A:
831
IU
Vitamin C:
6
mg
Calcium:
32
mg
Iron:
2
mg