Showcase beautiful summer fruit with this Peach Cake with Red Berries. The buttery crumb and distinct almond flavour are what set this simple peach cake apart and take it to new heights!
If you love this summer cake with fresh fruit, check out my Naked Cake with Mascarpone Cream and Crushed Strawberries.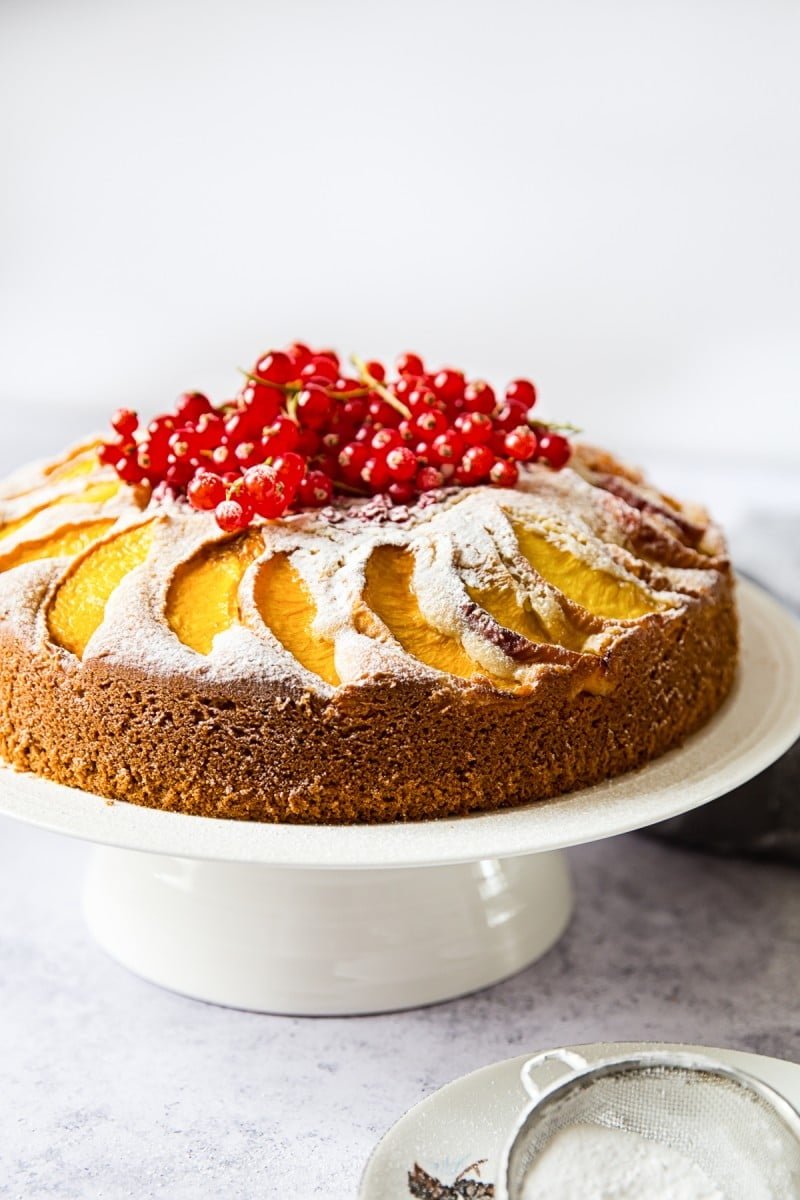 Are you enjoying the fresh fruit and vegetables available this time of year? I hope the answer is a unanimous YES!
I spend most of each summer very happily stuffing myself with fresh fruit, making the most of the months when fruit is as sweet and juicy as possible. But every once in a while it's a good idea to switch things up.
That's when I pull out my favourite summer baking recipes, with this one top of the list. The moist sponge is perfect for fresh fruit and berries, light but oh so flavourful.
And best of all? It's dead simple to make and comes together with a minimum of fuss, so you can spend your time enjoying the best the season has to offer!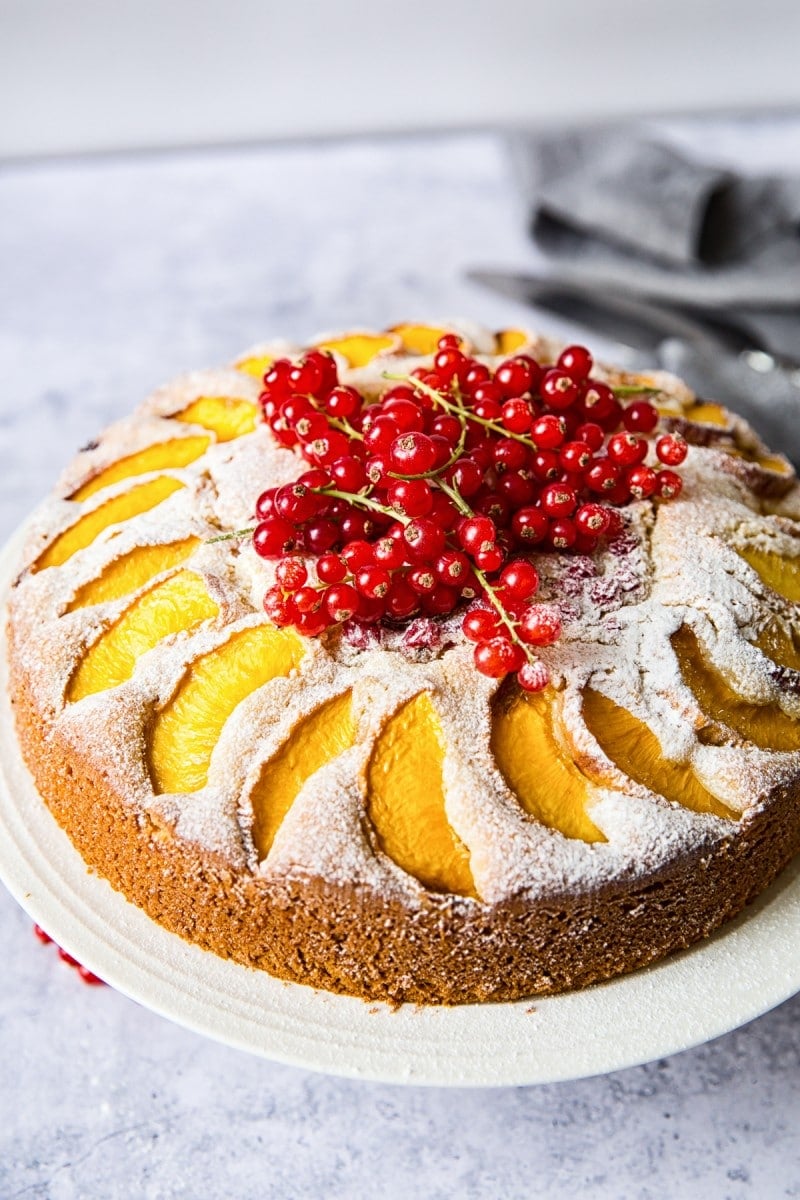 You are probably wondering what I am doing baking in summer heat! I know it seems a bit foolish but sometimes the family just needs a cake. The joy of feeding this delicious peach cake to my kiddos makes it all worth it.
What you'll need
This cake recipe is a classic formula that uses only common pantry staples like flour, sugar, butter, baking powder and flavourings. I've also added ground almonds to the batter, which infuse the cake with a delicious nutty flavour and add moisture to the crumb.
I used peaches and red currents for this cake, although you can use almost any fruit you like. Peaches add an amazing moisture to the sponge as well as matching the texture beautifully, so they are my personal favourite.
If you are in the US, red currents may be hard to come by for historic reasons. Fortunately raspberries work beautifully and can be found almost anywhere.
For baking, use a 9 inch springform pan lined with parchment paper. Springform pans allow the cake to be removed without having to turn it upside down or awkwardly try to lift it out.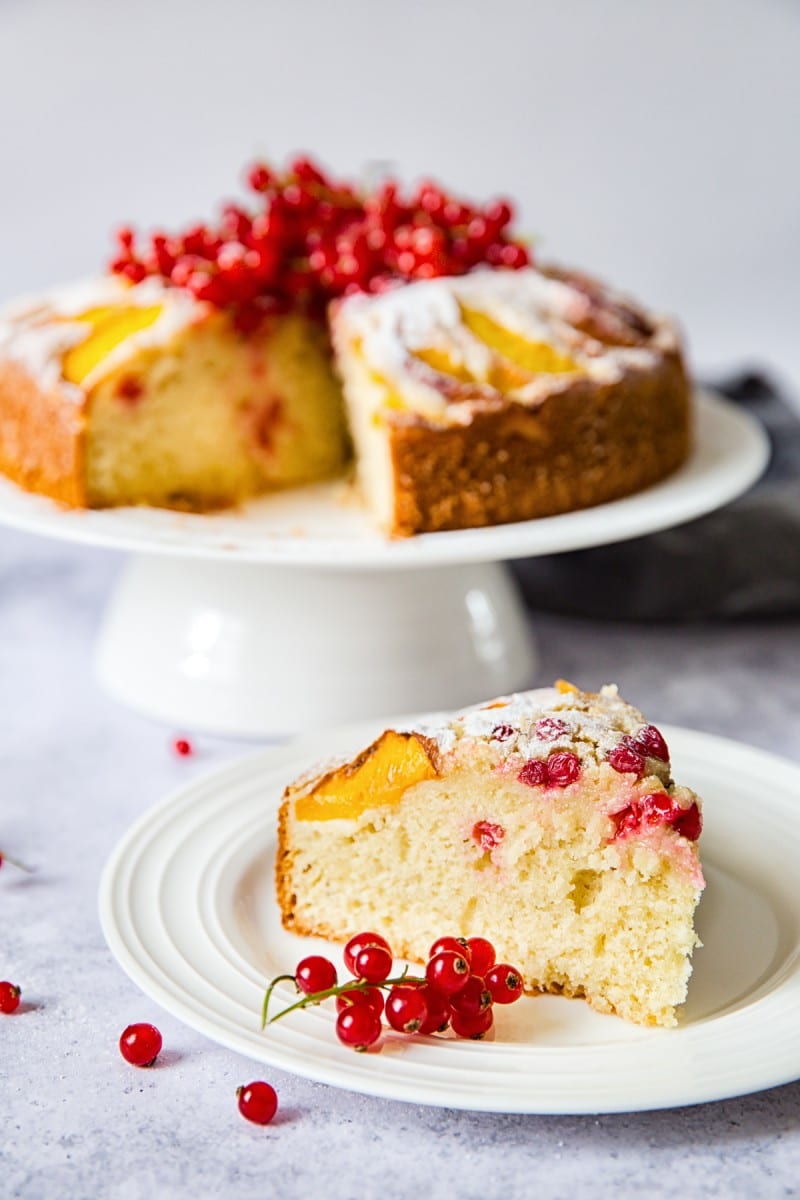 Tips for making this cake tender and moist
First of all, the cake batter is a mix of plain flour and ground almonds, which gives this cake an incredible texture and flavour.
Secondly, buttermilk is used to make this peach cake even more moist. Buttermilk adds a slightly tangy, more complex flavour to cakes as well as helping it to rise, giving it a fluffier texture.
Finally, the combination of ripe, juicy peaches and tart but flavourful red currants serves as a brilliant counterbalance to the sweet cake!
Doesn't this sound great?!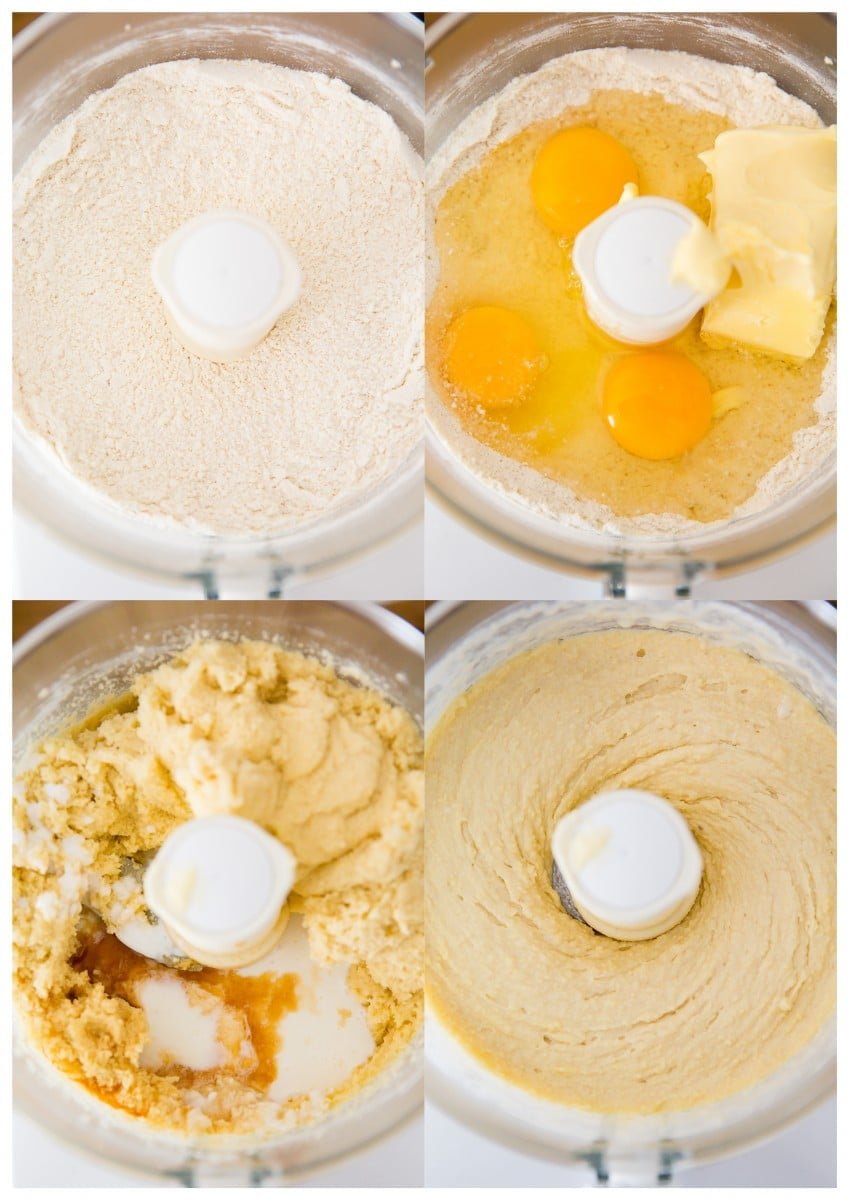 How do I make easy peach cake?
The genius of this cake is how dead simple it is to make the batter. Not that anyone would know. It tastes like hours of effort have been put in!
This reason it is so easy is that the entire cake is made in a food processor. All you need to do is to add the ingredients in the right order and push the ON button.
You can also use a hand blender or a stand mixer. It's a very non-fussy recipe!
Once the batter is prepared, layer it in a springform pan that's been greased with butter along with the berries and fruit of your choice. This peach cake is that easy.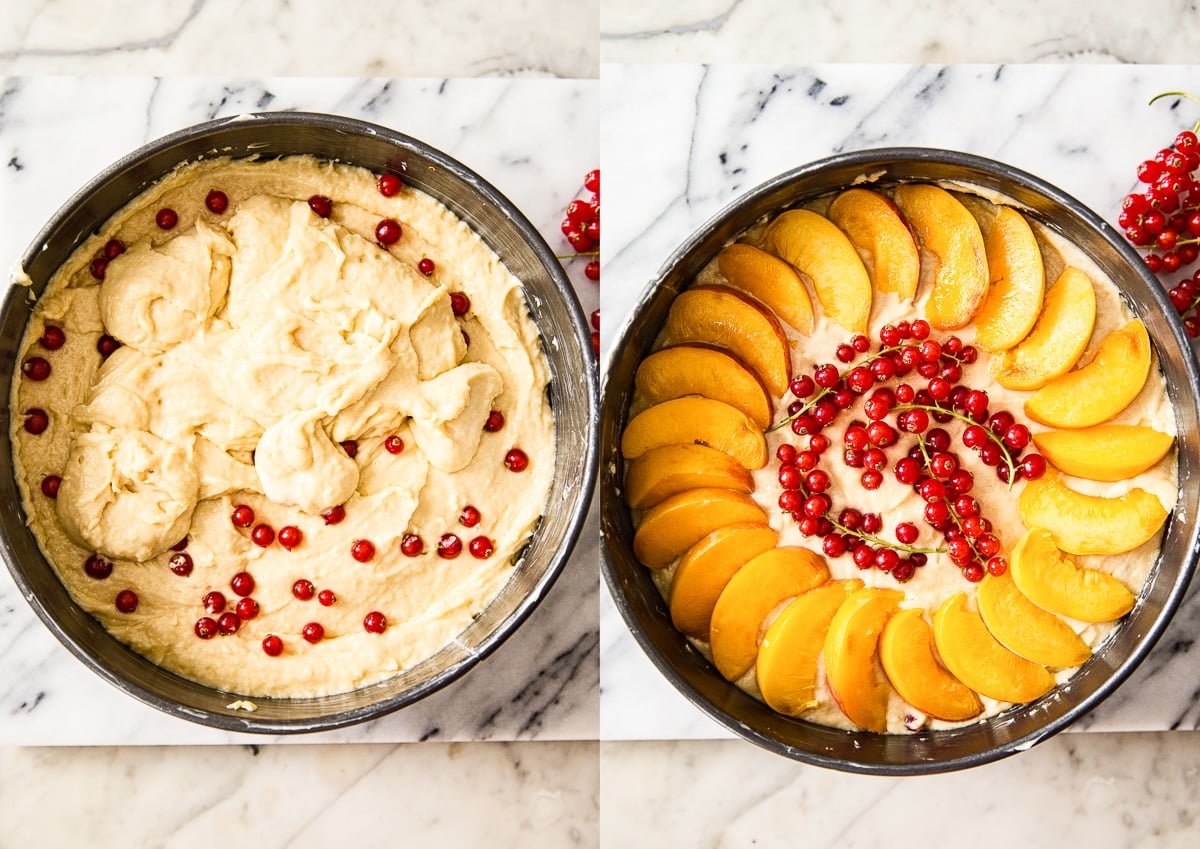 Substitutions
You can customise this peach cake recipe according to your taste and the fruit you have available.
Stone fruit like nectarines, apricots or plums will work brilliantly in place of peaches. There will be no need to alter the recipe in any way.
And feel free to substitute red currants for any berries you love. Raspberries work especially well and you can see me use them in the video.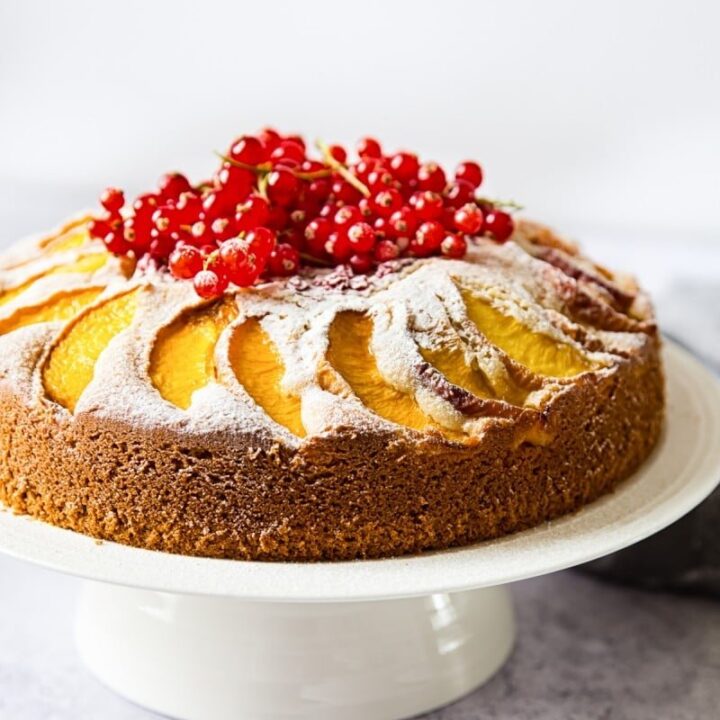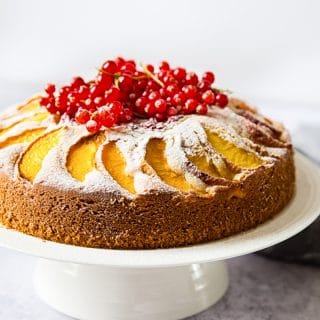 Summer Peach Cake with Red Berries
Showcase your ripe summer fruit in this peach cake. The ground almonds in the batter and distinct almond flavour is what makes it so moist and delicious!
Ingredients
200

g

/ ⅔ cup plain flour

150

g

/1 ¼ cups ground almonds

2 ½

tsp

baking powder

½

tsp

salt

200

g

/1 cup sugar

175

g

/ ¾ cup butter

very soft

125

ml

/ ½ cup buttermilk

3

eggs

large

1

tsp

vanilla extract

½

tsp

almond extract

3

ripe peaches

stone removed and sliced

70

g

/1 cup berries like raspberries, red currants, blueberries, etc

for baking

70

g

/1 cup red berries

for decorating

1

tbsp

icing sugar
Instructions
Preheat the oven to 180C/350F. Grease an 9 inch pan with butter and line the bottom with parchment paper.

In a food processor combine plain flour, ground almonds, sugar, salt, baking powder and pulse briefly to combine. Add very soft butter and pulse again until blended. Then add eggs, buttermilk, vanilla and almond extracts and blend until smooth for about 1 minute. You will have sticky batter.

Remove stones from peaches and slice. Wash the berries and let them dry.

Pour ½ of the batter into the prepared pan, then scatter half of the berries, top with the remaining batter and smooth the top. Arrange the sliced peaches around the diameter of the pan, then place the remaining berries on top.

Bake in the preheated oven for 60-70 minutes or until the cake tester comes out clean. Cool in the pan for 30 minutes. Then run a knife around the side of the pan to release the cake remove from the pan. Cool completely on wire rack.

Top with fresh berries and dust with icing sugar before serving.
Nutrition
Calories:
433
kcal
Carbohydrates:
39
g
Protein:
7
g
Fat:
29
g
Saturated Fat:
12
g
Cholesterol:
110
mg
Sodium:
345
mg
Potassium:
364
mg
Fiber:
3
g
Sugar:
33
g
Vitamin A:
850
IU
Vitamin C:
10.9
mg
Calcium:
151
mg
Iron:
1.4
mg