Enjoying this delicious Chicken Marsala doesn't require a restaurant trip, only 25 minutes of your time! Tender and juicy chicken breasts smothered in Marsala wine sauce, made even richer and more complex by chestnut mushrooms.
If you like this chicken recipe, try another Italian delicacy, One Pot Rosemary Chicken and White Beans.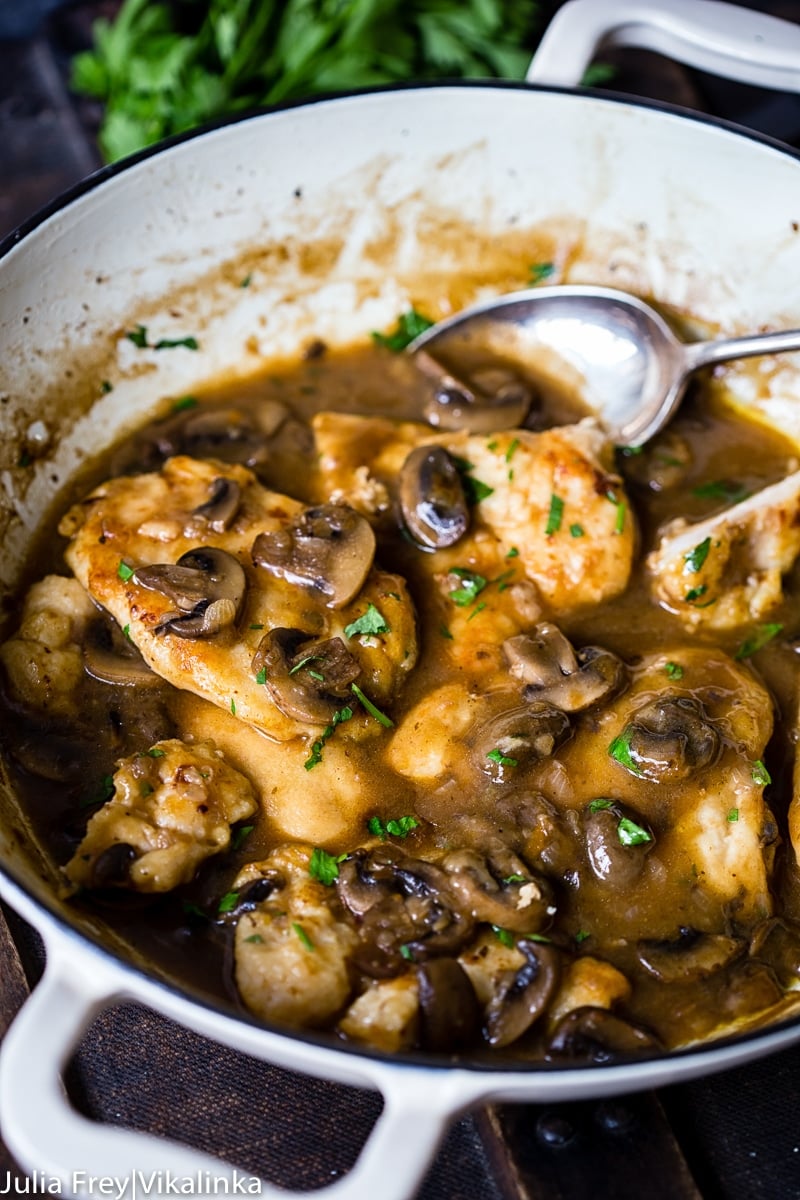 Lots and lots could be said in favour of recipes that are on trend. They are beautiful, fresh, vibrant and full of avocado! What could be said in defence of classic recipes? They have stood the test of time.
That's right, my friends, they are the recipes that we come back to over and over again because they work! They taste good, they are quick and easy and the entire family LOVES them.
This Chicken Marsala is one of them, so no wonder I am super excited to share it with you.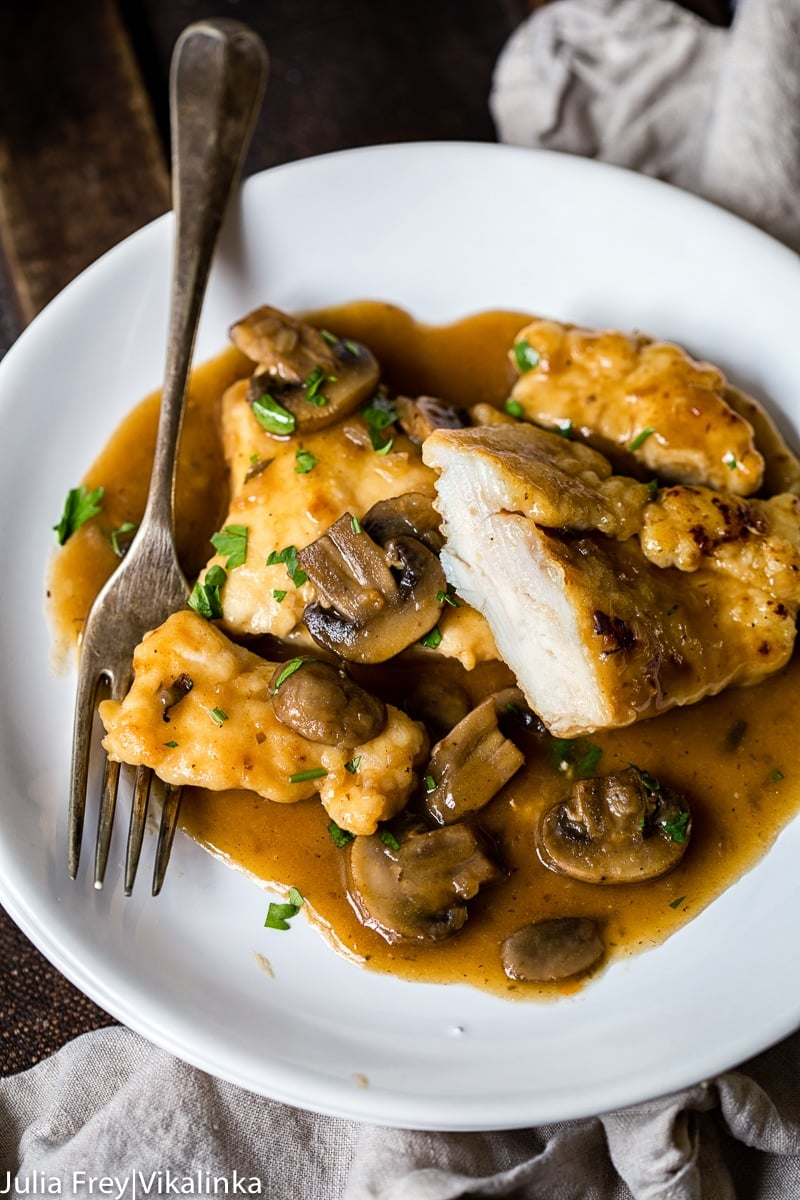 I love this recipe so much because it combines the simplest of things, the oldest as the world cooking techniques and the most sublime taste.
The taste that is not acquired by forcing yourself to eat it because "it's in vogue or good for you" but loved deeply and immediately. At first bite. That is classic. Tried and true.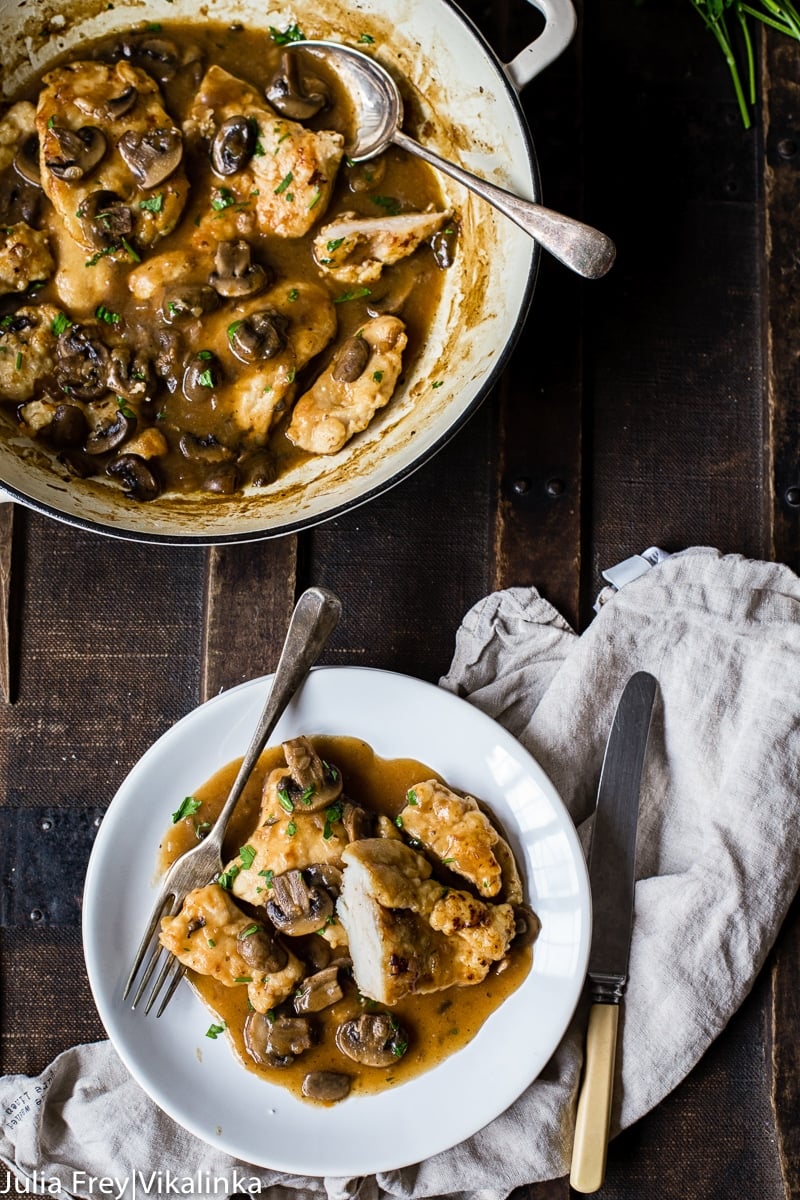 Flavour making tips
If you want to take your tastebuds even further, I would recommend using any mushrooms other than button mushrooms for a deeper, richer taste.
I am a huge fan of wild mushrooms that I love picking when they are in season. However, if you are a novice in the mushroom picking area, try buying them at farmers markets.
Chanterelles and porcini mushrooms are my absolute favourites!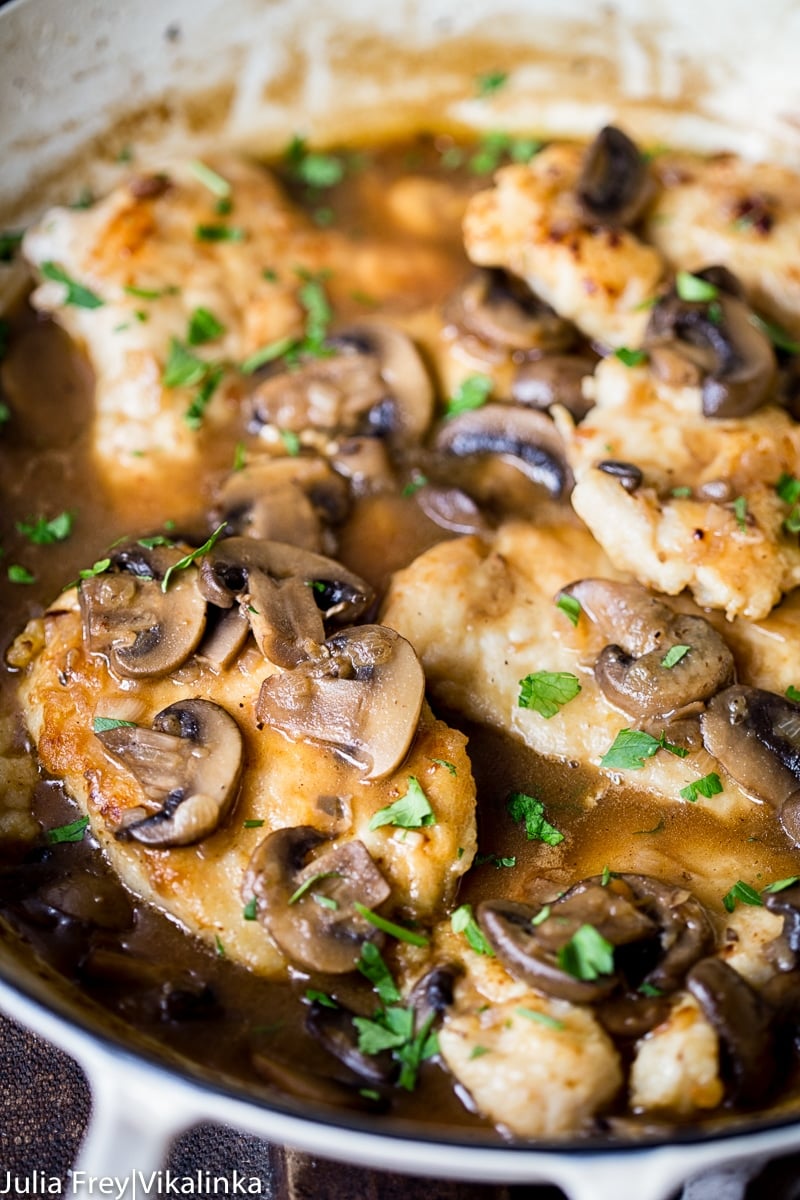 Another reason I am so excited to share this recipe is because it gave me a chance to use my mom's meat mallet I wrote about here. She finally gifted it to me and I couldn't be happier. It's freakin' amazing and so beautiful!!
Bringing this meat mallet from Russia was really worth it although it did come with a few awkward questions from the airport security. Something along the lines, "Is it for meat or…?"
Umm, I wonder what they were expecting to hear as an alternative!!
What is Chicken Marsala?
Tender chicken breasts swimming in a slightly sweet and deliciously savoury Marsala sauce with a distinct earthy flavour of chestnut mushrooms are easy to love due to a few factors.
How do I make it?
First of all, dredging chicken in flour creates a layer of protection that seals in the moisture while adding a velvety smooth texture to the sauce.
Secondly, the combination of sweet Marsala wine with a touch of acidity and earthy mushrooms contribute to the complexity of the flavour. The end result is incredible!
My kids gobbled it without complaints and my daughter never did use her standard " I am not hungry" as a way to avoid food she doesn't like. Win!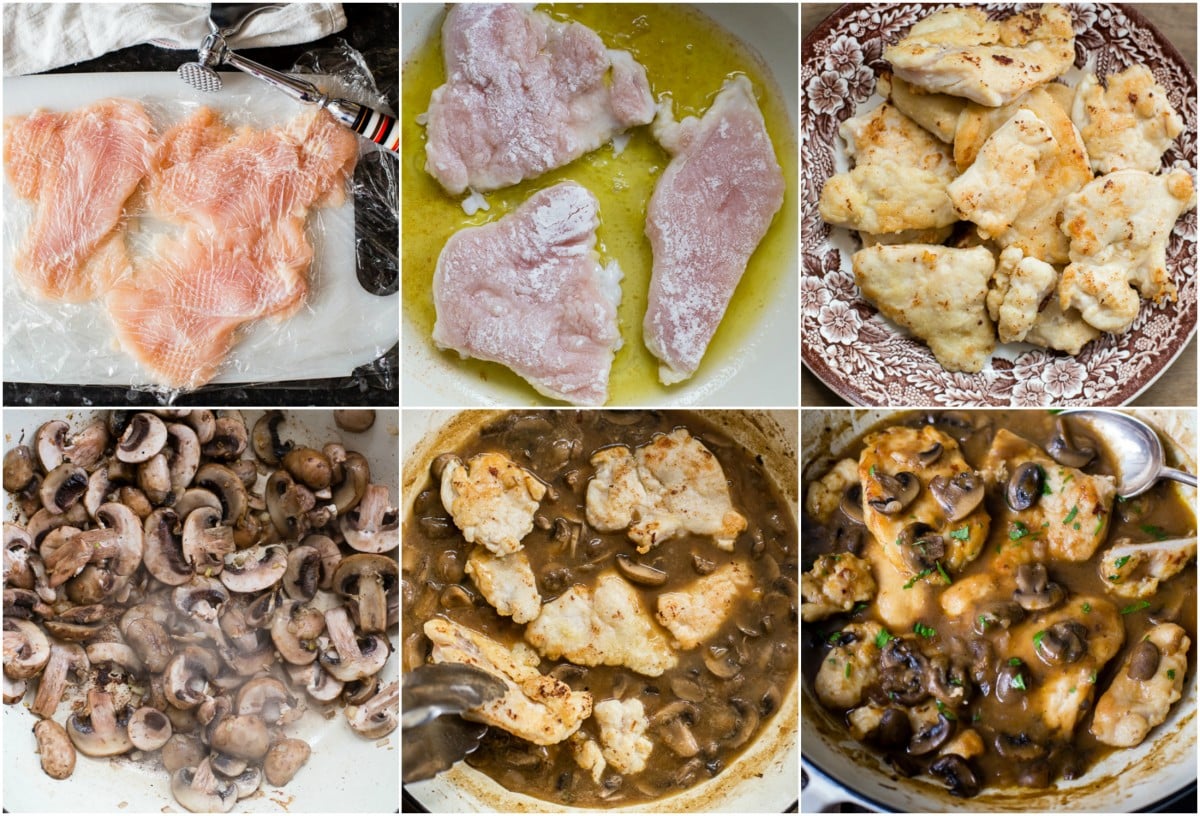 If you make my Chicken Marsala, I would love to see your photos!
Tag me @vikalinka on Instagram when you are sharing your delicious plates! Are you following me on Instagram? If not, let's be friends!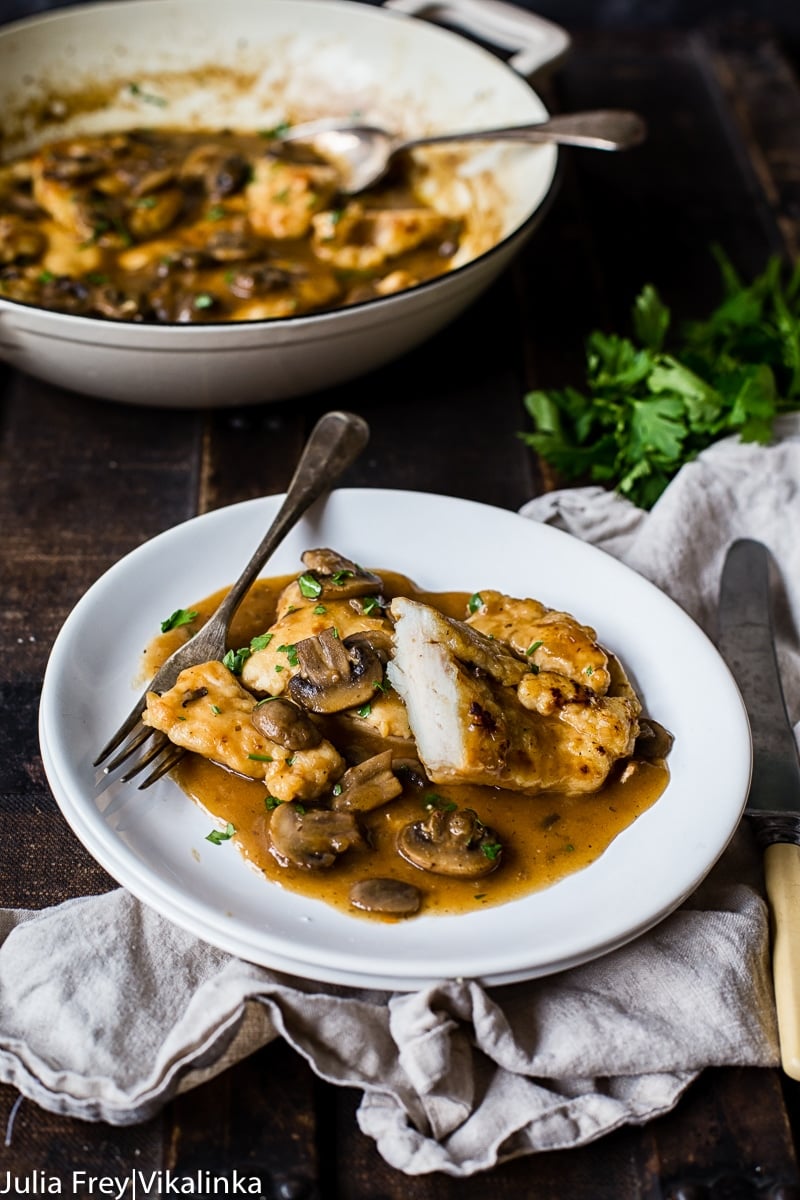 More chicken breast recipes: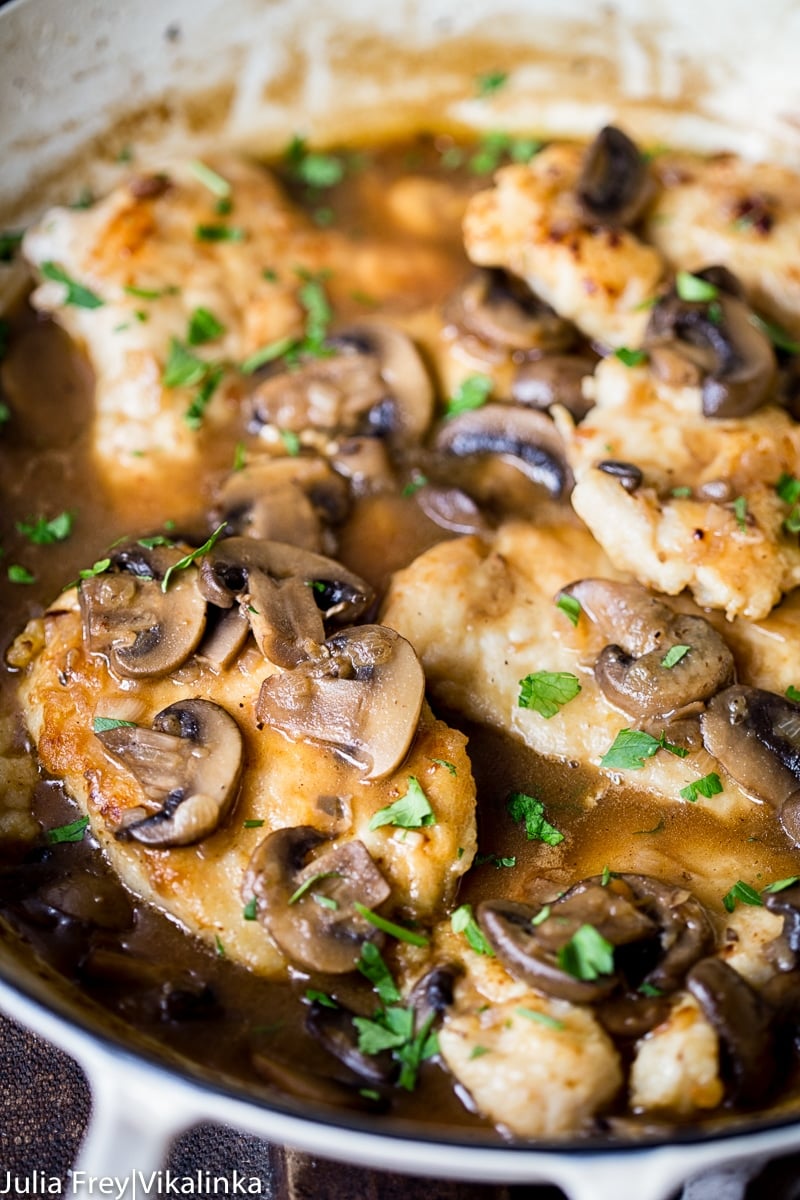 Ingredients
4

chicken breasts

salt and pepper

1/2

cup/ 60 g flour

2

tbsp

olive oil

3

small shallots

chopped

1

cup/100g chestnut mushrooms

sliced

1

tbsp

flour

1/2

cup/125 ml marsala wine

1

cup/250 ml chicken stock

flat leaf parsley
Instructions
Cover the chicken breasts with a cling wrap and pound them with a meat mallet until they are no thicker than 1/2 inch. Sprinkle with salt and pepper on both sides and dredge in flour.

Fry in olive oil until golden over medium-high heat for approximately 5 minutes. Do not over cook as the chicken breasts will be quite thin and will cook fast. Remove to a separate plate and set aside.

To the same pan add chopped shallots and cook over low heat for 2-3 minutes, then add sliced mushrooms, salt and pepper and saute for 5 minutes, then add 1 tbsp of flour, stir and cook for a minute longer, then add marsala wine and turn the heat up to medium, add chicken stock and bring to a boil, then reduce the heat to a gentle simmer and return the chicken to the pan, let it heat through in the sauce, simmer for a few minutes to allow the sauce to thicken to a desired consistency.

Serve sprinkled with chopped parsley and a side dish of your choice.
Nutrition Facts
Best Chicken Marsala
Amount Per Serving
Calories 341
Calories from Fat 108
% Daily Value*
Fat 12g18%
Cholesterol 144mg48%
Sodium 265mg12%
Potassium 914mg26%
Carbohydrates 4g1%
Protein 48g96%
Vitamin A 70IU1%
Vitamin C 4.2mg5%
Calcium 18mg2%
Iron 1.2mg7%
* Percent Daily Values are based on a 2000 calorie diet.