Roasted Tenderstem broccoli is easy to cook and packed with nutrition. This simple recipe, with a vibrant lemon and garlic vinaigrette, is our favourite way to make it perfect every time!
This broccoli is a great side dish next to Baked Macaroni and Cheese!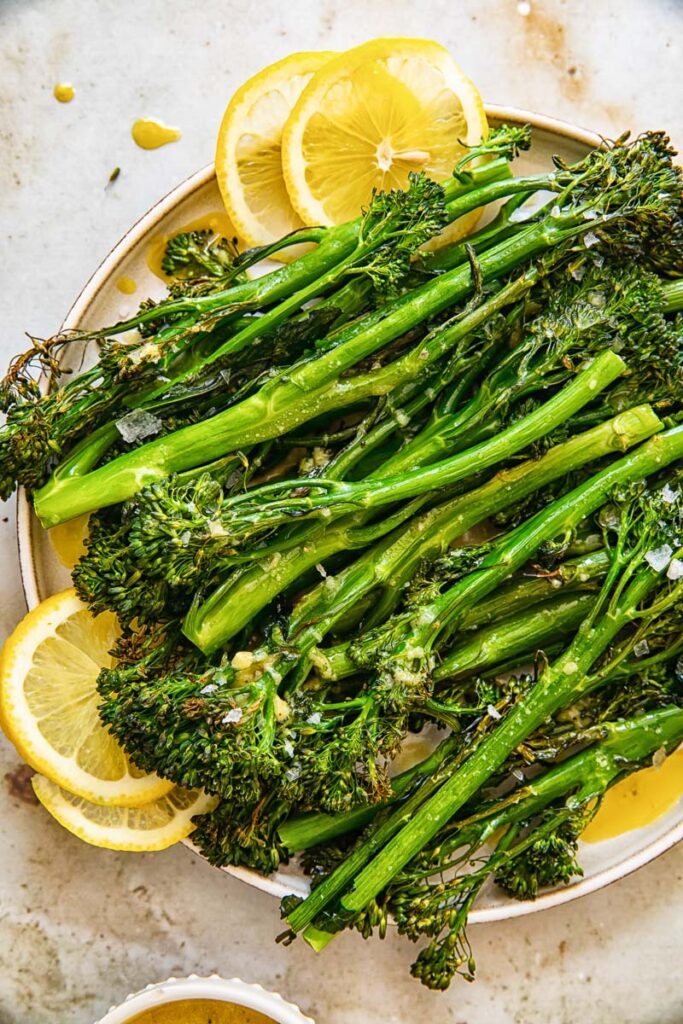 I love to think of meals as a jumble of puzzle pieces to be brought together. It's when each piece is found and brought together that a truly satisfying meal develops.
That means that side dishes are more than optional extras. They have an important part to play to make sure that the meal has the right combination of nutrition, flavours and textures.
Broccoli is a staple side dish in so much of the world not only because it is easy to grow and cook, but because it is so versatile. Just a few broccoli recipes can be used to compliment a massive range of main courses suitable for all sorts of occasions!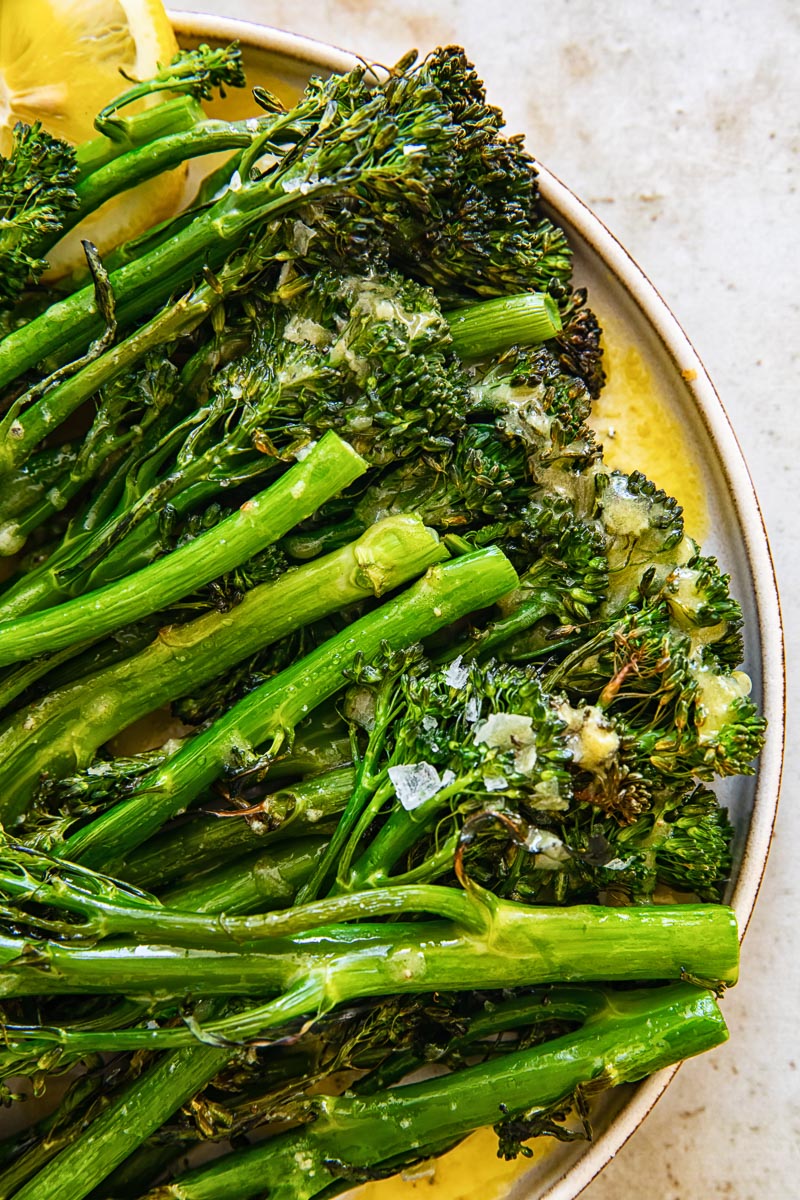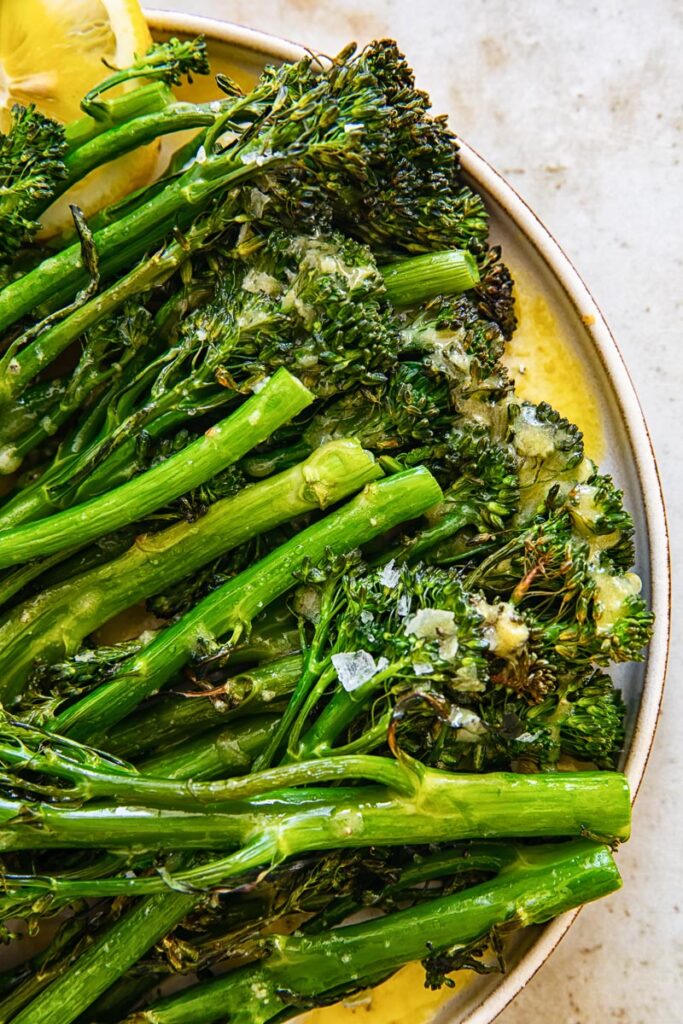 Tenderstem broccoli
Tenderstem broccoli is a fairly new addition to our produce aisles. It comes from Japan where it was first produced in 1993 as a hybrid of Chinese kale and broccoli.
It can be slightly sweeter than regular broccoli and very slightly nutty. While it can be eaten raw, it can also be cooked in a huge variety of ways, including added directly to one-pot dinners.
Roasted Tenderstem broccoli is one of my favourites and a common sight on our dinner table. It's a breeze to prepare and full of the nutritious goodness I want for our family meals.
The ends of Tenderstem broccoli can be quite woody so I give them a trim even when it doesn't look desperately necessary. I also find that thinner broccoli is nicer to eat than broccoli with thick stalks.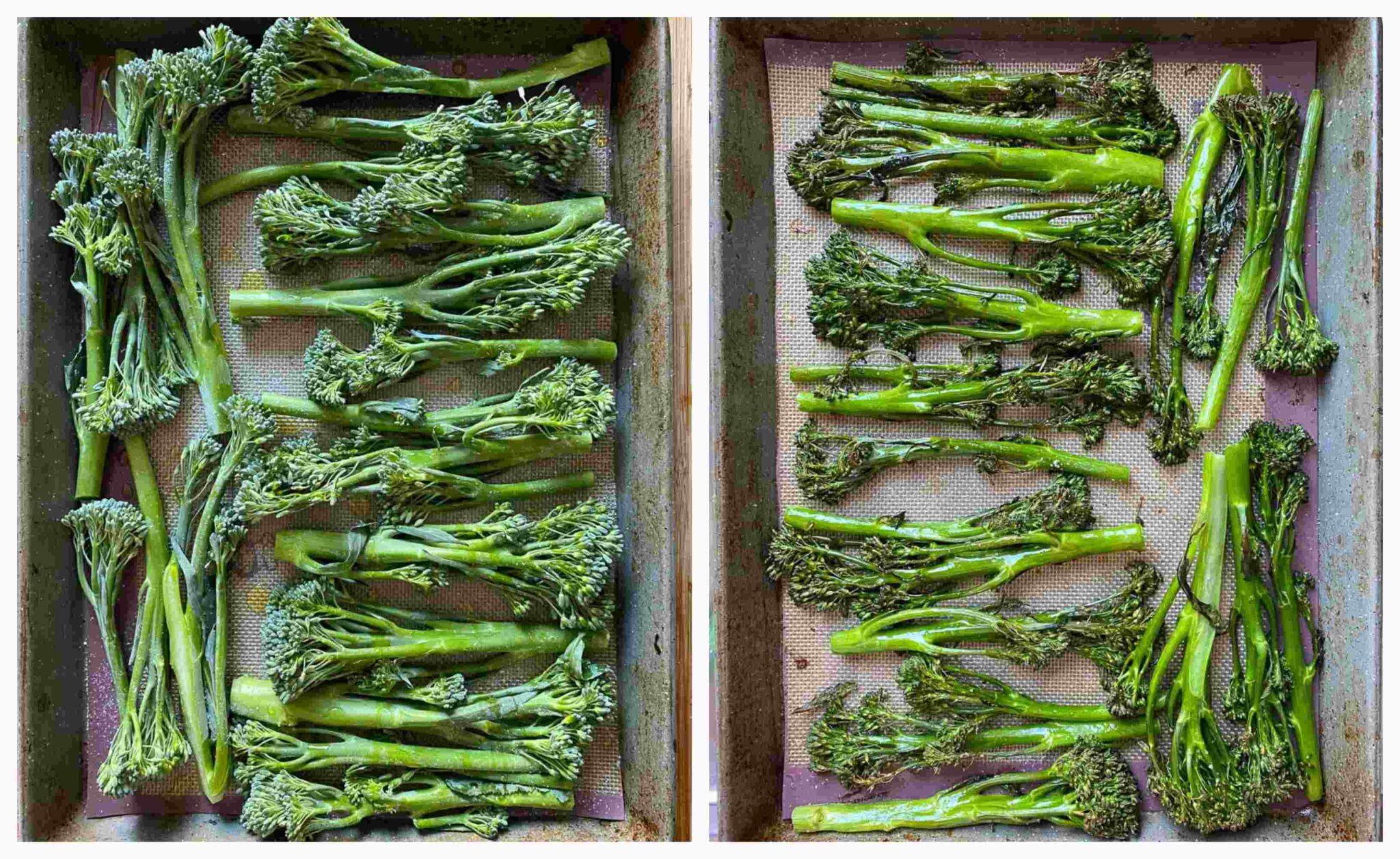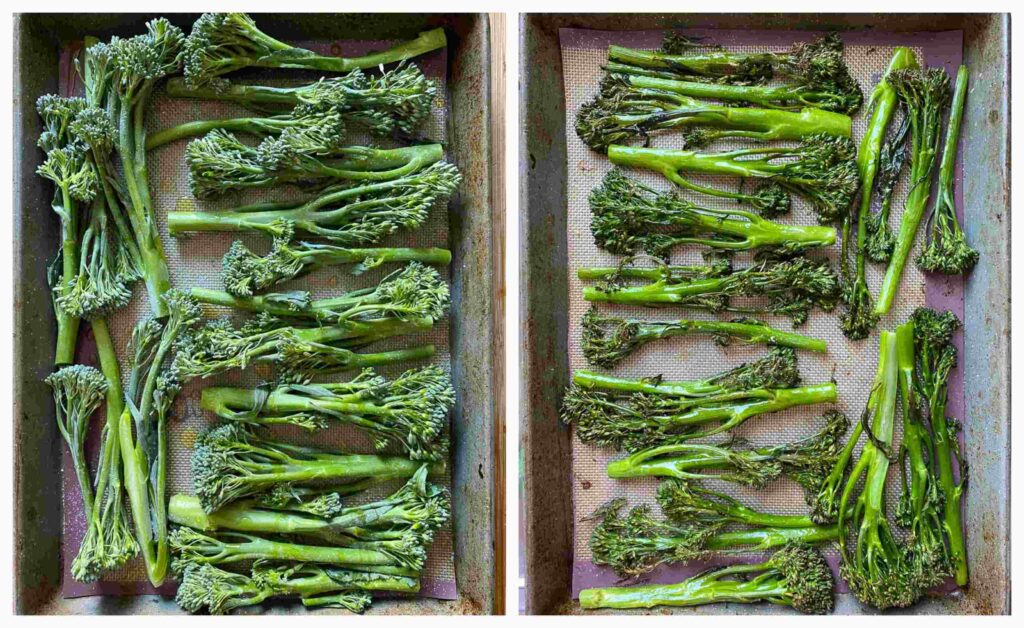 Lemon Garlic Vinaigrette
While roasted Tenderstem broccoli is brilliant all on its own, I do like it with a little vinaigrette. That's why I've added a lemon garlic vinaigrette to accompany the greens.
I've used the word 'vinaigrette' loosely here as this dressing doesn't actually contain any vinegar. But it is inspired by the classic formula with a twist to tailor it for the taste of broccoli.
In truth, this is one of my favourites. I almost always have a jam jar of this vinaigrette or something like it in my fridge. It's perfect for a lunchtime salad or to accompany roasted vegetables.
It works well if you make it in advance and keep it in the fridge. Store it in a jam jar so you only need to give it a quick shake to remix the ingredients before using.
Make sure you test it for salt! Add more if it feels a bit lacking.
Recipe tips and notes
Look for Tenderstem broccoli or broccolini with thinner stalks. They can often be less woodsy and more pleasant to eat. You can also trim the ends of the stalks before roasting.
It's worth keeping used jam jars on hand for vinaigrettes. The simplest way to make the dressing is to add all the ingredients to the jar and shake vigorously until fully combined. Any leftovers can be stored in the same jar, saving you from too many dirty dishes.
Check the vinaigrette for salt before serving. Add a pinch more if you feel it needs it.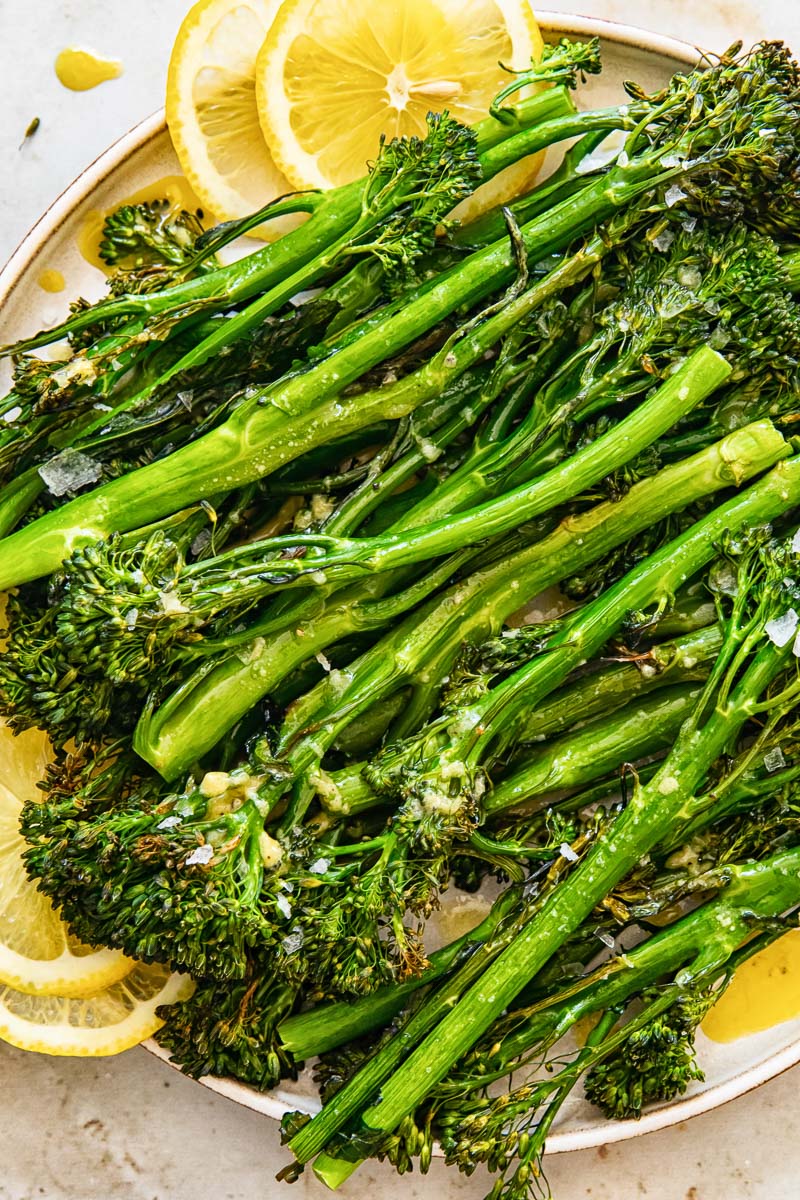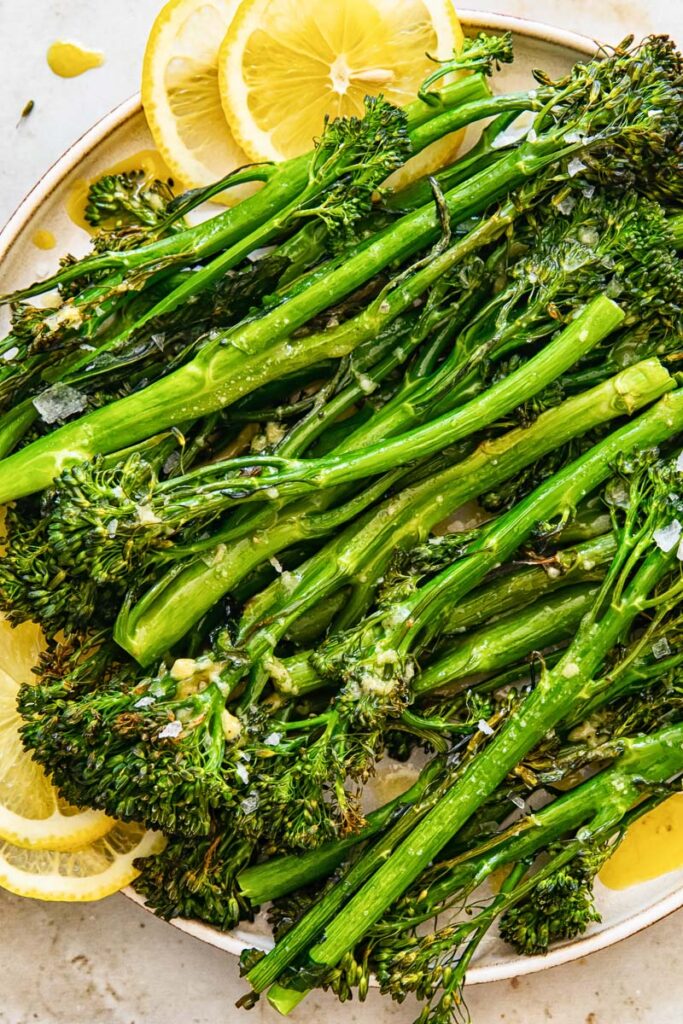 Serving suggestions
This dish is a quintessential side dish, and there's not a lot of mains you can't serve it with. Because of the fresh acidity of the vinaigrette, I think it's especially wonderful with heavier mains such as chunks of red meat or casseroles.
Try it with a creamy dish like Meatballs with Marsala Meat Sauce or a hearty Chicken and Mushroom Pie to really get the best out of it. As with the best side dishes, it brings a different dimension to the rest of the meal.
I recommend serving the vinaigrette on the side of the broccoli. This allows your dining companions to choose the amount they want and keeps the roasted broccoli from getting soggy.
Storage and leftovers
Keep any leftover roasted broccoli refrigerated in an airtight container for 3-4 day. It reheats easily in the oven, microwave or air fryer.
Keep extra vinaigrette for up to two weeks in the fridge. It can be used in multiple ways so well worth keeping some on hand to add to vegetables or salads.
More side dishes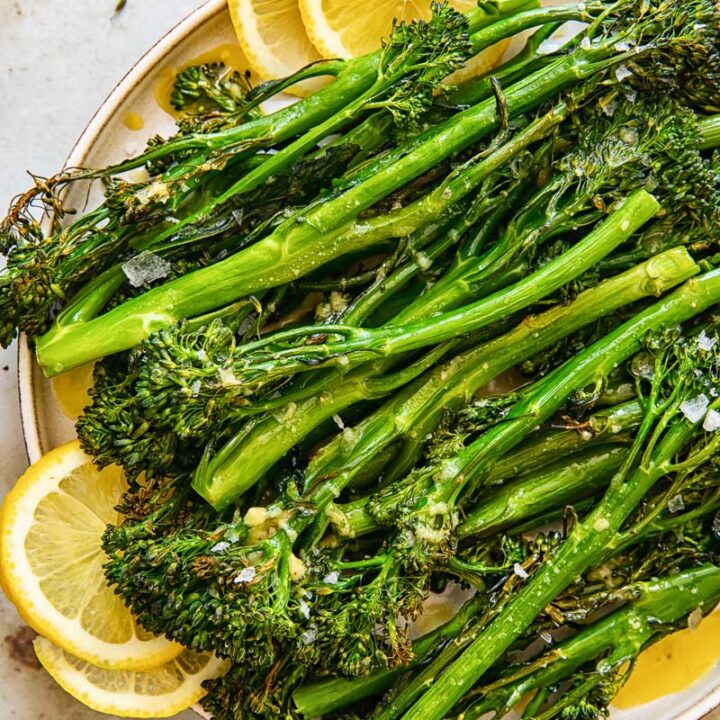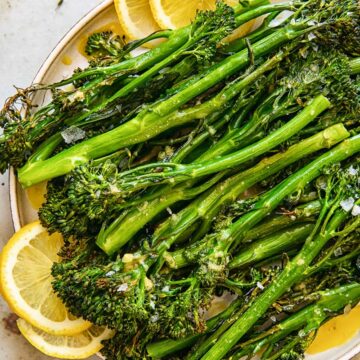 Roasted Tenderstem Broccoli with Lemon Garlic Vinaigrette
A simple way to make tenderstem broccoli perfect every time!
Ingredients
400

g

/1lbs Tenderstem broccoli

1

tbsp

olive oil

extra virgin

Salt
For the vinaigrette
3

tsp

lemon juice

1

tsp

whole grain mustard

½

clove

garlic

4

tsp

olive oil

extra virgin

Pinch of salt
Instructions
Preheat the oven to 450F/220C. Trim the rough stalks of the Temderstem broccoli. Line a shallow roasting pan with parchment paper and spread the Tenderstem broccoli in one layer.

Roast for 10-12 minutes depending on the thickness of the stems. Flip halfway through the cooking.

While the broccoli is roasting, combine the vinaigrette ingredients in a jam jar and shake till combined and emulsified. Serve on the side.
Nutrition
Calories:
110
kcal
Carbohydrates:
8
g
Protein:
4
g
Fat:
8
g
Saturated Fat:
1
g
Polyunsaturated Fat:
1
g
Monounsaturated Fat:
6
g
Sodium:
43
mg
Potassium:
7
mg
Fiber:
1
g
Sugar:
2
g
Vitamin A:
1766
IU
Vitamin C:
93
mg
Calcium:
72
mg
Iron:
1
mg