These roasted parsnips are golden and crispy on the outside and soft and fluffy on the inside. Flavoured with honey and garlic, they are a perfect side dish for your holiday table or any day of the week.
While you are admiring these roasties, take a look at equally stunning Maple Glazed Carrots for another side dish option.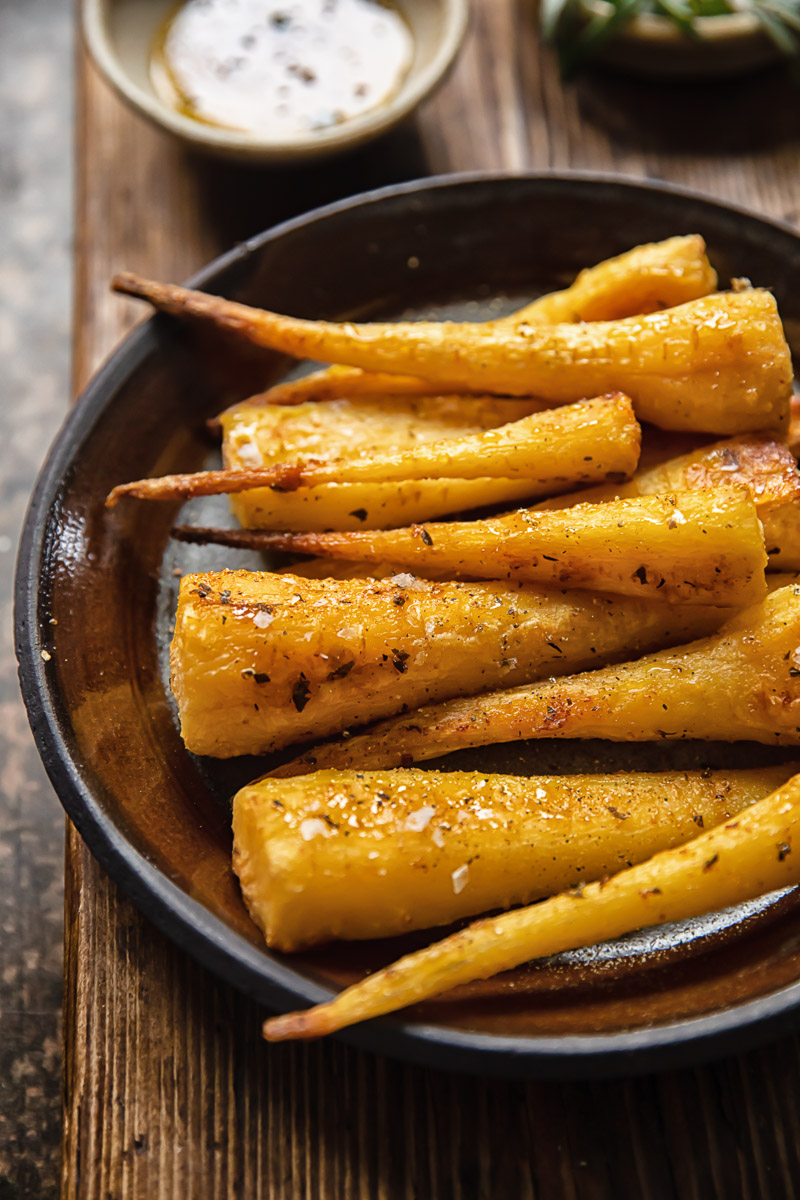 If you are someone who is hoping to expand their veg repertoire, this recipe is for you. I only discovered parsnips once we moved to the UK more than a decade ago now. I mean I knew they existed but I never truly considered them as a vegetable to buy regularly.
Here in the UK they are a part of a Sunday roast meal, a weekly tradition, therefore much more on the forefront of the veg world. And let me tell you, they are worth the space they are occupying in this country.
There are several ways to cook parsnips but my favourite by far is roasting them. Besides that, you can also put them in soups, stews, cook them gratin style, or in any other way your imagination inspires you to do.
Why you'll love this recipe
If you've never tasted parsnips before, don't be afraid. They are closely related to carrots, so the taste is not going to be too foreign. While they are similar to carrots in shape, they are less sweet and a little earthy.
When roasted with savoury seasoning they can even resemble roasted potatoes but much lower in carbs. So if you are on a low carb diet, take notice! They are also low in calories and high in fibre and antioxidants.
To sum it up, parsnips are a nutritional powerhouse while being widely available and sold cheaply!
The reason why roasting them is my preferred method of cooking is because it accentuates their natural sweetness. I also adore what it does to the texture of parsnips. With a little bit of oil brushed on top, they turn crispy on the outside while maintaining a soft centre.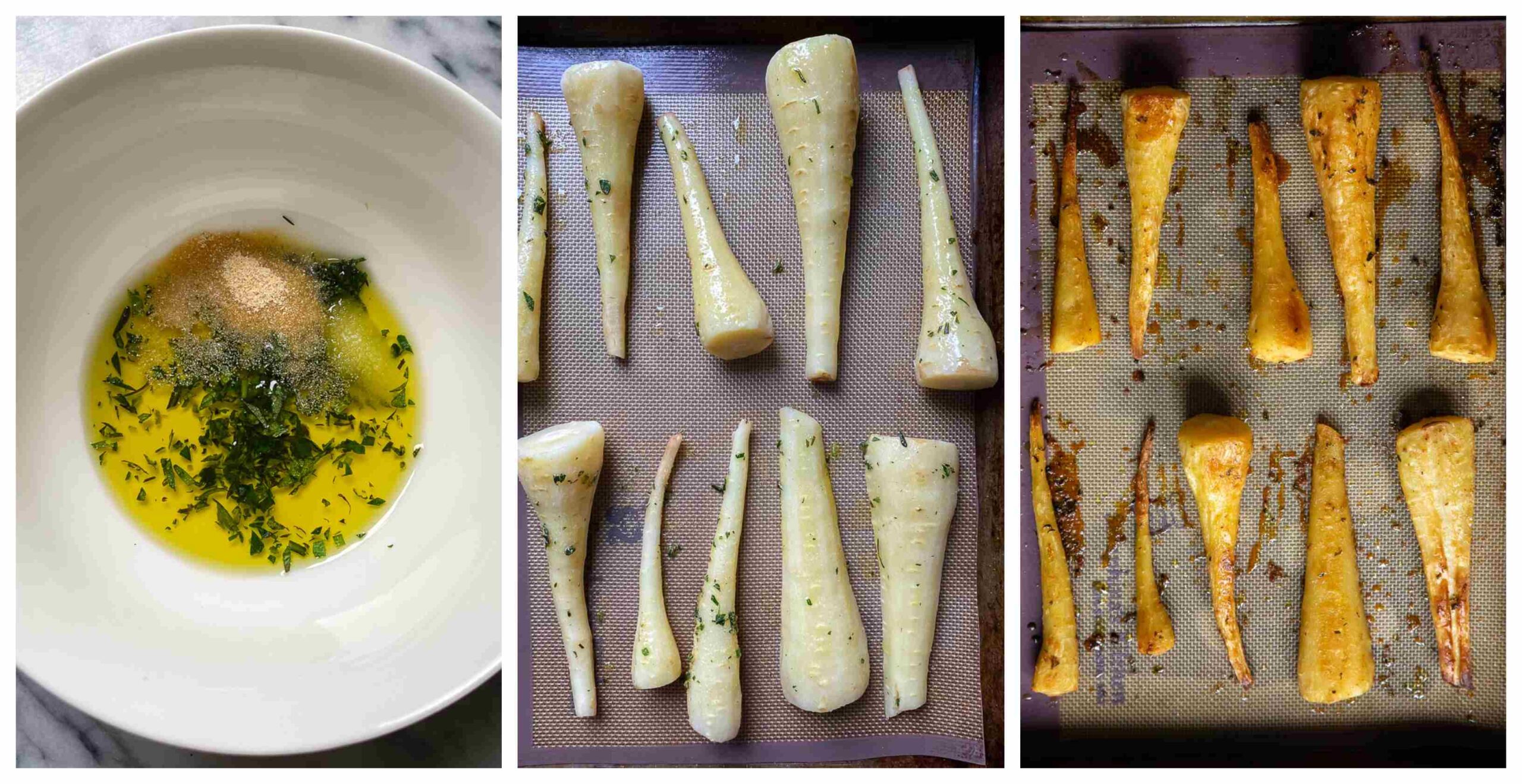 Recipe Tips and Notes
Although you don't have to peel parsnips before cooking them I prefer to do so. The surface tends to crisp up more when they are peeled. If you cook yours unpeeled, make sure to scrub them really well.
Make sure your parsnips either similar in size or cut them to size to ensure even cooking.
Some people roast parsnips from raw but I par-boil them for 5 minutes before roasting. This speeds up the process and makes the interior fluffier in texture.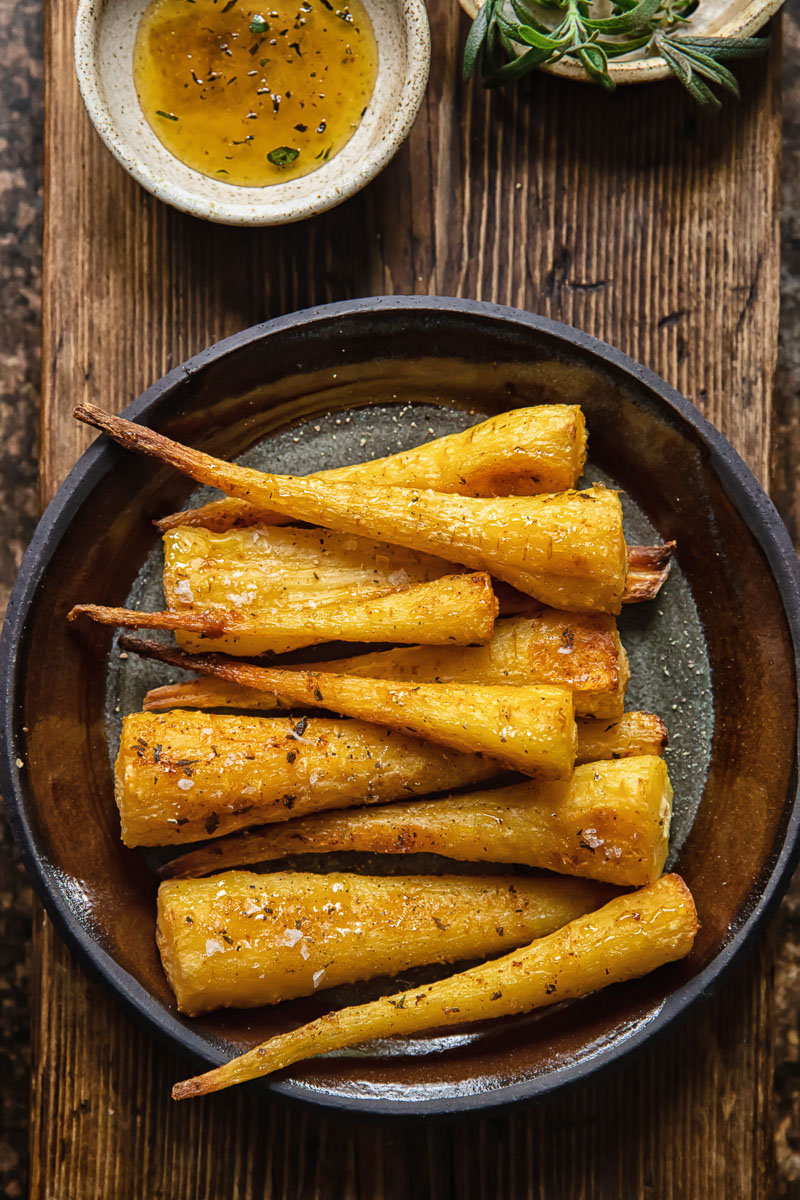 I glaze these parsnips three times for various reasons. First with the combination of oil, rosemary, garlic powder and salt to get that crispy coating.
Second time I add honey and mustard for the caramelisation. If you add it from the start, the sugar will burn before the parsnips are roasted. You can omit the mustard if you are not a fan but I find it balances out the sweetness of honey.
Lastly, I brush the roasted parsnips with the remaining mixture right after you take them out of the oven.
Favourite Side Dishes to Try: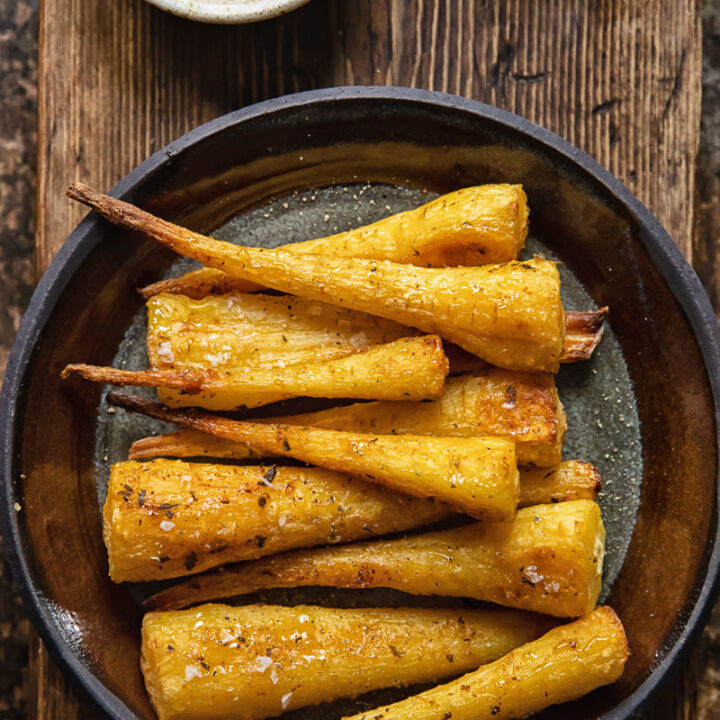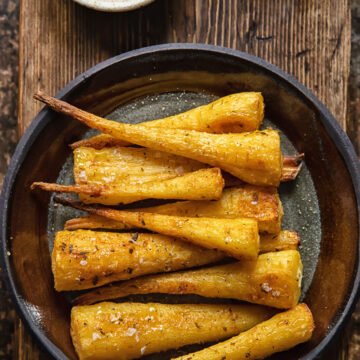 Honey Garlic Roasted Parsnips
These roasted parsnips are golden and crispy on the outside and fluffy on the inside. Flavoured with honey and garlic, they are delicious.
Ingredients
1.5

lbs

parsnips

2

tbsp

olive oil

1

sprig

fresh rosemary

leaves chopped

½

tsp

garlic powder

½

tsp

salt

3

tbsp

honey

1

tsp

Dijon mustard
Instructions
Preheat the oven to 350F/180C. Peel the parsnips and cut them to the same size. Boil for 5 minutes, then drain and steam dry in a colander for a couple of minutes.

Meanwhile, chop the rosemary leaves and add to a small bowl together with the olive oil, garlic powder and salt.

Arrange the parsnips on a shallow parchment lined baking pan in a single layer, brush the herb and oil mix all over and roast in the oven for 25 minutes, then take the pan out of the oven and flip the parsnips over, roast for 15 minutes longer.

Add the honey and the mustard to the same bowl, in which you mixed the oil and herbs, and mix everything well. Take the parsnips out of the oven and brush the honey mustard glaze all over, roast for 10 minutes longer. Take out of the oven and brush with the glaze again before serving.
Nutrition
Calories:
120
kcal
Carbohydrates:
22
g
Protein:
1
g
Fat:
4
g
Saturated Fat:
1
g
Polyunsaturated Fat:
0.4
g
Monounsaturated Fat:
3
g
Sodium:
161
mg
Potassium:
326
mg
Fiber:
4
g
Sugar:
11
g
Vitamin A:
1
IU
Vitamin C:
15
mg
Calcium:
32
mg
Iron:
1
mg