Dress up your veggies! My roasted parmesan broccoli with sun-dried tomatoes, garlic and chillies is hugely popular with the big and the little alike!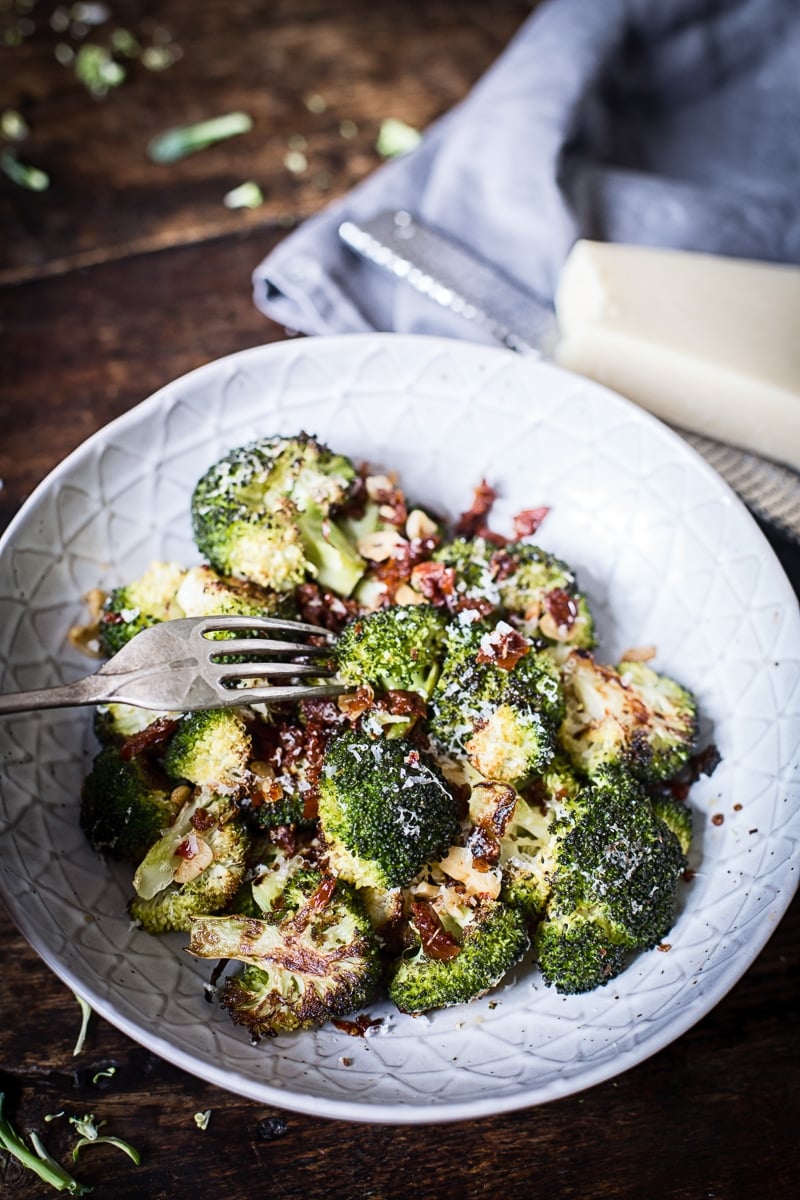 Do you ever feel like you've got a great meal planned out and when it's time to serve it, you realise you'd forgotten about vegetables. That five a day is not going to serve itself!
Then you throw peas or beans or whatever in a steamer and the job is done! Only we all know too well that it's not done because then you have to convince your family to eat them. Steamed vegetables could be nice but most often than not they are just plain BORING!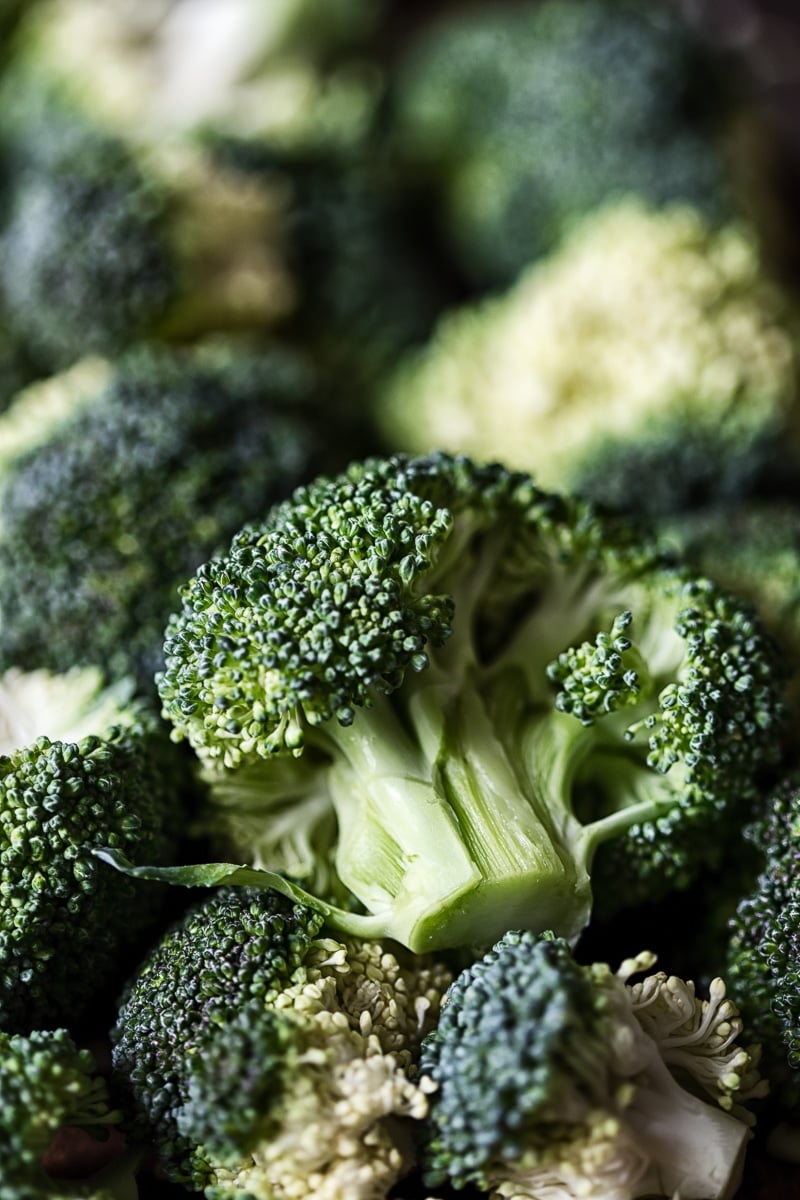 I've been asking many of you what you would like to see on Vikalinka next and, to my surprise and delight, vegetables dishes came on top. You ask you get! That is how it works here, so next time when you want something, don't be shy!!
The recipe for this roasted parmesan broccoli with sun-dried tomatoes, garlic and chillies along with a jar of homemade sun-dried tomatoes was given to me by an older Sicilian woman on one of our trips to Italy. She was a friend of a friend and very generous.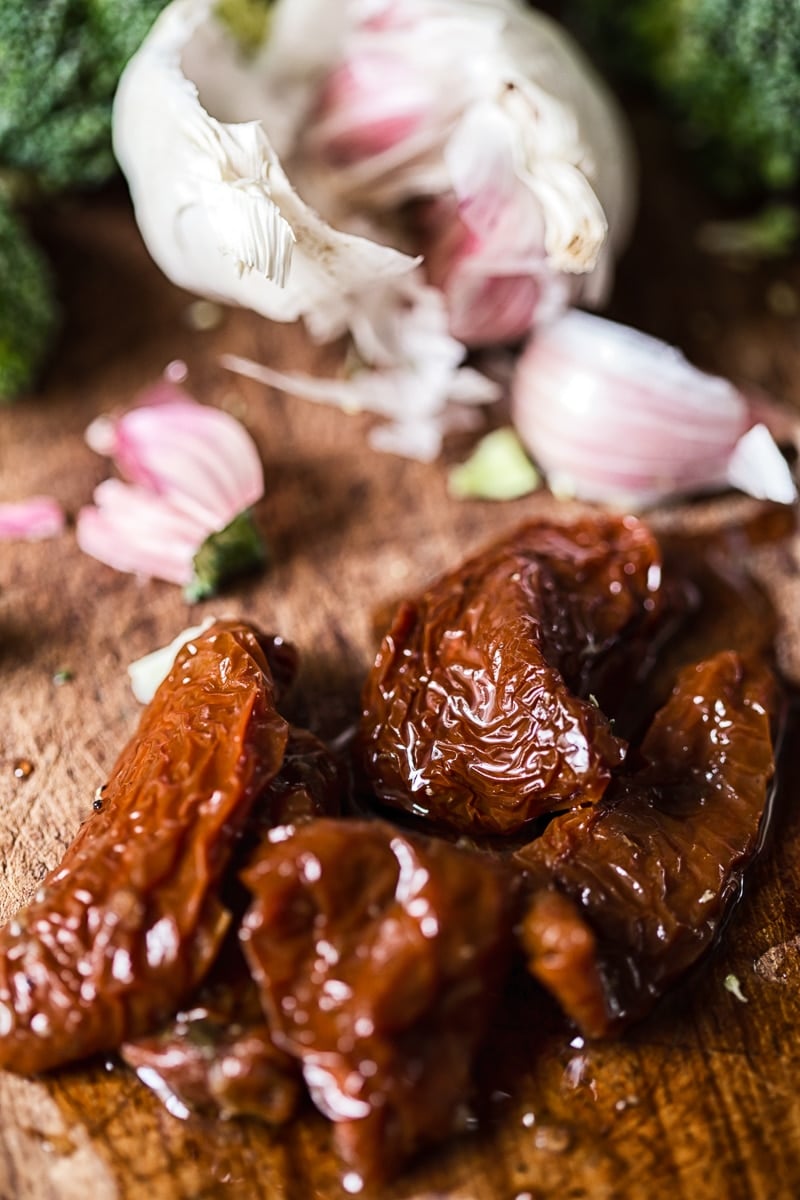 We were at a dinner together and I kept raving about those sun-dried tomatoes that were ten times more red than the ones in the picture above, so before I left she pressed a jar of the remaining tomatoes in my hands and quickly told me how she liked to eat them.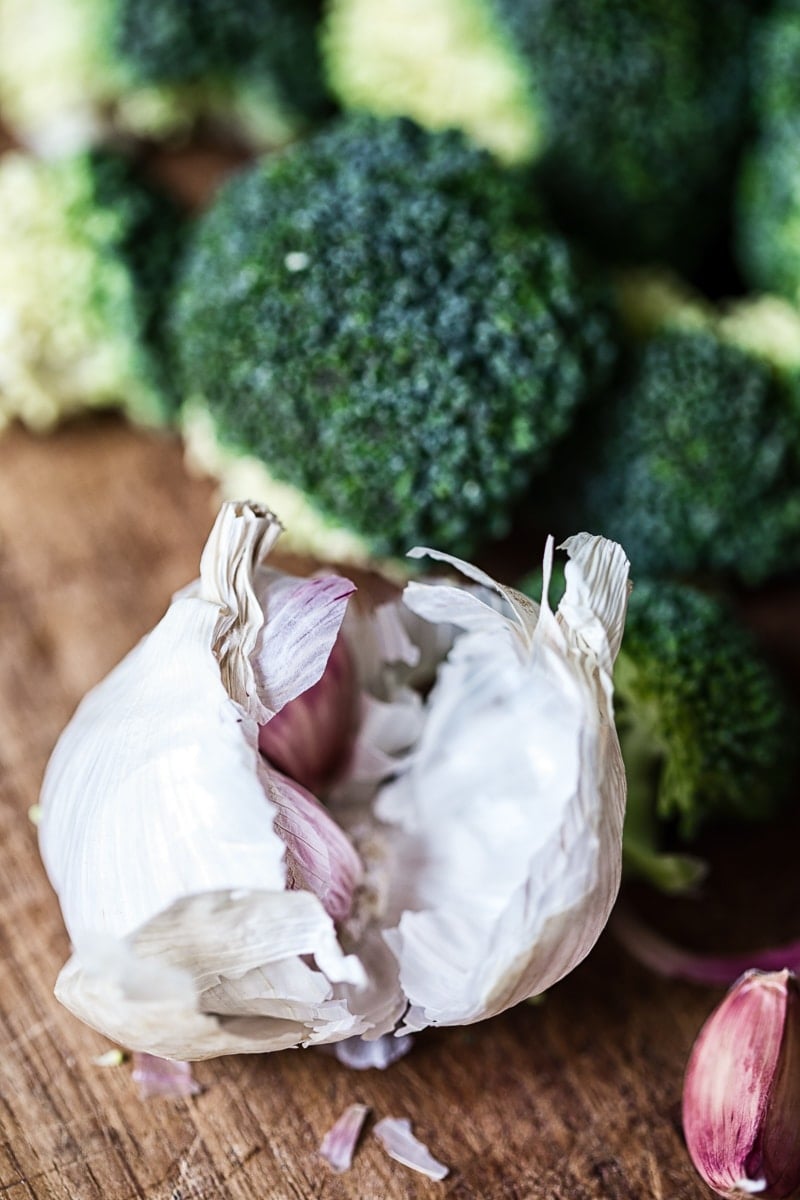 I had to try it out at home since no actual measurements were given because that is not how old Sicilian women cook! So what I am sharing today is my interpretation of the recipe.
One main thing that I changed is I roasted broccoli instead of boiling it. I feel like roasting added another layer of flavour to this already incredibly complex dish.
There are THREE cloves of garlic in the recipe but because they are sliced and not minced, the flavour is much more mild! And because it is the recipe given to me by a Sicilian, there are chillies involved. I've started with half a teaspoon of dried chilli flakes but feel free adjust it to your own taste.
Lastly, I first tried this recipe the best quality sun-dried tomatoes possible. They were absolutely divine. To this day I've not been able to find their equal here in the UK. However, I try my best and buy the best I can find. I recommend you do the same. It's only one little jar that goes a long way!!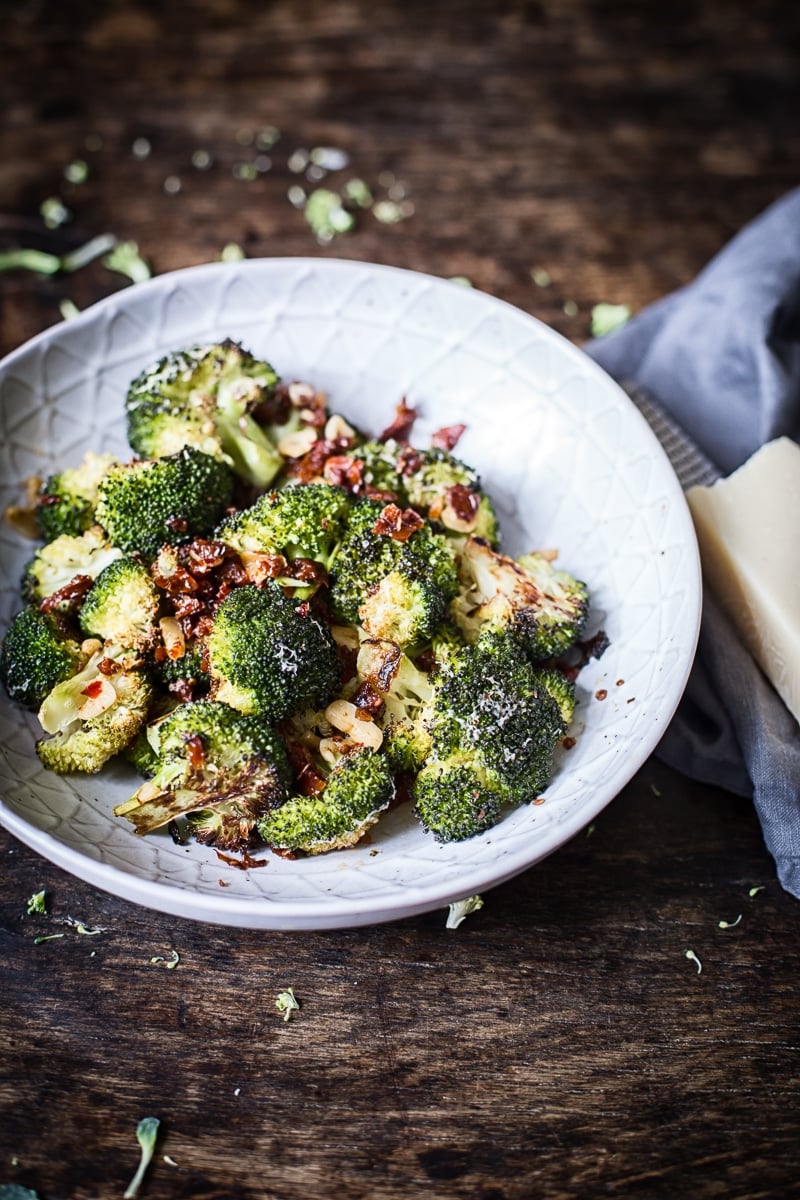 My kids are already big fans of vegetables but this roasted parmesan broccoli is usually more popular than a main dish whenever I make it.
And if you find yourself loving it as much as we do, check out this little pasta number I made a while back!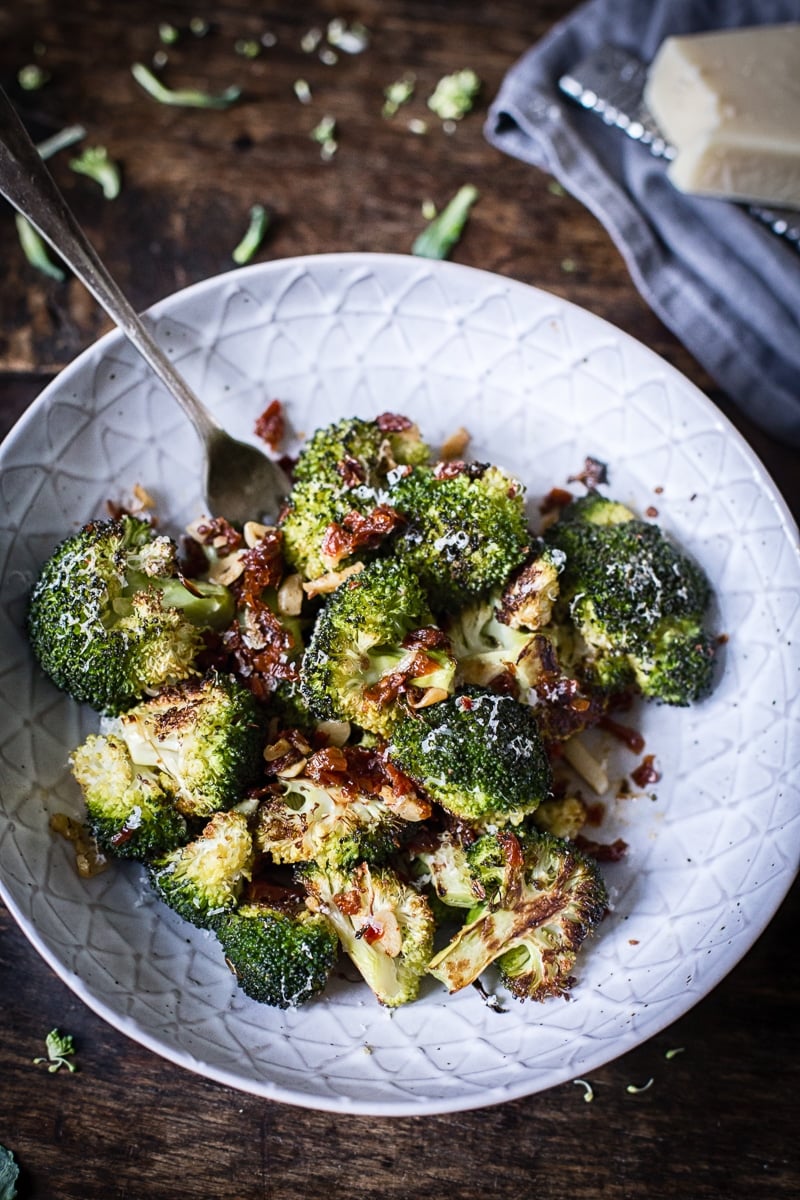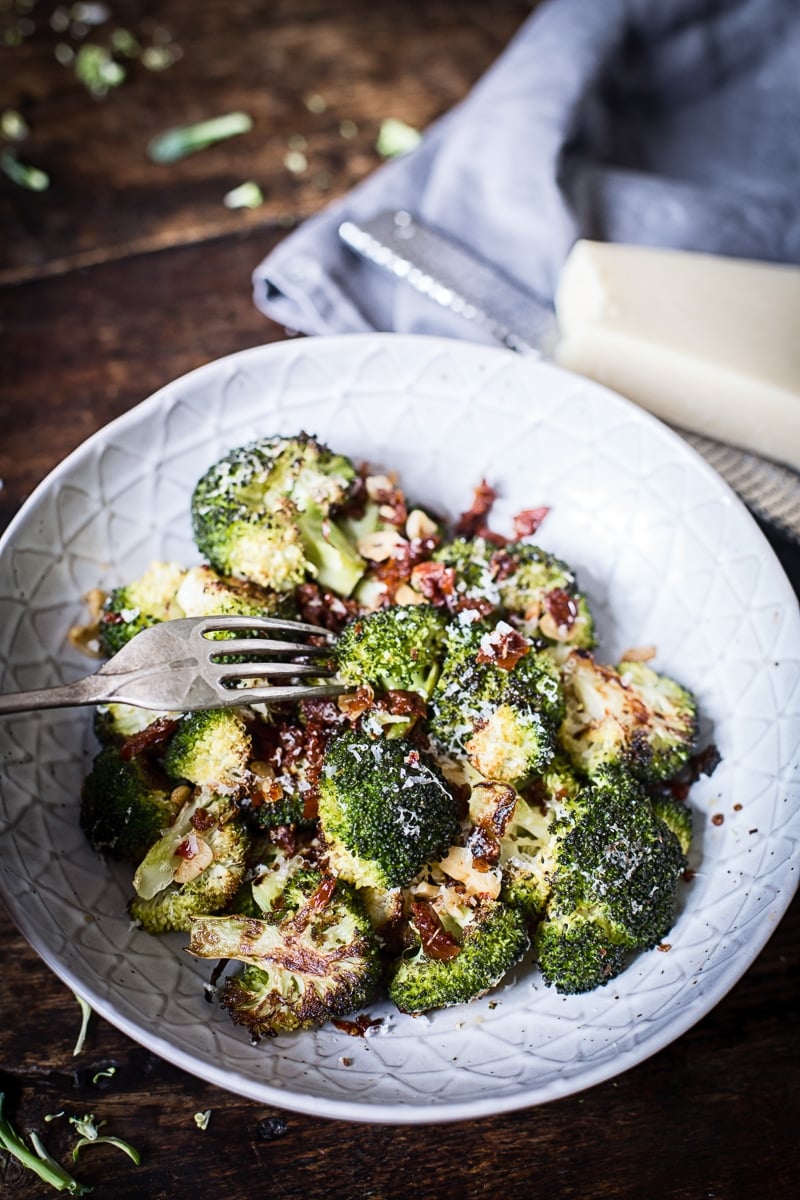 Ingredients
1

head broccoli

2

tbsp

olive oil

divided

3

cloves

garlic

sliced

3

tbsp

sun-dried tomatoes

finely chopped

½

tsp

chilli flakes

salt

2

tbsp

freshly grated parmesan cheese

diveded
Instructions
Preheat the oven to 200C/400F

Break up the head of broccoli into bite-sized florets, toss them with 1 tbsp of olive oil and a pinch of salt, arrange on a baking sheet in a single layer and roast in the preheated oven for 10 minutes.

Meanwhile, heat a tablespoon of olive oil in a pan, (use the olive oil the sun-dried tomatoes were packed in for extra flavour!), add sliced garlic, finely chopped sun-dried tomatoes and chilli flakes and cook for 2 minutes on very low heat.

After 10 minutes take the broccoli florets out and flip them on the other side, sprinkle with grated parmesan and roast for 5 minutes longer.

Combine parmesan roasted broccoli with sun-dried tomatoes, garlic and chillies in a serving bowl.

Serve immediately with the remaining parmesan.