This winter salad with red cabbage, carrots, kale and pomegranate seeds dressed with a zesty vinaigrette uses seasonal vegetables and is perfect for the season! Added bonus. It lasts in a fridge without wilting for up to 3 days!
If you are wondering what goes well with this red cabbage salad, give our Glazed Ham or Roast Chicken a try!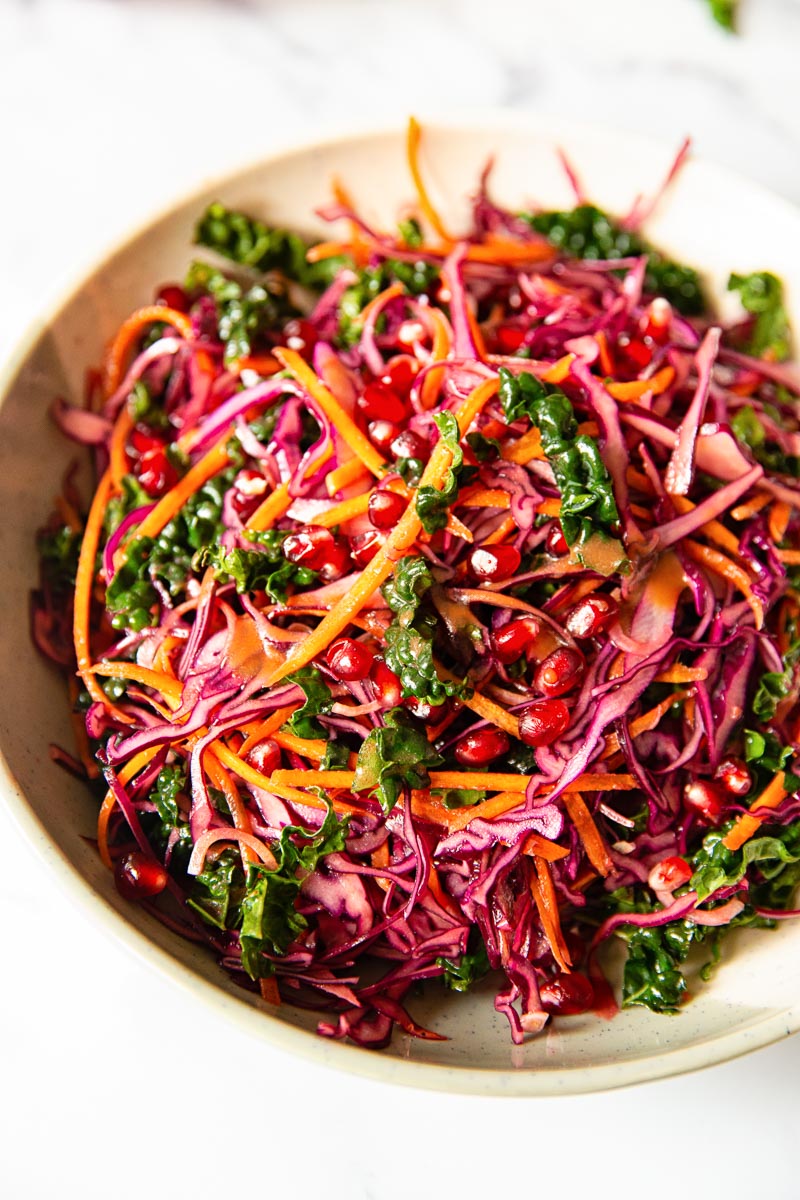 In the last 10 days I've made this red cabbage salad 3 times. It all started on Christmas Day, and then there was no stopping me. But the reason I made it 3 times plus once for you, my friends, are these.
I simply couldn't have enough of this crunchy and zesty salad. Also, my kids kept asking for it.
That's right my kids were requesting a salad. That's a huge win in my books!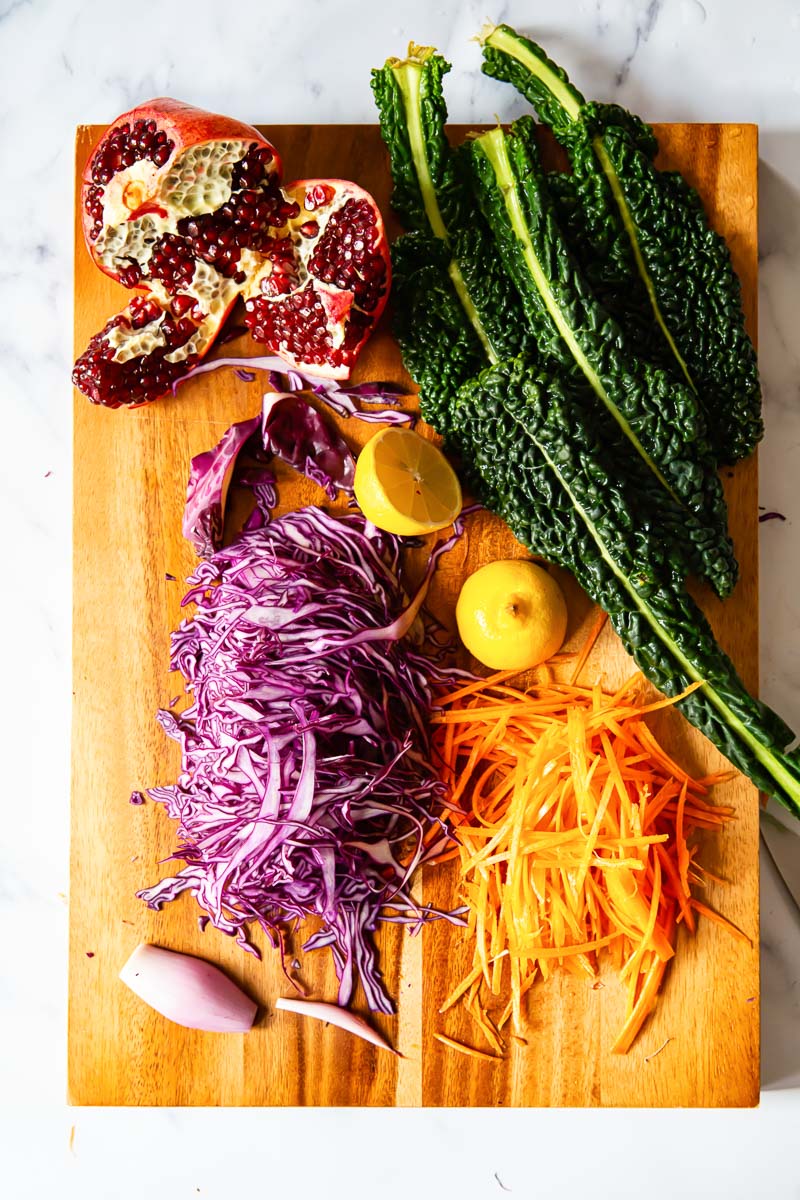 What ingredients go into a winter salad?
As seasons change our tastebuds change with them. It's no secret that in colder months we crave comfort food in the form of soups, stews and delicious braises. They make us feel warm and cozy.
Salads usually are not included in that category. I am with you on this. I really am!
However our bodies still need their nutrients but lettuce based salads just don't taste as good in the winter. Is there such a thing as winter salad? There really is!
My salad uses only seasonal ingredients that are readily available and it tastes fresh, vibrant and all around delicious. Let me tell you more about it.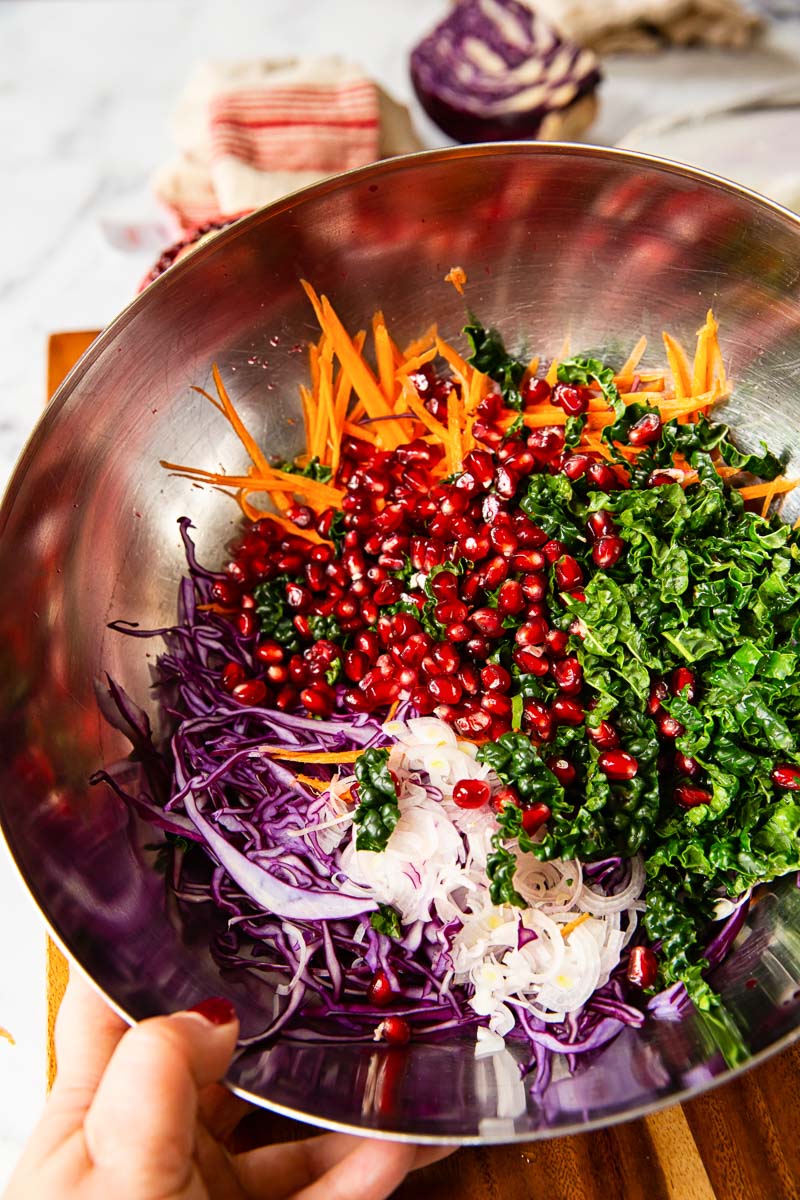 Since I didn't want to use lettuce I used red cabbage as the base for my salad but white cabbage can be used instead. Then added carrots, sliced kale, a small amount of sliced shallot and a generous amount of pomegranate seeds.
How do I make red cabbage salad?
The key to making a salad with red or white cabbage is slicing it as thinly as humanly possible. I use a mandolin for it because I really believe it improves the texture, and therefore the overall taste of the salad.
What other ingredients you use is up to you but here are my suggestions. I love the sweetness of carrots to counterbalance the sharpness of red cabbage.
Kale is a nutritional powerhouse but could be a bit tough, so I remove and discard the rib from the center of each leaf and then slice it thinly. Just before adding sliced kale to the salad I scrunch it up in my hands to slightly soften it.
I also cannot resist pomegranate seeds when they are in season. They add such a gorgeous pop of colour and a burst of flavour every time you bite into one of those seeds!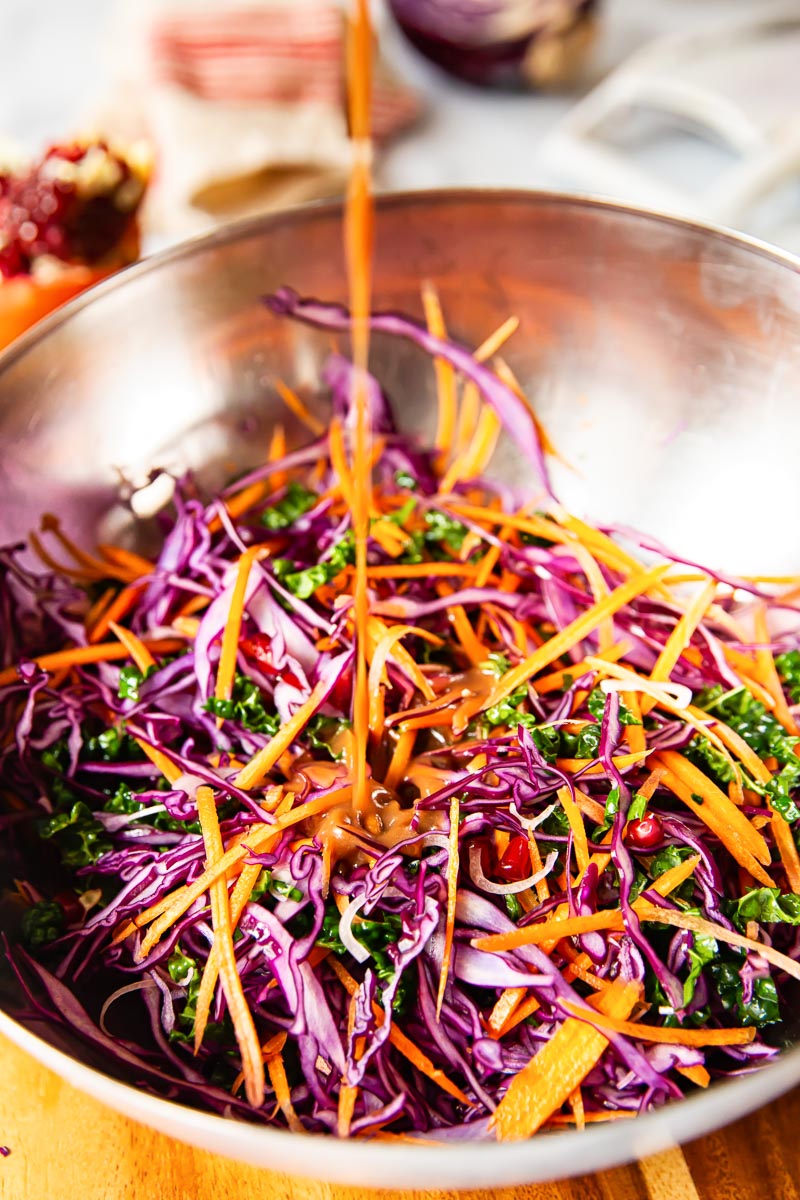 What dressing to choose
In my opinion there is always a choice between a creamy dressing and a vinaigrette style dressing. They are both delicious but for this salad I went with a pomegranate molasses vinaigrette.
If you love a balsamic glaze in your salads, you will fall in love with pomegranate molasses! It's sweet, tangy and incredibly fragrant. Apart from adding it to salad dressings you can use this beautiful ingredient in so many ways. It lasts forever and it tastes divine. If you struggle to find it in your supermarket, try Amazon.
My Sweet and Sour Meatballs in Pomegranate Sauce is one of the uses that I love!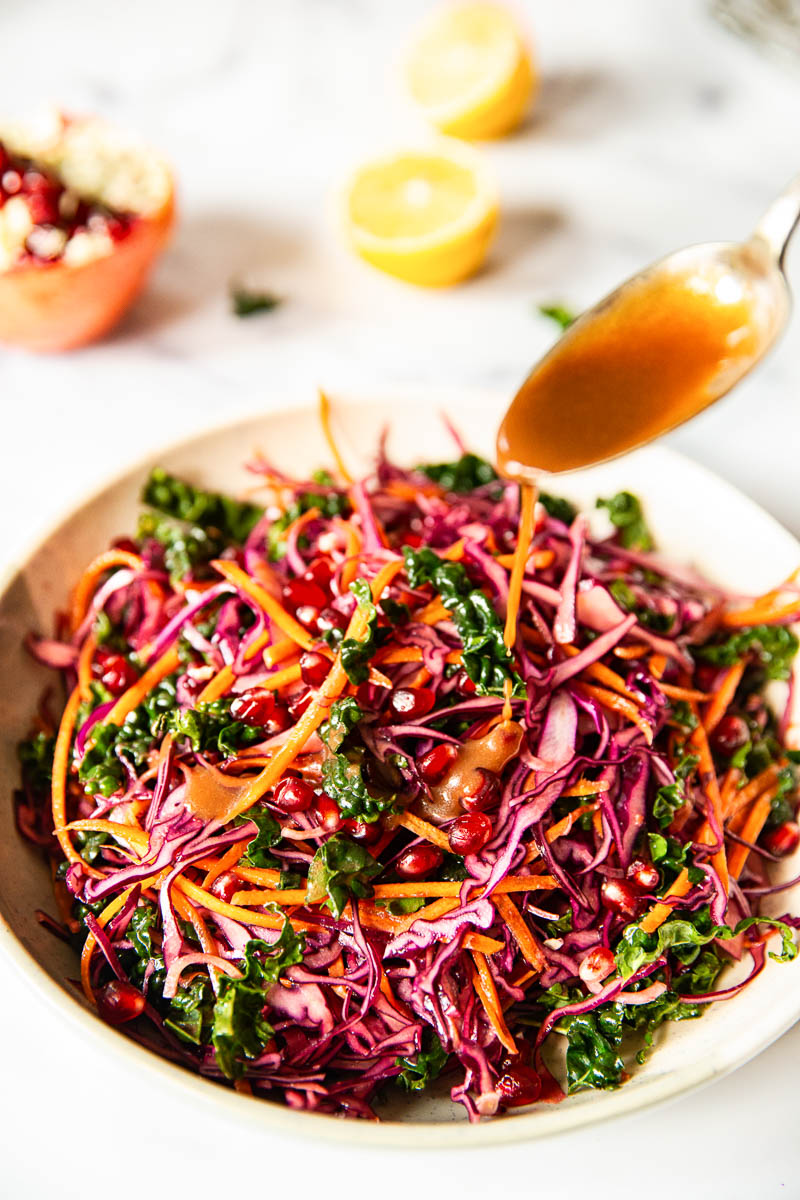 More winter salad recipes to try!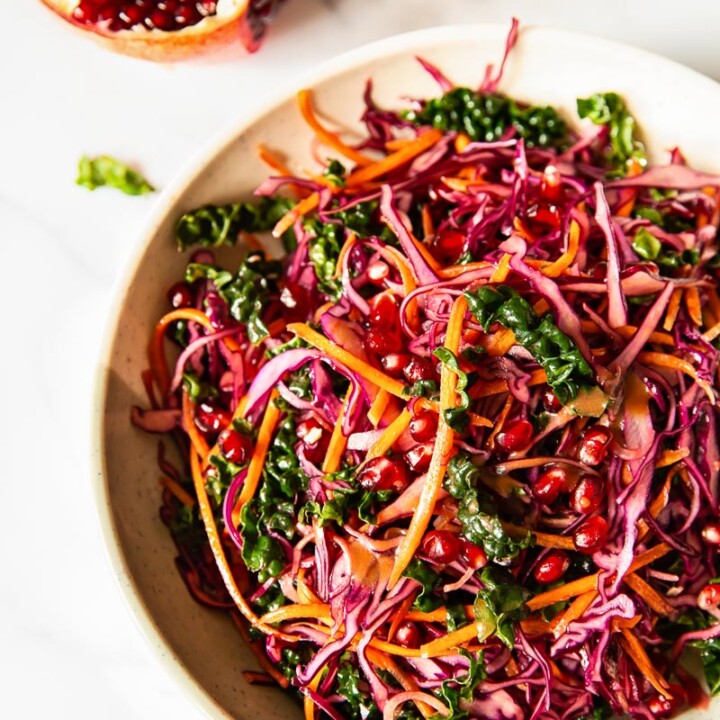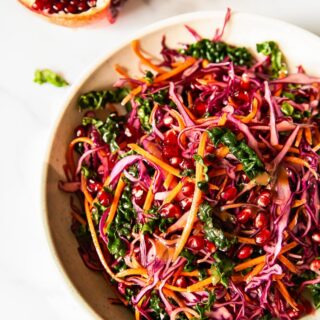 Winter Salad with Red Cabbage, Kale and Pomegranate
This winter salad with red cabbage, carrots, kale and pomegranate seeds dressed with a zesty vinaigrette uses seasonal vegetables and is perfect for the season.
Ingredients
For the Salad
¼

head of red or white cabbage

1

carrot

4

kale leaves

½

shallot or ¼ red onion

¼

pomegranate, seeds only

salt to taste
For the vinaigrette
½

lemon, juice only

½

tsp

Dijon mustard

1

tbsp

Pomegranate molasses

see notes

4

tbsp

olive oil

pinch of salt
Instructions
Slice the cabbage and shallot thinly and grate the carrots. (Mandolin works well here.) Remove the rib from the kale leaves and discard, slice the kale thinly, then scrunch them in your hands to soften before adding to the salad bowl. Cut the pomegranate open and extract the seeds. Combine all ingredients in a salad bowl.

In a mason jar mix the lemon juice, pomegranate molasses, Dijon mustard, olive oil and salt. Cover with a lid and shake well until combined. Dress the salad with the vinaigrette and serve.
Notes
You can replace pomegranate molasses with 2 tbsp of pomegranate juice plus 1 tbsp of balsamic vinegar.
Nutrition
Calories:
177
kcal
Carbohydrates:
12
g
Protein:
2
g
Fat:
14
g
Saturated Fat:
2
g
Sodium:
38
mg
Potassium:
265
mg
Fiber:
2
g
Sugar:
7
g
Vitamin A:
4232
IU
Vitamin C:
47
mg
Calcium:
45
mg
Iron:
1
mg