Learn how to cook a top round roast, which is also known as topside beef, an affordable but no less delicious beef joint, that will feed a crowd!
Serve with our red onion cider gravy.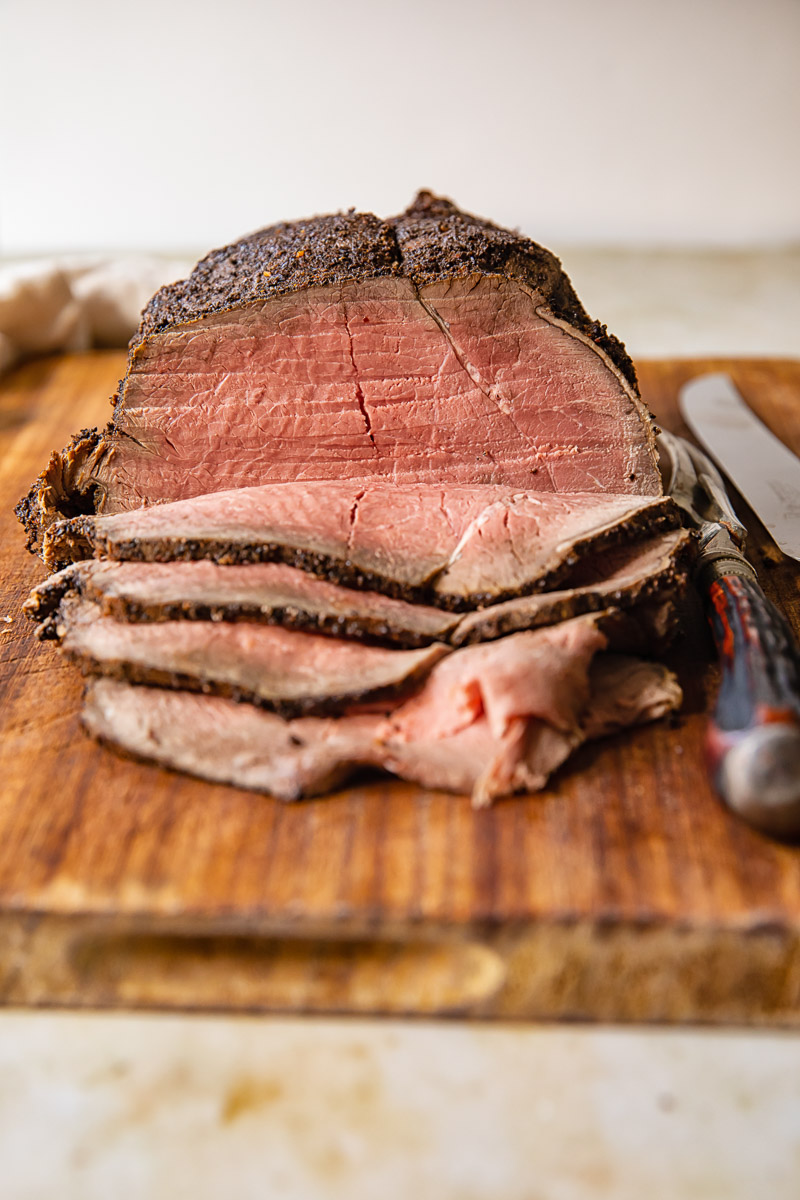 Holiday season brings many emotions. Anticipation, joy but also anxiety for some of us. Feeding large groups of people is no easy feat, not to mention expensive!
We've come to expect an impressive table centrepiece such as a golden roast turkey, a glorious prime rib or even a vegetarian option like a mushroom Wellington but this year it's becoming less and less affordable.
Let me introduce you to a roasting joint, which could be just as tasty as the prime cuts but significantly less expensive.
Topside Beef aka Top Round
It goes by the name of top round roast in the US or topside beef in the UK because it comes from the top of hind legs of a cow. More precisely it's taken from the inside of a thigh. It is very lean and can be tough if not cooked properly or not sliced thinly when served.
It is however, quite flavourful and budget friendly. What is also great is how impressive it looks on a festive table! This cut is usually roasted in the oven and often sliced for roast beef sandwiches.
Top round could also be cut into steaks. If you do happen to buy them, make sure to use a good marinade to tenderise them before grilling.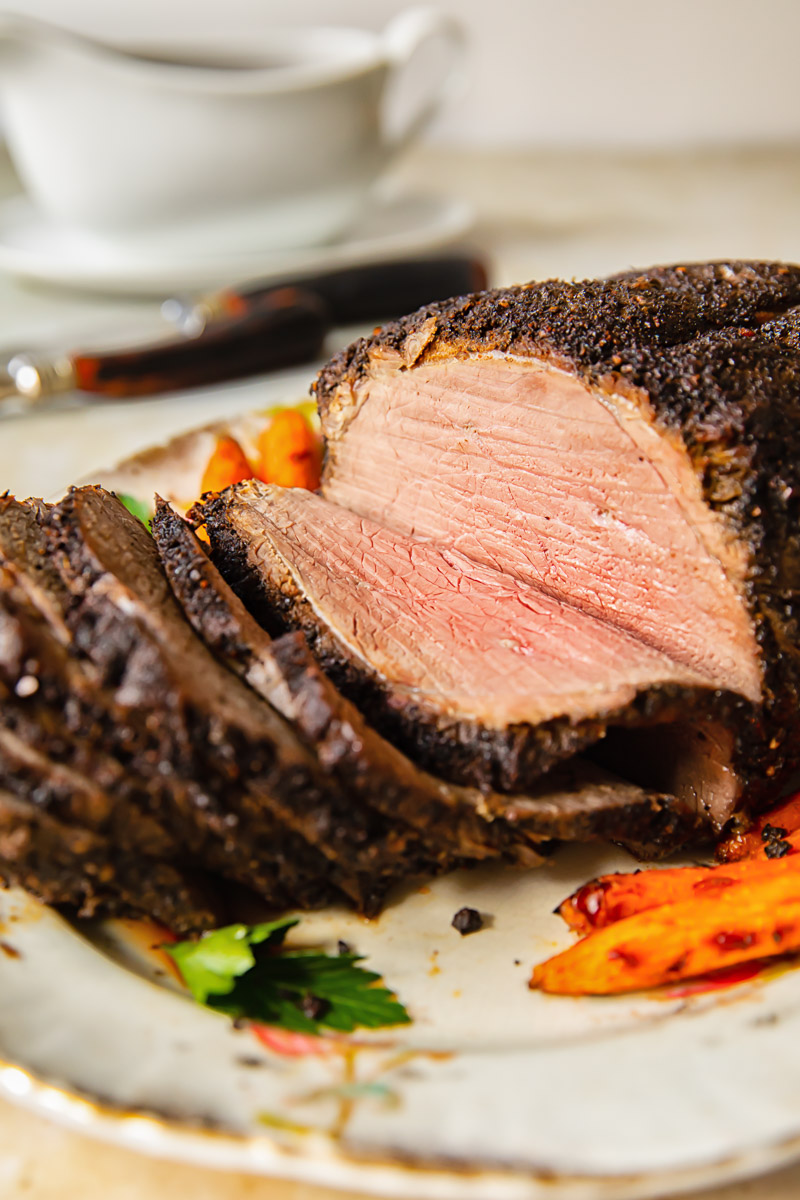 How to cook it
Traditionally this joint is cooked low and slow, however I want to show you how you can achieve stellar result doing exactly the opposite. After I rub the top round, I cook it at a high temperature of 400F/200C for no longer than 90 minutes. The result is slightly pink in the middle, juicy beef as you see in the image above.
It's really not difficult to get it right as long as you have a meat thermometer to monitor your progress since the top round can be tough and chewy if overcooked. I prefer my roast beef medium rare in the middle, which means it will be medium in the ends.
The ideal internal temperature you should aim for is 55C/130F. For a 6.5 lbs joint it takes 1 hour 25-30 minutes to reach that temperature. It will take less time if you top round is smaller.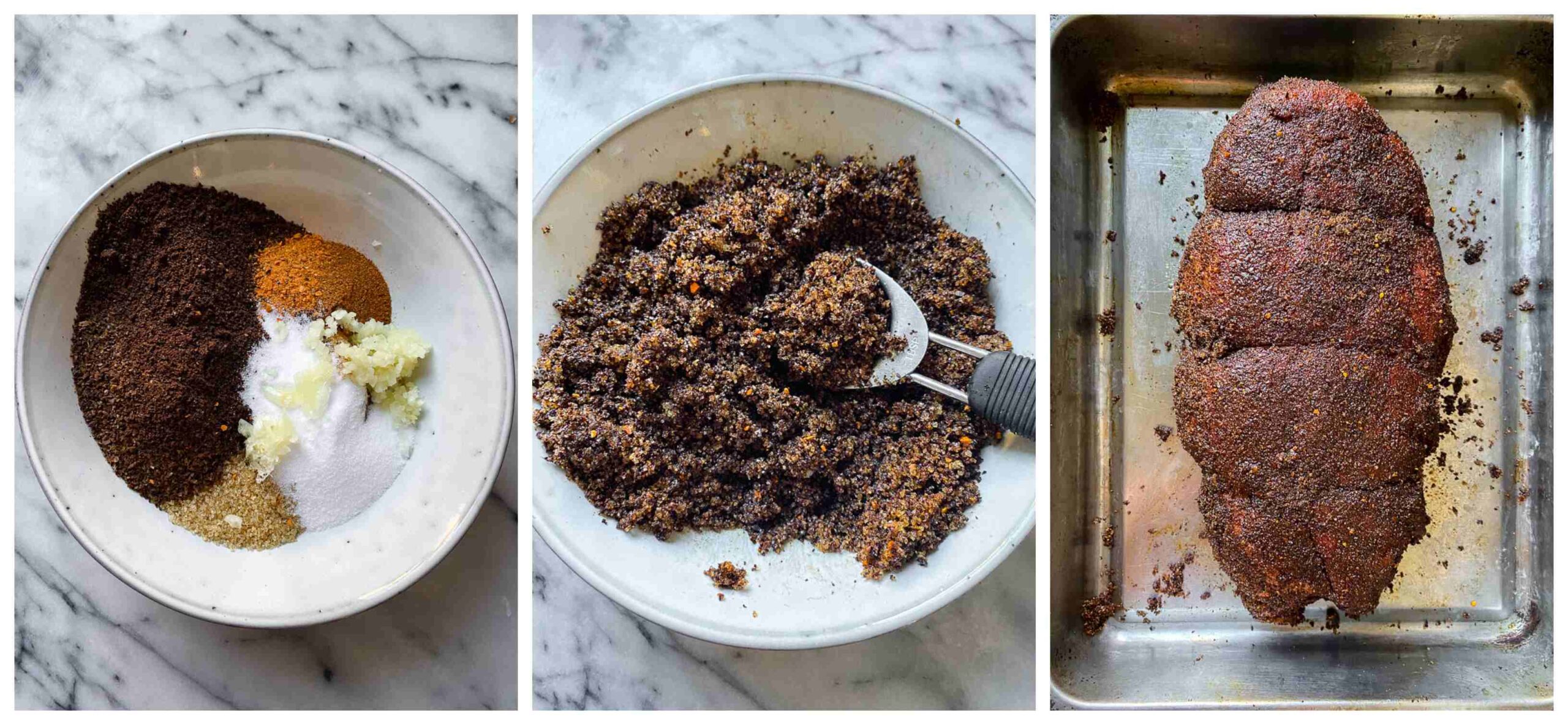 Coffee Rub
Although it might sound unusual to flavour your beef with coffee, please don't dismiss this idea without trying. Trust me, it's not only coffee.
This delicious rub is a mix of freshly ground coffee, brown sugar, ground chipotle chilli, garlic and oil. Sweet, spicy, savoury and fragrant all together they create a beautiful flavour.
I do recommend using finely ground coffee for better texture. It will be especially good if it's freshly ground. We want to lock that beautiful aroma in.
Apart from the delicious taste the rub imparts, the acidity in coffee also acts as a tenderiser. And as we mentioned earlier, topside really needs the help in that department. This unique rub will definitely make your roast truly special. Fit for a festive table.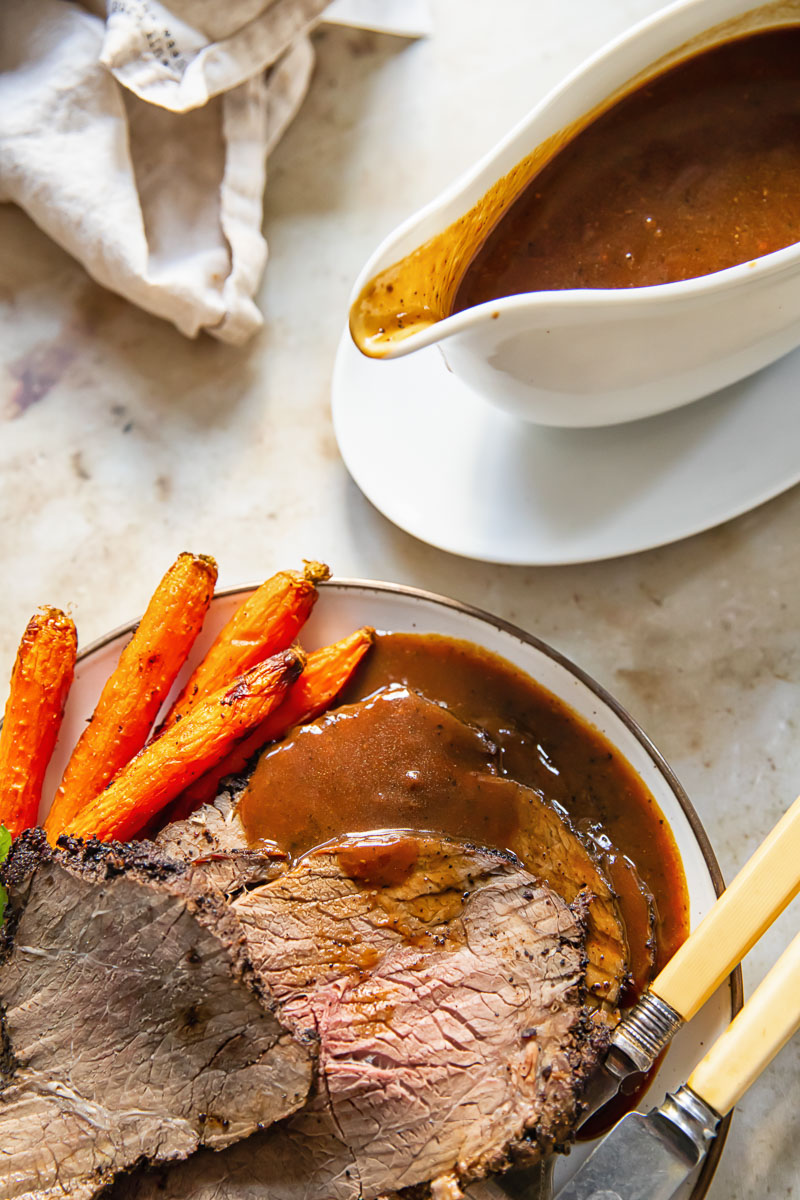 Gravy and Sauces
No matter how juicy a top round roast is, we know it needs a gravy or a sauce. I tend to make a gravy using the pan juices with an addition of a little splash of red wine or port for complexity.
Since this rub consists of coffee I was dubious the pan drippings would be useful. I was afraid the flavour would overwhelm the gravy. Nevertheless, I was curious to find out.
To my surprise, we absolutely loved the gravy, which was flavoured with a touch of coffee and brown sugar. Absolutely delicious if you ask me. However, if you are not convinced, let me share a recipe for Red Onion Gravy with Apple Cider, which needs no pan juices to be delicious on its own.
Another classic sauce to serve with a roast is Béarnaise sauce. It also happens to be my favourite. I make it every Christmas dinner.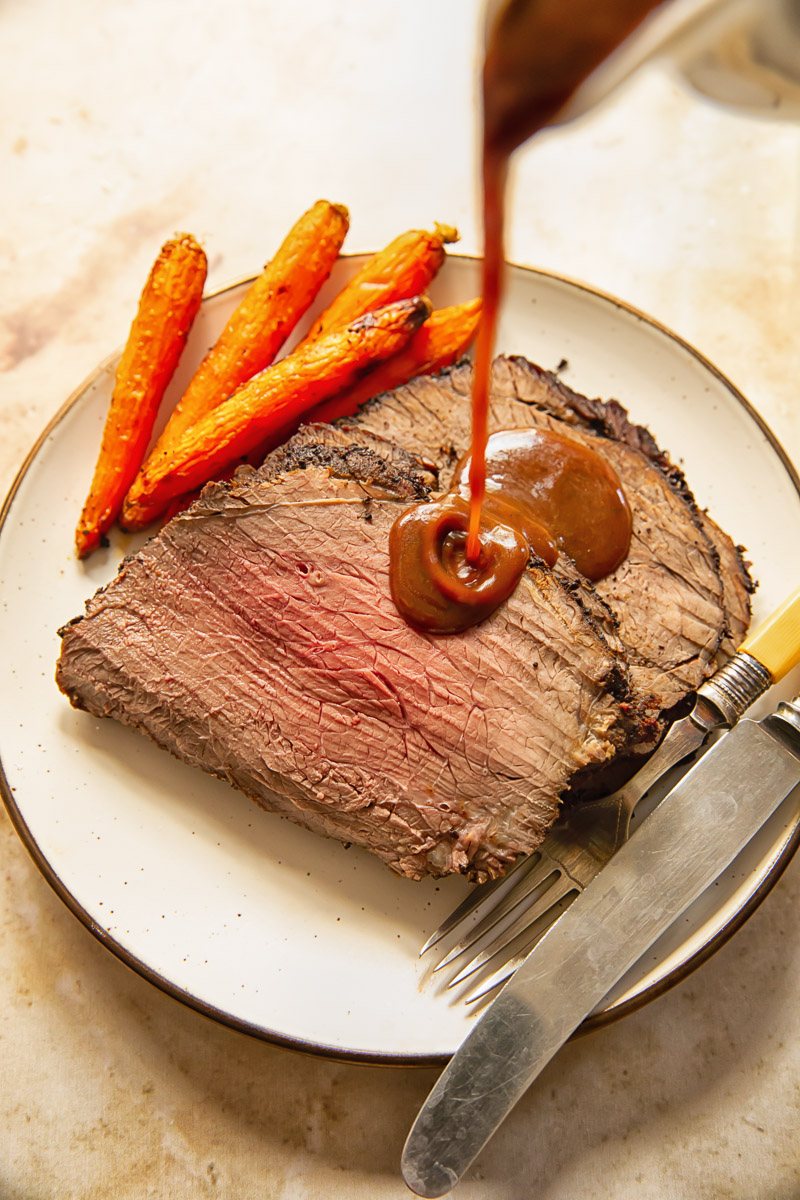 Favourite Roast Recipes to Try: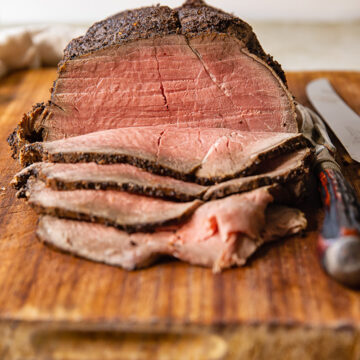 Coffee Rubbed Top Round Roast (Topside Beef)
Learn how to cook a top round roast, also known as topside beef, a more affordable but no less delicious beef joint, that will feed a crowd!
Ingredients
3 kg/6.5 lbs

top round joint (topside beef in UK)
For the rub
2

tbsp

olive oil or vegetable oil

65g/1/3 cup

brown sugar

4

tbsp

finely ground coffee

1

tbsp

chipotle chilli powder

3

cloves

garlic

minced

3

tsp

salt
For the gravy
4

tbsp

pan drippings

2

tbsp

butter

3

tbsp

flour

85ml/1/3 cup

dry red wine

any red wine (optional)

500ml/2 cups

good quality beef stock
Instructions
Take the beef joint out of the fridge 30 minutes before cooking. Mix the ingredients for the rub and cover the meat with the rub all over, then place in a roasting pan. Let it sit for 20-25 minutes. Meanwhile preheat the oven to 200C/400F.

Roast in the preheated oven for 1 hour 30 minutes for medium rare or until the internal temperature registers at 55C/130F. Transfer to a platter and let it rest covered in foil for 30 minutes before slicing.

Make the gravy by adding 4 tablespoons of the pan drippings into a small saucepan together with the butter and let it melt over medium heat. Then add the flour and let it cook while stirring with a whisk for 2 minute, then add the wine and stir briefly, followed by the beef stock. Bring everything to a boil and let it simmer till thickens, stir occasionally to avoid lumps. After the beef rested for 20-30 minutes, add the juices, that collected at the bottom of the platter to the saucepan with gravy, bring it to a boil one more time and take it off the heat. Pour in a gravy boat and serve with thinly sliced roast beef.
Nutrition
Calories:
429
kcal
Carbohydrates:
8
g
Protein:
57
g
Fat:
17
g
Saturated Fat:
6
g
Polyunsaturated Fat:
1
g
Monounsaturated Fat:
7
g
Trans Fat:
0.1
g
Cholesterol:
160
mg
Sodium:
833
mg
Potassium:
957
mg
Fiber:
0.3
g
Sugar:
6
g
Vitamin A:
256
IU
Vitamin C:
0.2
mg
Calcium:
60
mg
Iron:
6
mg