Take your gravy to the next level by enriching its flavour with caramelised onion and apple cider.
Rich, delicious and an absolute must-have to serve with bangers and mash or roast pork.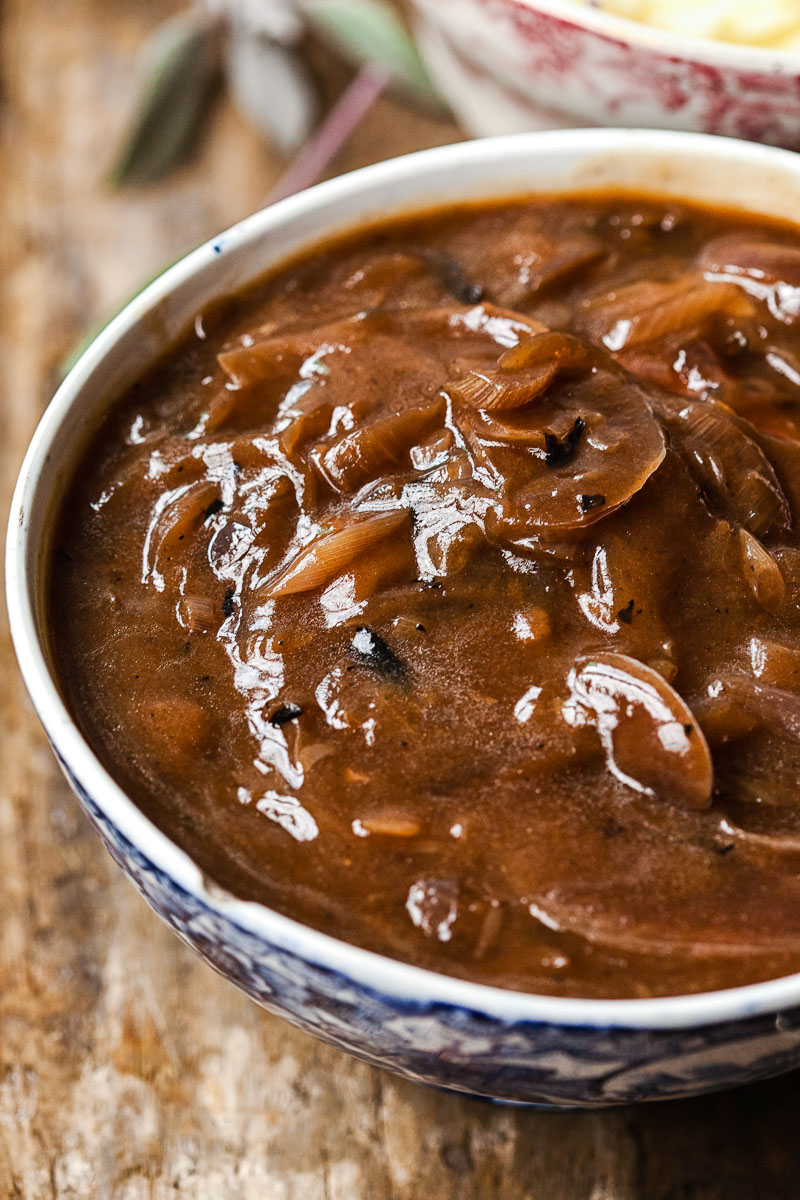 Gravy always seems like an afterthought. Something we whip up quickly right before serving a giant roast dinner. That attitude might indicate that gravy is not very important while the truth is gravy MAKES a meal.
I am so excited to share another gravy recipe. And this time I am adding mounds of red onions and apple cider for the most epic gravy ever!
What does it taste like? Like French Onion Soup and Apple Cider had a love child. Utterly delicious!
Onion Gravy Ingredients
As the name suggests, the taste of this gravy recipe heavily relies on the onions. I like using red onions as I find they tend to be sweeter than white onions when caramelised.
Another huge flavour maker here is Hard Apple Cider such as Strong Bow. I've used apple cider in gravy and sauce recipes in the past and absolutely fell in love with it. It adds a touch of acidity as well as sweetness to deeply savoury dishes, which is a great flavour balance!
This recipe for Pork Chops with Apples and Cider is one of my personal favourites and is well loved by my readers! Interestingly enough apple cider also goes well with chicken. The crazy popularity of this viral French Chicken Casserole is proof!
However if you prefer not to use alcohol, you can substitute hard apple cider with 1 part (1 tbsp) apple cider vinegar and 3 parts (3 tbsp) apple juice.
The remaining ingredients are pretty standard. Butter, chicken or beef stock and flour for thickening.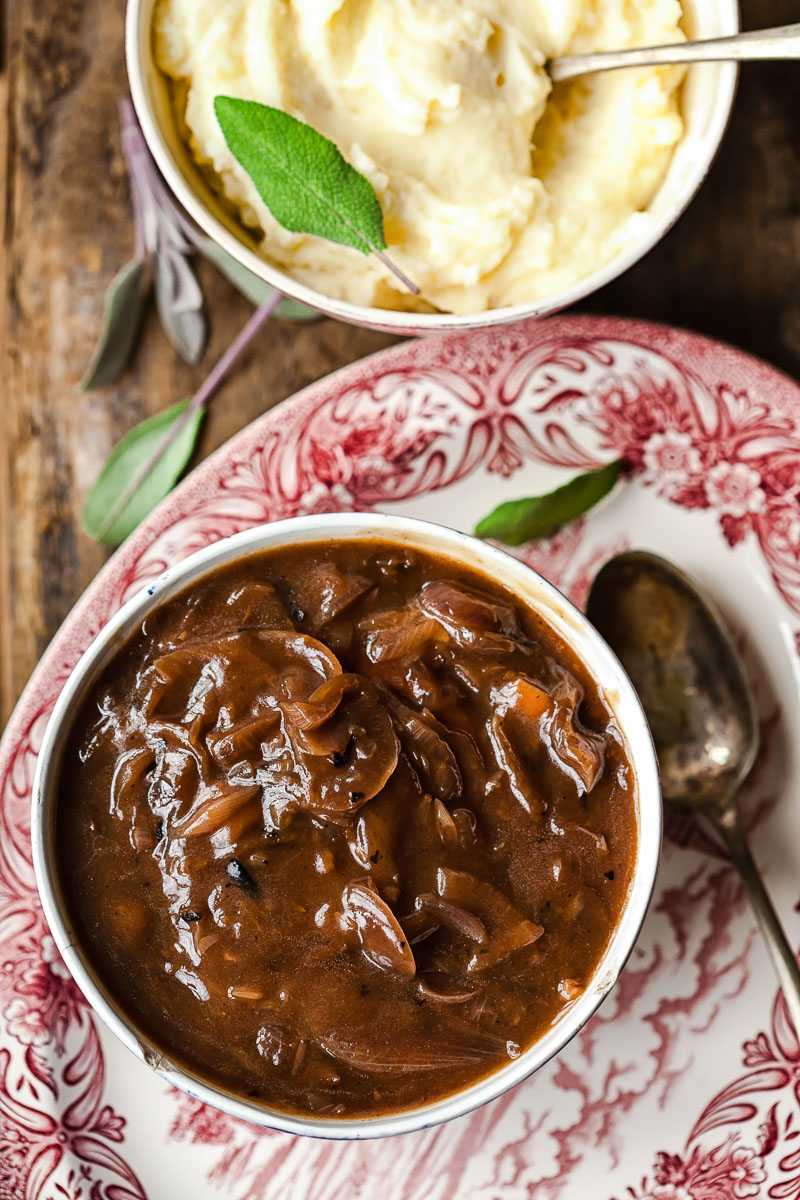 Recipe Tips
Make sure to slice your onions into thin and uniform slices. I prefer using either a mandoline or a food processor.
The most crucial tip would be to ensure your onion are fully cooked. No one want to bite into a crunchy onion in their silky smooth gravy.
Cook onions over very low heat for the amount of time stated. It takes at least 15-20 minutes to caramelise onions.
Use best quality chicken or beef stock.
Don't forget to add a tablespoon of butter at the end for a silky finish to the gravy.
Serving Suggestions:
Gravy goes with so many types of meat and potatoes, and that is why it's important to have a good recipe handy. It's also helpful to have a variety of recipes to break up the routine once in while. I am attaching a list of recipes below.
This onion gravy recipe will taste amazing when poured over our Rosemary and Thyme Roast Chicken and Potatoes, Prime Rib Roast or these Herb and Garlic Mashed Potatoes. Take your pick and enjoy!
More Gravy Recipes: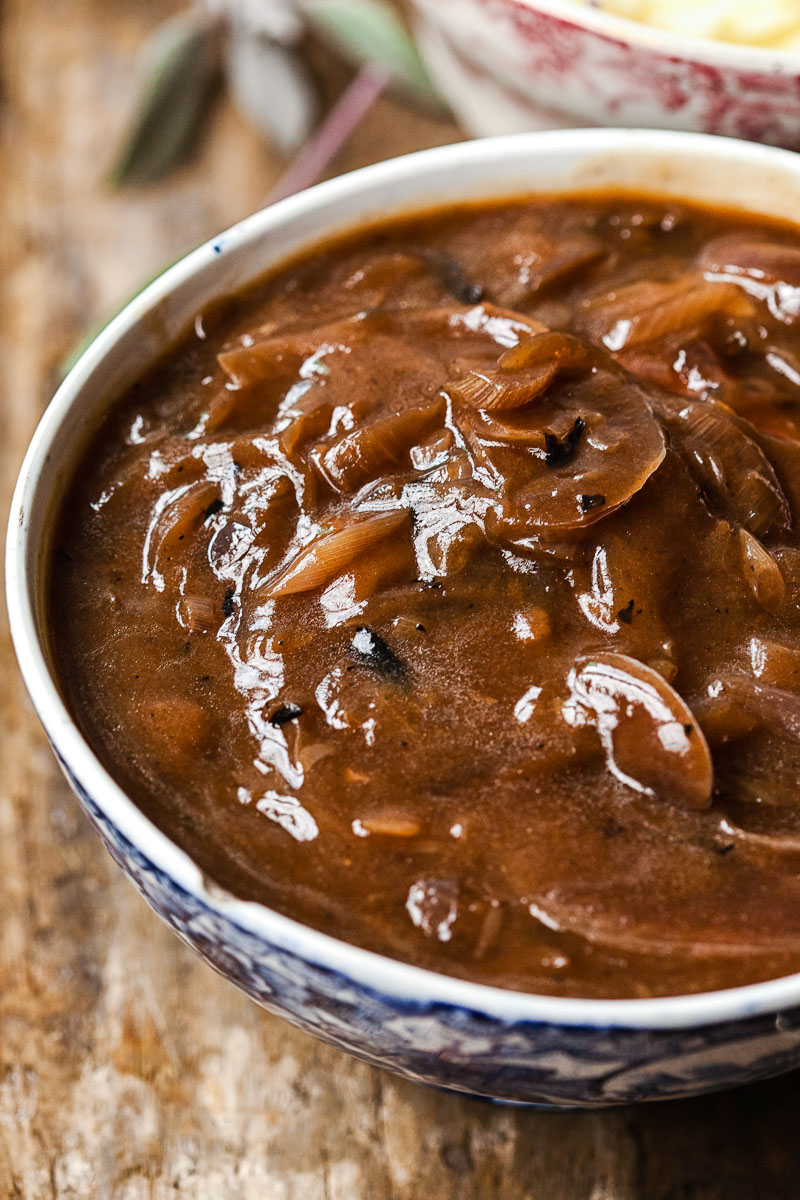 Ingredients
3

medium red onions

sliced thinly

2

tbsp

butter

2

tbsp

flour

4 tbsp(¼ cup)

dry hard apple cider such as Strong Bow

see notes

500ml/2 cups

chicken or beef stock

1

tbsp

butter

salt and pepper to taste
Instructions
Cook sliced onions in butter over low heat until tender for 15 minutes, then turn the heat up and brown them for 2-3 minutes. Add cider and cook onions until it evaporates.

Sprinkle the flour all over the onions and mix to combine. Slowly pour in the stock while mixing to avoid lumps, bring to a boil and let it simmer until the gravy is thickened to a desired consistency. Once done stir in a tablespoon of butter and season with salt and pepper to taste.
Notes
You can substitute hard apple cider with 1 part (1 tbsp) apple cider vinegar and 3 parts (3 tbsp) apple juice.
Nutrition Facts
Red Onion Gravy
Amount Per Serving
Calories 112
Calories from Fat 63
% Daily Value*
Fat 7g11%
Cholesterol 18mg6%
Sodium 171mg7%
Potassium 172mg5%
Carbohydrates 10g3%
Protein 3g6%
Vitamin A 179IU4%
Vitamin C 4mg5%
Calcium 17mg2%
Iron 1mg6%
* Percent Daily Values are based on a 2000 calorie diet.