This delicious pork loin is covered with a fragrant dry rub, then roasted and served with a beautiful gravy. Perfect Sunday lunch or a special occasion dinner. Serve this juicy roast over a bed of herb and garlic mashed potatoes.
If you are pork loin fan, take a look at our recipe for Pork Loin Steaks in Creamy Shallot and Mushroom Sauce, which is essentially pork loin sliced into steaks.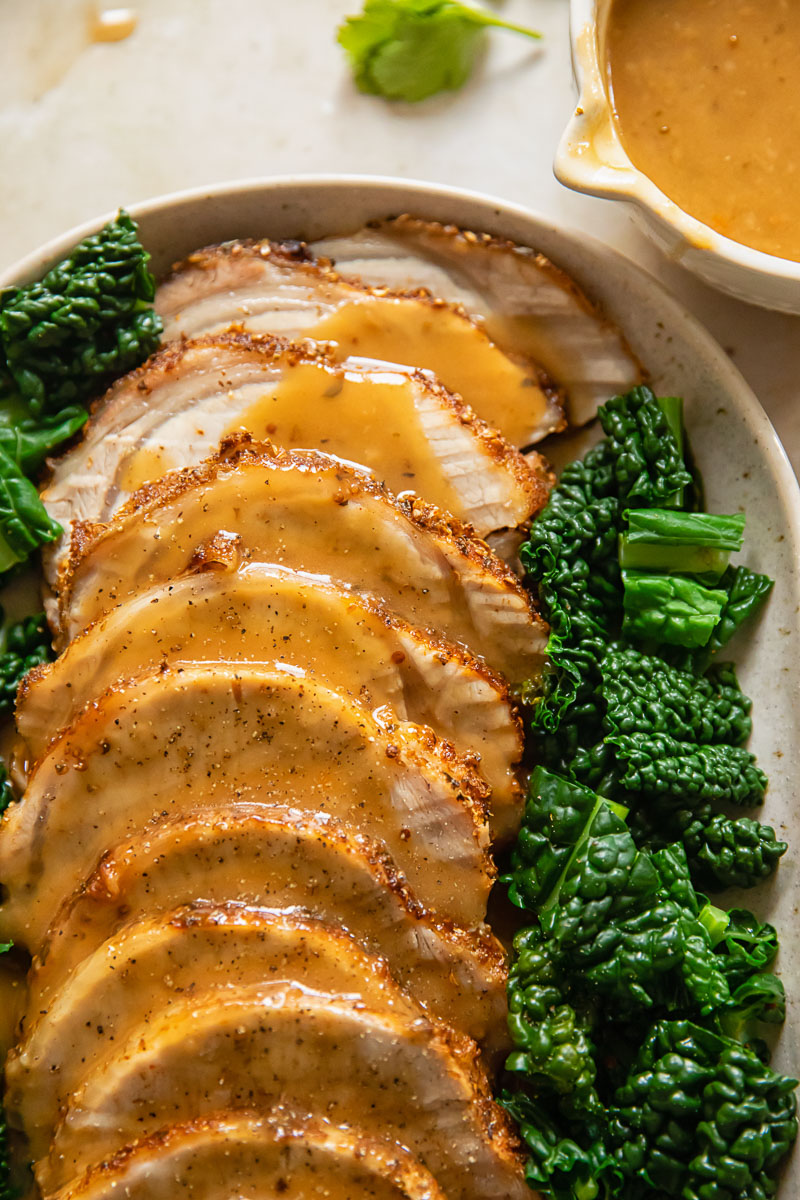 Pork roast is never as popular as beef and it's a real shame. I love a good pork roast for our Sunday lunch as I can buy a good quality joint for far less money than beef. A loin joint is one of our favourites.
When roasted at the right temperature and not overcooked the loin roast is one of the most beautiful pieces of meat you can enjoy as a family. It's lean, easy to cook and can feed a crowd.
I love adding a simple gravy to my roast pork. Since the loin is very lean, it needs a sauce to enhance the texture and add more flavour. Why doesn't love a good gravy, right?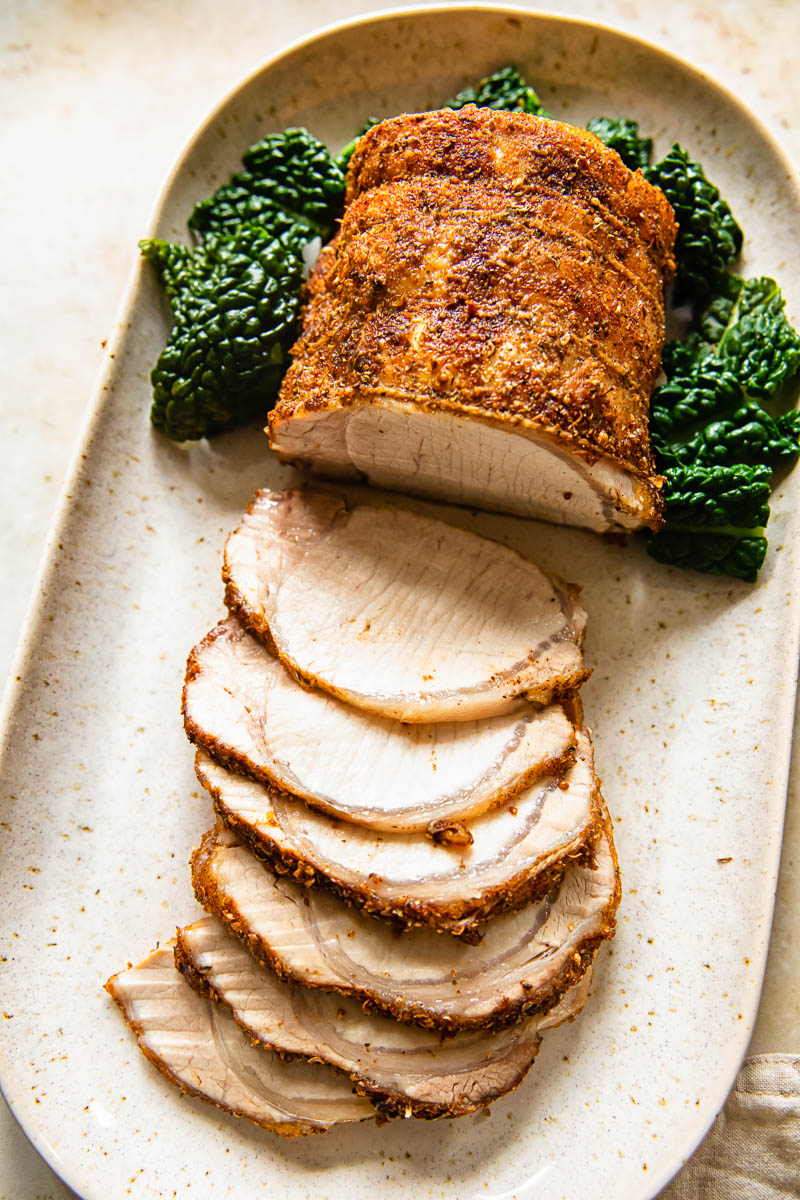 What is pork loin?
Pork loin joint is a cut that comes from the back of a pig. It is large, lean and tender. Pork loin should not be confused with a pork tenderloin. They are not the same! The loin is a wider and flatter cut of meat while tenderloin is long, narrow, round and always boneless.
Pork loin can be sold boneless or with a bone in, with or without a crackling (a layer of fat covered by the skin). I bought mine with a crackling as it is more standard in the UK. But I also wanted to keep my roast quite lean, so I removed it for this recipe. I also tied it with a kitchen twine to keep the joint moist while cooking.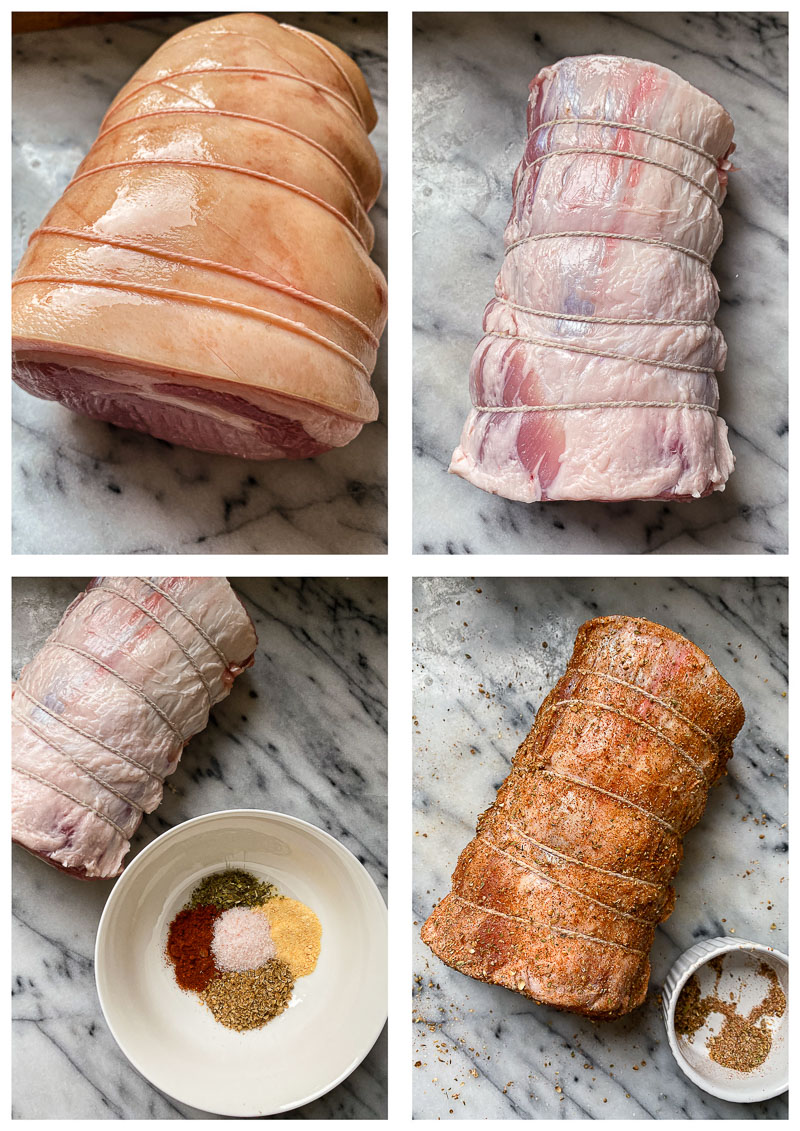 Recipe Tips
To infuse flavour into your joint rub it with a spice mix before roasting. I used a combination of smoked paprika, garlic powder, oregano, crushed coriander seeds and salt.
Make sure to tie your meat with a string, which will keep it more moist when roasting.
Many recipes call for browning the meat before roasting to infuse flavour. I avoid this extra step by starting the pork in an oven preheated to high temperature of 220C/475F, then reducing it to 190C/375F after 20 minutes. High temperature accomplishes the same surface browning as searing it on a pan.
The timing is given based on the size of the joint used at 2.2lbs/1kg. If your pork joint is bigger than that, increase cooking time by 25 minutes per each pound/500g of meat.
Test the doneness by using a meat thermometer. Fully cooked pork should read 63C/145F. Anything higher than that will result in dry meat.
Always rest your meat for 20 minutes before cutting it.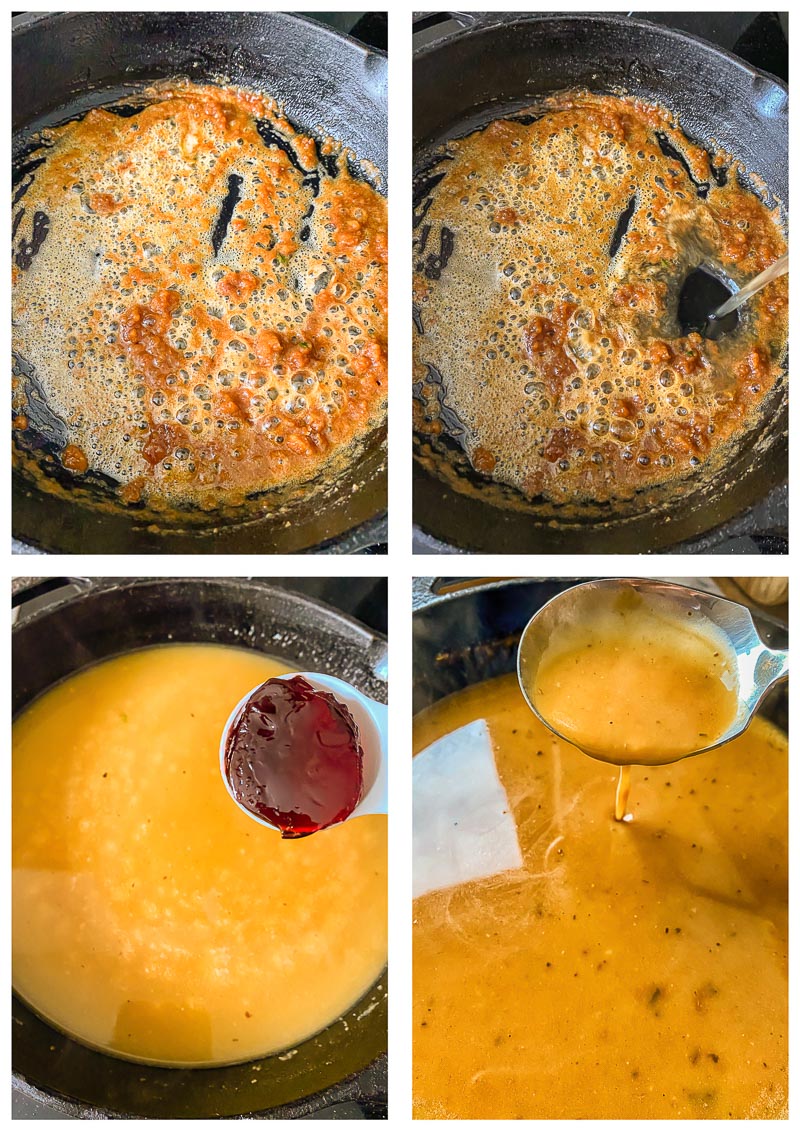 Don't skip out on the gravy. It adds so much flavour and improves the texture of the loin.
I often add a touch of sweetness to my gravy. It brings such a nice balance to the deeply savoury sauce and the meat itself. My favourite ingredients for that is red currant jelly. You can also use good quality grape jelly, plum jam or cranberry sauce.
If you are not a gravy fan, make my Mushroom Marsala Sauce to compliment your roast. It's absolutely delicious!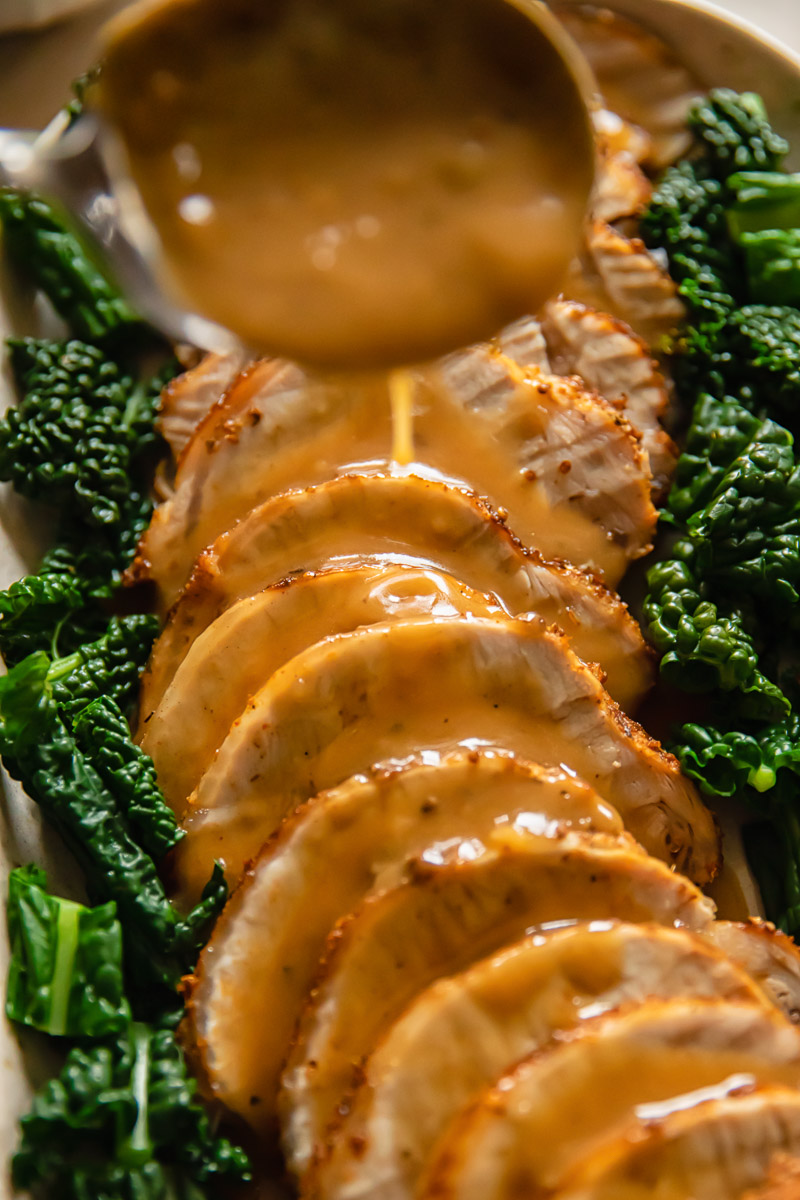 Serving Suggestions
This roast will be perfect when served with a side of mashed or roasted potatoes. I also love adding roasted carrots or brussels sprouts. Classic dishes with a couple of modern twists.
More Delicious Pork Recipes: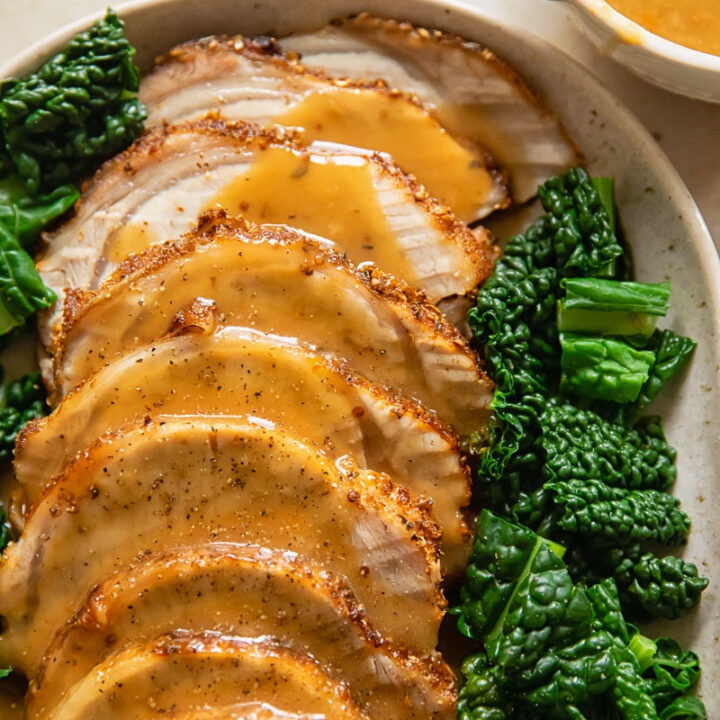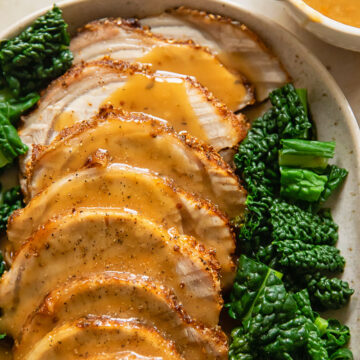 Pork Loin Roast with Gravy
This delicious pork loin is covered with a fragrant dry rub, then roasted and served with a beautiful gravy. Perfect Sunday lunch or a special occasion dinner.
Ingredients
1

tsp

garlic powder

1

tsp

smoked paprika

or sweet paprika

2

tsp

crushed coriander seeds

or 1 tsp ground coriander

1

tsp

oregano

1

tsp

salt

2.2 lbs/1kg

boneless pork loin (no crackling)
For the gravy
pan drippings

all you've got after the roast

2

tbsp

butter

3

tbsp

flour

500ml/2 cups

chicken stock

2

tbsp

red currant jelly

or grape jelly, plum jam or cranberry sauce

0.5

tsp

leftover rub

optional
Instructions
Preheat the oven to 475F/220C Take the pork loin out of the fridge 1 hour before cooking to bring it to room temperature. Make the rub by combining the garlic powder, smoked paprika, crushed coriander seeds, oregano and salt. Pat the loin dry with paper towel and apply the rub all over.

Put the meat in a roasting pan or a large cast iron pan and into the oven for 20 minutes. After 20 minutes lower the temperature to 375F/190C and continue roasting for 25-30 minutes until the internal temperature registers 145F/63C. Take the roast out and move to a serving plate, cover with foil and let it rest for 20 minutes.

Meanwhile make the gravy. To the same pan with drippings add the butter and melt it over medium heat. Then add the flour and let it cook while stirring for 1 minute, then add the stock and red currant jelly, bring to a boil and let it simmer till thickens. Taste and add ½ tsp of the leftover rub or salt if underseasoned.
Notes
If your pork joint is bigger than the one in the recipe, increase cooking time by 25 minutes per 1lbs/500g at temperatures indicated in this recipe. You can substitute red currant jelly with grape jelly, plum jam or honey.
Nutrition
Calories:
240
kcal
Carbohydrates:
9
g
Protein:
30
g
Fat:
9
g
Saturated Fat:
4
g
Trans Fat:
1
g
Cholesterol:
88
mg
Sodium:
468
mg
Potassium:
560
mg
Fiber:
1
g
Sugar:
3
g
Vitamin A:
217
IU
Vitamin C:
1
mg
Calcium:
19
mg
Iron:
1
mg