This creamy mashed potato casserole loaded with caramelised onions, mushrooms and topped with fried sage leaves is a brilliant dish, that could be made ahead of time. This little bonus makes it perfect for holiday entertaining!
If you are looking for a variety of side dishes for your holiday table, take a look at our Christmas recipe collection.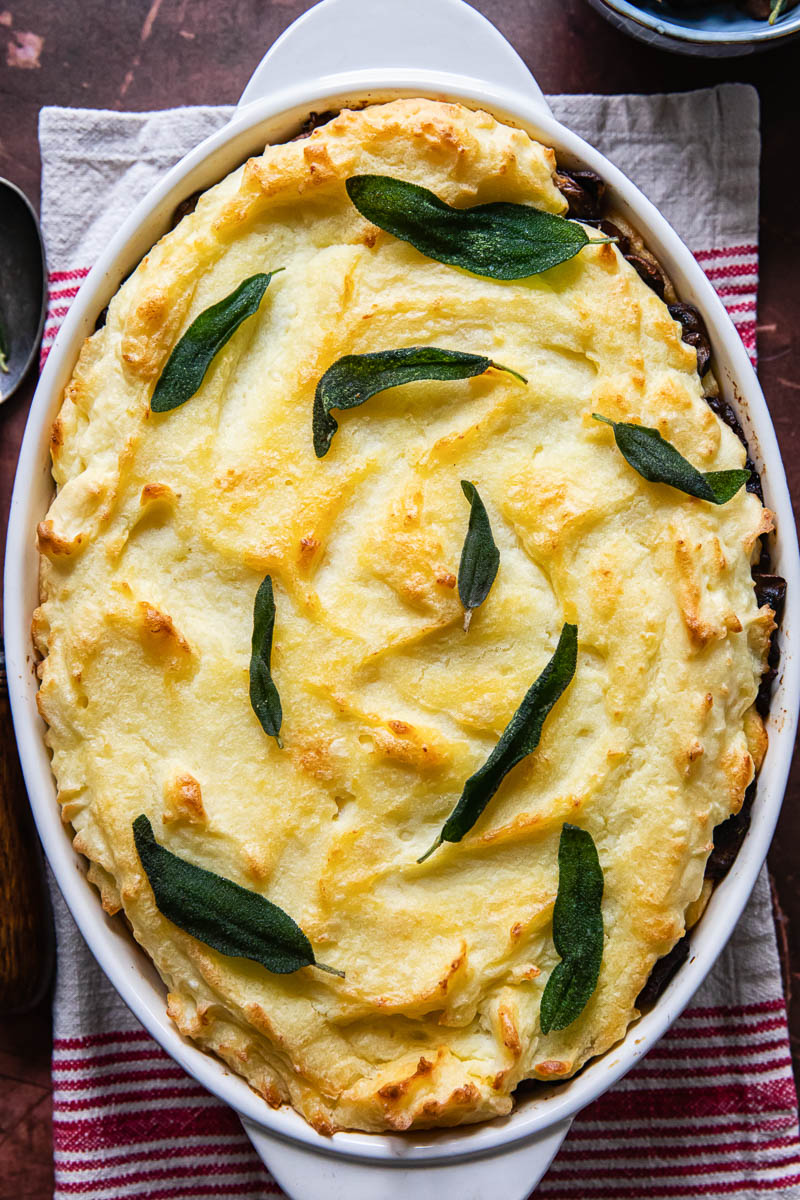 Creamy Potato Mash
Who doesn't love a side of mashed potatoes to compliment their roast during the holidays?!! Creamy, buttery and all around delicious. There is only one problem. Best mashed potatoes need to be made right before serving to get the light texture right. And there isn't always time.
To make your holiday cooking stress free and more enjoyable I bring to you my best mashed potato casserole. Make it a day head and simply reheat before serving.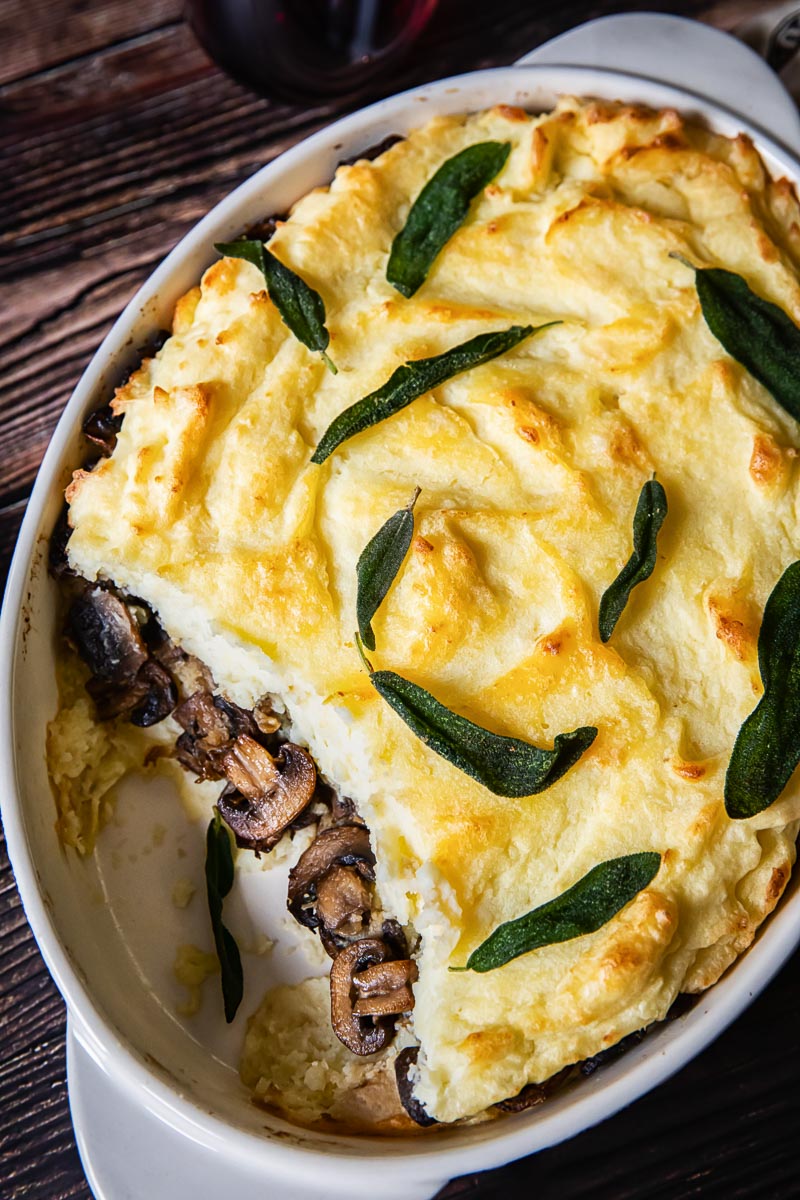 Loaded Mashed Potatoes
As great as mashed potatoes are on their own, I couldn't resist putting a tiny twist on the standard recipe, which reminded me of the food I grew up eating.
Potatoes and mushrooms are a classic combination in Eastern European cuisine. Inspired by that timeless pairing I added a middle layer of sauteed mushrooms and caramelised onions into my mashed spuds.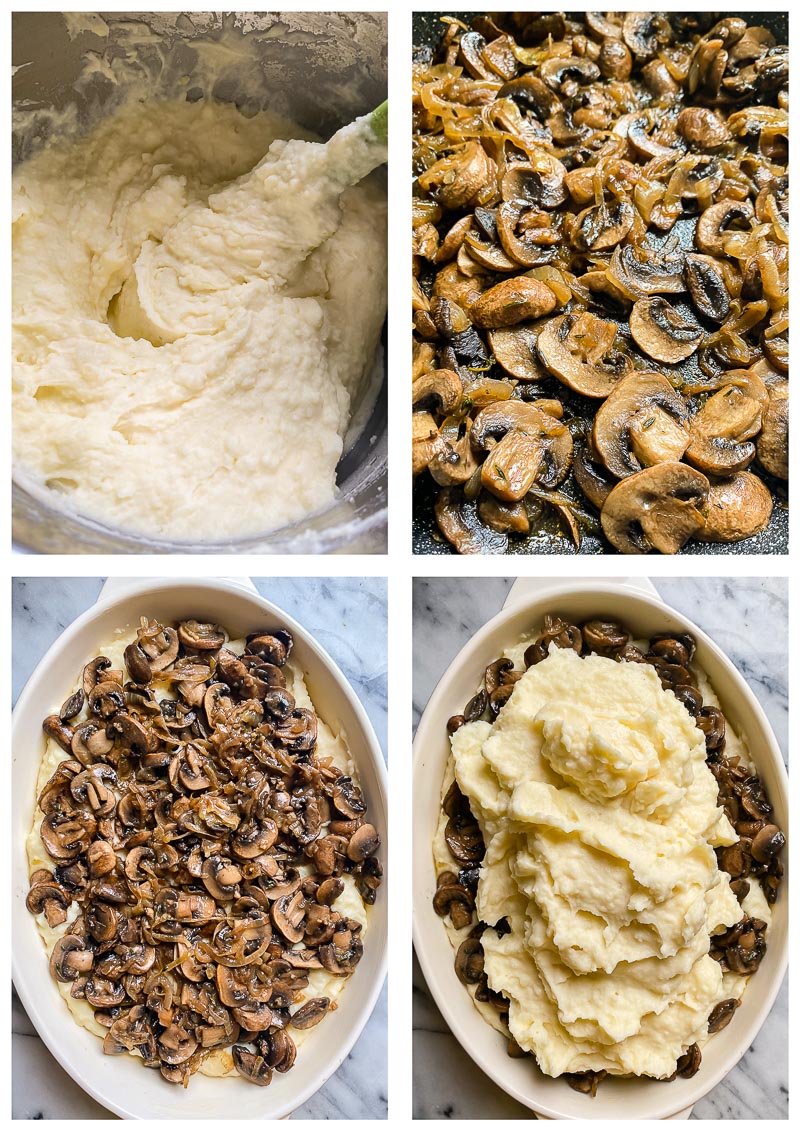 Recipe Tips
The main thing I learned about baked mashed potatoes is they stiffen and tend to get dry. To avoid that I added a fair amount of milk , sour cream and butter into the mash. The mixture needs to be quite loose before it's baked, more so than if you served them without baking.
Use starchy or also called floury potatoes for your mash. Yukon Gold or Russet potatoes in the US fall into that category. Maris Piper and King Edward are the best ones if you make a mash in the UK. They are the most suitable to create the creamy, fluffy texture.
To get the most out of your onions and to get that caramelised taste prepare to spend good 20 minutes sauteeing them over low heat. Yes, it does take this long. In fact, it takes longer but I have a clever hack, which speeds up the process.
Cover the onions with a lid for about 10 minutes. Once they get soft, take the lid off and get the caramelisation going!
Cook your mushrooms and onions in butter with a good pinch of thyme. I used fresh but dried thyme will also work. And don't forget to season well with salt and pepper.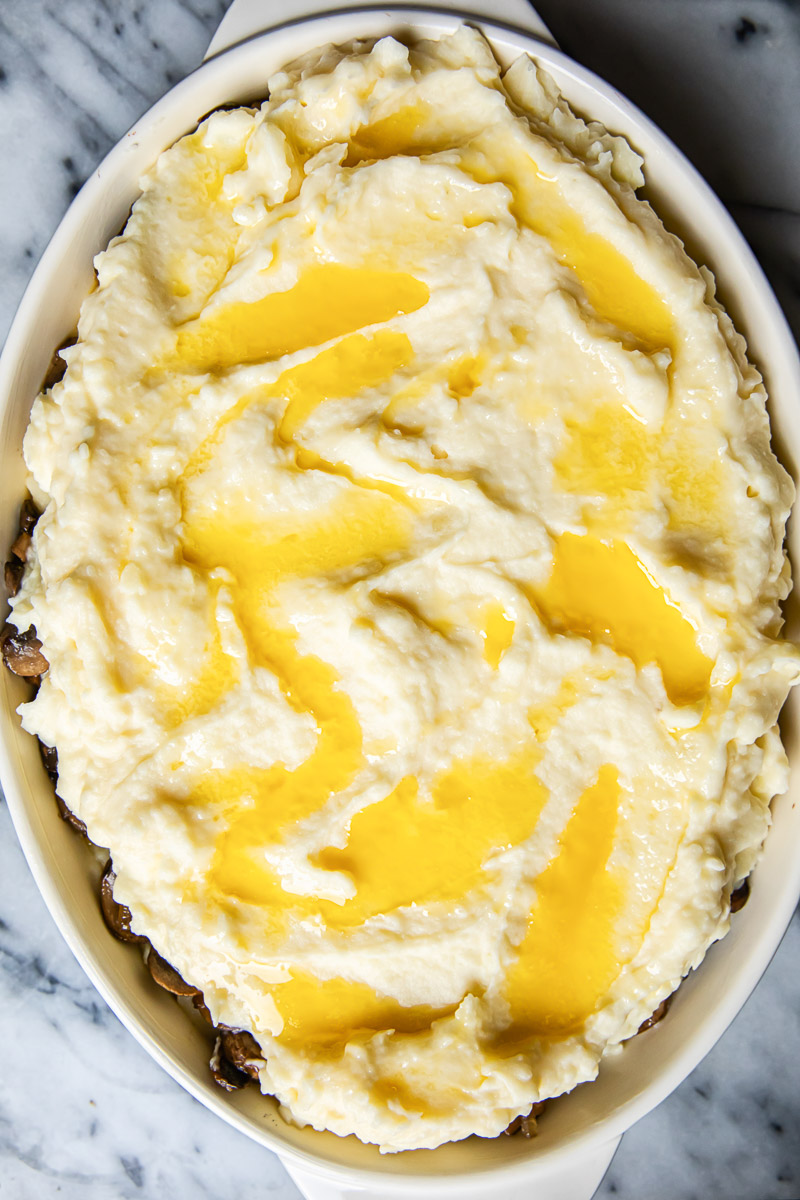 Finally, to get a delicious crusty top create swirls and grooves in your mashed potatoes for added texture. Then pour melted butter all over the surface before baking.
If the top is not golden at the end of baking time, do NOT bake it longer. This will make your mashed potatoes dry.
Simply switch your oven to broil/grill mode and move the casserole closer to the element. Then broil for 1-2 minutes. Watch carefully to avoid burning.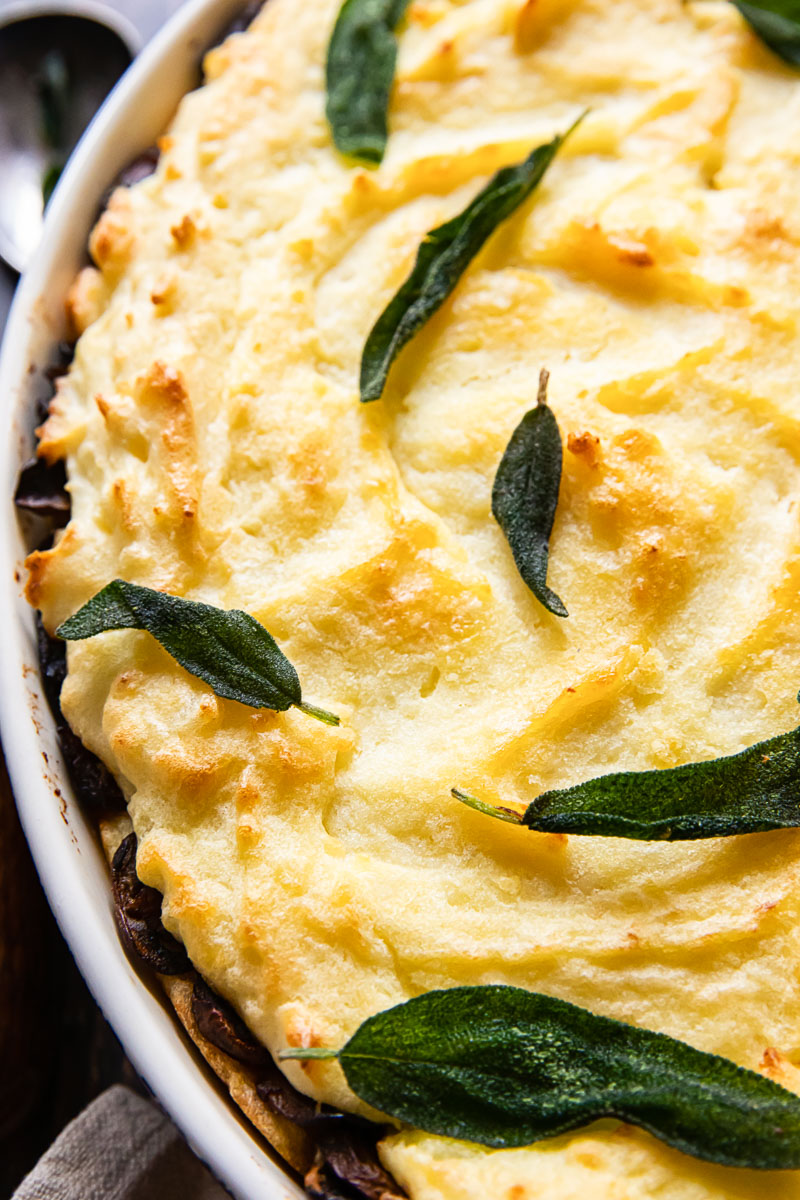 Reheating the casserole
If you plan on making this casserole ahead and want to serve it the following day. Here is what you need to do. First of all, don't fry the sage leaves until the day of serving.
Cover your casserole with aluminum foil and reheat in the preheated to 180C/350F oven to 25 minutes, then take the foil off and heat for additional 5-7 minutes. (I used a fairly shallow casserole dish, so if yours is deeper, add additional 10 minutes to the reheating time.)
Favourite Potato Recipes: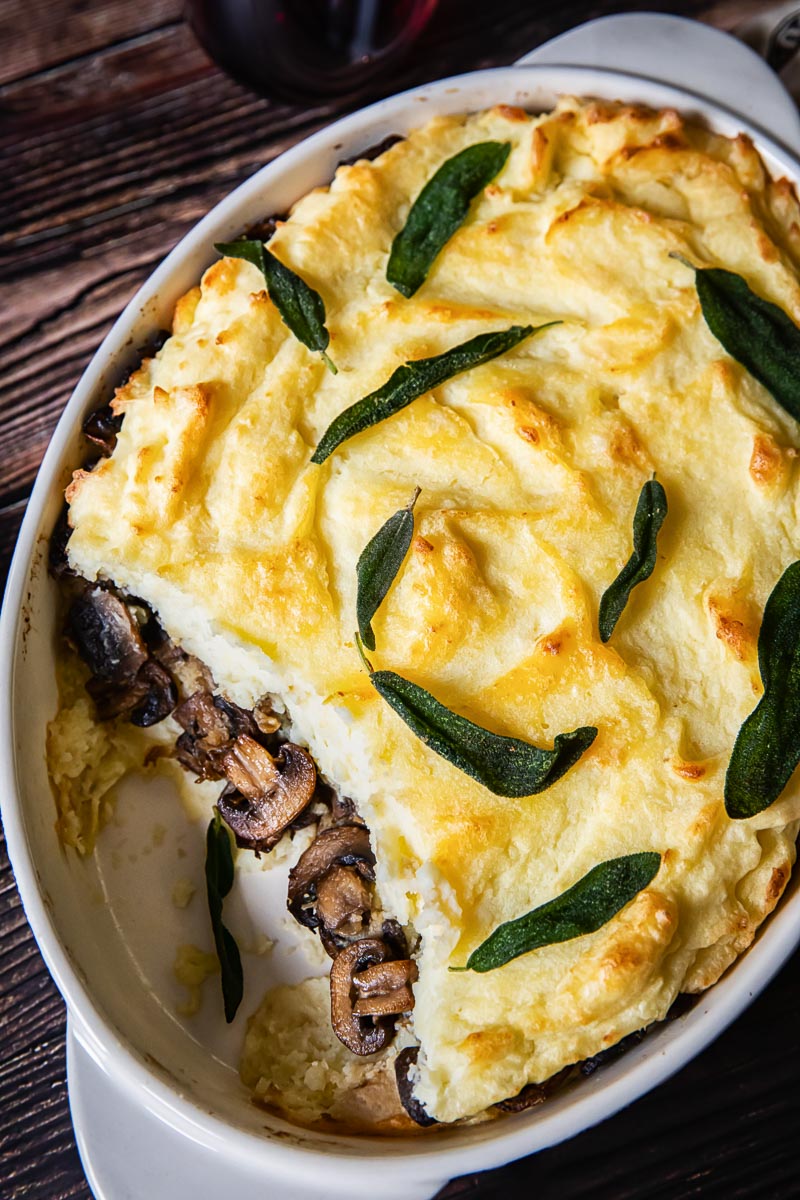 Ingredients
1.5 kg/3 lbs

floury/starchy potatoes

125g/ ½ cup

butter

250ml/ 1 cup

whole milk or 2%

2.5

tsp

salt

125ml/1/2 cup

sour cream

2

eggs

beaten

6

tbsp

butter

divided

1

onion

sliced

1-2

cloves

garlic

600g/5 cups

button mushrooms

sliced

4

sprigs

fresh thyme or ½ tsp dried thyme

4-5

sage leaves
Instructions
Peel and cut potatoes, boil in salted water until fork tender. Drain and air steam your potatoes until they look dry and flaky. Mash with hot milk, butter, sour cream and salt, then fold in beaten eggs. The mixture will look runny but that's exactly what you are looking for.

While the potatoes are boiling. Saute the onions in 2 tablespoons of butter over low heat, covered with a lid for 10 minutes until tender, then uncover and add the mushrooms with thyme and garlic, stirl and continue cooking for 10 minutes longer until all liquid evaporates and the onions and mushrooms are caramelised.

In a 9X13 inch or 3 Quart/Litre casserole dish layer the mashed potatoes with the mushroom and onion layer in the middle. Top the 2 tbsp of melted butter. Bake uncovered at 180C/350F for 25 minutes until the casserole is bubbling and puffed up. Broil for 1-2 minutes for a crispy top.

Before serving fry the sage leaves in the remaining 2 tablespoons of butter. Watch the sage leaves carefully as they burn quickly. Remove from the butter as soon as they start to curl and top the casserole. Reserve the sage flavoured butter for another use.
Notes
Reheating Instructions if you make this casserole one day ahead:
Cover your casserole with aluminum foil and reheat in the preheated to 180C/350F oven to 25 minutes, then take the foil off and heat for additional 5-7 minutes.
Nutrition Facts
Mashed Potato Casserole with Mushrooms and Caramelised Onions
Amount Per Serving
Calories 337
Calories from Fat 198
% Daily Value*
Fat 22g34%
Cholesterol 87mg29%
Sodium 661mg29%
Potassium 901mg26%
Carbohydrates 31g10%
Protein 7g14%
Vitamin A 710IU14%
Vitamin C 32mg39%
Calcium 76mg8%
Iron 2mg11%
* Percent Daily Values are based on a 2000 calorie diet.