Creamy and buttery mashed potatoes are made only better by a handful of fresh herbs and some roasted garlic. This is the recipe you will come back to over and over again!
For another potato mash recipe, take a look at my Sweet Potato and Swede (Rutabaga) Mash!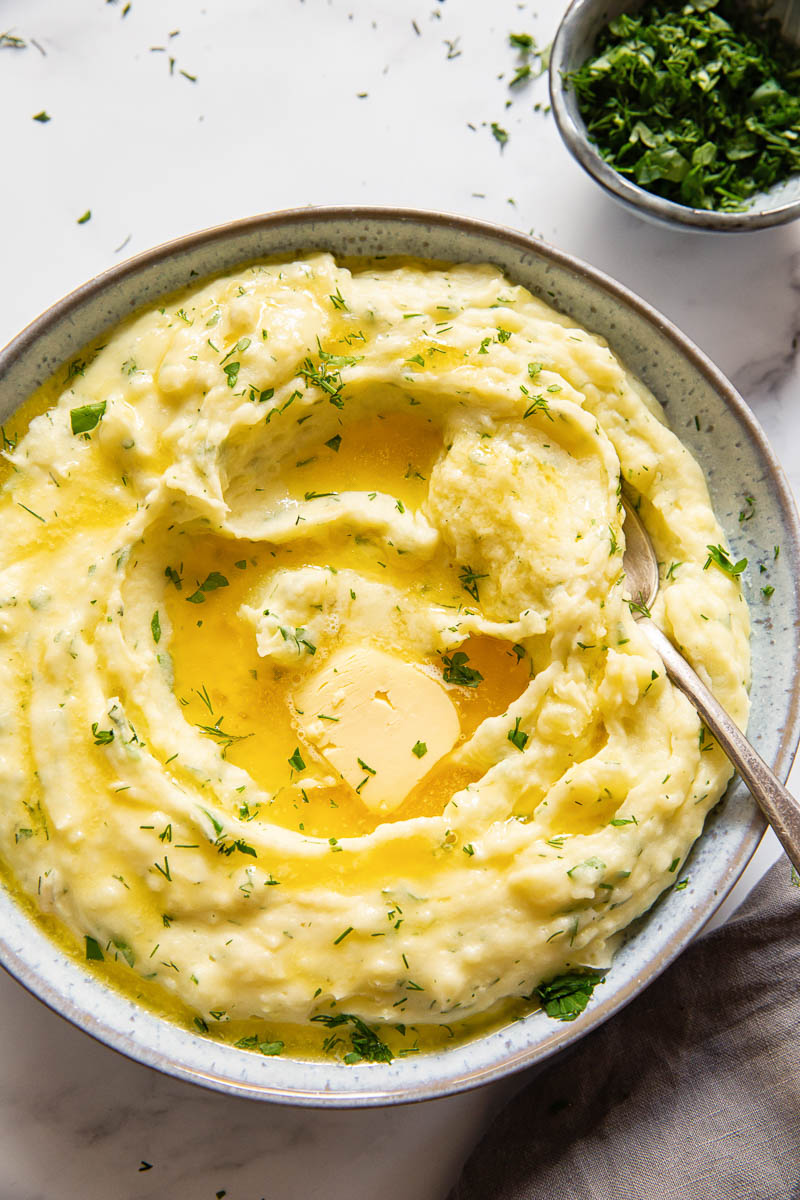 If you ask me what makes the best mashed potatoes my answer will always be BUTTER. You can use the right kind of potatoes and employ the best mashing techniques but if your potatoes lack butter, they will always be subpar.
I don't make mashed potatoes often but when I do I make sure they are well buttered.
Now that I've revealed my biggest secret I will tell you what else matters.
The potato itself!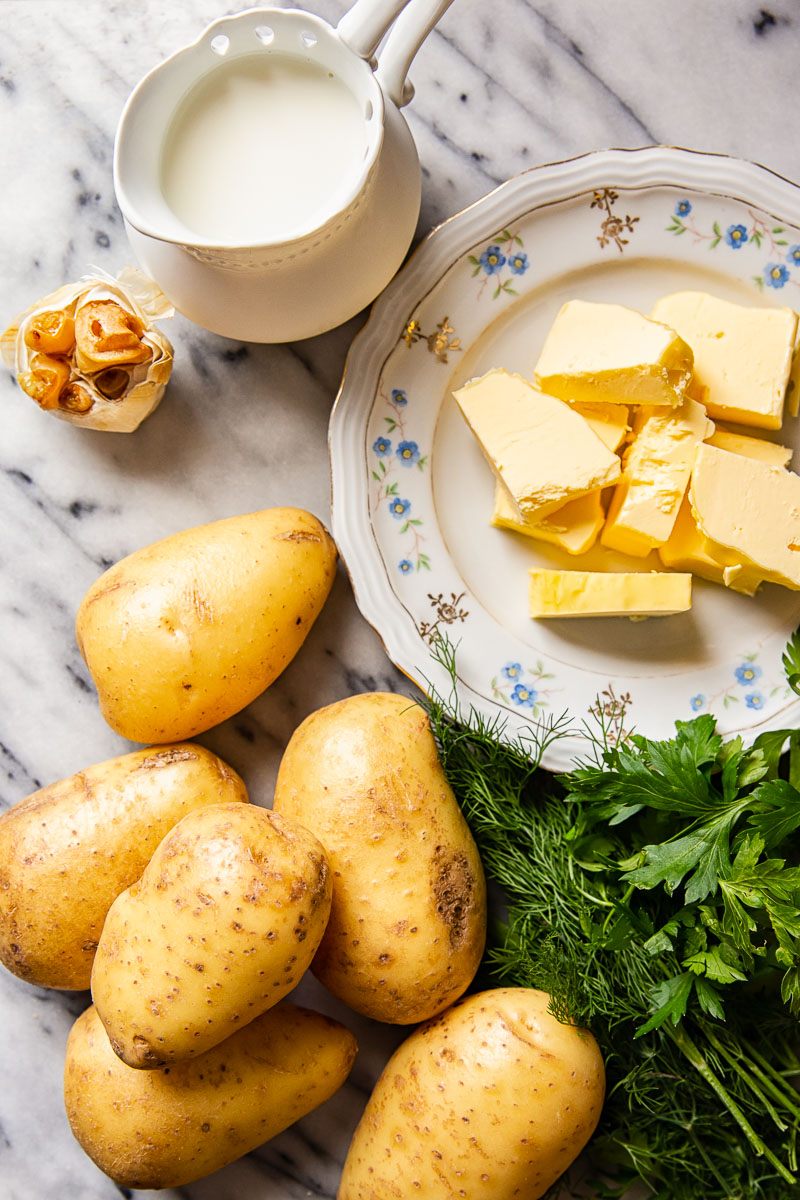 What type of potatoes are best
Having been a devout potato lover since forever it's no surprise I know a lot about them. It turns out I like to study objects of my affection and I love sharing my knowledge!
There are two types of potatoes. Waxy and floury (sometimes called starchy). Both types are gorgeous but have different uses. Waxy potatoes are great for salads as they cook up firm and don't fall apart. If you try to mash waxy potatoes into submission they respond with a load of gluey mess. The more you work them the stickier they will get.
While floury potatoes are perfect for mashes. Their fluffy texture is absolutely ideal for whipping up a pile of creamy mashed potatoes.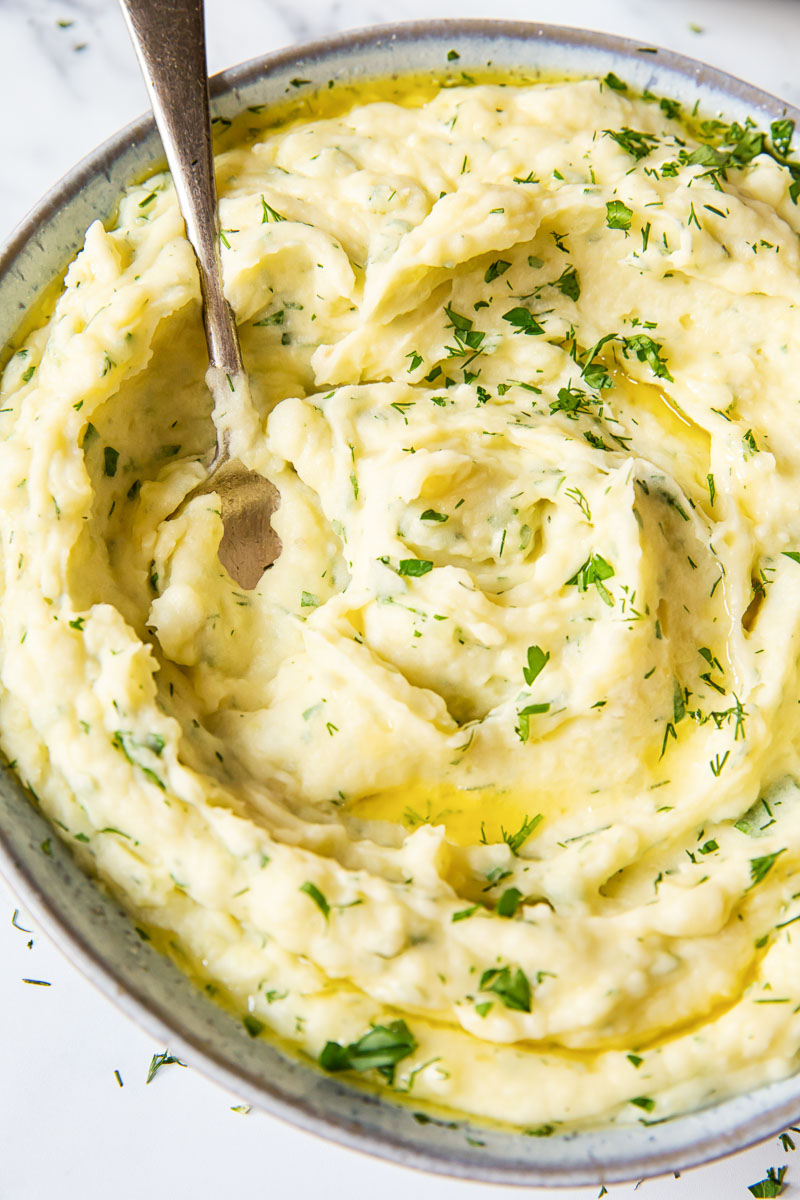 What potato varieties are best for mashing?
Yukon Gold or Russet in the US
Maris Piper, King Edward, Vivaldi and Desiree, which is what's considered an all rounder, so suitable for mashes, roast potatoes and everything in between.
The best technique
There are several ways to deliver a beautifully creamy potato mash.
You can actually mash them with an old-fashioned potato masher. My preferred method if I am honest.
You can push them through a potato ricer and my mother used to do that for special occasions. This method produces the smoothest mashed potatoes!
Some people whip their potatoes with a mixer or process them in a food processor. My advice is whip your potatoes if you must but stay away from a food processor. It's a sure way to ruin a perfectly good batch by turning them into glue.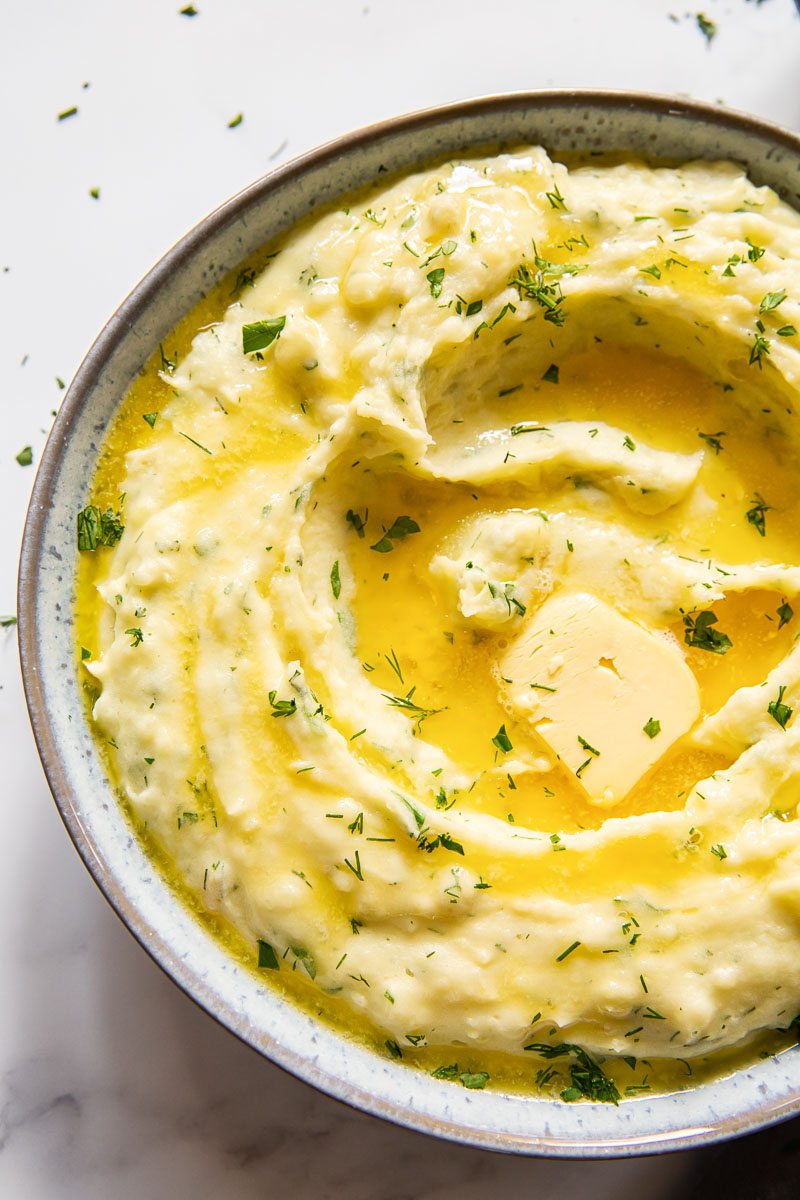 What can I add to my potato mash?
In my humble opinion, some add-ons are a must and some are optional. For example, milk, butter and salt are essential while herb and garlic are not required but highly recommended!
I love garlic as I am sure many of you do too but adding it raw is a bit much plus not ideal for a dinner party or a holiday table for the obvious reasons.
Roasted garlic is another matter entirely. Somehow roasting it mellows the flavours we find difficult to stomach and deepens the flavours we love! Roasted garlic is truly magic! It's a great way to add some pizzazz to otherwise simple dishes.
Another easy and effective trick to take your mashed potatoes to another level is loading them with fresh, fragrant herbs! The classic combination, that is actually found in ever so popular Ranch dressing, is parsley, dill and chives. Any combination of the three is delicious!
More favourite potato recipes to try: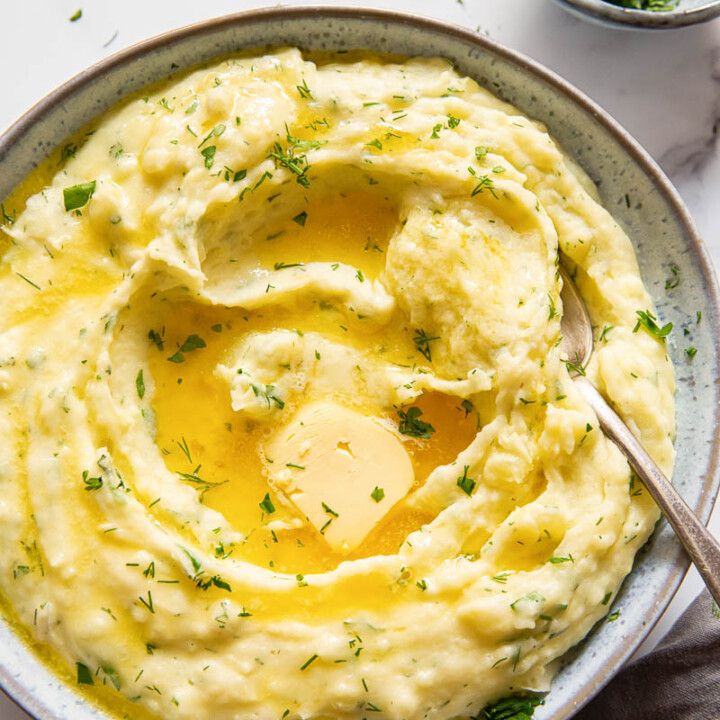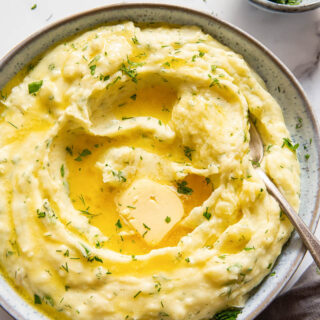 Herb and Garlic Mashed Potatoes
Creamy and buttery mashed potatoes are made only better by a handful of fresh herbs and some roasted garlic.
Ingredients
1

head

garlic, small

6

potatoes, medium

salt to taste

50ml/1/4 cup

whole milk, hot

100g/1/2 cup

unsalted butter

1-2

tbsp

parsley

1-2

tbsp

dill
Instructions
Preheat the oven to 200C/400F. Cut the top off the head of garlic to expose the cloves, wrap in aluminium foil and bake for 45-50 minutes until the cloves are very soft. Cool.

Boil the peeled and quartered potatoes in salted water until very tender. While the potatoes are cooking, squeeze the garlic cloves out of their peels, they should pop out easily and mash them with a fork in a small bowl. Set aside.

Drain the potatoes and steam dry them to get rid of the excess of water. Return them to the pot and add hot milk, start mashing with a potato masher until mostly smooth, then add butter and keep mashing. Start by stirring in ½ of the mashed roasted garlic, slowly increase the garlic quantity according to taste, then mash until smooth and most lumps are broken, season with salt to taste. Add the fresh herbs and fold in with a spatula. Serve piping hot with a bit more butter if desired.
Video
Notes
You might have to reheat your mashed potatoes before serving as they tend to cool during the mashing.
Nutrition
Calories:
255
kcal
Carbohydrates:
28
g
Protein:
6
g
Fat:
14
g
Saturated Fat:
9
g
Cholesterol:
37
mg
Sodium:
28
mg
Potassium:
909
mg
Fiber:
5
g
Sugar:
1
g
Vitamin A:
486
IU
Vitamin C:
27
mg
Calcium:
86
mg
Iron:
7
mg