Everyone needs an easy recipe for homemade gravy to go alongside your roast! Just a few tips and a handful of ingredients will set you up for success every time!
This fantastic gravy needs an equally fabulous companion. Don't forget to grab our favourite recipe for a herb and garlic rubbed roast turkey.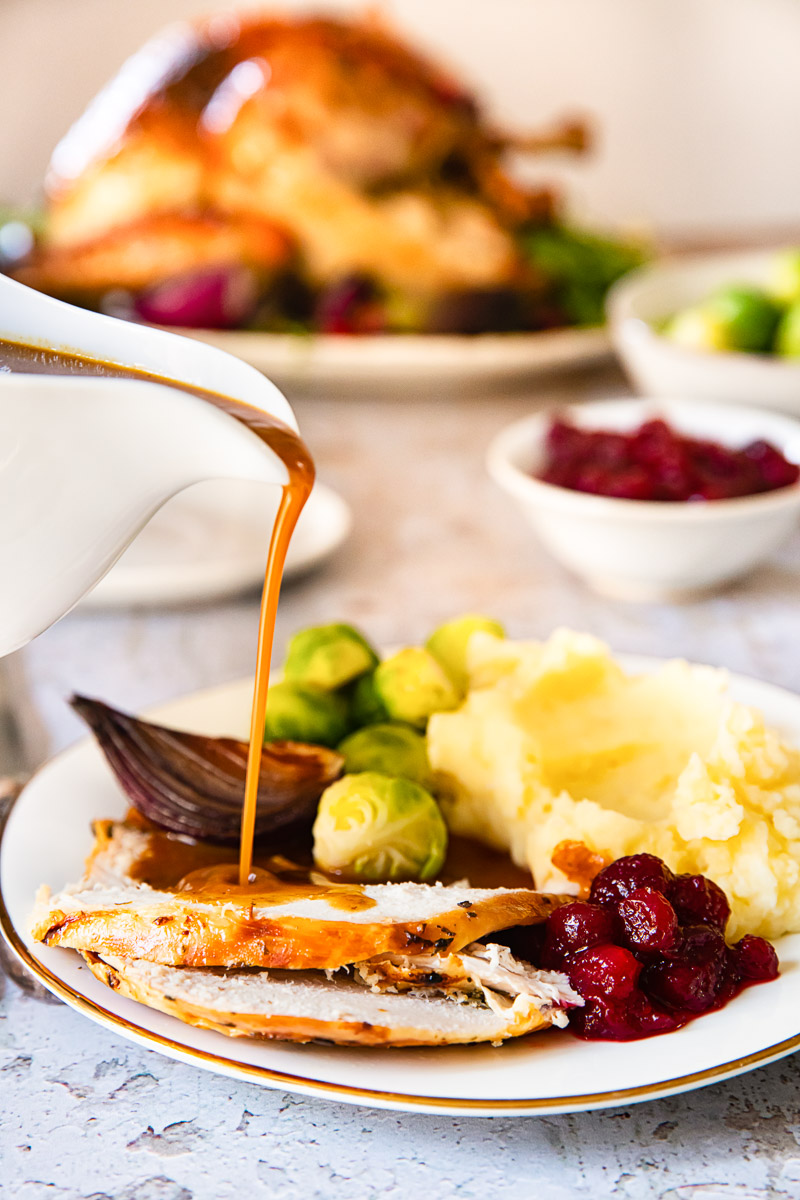 Whenever I plan a menu for holiday meals, gravy never seems to get its own line on the list. Not because it's not important, far from it. In my mind I simply assume its presence. Whether or not on the list, gravy will be made and enjoyed by all.
Perhaps this is why it took me so long to share my recipe. Sometimes simple things get overlooked and it's not right or fair.
Recipe Top Tips
My recipe is extremely simple but it's the only one I use as it produces reliable results every single time. The main ingredient in my recipe is the turkey or any other meat drippings, which collect at the bottom of a roasting pan. They are single-handedly responsible for that deep and savoury taste we associate with a well made gravy.
Second after the drippings comes the wine. I don't have a firm preference for the alcohol I use. Most often I use port or sherry as I usually have a bottle stashed away. Fortified wines like sherry and port keep much longer than regular wines and have a deeper flavour. Marsala wine is another one of those great additions.
To add bulk and thickness I incorporate flour and a good quality stock. If you don't make your own, store- bought will do. My favourite ones are concentrated stock pots made by Knorr.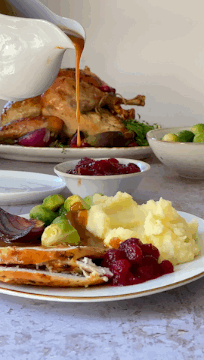 How to Make Gravy
I like to use the same roasting pan where the meat was cooked to make my gravy. The bottom of that pan is covered with burnt-on bits, that will later contribute to that incredible depth of flavour. Also remember the more burnt bits you've got, the darker you gravy will be. You can, of course transfer the drippings to a saucepan but I feel like it adds more work and dishes. Plus you will inevitably lose some of that flavour I was talking about earlier during that transfer.
Set the roasting pan over two elements of the stove since it's too large to be heated by just one. Then add butter and flour to the pan. These two ingredients will make the gravy rich and thick.
The wine goes next, then your stock and seasoning. Don't stop whisking your gravy while it's bubbling. Continuous stirring is the only cooking skill that is required for a smooth, lump free gravy.
Once in a while I stir in a tablespoon of blackcurrant jelly at the end and let it melt into my gravy. This flavour goes especially well with pork roasts.
Lastly I always strain my gravy through a sieve before pouring it into my gravy boat. Some people don't mind little bits but I do. I love my gravy to be silky smooth!
Looking for exciting side dishes for your roast? Here are our favourites: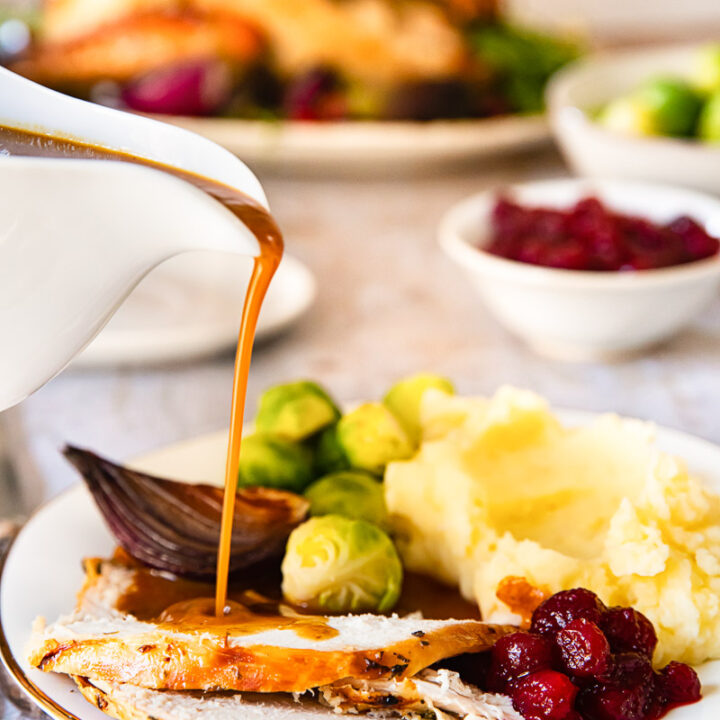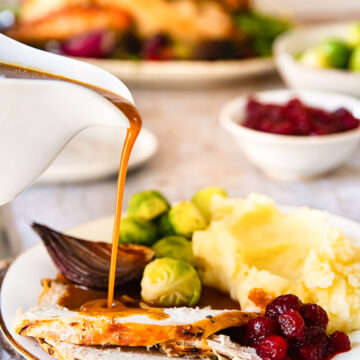 Easy Homemade Gravy Recipe
Everyone needs an easy recipe for homemade gravy! Just a few tips will set you up for success every time!
Ingredients
2

tbsp

butter

2

tbsp

flour

fat and meat juices on the bottom of pan

aka drippings

125ml/0.5 cup

red or white wine

see recipe notes

1 litre/4 cups

stock

chicken, turkey or beef

salt and black pepper to taste
Instructions
Remove the meat from the roasting pan and cover with foil. Put the roasting pan with the drippings on the stove top over two elements and turn them on medium. (If your roast was very fatty, spoon some fat off and discard. )

Once the meat juices start to bubble, add the butter and let it melt, then sprinkle the flour all over and blend it in with a whisk until you see a smooth paste rather than lumps.

Next pour in the wine and continue whisking, cook it down until slightly reduces for about 1 minute. Finally add the stock, whisk to combine and bring to a boil. Cook while stirring until the gravy reaches desired consistency. It should take 5-7 minutes. Season with black pepper. Strain the gravy through a sieve for a smooth texture. Serve hot with your choice of meat.
Notes
If you make a gravy for a beef or pork roast, red wine might be more suitable.
For turkey or chicken gravy you might want to use white wine.
You can also use Marsala wine, Sherry or Port for a deeper and slightly sweet taste.
You might need to add salt or leave it as is depending on the stock used. Always taste your gravy at the end to determine if more seasoning is needed.
Nutrition
Calories:
59
kcal
Carbohydrates:
1
g
Protein:
1
g
Fat:
5
g
Saturated Fat:
4
g
Cholesterol:
5
mg
Sodium:
18
mg
Potassium:
7
mg
Fiber:
1
g
Sugar:
1
g
Vitamin A:
59
IU
Calcium:
1
mg
Iron:
1
mg