This crab pasta in a simple lemon butter sauce with garlic and white wine is one of the quickest and tastiest recipes you can whip up with minimal ingredients and loads of flavour!
If you are a seafood lover, try our Shrimp Scampi Linguine, which is just as quick and delicious.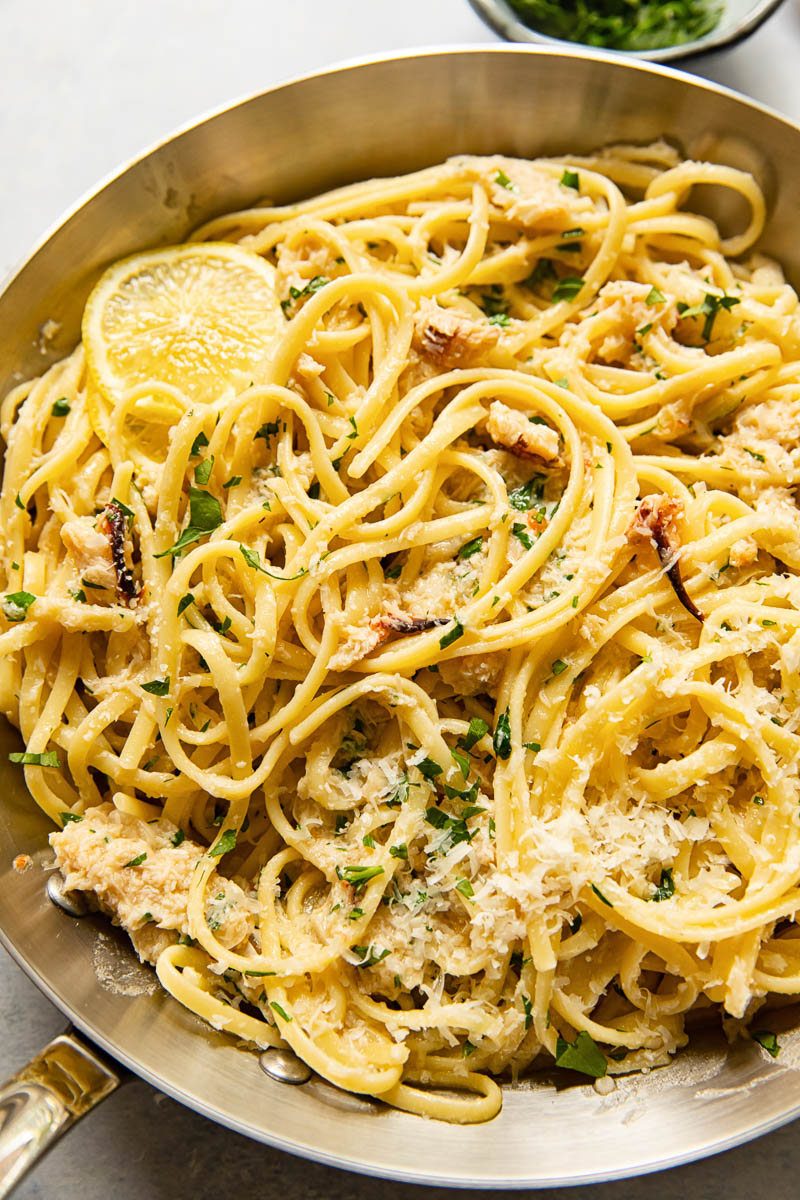 Although you can enjoy crab all year round, the end of summer is the time it's most abundant! There are so many ways to cook with it but adding crab to pasta dishes has got to be my favourite.
You don't need a lot to add plenty of flavour, which is great news since crab meat could be pricey.
Crab Recipes
This pasta recipe made with linguine and cooked crab is one of the simplest and speediest dishes you will make.
I love having a large arsenal of quick recipes at my disposal in the summer because I don't want to be stuck in the kitchen for long when it's so lovely out!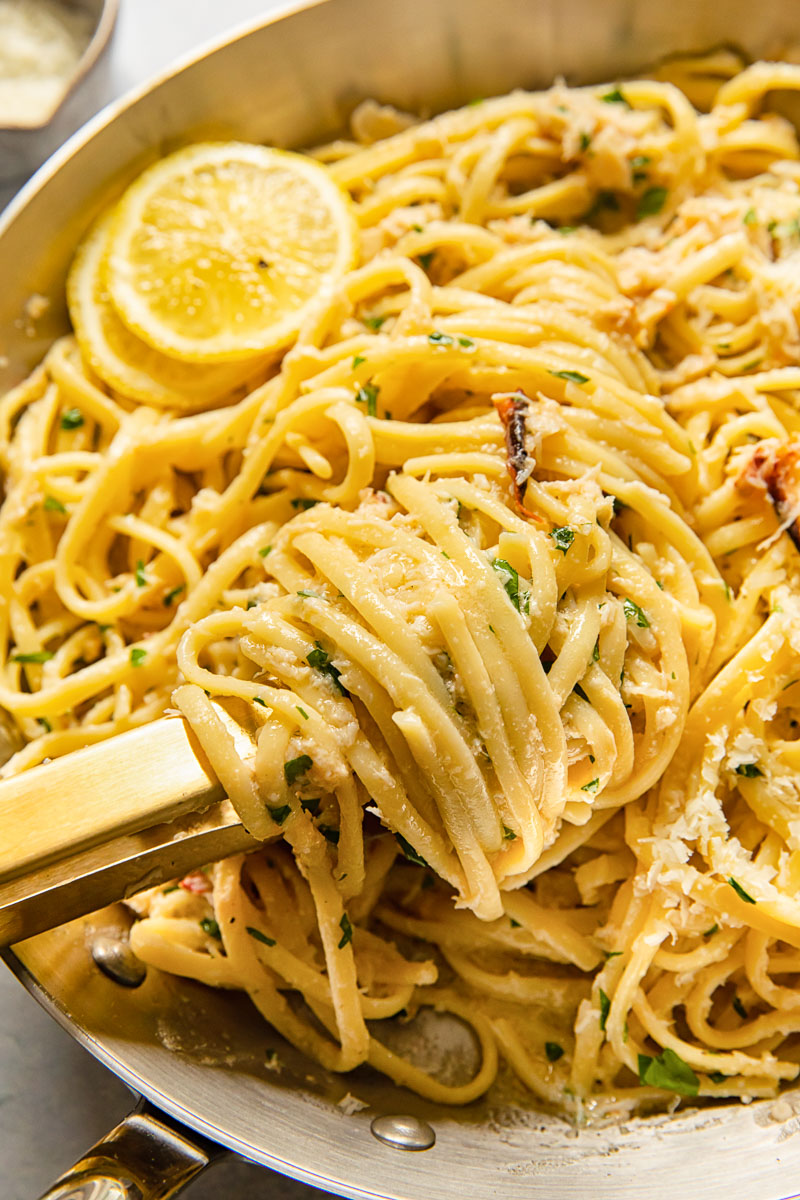 Another family favourite, that is equally speedy, is a stunning hot crab and roasted corn dip. Perfect for dunking!
However, if you are up for a little challenge, make my luxurious seafood lasagna. The recipe uses a variety of seafood, crab included, a luscious bechamel sauce and fresh lasagna pasta sheets. Pure indulgence!
Now let's talk about this crab linguine cooked with lemon, garlic, butter, a touch of white wine and Parmesan cheese. The simplest ingredients that produce remarkable taste.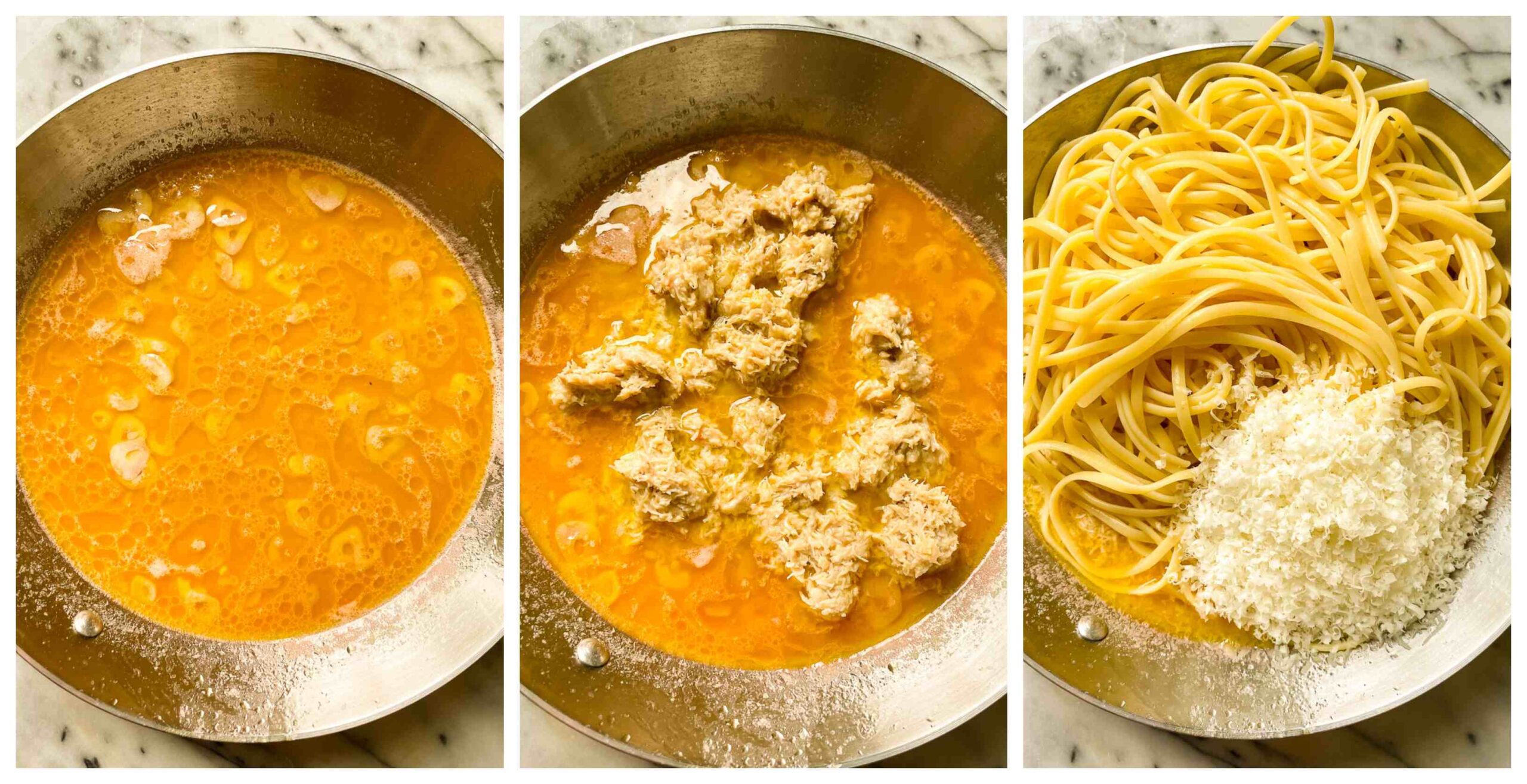 Recipe Tips and Notes
As I mentioned above this recipe uses already prepared fresh crab. However, if you have access to high quality crab, the pasta dish will taste even better if you cook it yourself!
I used premium quality cooked crab from a deli. You can also use good quality canned crab if it's easier and more affordable. I am not fussy of what type of crab you will use. King crab, brown crab…basically anything you can afford.
There is always an option to get imitation crab. I buy it often but I have to admit, as much as I love it, it doesn't really taste like crab to me. It's lovely, just not crab.
The sauce for this pasta is a simple combination of butter, sliced garlic, lemon juice and a little of dry white wine or even rosé wine. I also add a grating of the Parmesan cheese at the end. This pasta sauce would taste just as great with shrimp or scallops!
The whole process takes about 15 minutes. It's quick, easy and utterly delicious!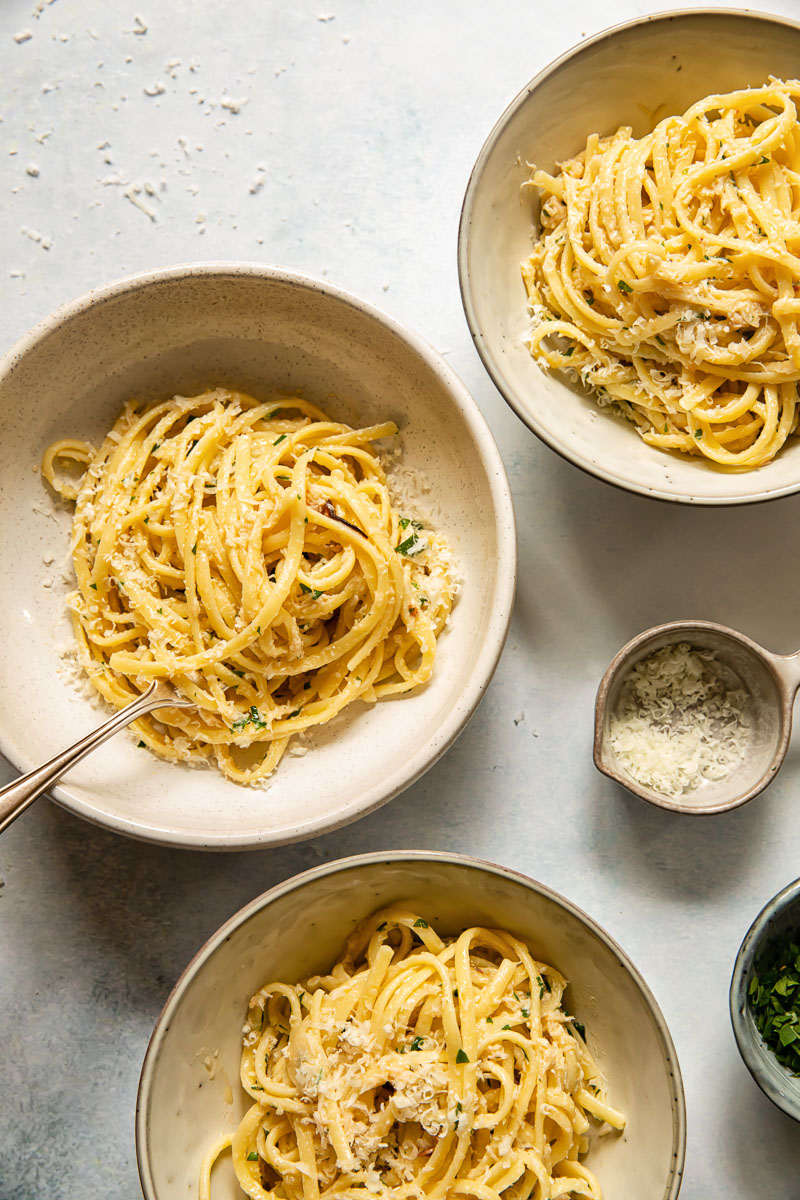 Serving Suggestions
If you are wondering what to serve alongside this dish, here are our suggestions.
Try our Tuscan Panzanella Salad as the punchy dressing and ripe tomatoes bring much needed acidity to balance out the richness of the garlic butter sauce of the crab pasta.
Another one is this Warm Zucchini Salad with Balsamic Vinaigrette is loaded with flavour packed vegetables and provides another way to use the abundance of the summer zucchini besides zucchini fritters and zucchini bread or muffins.
Favourite Seafood Pasta Recipes to Try: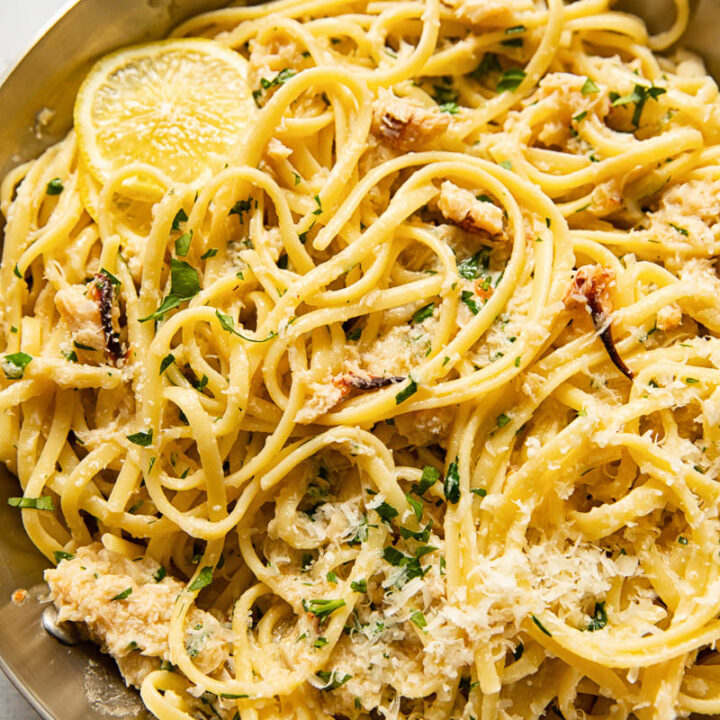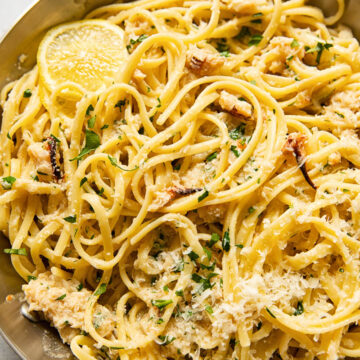 Easy Crab Linguine
This crab pasta with a simple lemon butter sauce is one of the quickest and tastiest recipes you can whip up with minimal ingredients and loads of flavour!
Ingredients
½

lbs

linguine, spaghetti or pasta of your choice

3

tbsp

unsalted butter

2

cloves

garlic

75ml/1/3 cup

dry white wine

½

lemon, juice only

200g/1 cup

ready to eat crab meat

50g/1/2 cup

Parmesan cheese

2

tbsp

chopped parsley

salt and pepper to taste
Instructions
Cook the linguine in a large pot of salted, boiling water according to package instructions.

Five minutes before the pasta is ready, set a large pan over low heat and melt the butter, add sliced garlic and sauté for 1 minute over very low heat without colouring it, then pour in white wine and lemon juice, turn the heat up to medium and let it reduce for a couple of minutes.

Stir in the cooked crabmeat and take it off the heat. Drain the pasta once cooked and reserve ½ cup of pasta water. Add the pasta to the pan with the crabmeat and toss to combine, add half of the reserved of pasta water and Parmesan cheese, stir over low heat until the cheese melts and coats the pasta. If the pasta is a bit dry add a splash of pasta water. Your pasta dish should be loose but not swimming in sauce, just lightly coated. Salt to taste. Sprinkle with fresh parsley before serving.
Video
Notes
I prefer using sliced garlic over pressed garlic in this pasta dish as it gives milder taste and doesn't overpower the crab.
Nutrition
Calories:
528
kcal
Carbohydrates:
59
g
Protein:
28
g
Fat:
17
g
Saturated Fat:
10
g
Polyunsaturated Fat:
1
g
Monounsaturated Fat:
4
g
Trans Fat:
1
g
Cholesterol:
69
mg
Sodium:
1609
mg
Potassium:
369
mg
Fiber:
3
g
Sugar:
3
g
Vitamin A:
721
IU
Vitamin C:
11
mg
Calcium:
258
mg
Iron:
2
mg