This recipe for skinny chocolate zucchini muffins is for the times when you are watching your weight but still want a treat once in a while!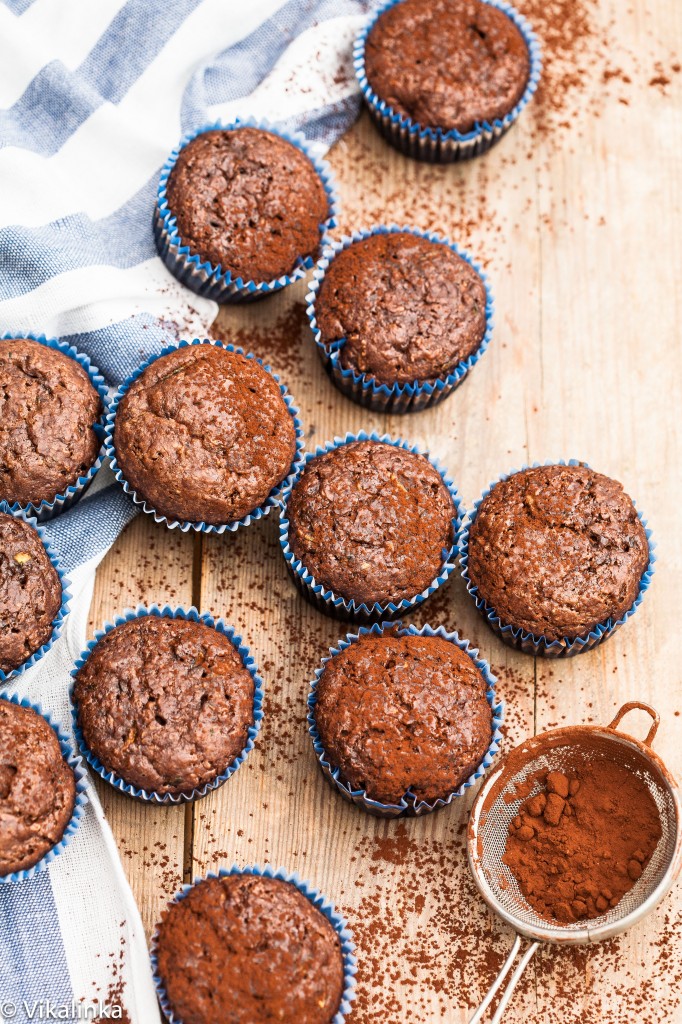 From a luscious cheesecake to low-fat muffins. That's how I roll. Brad and I have been so good following our diet and I can't wait to see the results.
But I guess we are not suffering too much when muffins like these are in the picture, right?
How can I make muffins healthier?
You are probably wondering, how in the world can you make muffins aka "cakes" healthy. Well, you can't exactly turn a muffin into a health food but you can make it much better for you.
First of all, you stuff it with vegetables. Zucchini.
Then you replace most of the oil with yogurt and a third of the flour with ground oats.
But there is chocolate, you are probably screaming at the screen right now. That's right!
To make them chocolate flavoured I added ¼ cup of cocoa-49 calories exactly, divided by 18 muffins…erm…2.7 calories extra per muffin and 158 calories total per muffin. Not so bad!
I think I can live with that! I've also added a teaspoon of chocolate essence to deepen the flavour but since it's my first time using that stuff I am not sure how much difference it made.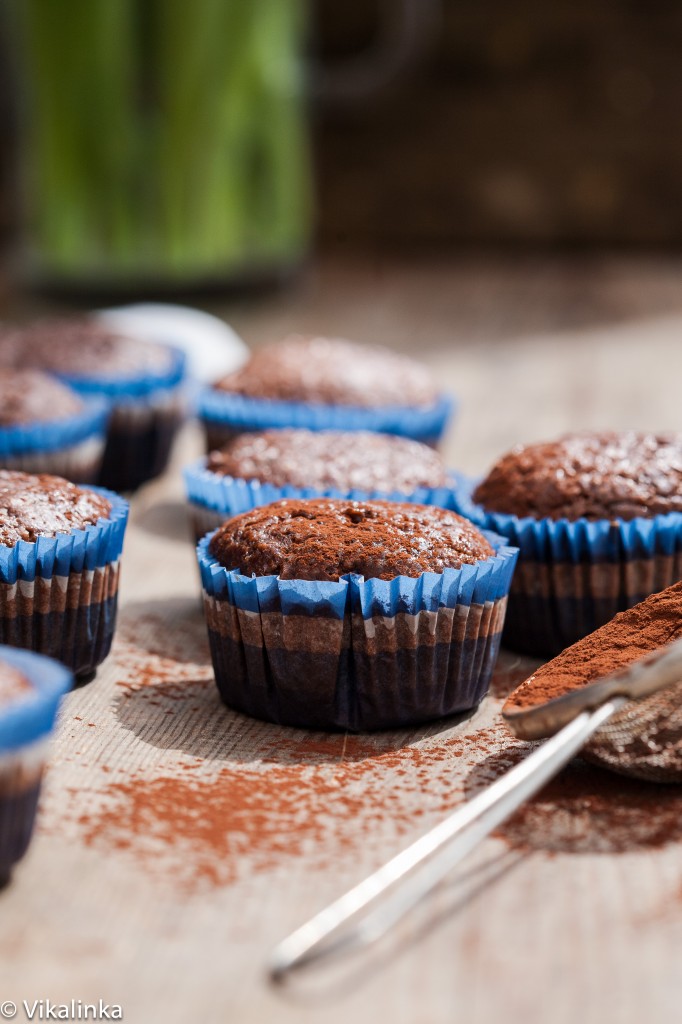 These muffins are incredibly tasty, especially when 3 o'clock rolls around, my energy is slim to none and my willpower to NOT eat a croissant is almost non-existent!
They are fluffy and chocolatey. They hit the spot and satisfy my sweet and carb cravings in one delicious bite.
In other words, they are what is keeping me on a path to avoid the agony of feeling a little short of a beached whale surrounded by incredibly slim and gorgeous bikini-clad girls on the beach in Italy. In 4 weeks.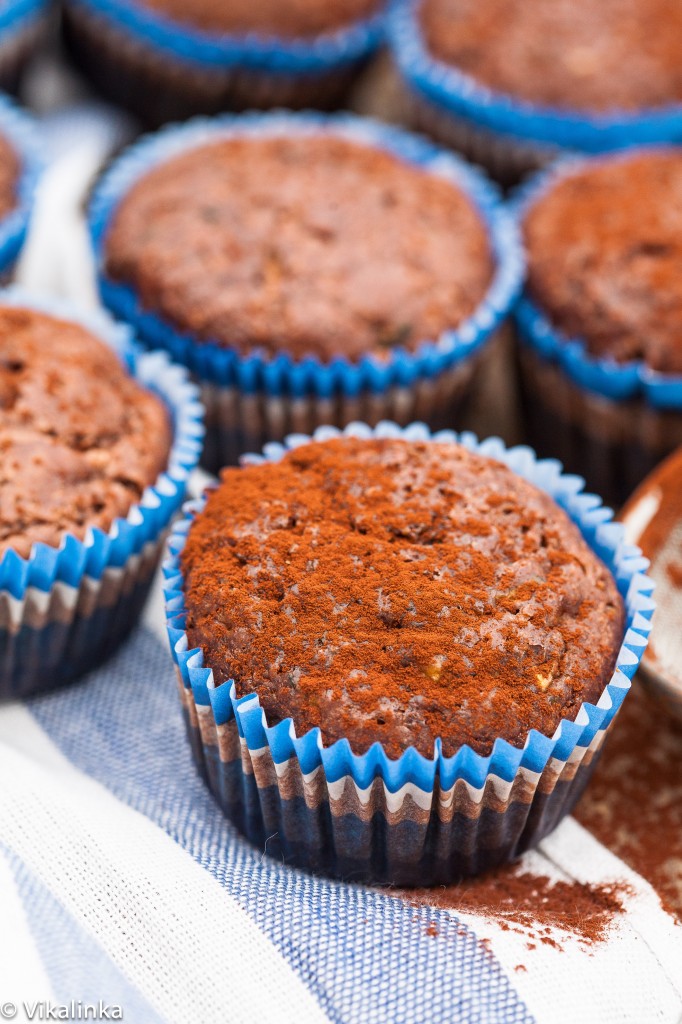 You might think I put far too much hope in these muffins and you might be right, but that's besides the point. The point is that you have to make them.
You should've heard my kids' oohs and ahs when they spotted them as soon as they got home from school. I never get tired of hearing that I am the best mummy in the world for baking these.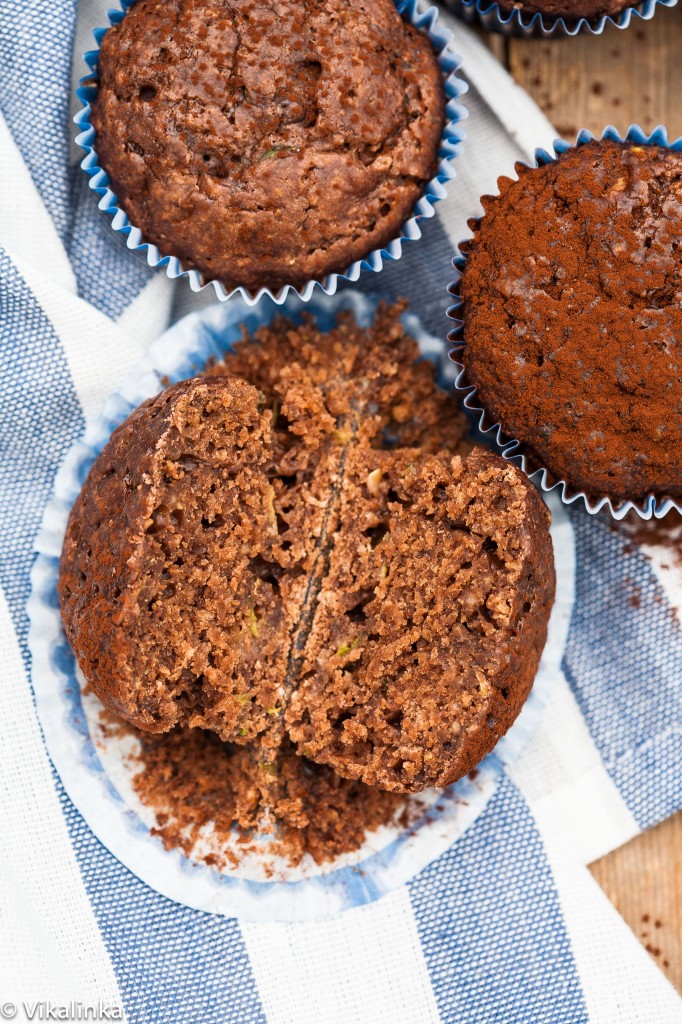 More healthy muffin recipes: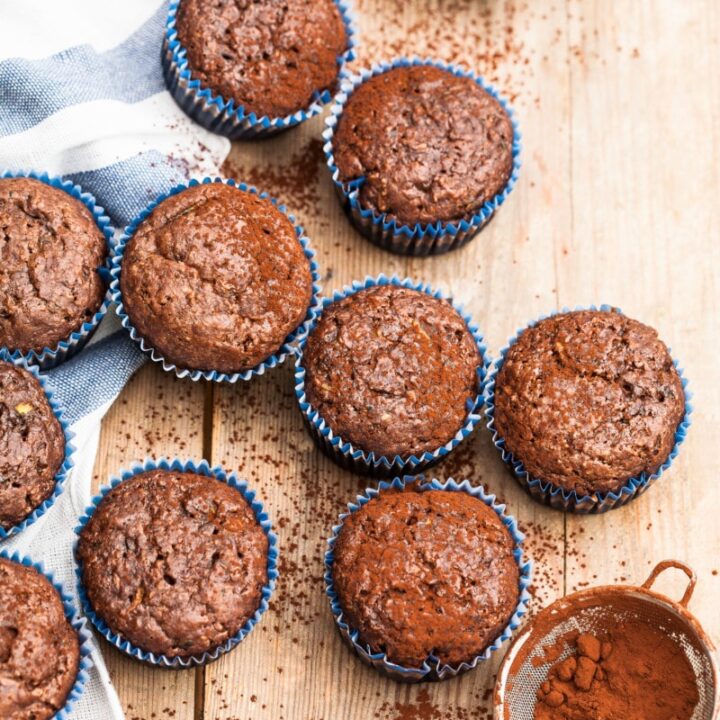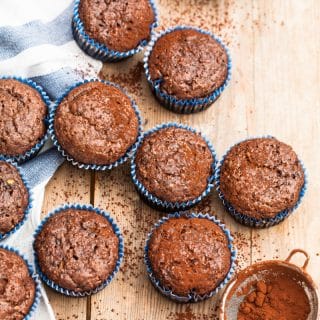 Skinny Zucchini Chocolate Muffins
Makes 18 small muffins
Ingredients
2

cups

flour

1

cup

rolled oats

ground in a food processor

¼

cup- cocoa

unsweetened

1

tablespoon

baking powder

½

teaspoon

baking soda

½

teaspoon

salt

1

cup

Demerara/Turbinado sugar

2

eggs

¼

cup

oil

1 ½

cups

Greek yogurt

1

teaspoon

vanilla extract

1

teaspoon

chocolate essence

optional

1

cup

grated zucchini
Instructions
Preheat oven to 350F/180C and line your muffin tin with paper liners.

In a medium bowl combine sifted flour, oats, cocoa, baking powder, baking soda, salt, sugar.

In a large bowl beat eggs, oil, yogurt, chocolate essence and vanilla.

Stir in grated zucchini and then add dry ingredients to the bowl.

Divide muffin batter evenly among 18 small or 12 large muffins cups.

Bake in the oven for 20-25 minutes.
Nutrition
Calories:
158
kcal
Carbohydrates:
25
g
Protein:
4
g
Fat:
4
g
Cholesterol:
19
mg
Sodium:
109
mg
Potassium:
149
mg
Sugar:
11
g
Vitamin A:
40
IU
Vitamin C:
1.2
mg
Calcium:
57
mg
Iron:
1.1
mg