You can bake these delicious oatmeal muffins once and have them for breakfast all week long!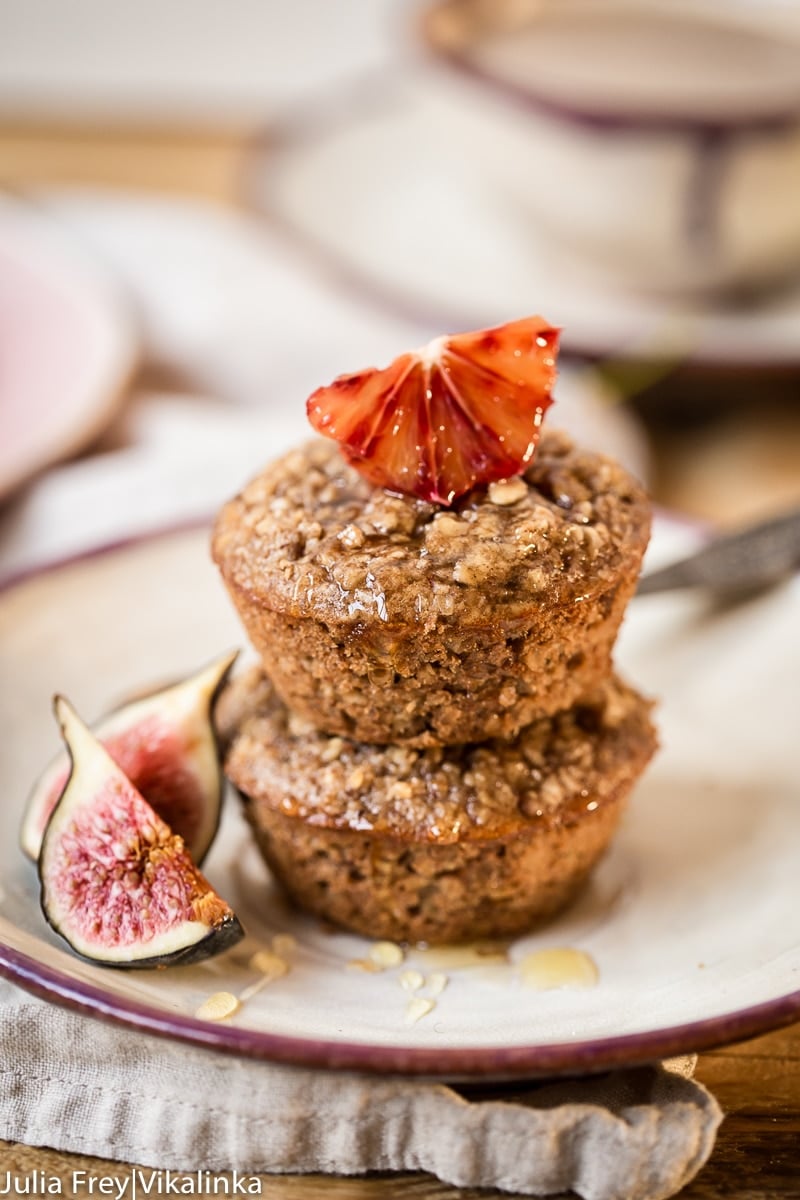 I can't complain about my kids being being picky eaters although that's exactly how they started out.
When they were little it was close to impossible to feed my first born anything but yogurt, bananas and avocados. And although those things sound healthy, I still wanted him to be more inclusive but that didn't happen for a few more years.
My daughter followed suit as soon as she figured out it is a younger child's job to copy everything her older brother does. Throw in a severe dairy allergy my son had and you can imagine how limited my options were. Needless to say, our mealtimes were stressful.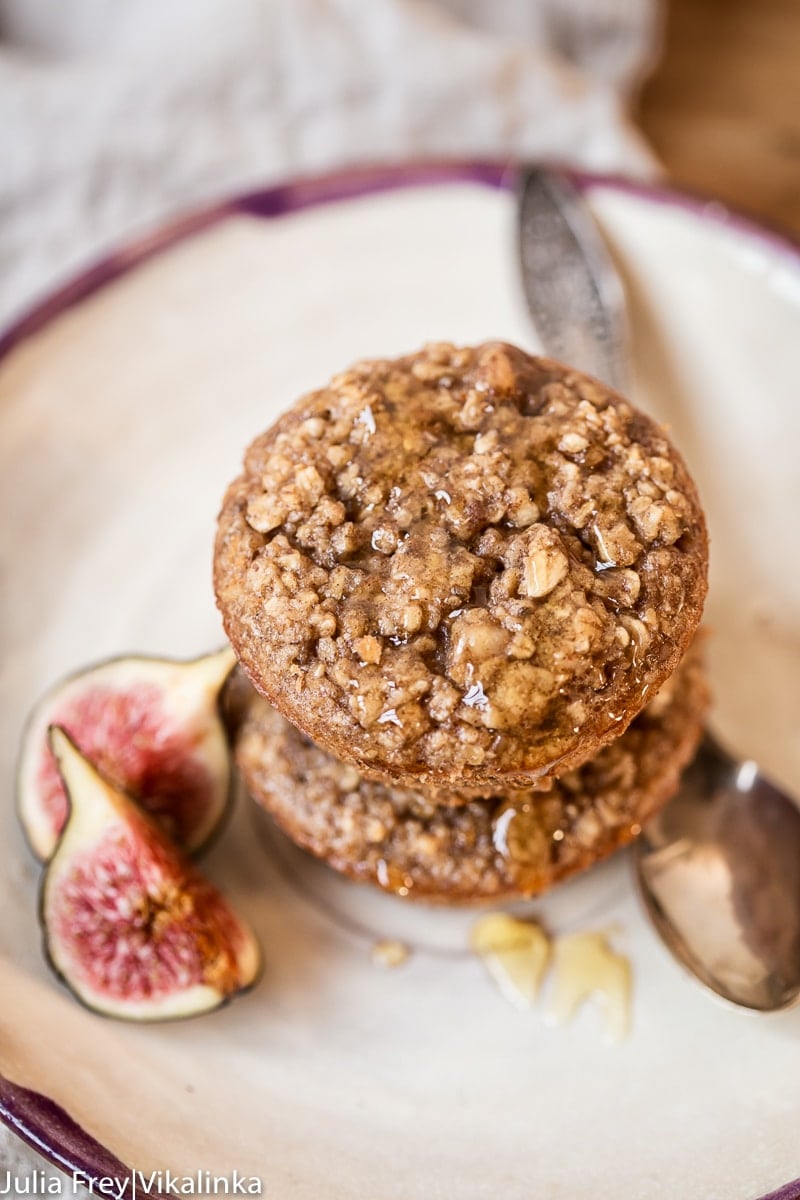 I am happy to say that is no longer the case. My kids are amazing and adventurous eaters although getting there was a long and tough road. If I could change one thing though, I would change their breakfast ritual.
My son usually will eat almost anything available but my daughter will eat nothing. Both of them will not touch oatmeal aka porridge even if it was drenched in chocolate. I think it's the texture. I don't even blame them as I was the same when I was their age.
What are the ingredients in flourless oatmeal muffins?
Sooo, here is where these miracle- like oatmeal muffins come in. They are by all accounts "baked oatmeal" but they are shaped like muffins and have that muffin texture, that we all find so satisfying in the morning!
Better yet, they have absolutely no flour in them, instead they are packed with things like bran, I know, chia seeds, almond butter and, any dried fruit, nuts or seeds you might want to yours but I didn't in this recipe, and they are sweetened with low GI agave nectar, that doesn't spike your blood sugar level.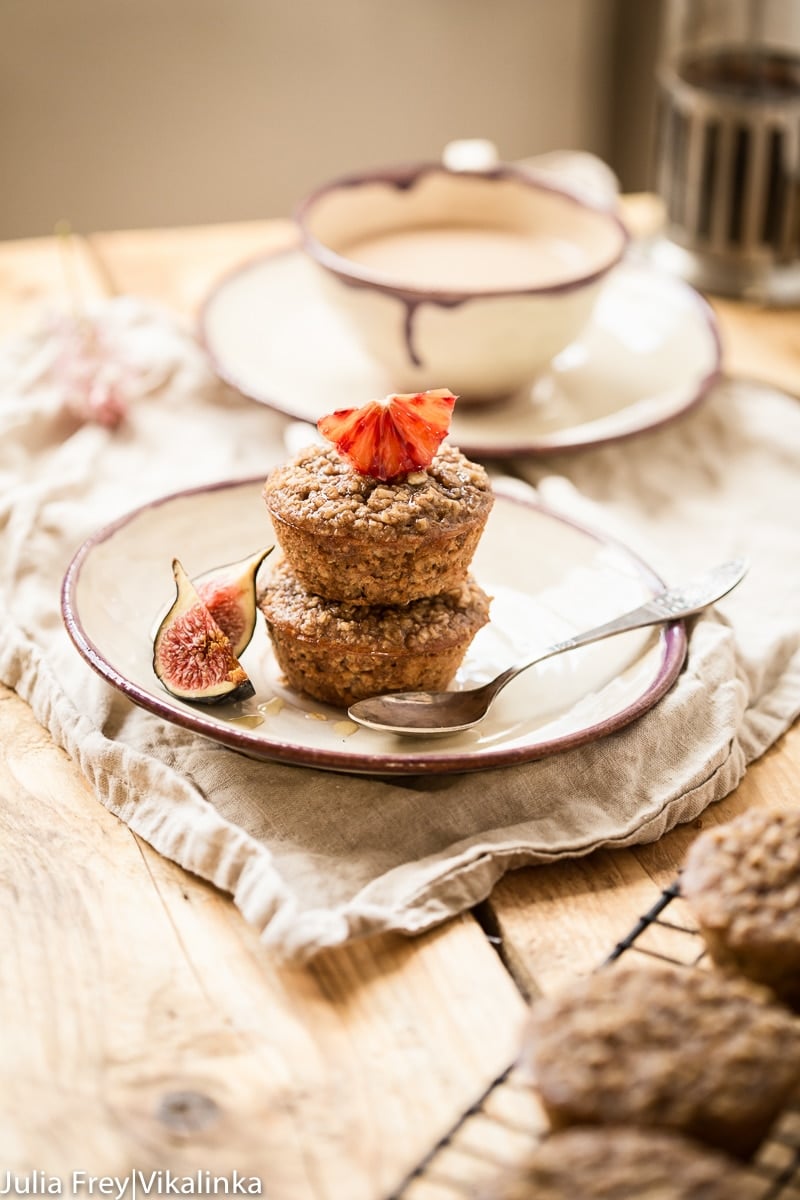 I started making these oatmeal muffins a year ago when Brad and I went intensely low-carb. And although oats are very much carbs, the rolled kind are the right kind of carb, the slow burning kind, that keeps your body satisfied and nourished for hours.
I developed the recipe for these oatmeal muffins for Brad and I. never expecting kids to like them or even want them.
The funny thing is that they didn't know all the healthy background details about the recipe. All they could see were muffins and they knew they LOVED muffins.
This accidental discovery made our breakfasts so much easier and healthier. Easier because I usually bake these on Sunday night and they last a whole week, and healthier, well…I just told you why!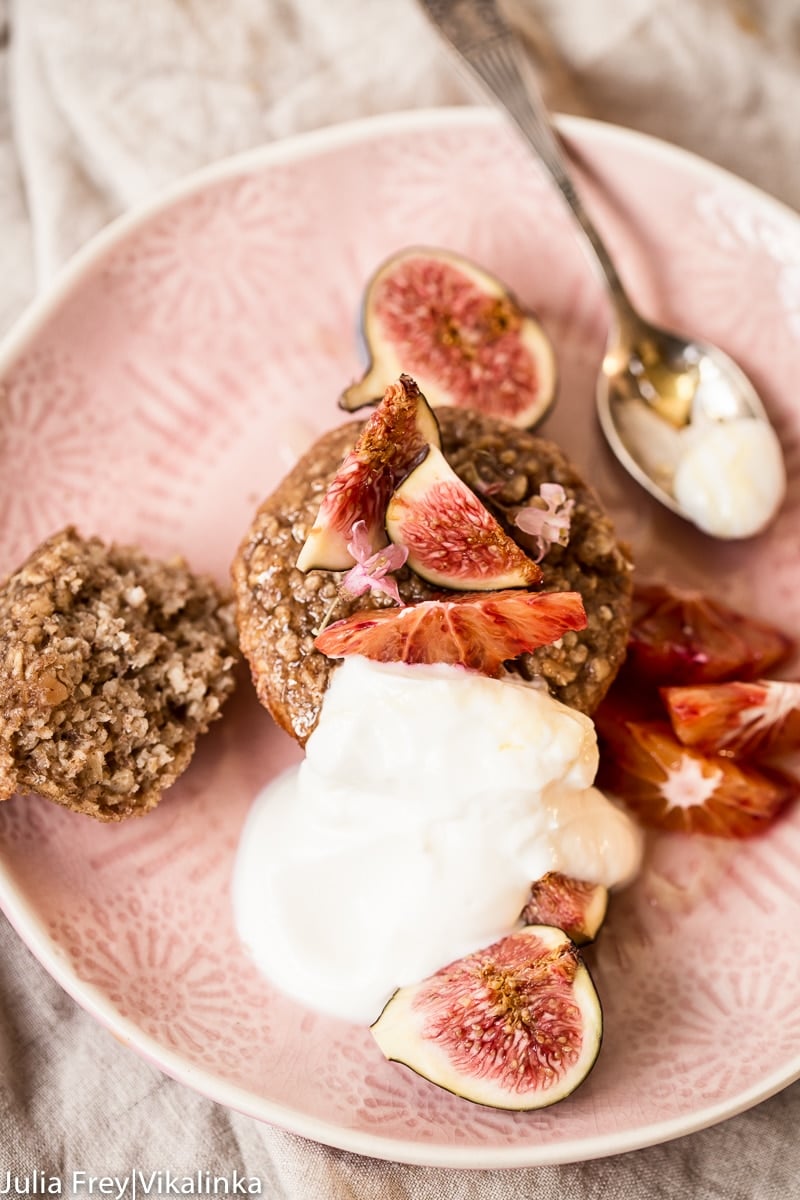 Serving suggestions for flourless oatmeal muffins
The best way to eat these oatmeal muffins is warm with a bit of yogurt and fresh seasonal fruit and a tiiiny drizzle of agave nectar or maple syrup as they are not very sweet and a giant cup of coffee. Tea for kids. 🙂
Lastly, these oatmeal muffins should be refrigerated as bran turns slightly gooey and strange if kept out. I don't know why but I learned it the hard way! Trust me, you don't want to throw any of them out. They are precious!
I hope your mornings could also be transformed and made just a teensy bit healthier. Let me know what you think!!
For more muffin recipes check out
Bakery Style Blackberry Muffins
Healthy Oatmeal and Carrot Muffins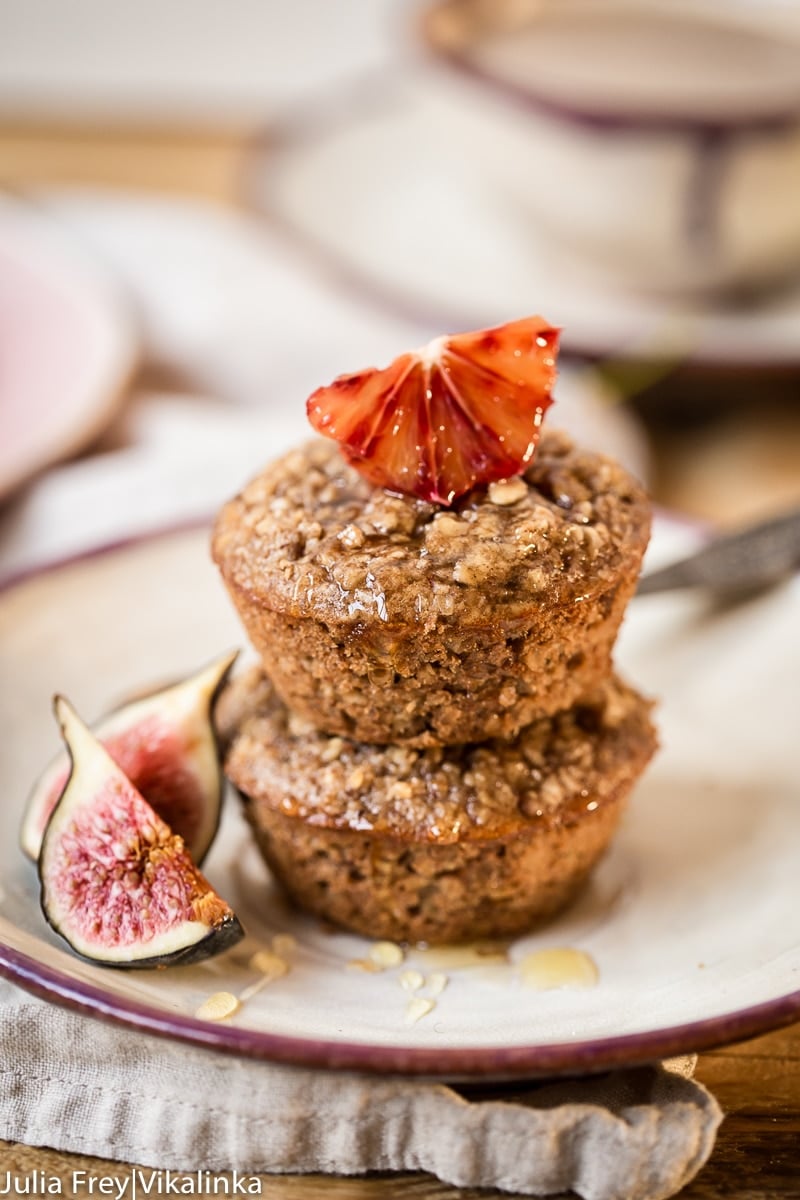 Ingredients
3

cups/300g rolled oats

gluten-free if necessary

2

tsp

cinnamon

2

tsp

baking powder

1/2

tsp

salt

2

tbsp

bran

1

tbsp

chia seeds

2

ripe bananas

1/3

cup/85g almond or peanut butter

I prefer "chunky"

2

eggs

1/3

cup/ 115 g agave nectar

1

tsp

vanilla

2 1/2

cups/600 ml milk

any kind
Instructions
In a large bowl mix all dry ingredients.

In a medium bowl mash bananas, add almond butter, eggs, agave nectar, vanilla and milk, mix to combine.

Add wet ingredients to the dry ingredients and mix well. The mixture will be wet and will not resemble a muffin batter. Let it stand for 20 minutes.

Grease the muffin pan well and spoon the mixture in cups with a ladle, mixing it well after each addition.

Bake at 350F/180C for 35 minutes or until the muffins are slightly puffed up and no longer wet inside.
Nutrition Facts
Flourless Oatmeal Muffins
Amount Per Serving
Calories 209
Calories from Fat 63
% Daily Value*
Fat 7g11%
Cholesterol 32mg11%
Sodium 164mg7%
Potassium 384mg11%
Carbohydrates 29g10%
Protein 7g14%
Vitamin A 135IU3%
Vitamin C 1.7mg2%
Calcium 125mg13%
Iron 1.6mg9%
* Percent Daily Values are based on a 2000 calorie diet.