If you are not into porridge, why not try baked oatmeal instead? Easy to throw together and the taste is firmly in the dessert category!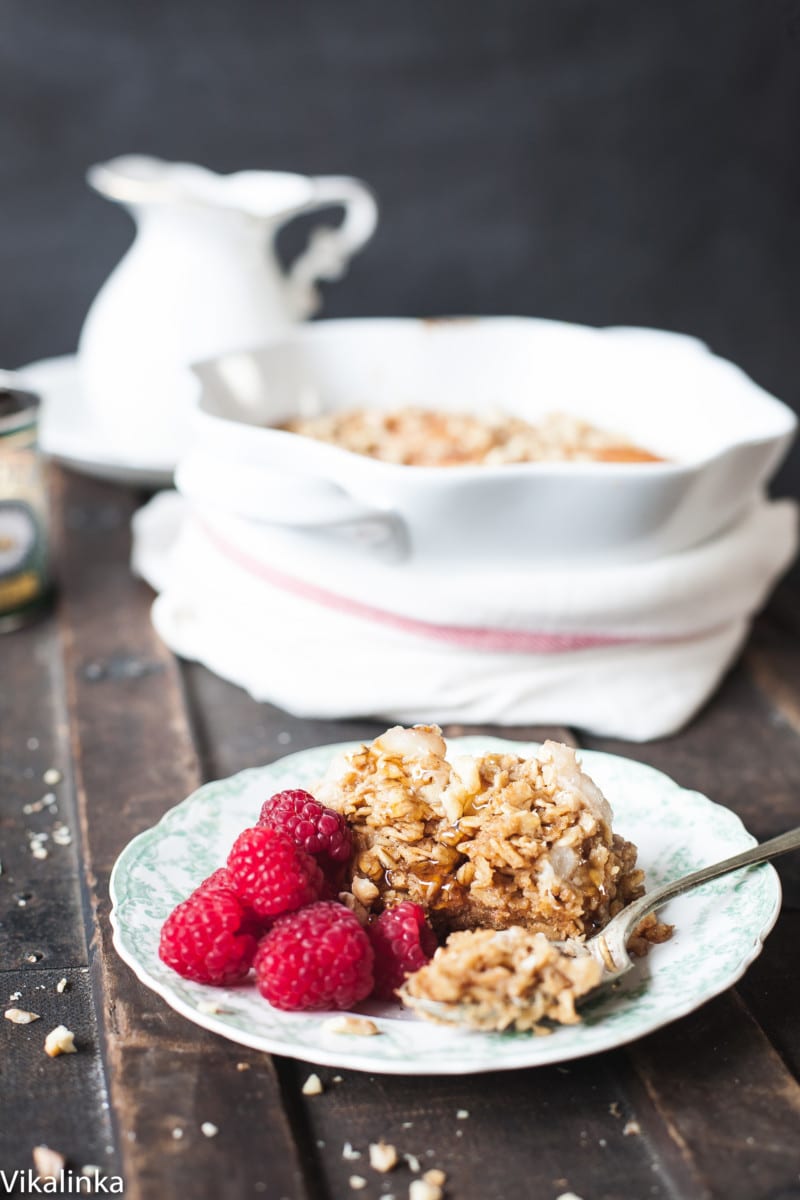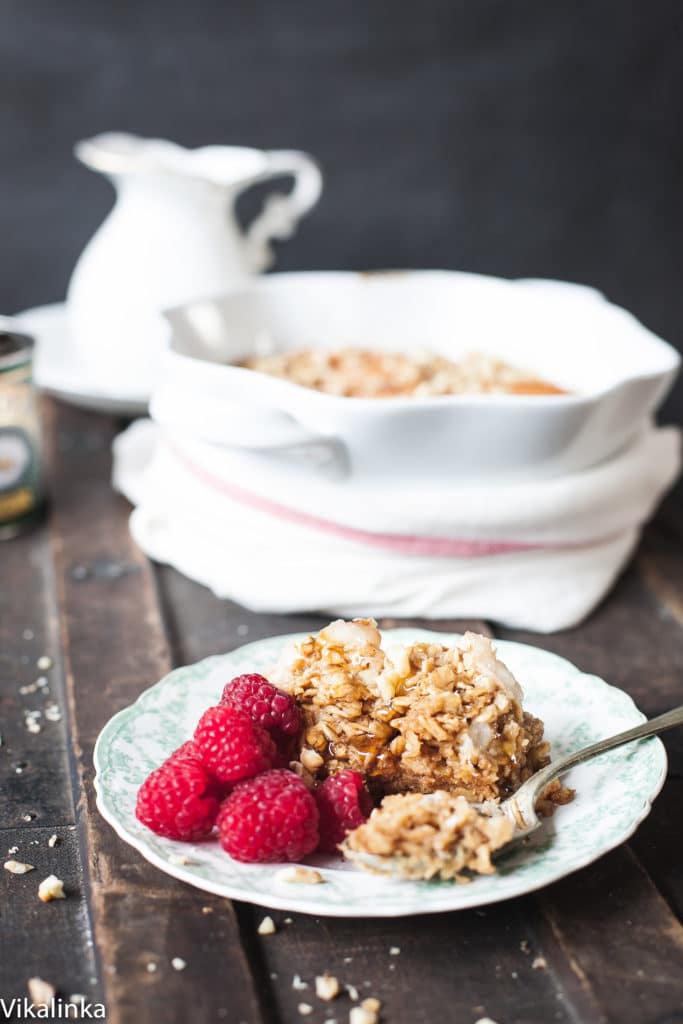 September always lands with a thud. This year, with my son on a new schedule as he enters secondary school, we are doing our best to survive mornings that come earlier and go by faster than ever before.
Since my men need breakfast to last longer in order to survive till lunch oatmeal has become a go-to meal option for Brad and Mitchell.
Brad makes his own breakfast in the morning, he also makes lunches for the kids…I know I really scored there, so I wanted to help out by preparing something tasty and wholesome ahead of time.
This Spiced Pear Baked Oatmeal is IT and it couldn't be tastier!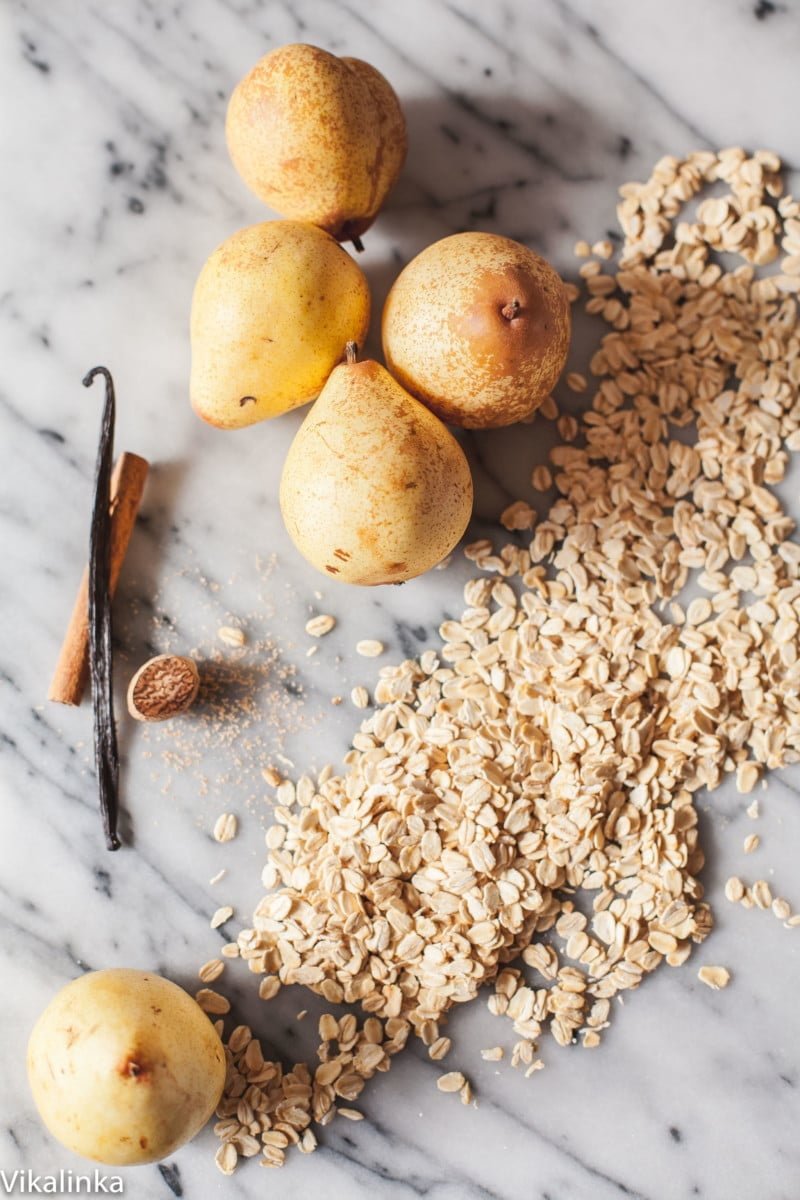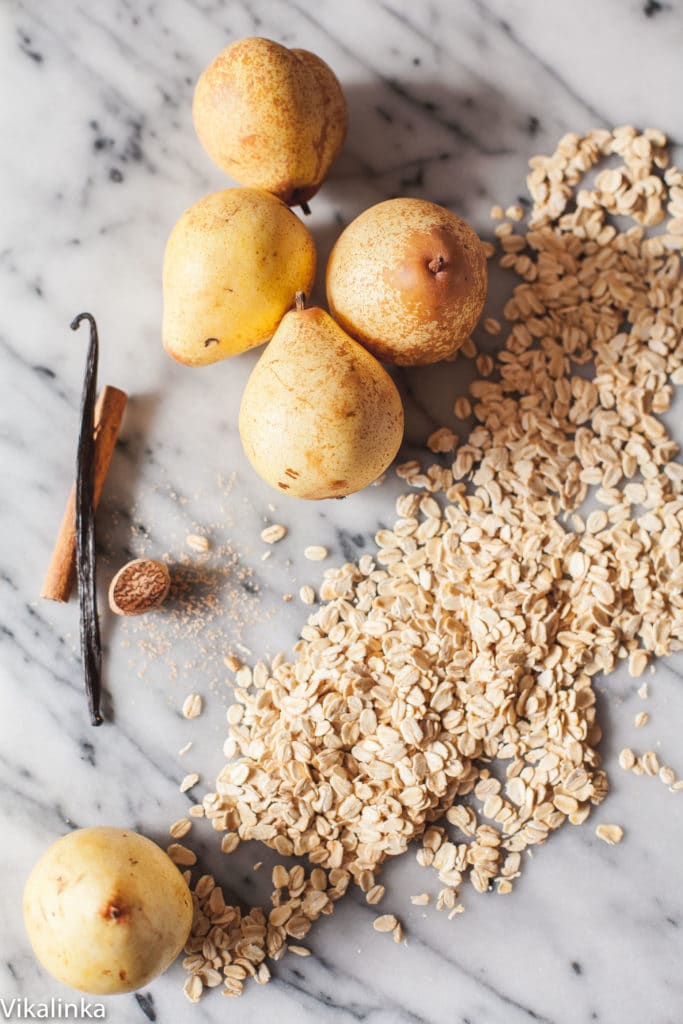 What does baked oatmeal taste like?
I am a huge fan of oats but I do not love porridge. I prefer my oats in muesli or granola but porridge texture really gets to me. That is why I tried to get as far away from that as possible.
This spiced pear baked oatmeal is a delightful cross between a pear crumble and an English flapjack, which is a totally different thing from an American flapjack by the way.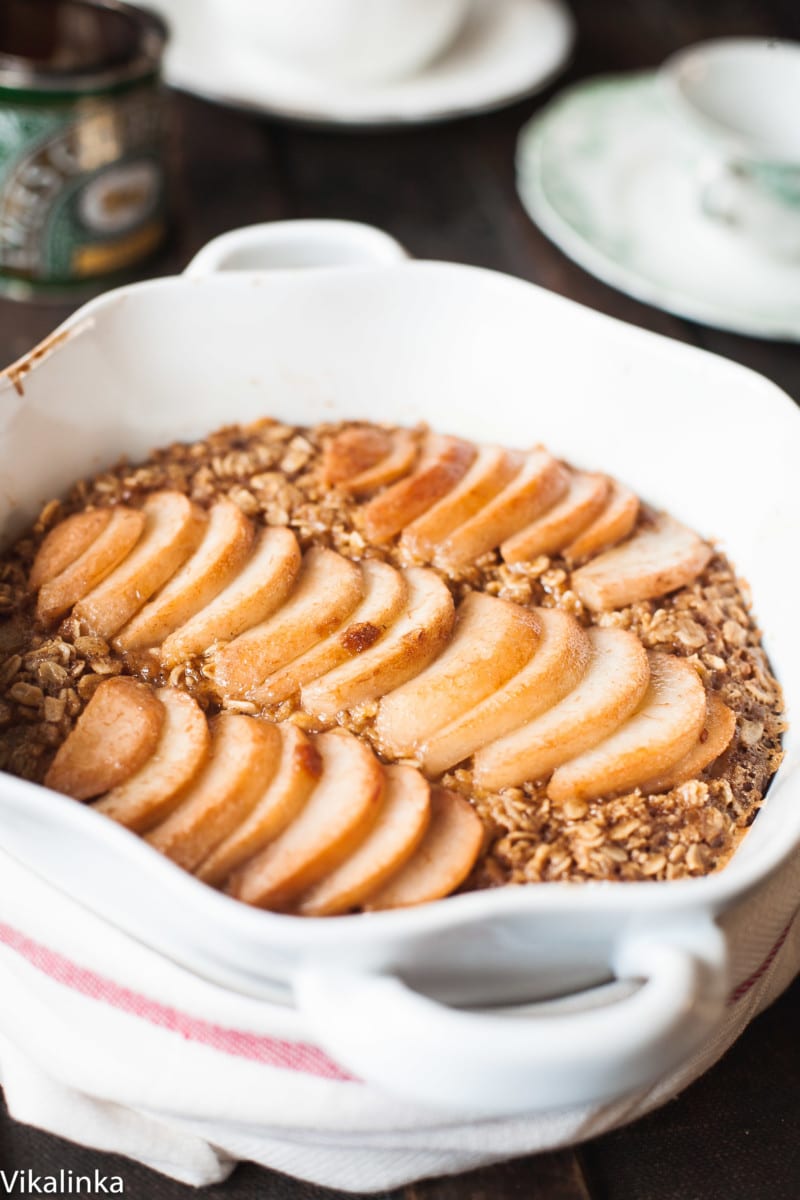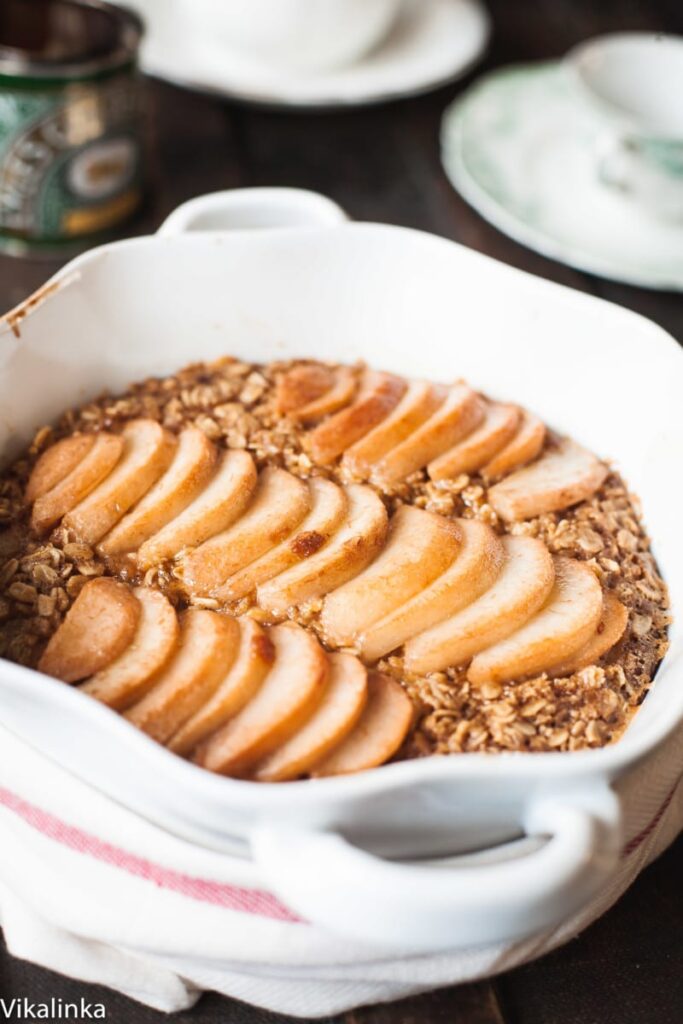 How to Flavour It
What makes this spiced pear baked oatmeal truly outstanding are the warm spices that I constantly crave in the autumn.
I infused my oats with cinnamon, nutmeg, mixed spice and vanilla. I could tell it was going to be amazing as soon as the spices hit the mixture. Mmm…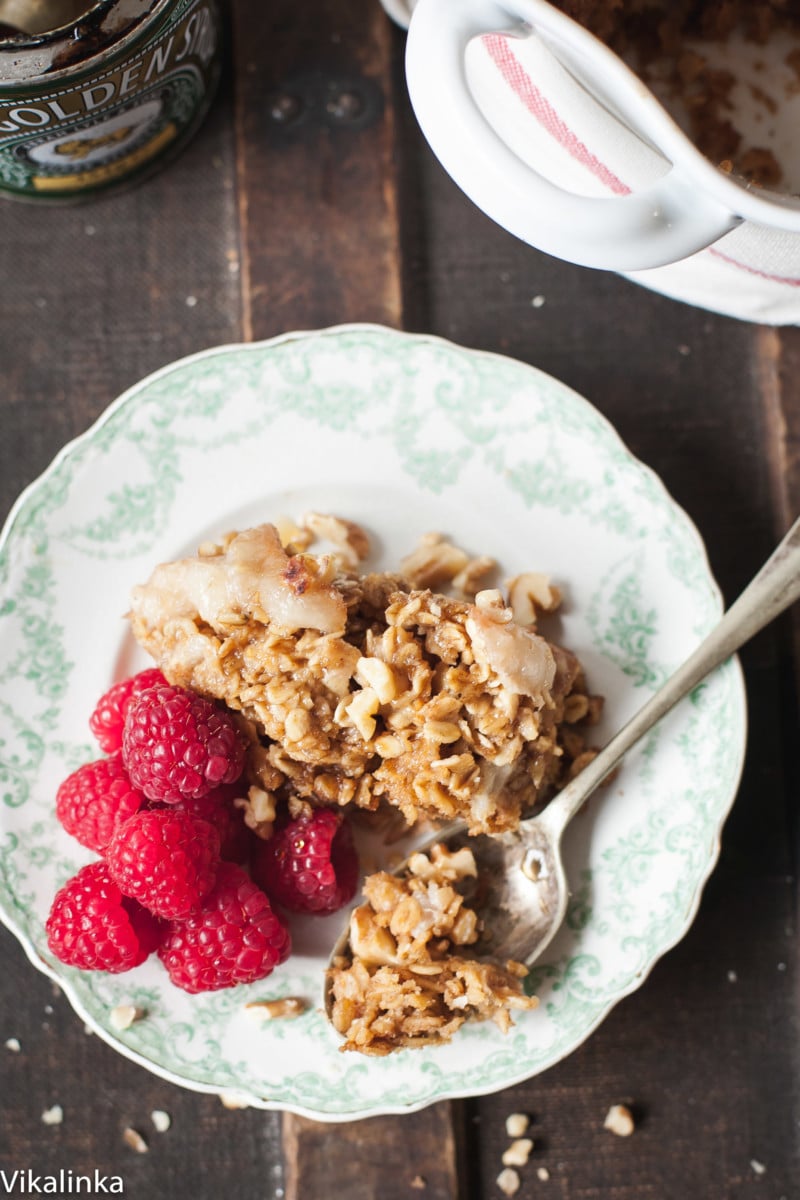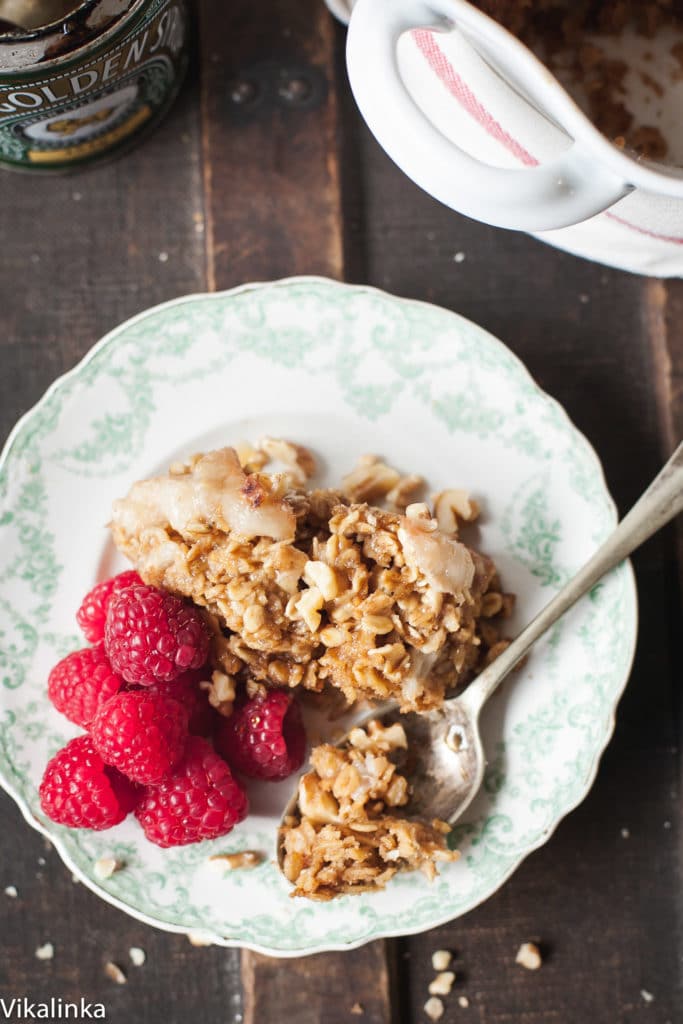 What fruit can you add to baked oats?
To match the luxurious flavour of this oatmeal I decided to treat it like a cake and arranged sliced pears on top for a pretty finish. I also sprinkled some toasted walnuts on top but no pressure if you are not a nut lover.
You can use any fruit of berries you love or have on hand, fresh or frozen.
Let me tell you I was not disappointed in the least when I finally got to taste it. The texture verges on cake-like while being slightly crumbly with the undeniable flavour of a pear crumble.
Can I reheat it?
Although this oatmeal will taste best straight out of the oven, you can easily reheat it in the microwave. Reheated it's delicious with some yogurt.
If you end up with leftovers, keep this baked oatmeal refrigerated in an airtight container and enjoy throughout the week.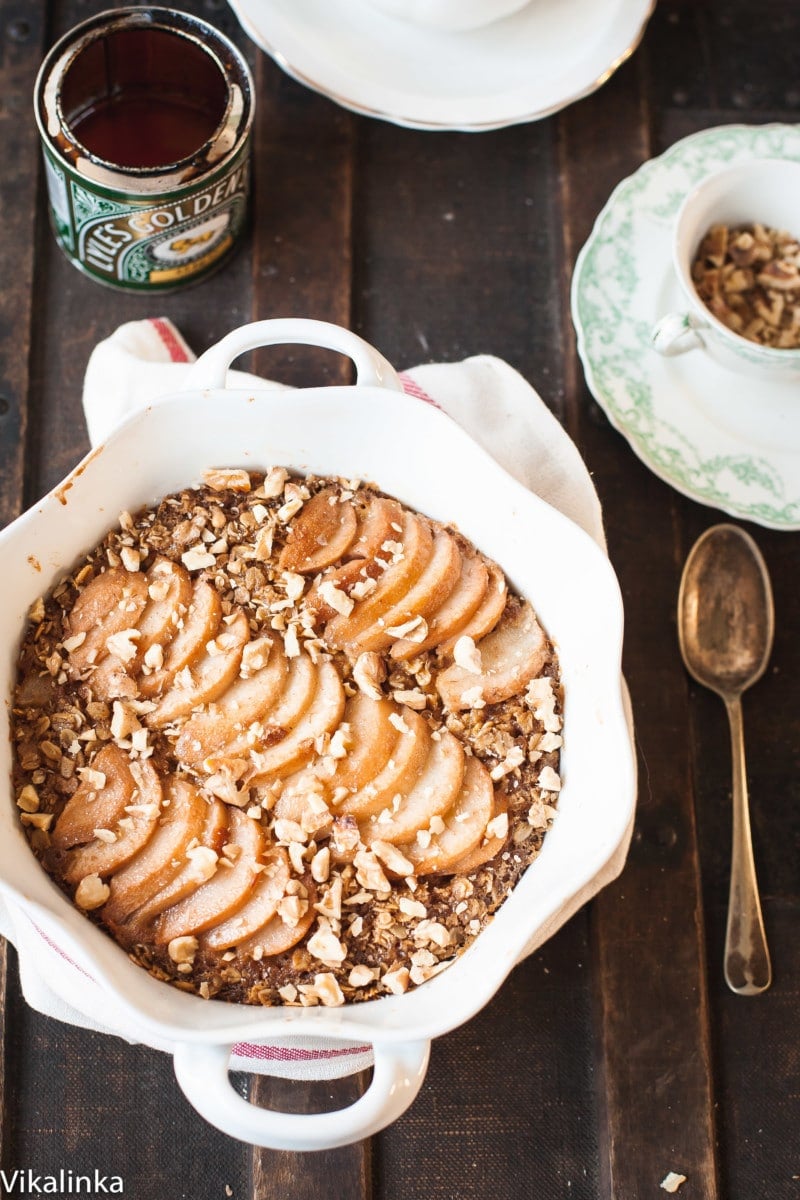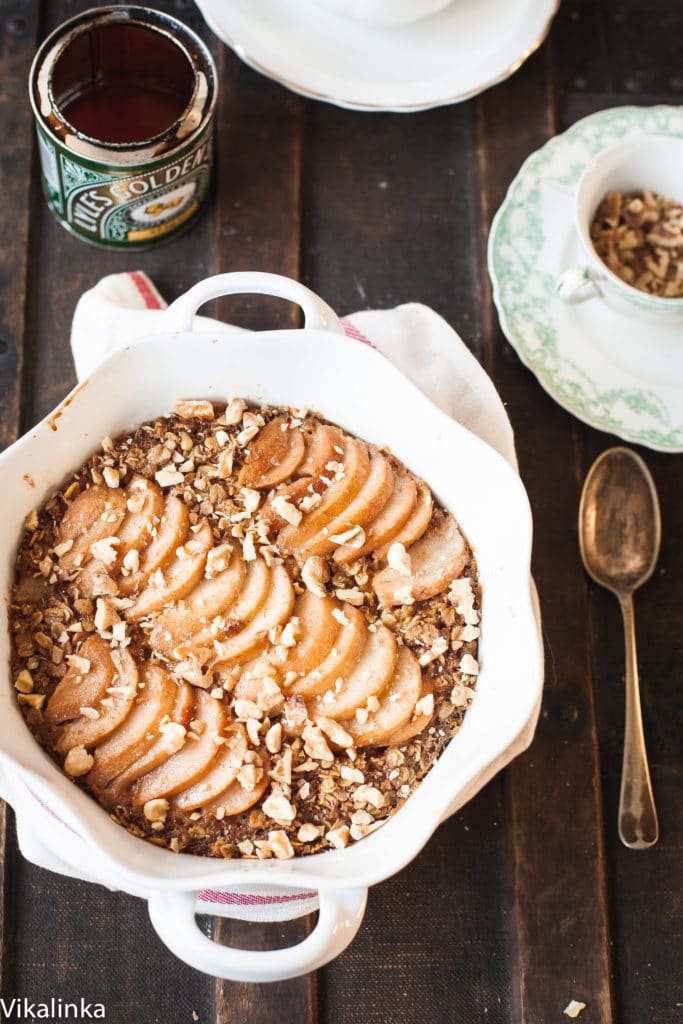 More make ahead breakfast ideas: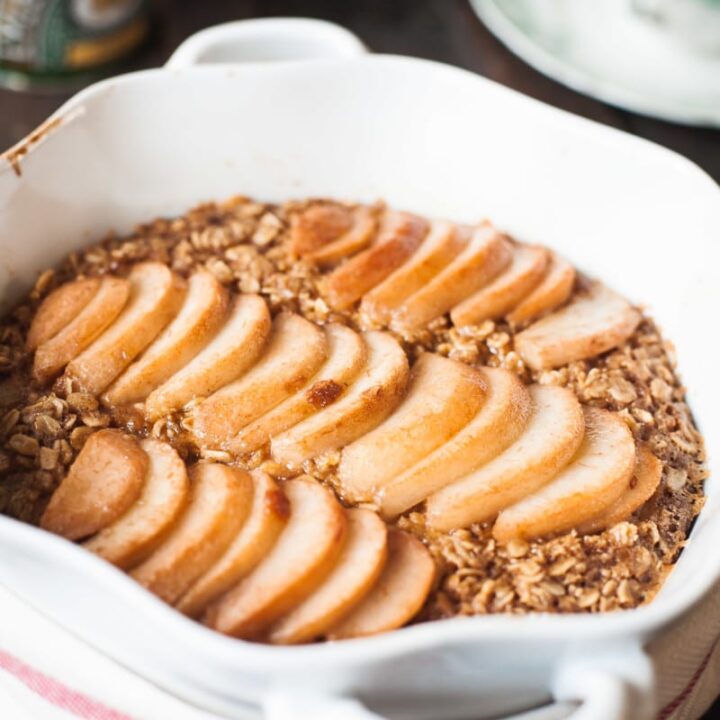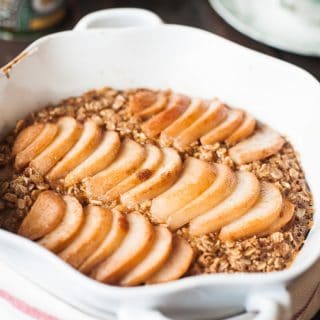 Spiced Pear Baked Oatmeal
This spiced pear oatmeal is a delicious alternative to you morning porridge that could be made in advance for stress free mornings!
Print
Pin
Rate
Ingredients
2

eggs

large

½

cup/ 110g brown sugar

1

tsp

cinnamon

1

tsp

mixed spice

¼

tsp

nutmeg

1

tsp

vanilla

1 ½

tsp

baking powder

⅓

cup/ 65g butter

melted

1

cup/ 250 ml milk

3

cups/ 255 g rolled oats

6

pears

small

2

tbsp

toasted walnuts

chopped (optional)
Instructions
Preheat oven to 325F/170C. Butter a round 9" deep baking dish and set aside.

In a large bowl whisk eggs, brown sugar, spices, vanilla, baking powder, butter and milk.

Add oats and mix well, then add 3 peeled and chopped pears, mix gently to combine.

Pour the mixture in the buttered dish and arrange 3 sliced pears on top.

Bake uncovered for 45 minutes.

Serve drizzled with honey or golden syrup and sprinkled with walnuts.
Nutrition
Calories:
488
kcal
|
Carbohydrates:
76
g
|
Protein:
9
g
|
Fat:
18
g
|
Saturated Fat:
8
g
|
Cholesterol:
85
mg
|
Sodium:
139
mg
|
Potassium:
592
mg
|
Fiber:
10
g
|
Sugar:
37
g
|
Vitamin A:
505
IU
|
Vitamin C:
7.7
mg
|
Calcium:
174
mg
|
Iron:
2.7
mg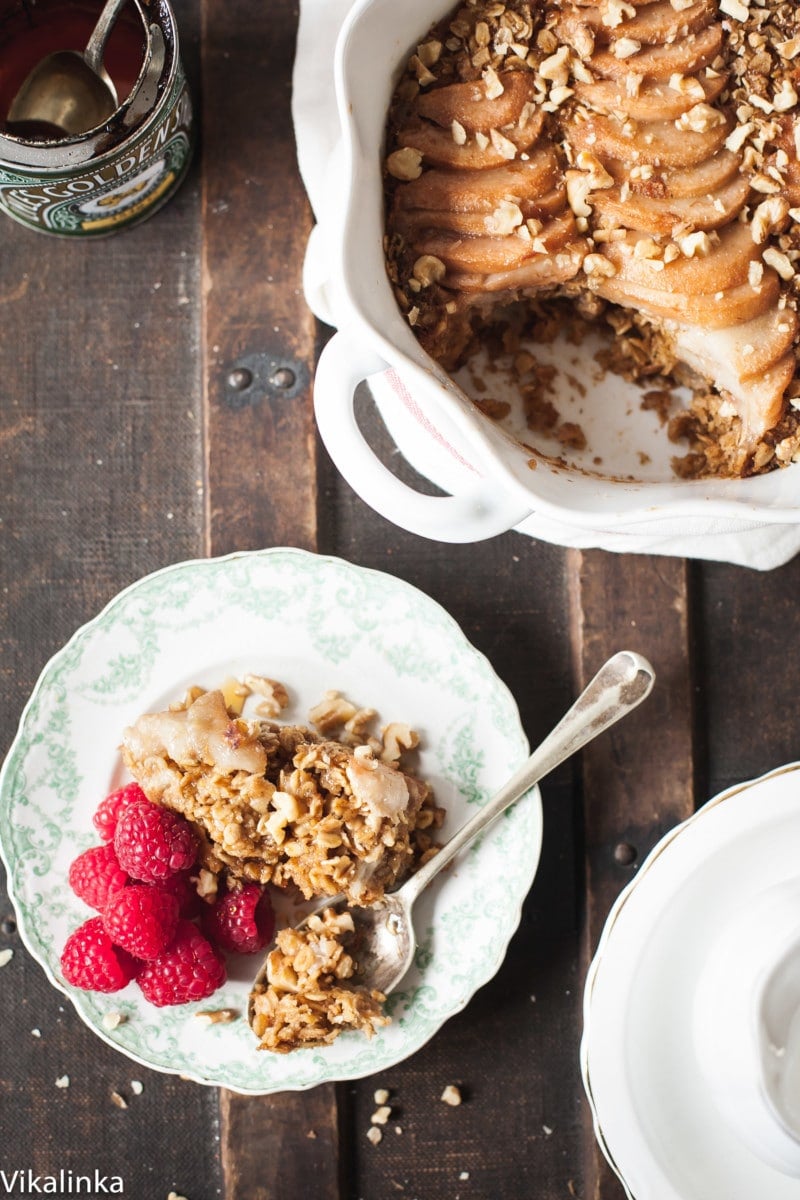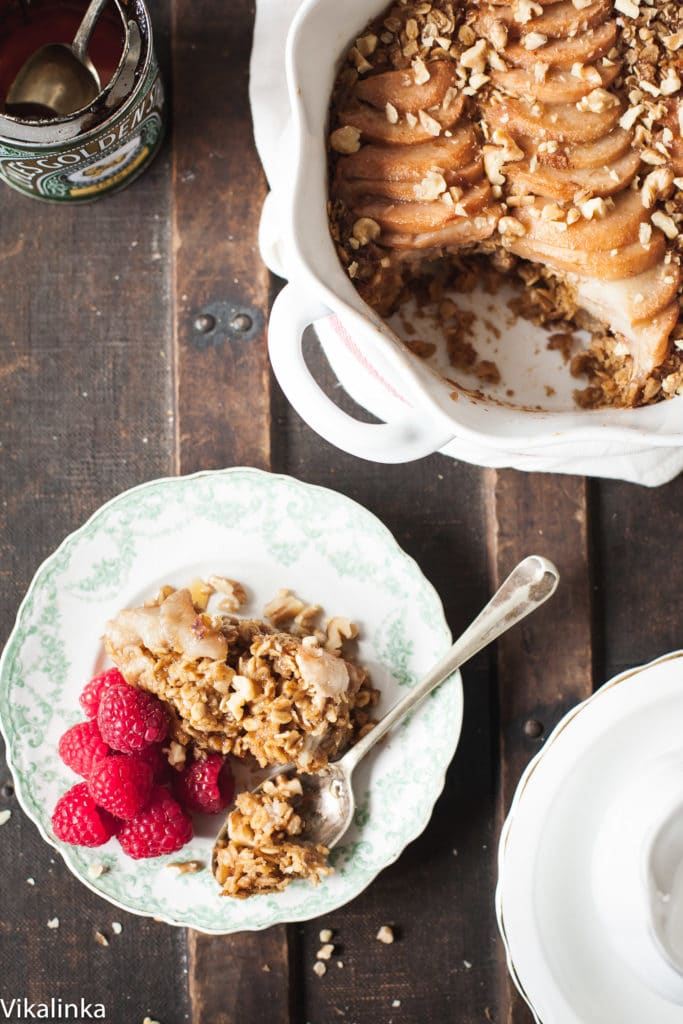 For more quick and healthy Oaty breakfast ideas visit:
Healthy Oatmeal and Carrot Muffins from me
Mixed Berry Breakfast Bars from Supergolden Bakes
Maple Cinnamon Oatmeal from Natasha's Kitchen
Three Types of Overnight Oats from Little Broken