These healthy mini frittatas are just the thing for busy mornings because you can make them ahead!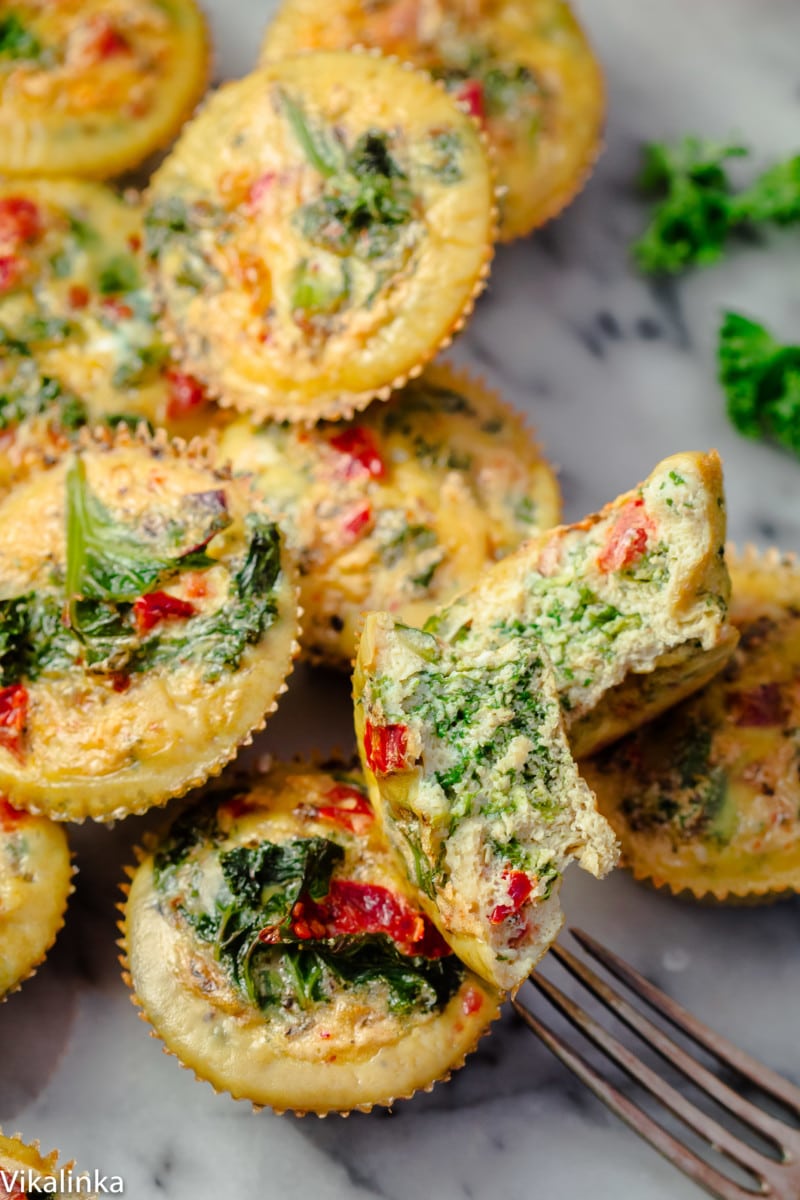 When I was a child in the 80s I used to imagine what life would be like in the 21st century and I would count how old I would be in the year 2000. 25. That seemed like an impossibly big number.
I would be a full-fledged grown up with responsibilities and everything else that comes with adulthood but it also seemed awfully far away, so I didn't think about it too much.
Now fast-forward a few years ahead and then a few more. 25 has come and gone and the number I am looking at is 40.
That's right. That's how many I am. This past birthday on Christmas Day came with a lot of joy and a bit of apprehension. I was in retrospective mood for weeks leading up to the big day attempting to embrace entering the new decade of my life.
I've arrived at who I am. There is no more 'when I grow up I want to be…" I've become me and I better live my life NOW.
Looking back I love all of my choices…the attitudes could've been sunnier at times though. Overall the 30s were a busy decade; first babies, then toddlers, then getting my professional life back on track.
I spent last three years pursuing many career goals, both in teaching and blogging, which translated into A LOT of hard work. I had no time to pause, take a breather, go for a run or even a walk.
The results are amazing on both counts but poor me suffered a bit. Well, no more, I am declaring the 40s to be the healthy years; the end of striving and longing, the end of instability and poor health.
I am going to take care of myself, mind and body. Just like my previous goals required commitment so will this one. For now I am starting with healthy eating and exercise, who knows where I will end up!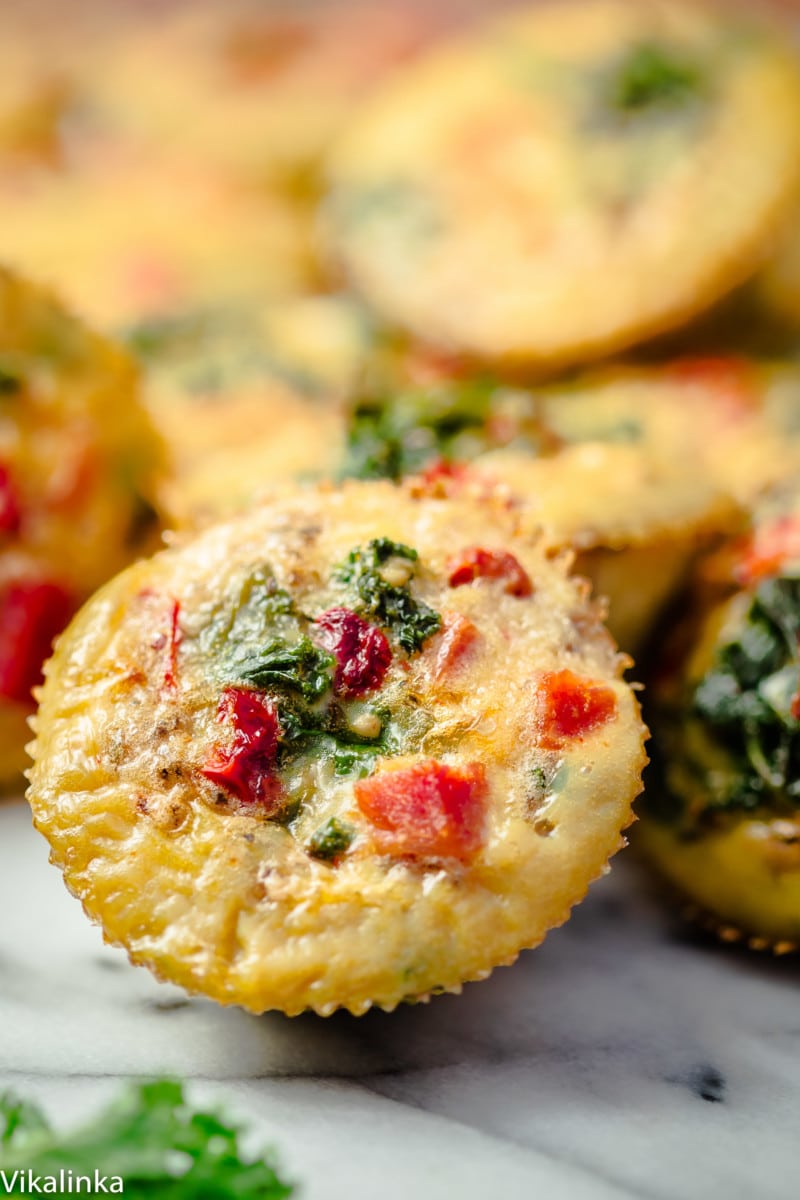 These healthy mini frittatas is how I start my day. I am up at 6:30 am and out of the house by 7:30.
I have no time to lallygag about the house. Every minute counts and that is why I make a batch of mini frittatas and keep them in a fridge to last me throughout the week, then pop them in a microwave and you've got a nutritious breakfast.
You can even grab them and eat them on the go since they are baked in a muffin tin and perfectly portable.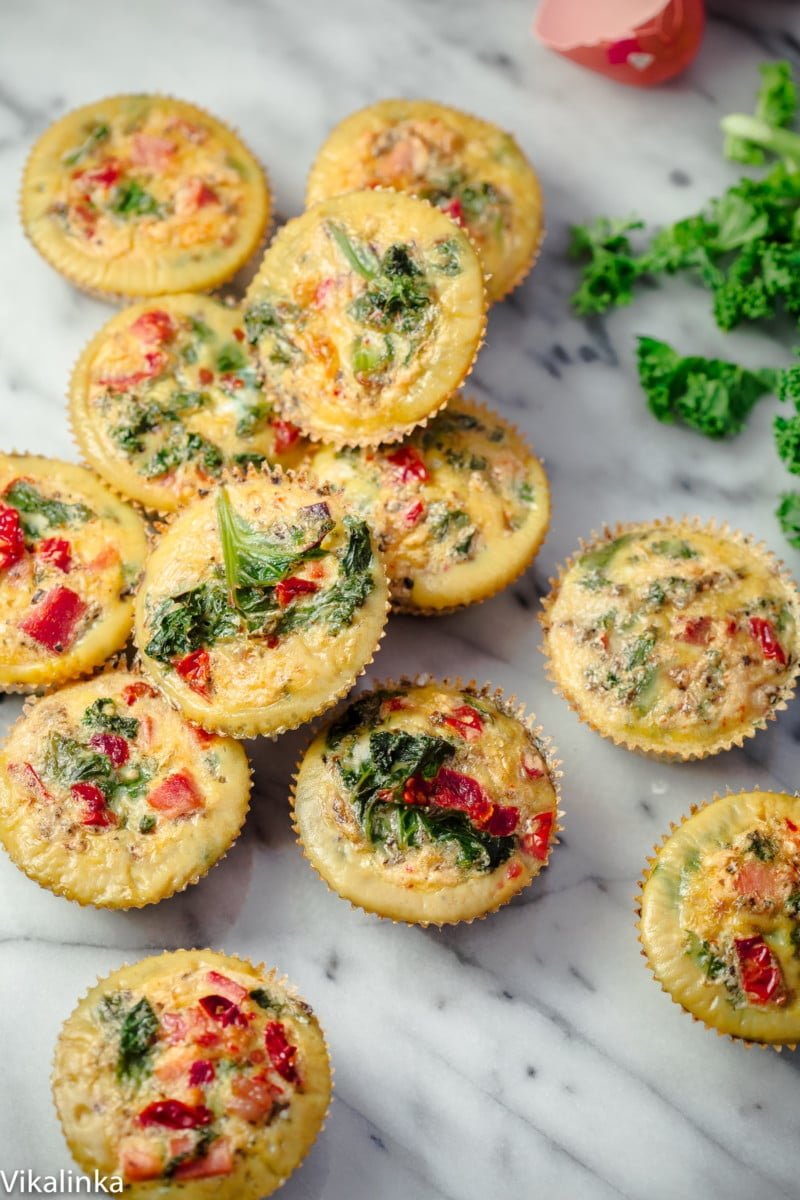 How can something simple and so healthy be delicious? I'll tell you how – eggs, tiny bit of ham, kale sautéed with garlic and sun-dried tomatoes – that's how!
If you have brilliant ideas of how I can make my life healthier please leave a comment. I would love to hear your nuggets of wisdom!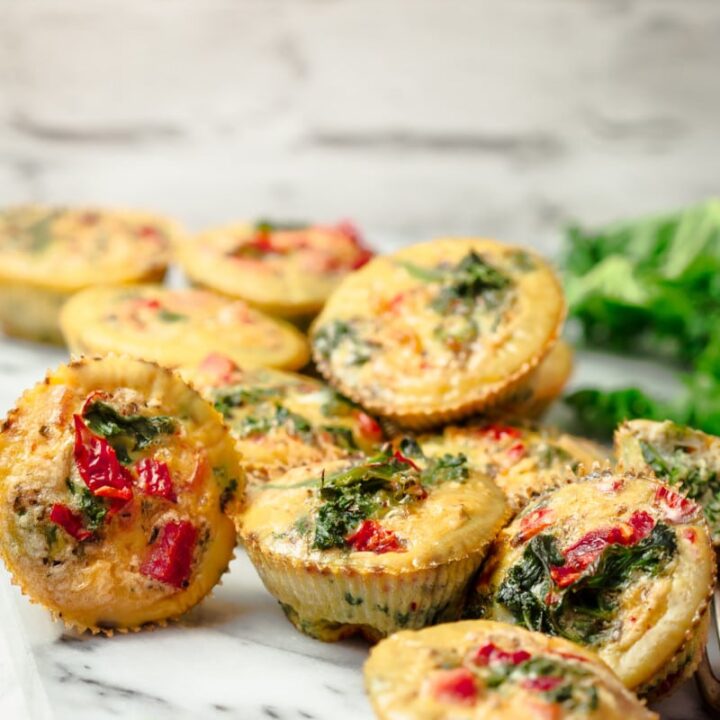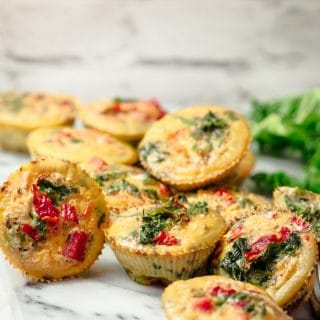 Healthy Mini Frittatas
Mini egg frittatas with kale, ham and sun-dried tomatoes.
Print
Pin
Rate
Ingredients
2

cloves

of garlic

minced

4

sun-dried tomatoes

4

cups

of chopped kale

10

eggs

large

salt

pepper

2

thick slices of ham or turkey

low calorie spray for coating muffin pan
Instructions
Preheat the oven at 350F/180C.

Spray a large pan with low-calorie cooking spray and add garlic and sun-dried tomatoes, cook for 1 minute over low heat. Add kale, a pinch of salt and 2 tbsp of water, cover with a lid and let it steam for 5 minutes. It should be enough time to soften the kale and for the flavours to blend. Set aside.

In a large bowl whisk eggs until slightly foamy, add chopped ham and salt and pepper. Add cooked kale and sun-dried tomatoes to the egg mixture and stir to combine.

Evenly divide among 12 muffin cups, preferable silicone ones to avoid sticking.

Bake for 20 minutes.