Make your favourite brunch from the comfort of your own kitchen! This Eggs Benedict recipe will transport you to your favourite Parisian bistro, with perfectly poached eggs, savoury ham and velvety hollandaise on a toasted English muffin. Perfection!
Or take a look at our breakfast category for more ideas and inspiration.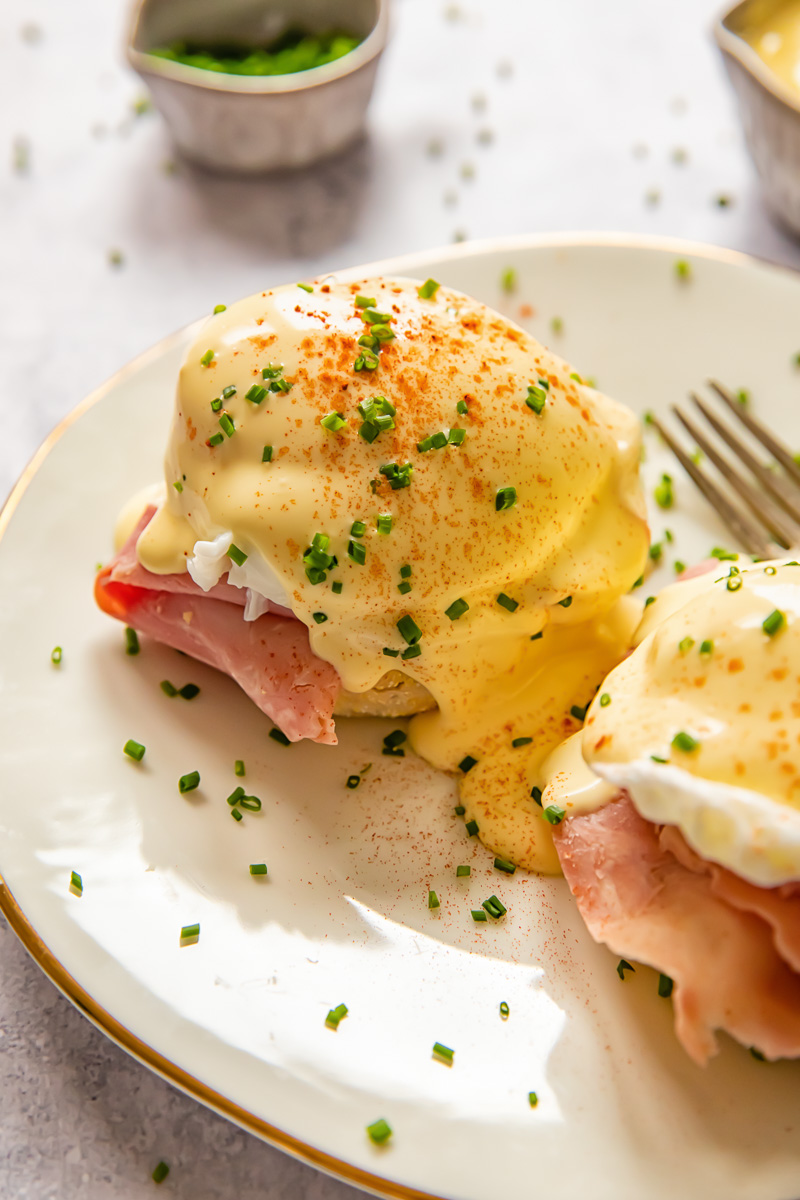 For my money, there is no better dish for brunch than Eggs Benedict. It is the perfect mix of comforting savoury flavours with a luxurious creaminess. There couldn't be a better way to kick off a weekend!
I fell in love with Eggs Benedict after eating brunch a few times at a local French restaurant. No matter how many times I scanned the menu, my eyes are irresistibly drawn to this classic egg dish.
And can you blame me? Eggs Benedict have everything a person could want, especially once you master the art of poaching eggs and making the sauce. Fortunately neither are difficult and you will have them figured out in no time!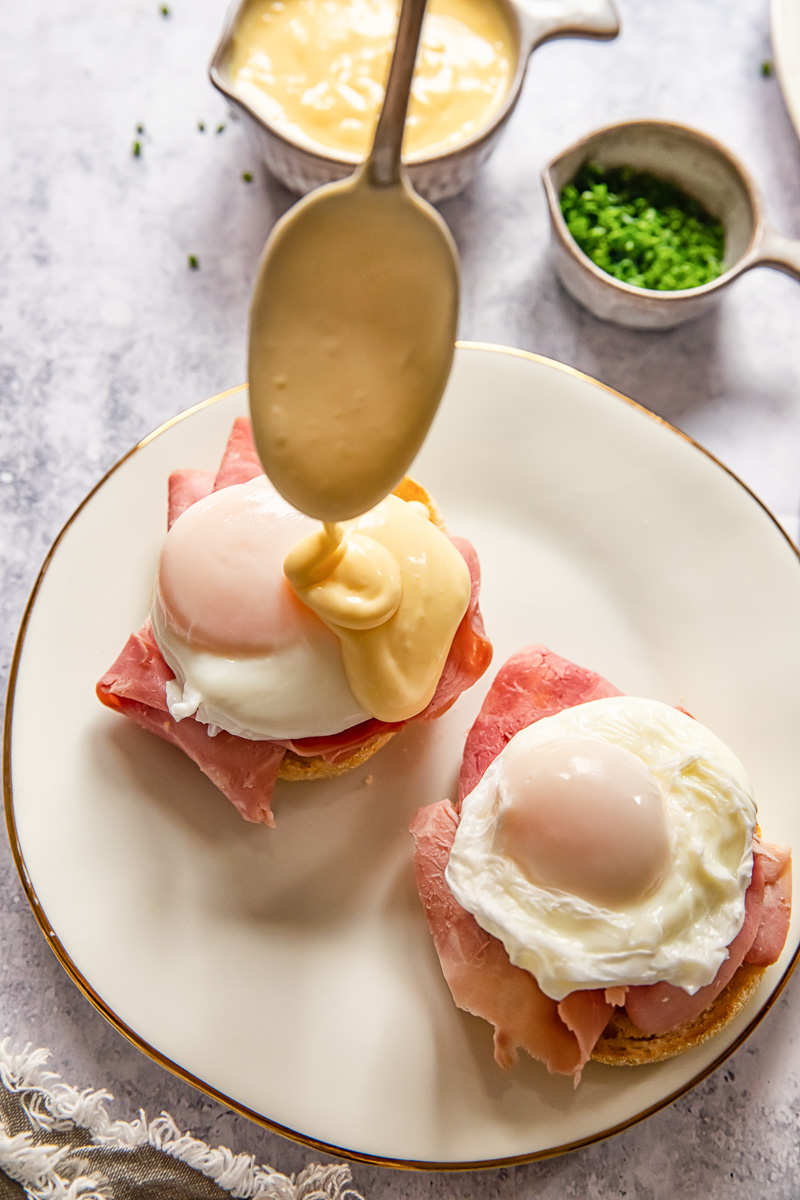 Poached eggs
Poaching eggs can look too difficult to bother with. But I promise that, with a little practice, anyone can master perfectly poached eggs.
The eggs can be prepared for poaching by cracking them into a strainer. Swirling the egg gently lets the egg white to run through. This step isn't essential, but does make the poached eggs tidier by getting rid of messy bits.
Another tip is to swirl the simmering water lightly with a spoon to create a small whirlpool, then release the egg right in the center of it. This trick ensures the egg is perfectly round when it comes out. And if yours isn't, no worries, simply trim the scraggly bit and serve confidently.
Make sure the water is simmering very gently, look for small bubbles. If the water is boiling, the movement will disturb the egg to much and won't deliver the results we are looking for.
Hollandaise sauce
Hollandaise sauce sounds very fancy, and definitely has the taste of decadence. But at its core it is actually very simple with a short, simple ingredient list.
The ingredients you need are ones you probably have in your refrigerator right now. They are egg yolks, butter and lemon juice. What could be easier?
The name suggests that this sauce has a Dutch origin, but in reality it isn't clear who made it first and where. That is it has a global reputation is not only because of how good this sauce tastes, but also because of how versatile it is.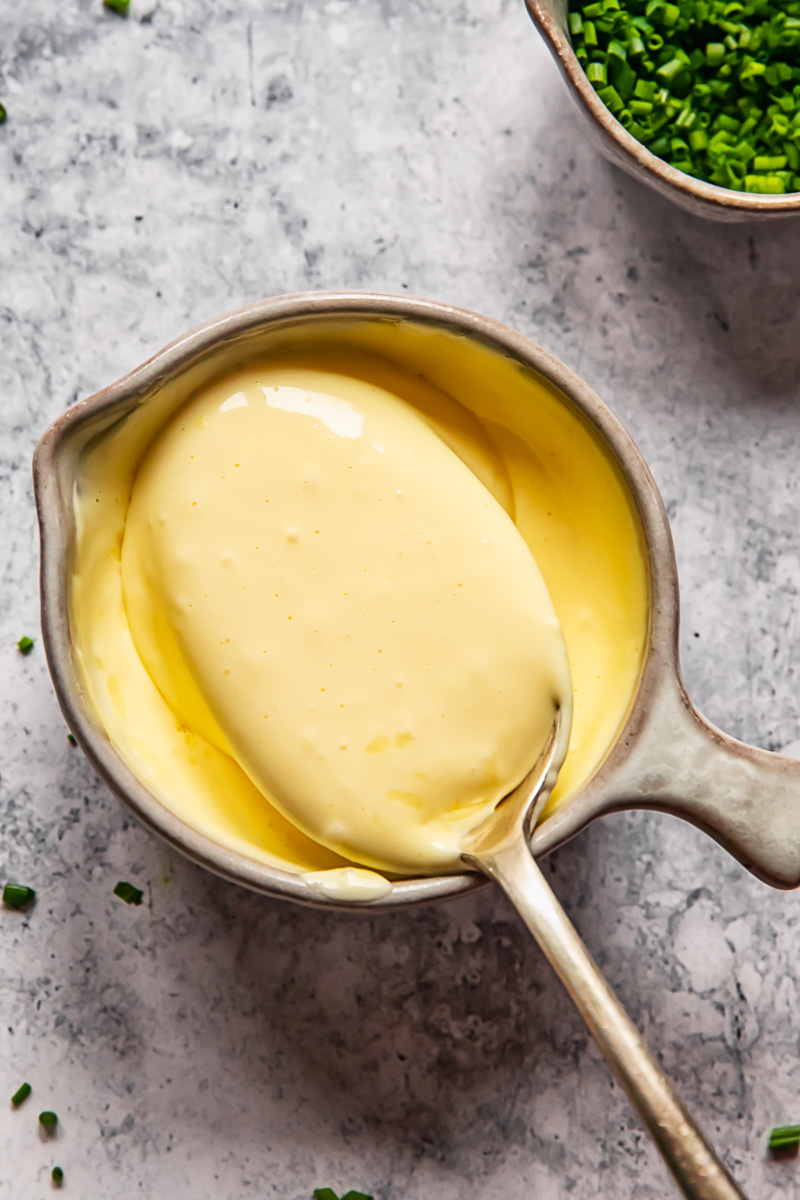 This sauce is so creamy, with a touch of citrus, and I make it to go with all sorts of dishes. It's amazing with steak and other meat, and just as good on vegetables or eggs, like in this recipe. As you can tell, I'm a fan!
Although Hollandaise is a great sauce to master, it is known to be a little bit fussy. Because the ingredients do not melt together, they need to become a stable mixture called an emulsion.
Fear not! I come to you with a simple, fail proof recipe. My method includes an immersion blender, which delivers perfectly smooth Hollandaise sauce in about 10 minutes.
I use the same blender method for a notoriously difficult Bearnaise Sauce and it works equally well.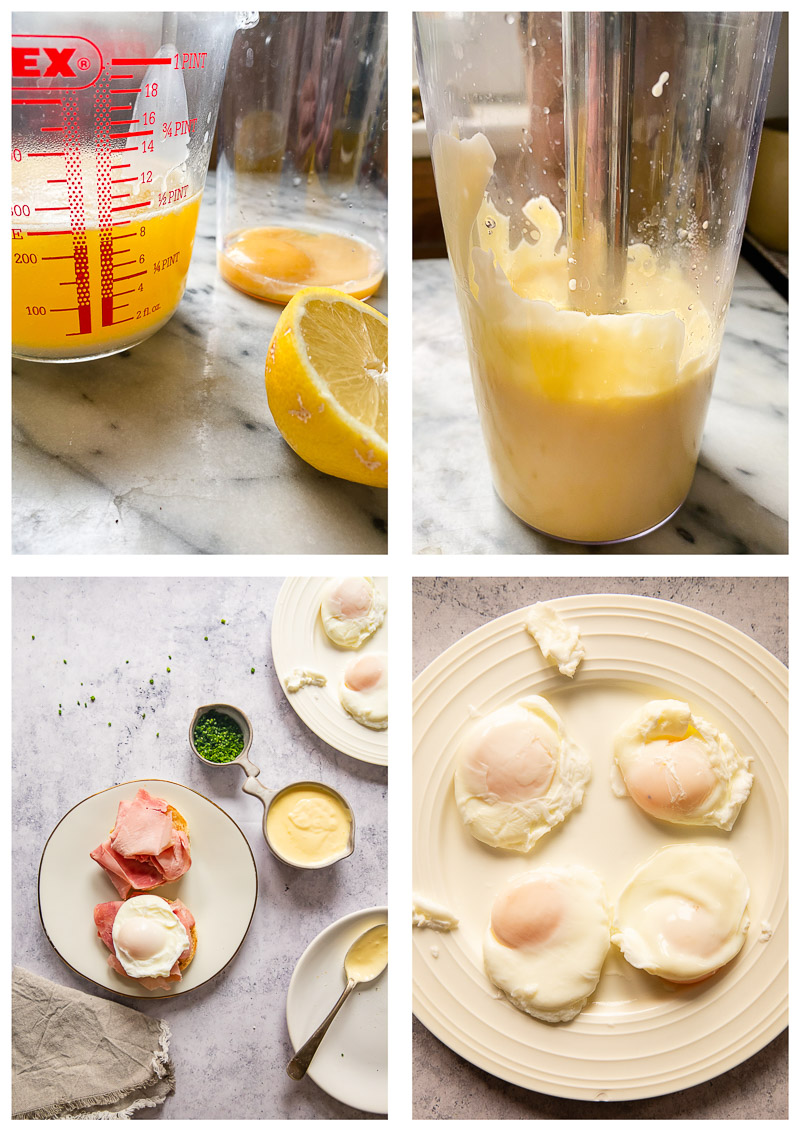 The Ingredients
Besides the poached eggs and creamy hollandaise sauce, Eggs Benedict require two more ingredients. Or four if you wish to add the embellishments such as paprika and chives.
Toasted English muffins and ham. Canadian back bacon is often used but you can use any good quality ham. For a twist on the classic recipe, replace the ham with smoked salmon and enjoy Eggs Royale!
More great brunch recipes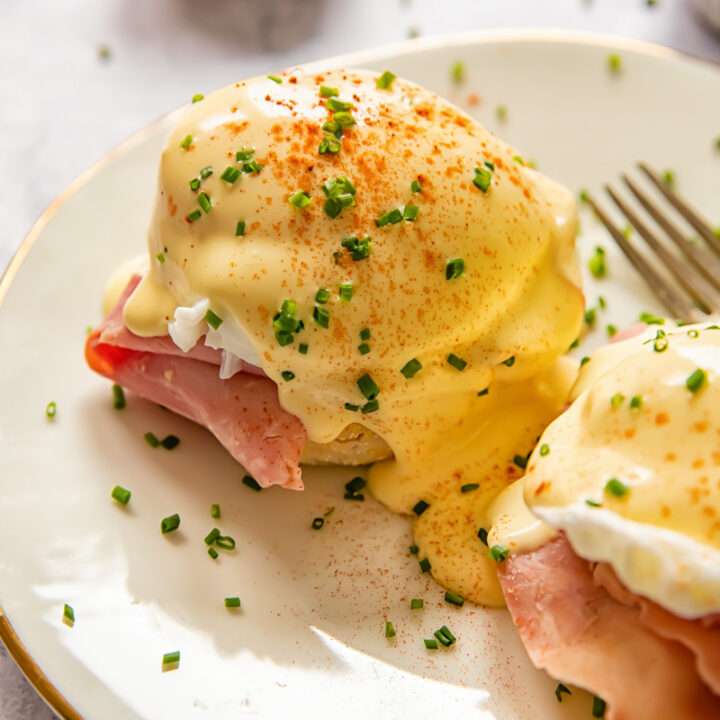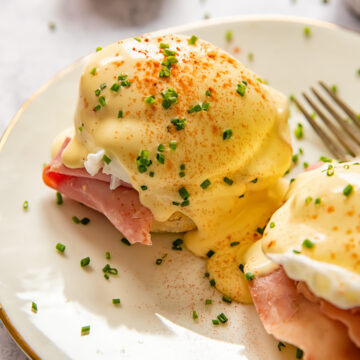 Eggs Benedict with Easy Hollandaise Sauce
Eggs Benedict is the ultimate brunch, with poached eggs, creamy hollandaise, and savoury ham on a toasted muffin, what more could you want!
Ingredients
For the Hollandaise Sauce
2

egg yolks

2-3

tsp

lemon juice

2

tsp

water

200g/1 cup

salted butter

melted

1-2

tbsp

warm water

to thin out the sauce

salt to taste
For Eggs Benedict
8

eggs

1

tsp

white wine vinegar or lemon juice

4

English muffins

halved and toasted

4

slices

ham

good quality

½

tsp

paprika

optional

1

tbsp

chopped chives
Instructions
Melt the butter in a small saucepan and take it off the heat when it just starts to bubble. You will use the yellow clarified butter and discard the white sediment at the bottom. To a small bowl, add the egg yolks together with 2 teaspoons water and 2 tsp lemon juice, blend briefly with the immersion blender. With the motor still running, slowly pour in the melted hot butter and continue whipping with the blender until the sauce is thick, pale yellow and nearly triples in volume. Add a couple of tablespoons of warm water to thin out the sauce to pourable consistency, season well with salt and keep warm till needed.

Tip each egg into a ramekin or a small bowl. Fill a medium saucepan with water and add the vinegar or lemon juice. Bring it to a gentle simmer, then lower the heat, swirl the simmering water with a spoon or a knife to create a small whirlpool, then tip an egg into the center of the simmering water, wait a few seconds for the egg to settle, then repeat with the remaining eggs. The water shouldn't be simmering too rapidly, so the eggs aren't disturbed. Simmer for 2- 3 minutes until the egg whites are set and the yolks are still runny. Remove from the pot with a slotted spoon on a plate.

To assemble Eggs Benedict toast the muffin halves and arrange them on plates. Then top each muffin half with a slice of ham or two slices if they are very thin, followed by a poached egg. Pour the warm hollandaise sauce over the eggs, then sprinkle with a dash of paprika and chopped chives.
Nutrition
Calories:
717
kcal
Carbohydrates:
28
g
Protein:
23
g
Fat:
57
g
Saturated Fat:
31
g
Polyunsaturated Fat:
5
g
Monounsaturated Fat:
17
g
Trans Fat:
2
g
Cholesterol:
549
mg
Sodium:
1629
mg
Potassium:
307
mg
Fiber:
2
g
Sugar:
1
g
Vitamin A:
1978
IU
Vitamin C:
1
mg
Calcium:
106
mg
Iron:
3
mg