These truffled egg soldiers with a touch of shallots and mushrooms cooked in butter, topped with melty cheese is the ultimate luxury weekend breakfast that you deserve!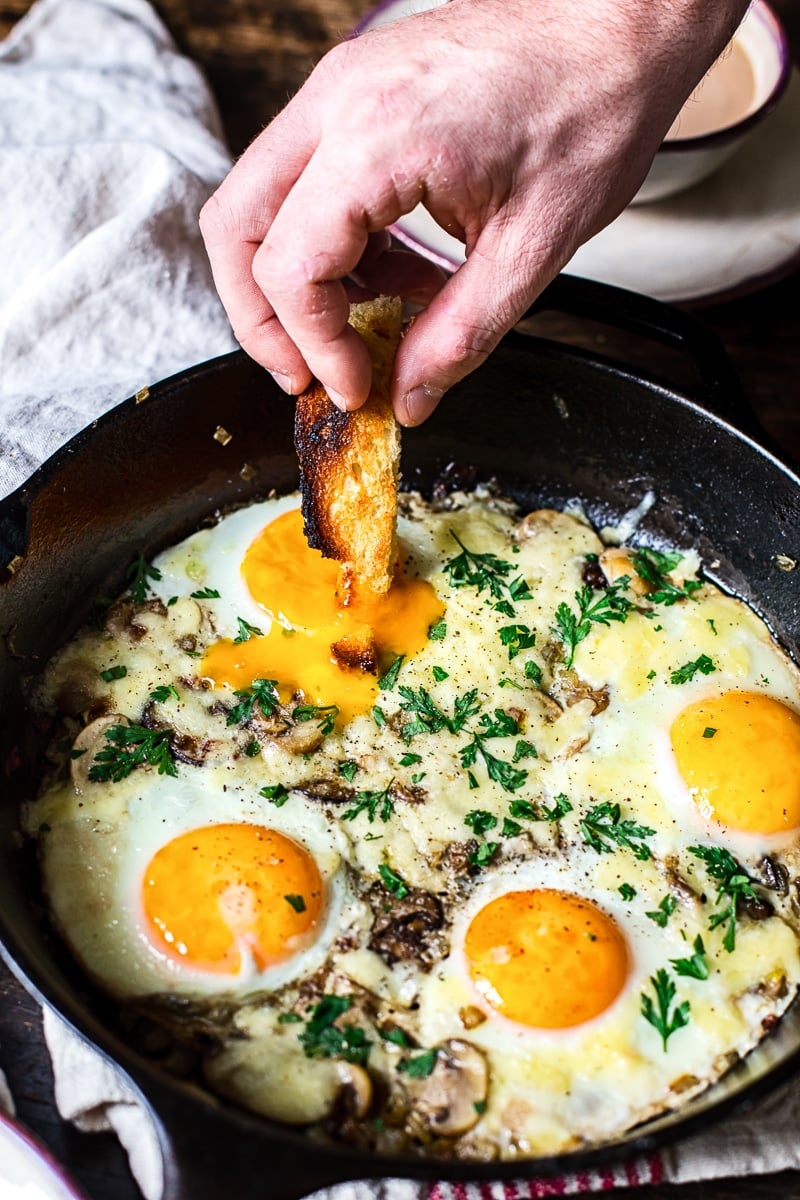 (Thank you the happy egg co., the producer of high welfare free range eggs, for sponsoring this post and keeping the Vikalinka kitchen cooking! As usual all opinions remain my own.)
There are many things I thought I would do when I started blogging like become a better cook and baker, develop my photography and writing skills, maybe even meet new people.
But I never thought I'd be visiting farms and fisheries and learning about what it takes to actually bring the food we eat to the table. And that has been an eye opening experience.
As every woman on a budget it's only natural to want to lower our food bill, however learning at what effort the quality food is grown puts things into perspective.
But I am getting ahead of myself. Let me explain.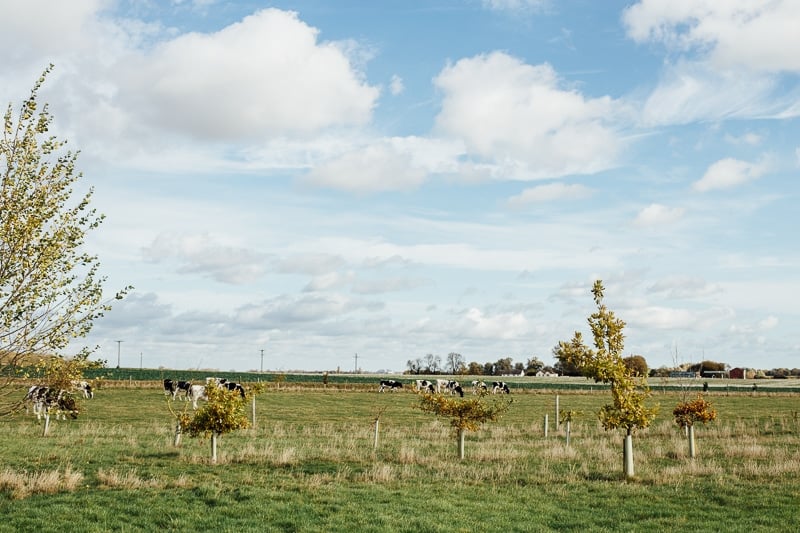 Last week I was invited to visit one of the happy egg farms outside of Peterborough. The email ended with "please let us know your shoe size, so we could sort out wellies, we will also provide coveralls for your visit".
I am more used to be invited to restaurant launches or cooking demonstrations. This one was different and I was intrigued.
I am ashamed to admit I know next to nothing about farming, so everything I learned at the happy egg farm was new and very interesting.
Also, as much as I love eggs and eat them for breakfast nearly every day, I didn't know what a nutritious powerhouse they were!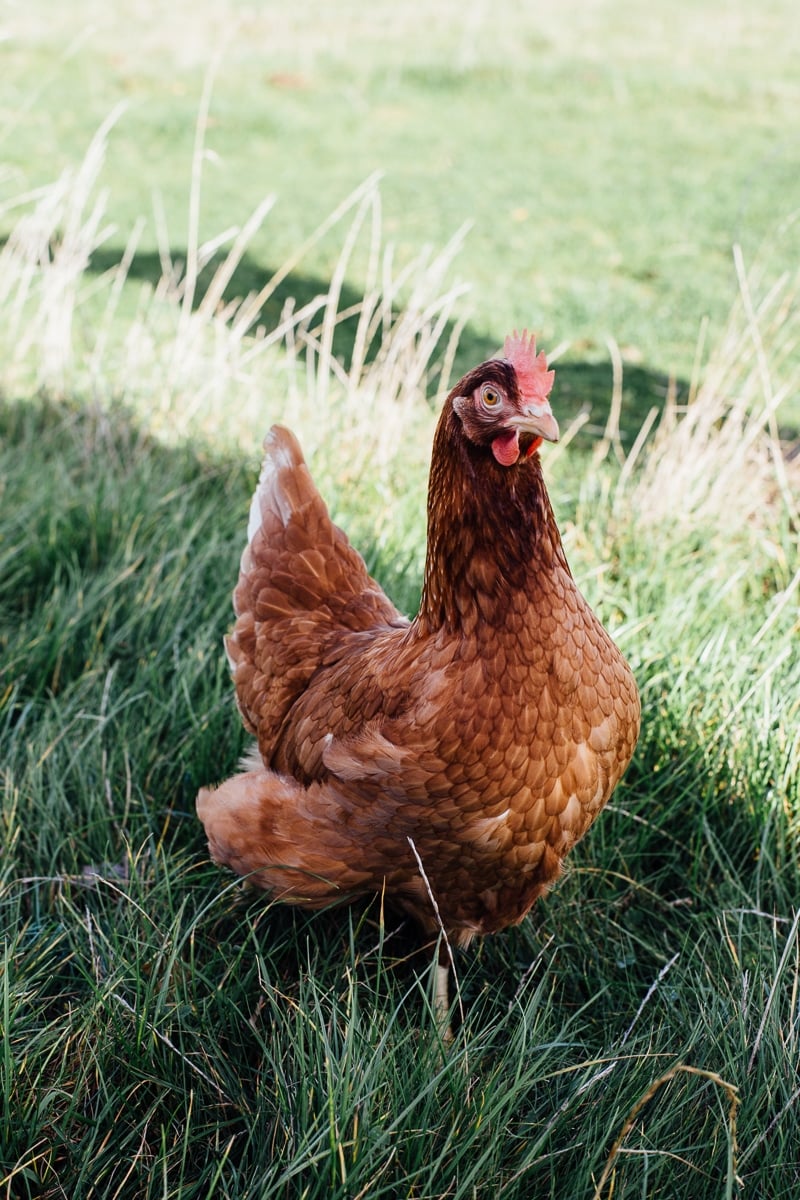 Egg facts in no particular order
Eggs are an incredible source of protein, vitamins and minerals
Egg size depends on hen's age. Younger ones lay smaller eggs and they get bigger as hens age! (mind blown!)
Younger hens are responsible for double-yolked eggs as they are still working out how things work! (once again…I had no clue, I thought those were twins!)
Eggs are one of the first foods recommended by NHS for babies when they are being weaned off milk for their nutritional qualities and easily digestible protein.
Egg colour has nothing to do with egg quality but only with a breed of hens
All eggs in the UK are stamped with a code, which makes it easy to trace down where they came from in case of a problem. Organic, free range, caged…all that info is in that code!
150 eggs are eaten in the UK every second!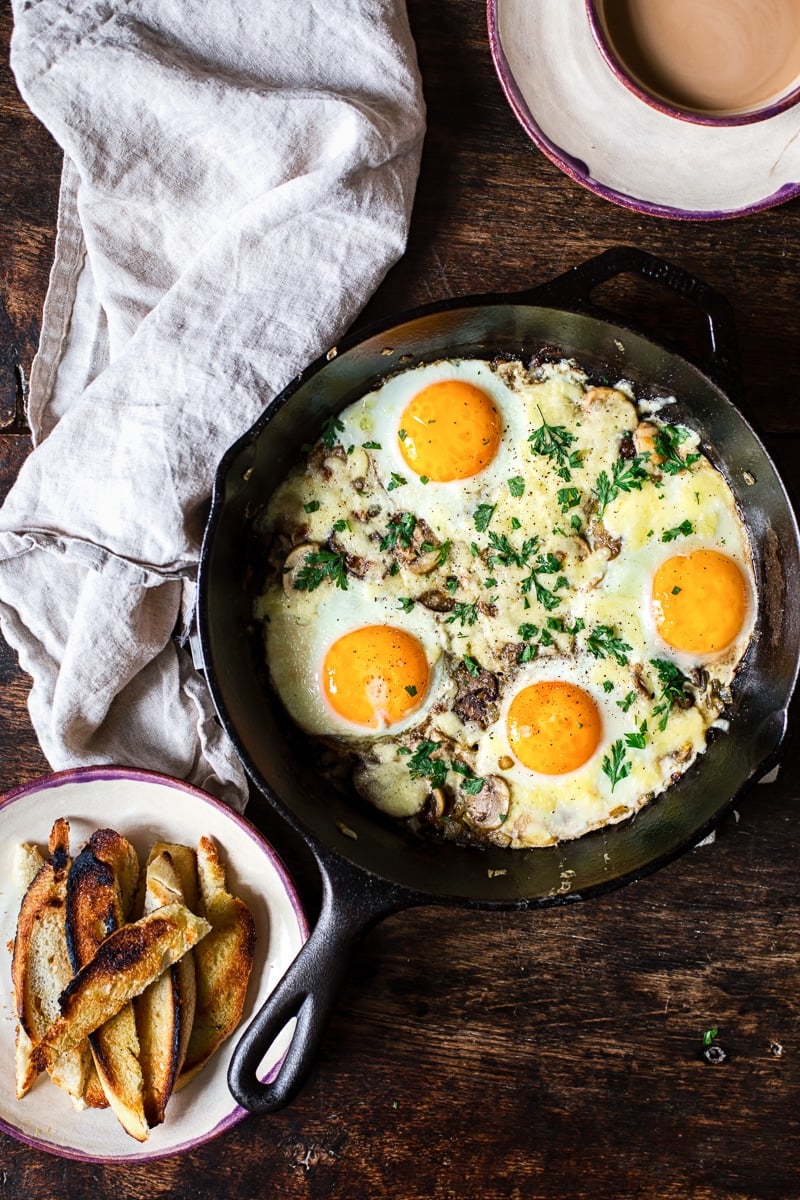 Now let's look at those yolks! I know what you are thinking…I enhanced the colour. I didn't and if you are one of those people who buy The happy eggs, you will know they are actually this orange!
And they are delicious. The intensity of flavour in that yolk is incomparable. Once in a while when I don't want to go to more than one shop, I pick up eggs at a supermarket that only carries their own brand and I immediately see the difference in the colour.
I end up baking with those eggs because I can't actually bare to eat them!
The happy egg farms include marigold and turmeric in the hens' feed, which enriches their diet and our yolks!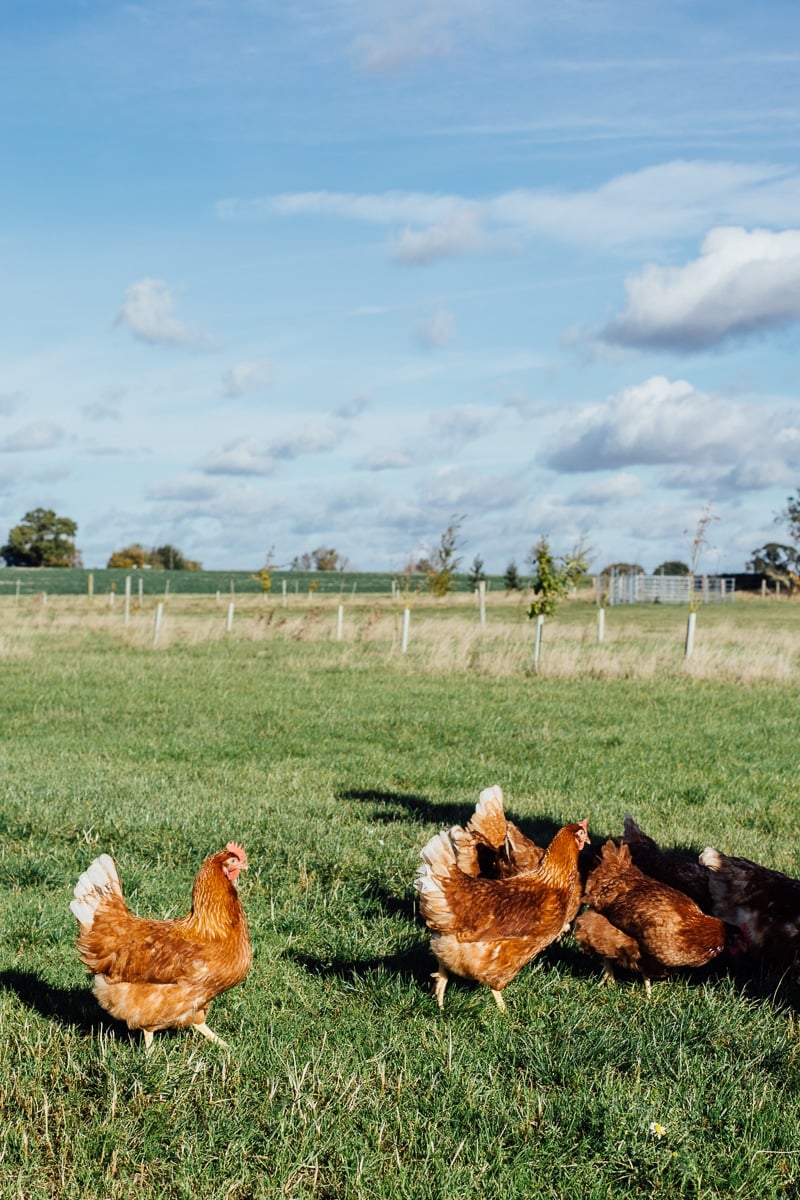 So what makes happy eggs happy?
Clever PR message? Nice pictures?
It turns out there is a different mindset behind the happy egg farming strategy. They believe that happier animals produce better quality product. Hens started out as jungle birds. They like the freedom to roam and explore, they are quite social and very, very curious.
Anywhere we went in the farm the birds followed us along and not at a distance. They were right there stepping on our toes, pecking at our wellies.
It was actually quite hilarious to see that they have personalities! The farmer told us stories of him retrieving prodigal hens from neighbours' garden. And every time he walked over to bring them home, the rest of the flock followed along. I can only imagine the sight!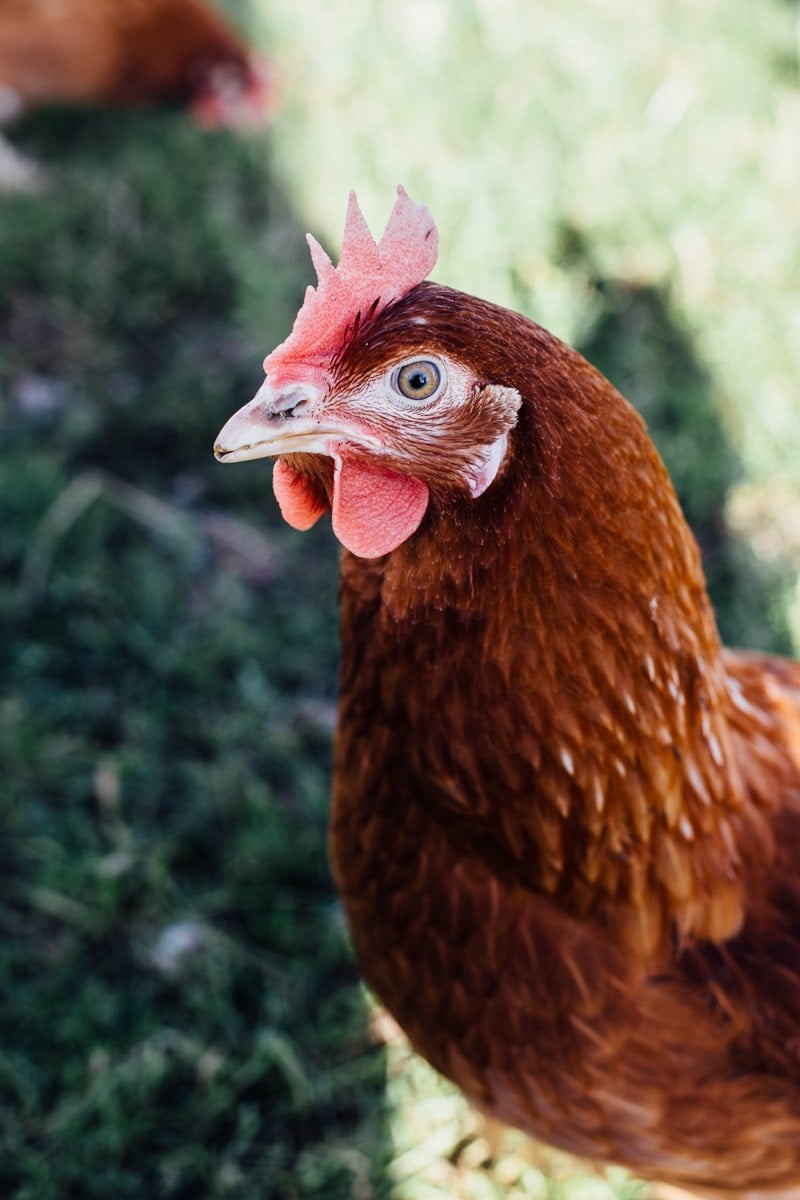 The hens' behaviour patterns are carefully studied (the farm we visited had their own residential PhD student), and based on the data collected adjustments are made to their environment and schedule.
For example, hens are prey birds and as much as they like to get out and explore, they are often scared of predators like foxes. So the happy egg farms often bring in bigger animals like cows and alpacas to provide that extra layer of security for the birds.
The farm we visited had cows as their companion animals. The birds hang out with them on a daily basis, riding on top of them, walking around the farm under the protection of a big guy is quite comforting.
And to indulge the hens' playful side, the happy egg farm actually had toys for them to play with!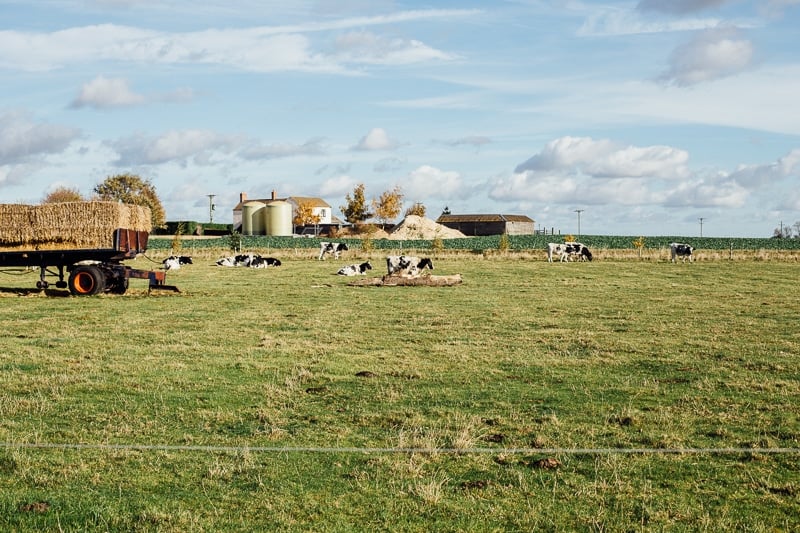 Our visit finished with a egg-cellent three course dinner right there on the farm. It was so fun to sit together with people, who work so hard to bring us the best, and just talk about life, food and enjoy a delicious scotch egg or two.
I went home and told everything I learned about egg farming to my mum! We are both born and bred in a city and needed some education in that area! And now I am sharing it with you along with this fantastic Truffled Egg Soldiers recipe.
These truffled egg soldiers are such a great recipe to have up your sleeve for a luxurious, special occasion breakfast or a light dinner. My husband and son could barely wait for me to finish taking photos, so they could dig in! And who could blame them!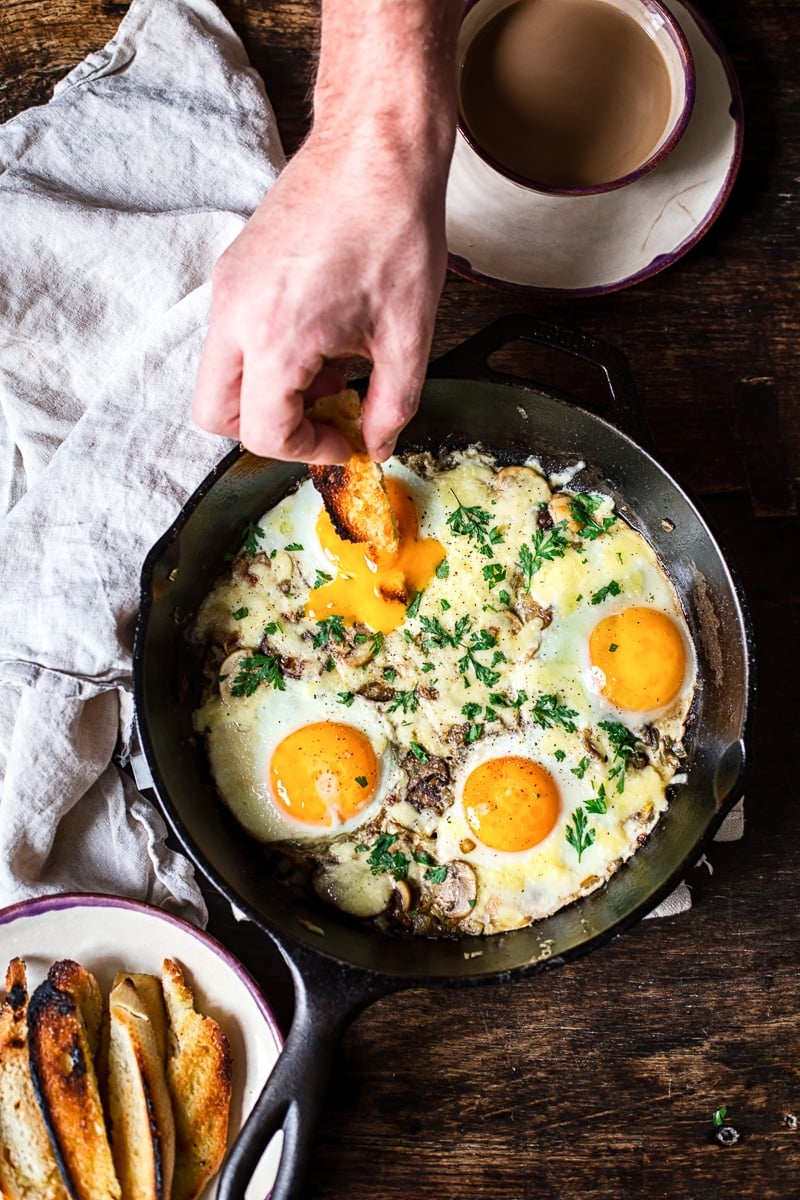 If you make my truffled egg soldiers, I would love to see your photos! Tag @vikalinka in your Instagram photo and I will make sure to share it with the world!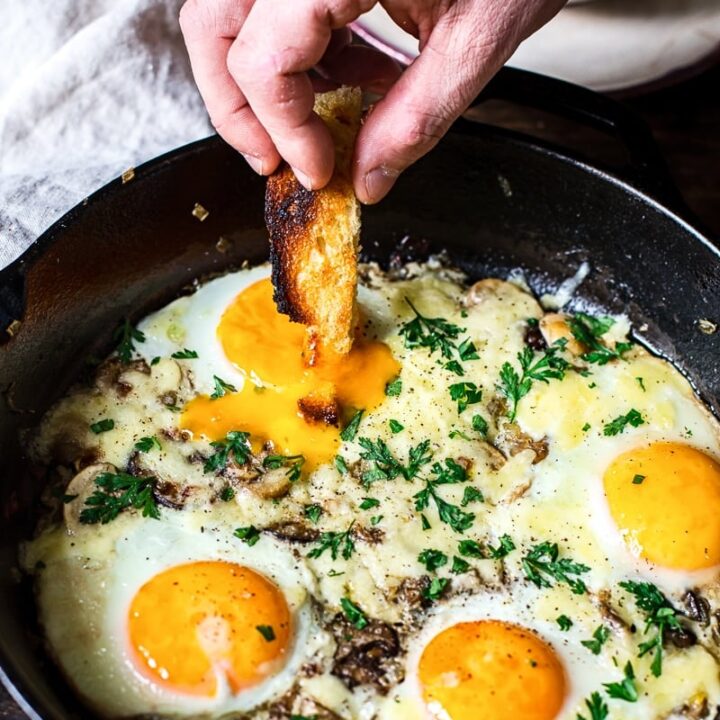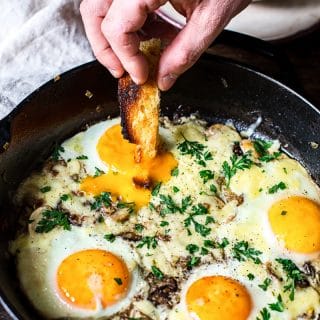 Truffled Egg Soldiers and the happy egg Farm Visit
Eggs cooked with mushrooms and truffle oil.
Ingredients
1

tbsp

butter

1

shallot

chopped

1

clove

garlic

minced

4-5

mushrooms

sliced

a splash of white wine

4

eggs

salt and pepper to taste

50

g/1/3 cup Comte cheese or your favourite cheese

grated

1

tsp

truffle oil

fresh parsley or chives
Instructions
Melt butter over low heat in a medium frying pan, add chopped shallots and cook for 5 minutes until soft but not browned, add garlic and mushrooms and cook for 2-3 minutes longer, then add a splash of white wine and scrape the browned bits off the bottom of the pan.

Crack the eggs into the frying pan, top with cheese and cook over low heat for 5 minutes, then cover with a lid and let the eggs steam for 2-3 minutes longer depending on how firm you like your egg yolks. Drizzle with truffle oil and chopped parsley or chives.

Serve with toasted bread cut into 'soldiers" for dipping.
Nutrition
Calories:
303
kcal
Carbohydrates:
5
g
Protein:
19
g
Fat:
23
g
Saturated Fat:
11
g
Polyunsaturated Fat:
2
g
Monounsaturated Fat:
8
g
Trans Fat:
0.3
g
Cholesterol:
371
mg
Sodium:
1541
mg
Potassium:
329
mg
Fiber:
1
g
Sugar:
3
g
Vitamin A:
792
IU
Vitamin C:
2
mg
Calcium:
235
mg
Iron:
2
mg