Do you want to have a healthy, protein-filled breakfast in the morning but short on time? You can make my broccoli frittata the night before and enjoy it the following morning. It's that easy!!
Or take a look at our Persian Herb Frittata if you are itching to expand your culinary horizons!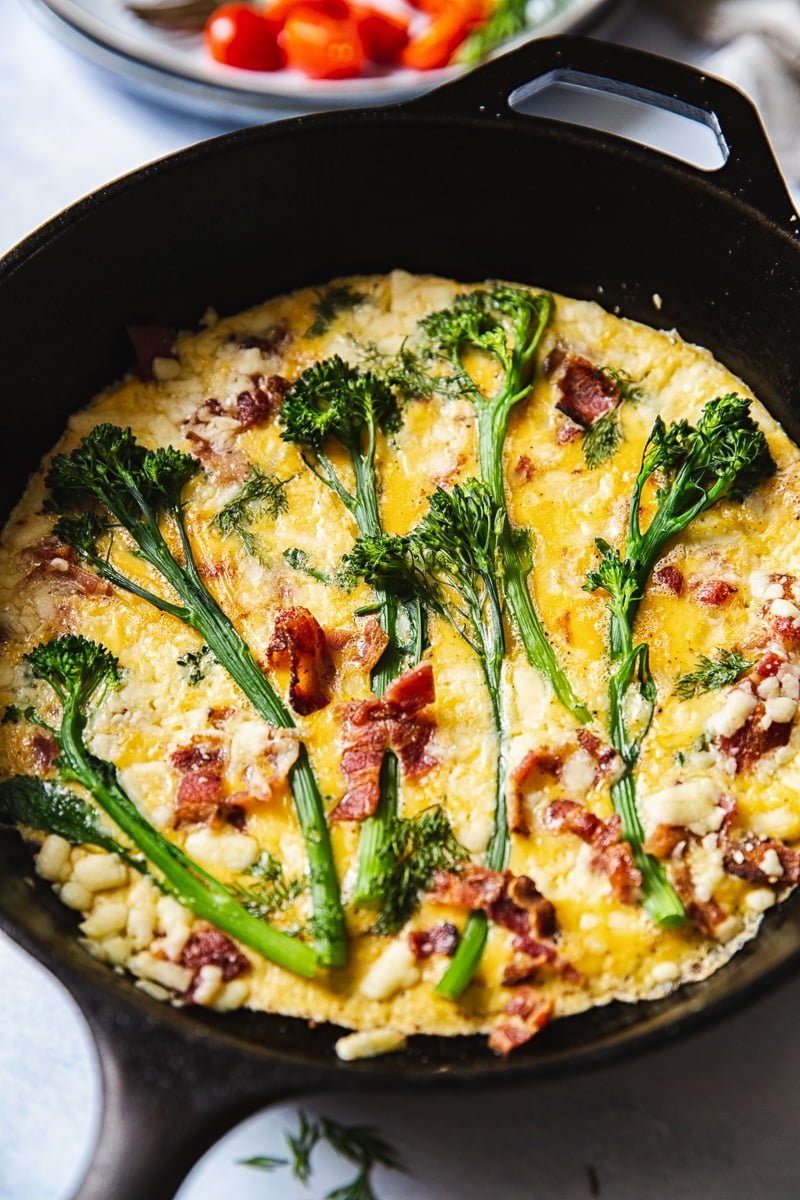 It's getting warmer and lovelier outside by the minute and I have to admit I am not fully ready for the summer clothes. Not yet but I am on my way.
Brad and I have been eating healthier lately hoping to shed extra padding we've accumulated over the cold winter months.
Eggs for breakfast are always a great option to start the day with a meal that will sustain us for hours. Easy enough for me since I work from home but Brad leaves the house pretty early and doesn't always have time to cook.
So I decided to come up with a couple of options that could be made in advance. This broccoli frittata is one of them and it's a good one!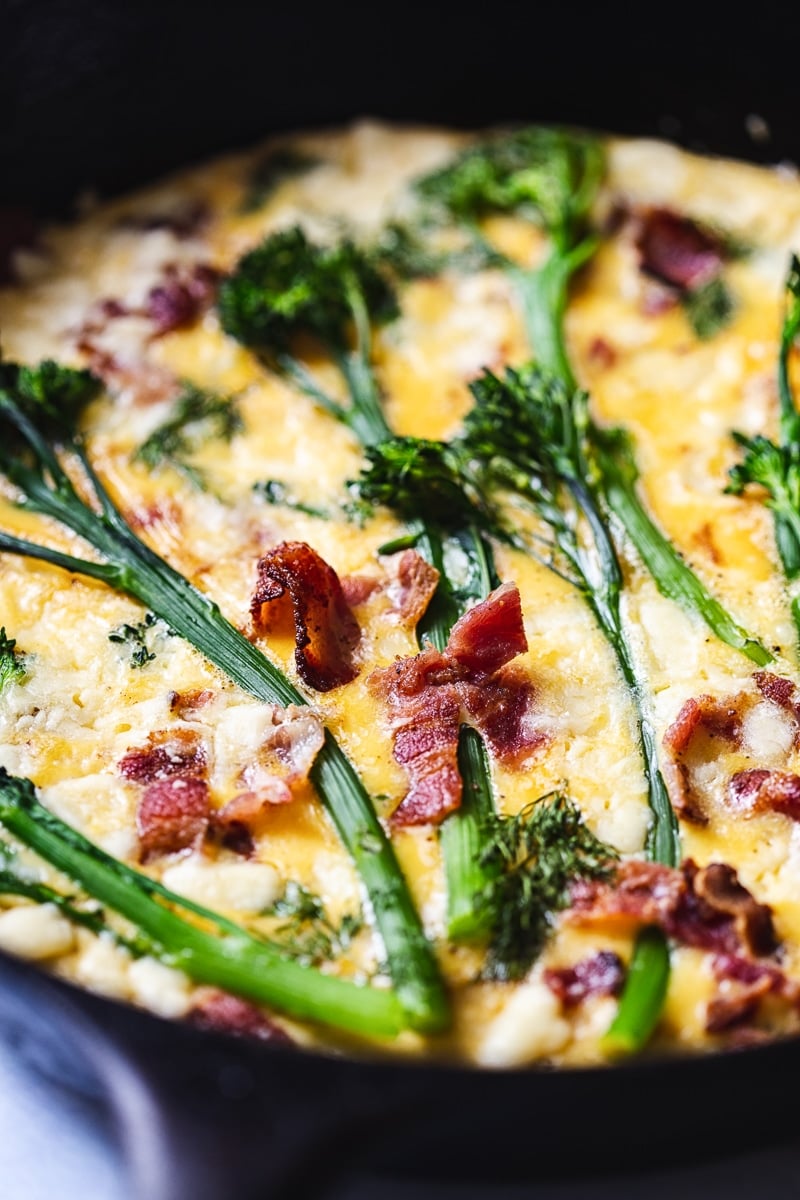 Frittata Recipe
It seems like most world cuisines have a dish where the eggs are the star of it. And why wouldn't they?! Eggs are relatively inexpensive, readily available and packed with nutrition.
And perhaps the best of all…they are easy to prepare. It's no wonder the first thing we teach our kids is how to cook an egg!
The concept of frittata is also pretty familiar around the world. They might all go by different names but the idea is the same. Cooked beaten eggs with a bit of dairy if you are in Europe or a large handful of herbs if you are in the Middle East and you've got yourself a frittata of sorts.
The French version of it is of course the famous omelette. The Spanish have their tortilla. And the Italians blessed this world with a delicious frittata. Even the iconic quiche is just a frittata encased in crust!
Made of eggs, various vegetables and sometimes bits of meat like bacon, ham or prosciutto, frittatas are a great way to clean out your fridge and come up with a delicious dish while at it!
The biggest difference between the omelette and frittata is not the ingredient list but the method of preparation. While the first one is cooked on a stove top, the latter is cooked in the oven. I love that about frittata. It is a lot less labour intensive just like the majority of Italian cooking.
Just like pizzas, frittatas are delicious warm or cold. Unless you are one of those people who doesn't like cold pizza, which is odd because what's not to like!!!
I prefer my frittata straight out of the oven although traditionally it is served at room temperature.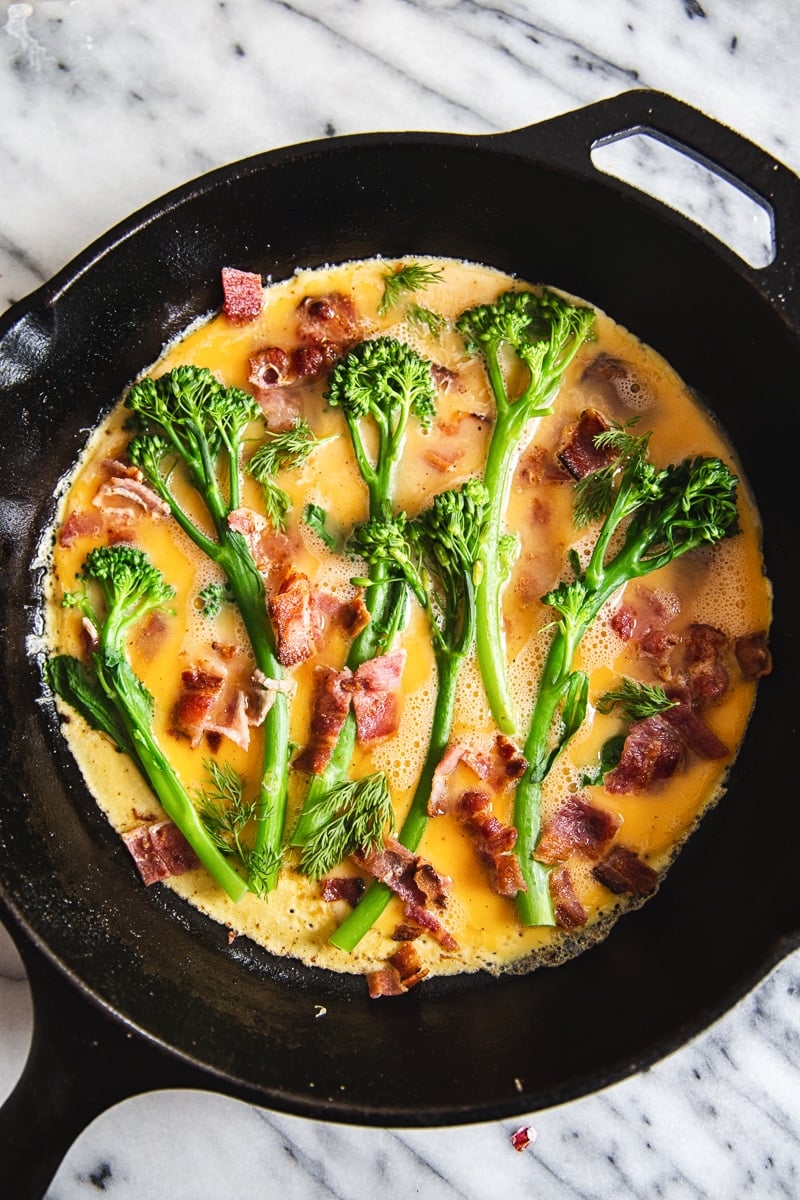 Recipe Variations
Frittatas are endlessly customisable! For this recipe I added broccoli, cheese and bacon with just a pinch of dill. Classic combination that works so well!
I can see so many other amazing flavour pairings that will be just as delicious like tomato and basil with melted mozzarella. Doesn't it sound tasty and oh so summery!
Another one that I am thinking of is caramelised onion, potato and ham or roasted vegetable one. So many possibilities!!
Even though frittata is Italian by origin, who is to say you can't take it to another territory? Fills yours with smoked salmon, dill and boiled potato rounds and you've got yourself a delicious Scandi inspired creation.
Or perhaps delight your family with a Mexican style frittata, loaded with chorizo sausage, red and green bell peppers, juicy tomato slices and topped with fragrant cilantro.
Challenge your imagination and play with the frittata formula. Anything goes but leave the eggs alone. They are they vital and unquestionable ingredient in the frittata.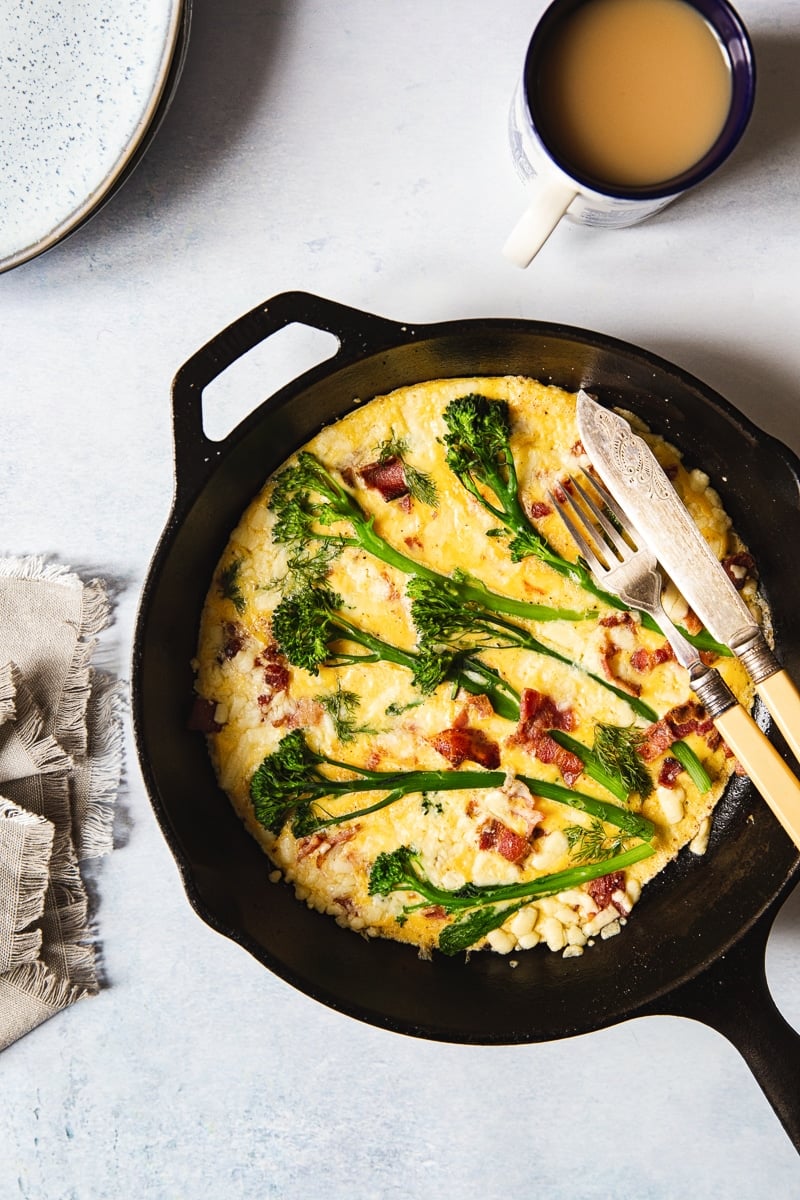 How to Serve
What I also love about this broccoli frittata is that it could also be eaten for lunch or dinner. Eggs are so nutritious that they should not be reserved for breakfast alone!
Add a side salad or top your sourdough with a slice of frittata and enjoy it for lunch or a light dinner.
What would be your favourite flavour combo?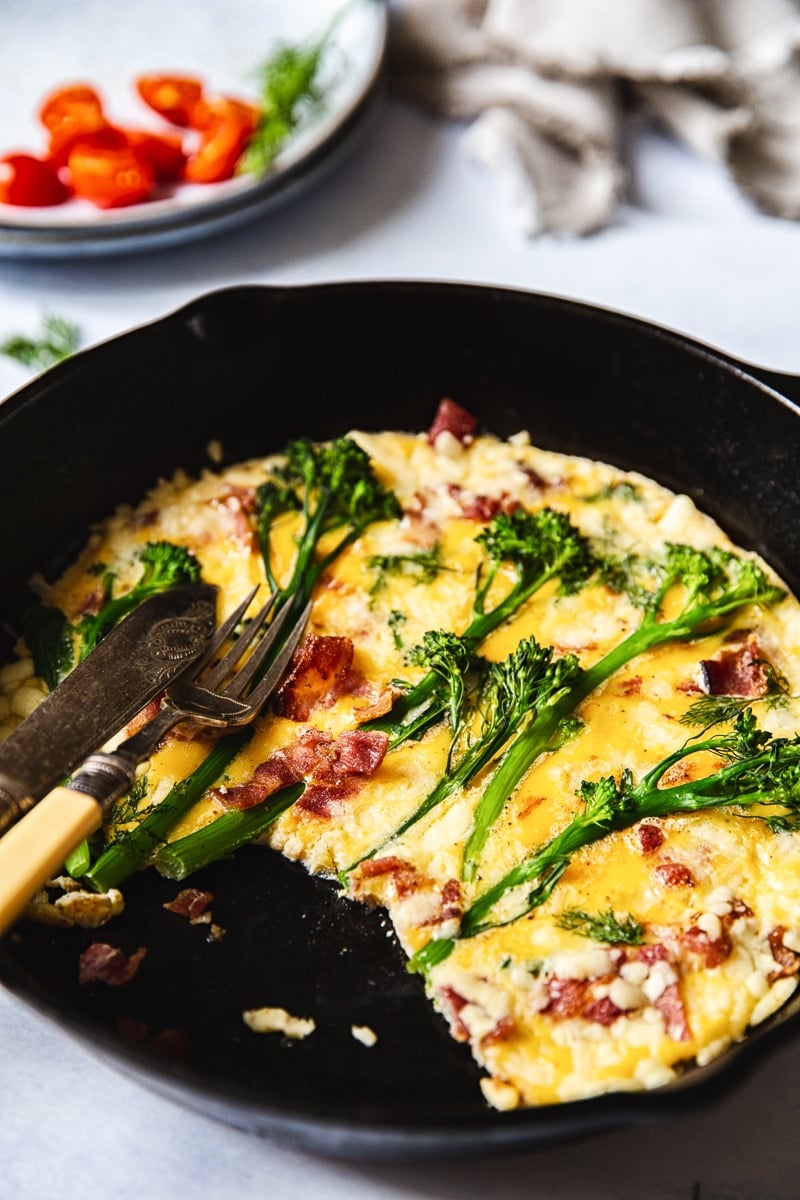 Storage and Leftovers
This is not a very big recipe, so I doubt you will have leftovers. But if you are cooking for 2, you can definitely some half of it for the next day.
Store the leftover frittata refrigerated in an airtight container. It should keep well for up to 2-3 days if stored properly. Even though you can technically freeze your frittata, I wouldn't recommend it as it changes the delicate texture of the eggs.
Favourite Egg Recipes To Try: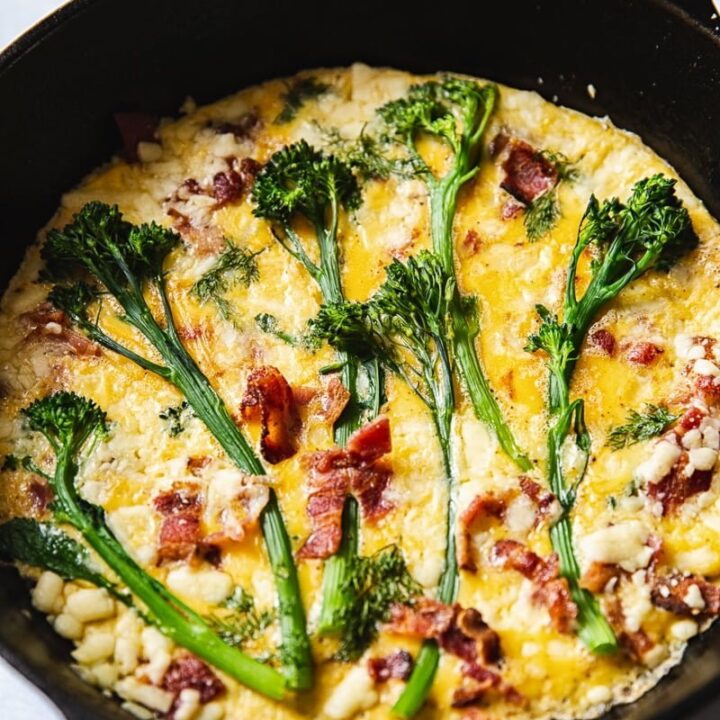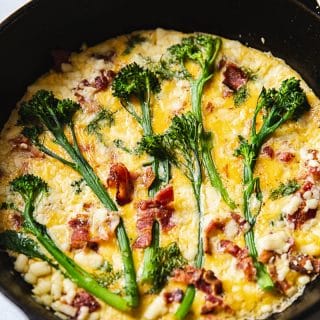 Broccoli Frittata with Aged Cheddar and Bacon
Egg frittata with long stem broccoli and mature cheddar.
Ingredients
6-7

tenderstem broccoli (broccolini)

4

bacon strips

6

eggs

salt

to taste

1

tsp

fresh dill

2-3

tbsp

aged Cheddar
Instructions
Preheat the oven to 200C/400F.

In a medium pot bring the broccoli to a boil and cook for no longer than 1 minute. The broccoli should turn bright green colour. Drain and set aside.

Meanwhile cook the bacon until crispy. Remove the pan and chop. Drain all but 1 tbsp of bacon fat.

Whip the eggs with a pinch of salt and pepper and pour in the same pan, arrange cooked broccoli on top, scatter chopped bacon and grated Cheddar and dill.

Bake in the preheated oven for about 10 minutes or until set.
Nutrition
Calories:
216
kcal
Protein:
12
g
Fat:
17
g
Saturated Fat:
6
g
Cholesterol:
267
mg
Sodium:
286
mg
Potassium:
134
mg
Vitamin A:
460
IU
Vitamin C:
1.4
mg
Calcium:
91
mg
Iron:
1.3
mg