Not for the faint-hearted. My bacon, blue cheese and caramelised onion quiche recipe will challenge your tastebuds and improve your cooking skills. It's cheesy, it's salty, it's tangy. It's a taste sensation.
Serve with a fresh Summer Tomato Salad with Herbs to balance out the dairy-richness of your savoury tart.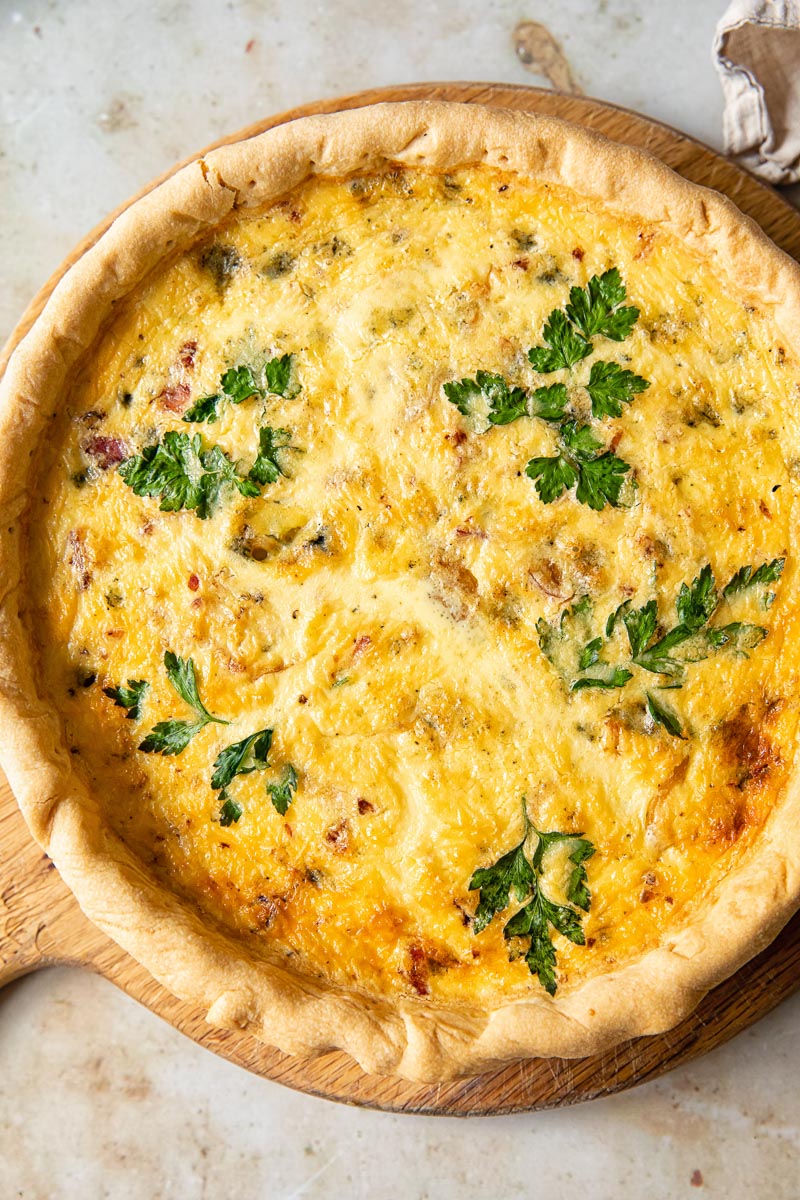 There are few foods as divisive as quiche. It stands firmly on the love/hate battlefield with Marmite, tequila and cilantro (coriander). My husband is a staunch quiche supporter and the reason for this strongly flavoured quiche recipe.
Stilton and bacon are a flavour force to be reckoned with. The pungent blue cheese and smoky cure of the bacon are formidable partners that pack a powerful punch. Caramelised onion threads offer a sweet contrast to those two big guns in my recipe.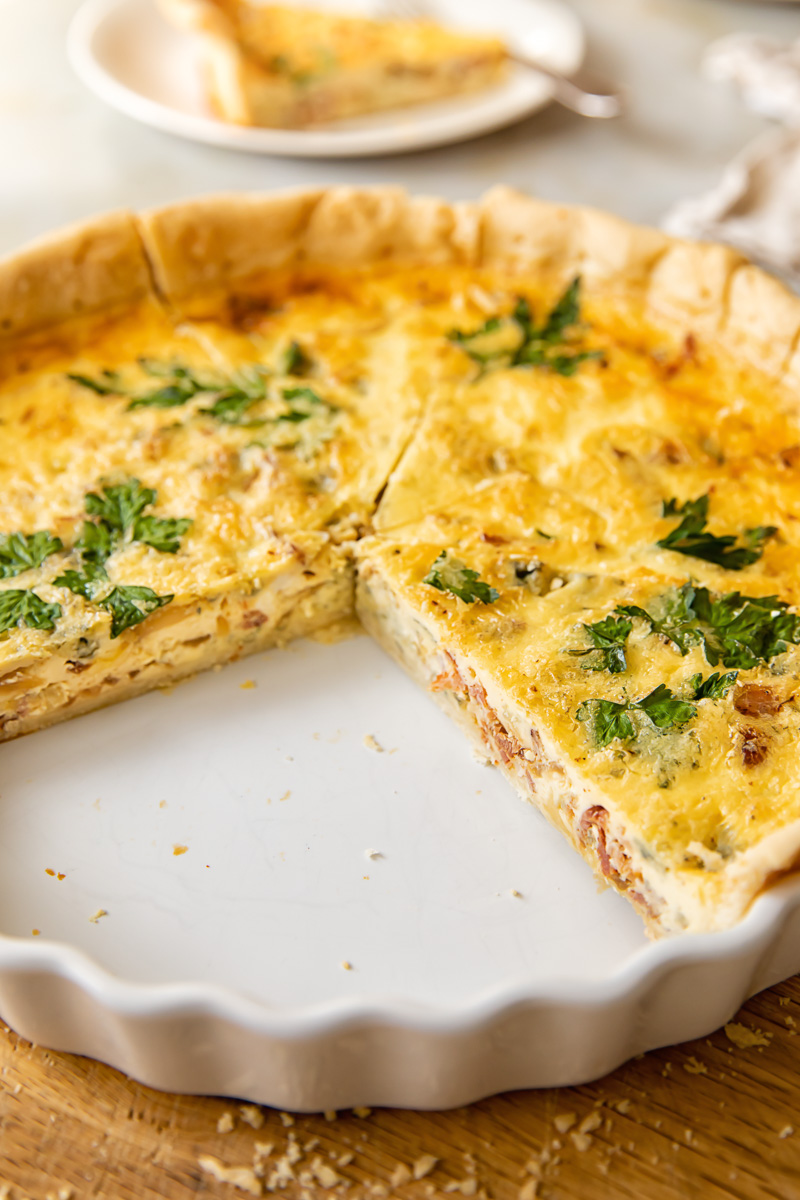 How To Make Quiche
Originally from Germany and known as 'kuchen', the simple recipe called for bread dough, bacon, eggs and cream custard only. During a time when European territories were being invaded, the quiche's region was claimed by the French and renamed Lorraine, along with the famous quiche itself.
As it's known today, it's an open pie case filled with the same basic egg and custard mixture with the addition of cheese and other savoury ingredients of the baker's choice.
Regardless of your quiche stance, for a table-top triumph there are some elements that everyone can agree on:
The filling should be set and smooth. Not rubbery or weepy.

It shouldn't be too eggy or too cheesy. Carefully proportioned ratios are key.

The crust should be evenly tanned and snappy. Not bitter and burnt, nor soggy and slack.
Although a fairly labour-intensive operation, you can employ a three-pronged manoeuvre. Simply spread it out over a couple of days to avoid any kitchen fatigue:
Stage one: make and bake your pastry (or just buy it!).
Stage two: cook your filling.
Stage three: make the custard, assemble the tart and bake.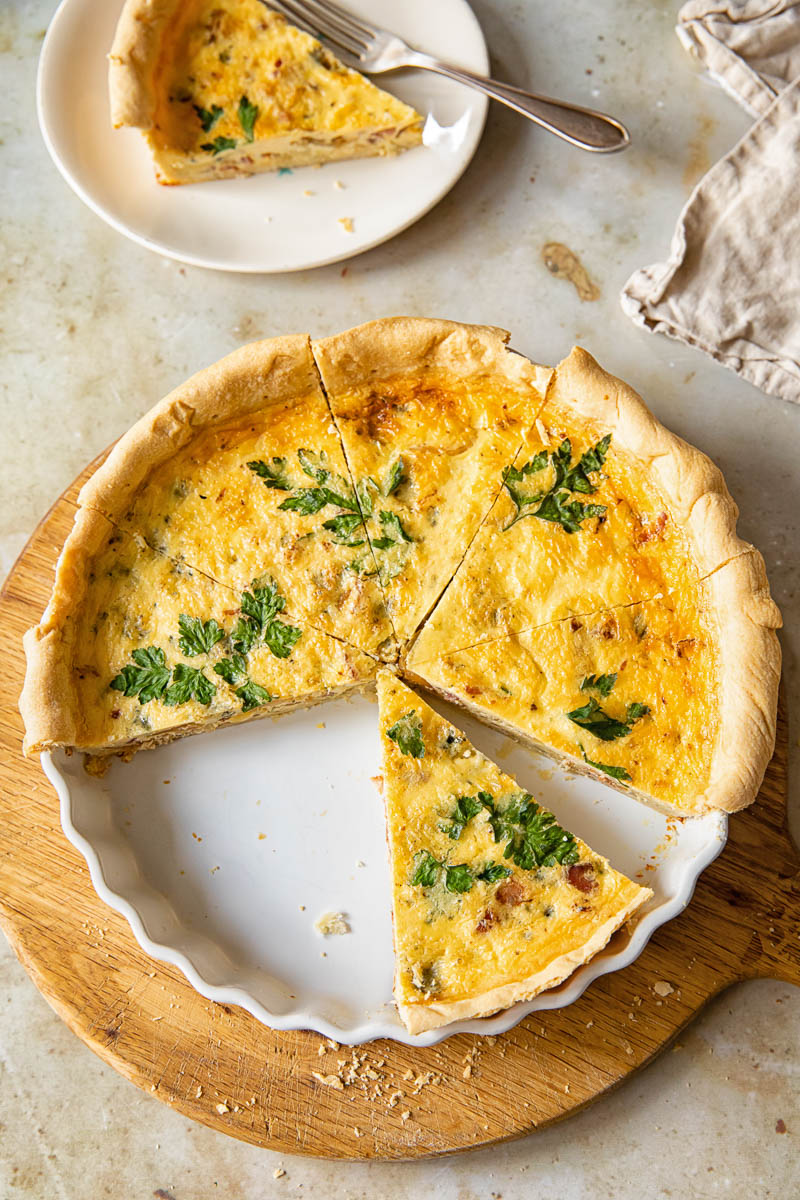 Quiche Variations
There are countless quiche recipe deviations and these polarise quiche connoisseurs even further: Is it eaten hot or cold? With fingers or a knife and fork?
What is an acceptable filling, i.e. ham, and what is definitely not? Tuna. Is a crustless quiche even a quiche? Choose your camp, people and let the war games begin.
Rather than being a lovely French lady, 'Lorraine' actually means 'famous army'. Fitting for such a dividing dish. A quiche can only be Lorraine if it contains Swiss cheese and bacon.
But there is no harm in altering the make up of your quiche, for example using Cheddar cheese and ham. You just can't lay claim to the name.
Quiche is an easy way to sneak in a few greens too. My kids have always eaten a cheese and broccoli combo. They like it warm, definitely not cold, and with a side of baked beans!
Like I said, polarising stuff! I prefer a more refined goat's cheese and tomato, served at room temperature, with a side of green salad.
And then there's the crustless quiche debate. Some would argue it's just a frittata. Others would say it's a great way to eat a gluten-free quiche, or a guilt-free quiche (minus the carbs). Whose side are you on?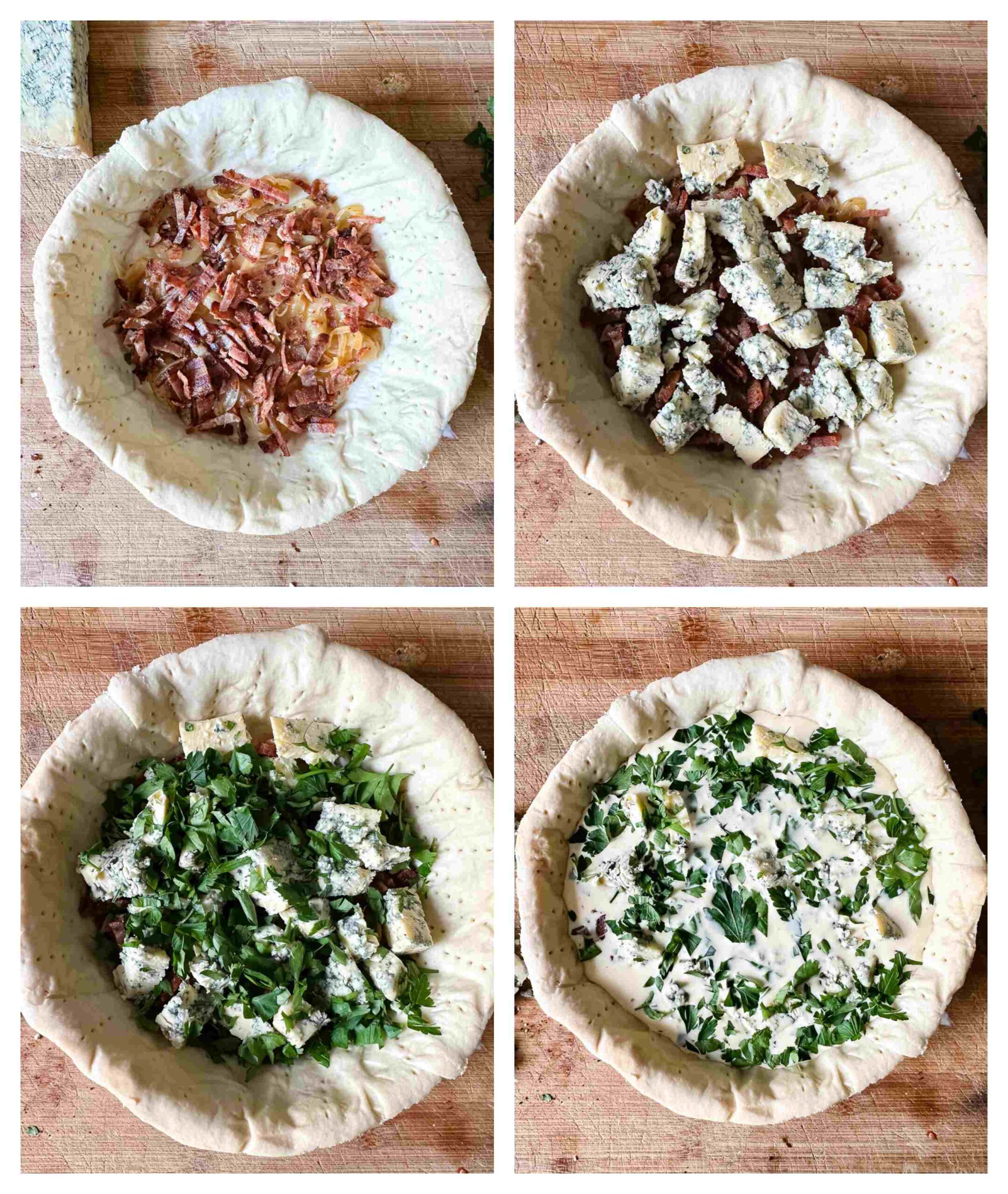 Recipe Tips and Notes
Pastry-making is not just a skill acquired by experienced

boulangers

. But if you're not ready to commit, ready-made store-bought shortcrust is your low-prep top secret.

Making a quiche from scratch is an investment of time, but you can break it down into stages over a few days to make it less daunting. You can make your pastry, bake the pastry case and cook the bacon and onion all ahead of time.

You have to partially bake the pastry case before adding the filling. Pastry chefs call it 'blind baking'. It ensures the base will hold before filling with the wet mixture. Wet base + wet filling = swampy quiche.

There are endless variations when it comes to savoury quiche recipes; classic combos like hame and cheese; seasonal brie and cranberry; wild mushroom. Or get creative with whatever you have in the fridge: minced beef and kimchi, anyone??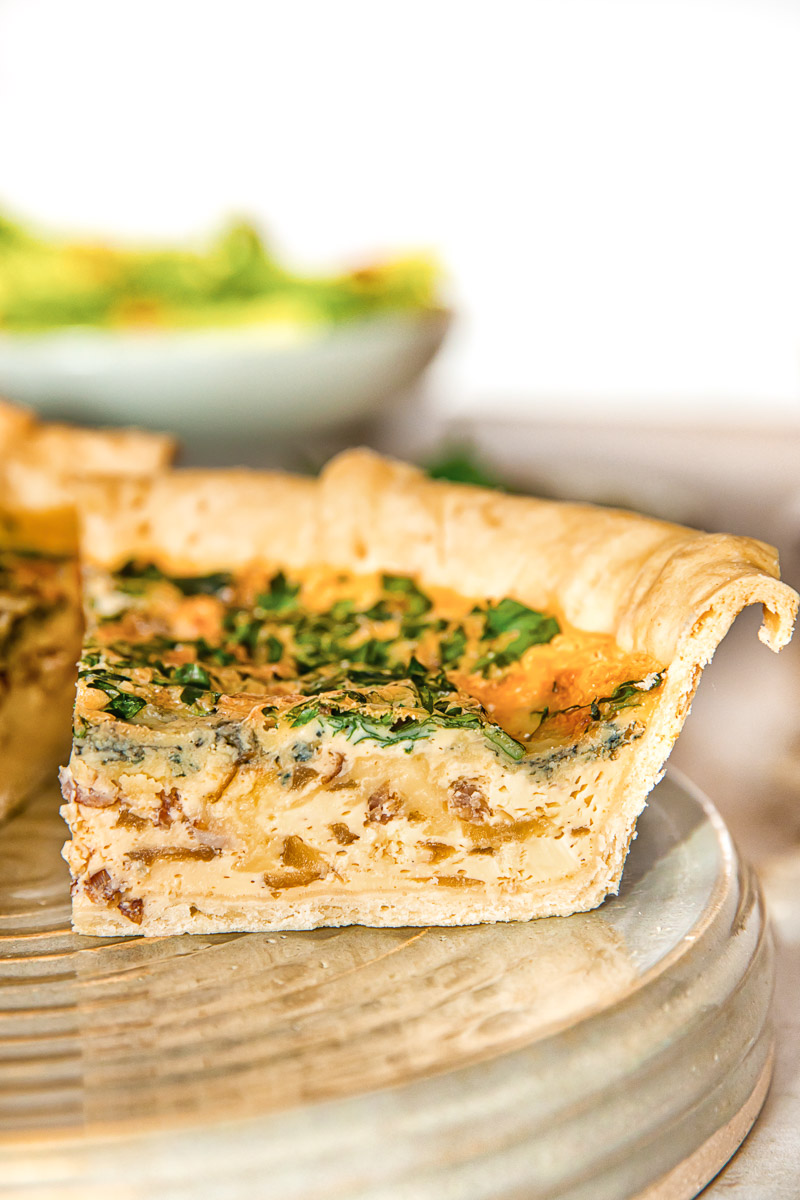 Storage and Leftovers
You can enjoy this bacon quiche hot or cold! Cover it and keep in the fridge for 2-3 days. I advise against freezing quiche. There are so many elements that can lose their integrity on freezing.
If you're a hot quiche fan, you can reheat it in the oven at 350F/175C for about 15 minutes, but watch the crust! It can catch and burn. There is a solution to this, but it might create another problem.
You could cover the quiche with foil, it will prevent any crust-scorching but you run the risk of adding moisture and getting a soggy tart.
Favourite Egg Recipes to Try: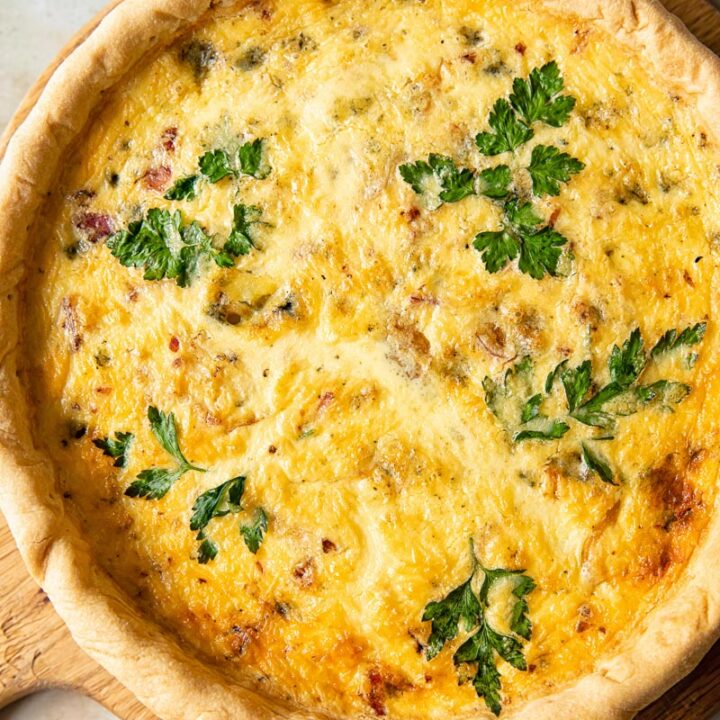 Bacon, Stilton and Caramelised Onion Quiche
My bacon, blue cheese and caramelised onion quiche recipe will challenge your tastebuds and improve your cooking skills.
Ingredients
For the shortcrust pastry
250g/1 ¾ cup + 1 tbsp

plain flour

125g/ ½ cup + 1 tbsp

cold unsalted butter

cubed

1

tsp

salt

3

tbsp

ice cold water
For the filling
1

onion

sliced

6

strips

streaky bacon

100g/3.5 oz

Stilton cheese

or any other cheese

5

large eggs

200ml/1 cup

double/heavy cream

100ml/1/3 cup

whole milk

salt and pepper

3-4

parsley sprigs
Instructions
Prepare the pastry up to 2 days ahead. You can also caramelise the onion and cook the bacon a couple of days ahead as well. Store in the refrigerator til needed.

In a food processor combine the flour, salt, and cold cubed butter, pulse to process until the mixture resembles crumbs. Through the chute of a food processor add ice cold water one tablespoon at a time and pulse until the mixture feels a bit heavier. It will not come together just yet.

Remove the mixture from the food processor and empty into a large bowl. Bring the dough together with two hands, don't handle it too much, just enough to form a shaggy ball. Wrap in plastic wrap, then press the dough down with the palm of you hand to form a disk. Chill in a refrigerator for 20 minutes.

Take the shortcrust from the refrigerator and let it come to room temperature for at least 20 minutes. It's impossible to roll out a well chilled disk of pie crust and if you try really hard it will just crack. Once it's pliable enough to work with, start rolling it out on floured surface into a circle 12 inch in diameter. Don't worry if it cracks, just pinch it together and continue on. Drape on your rolling pin and transfer the rolled out shortcrust into a 9 inch pie plate. Once again if it cracks or tears, just patch it up.

Once the pie plate is lined with the shortcrust, fold the overhanging edges under to form a thicker rim, then crimp it decoratively. Chill in the fridge for 20 minutes. Preheat the oven to 190C/375F.

Take the shortcrust out of the fridge, prick the crust with a fork all over, then line it with parchment paper and fill with baking beans. Blind bake at 200C/400F for 20 minutes, then remove the baking beans and the paper and bake for 5 minutes longer. It will probably shrink a bit, which is normal. It should look pale and partially baked.

While the shortcrust is baking cook the onion and bacon. To a frying pan add the bacon and cook until the fat is rendered and the bacon is crispy. Remove to a plate. To the same pan add the sliced onion, if the pan is too dry add a touch of oil, cook over low heat for 15-20 minutes until cooked all the way through and caramelised. (UK bacon is much leaner than in the US. If you are cooking in the US or Canada, discard most of the bacon fat but leave approximately 1 tbsp to cook the onion.) Allow the bacon to cool, then chop it.

Break up the blue cheese with a fork. If using other type of cheese, grate it. In a large bowl whisk the eggs, double or heavy cream and milk with salt and pepper.

It's time to assemble the quiche. Turn the oven temperature to 160C/325F. Scatter half of the blue cheese over the base of the pastry, followed by the caramelised onions and chopped bacon, top with the remaining cheese and place the parsley sprigs directly on the cheese. Carefully pour the egg mixture over the filling trying not to disturb it too much.

Bake in the preheated oven for 35-40 minutes or until set. Do not overtake or it will taste dry and rubbery!
Video
Nutrition
Calories:
409
kcal
Carbohydrates:
27
g
Protein:
11
g
Fat:
29
g
Saturated Fat:
17
g
Polyunsaturated Fat:
2
g
Monounsaturated Fat:
8
g
Trans Fat:
1
g
Cholesterol:
175
mg
Sodium:
893
mg
Potassium:
172
mg
Fiber:
1
g
Sugar:
2
g
Vitamin A:
1056
IU
Vitamin C:
2
mg
Calcium:
126
mg
Iron:
2
mg