This post will help you approach omelette making without fear! This recipe for an easy omelette with bacon, potatoes and zucchini, that you don't have to fold, is a just as delicious and very satisfying!
If you are inspired to try another easy French classic recipe, take a look at my Croque Monsieur sandwich.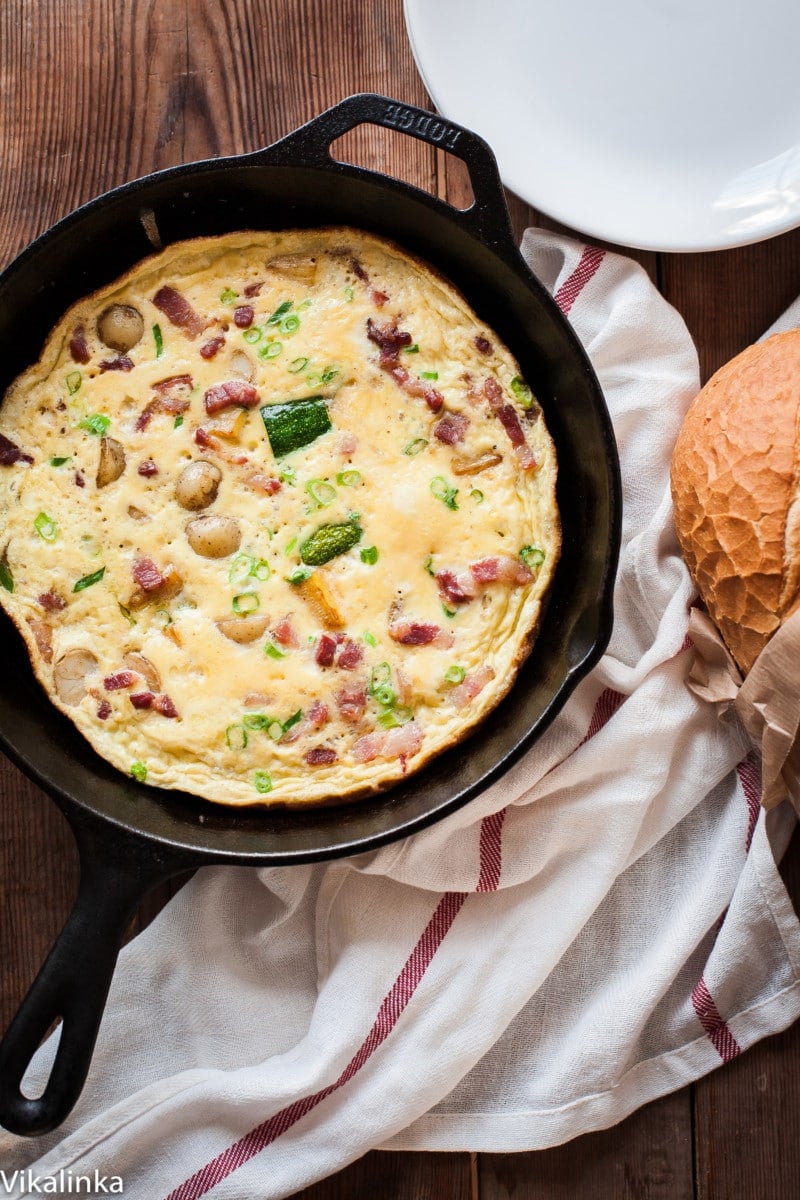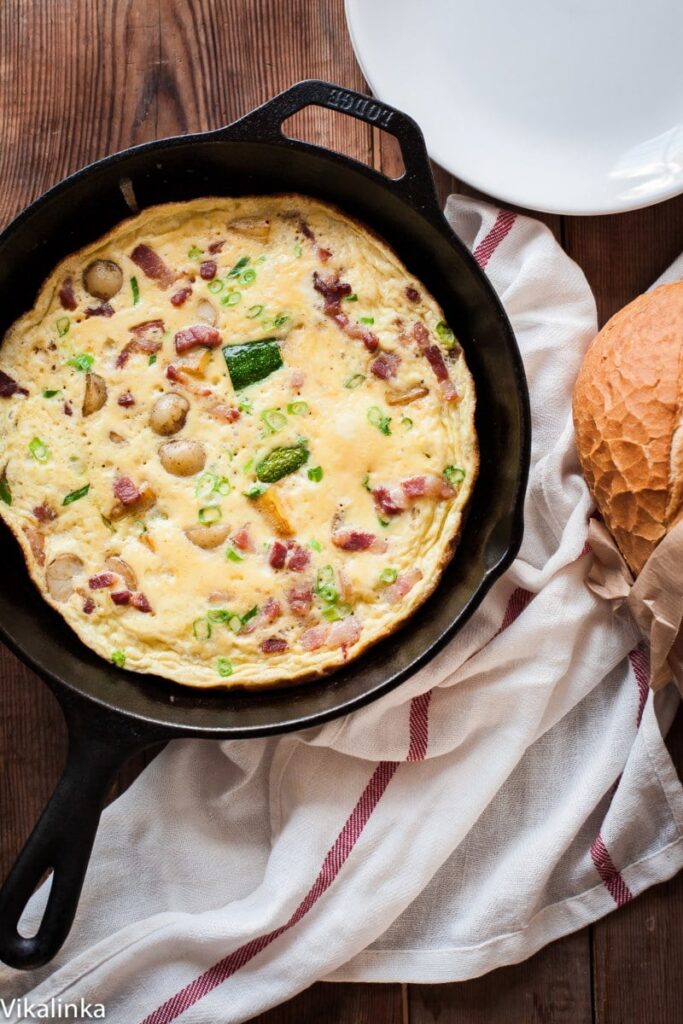 Omelettes have an unfair rep of being fussy and difficult to make. Although there is definitely a trick to making proper fluffy omelettes, there is no reason we mere mortals can't enjoy them as well.
I absolutely love French omelettes for their simplicity, versatility and taste. Growing up it was my number one after school snack and I still love them!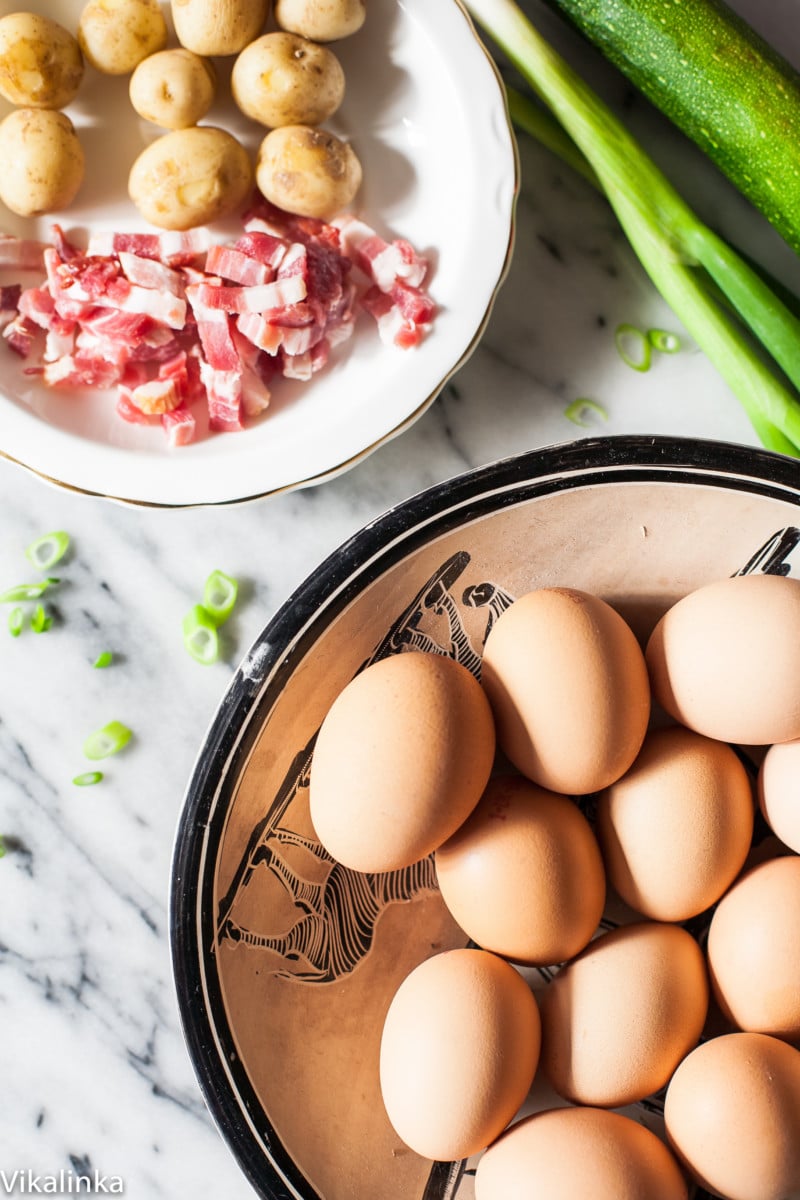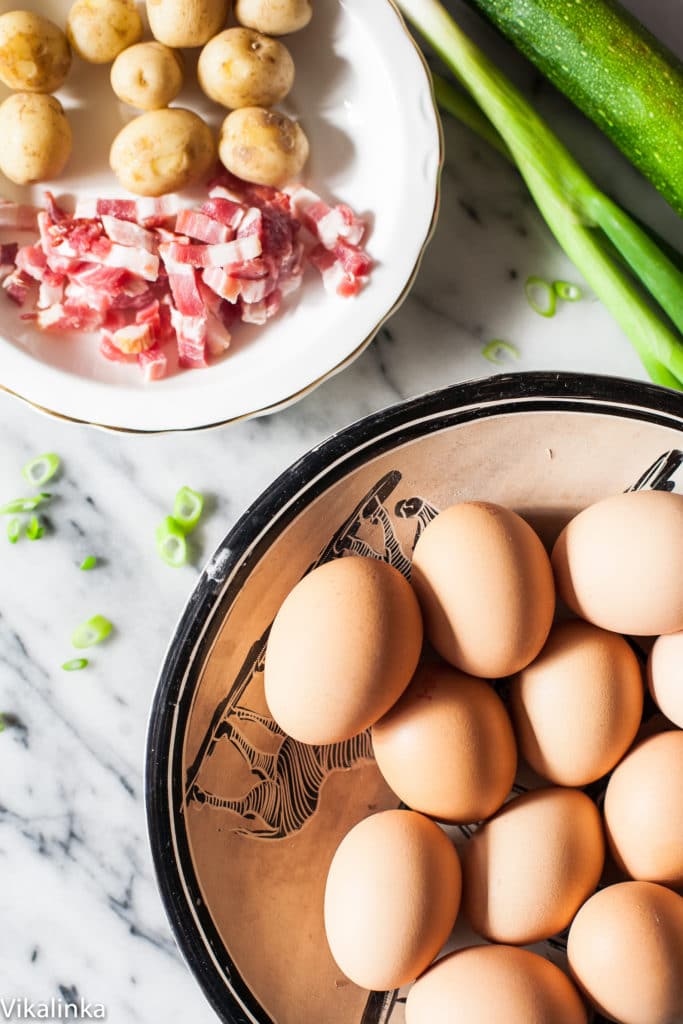 What goes into a basic omelette?
Egg and milk are all you need to whip up a proper omelette. Don't forget to season with salt and pepper!I prefer using whole milk but if you are watching calories, skim milk will do.
Some people swear by adding water instead of milk, so I guess it's up to you!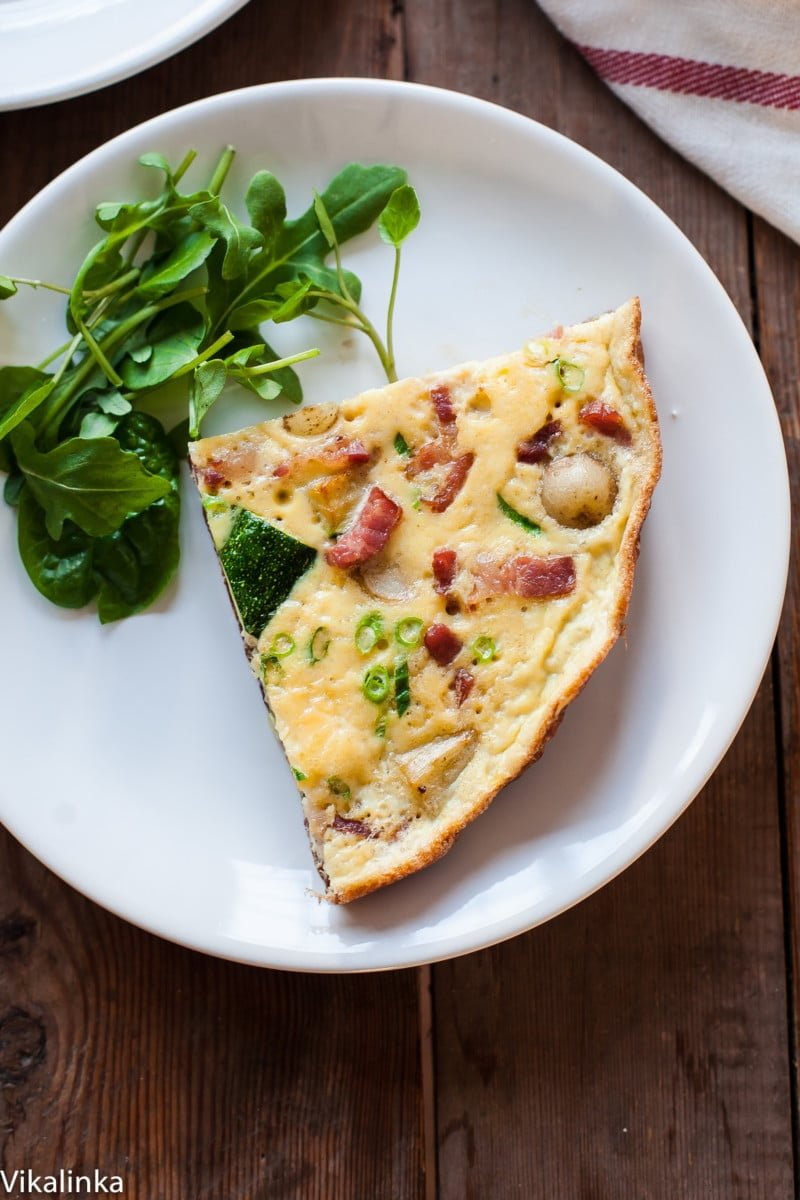 How do you make it?
It seems that the hardest part of making a French omelette is folding it but guess what… you don't have to do it!
Just skip folding altogether and enjoy an authentic French omelette more often. My mom never did the folding, I never do it and I just learned that Ina Garten doesn't either in her book "Back to Basics".Well if the Barefoot Contessa herself couldn't be bothered why should we?!
The most important thing is to whip the eggs and milk until frothy. The second important thing is to get all ingredients ready before you start. Things happen fast and you won't have time to chop, peel and whatever else you are doing.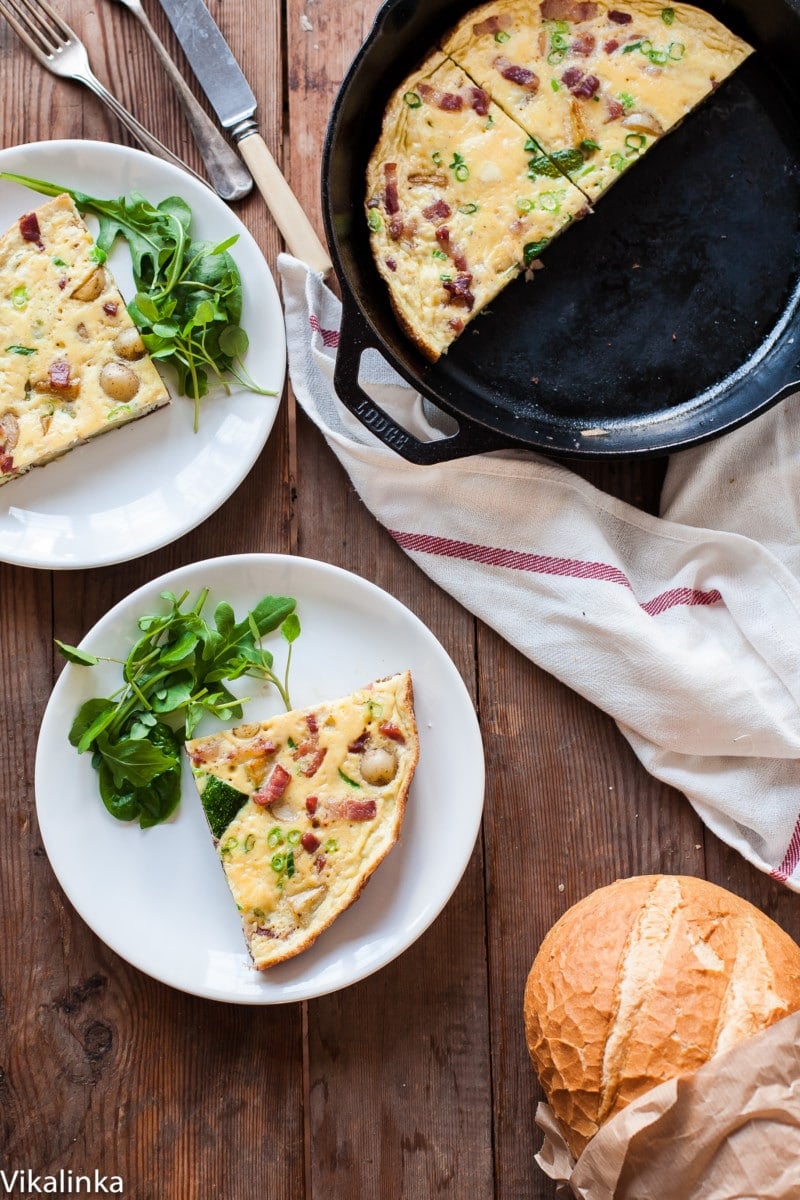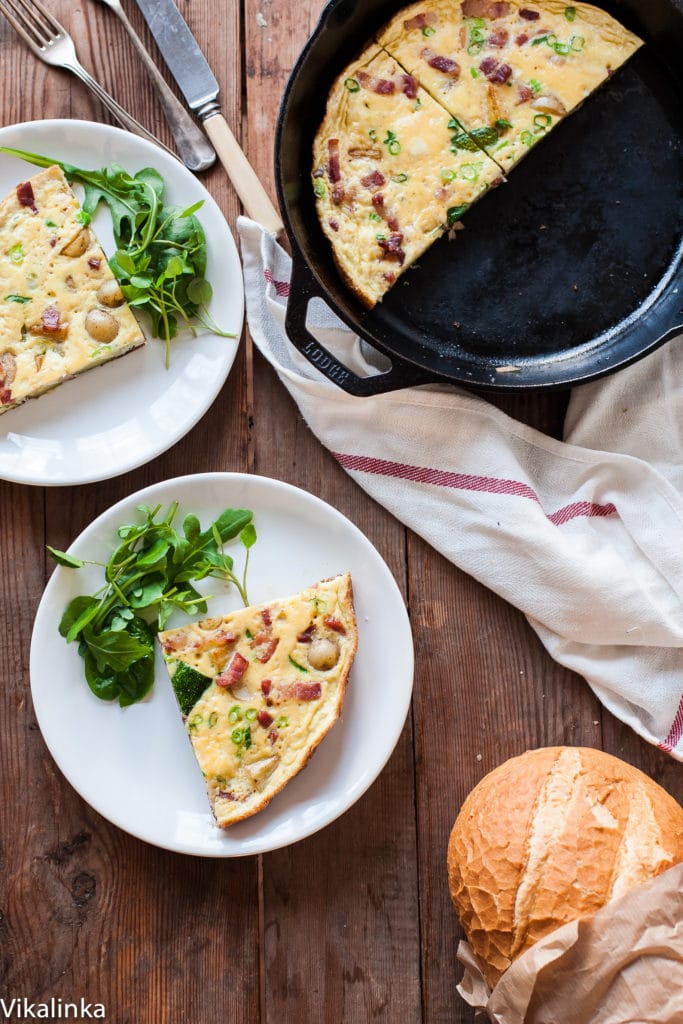 What else can you add?
The real answer is anything you love! Eggs go well with a myriad of ingredients. What I am suggesting in my recipe are classics like bacon, potatoes, zucchini aka courgettes and sliced green onions.
Since the eggs will cook really quickly we need to have bacon, potatoes and zucchini pre-cooked before adding them to an omelette.
I haven't added any cheese to this particular recipe but it would be a welcome addition! Sharp cheddar or Gruyere would be my first choice.
Sometimes I also add fresh herbs like parsley, dill or tarragon. They bring in so much flavour.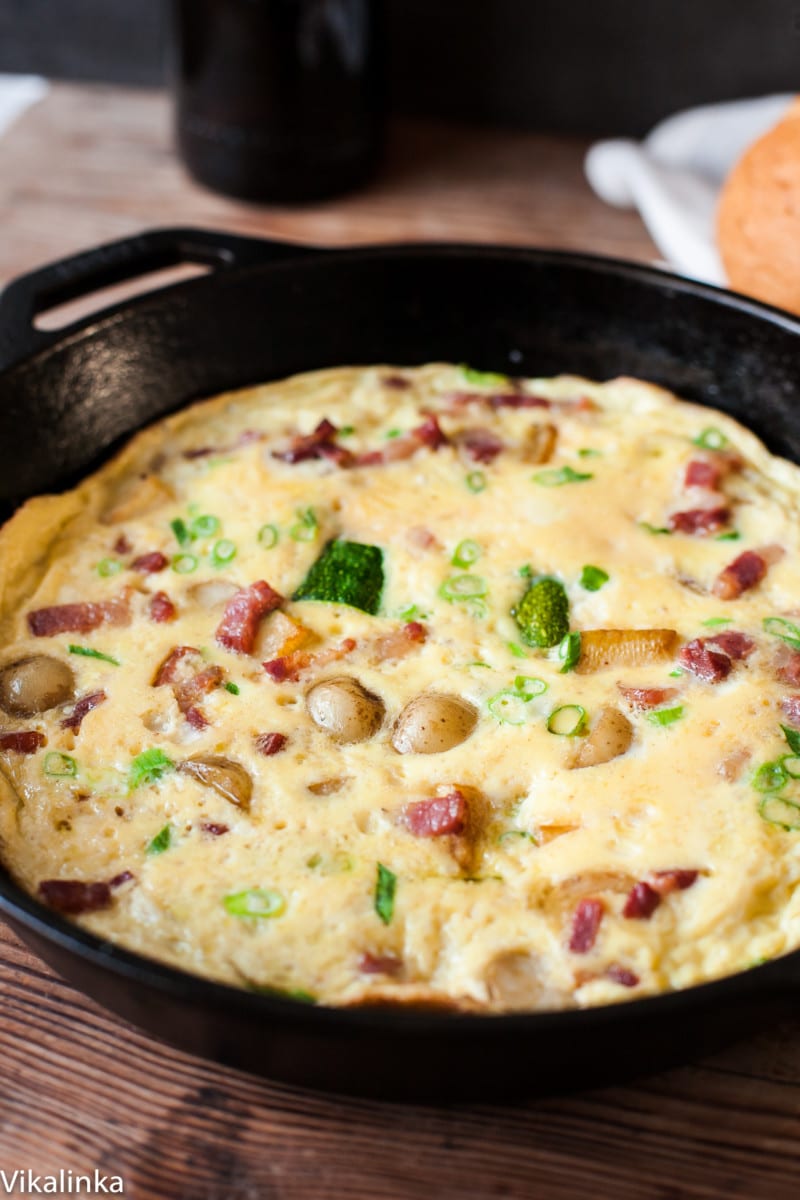 Omelettes are such a quick and nutritious option for any meal. They could be enjoyed for breakfast/brunch or as a delicious lunch or dinner when paired with a green salad.
However if you are ambitious enough to try a French dish that is a bit more involved, I would recommend giving my Classic Coq au Vin a go!
This recipe was originally published in 09/2015. Updated and republished in 03/2020.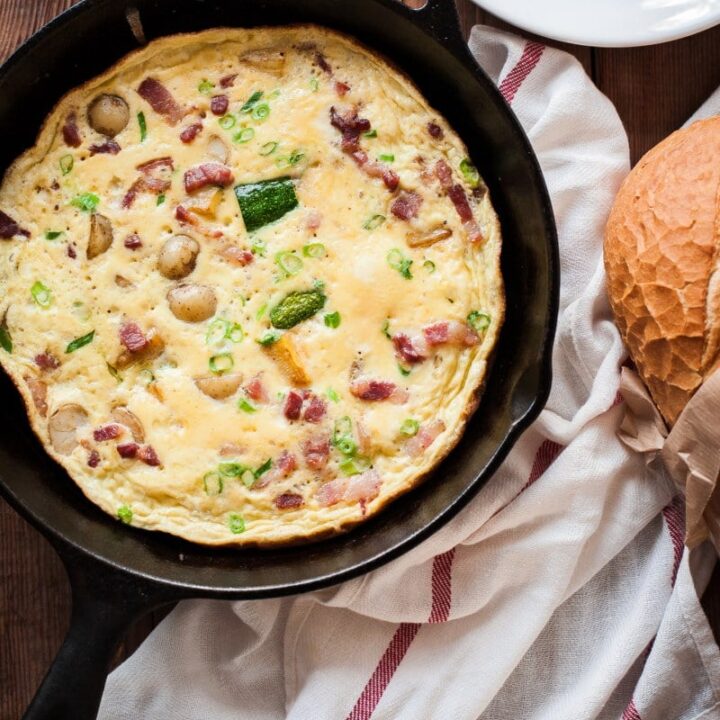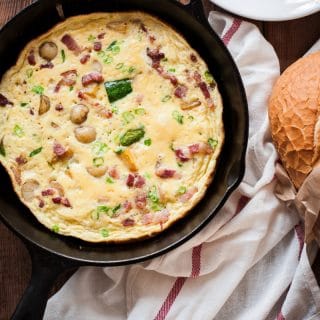 French Omelette with Bacon, Potatoes and Courgettes
This recipe for an easy omelette with bacon, potatoes and zucchini, that you don't have to fold, is a just as delicious and very satisfying!
Ingredients
1

tbsp

olive oil

50

g

bacon lardons or 4 bacon strips

chopped

1

medium potato

boiled and diced

1

small courgette/zucchini

cut into ½" dice

4

eggs

2

tbsp

whole milk

1

spring onion

sliced

salt to taste
Instructions
Prepare all ingredients.

Heat 1 tbsp of olive oil in a medium sized pan and cook bacon for 5 minutes until most of the fat has been rendered and they are slightly crispy.

Remove bacon on a paper towel lined plate and set aside. Brown diced potato and courgettes with a pinch of salt until golden.

While potatoes and courgettes are cooking whisk eggs, milk and salt in a small bowl.

Pour the egg mixture into the pan, add bacon bits and sliced spring onion. Turn the heat to low and cover with a lid for 5-7 minutes until eggs are set. Serve with a green salad.
Nutrition
Calories:
381
kcal
Carbohydrates:
18
g
Protein:
19
g
Fat:
26
g
Saturated Fat:
7
g
Cholesterol:
345
mg
Sodium:
316
mg
Potassium:
886
mg
Fiber:
4
g
Sugar:
4
g
Vitamin A:
731
IU
Vitamin C:
31
mg
Calcium:
114
mg
Iron:
5
mg