Croque Monsieur sandwich made the easy way. No need to make the time consuming bechamel sauce to enjoy this French classic. Follow my simple recipe for the same delicious taste!
If you a French cuisine aficionado, give my Chicken Casserole a la Normande a try!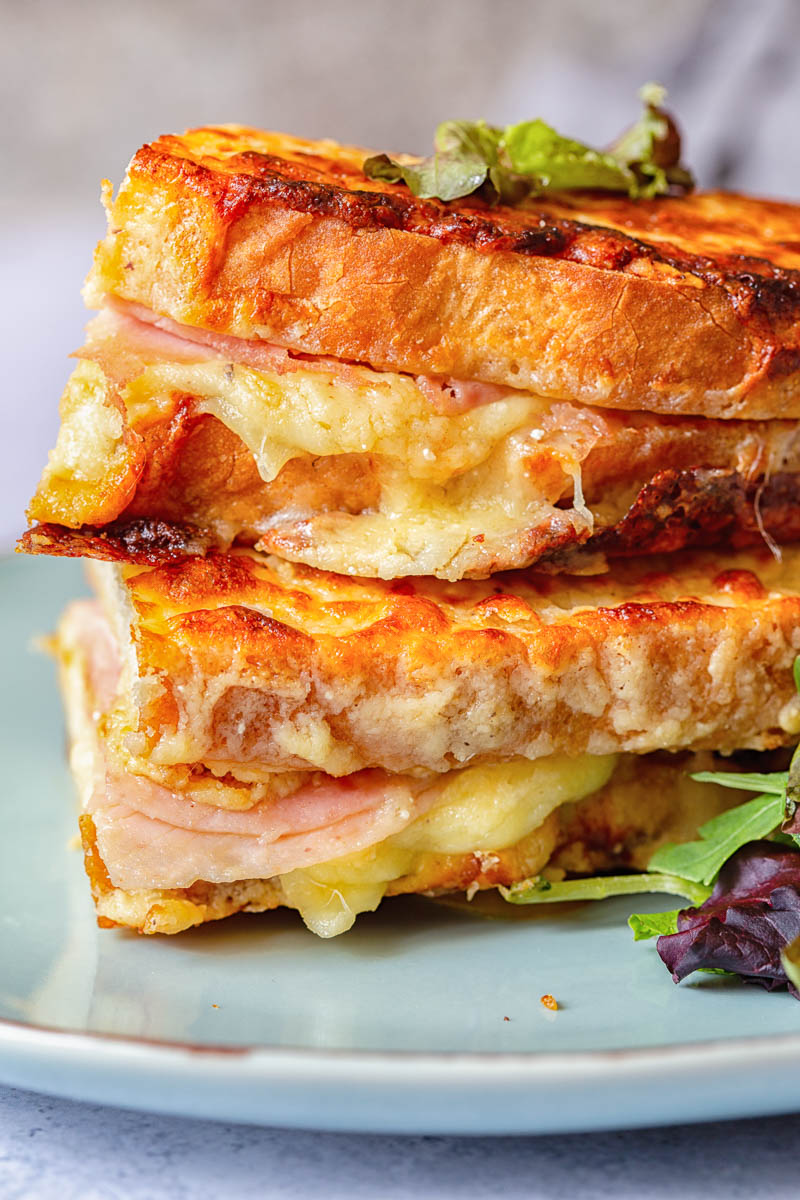 Croque Monsieur? Ooh-la-la! Have you ever had one?
I will be honest with you, I heard the famous sandwich being mentioned well before I had a chance to taste it. It always sounded so posh and unattainable, which instantly made me want it even more!
Not that I spent sleepless nights longing for it but every time I heard the name in a movie or read it in a book it peaked my curiosity.
Needless to say, my first time in Paris I spotted it on the menu, luckily for me in the cheap section, I ordered it right off the bat. Did it live up to the hype? Mais oui!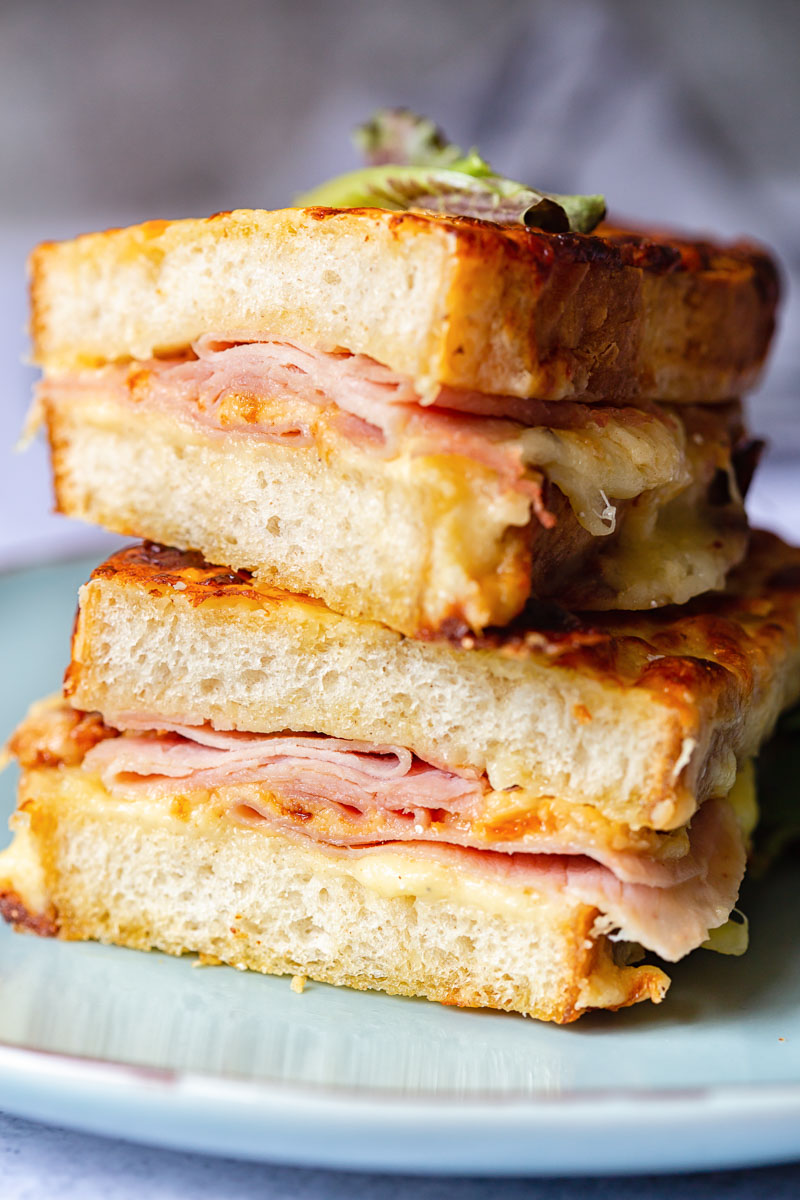 What is Classic Croque Monsieur?
When I ordered it I didn't really know the sandwich was about but with my first bite it dawned on me what it was. Croque Monsieur was a richer, more distinguished cousin of the beloved, thrifty and comfortable grilled cheese sandwich.
Croque Monsieur, which simply means "Monsieur Crunch"in English, first appeared on a Parisien cafe menu in 1910 and since then has been quite popular. Traditionally it is made with bread, ham and Emmental or Gruyere cheese but I didn't have any of those, so I used aged white Cheddar.
And if you pop a fried egg on top it's called Croque Madame! Don't you think it's a delicious and classy brunch idea?
What cheese can I use?
You can use any cheese you love, except Kraft singles. You have to draw the line somewhere! Let's make it but first get your ingredients out.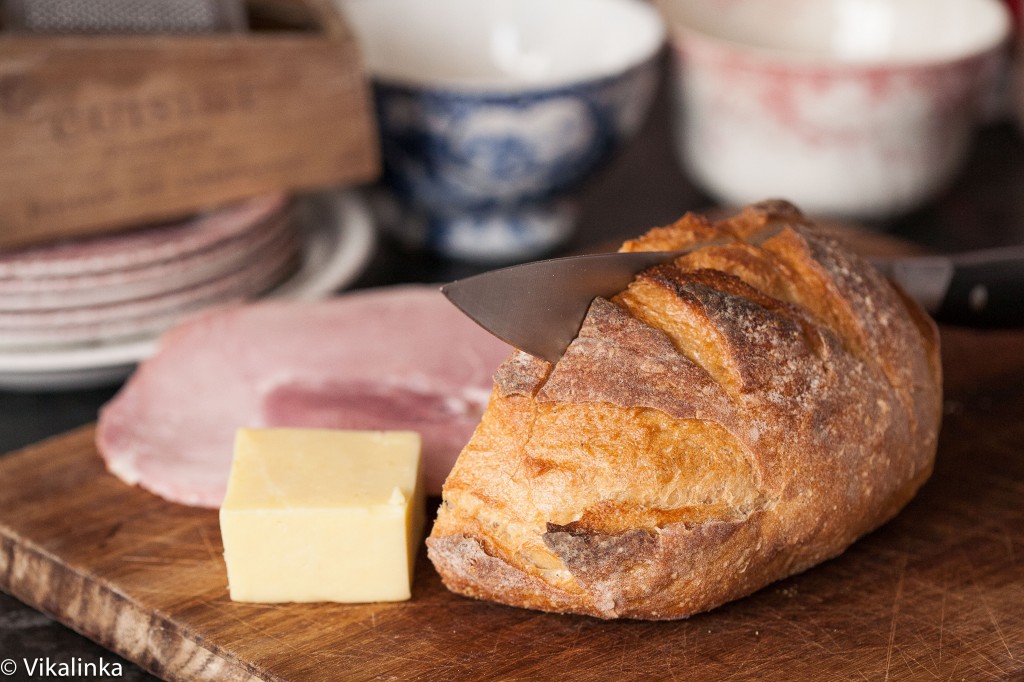 How do I make easy Croque Monsieur Sandwich?
If you know how to make a simple grilled cheese sandwich, you will master its French cousin.
Many recipes for Croque Monsieur call for a laborious bechamel sauce to be included in the cheese mix. That alone would discourage me from ever making this delicious sandwich.
So my solution is to add a couple of tablespoons of heavy cream to loosen the grated cheese, which creates the same oozy cheesy blanket over the top of the bread as in the traditional sandwich.
Now let's make it!
Grate the cheese and combine it with a bit of cream and a dash of nutmeg. I can tell you are getting excited
already!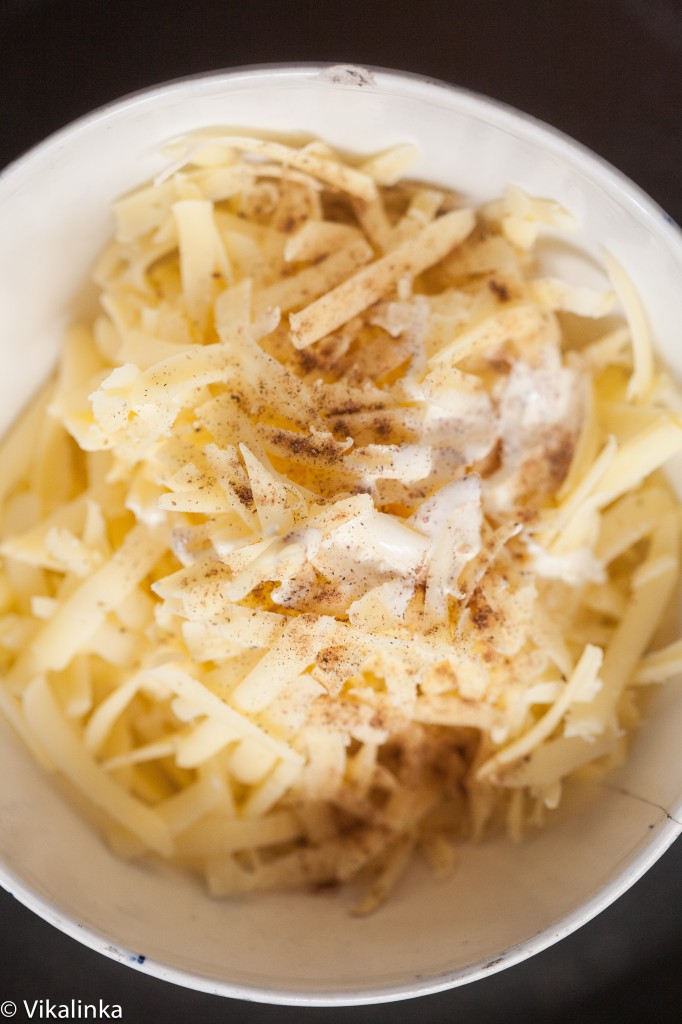 Then slice your bread thickly. I used sourdough bread and loved it!
Put your slice on a buttered baking dish and top with half of the cheese mixture.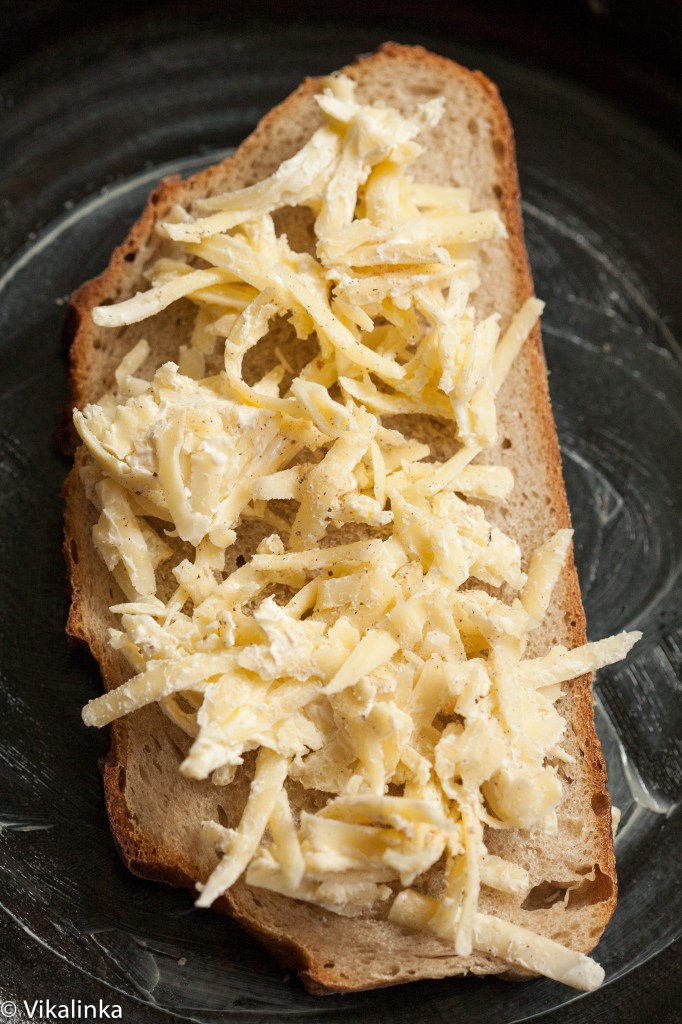 Pop a slice of ham on top.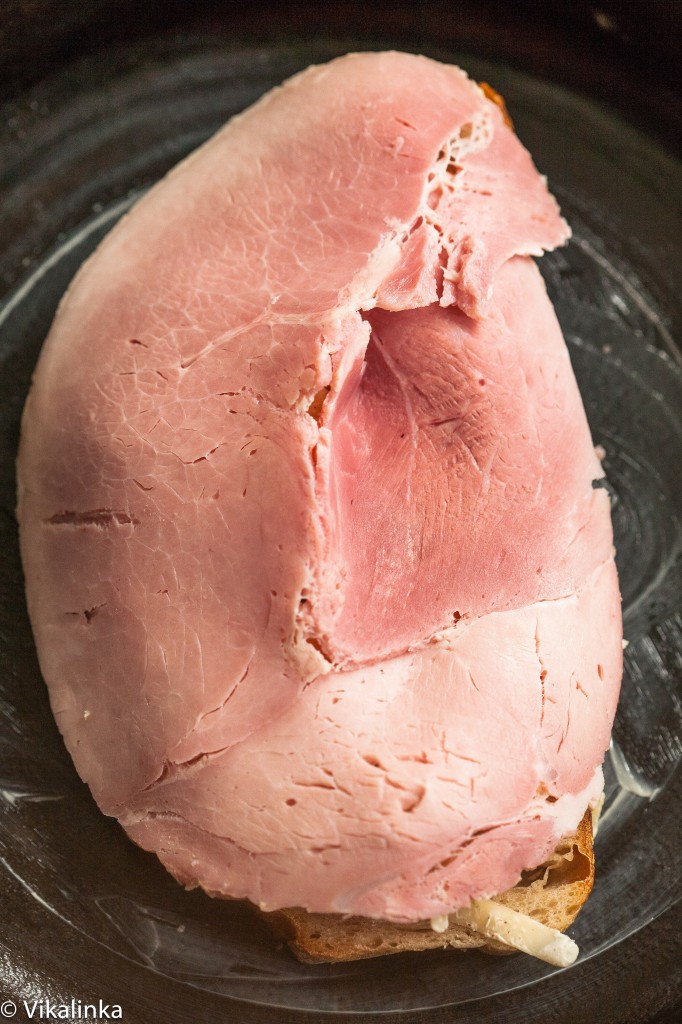 More cheese….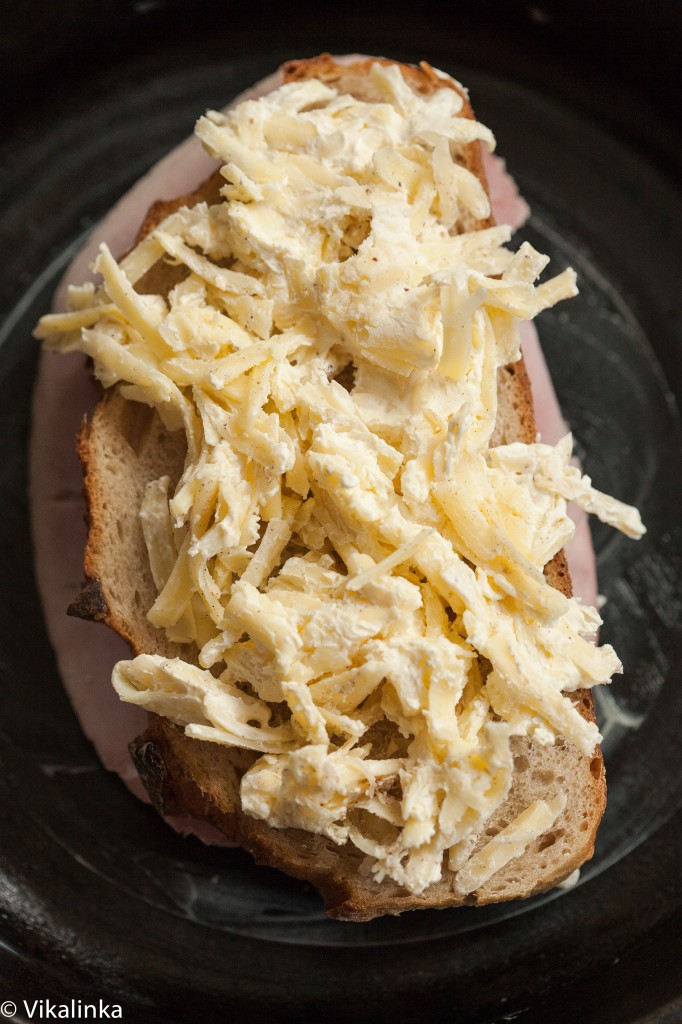 Pop it in the oven at 400F/200C and bake for 10-20 minutes until the cheese is melted and bubbly.
Enjoy!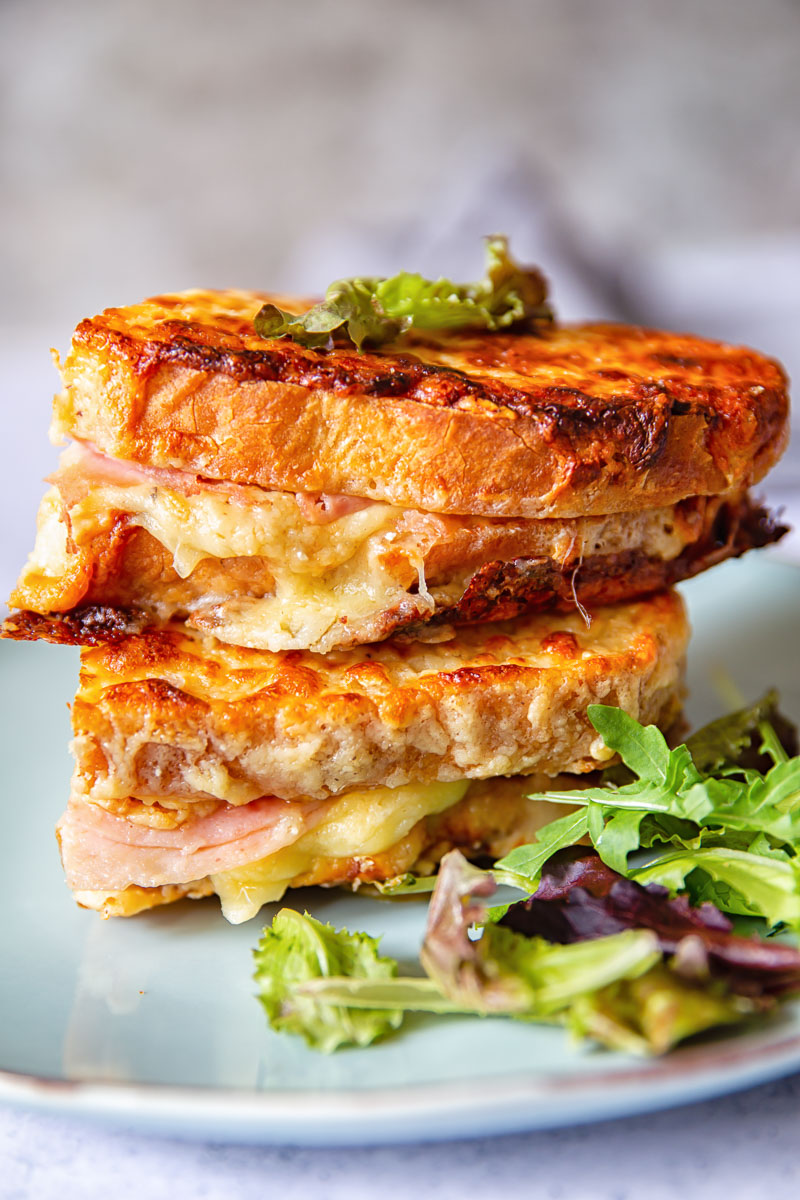 What can I serve with Croque Monsieur?
Croque Monsieur may sound snooty but it's quite simple, hearty and tastes divine!!!
With the help of this little "aristocrat" and a small green salad you can always pull off a fancy lunch when in-laws come unannounced.
Cut in half and enjoy with your best friend…or eat it all yourself and I won't judge! Promise. Don't forget to set the mood with some French tunes!
More favourite French recipes to try:
Recipe originally published in 04/2014, updated with new photos and text in 08/2019.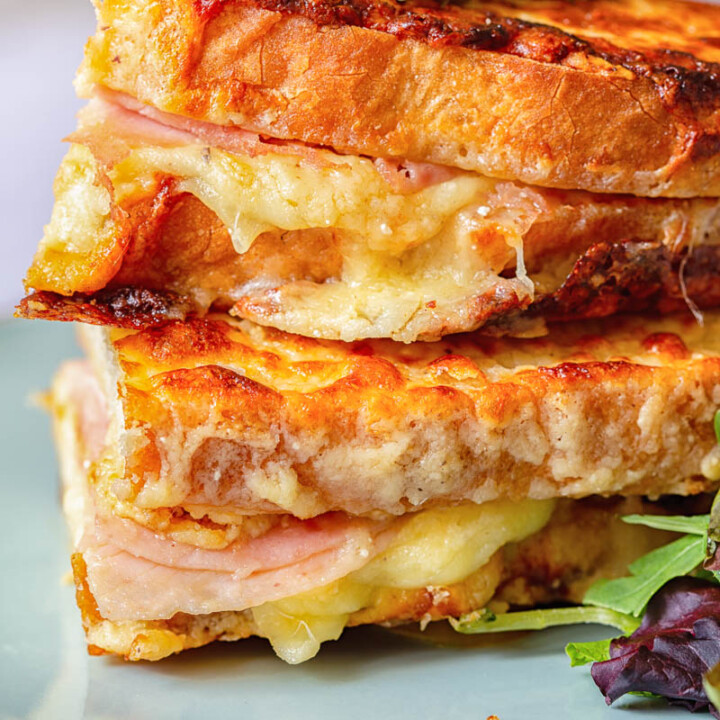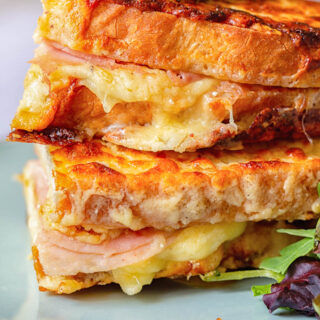 Classic Croque Monsieur
Easy and accessible version of the famous Croque Monsieur made with hearty sourdough bread, ham and aged cheddar, this sandwich will not disappoint!
Ingredients
3

tbsp

whipping cream/double cream

50g/1/4cup

Aged Cheddar or Gruyere

⅛

tsp

grated nutmeg

2

thick slices sourdough bread

1

thick slice ham
Instructions
Preheat the oven to 200C/400F.

Grate the cheese and mix it with cream and grated nutmeg.

Slice the bread and top each slice with half of the cheese mixture.

Transfer to a buttered baking dish.

Top one of the bread slices with ham and a bit more cheese and sandwich the bread together finishing with the cheese side up.

Bake in the preheated oven for 10-12 minutes.